20 Interesting Western Bathroom Decors
When I got across this topic, I recalled "Wild, wild West" – and I thought to myself that this list is going to be a bit easy to complete but it sure wasn't that easy. Completing a list with all that Western touch, all those log home feeling and maybe some Western artsy stuff made me realize how similar they are with rustic spaces or a bit in the Mediterranean.
Give your bathroom a Western flair. You can outfit every room with a Western or horse themed item and see a wonderful bathroom that you'd love to see every time you actually enter it. Take a long look at each bathroom that we have collated for you today and tell us what you think!
1. Big Sky Residence Lot 1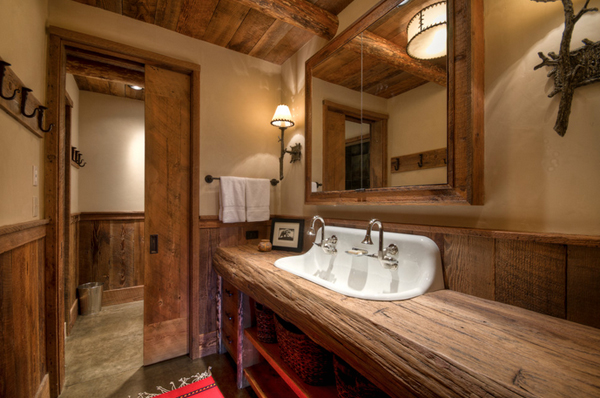 I totally love the sliding pocket door and the classic lavatory.
2. Twin Creek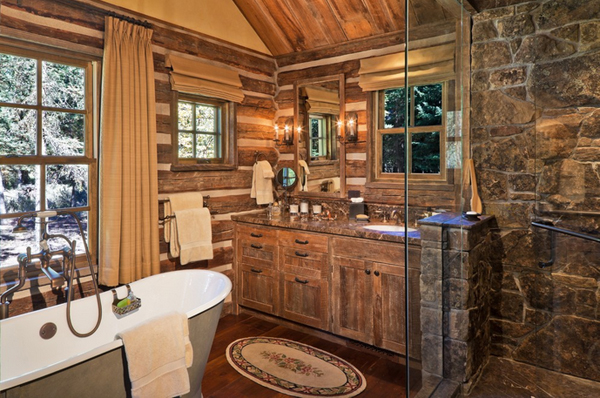 Just look at that wonderful vanity on the side of this bathroom.
3. Cherry Hills Western Eclectic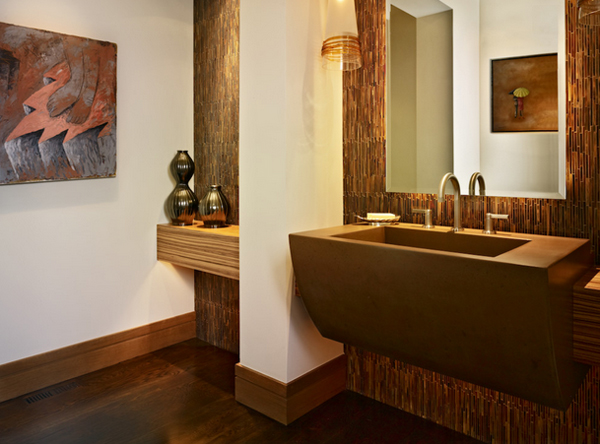 This elegant expression of a modern Colorado style home combines a rustic regional exterior with a refined contemporary interior.
4. Collingwood Ski Retreat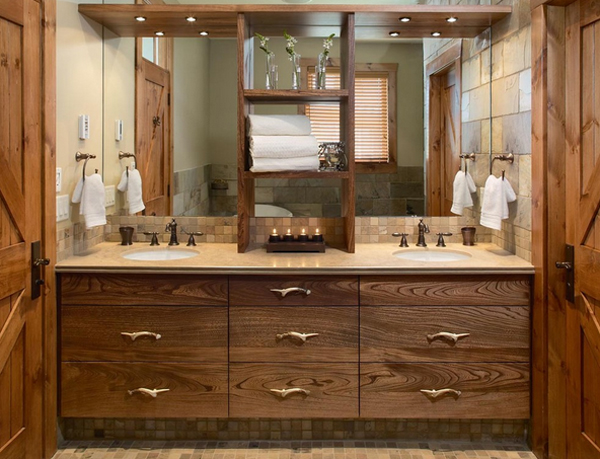 This bathroom vanity is super classy with the double sink and fancy door handles and rustic door on each side.
5. Flat Rock Creek Ranch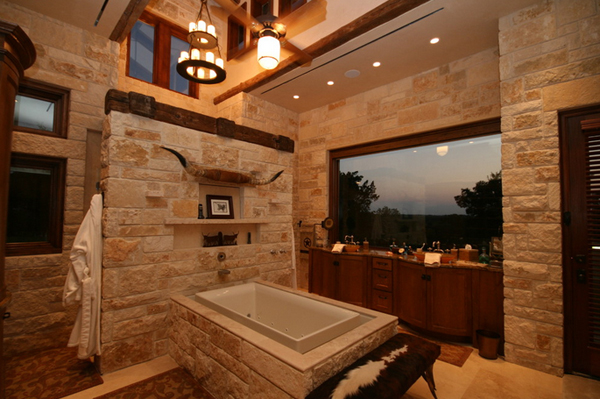 The rock and wood (timbers) combo of this Dallas bathroom is beautiful and somehow a perfect example for a Western bathroom.
6. Handcrafted Log Home in Jackson Hole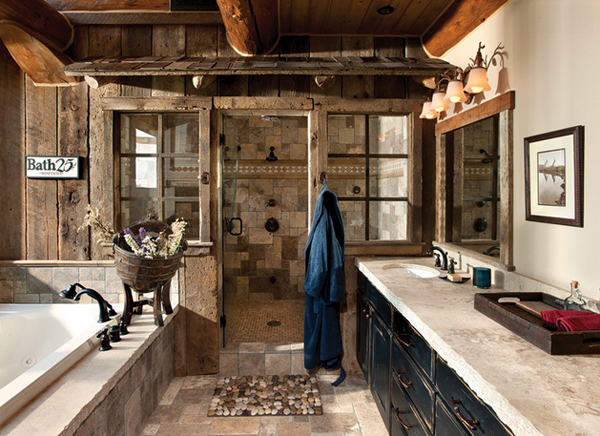 Weathered wood panels and barn-style additions, make this master bathroom's appearance simulate an old western outhouse.
7. Lake Blue Ridge Custom Log Home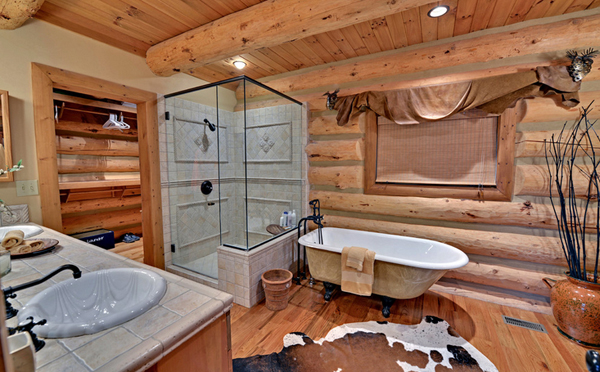 This Atlanta bathroom has a window treatment that I totally like – it's unique and rustic and has the right decors to complete the look.
8. United States Rustic Bathroom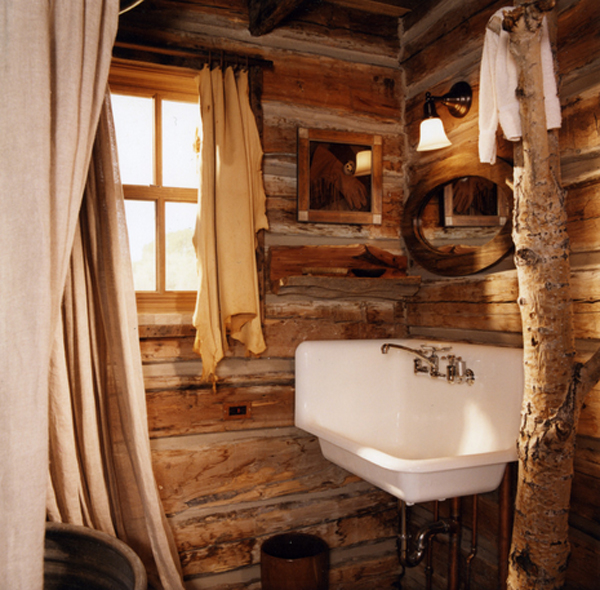 An awesome rustic bathroom with the right western decors; this space has the right ideas for reclaimed materials too.
9. Minneapolis Rustic Bathroom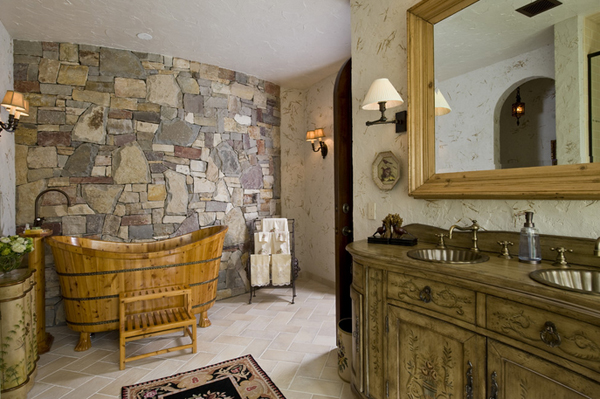 The accent wall of this Minneapolis bathroom is sure rustic and pretty. Love the tub and the modular lavatory too!
10. Paradise Valley Residence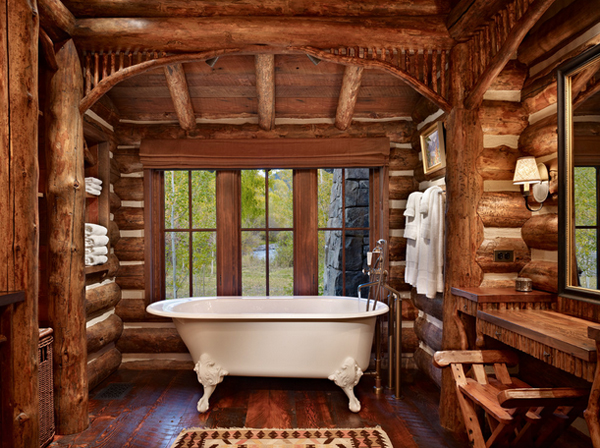 A freestanding bath is always a beauty – especially when it belongs to a wonderful log house.
11. Foxtail Residence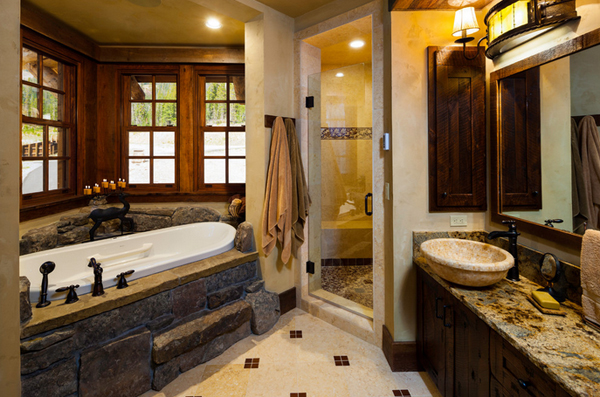 This Faure Halvorsen design features a guest house and a lookout tower above the main home. Built entirely of rustic logs and featuring lots of reclaimed materials, this is the epitome of Big Sky log cabins.
12. Modern Shaker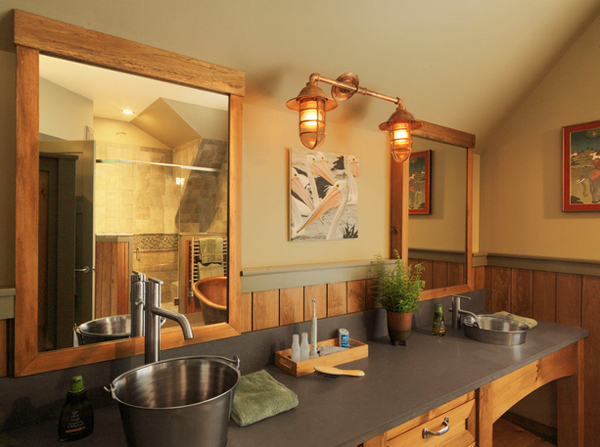 You may opt to take your buckets two ways; a vessel bucket sink and a sunken sink throw off expectations of exact Jack and Jill sink symmetry.
13. Oklahoma City Bathroom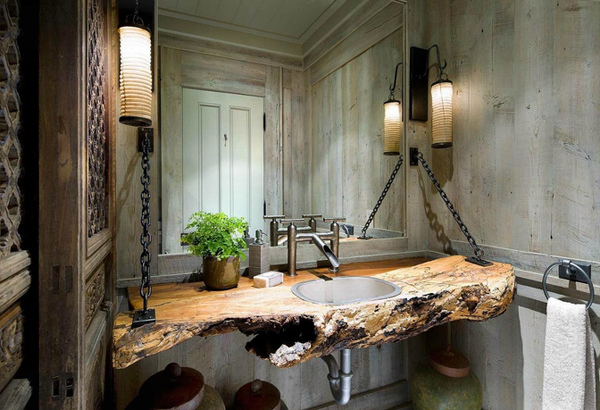 I remember my Aunt having a complete sala set with this type of drift wood – very rustic and stunning!
14. Spanish Peaks Cabin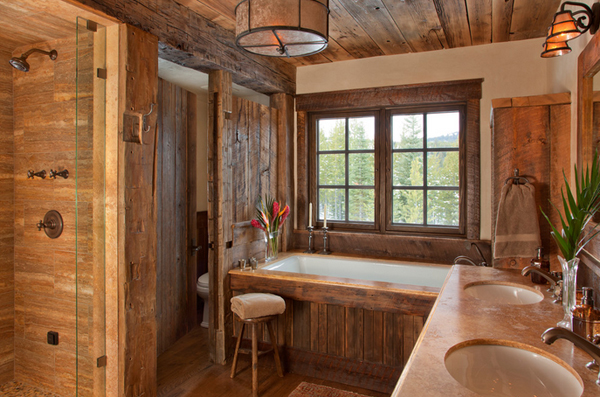 The wood look around tub is unique and fun because it seems hidden and personalized – something everyone loves.
15. Star Prairie Lake Home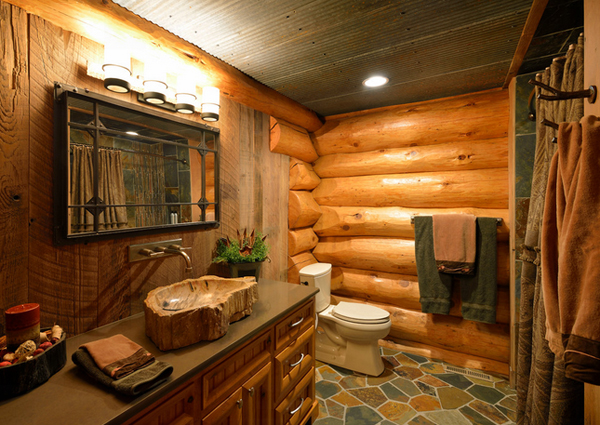 A testament to mesquite's many attributes: The sink in this upscale rustic home is carved from mesquite.
16. Ten Broeck Farm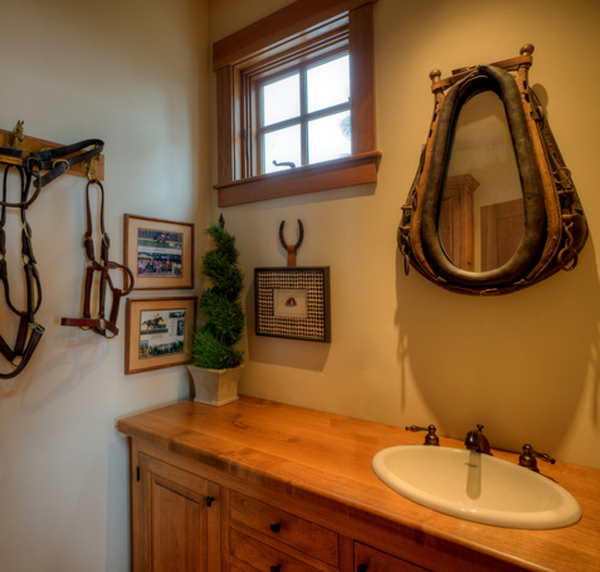 A horse harness serves as a unique mirror frame in the powder room.
17. The Lake House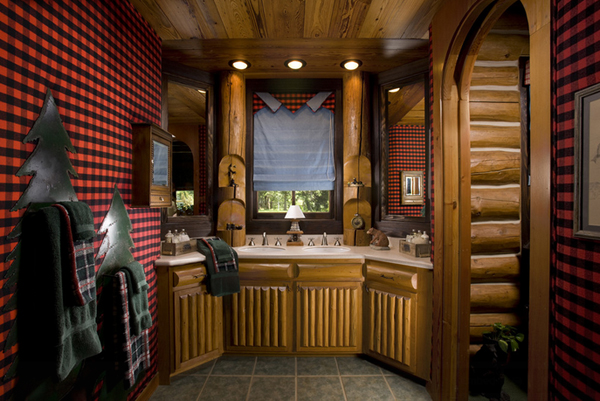 I'm not sure about the plaid theme of this bathroom but it is interesting and uncannily lovely.
18. The Mountain Bath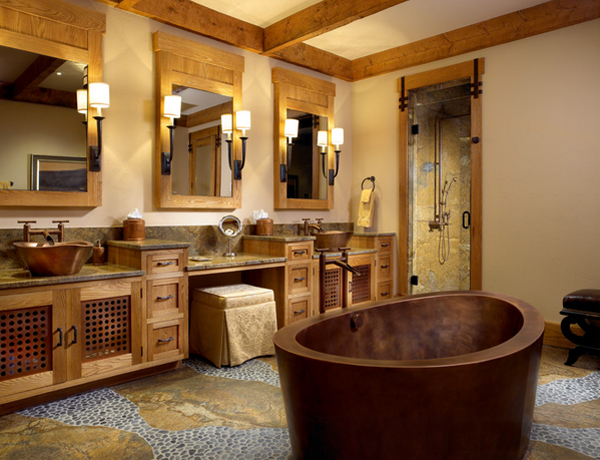 A delightful bath, fitting for the rugged mountains of western Montana. Earth tones enlivened with greens, slates, and blues recall the local streams and rivers. Copper, hand hammered and free in form suggest an individuality that is central to mountain culture.
19. The Pointe on Andesite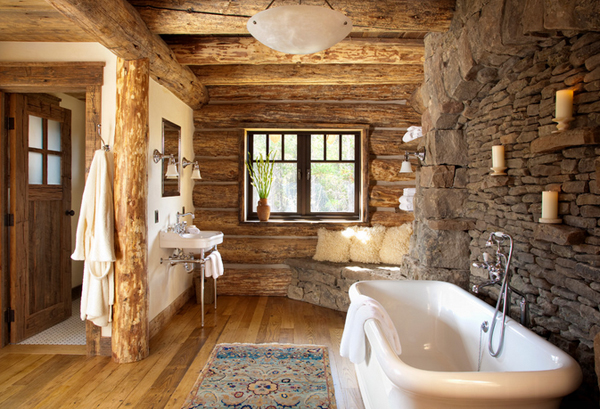 The wall candles on this bathroom sure brings in drama, if you know what I mean.
20. Ski Slope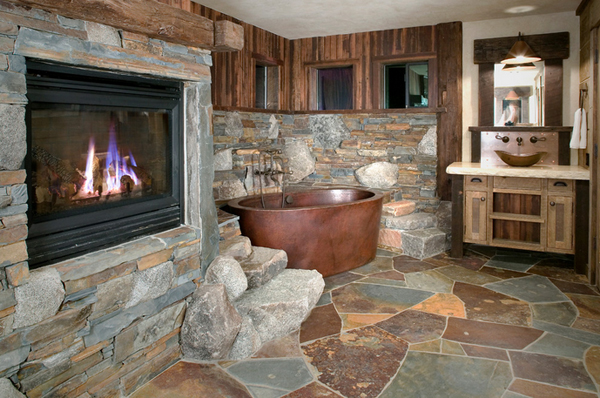 This place would definitely warm with that fireplace on the side.
I'm not sure what to say to all those bathrooms but "one for me, please!" These bathrooms look like you are in the mountains and in an awesome vacation home that you'd never want to leave because of the beautiful designs these spaces have and how much they seem to look like something you can also see in a spa. Totally wonderful and comfy!