20 Lovely Ways Cowhide and Sheepskin Rugs Adorn a Bathroom
One item that we never miss to add in the bathroom are rugs. These are important in order to dry our feet or to add some soft feel when we step out of the shower or the tub. Most bathrooms have rugs and it depends on what type you want to use. Some get more stylish rugs while others just get whatever rug they can get because they are merely after the function and maybe even the price tag. But it would be better to get fashionable rugs to combine function and style.
You will be able to appreciate the use of stylish rugs once you see the photos of bathrooms with cowhide and sheepskin rugs. And this is exactly what we are going to show you. It wasn't easy to complete this list because these types of rugs are rarely used for bathrooms. But hey, we were able to gather lovely bathrooms and how they used cowhide and sheepskin rugs in them. Come check them out!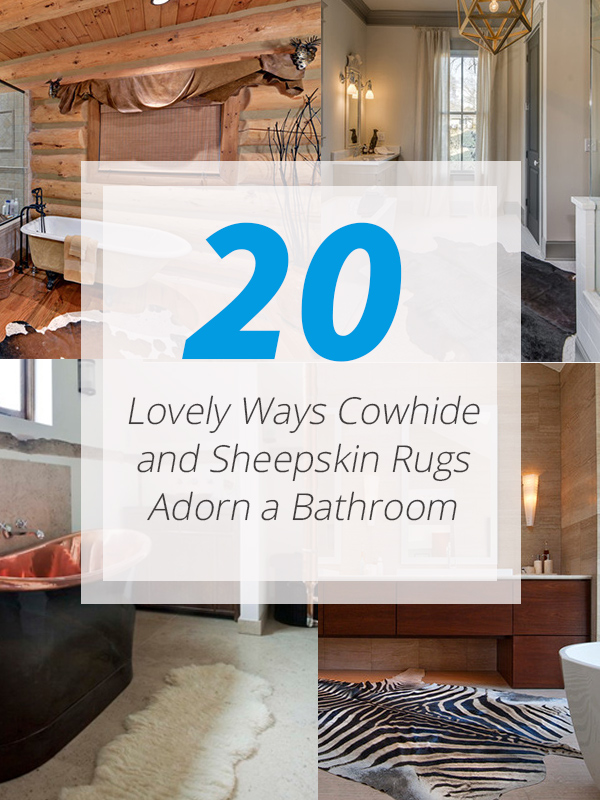 1. Contemporary Bathroom Miami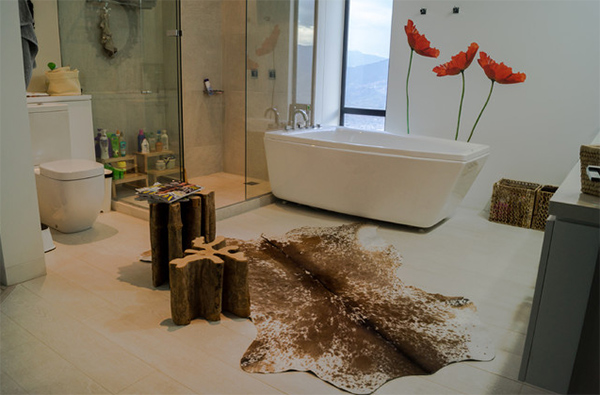 What is interesting in this bathroom is the cowhide and the stumps. I know we like the same feature!
2. Nashville Staging – 849 Glendale Lane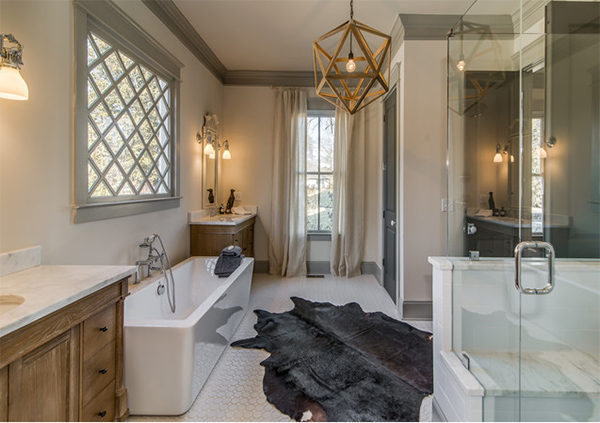 The furniture style cabinet here creates a balance with the design of the tub. But that cowhide rug added a natural look.
3. Ranch House Bathroom Renovation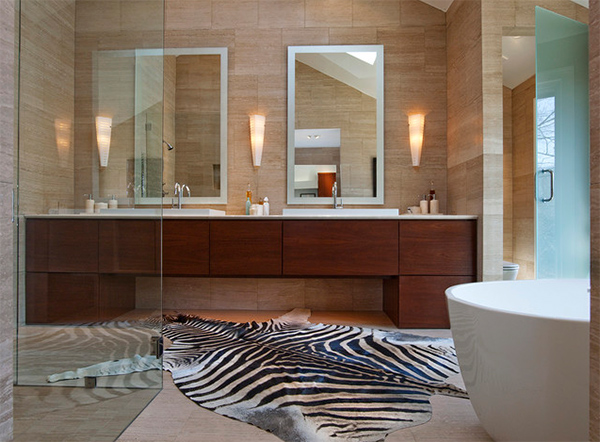 A frameless shower and a stunning contemporary bathroom that is made even lovelier with that cowhide rug.
4. Looe, Cornwall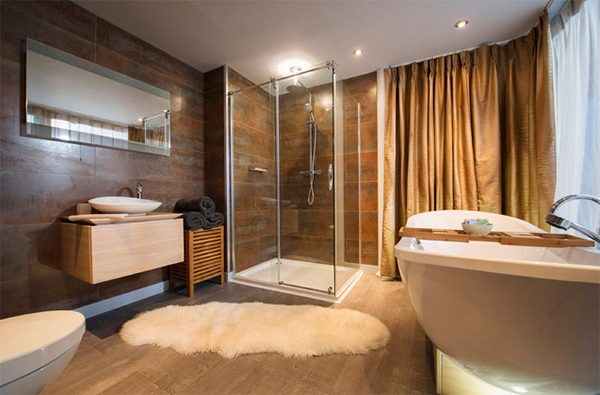 Imagine this space without the sheepskin rug. It would look very different for sure!
5. Green Gambrel Bath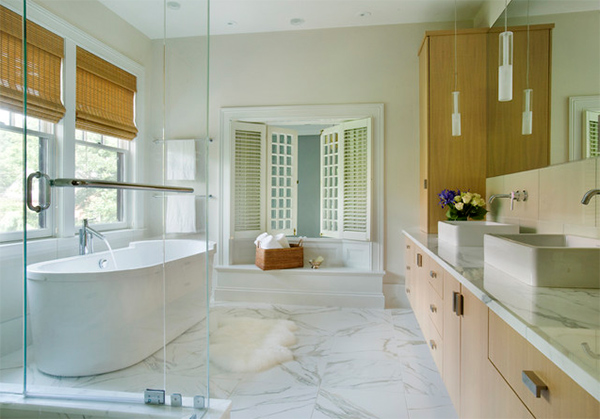 Even on a ceramic tiled flooring like this, a sheepskin would be nice as it add some softness into it.
6. Fulham Townhouse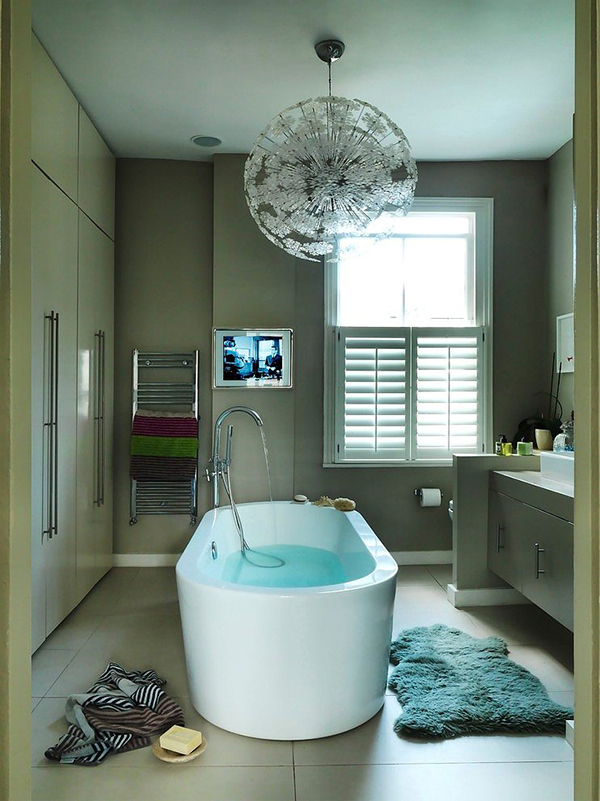 Looking nice, right? I am sure that you noticed how the rug added beauty to this space and it would be good to step on something soft when you leave the tub.
7. Myers Ensuite Bathroom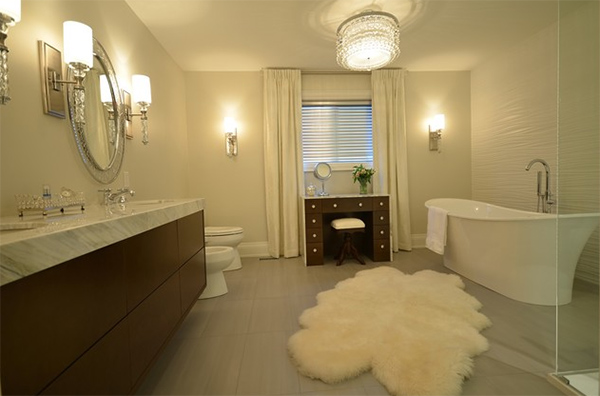 The dark brown cabinetry is being highlighted with the monochromatic palette of whites and grays in this bathroom. You can see different textures too like the sheepskin rug.
8. Lake Blue Ridge Custom Log Home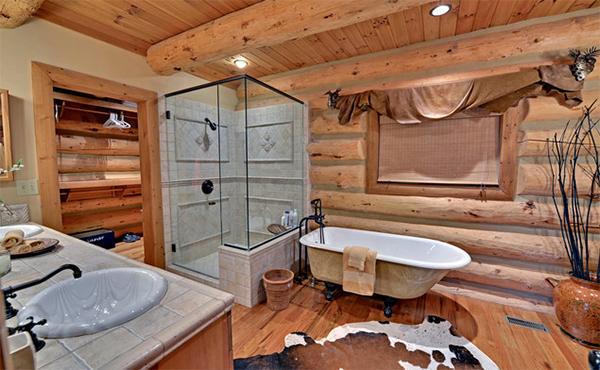 Going rustic and Western in design! Well, the cowhide sure fits in this space!
9. And the Living is Easy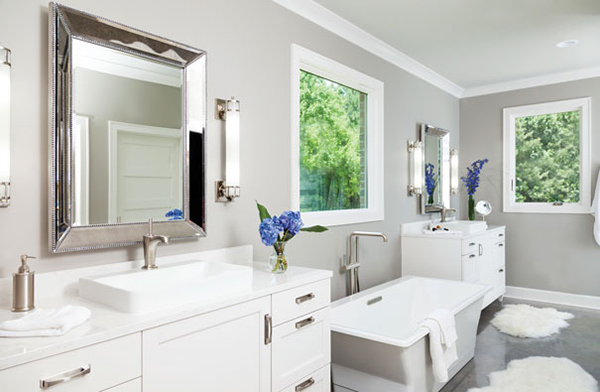 "Textural sheepskin rugs soften up the sleek lines and angular edges of the master bath, where freestanding vanities lend a furniture-like quality to the space," the designer says.
10. Traditional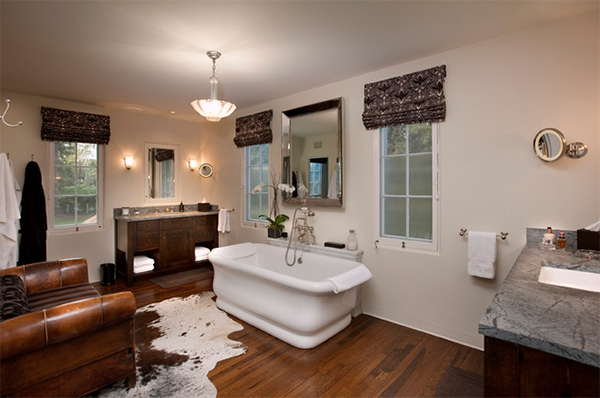 A traditional bathroom with a seating area. Adding a cowhide enhances its appeal.
11. Cowhide Rug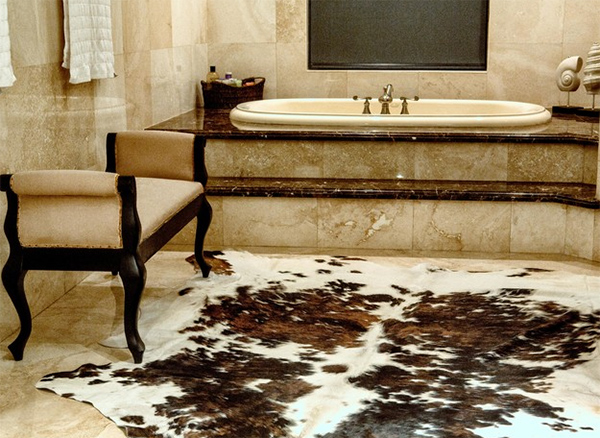 Who wouldn't love how the bathroom looks with this Cowhide rug?
12. Eclectic Farmhouse Bathroom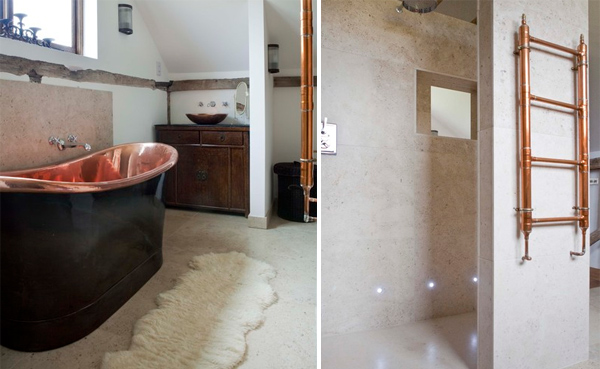 I like the accents of brass in this bathroom especially the bath tub and ladder shelves as well as the rug too!
13. Bathroom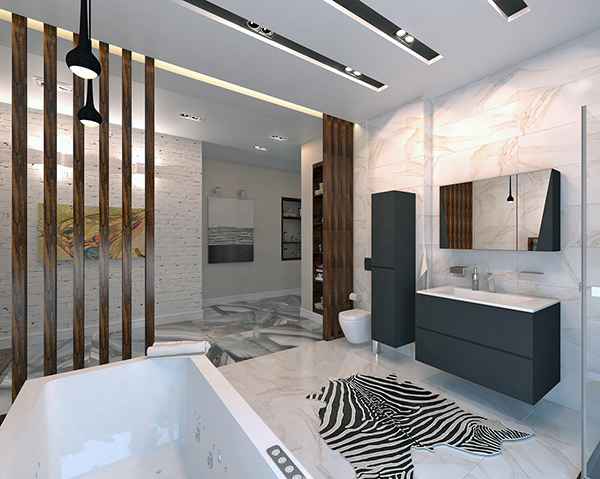 A beautiful modern bathroom indeed! It has many striking details including this cowhide rug with zebra print.
14. Comfortably Modern Retreat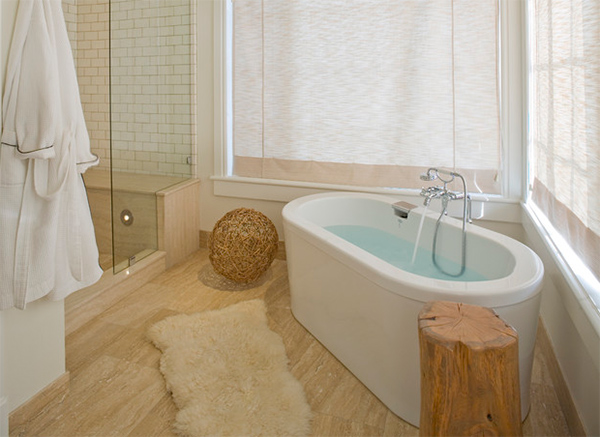 Combining different textures would be a sure win even for a small bathroom!
15. Tasmania 16-Piece Dinnerware Set In Red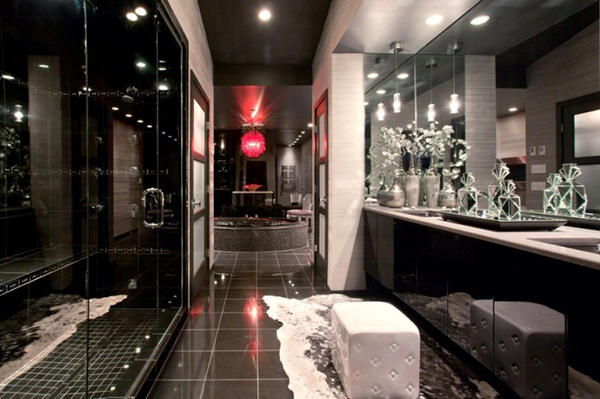 Obviously, this one is a luxurious and sophisticated bathroom with a cowhide rug.
16. Bathroom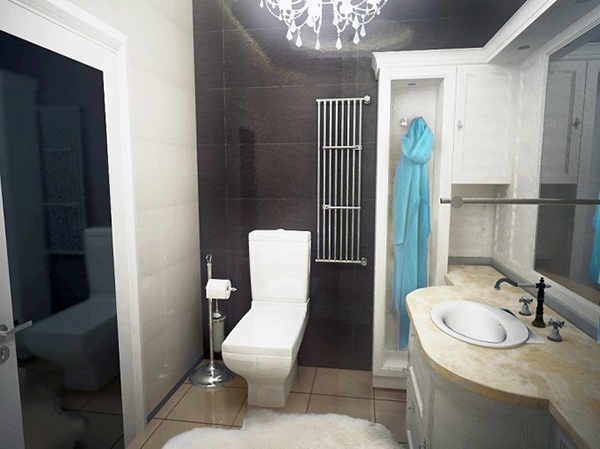 A contemporary bathroom is graced with a sheepskin rug. Isn't it pretty?
17. Tarrytown Remodel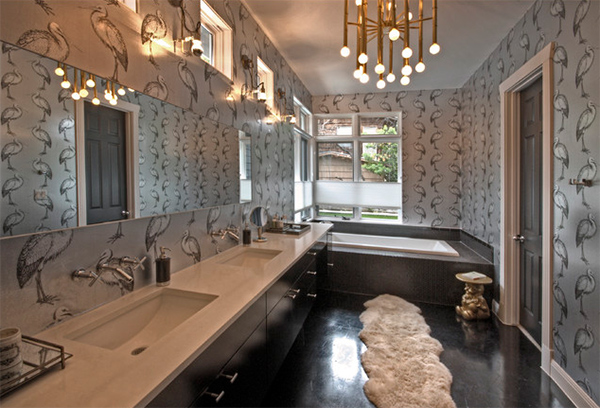 Patterns on the walls are very attractive as well as the chandelier. Adding a sheepskin rug brings some softness into it.
18. River Bluff Residence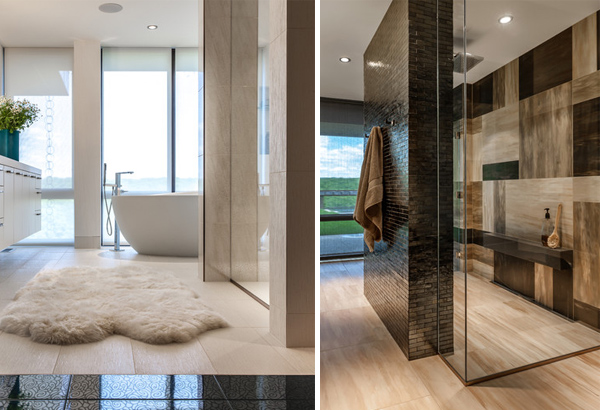 A beautiful modern bathroom! You can see it has many lovely features including that soft rug.
19. Ranch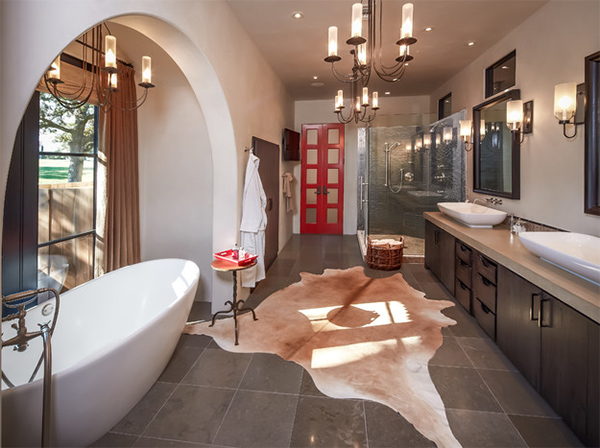 If you have a spacious bathroom, placing a cowhide like this will add more beauty to it instead of having a dull and black space in the center.
20. Holsman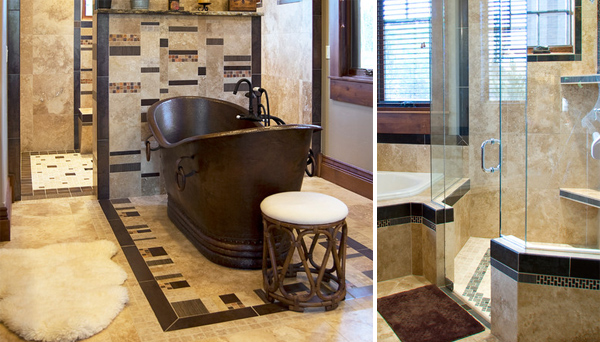 The fur rug is a lovely contrast to the tan tile floor of this bathroom.
Definitely stunning, isn't it? Cowhide and sheepskin rugs are both made from animal skin or are inspired by animal skin and they look very beautiful! Who wouldn't love the natural look it can offer to a space, especially for a bathroom? Well, we have seen how they can adorn a bathroom and we have to admit it. It really has a huge impact on the way they look! I am sure you will agree with me! So, what to you prefer to use then, a cowhide or a sheepskin rug?