A Gorgeous Yet Simple Seaside Villa in Finland's Rocky Coastline
You'd appreciate the beauty of simplicity in this cabin on a rocky coastline.
If you think using simple lines for a home looks boring, you are wrong. We have featured many simple home designs that still look very beautiful. It is just a matter of creativity on how you are going to put them all together. Many designers and homeowners these days opt to use a simple minimalist approach to homes. Of course, every space varies depending on the design preference of the owners, their budget and the kind of look they want. It may also look different with the type of materials that they will use both for the interior and the exterior.
Today, we are going to feature a contemporary cabin called by Seaside Villa located in Kustavi, Finland that is designed for a rocky coastline. You will be impressed to see how simple it looks and how it used wood for the entire home. But despite being simple, it looked really beautiful and you can feel the sense of sophistication in it. It used simple lines for its exterior which is elevated a few steps from the ground level. You can also see how the interior is designed in a very simple manner. But despite its minimalist approach, a gorgeous cabin was achieved especially that the designer played with lighting. Let us take a look at the home below.
Location: Kustavi, Finland
Designer: Sigge Arkkitehdit Oy
Style: Contemporary
Number of Levels: One-storey
Unique feature: A simple yet beautiful seaside home that used a minimal approach for its interior.
Similar House: A Summer House Boasts a Parent's Bedroom with Play Area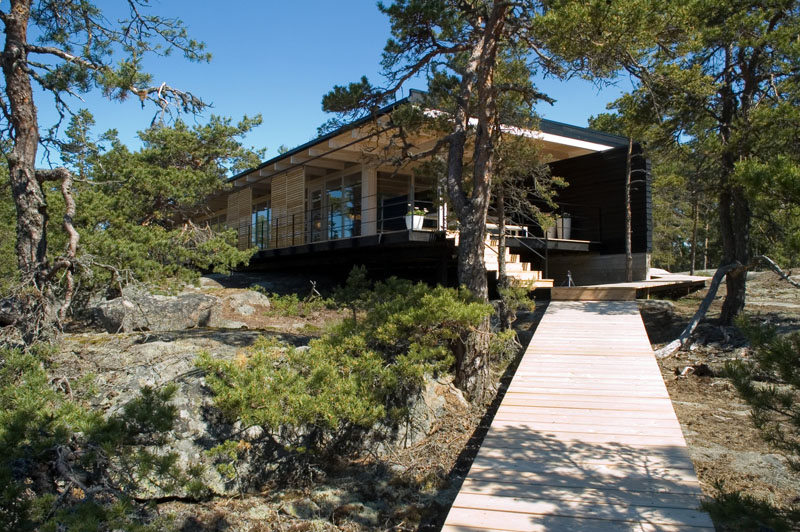 Sitting on top of a bedrock plot in the Turku archipelago in Kustavi, Finland, is this small cabin with ocean views.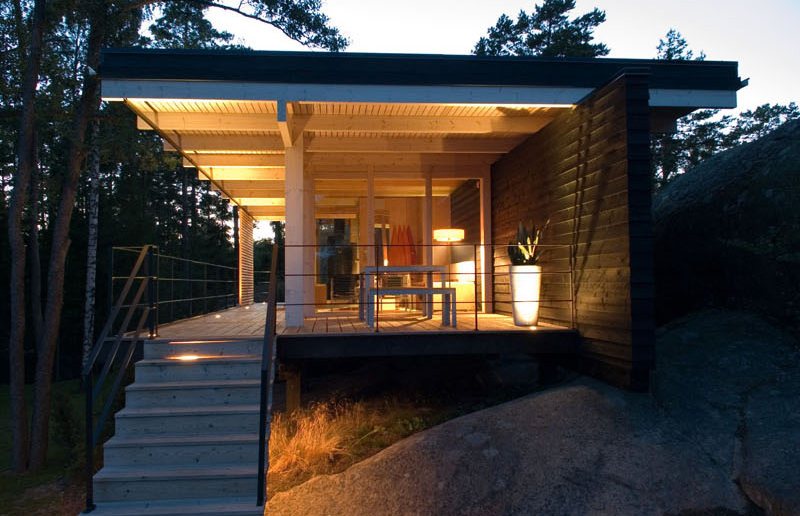 Designed by Sigge Arkkitehdit Oy, the cottage was created to be as low and discreet as possible, but at the same time allowing for views of the landscape.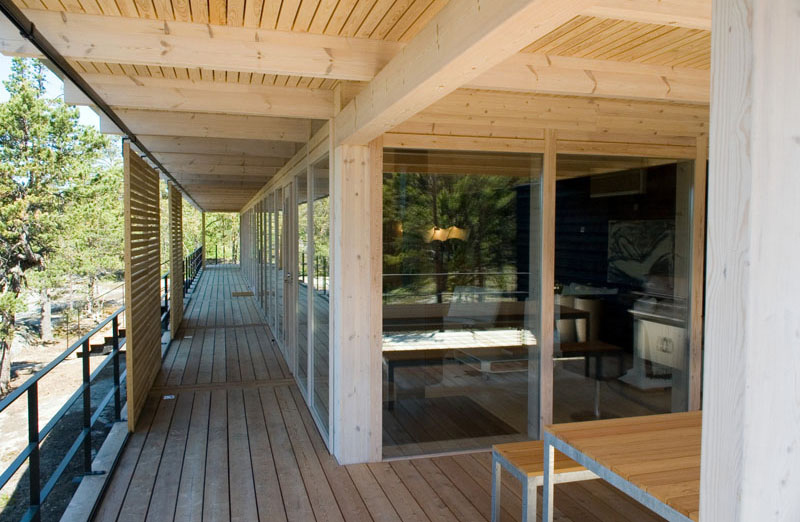 Small movable wood louver shutters provide privacy and shade from the sun.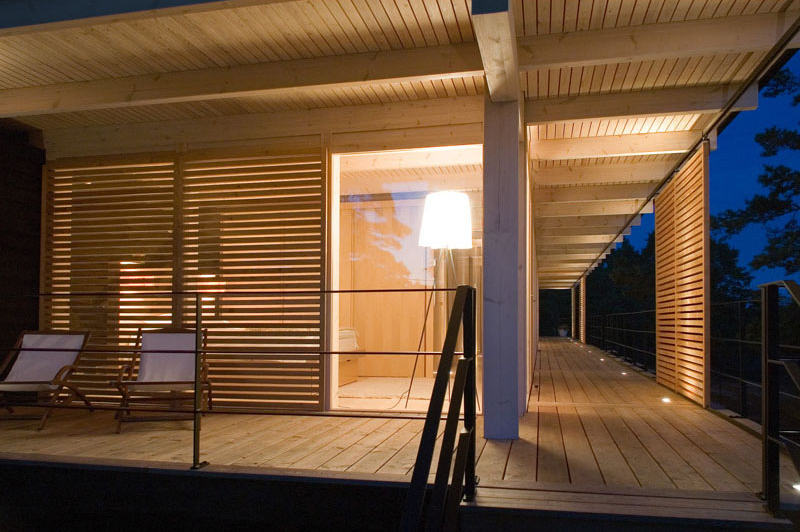 At night the cottage is lit up, and at one end, there's a bedroom.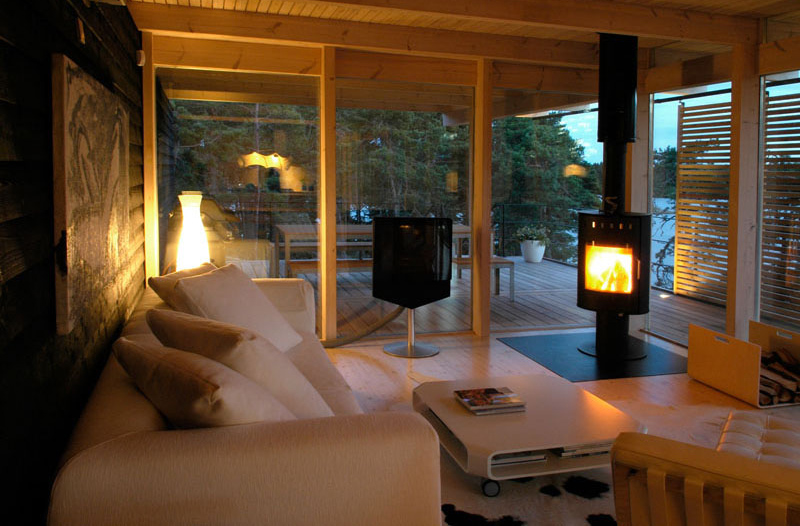 At the other end, there's the living room with a fireplace which brings more warmth to the space. Even the design of the fireplace is simple too.
Read Also: Kaohsiung 42: A Fun Family Playground Interior in Taiwan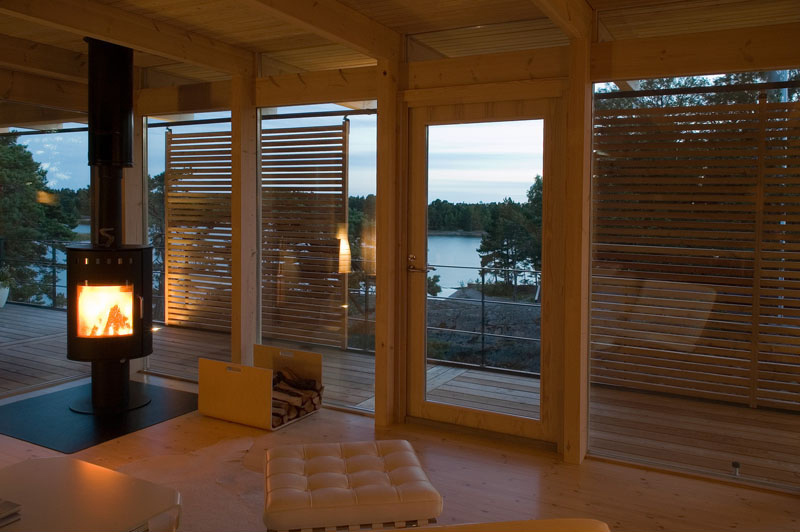 Notice how the interior was designed. It is very simple and it also used neutral colors in it which actually bring more warmth and coziness to the space.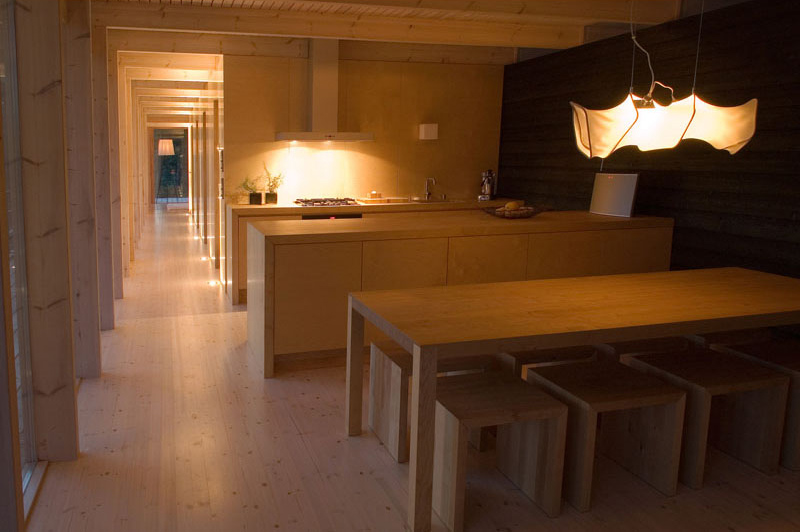 Next to the living area is a dining area and kitchen. Further down the hallway is the bedroom.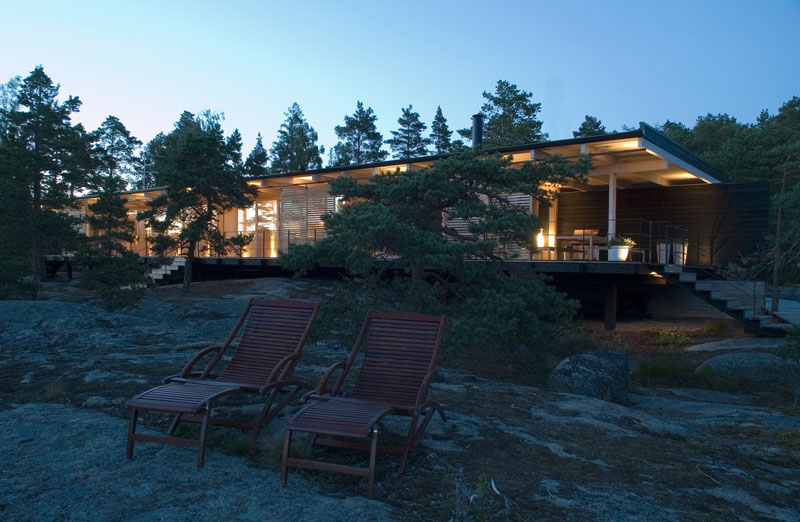 Despite being surrounded with huge rocks, they managed to add a simple outdoor area where they can enjoy the beauty of the ocean. Yes, simply adding chairs for outdoor seating is enough. One can also enjoy the natural landscaping here.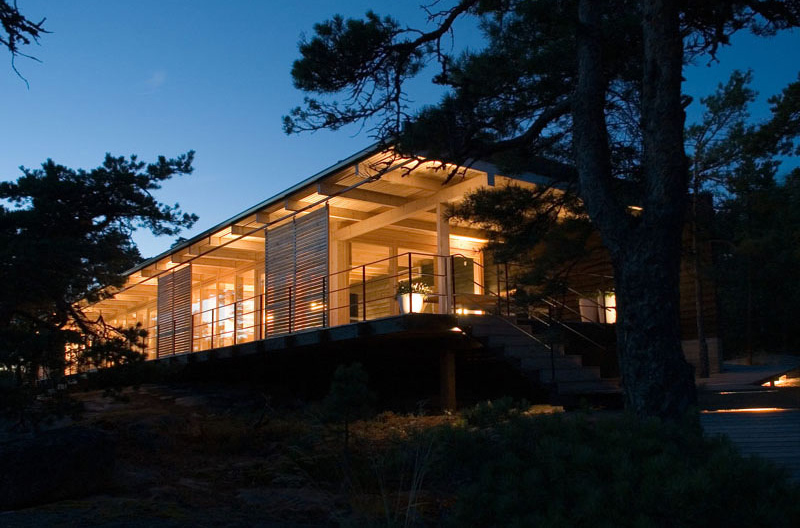 When lighted, the home looks even nicer. It actually appears like a huge lamp in the middle of the area.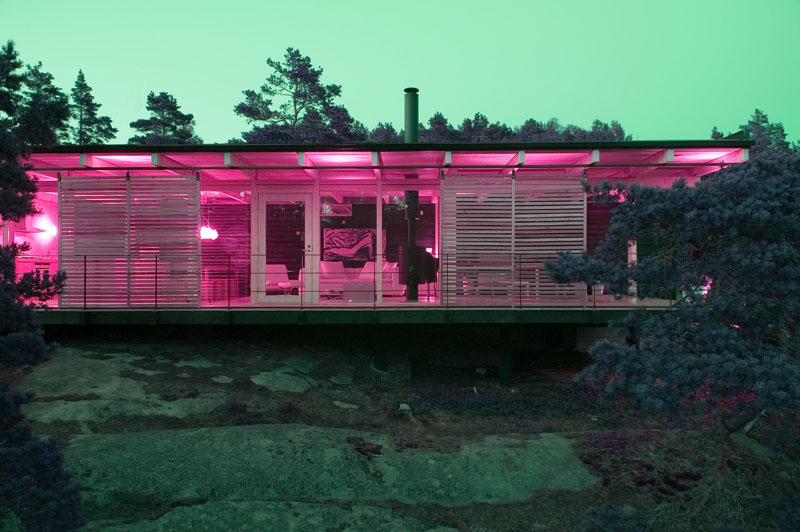 And when the owners want to change up the look of the cottage, they can simply change out the lighting for colored bulbs.
Isn't it fun to have a home around a location like this? Well, it sure would be nice to bond with nature. But what I like here is how the designers did the design despite the rocks all around it. Instead of becoming a hindrance and a challenge to the architects, they turned it into an opportunity using the rocks as lovely features for the homes' facade, outdoor space and overall appeal. This home is designed by Sigge Arkkitehdit Oy who was able to achieve a simple yet stunning design for a cabin located in a rocky area. How about you, what are your thoughts?