Contemporary Sub-tropical Northern Rivers Beach House in Australia
A contemporary house on the seaside with a subtle tropical feel.
When we hear of a beach house, what comes to our mind at once is a home made of wood with hip type roof and its interior has that tropical feel or nautical theme. Well, that was the case before, but these days, designers are getting more and more creative which leads to unique home designs that combines tropical or beach style with modern or contemporary style. I have seen many modern beach homes that are totally stunning and very functional. Most of them would have a space for entertaining guests and for all the fun both indoors and outdoors. Today, we have another lovely beach house to feature with a contemporary design and some subtle tropical touches on it.
The home is dubbed Northern Rivers Beach House located in South Golden Beach, Australia. The house is located in a beachside setting, but the "architectural brief for this project was to design a contemporary, yet cost effective three-bedroom house, well connected to nature and featuring subtropical open-plan living in a temperate climate". Reading the brief, I can tell how excited the designers were. It sure is a combination of modern styles with that of a tropical home. Initially, the design 're-interpreted' the beach house by integrating traditional materials of corrugated metal, fiber cement sheeting and timber elements, onto a contemporary and dynamic shape. And I can tell that it was very successful. However, there were challenges that the designer encountered because of the restraints of the small site area, low budget and restrictions due to flooding. This resulted in exploring the unconventional concept of a cantilevered structure that overhangs on both ends and counterbalancing each other.
Location: South Golden Beach, Australia
Designer: Refresh*Design
Style: Contemporary
Number of Levels: Two-storey
Unique feature: A contemporary beach house with a tropical touch that boasts a cantilevered structure that overhangs at both ends.
Similar House: Modern Classic Minimalist Peruvian Beach House in Lima, Peru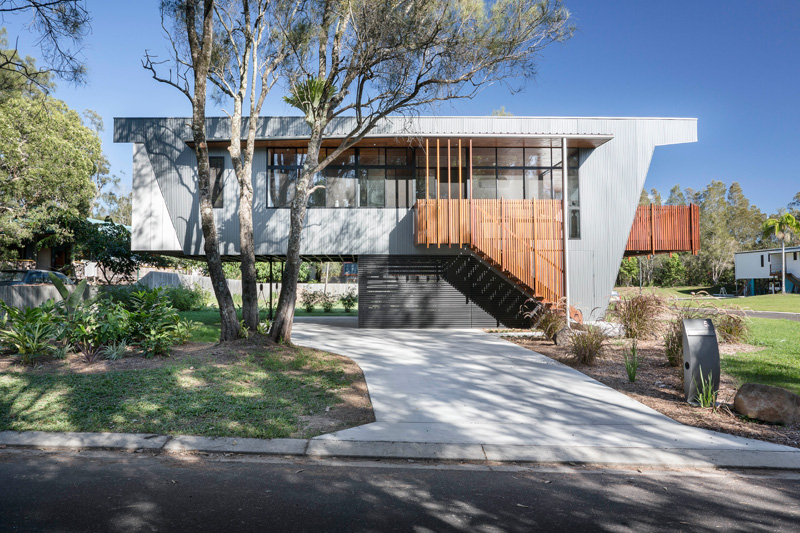 Steel is used for the major structural elements of the house while timber was used for the secondary structure. It features a very economical and bridge-like architecture that was created to inspire a soaring visual effect. Despite the small budget, the house achieved the requirements by using innovative or unconventional details.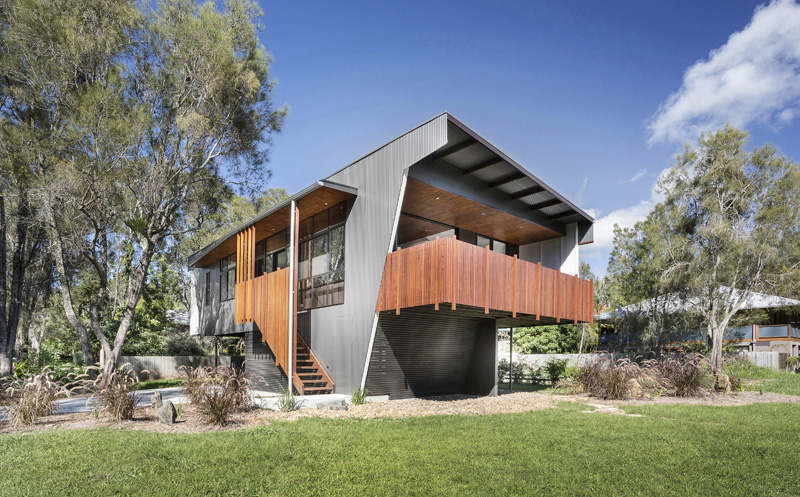 The design of the house is very impressive as we can see how it used geometric lines and shapes that are combined well together. Its use of various materials added appeal to the architecture of the house and that cantilevered part sure is striking!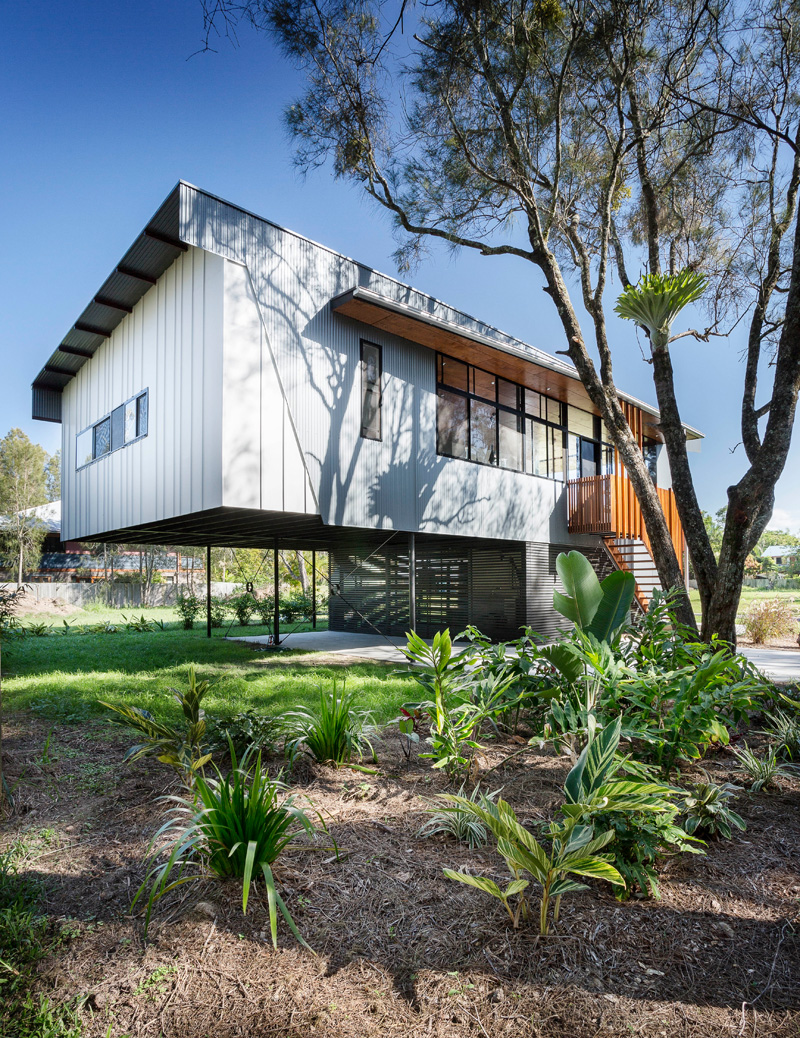 Speaking of the cantilevered part, here it is will all its grace! Isn't it amazing? Just under that part is what seems to me an outdoor space where kids can play and where you can sit and relax free from the sun's heat.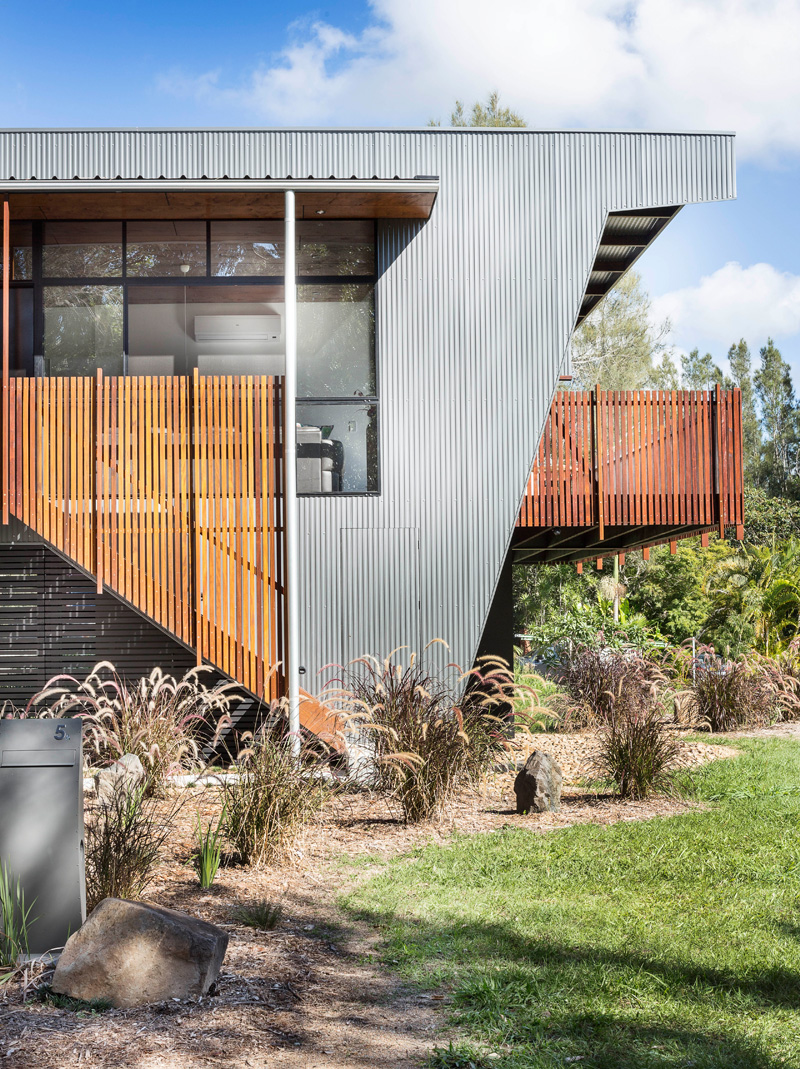 I can tell that it used some steel for the exterior walls too as well as glass and wood. The combination added some industrial touch to it although it is the wood that is highlighted even more. Glass windows are also used for the home.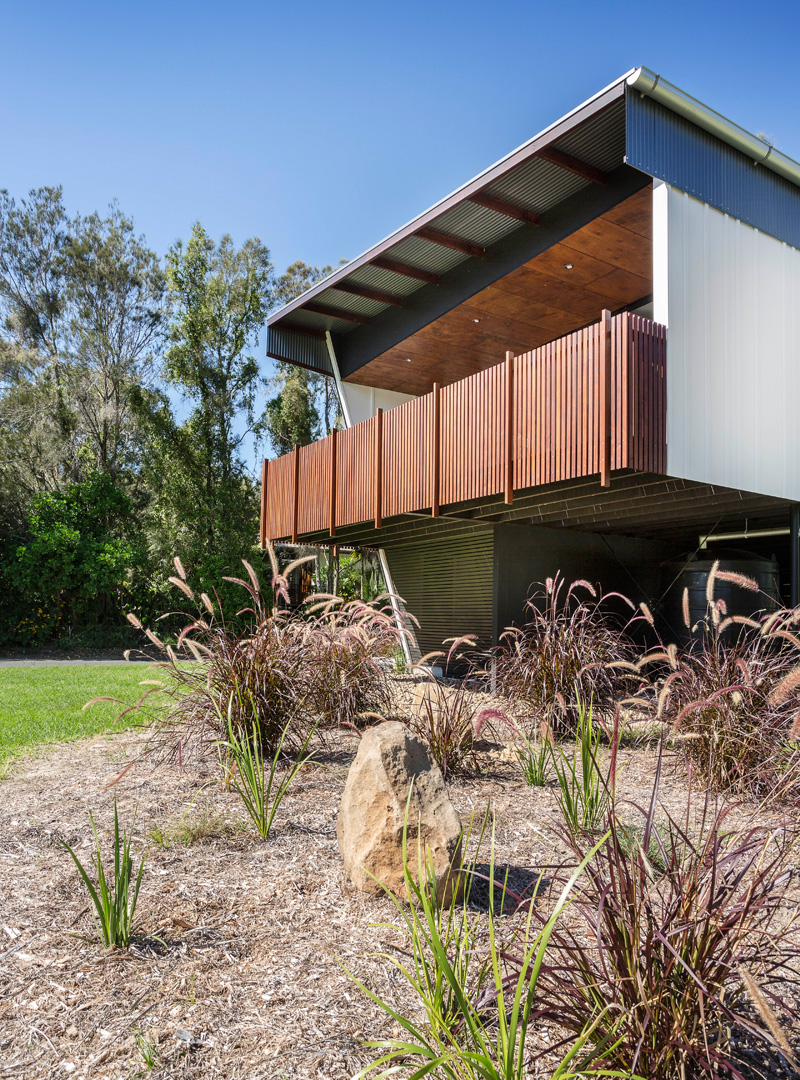 On one side of the house is this wooden balcony that adds some shade on the lower area. You can see here that has a natural landscaping with grass and rocks. It also has a green lawn too, although some parts are just soil.
Read Also: Breathtaking and Inviting Seaview Beach House in Australia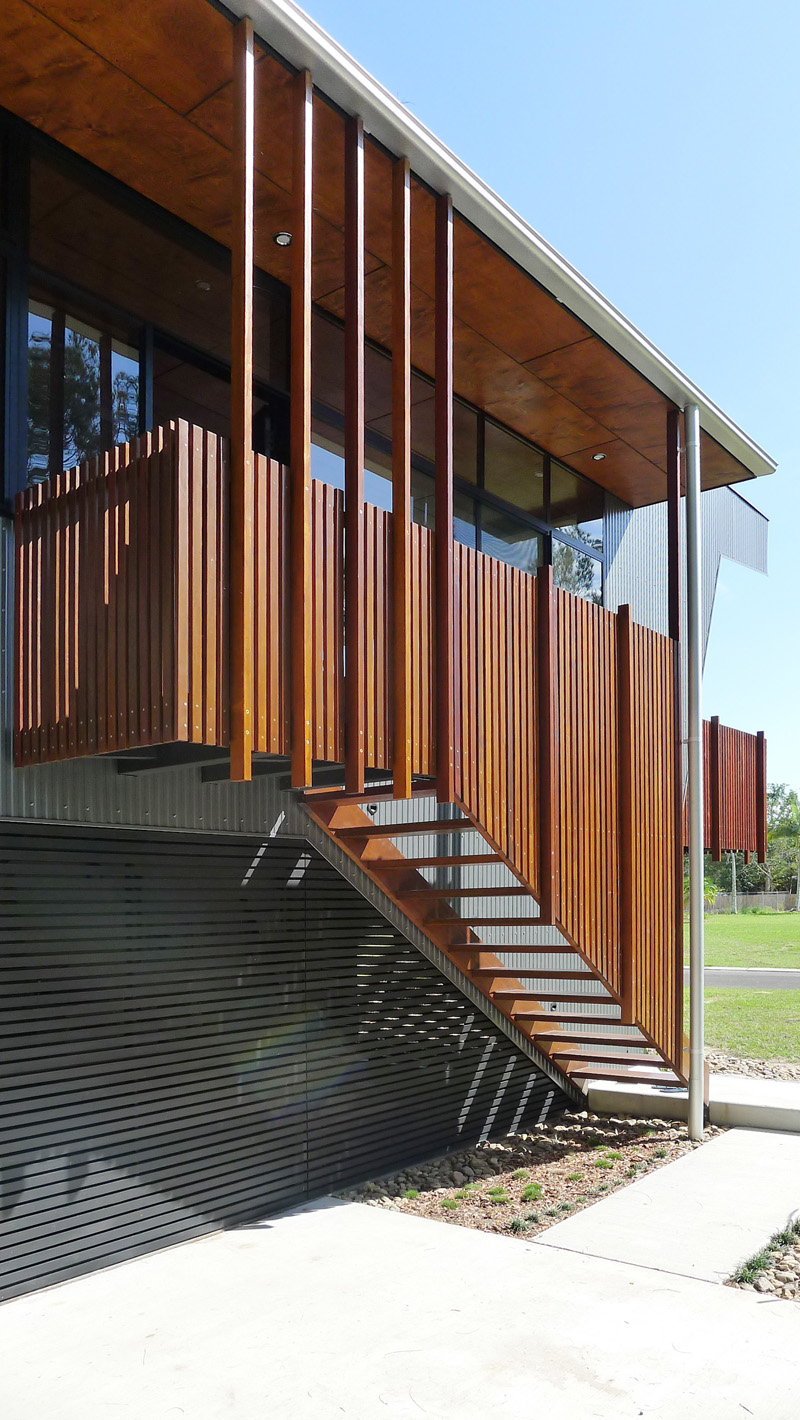 This is the staircase in all its glory! Isn't it a beautiful structure? It sure is. I so love how the wooden design lines the staircase railing. It does match well with the rest of the home's architecture.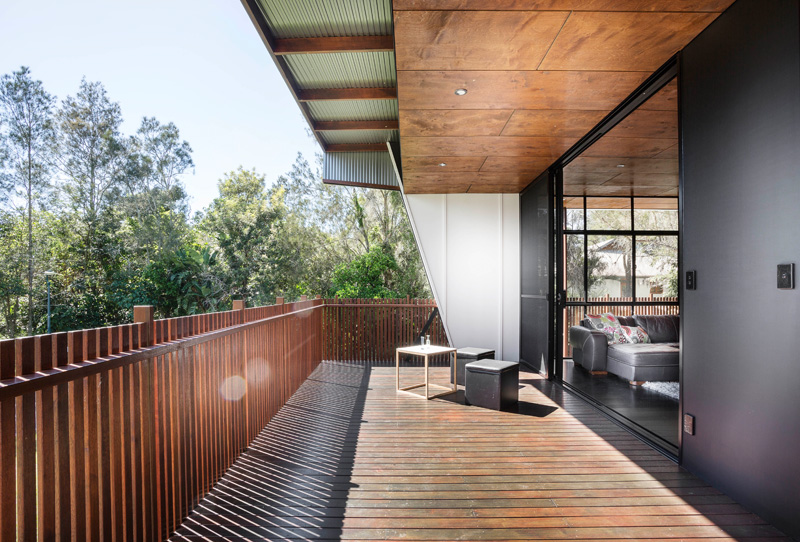 The porch used wood materials on it from the flooring to the railings. It sits under an overhang of corrugated roofing to protect it from heat and rain. I like the look of its eaves too that matches well with the rest of the porch. It used simple furniture for this area.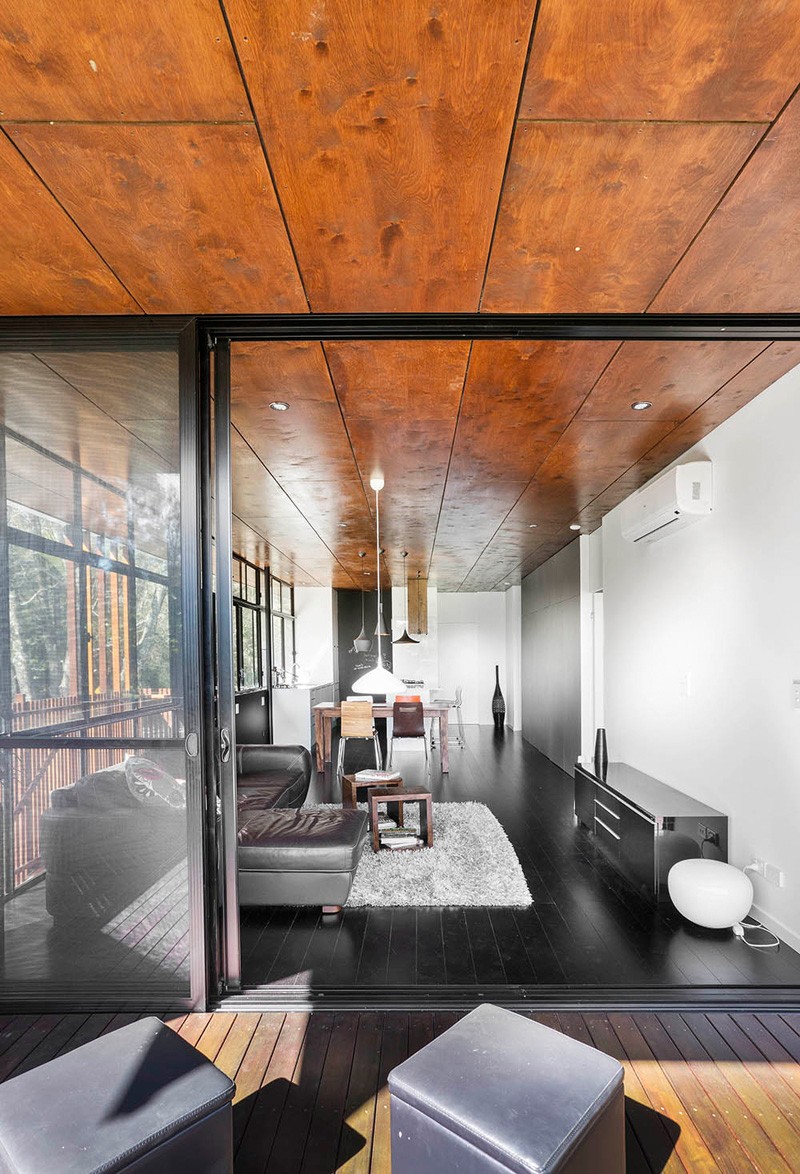 The interior use contrasting colors of black and white which looked stunning when combined with wood all together. You can see here that it used black furniture for a sophisticated timeless appeal. It also has black flooring and black steel frame that holds the glass for the sliding doors that separates the living room to the porch. The ceiling has a beautiful finish!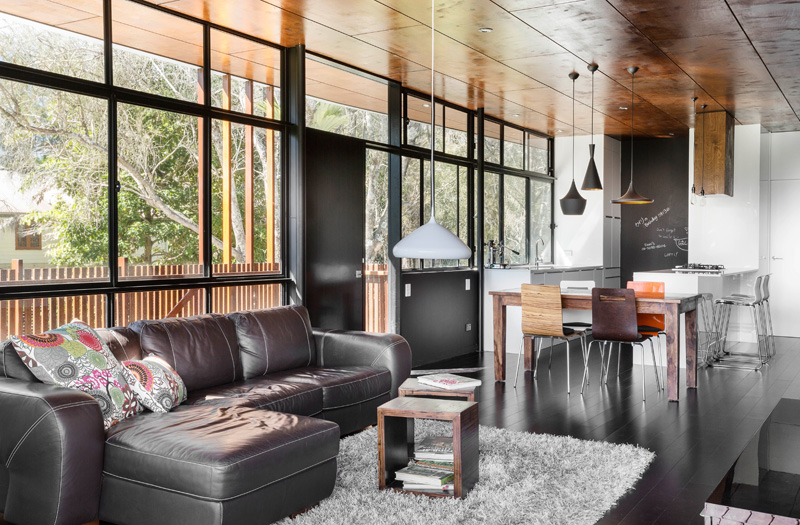 What a beautiful interior with an open layout! You can see it's used of dark furniture and decors like the lighting fixtures but it didn't make the home gloomy after all. Glass walls surround it flooding the home with light. You can see here that the living room, dining room and kitchen are all in one space.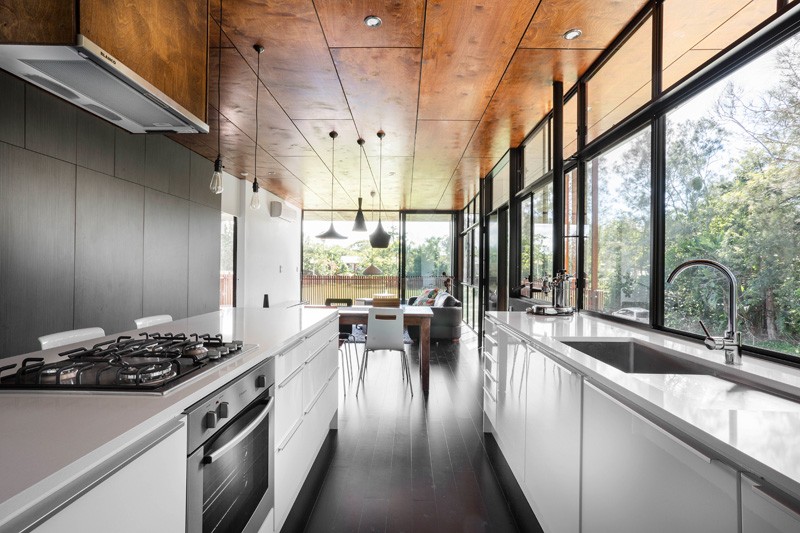 The kitchen has a picture window that allows a view of the stunning natural surroundings. White and black are the colors used in the kitchen as well as some pops of gray. It may not be a spacious kitchen but it is complete with everything the owner needs for preparing food. It also used modern equipment and fixtures too.
This house designed by Refresh*Design incorporates sustainable design principles. It was planned to take advantage of natural ventilation, passive solar design and a very economical use of space. It utilized building materials, with sustainable credentials such as plantation timber, bamboo for flooring, and plywood for ceilings. According to the designer, "the abstraction of the timber-battened vernacular of subtropical architecture adds movement and scale to the house." Overall, I love the look of the house because of how it incorporated contemporary and tropical elements in one space. We may not see the beach in the images above but we can see hints of how the space is being touched by the sea breeze as well as the lovely expansion around it. Did you expect to see beach house as gorgeous as this? I guess, you didn't!