Kloof Road House: Breathtaking Sculptural House that Opens to the Outdoors
A sculptural house with a floating pavilion and double volume interior.
The facade and exterior of the house is very important. It doesn't just give the home a beautiful appeal but it can also convey the personality and character of those who live in it. We have featured many homes with a beautiful exterior. This time, we will feature another one too which will no doubt impress you. The house is called Kloof Road House located in Johannesburg, South Africa which is designed by Nico van der Meulen Architects together with interior designers M Square Lifestyle Design.
The brief of the project seeks for a family orientated home that is suitable for indoor/outdoor entertainment while maximizing the views to the north. The design of the house resulted into a sculptural piece of architecture transforming it from a modest single story home into a stunning modern home. Every room of the house opens outdoors and links it to the landscaped garden which results into an indoor/outdoor living. According to the designers, from the streets said house has "boldly designed off-shutter boundary wall with black steel shapes creeping over that this is no ordinary piece of architecture." It used a combination of steel, glass and concrete that is prominently used in design of the house. It also features an angled steel roof seen at the entrance hall which overhangs the double volume window and glass front door at the entrance. In the interior, the architecture of the house was also translated into it using the same materials like steel perforated panels and off-shutter concrete. Lighting adds drama to the interior complimenting its bold forms and angles. Aside from that, concrete, glass and steel also visually links the look of the interior and exterior. Get to know more of the house through the images below.
Location: San Francisco, California
Designer: Nico van der Meulen Architects, M Square Lifestyle Design
Style: Modern
Number of Levels: Two-storey
Unique feature: A modern home featuring parasitic architecture that resulted into a sculptural house design.
Similar House: LA West Hollywood Modern Home Features Angular Lines and Geometric Styles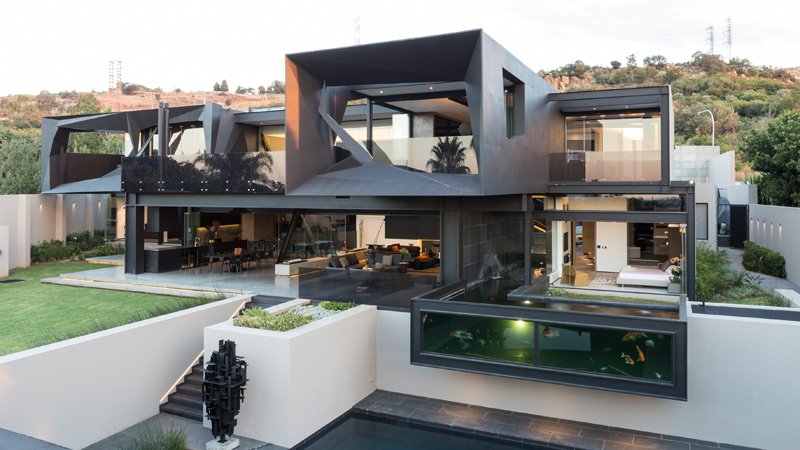 Parasitic architecture is used in this house with morphed steels forms that wrap around and frame the structure. Natural timber in a herringbone pattern clad the wall of the entrance which adds a soft texture in contrast with steel, glass and concrete interior. It has a backlit ceiling that creates a shadow less interior inside the sculptured 3D forms.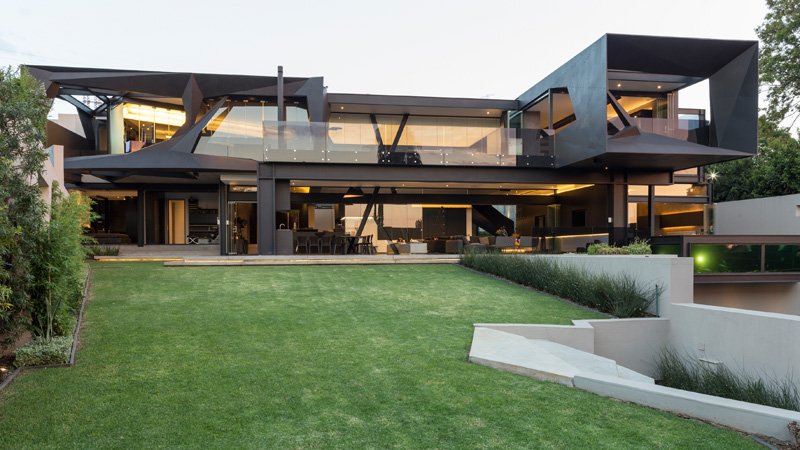 You can see here that aside from the beautiful design of the house, it also has a spacious yard of green lawn and a gorgeous modern landscaping.
What makes the house even more beautiful is how it can seamlessly connect the indoor and outdoor spaces which is achieved by using frameless folding glass doors, transforming the lanai into an extension of the living room.
The house has a 12 x 8m floating pavilion which is located on the lower level of the sloping garden. From there, one can get views of the northern facade in its entirety. There is also a cantilevered koi pond featuring north views towards Sandton.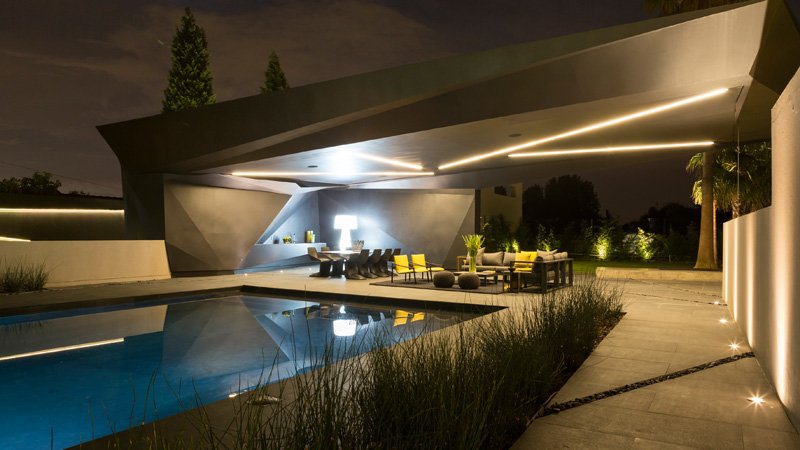 The pavilion is a spot that anyone would love to stay in. It allows effortless entertaining at the swimming pool that has an open fire pit next to it. Aside from that, it has a barbeque and bar located within.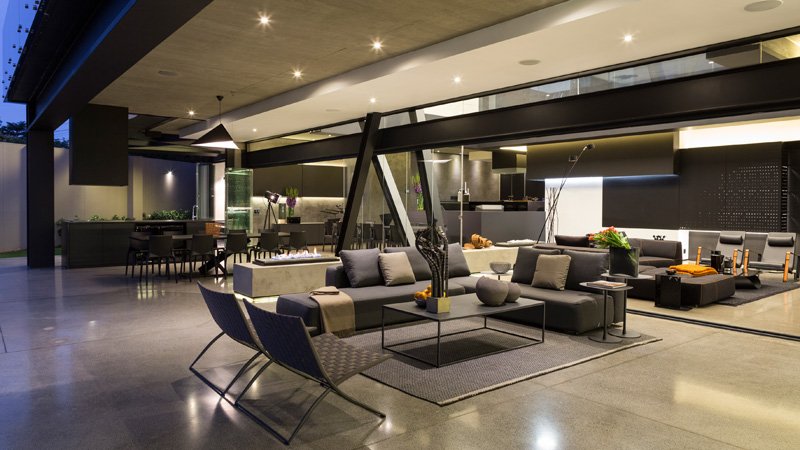 Isn't this a very gorgeous interior? It used furniture, decor and feature lights that are from M Square Lifestyle Necessities. Everything looks very nice indeed!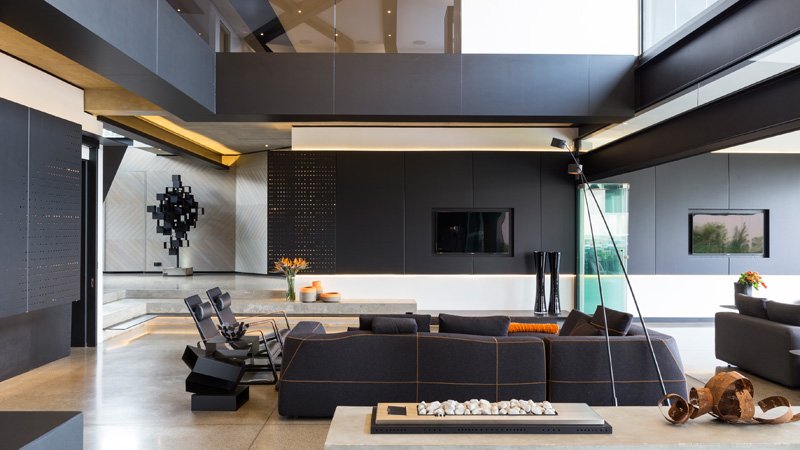 The house has a double volume living room and dining room, kitchen and lanai that are situated in an open plan area. It is merged together with a polished concrete floor that also extends to the lanai.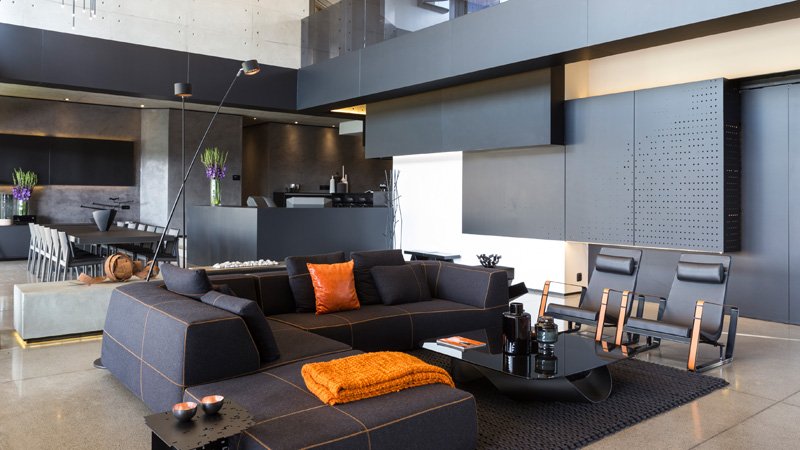 High-quality furniture is used in the house which also has a color that complements with the interior. Notice also how they added lighting fixtures everywhere.
Read Also: An Impressive House Out of a Floating Box in Singapore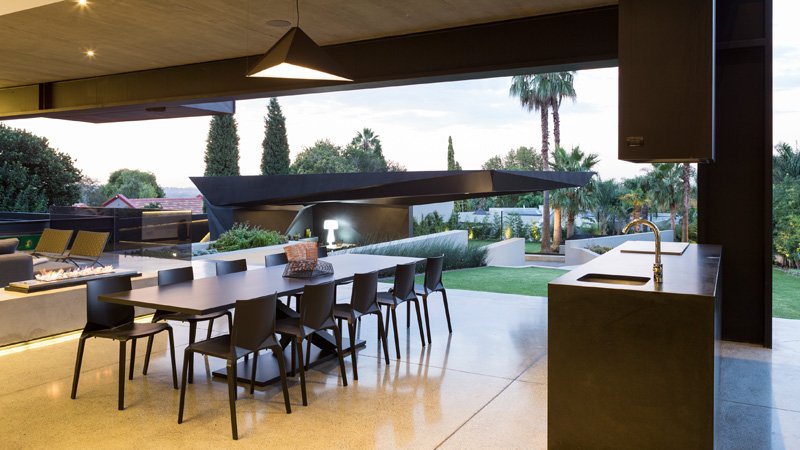 Once inside, the owners can clearly get a good view of the outdoor area. The pavilion and pool can be seen while in here.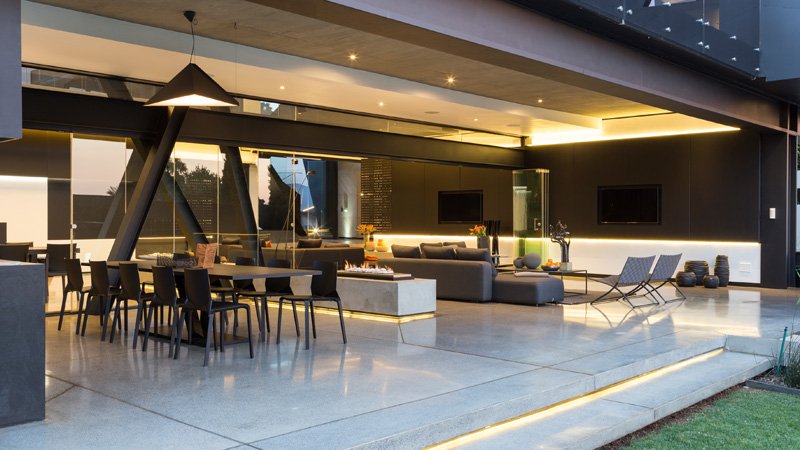 The house features a seamless connection to the outdoor and indoor areas. You can see here that there are lights everywhere too from the steps and even to the ceiling.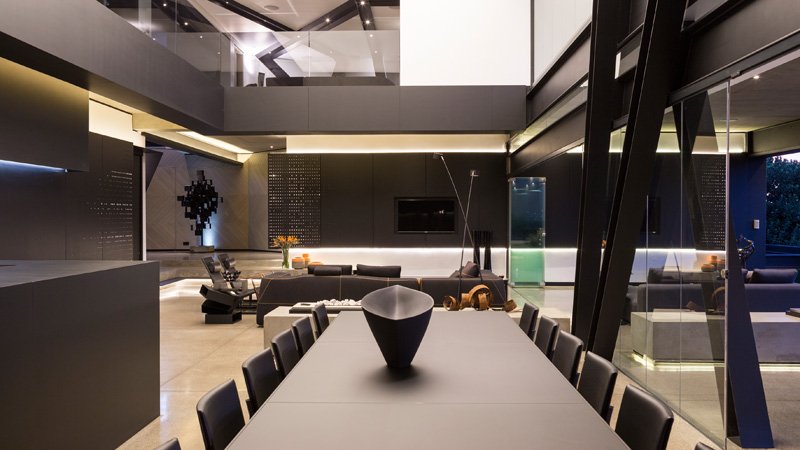 The dining and living areas are just near each other with the same color palette used in it. You can observe that the color is also the same as what you can see on the home's architecture.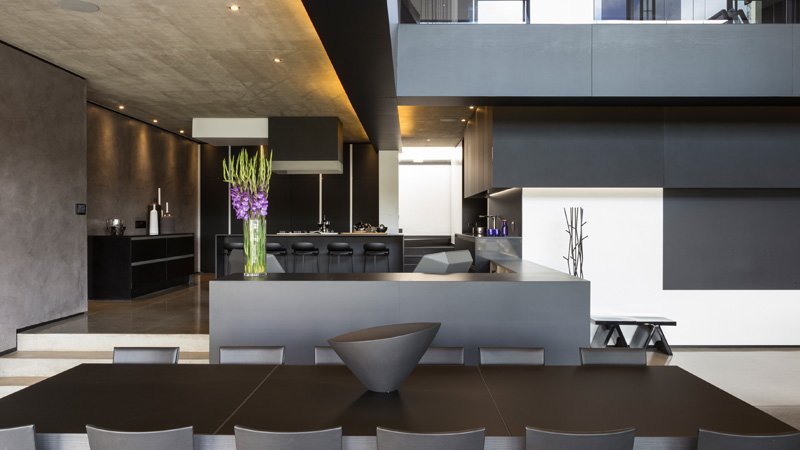 The dining area is seen here as well as the kitchen that is elevated from the dining space in three steps. Notice that L-shaped divider which is actually a low-bookshelf.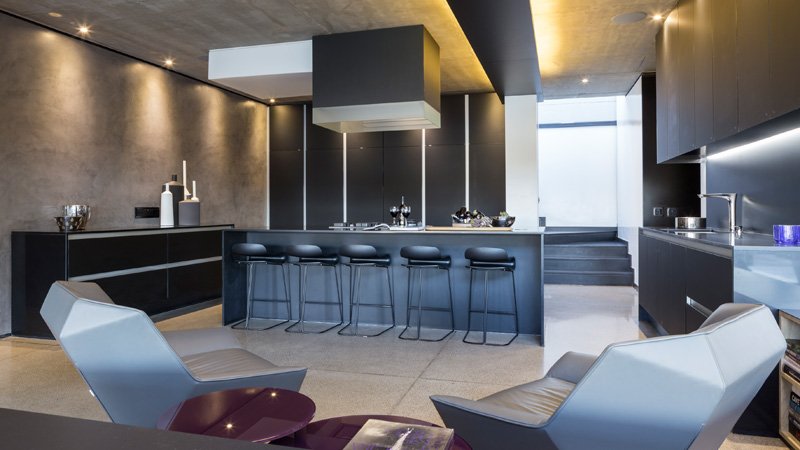 The kitchen has everything one needs in order to prepare food. But aside from that, it looks really appealing especially with all the light.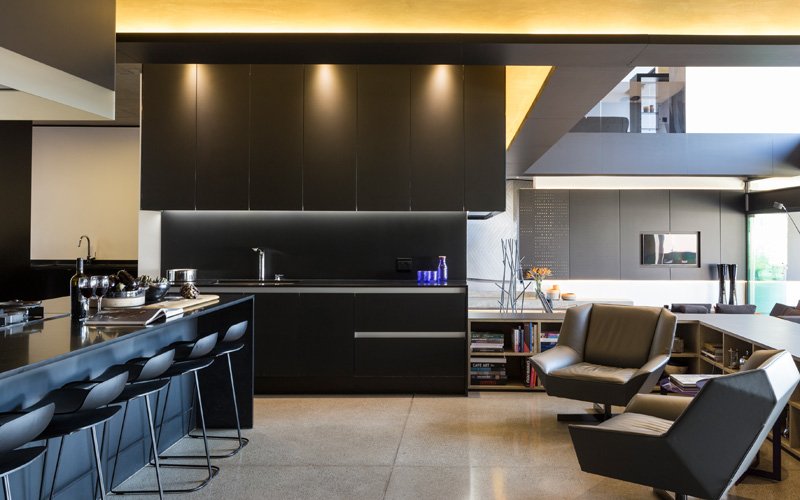 Just near the kitchen, is an L-shaped bookshelf where swivel chairs are located. I can tell that this is also their working area.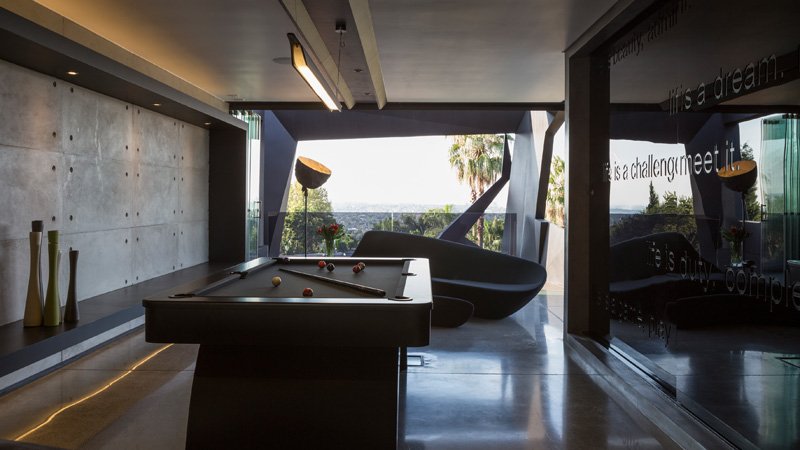 There is also a designated area for playing which is perfect for those who want to relax and just enjoy the day.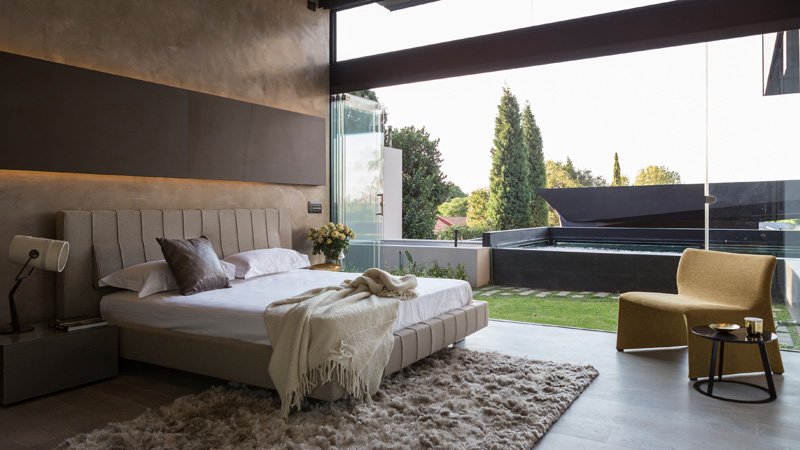 This is the main suite that has its own lounge area, a television and fireplace, and a mini kitchenette cum bar. Aside from that, it includes a pajama-lounge and playroom which is located upstairs. It overlooks a double volume living spaces and kitchen.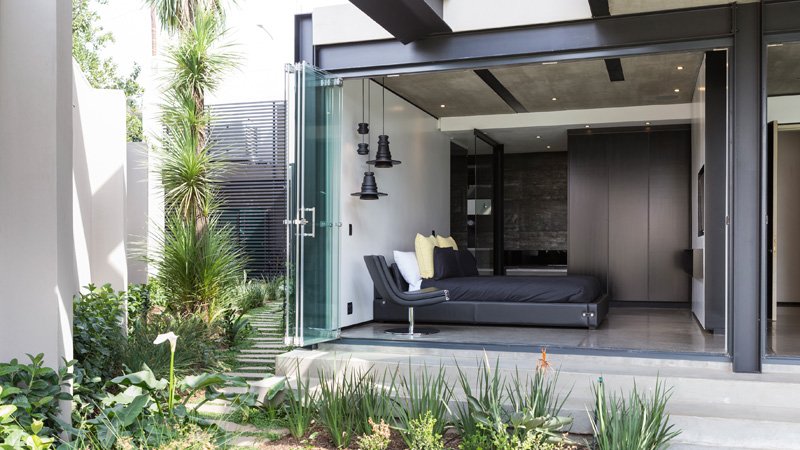 The house has four en suite bedrooms as well as two children's bedrooms and a guest bedroom located downstairs. Meanwhile, the main bedroom is situated upstairs which has a large open balcony with views of the horizon.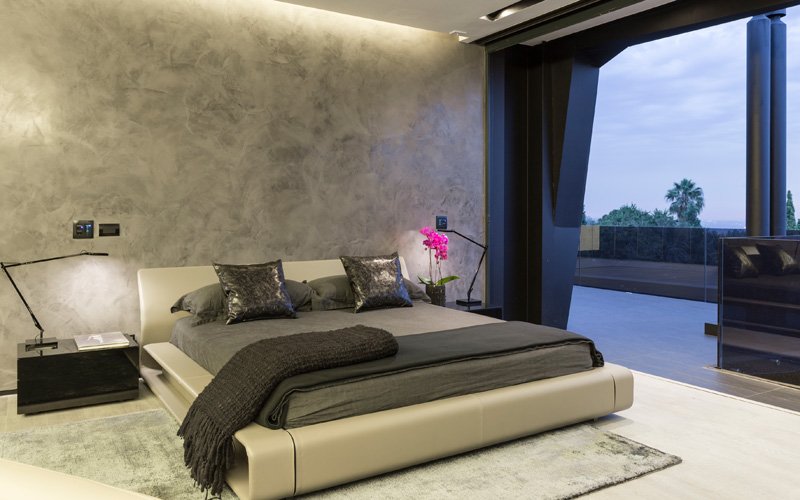 Another bedroom in the house with a simple yet sophisticated design. You can see that there are textures on the wall which made it look beautiful.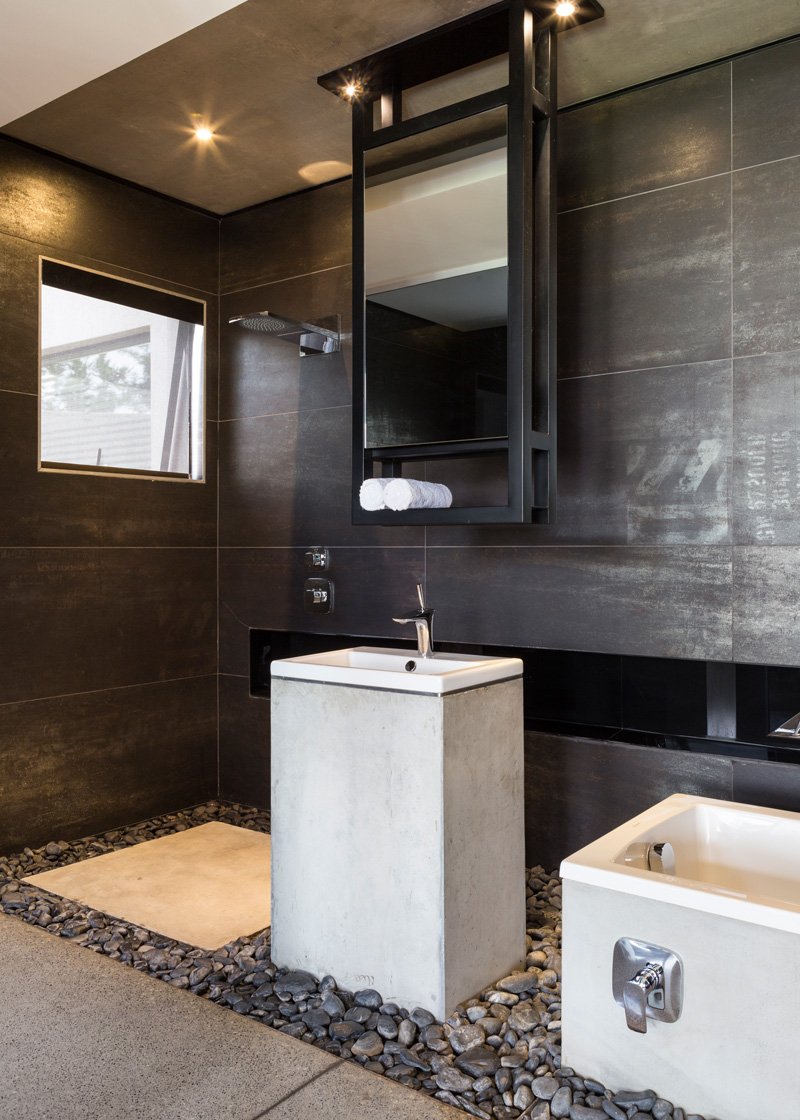 A beautiful house like this deserves a bathroom as luxurious as this. I know you will surely agree with me. Just look at its design, not overly done but is very gorgeous and functional.
Isn't this a very sophisticated home? It features angled columns that are supporting steel beams. It has a roof that pierces the double volume of the space. It also has structural elements that looked sculptural. This house that is designed by Nico van der Meulen Architects and M Square Lifestyle Design who worked on the interior, is energy efficient. This is one very important feature using water-based under floor heating system that are connected to solar panels and a heat pump that is intended for both heating and cooling. The flooring is installed in a polished concrete floor which is good for conductivity. Indeed, the house isn't just about aesthetics which made it even more impressive.