Darlinghurst Warehouse: Once a Garage, Now a Brick House
This home is a result of in impressive renovation of a commercial garage.
For sure, this isn't the first time that you will see a house that is actually from a space that is originally intended for a different purpose. Some home transformations are from a warehouse, a garage, a church and many others. Although it may sound queer, it is possible to come up with a home from these spaces merely by updating the interiors and even some parts of the exterior as well. Most homeowners prefer to retain some features of the original building since it adds character to the space and it is nice that there is some touch of history in it too. Today, we will show you a home that is actually a garage but once you see how it looks like now, you will not expect that it is something else years ago.
The project is called Darlinghurst Warehouse located in Darlinghurst, New South Wales. A very long, narrow site in the heart of Darlinghurst, previously a commercial garage and bounded by terrace houses on all sides, called for intelligent planning to maximize sun penetration and flexible living. Heritage constraints required the street-front room to retain its existing ceiling height, and the façade was similarly protected, concealing from the street the drama of the converted spaces beyond. Visitors are launched into a tall, light-filled living space, lit by an internal courtyard that brings a glimpse of green into a very urban context. New building elements in black steel, recycled brick, concrete, and timber form a palette that combines heavy durability with warmth, bridging the gap between the building's industrial history and its new use.
Location: Darlinghurst, New South Wales
Designer: Sam Crawford Architects
Style: Modern Industrial
Number of Levels: One-storey
Unique feature: Aside from the fact that this space is once a garage, its brick walls are really beautiful.
Similar House: Before and After: A Garage Turned Into a Small Modern Home in Bordeaux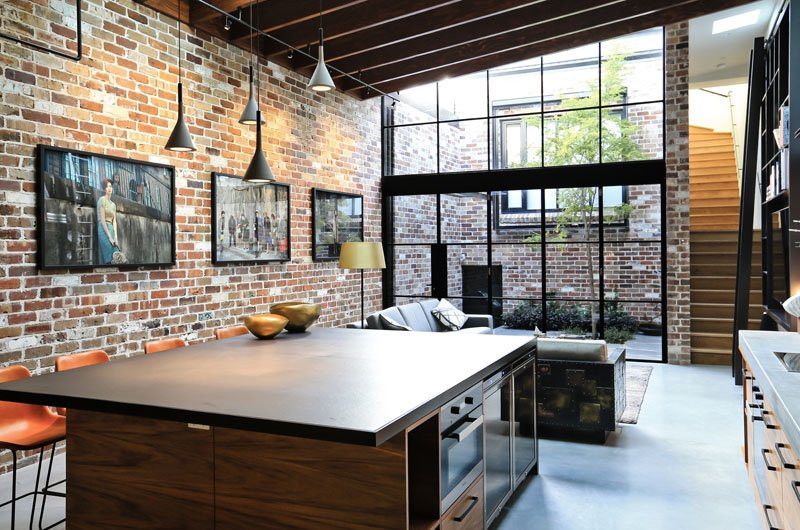 Opposite the wall of the kitchen cabinets is a large kitchen island with concrete pendant lights that are hanging above. There is also plenty of room to seat four people. Behind the island and the living room, is a brick wall that is a reminder that the space was once a commercial garage.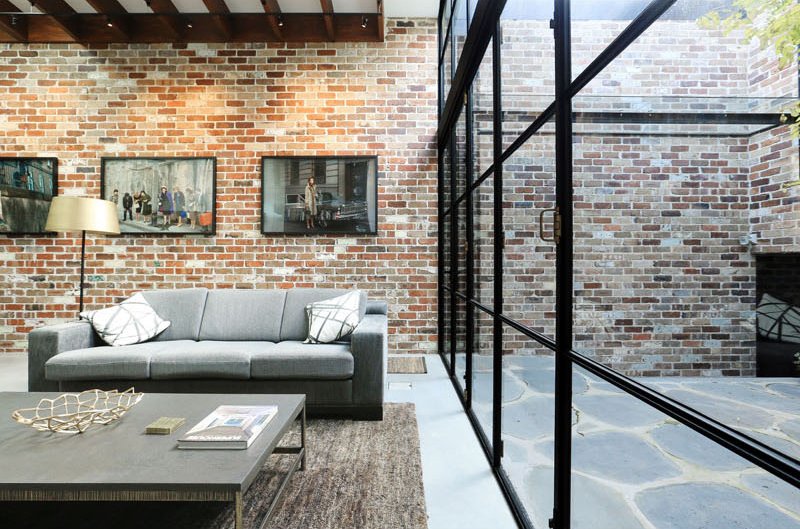 The home features a lovely mix of textures which brings more beauty to the space like the texture that we can see from the area rug. The house also has glass walls and doors that create a seamless connection between the interior and the outdoor area.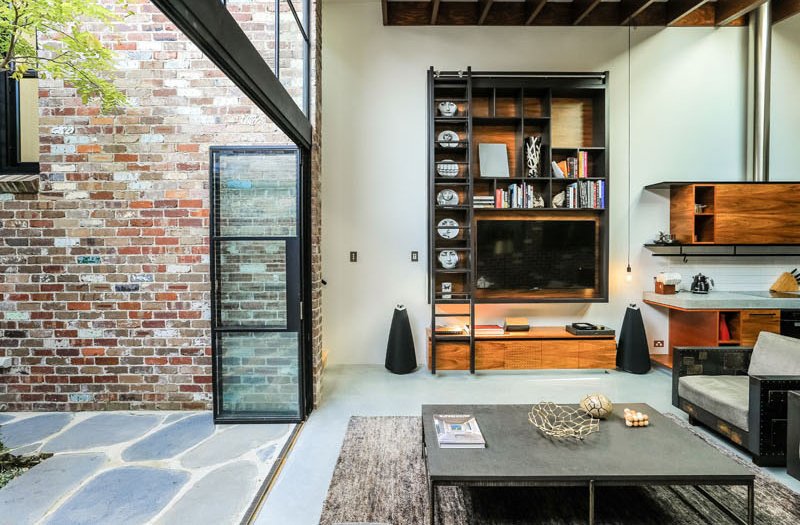 The glass walls are actually doors- a folding door that can be opened to connect the living area to the outdoors. It will surely be very relaxing when the door is open and fresh air gets inside the house. Another thing that I noticed here is the tall wall system that stores the television and holds different collections of the owners.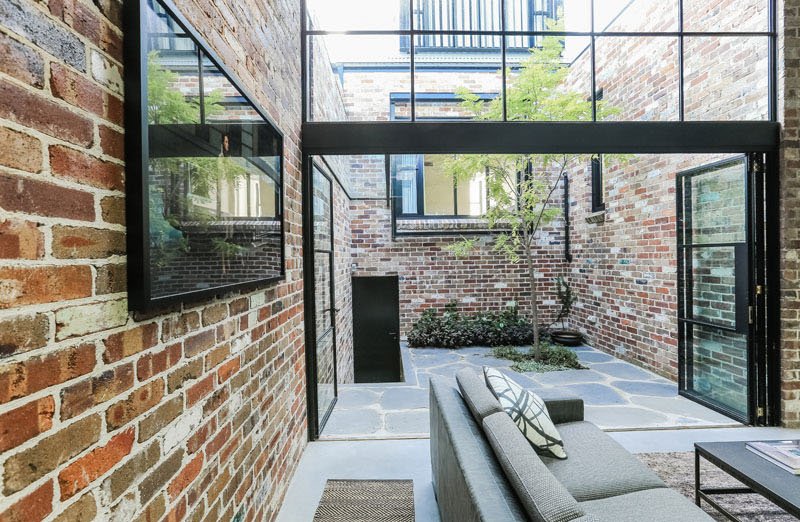 Off the living area is this relaxing outdoor space. It is a central courtyard with some plants in it. I believe the owners would bring in some chair here where they can read a book, relax and even eat dinner together.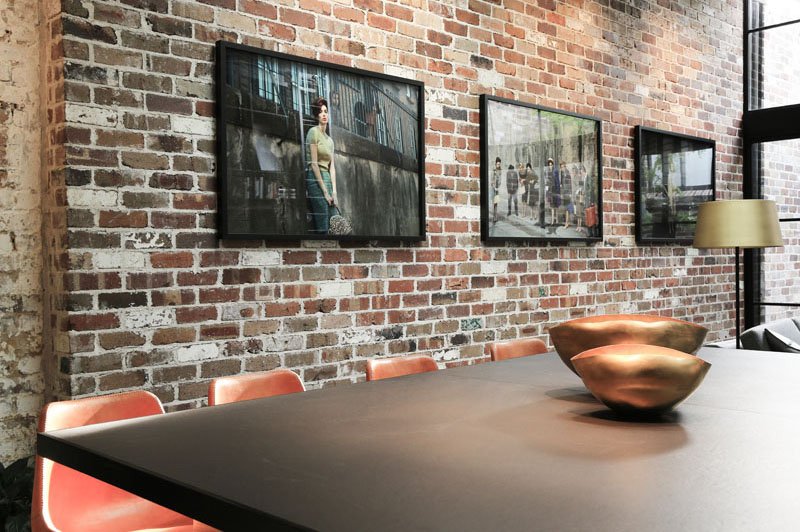 You can see here the dining area which is just located near the kitchen space. Well, actually everything is just in one space since this home has an open floor plan. What I love here is the colors of the chairs and that lovely metallic decor on the table.
Read Also: Before & After Update of a Fence and Garage in Toronto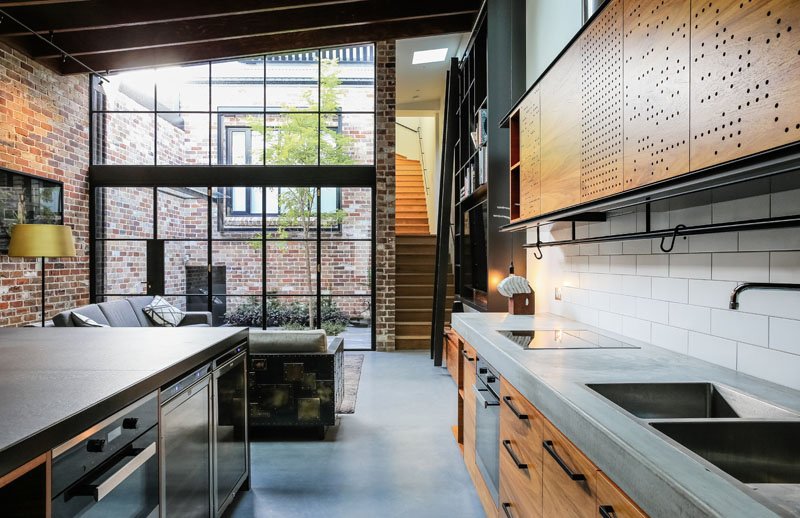 You can see that there are small holes in the cabinets to create an artistic pattern on the light wood upper kitchen cabinets. The cabinet looks good with the concrete countertop of the kitchen.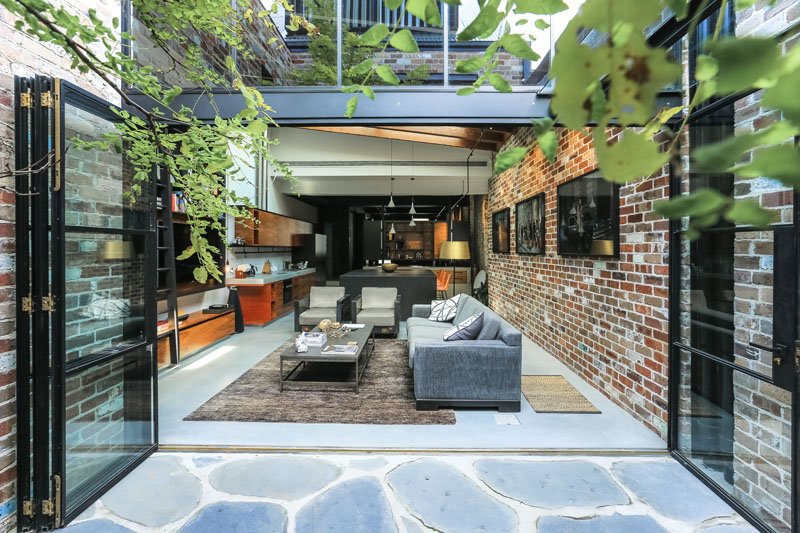 Now you can get a good look of the entire interior. Yes, it might be small but it looks totally beautiful! And it has everything one needs for a home which is the most important factor.
I don't know about you but I love this space! I especially love the brick walls and how they designed the interior with wood and other materials that extended the natural appeal of the home. Apparently, Sam Crawford Architects managed to upgrade the look of the garage into something beautiful, cozy and totally homey. It doesn't even look like a garage after all. Spaces like this are not just inspiring but it also gives us an idea that you really don't need a big home to get everything you want. Something small might work out for you!