Hoan House Features a Roof Garden in Vietnam
Planning to have a garden but there isn't space? Look at what the designers did to this home.
There are many ways to add a garden to a home. Others would add a garden inside their house just to accommodate the green living things while still others just add hanging plants. But those who really want an entire garden and doesn't have enough outdoor space for it would opt to have a roof garden which actually works well. There are some that creates a roof top courtyard where they can also relax and unwind complete with an outdoor kitchen and all. But still others would merely add a garden on their roof and nothing else. And there are many ways to do that too. You'll be impressed on what the designers did to this home in Vietnam.
What we will feature today is the Hoan House with a roof garden. The roof of this house is separated into rotating portions of tiles and vegetation, with some tropical trees, going along the neighborhood direction in the range — 60% of a building's rooftop must be secured in customary tiles— however amplifying the visual impact of green on the rooftop. As an augmentation of living spaces, the whole rooftop patio nursery is available to permit excellent perspectives over the slopes of Nha Trang. This is the place occupants can appreciate outside exercises under the shades of the trees. The parallel strips likewise show up in the inside under the rooftop. There are two sorts of strip: smaller strips for auxiliary capacities, for example, washroom and capacity; and more extensive strips for living and eating spaces, and additionally for rooms. White painted uncovered block dividers are utilized for both inside and outside. It is a shoddy yet tastefully satisfying, natural however sophisticate arrangement.
Location: Nha Trang, Vietnam
Designer: Vo Trong Nghia Architects
Style: Contemporary
Number of Levels: Two-storey
Unique feature: A home with a roof garden containing so many plants of various types.
Similar House: A London Home Featuring a Unique Terraced Green Roof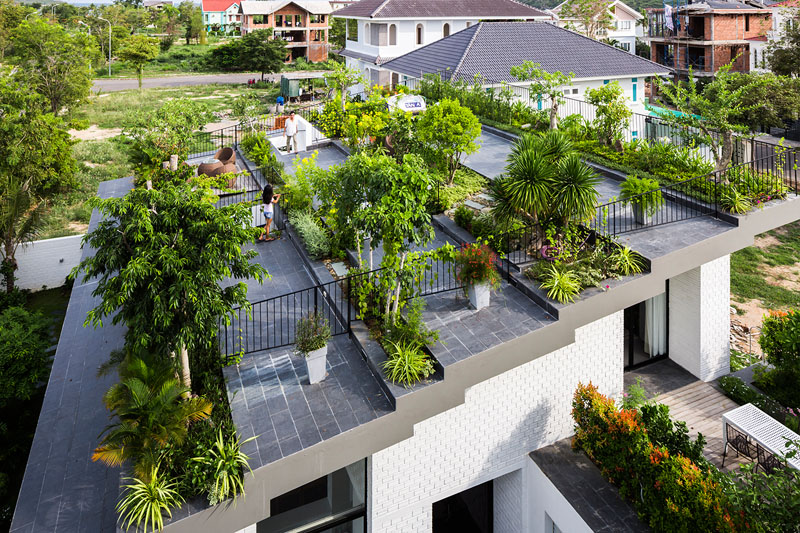 The owners of this house wanted to have a house with a large garden but they do not have enough space around the house. With that, the architects responded by designing a house with a terraced roof, filled with plants.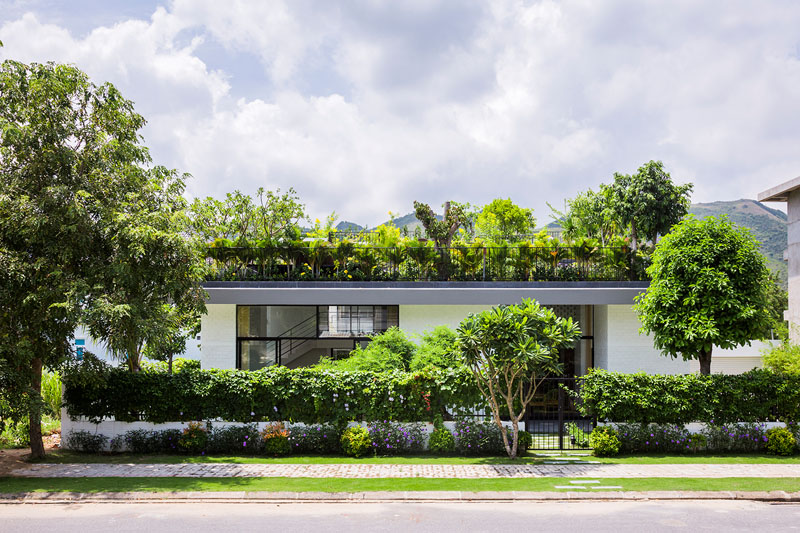 The home is located in Nha Trang, Vietnam. It is designed by Vo Trong Nghia Architects and ICADA featuring a stepped roof with various terraced spaces that filled the roof with plants. Seen here is the facade of the house and you can cearly see here that it indeed have various plants on it.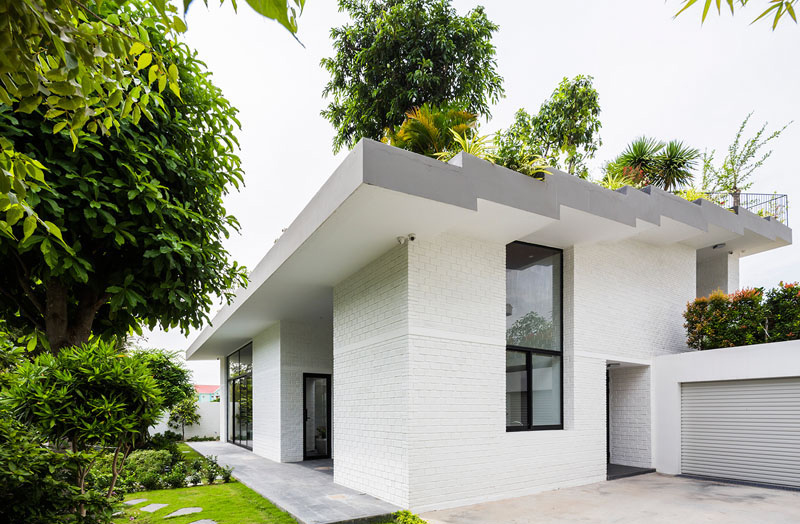 Seen here is the side of the house which has white bricks on the wall. You can also see the terraced roof that is specially designed to accommodate a roof garden for the house. Although plants and trees can be seen around the home, it isn't enough for the owners who really loves gardening.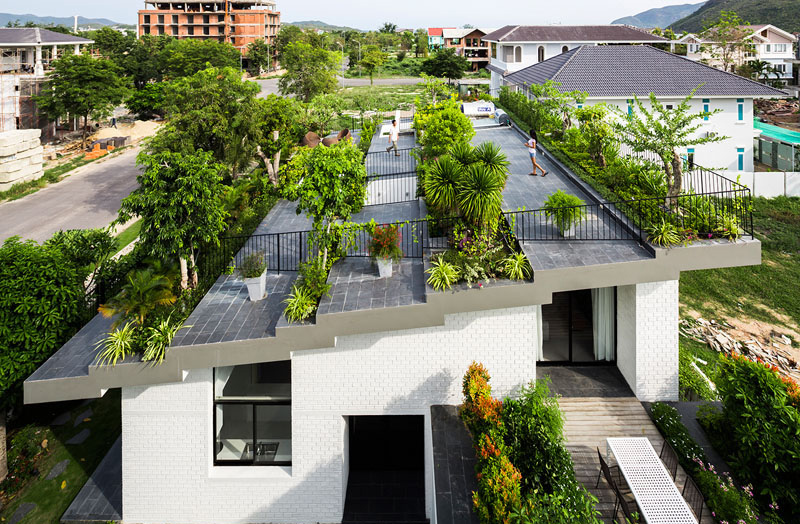 The roof isn't just a garden but it is also an extension of the living areas of the house. It features a large outdoor space perfect for relaxing and entertaining. It would be nice to stay here when the sun isn't too harsh and the wind is mildly blowing. It would be very refreshing!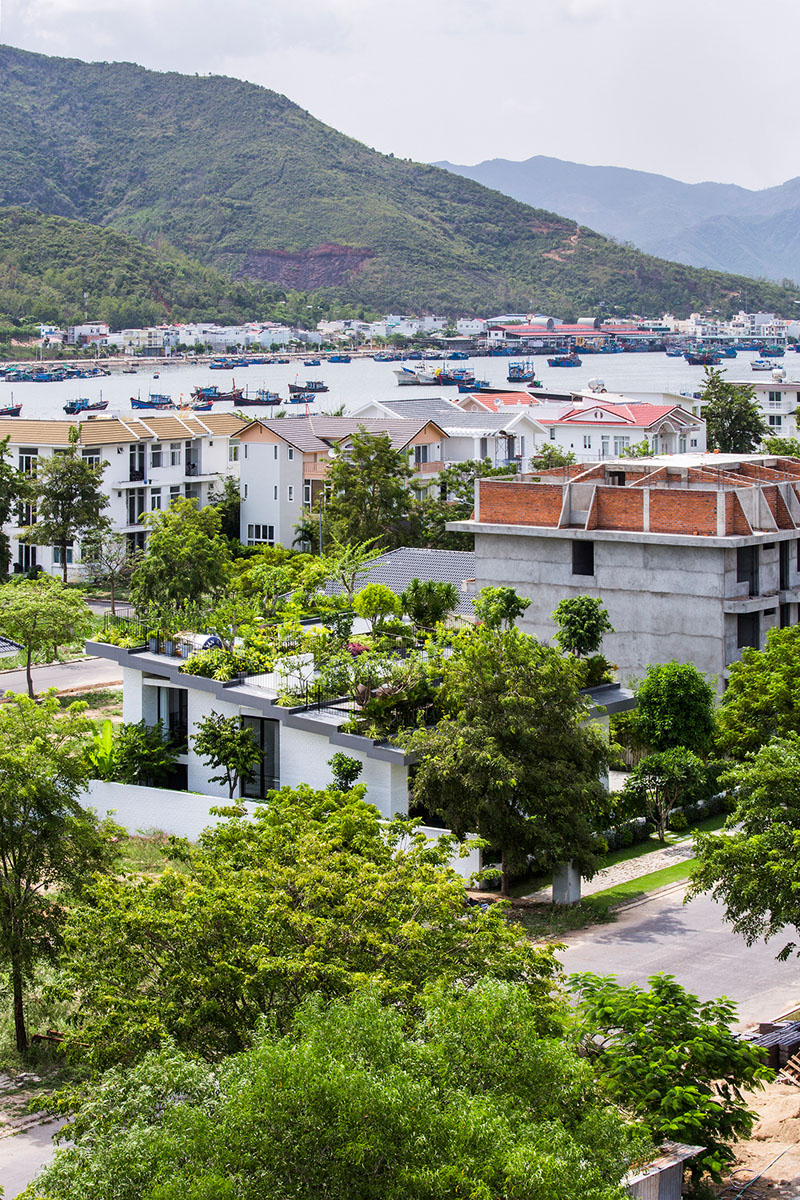 The greenery on the roof really stands out compared to other homes in the neighborhood because we know that only few homeowners would opt for a roof like this one. But then again, this design would be advantageous because no roof sheatings will be blown away when storms arrive.
Read Also: A Rooftop Garden in New York Seemingly Looks Like a Meadow in the Sky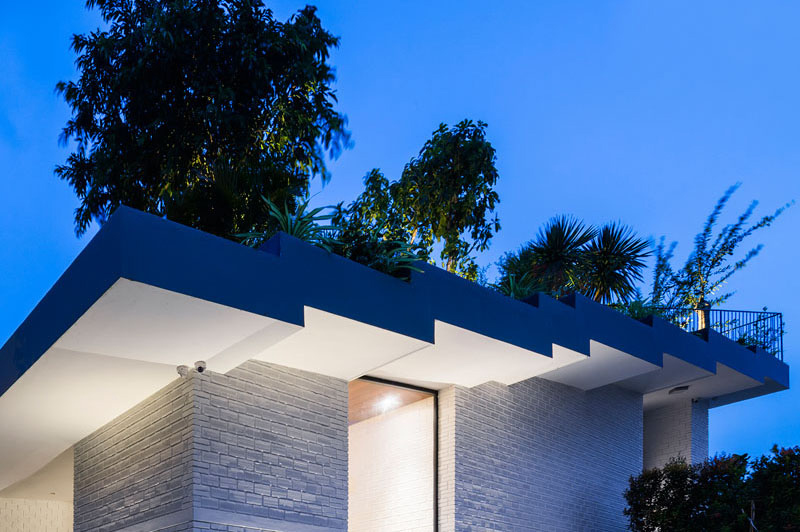 During the night, the house has beautiful dramatic lighting on it like what you can see here. Aside from the house itself, even the rooftop garden is also illuminated as well.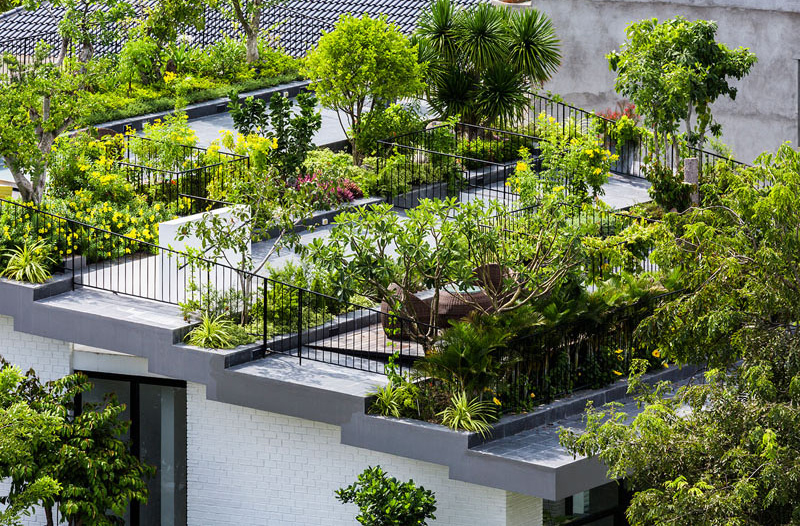 Taking a closer look at the garden will introduce us to various plant types. You can also see here some rattan made chairs and a round coffee table which is a nice place to sit while reading a book, eating snacks or just relaxing.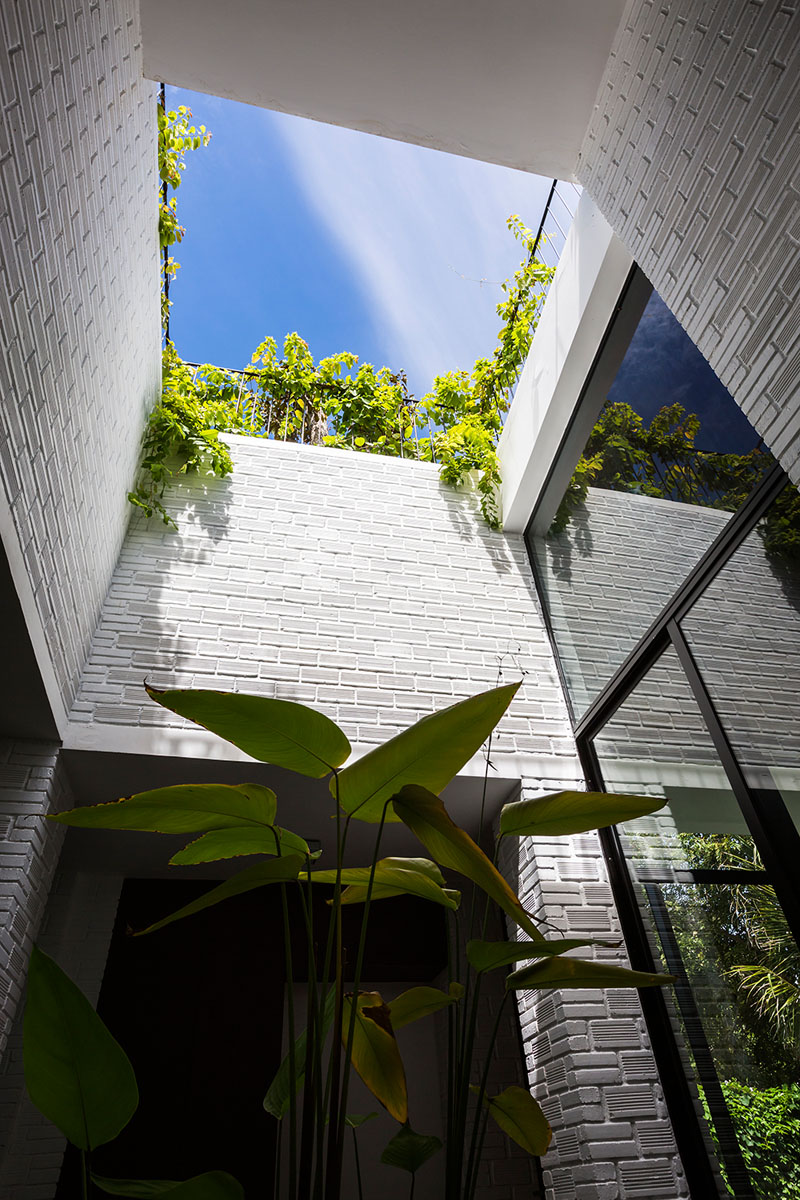 There is also a void in the roof that provides plenty of light in the house and a green space that can be enjoyed from the living room. Yes, even the interior of the house also have its own garden too. This part is on the middle of the roof. As time goes on, this void will be lined with vines, creating a unique green space.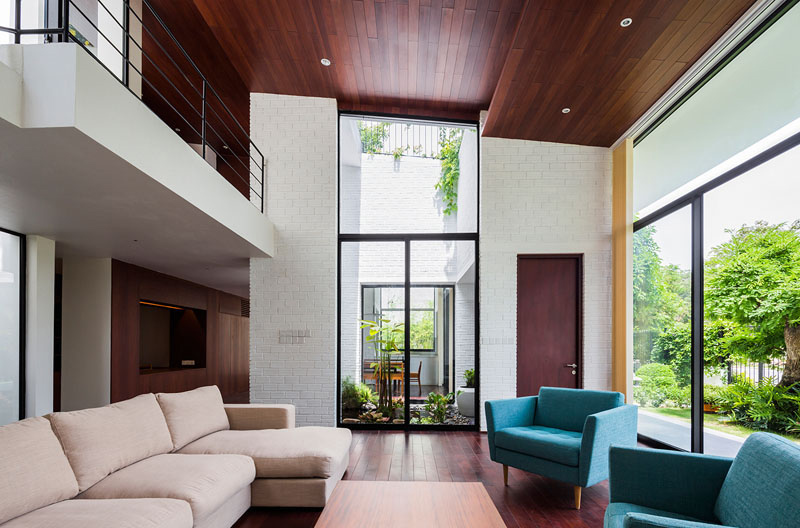 You can see that interior garden from the living area. You can also see the light that goes into it through the void of the roof that has plants on it. Just imagine how lovely it would look like when vines cover the area! Such a stunning sight in the house indeed.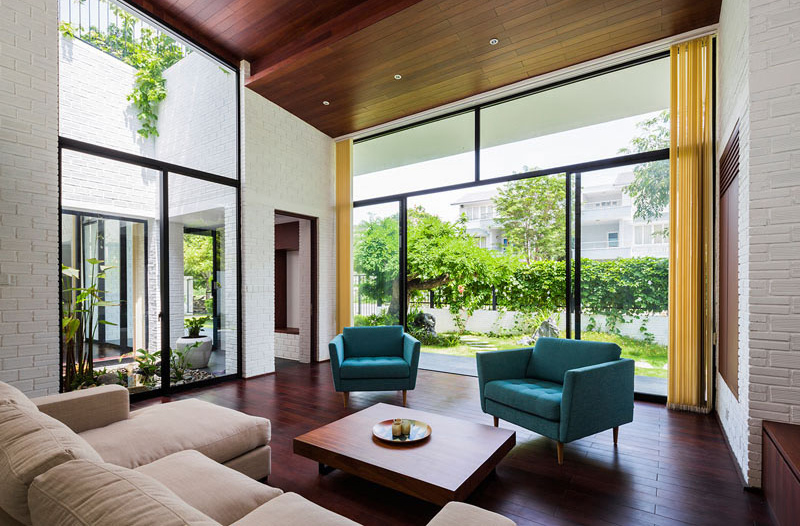 Aside from the interior garden, the house also have glass windows that are so tall which allows a good view of the outdoor garden. You can tell that the owner loves plants indeed. Going back to the living room, you can tell that the house a beautiful yet simple contemporary design with two blue green chairs and a comfy beige sofa.
This is indeed ideal for those who like to plant! What makes this different is its design because of instead of just having a shed roof to accommodate a garden, this one has a terraced design wherein there are different plants for every level and it doesn't look hard to access too. This home is designed by Vo Trong Nghia Architects who helped the owners fulfill their dream of having a roof garden complete with all the plants that they want to see in their home. And it also appears like a nice place to spend time with the family too while taking care of the plants. Would you like to have a roof garden like this one?