Dar Al Gurair: A Dramatic Contemporary Villa in Dubai, UAE
First look at this house and you will know that there is really something different in it. This single level home is hidden behind a circular drive and a curving screen wall. It is comprised of intimate family spaces and panoramic views of the grounds, pools, terraces and two Cubist sculptures. All these are linked to the main building of the Dar Al Gurair in Dubai, United Arab Emirates through a pilaster-edged pathway.
Natural stone is used for the house giving it warmth and luxury. This feel is seen all throughout the house even in the outdoor scene of the pool and the garden. The interior of the house brings in the color pallet of the exterior creating a connection between both areas. Take a look at the home's images below: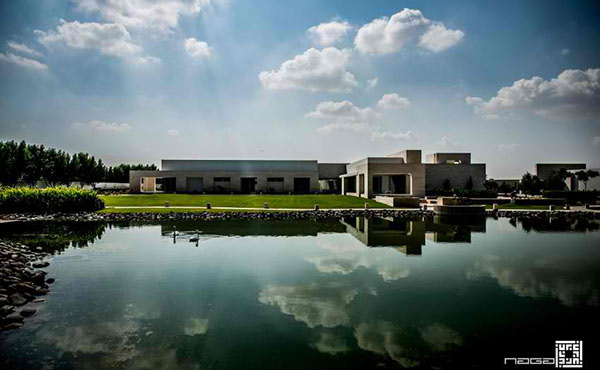 From afar, the house is already a wonder. It could be low lying with its single level design but its look is soars high with appeal!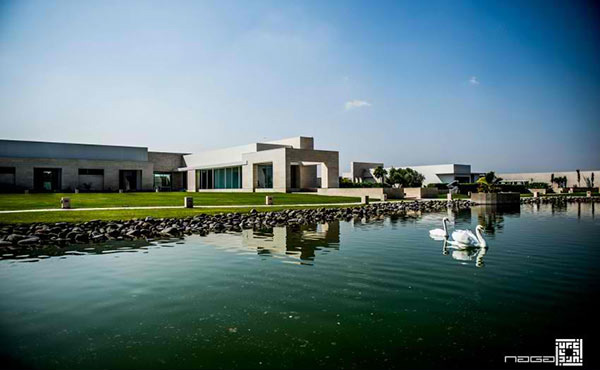 The surroundings of the house is very beautiful and it certainly complement with the home's architecture.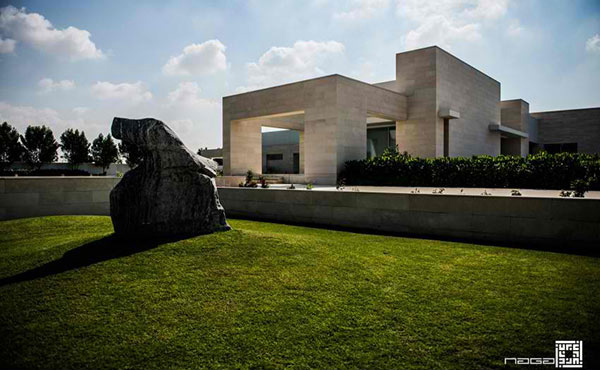 Aside from the massive Cubist sculpture outside, this rock formation is another sculpture that is indeed eye-catching.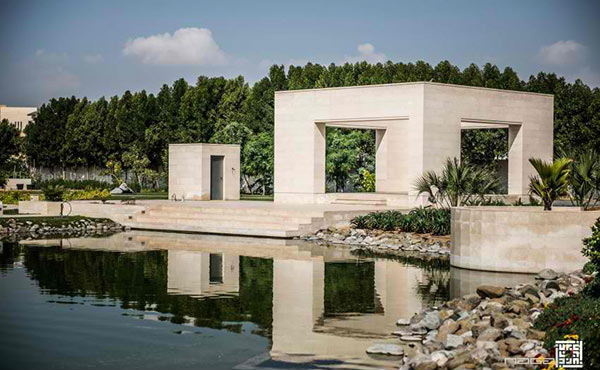 Speaking about cubist, these are the sculptures that we are talking about.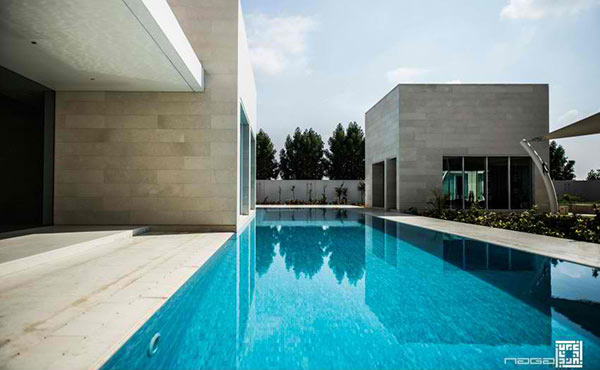 The pool area connects the house to a courtyard. It looks lovely with the blue floor tiles.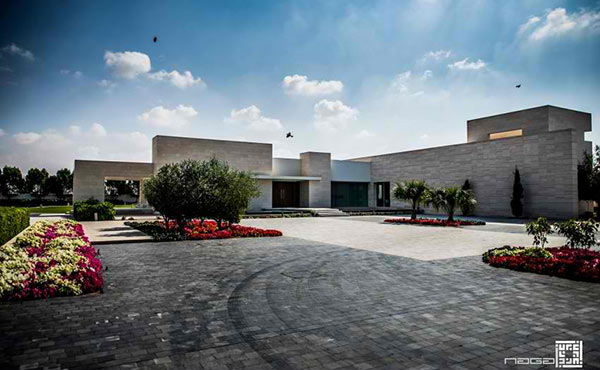 The landscape is contemporary in style and it is gorgeous with the varying colors of blossoms that grow in the garden.
The house boasts this sunken living room which is something some homeowners always wanted to have!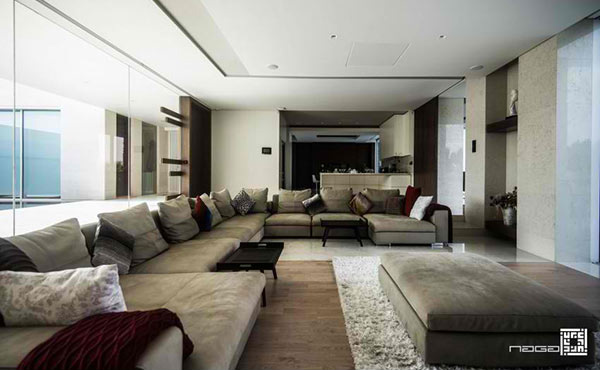 This is the spacious living room in warm tones. Some throw pillows could add some pop into it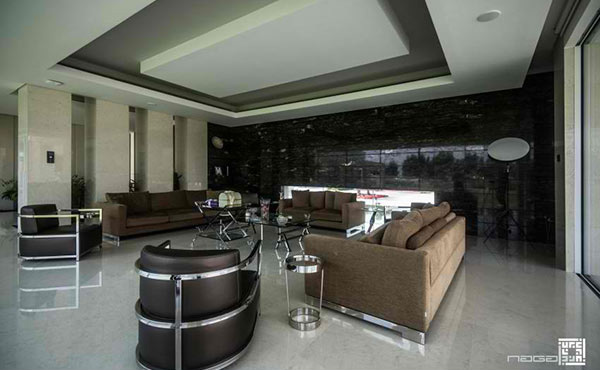 Meanwhile, this is the family room with a dark wall on one side.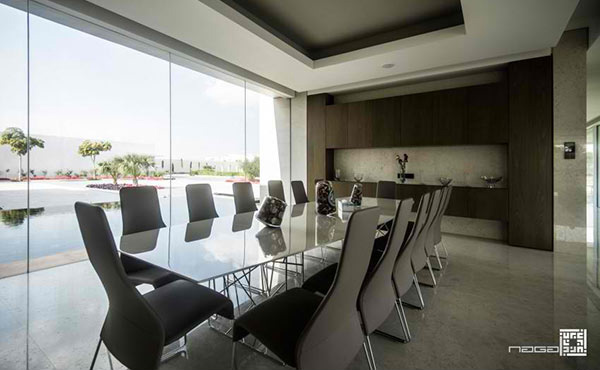 The dining area has a glass wall that makes dinner time a lot more fun given the view of the pool and the garden.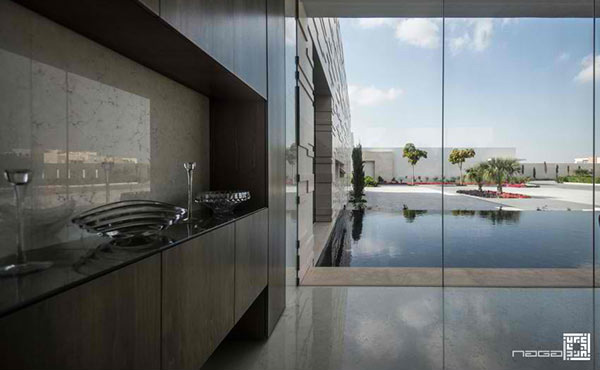 Still in the dining area showing us its good woodworking for the cabinet.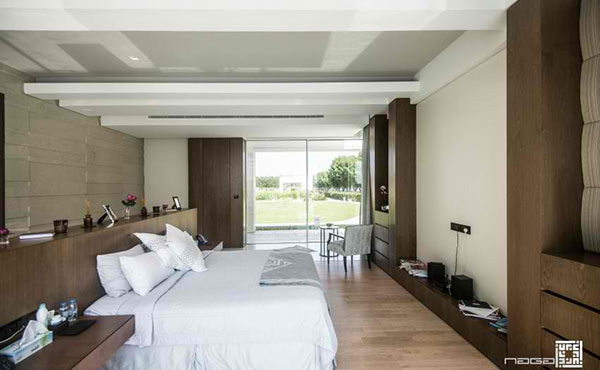 This bedroom may look simple but it has a decorative ceiling with a contemporary style that adds a subtle touch of sophistication to it.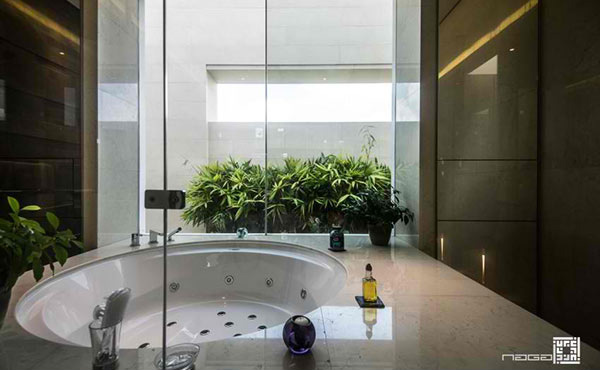 Now this is the spa area. Sure, it has that Zen feel despite the modern look.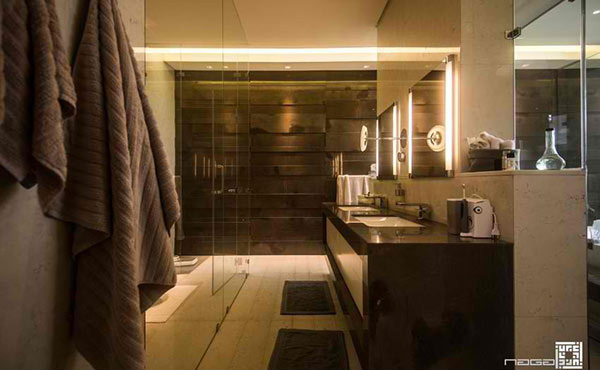 The bathroom used browns in it with one wall covered with stones.
The exterior of this house looks like that of a museum because of the sculptures in it as well as the natural pool. It surrounding landscape is very nice too that the result gives you a totally dramatic aura. Inside, you will still feel the same way as you take a glimpse of the sunken living room and other areas of the house. Overall, the NAGA Architects, did a perfect job for this house design!