Vashon Island House: Sustainable Family Cabin in Washington
It would always be nice to have a house that is refreshing and cozy. Seeing a wooden house looks very cool and airy. But it would feel even nicer if it is in an island. Have you ever seen a wooden house in an island? I think I did, in photos online of some vacation spots but what we are going to show you today is a family cabin that would make you feel like chilling in one!
It is called the Vashon Island House with a 1,750 square foot located on Vashon Island, King County, Washington. It is a family cabin comprised of two bedrooms, a flex room/den, two-and-a-half bathrooms, and a 300 square foot bump-out screened-in porch with a fireplace and wall of windows. Aside from chilling in the cabin, the family would enjoy the natural surroundings as well as the islands habitats. One unique feature of the house is a sweeping butterfly roof, allowing the structure to open towards the views in two directions. It has extended roof overhangs and covered spaces which could be wonderful opportunities for indoor-outdoor living. The house also has a children's loft, an outdoor shower and a multi-panel folding door system. Flooring used in the house is polished concrete with radiant heat. The house has controls that can be accessed through an iPhone. It also features structural insulated panels (SIPs) with energy-efficient windows.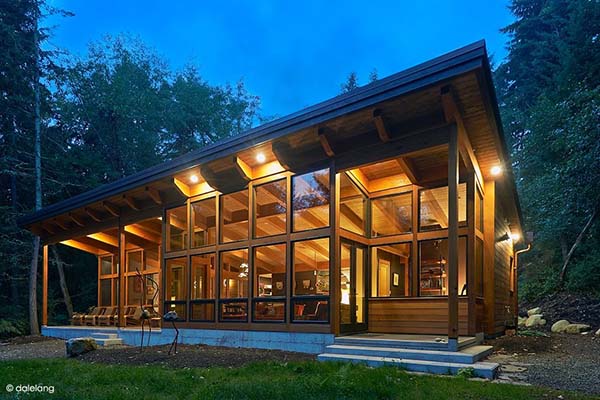 What a beautiful single family house! You can see its combination of wood, concrete and glass in the design.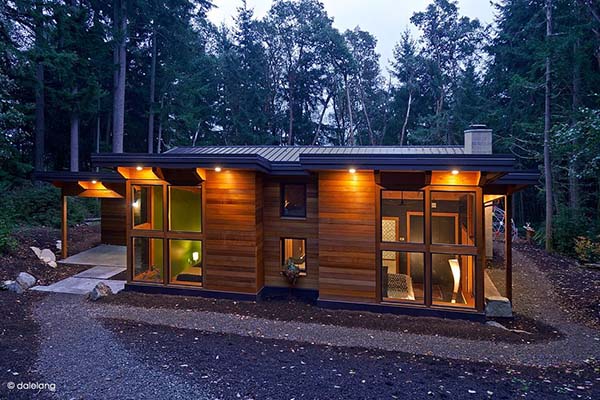 Using glass for the windows allow natural light to get into the house as well as a good view of the forest.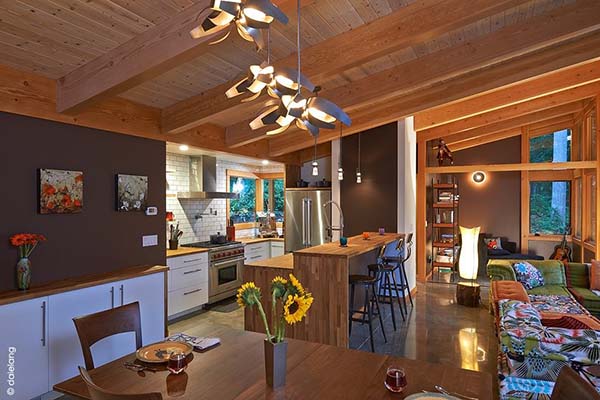 The interior of the house is wooden too with concrete flooring.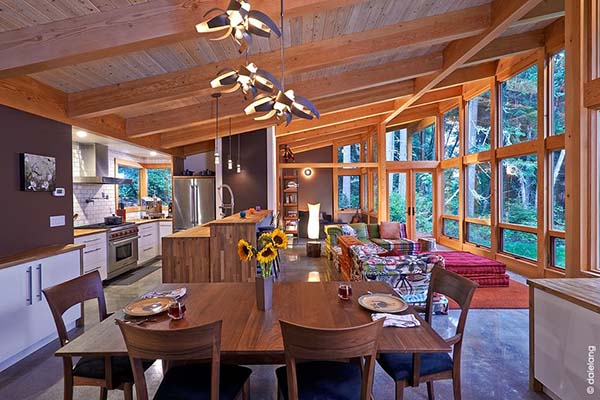 It has a breezy feel because of the glass windows and the use of natural materials.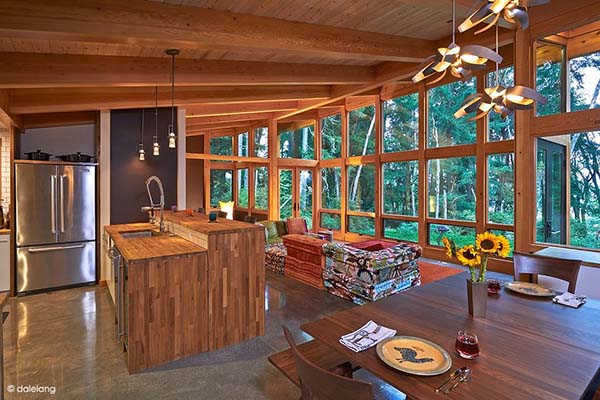 Eye-catching pendant lights are seen above the wooden dining table.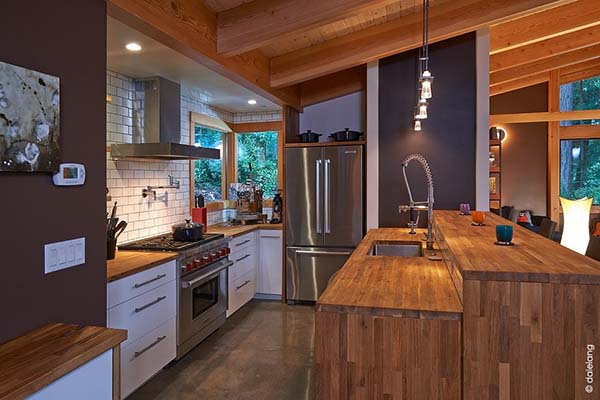 The kitchen island is made from wood with subway tiles for the backsplash.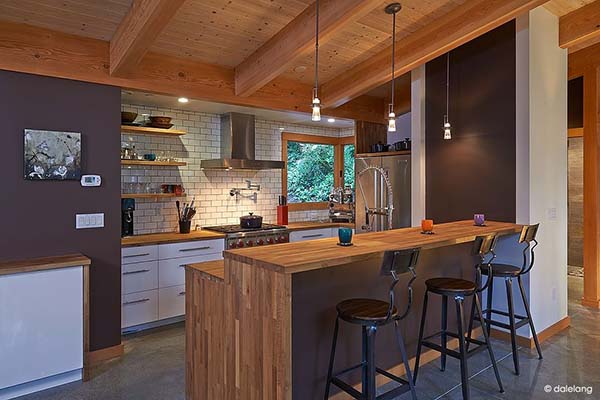 This is indeed a kitchen that we would all love because of its simple yet stylish and functional design.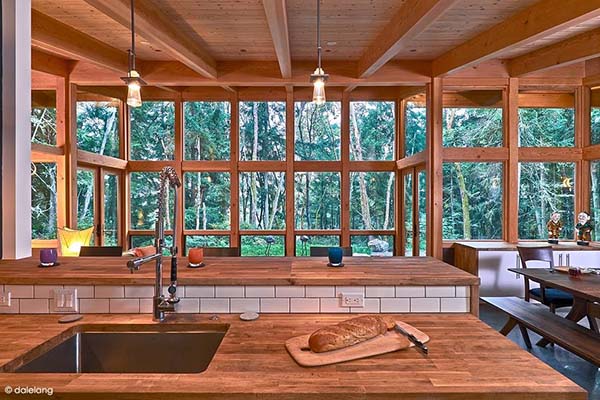 You can see that wood is used as countertop for the kitchen but has tiles on the sides.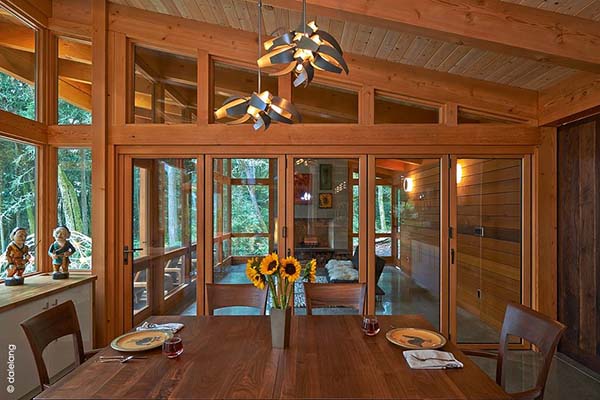 The dining area can be separated from a seating area with fireplace through folding doors.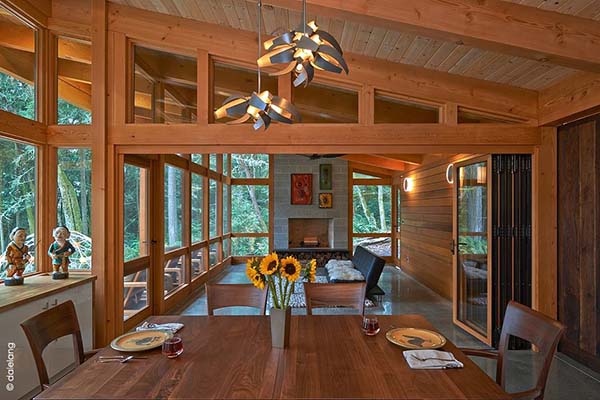 But it can be connected too once the folding doors are open.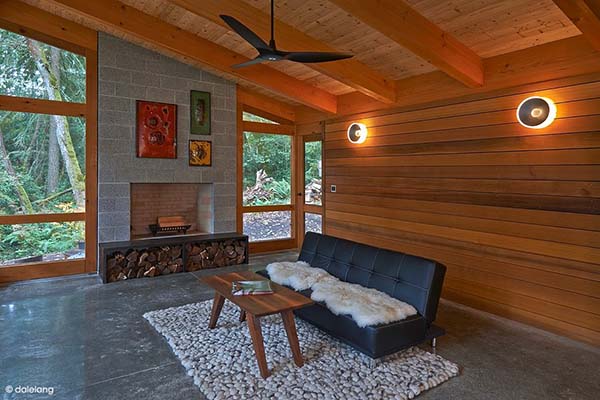 If they want to rest and get comfy, this is a perfect area with a serene aura.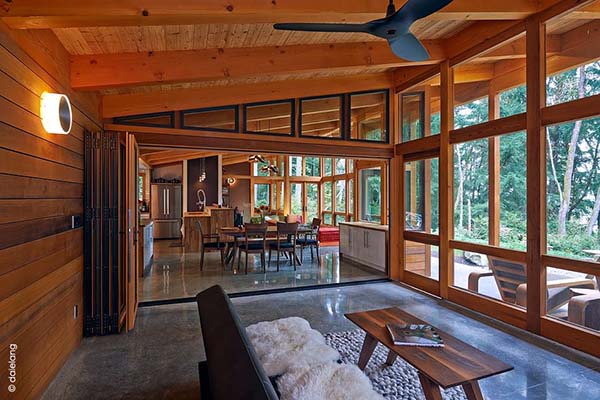 In this shot, you can see that shiny concrete flooring is used all throughout the house.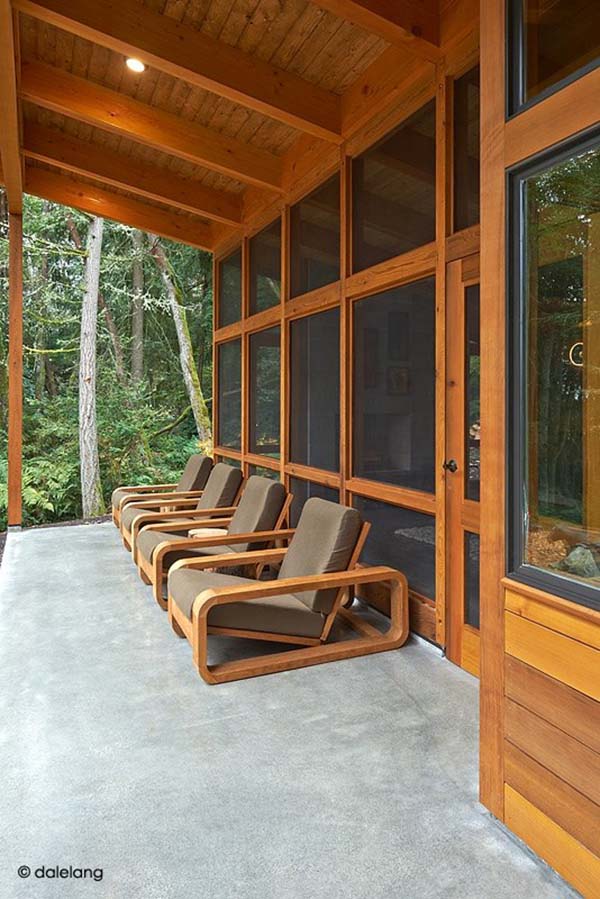 Four comfy outdoor lounge chairs are perfect for the family to use during relaxation.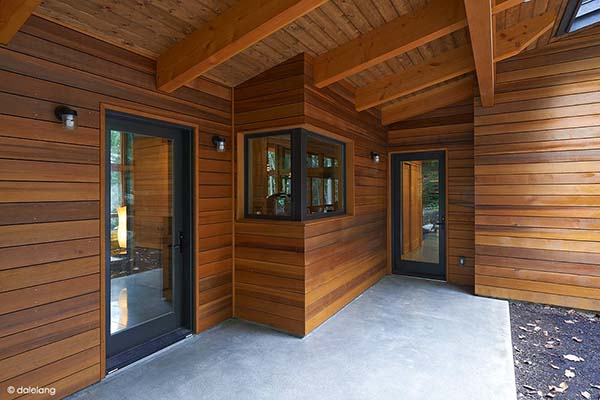 You can see how wood was used in the exterior of the house even in the eaves of the ceiling.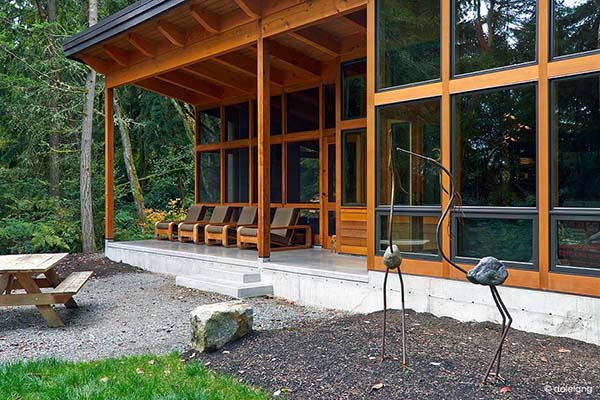 Take a look at this simple sculpture that sure is pleasing outside the house. I think, we can even make one like this!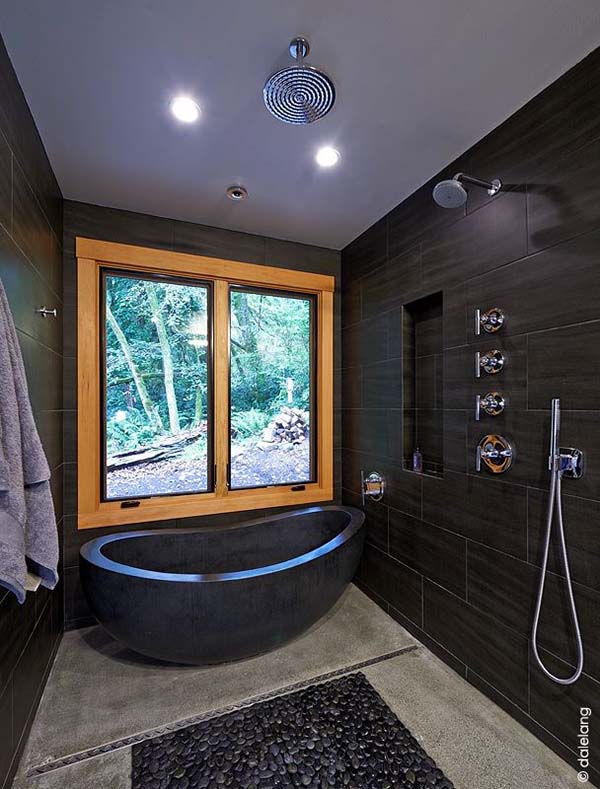 Beautiful. To be honest, this is my favorite part of this house because of the colors in it and the subtle Zen feel too!
Living in a house made of wood and glass would be amazing. It wouldn't just be cozy but will give you a good look at the nature outside. Even the interior is a nice place too! This is indeed a lovely design from FabCab. Because of the sustainable features of the house, it achieved three stars from Built Green, which is an environmental building program of the Master Builders Association of King and Snohomish counties. What can you say about this house and which is your favorite part?