20 Contemporary Windowless Living Rooms
When I was looking at this keyword of windowless living rooms – I was a little bit confused, because ever since college, we were always taught to add ten percent of opening to any space in the house; so planning to collect photos of windowless living rooms was a little challenging for me. This list covers twenty living rooms that do not have windows.
The 20 Contemporary Windowless Living Rooms we have for today covers small spaces and others that are located in the basement wherein designers are okay with adding skylights but not necessarily windows for ventilation since these spaces already have artificial ventilation. So, here we go – let us check the list of photos below!
1. 13 Foxley St.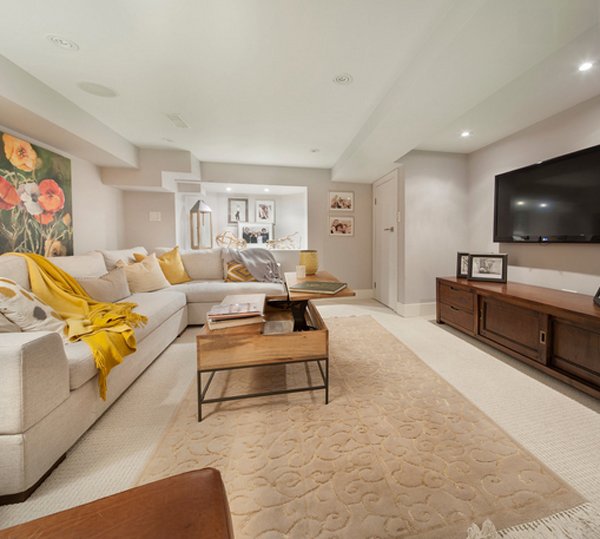 Though not originally in the plans, a cozy spot for hanging out as a family was added to the basement at the request of Enman's three grown children. The space is awash in warm neutrals, with pops of sunny yellow to energize the decor.
2. Apple Blossom Thornhil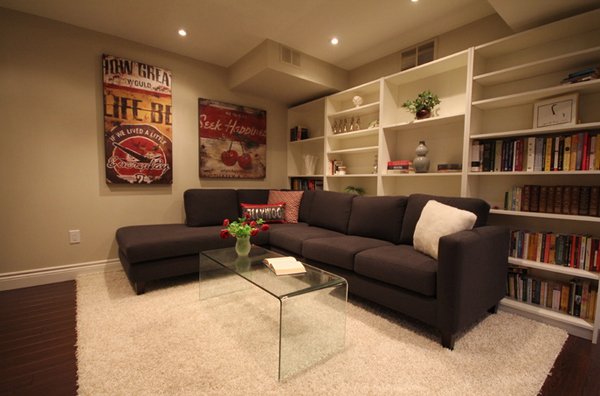 Use functional fabrics. Keep the space family friendly by using practical fabrics such as dark upholstery that hides stains, or slipcovers and fabrics that are easily washed. "This ensures that the whole family, including the pets, can hang out in the space without great worry for the upholstered items," says Hullinger.
3. Atlanta Media Room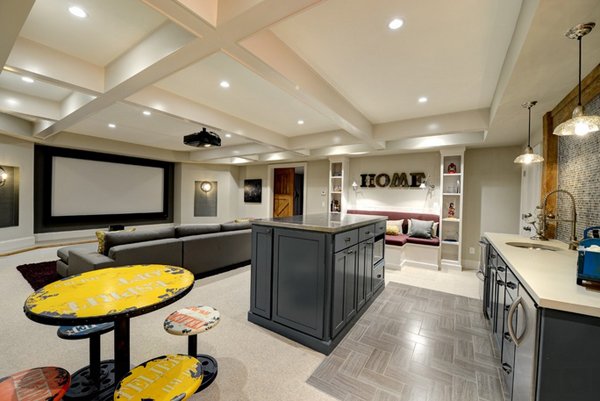 Built out a basement and designed a media room with a reading nook and a bar.
4. Blue Dream Living Room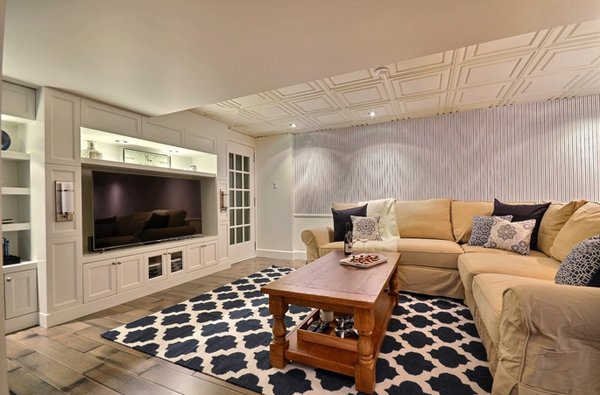 I like the thick shelf look and that it does not have a recessed toe kick.
5. Blue Pickle Loft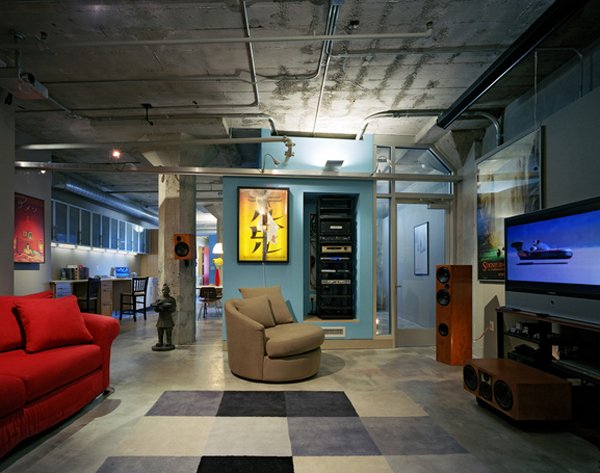 Interesting use of color, light, integration of concrete into the design.
6. Calgary May Renovation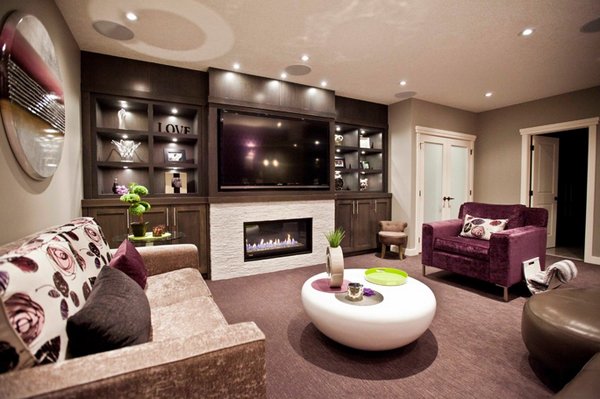 Love the fire place, the cabinet and the touch of purple in the decor. Actually it's a very nice decor.
7. Canada Traditional Home with Cottage Flair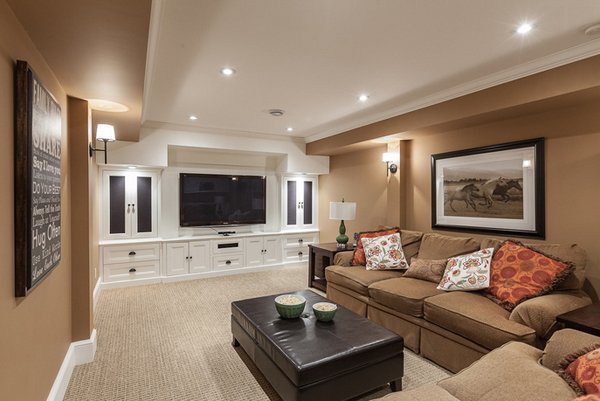 A 1,500-square-foot basement takes up the downstairs, including a home theater with a custom built-in surrounding a large TV.
8. India Contemporary Apartment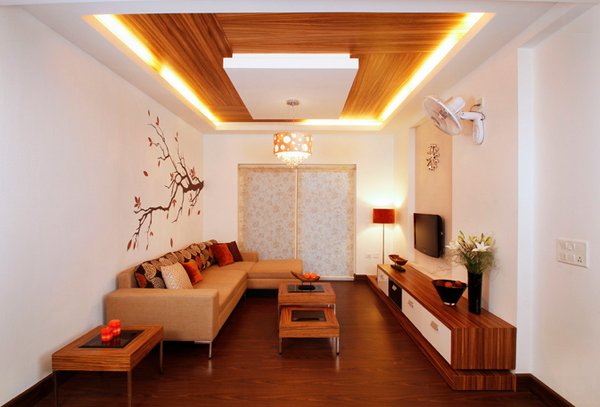 This is one very impressive living room! I want one at home!
9. Industrial Living Room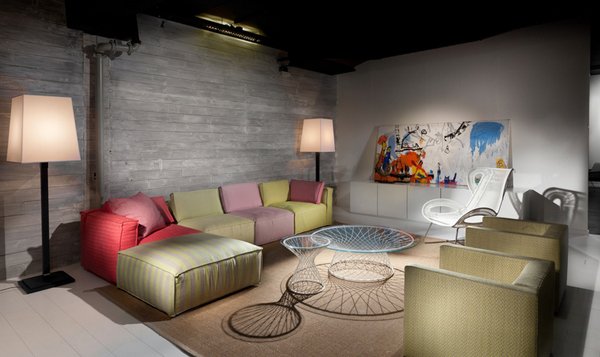 Nice use of grey and wire coffee table; I like the chairs too!
10. John Willis Custom Home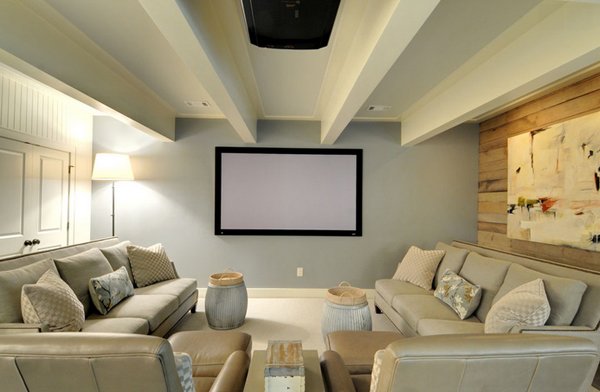 Even light fixtures can make a difference when it comes to acoustics. Wiener suggests using fabric shades instead of glass or metal fixtures.
11. Los Angeles Contemporary Living Room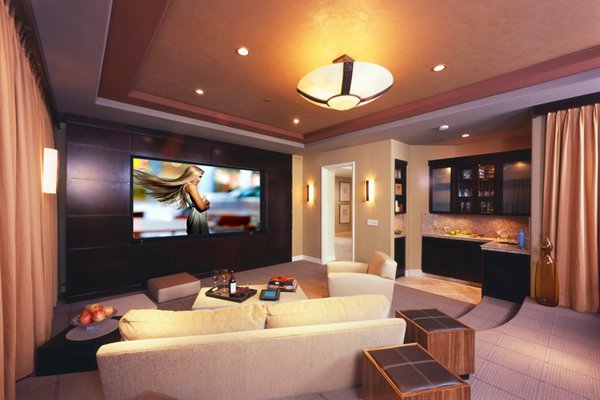 Pick a favorite movie you've unearthed, throw some popcorn in the microwave and pick up some Milk Duds – you're having a movie night. Personally, I'm going to have a Darrin's Dance Groove party.
12. Newark Contemporary Living Room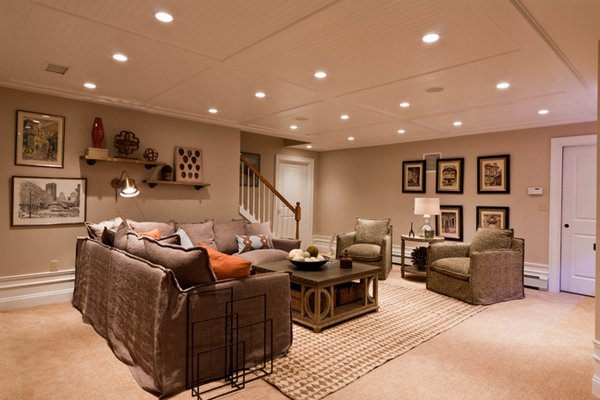 Comfortable seating, cool decor and cute frames! Love the color palette of this living room too!
13. Pacific Heights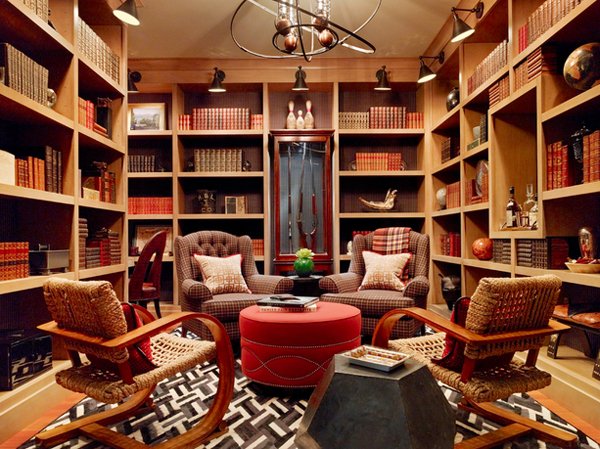 JDG undertook a complete transformation of this family residence, taking it from bleak to chic. The space marries custom furnishings, fabulous art and vintage pieces, showcasing them against graphic pops of pattern and color.
14. Philadelphia Lower Level Living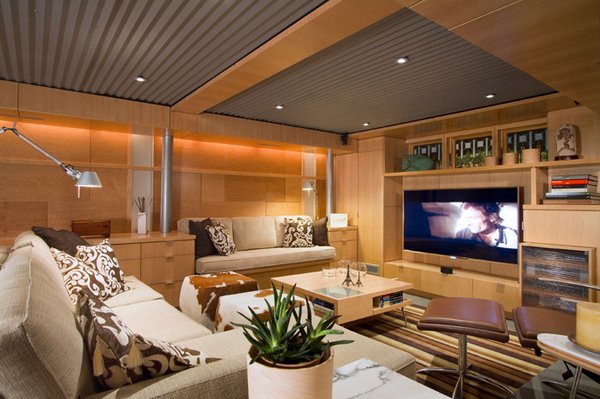 The panels of plain sliced maple are blueprint matched, meaning the veneer supplier took all of the wood from one tree and numbered the panels in the order they were taken off the tree so they could be placed accordingly.
15. Solaris, Vail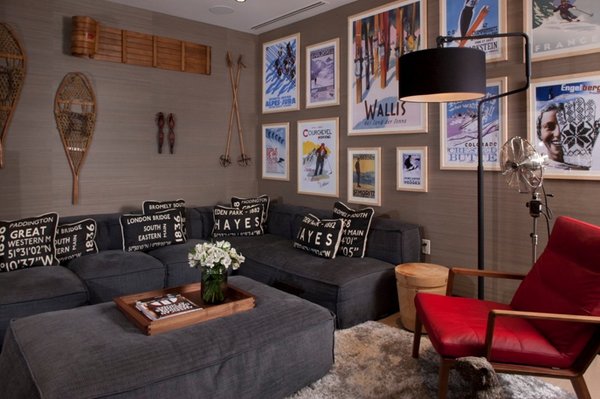 From the toboggan and snowshoes to the gallery wall of vintage ski posters, this living area pays tribute to cold-weather sports. What I love most, though, is that the designer resisted the lodge look, taking the rest of the trappings in the opposite direction: a plush rug instead of a bearskin, a sleek sectional and mid-century modern chair, grass cloth rather than paneling.
16. Tiong Bahru Apartment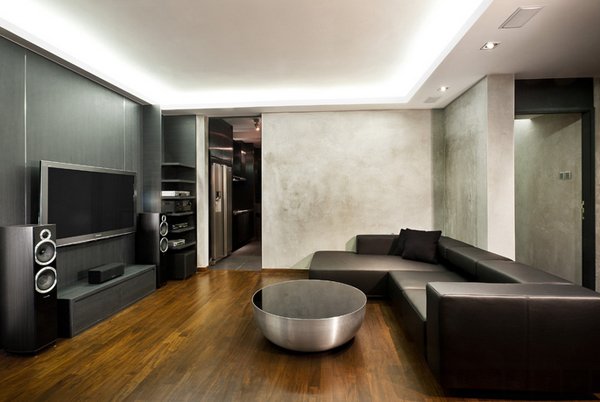 This living room is a little too industrial for me but I love the look of those walls and the modern coffee table!
17. United States Living Room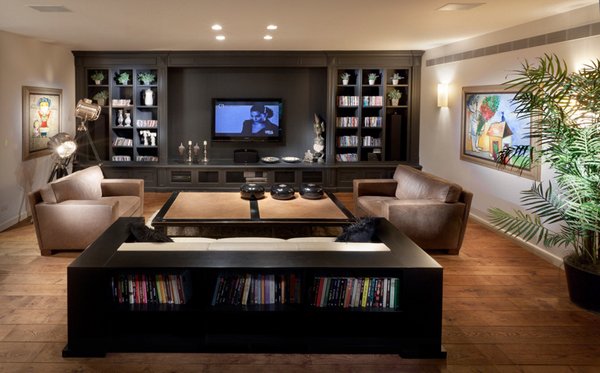 I love the shelving in this living space; cool furniture and decor too!
18. U.S. Family Room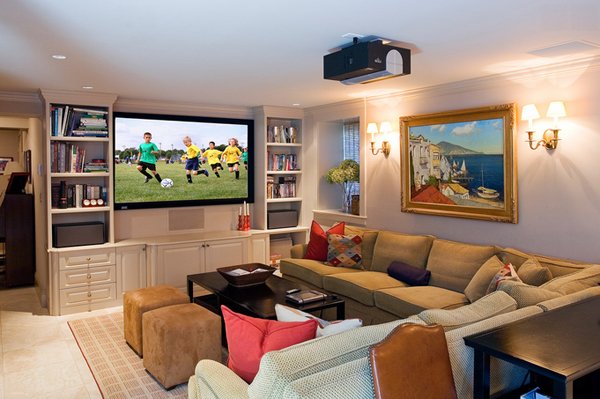 Things I like in this space are – TV off ground with storage area underneath; couch, paint color, carpet, coffee table & ottomans. How about you?
19. Willow Glen Residence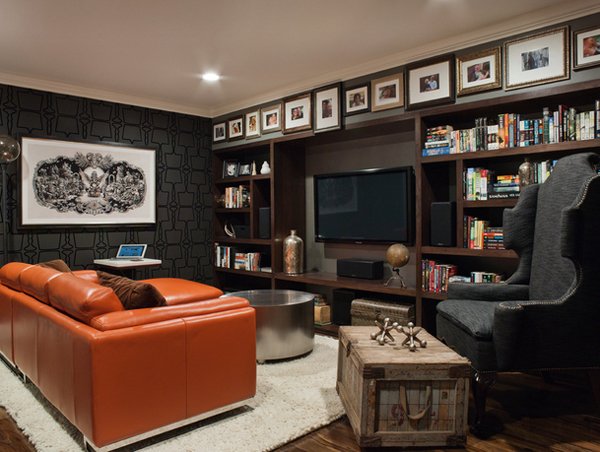 Take a risk and paint your basement a dark color. Bold color equals a dramatic and cozy basement.
20. Gloucester Road Apartment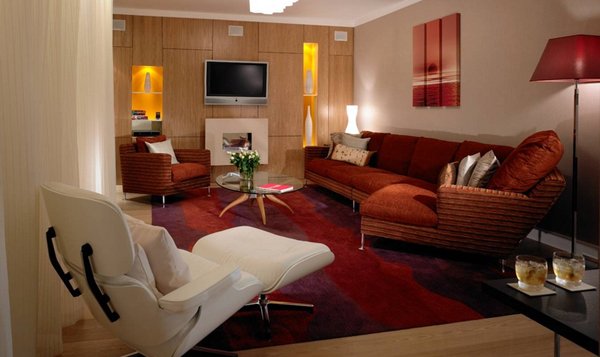 This wood paneled wall adds warmth to the room, and does not allow the television to command too much attention.
There are living room layouts with two or more focal points. This list though covers spaces with no windows intended for ventilation. This design is pretty much compatible for spaces that are cold already – how do you like the spaces above? Tell us about what you think guys!