15 Ravishing Red Living Room Furniture
Red may be one of the most interesting color of all time – women love to wear red lipstick just to make them look better and feel better during bad days; home owners we know tend to paint one side of their wall with the color red to inspire them through the day; and often than not, we like to put that one red item – may it be decor or a furniture on our space which gives the room a bit of love and a warm feeling.
Today, is one of those days where we want to give out some love to you guys! We will be showing you a list of 15 Ravishing Red Living Room Furniture which will not only inspire you through the day, but maybe to inspire you to actually get one for your living rooms! Hold on to your seats, and let us go ahead and enjoy looking at these pictures and tell us what you think too!
Austin Contemporary Living Room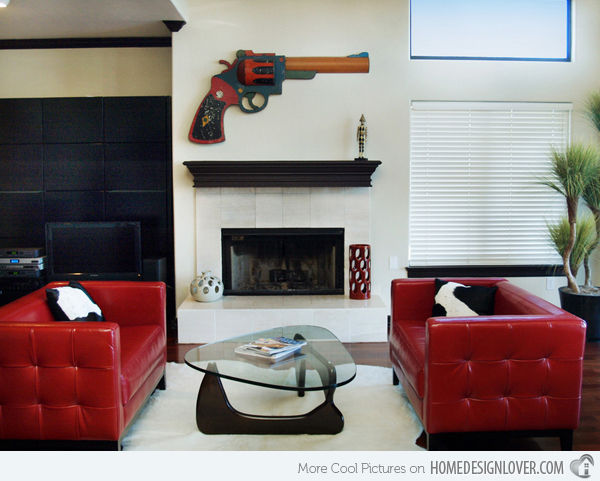 While these sofas may be the color of ire, the fun folk-art painting treatment on the gun makes them a lot less intimidating. Noguchi Table, as for the gun, it's up to you and your taste.
Bayou St. John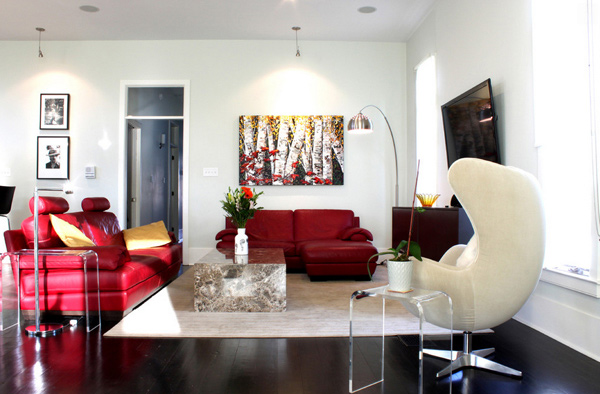 Material selection in the home was done with sustainability in mind, such as the living room floor, which is salvaged pine with a custom stain.
Bridge House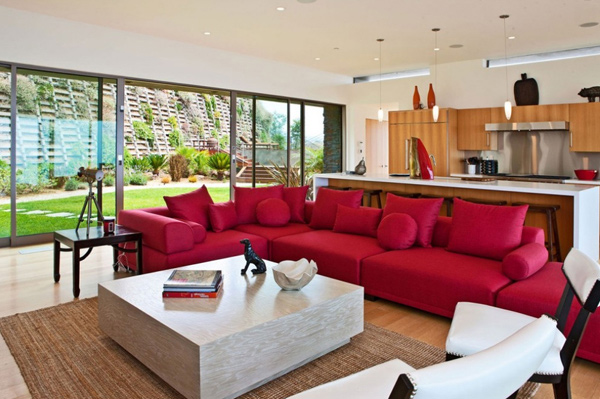 Bridge House is a contemporary modern home composed of three pods stretching across a Malibu hillside. Each pod is connected by bridges that carry you throughout the home exploring the elements of nature and a consistent view of the Malibu ocean.
Broheim Living Room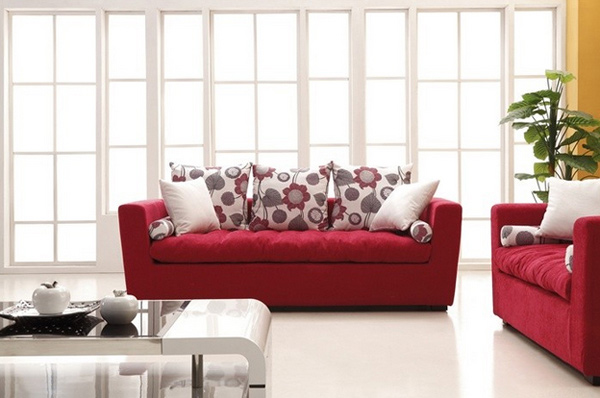 We're not sure if you have that same feeling when seeing bright red sofas or furniture – that feeling of spark and fire. Just like with this one.
Fairfield County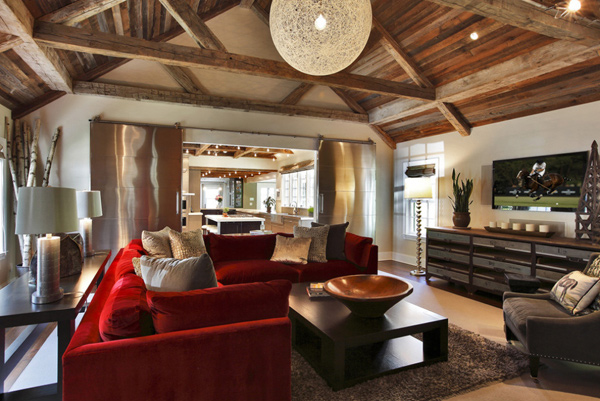 Possible division of lounge/dining room with wooden door & black iron work. The red sofa in this rustic living room is like the color that makes this room a bit more homey and fresh.
Fontana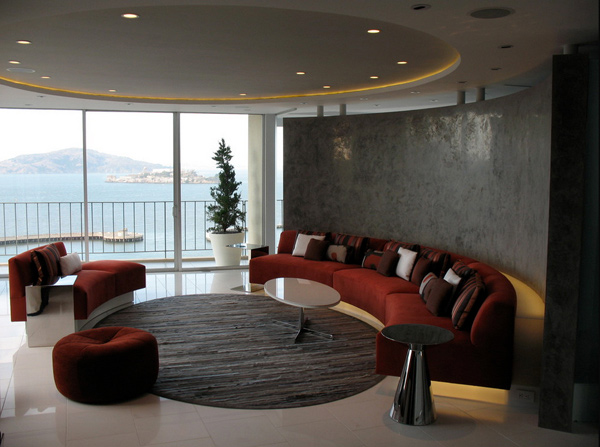 In 1972, the island became a national recreation area, and it went on to become a National Historic Landmark in 1986. It is now one of the most popular tourist attractions in San Francisco.
Ghost Lake Cabin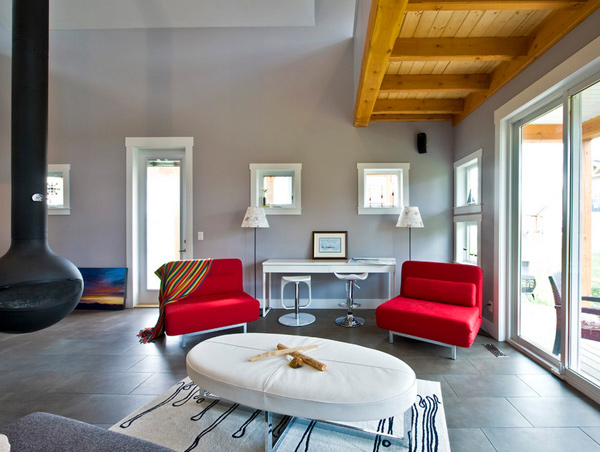 The open plan of the home's main floor complements the upper lofts that are accessed by sleek wood and steel stairs. The parents and the children's area overlook the living spaces below including an impressive wood-burning fireplace suspended from a 16 foot chimney.
Kips Bay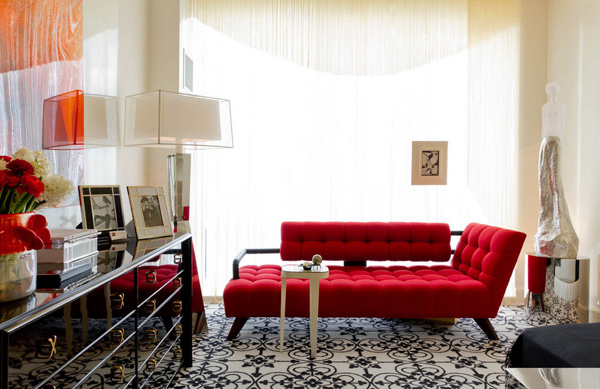 A corner of Pavarini's bedroom features a classic Valentine Sofa by actor-turned-interior-designer William Haines that's available through Profiles. The ebonized walnut dresser is from Craig Van Den Brulle.
Pond House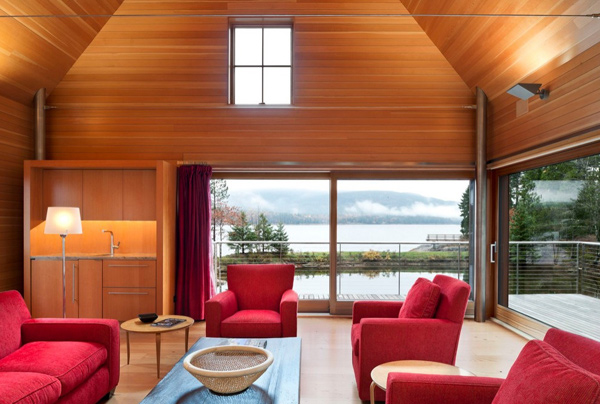 The interiors are where the expression of modernity really takes hold. Open floor plans, tall ceilings and large expanses of glass to view the water from are where this home separates itself from the traditional.
The Penthouse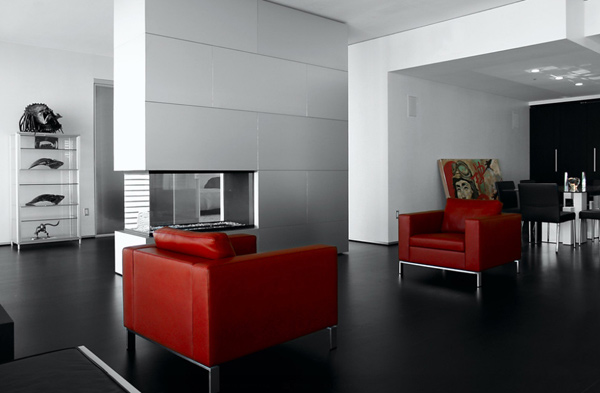 Upgrade a room from ordinary to extraordinary when you divide it with a floor-to-ceiling double-sided fireplace. The stainless steel horizontal panels here look sleek and modern, but the fireplace itself still feels welcoming.
Wall Street Studios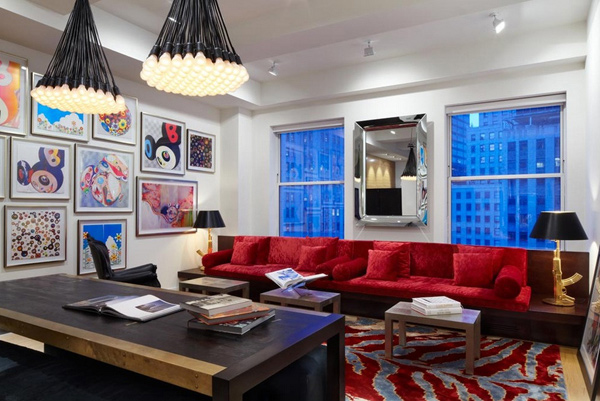 Cool rug & coffee tables, nice linear use of space. Great prints too.
Washburn Loft Living Room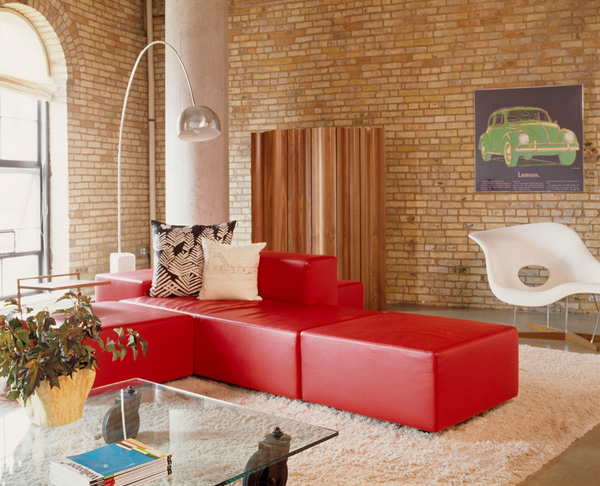 We just love the brick walls, high ceilings, Roman arch window, and the red furniture! This is a work of art.
Jeanie Engelbach Home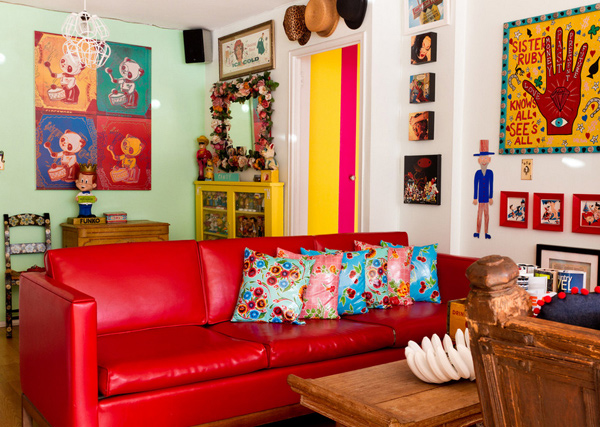 Engelbach describes the living room as "the essence of me." She says, "Each component – my collections, love of bright color, crafts, oil cloth, flea market and Dumpster finds, family photos – all this craziness is swirled together, but somehow ends up looking and feeling serene." The mid-century modern red Naugahyde sofa is from the Winter Antiques Show at Manhattan's piers.
Modern Loft
Lanteri mixes vintage finds and bargains from CB2 and Urban Outfitters to create eye-popping combinations of texture and colors.
Parkwood Estate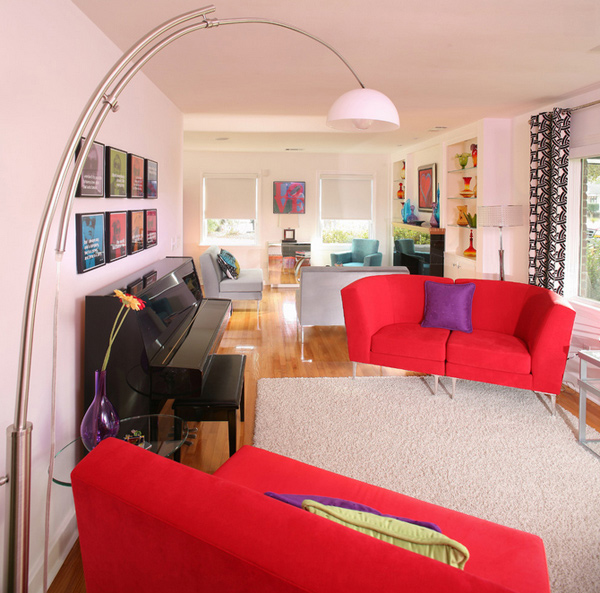 Off-center symmetry, different styles of love seats, shiny black piano – isn't this just fab or what?
And that is not the last of it – sooner than you think, we will be showing more of the red furniture designs available to us in the market and online. The 15 Ravishing Red Living Room Furniture is but the beginning to the endless lists we have in store for you guys! Hope you had fun with the list, because we sure did have fun with them too! And for more inspiring living rooms, take a look at the 15 Awesome Retro Inspired Living Rooms and show us some love by sharing the links and commenting below!