22 Living Rooms with Metal Wall Decorations
Spicing up the living room walls is never a problem because you have so many options as to what you can put up to add zest to your space. We have featured different ideas for wall decors just like framed paintings, a wall gallery, and many others. There are even DIY stuffs that you can create too. But today, we will show you how metal wall decors could affect the appeal of your home entirely. And yes, I forgot to mention that we have shown you a round-up of metal wall sculptures before too!
I like the look of metal wall decors. I know you like it too! So, aside from solely showing you an awesome list of metal decors, we will show you how they look in different spaces. What we will feature today are living rooms in various styles. There are modern, eclectic, contemporary, and traditional spaces. Take note of the design of every metal wall decor in the living rooms below.
1. Downtown Traditional High Rise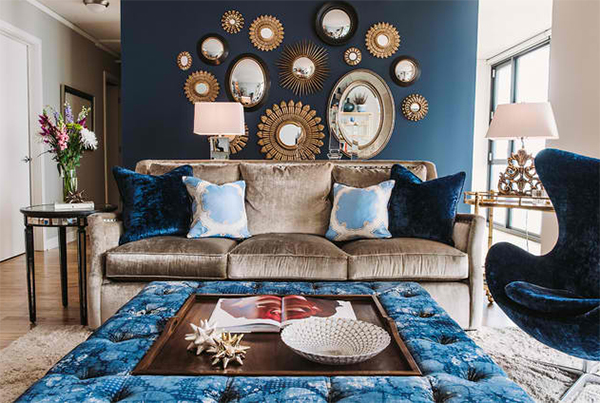 I have a thing for sunburst wall decors that is why I so like this one! It combined different metal frames of the mirrors. Gorgeous!
2. Great Family Room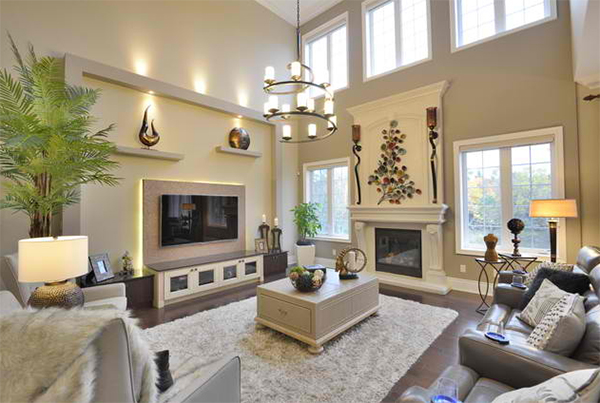 The metal artwork is comprised of two brunches hang together.
3. Frisco European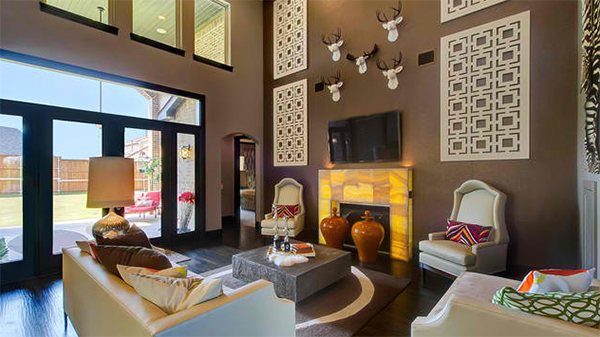 Decorative metal panels painted in a neutral accent color are pretty daring especially with the deers on the center.
4. Living Room Dallas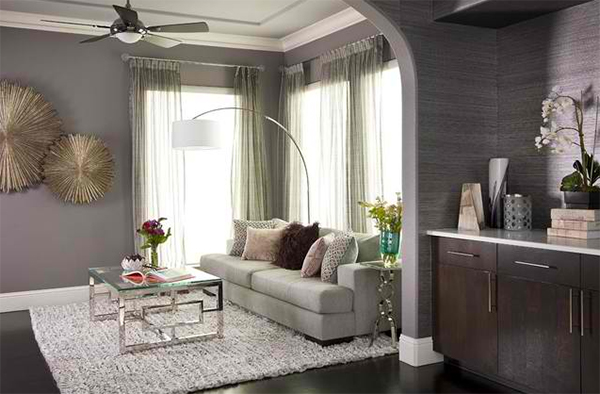 A gray living room can look as stunning as this one merely by putting up the perfect decors like that gold wall decor.
5. Living Room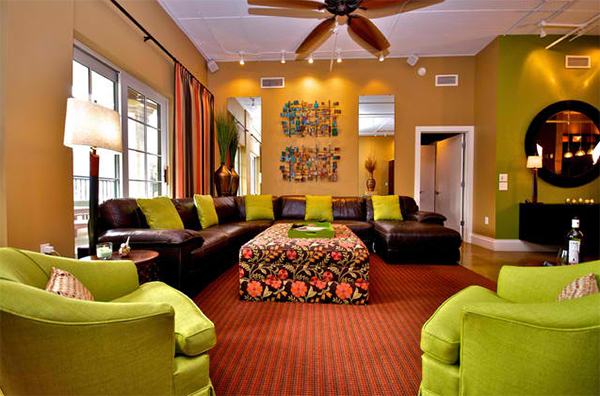 A lively living room with that lime green accents in it. If you think one wall decor isn't enough, you can place two of them like what they did in this living room.
6. Living Room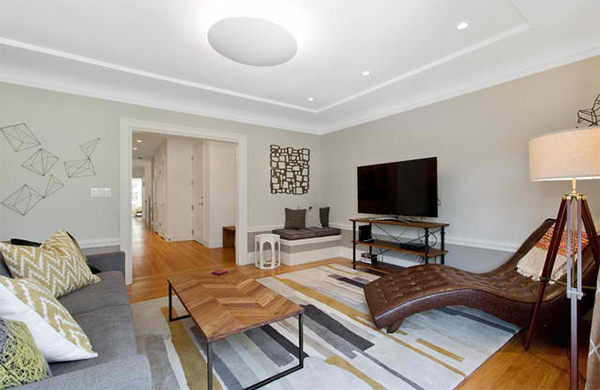 Modern metal art adorns several of the walls in the living room with a geometric design.
7. Toronto Life House of the Week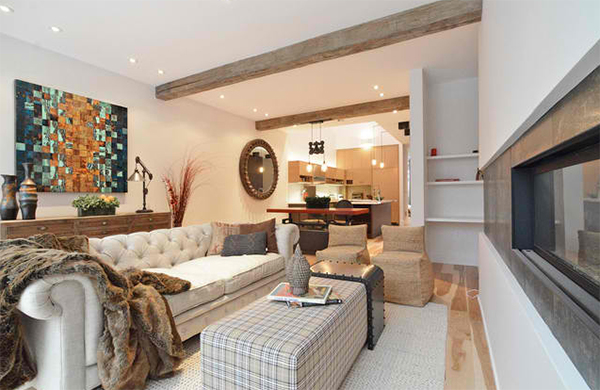 Contemporary Copper Artwork done by Toronto Artist – Adam Colangelo is featured in this living room. And the artwork is very much impressive!
8. Denver Parade of Homes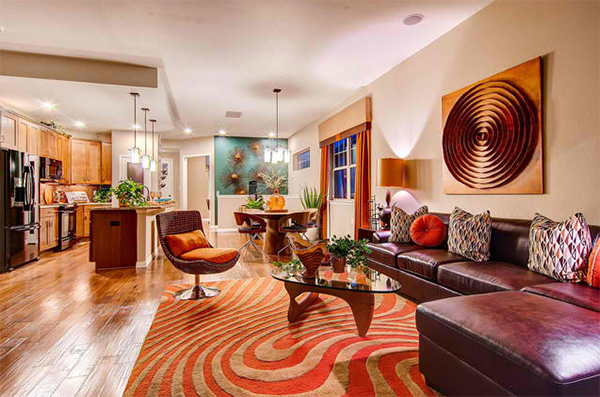 The geometric wall art is fitting in this living room. The rustic color complements with the entire look of the space.
9. Riskey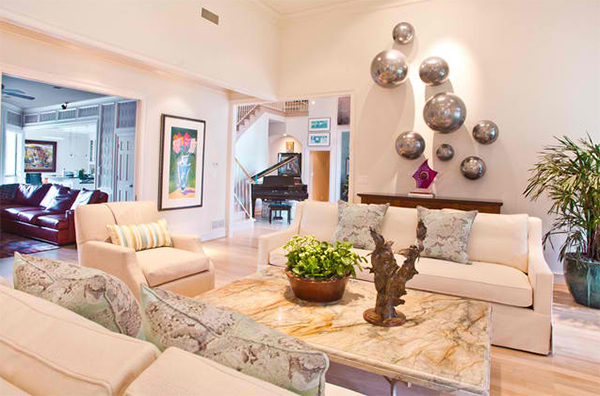 Silver metal balls are on the wall! They look even better because of the lights.
10. South Canyon: Colorful Modern Mix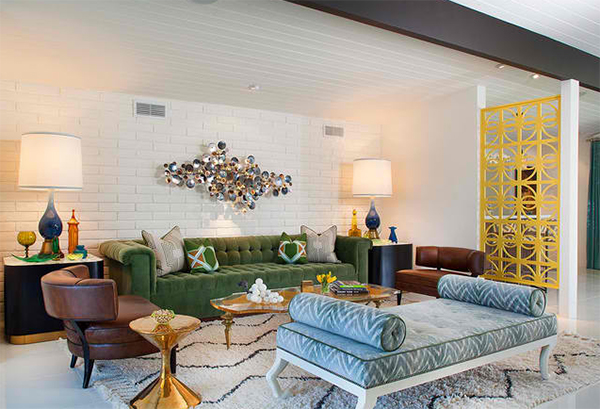 The wall sculpture in this living room is a vintage C. Jere with a white brick wall backdrop.
11. Contem-Prairie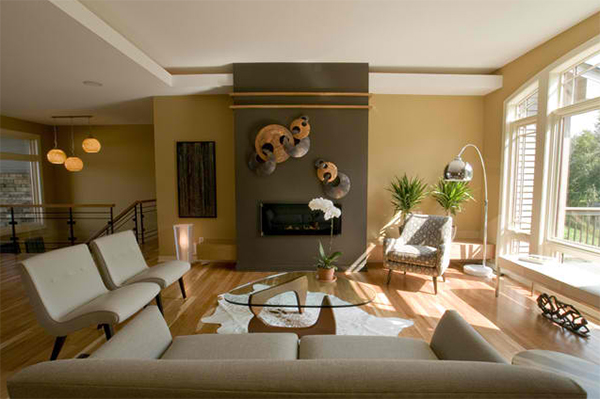 A contemporary living room with warm colors making one feel relaxed and very much welcomed. Of course, let us not forget that circular wall decors too!
12. Beach House on Long Island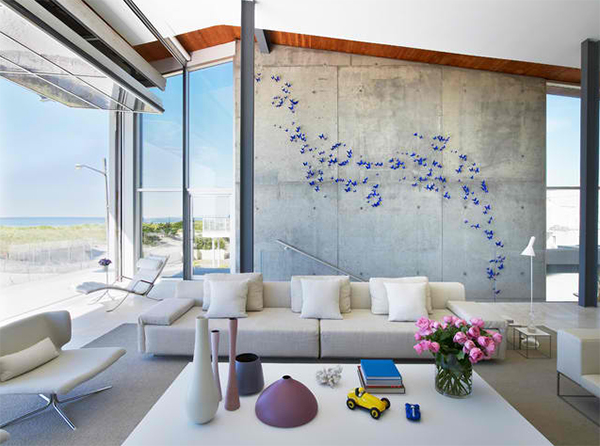 Those blue thingy on the wall are actually blue metal butterflies!
13. Gilbert Island Waterfront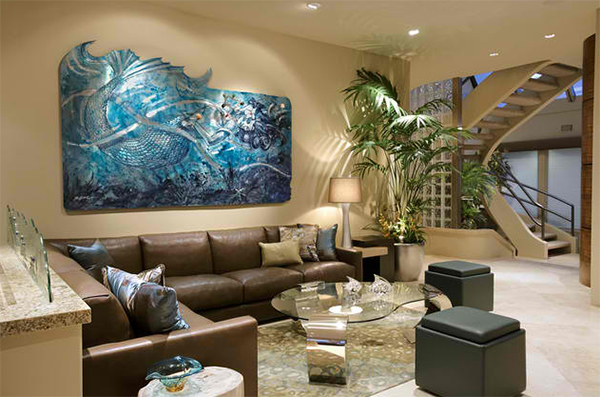 A mermaid metal wall decor added an underwater beauty to this simple yet sophisticated living room.
14. Horchow
Another living room with a bunch of gorgeous sun burst mirrors on the wall! I love this one!
15. Boerum Hill House, Brooklyn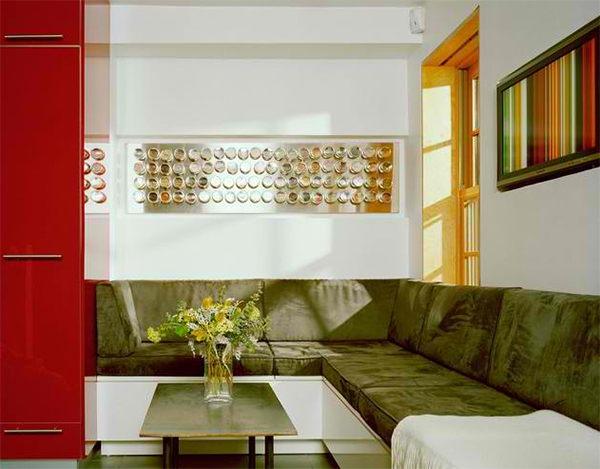 What you see here are actually magnetic spice containers! Brilliant, playful use of them as art!
16. HGTV Showhouse Showdown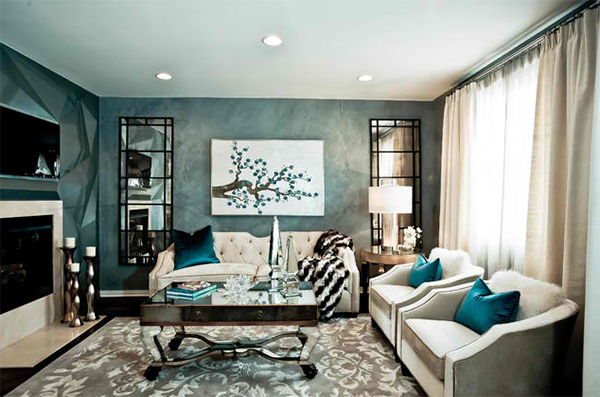 Mirrors with metal frames are also nice wall decors as it add more light to the living room.
17. Silverleaf, Lot 1137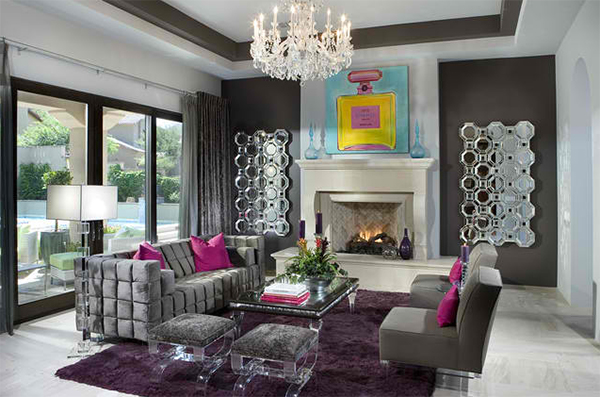 The metal wall decors here adapted the look of a beehive. It added sophistication to the area. I like the color combinations here as well as the use of glass and other transparent materials.
18. Trump Tower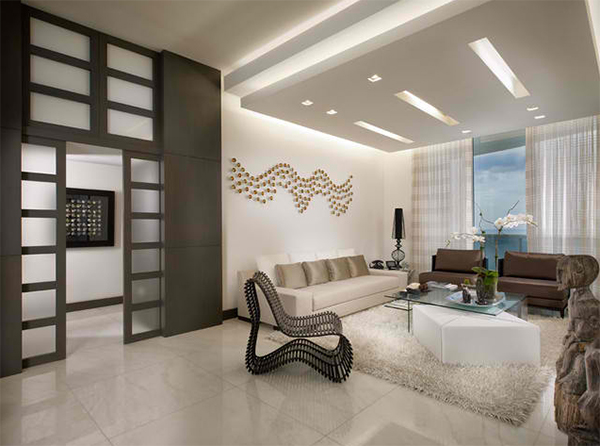 The decor on the wall is called Wall Plays that come in a variety of colors like red, blue, silver, gold, and fuchsia.
19. Bay Design Interiors Display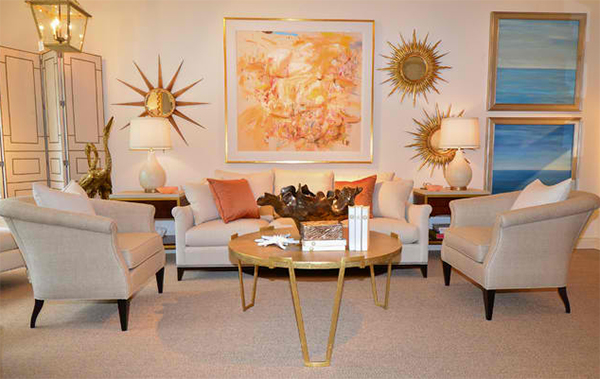 Sunburst mirrors made from metal surround a pretty abstract painting.
20. Horchow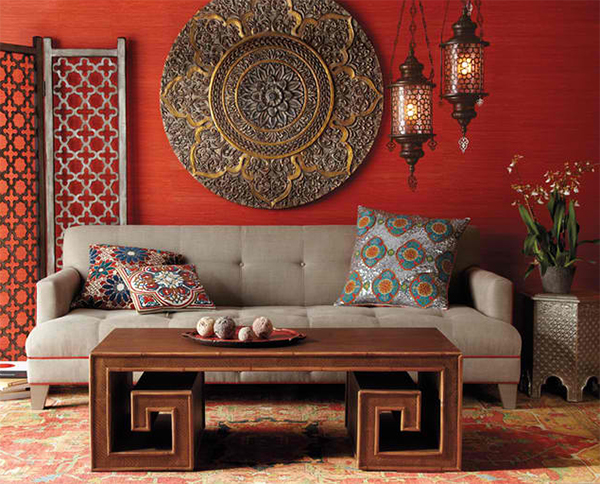 An Asian living room has Cypress Lanterns on it as well as that large round metal decor that resembles a medallion.
21. Palm Desert and Palm Springs homes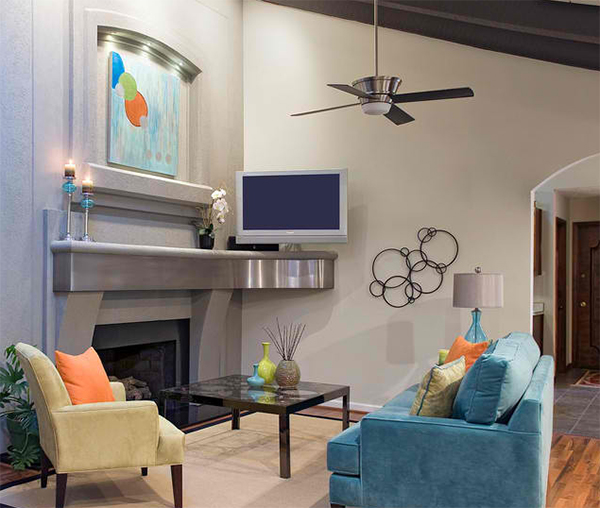 Circles are in for this living room as seen on that metal decor on one wall and that painting above the mantle.
22. Puri-Punian Residence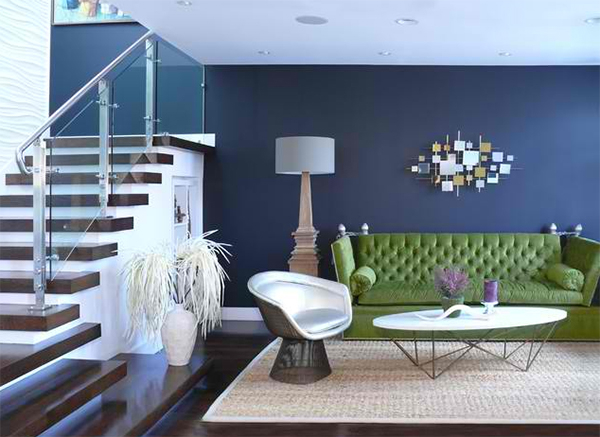 That wall decor is so familiar. I guess I have included that in a previous post about metal sculptures!
Beautiful living rooms and extremely creative metal wall decor designs when combined together creates a gorgeous living room where you can spend time with the family and entertain guests! These metal wall arts come in so many designs and I am sure that you will be able to pick the perfect one for your home. We hope you liked this list we have today and don't forget to tell me what your fave picture in this round-up is!