20 Contemporary Unsymmetrical Living Rooms
I think it was two days ago when I created a list of awesome living rooms that have symmetrical designs. When you divide the space in half, you will notice the similarities of the space on the halves on the left and the right side. So, for today, we have created a list opposite that.
Unsymmetrical or asymmetrical living rooms – these are living room spaces that we have collated that are sort of eclectic or somehow disorganized. This is supposedly opposite symmetrical living room spaces, only that it is not exactly that. With the pictures below, you will be able to discover what I meant with that, so, without further ado, here are the pictures of unsymmetrical living rooms.
1. 18th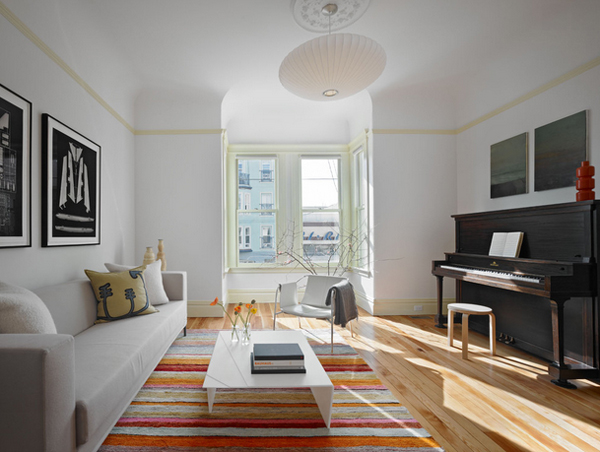 The living room was restored to be a bright and crisply appointed space for entertaining and music. The original Douglas fir flooring was refinished and complimented by the pale green painted trim.
2. 63rd Avenue Residence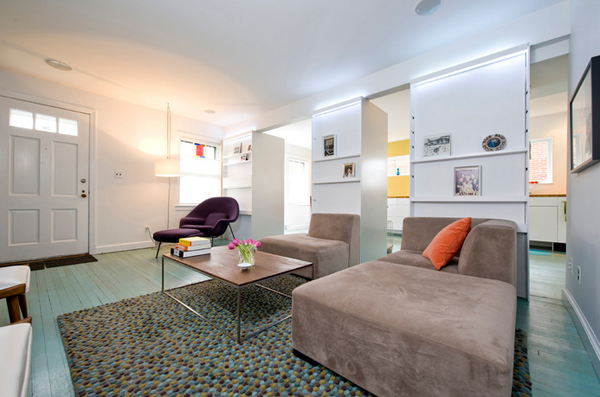 The wall between the kitchen and the living room was load bearing, so Lawrence cut through the unnecessary parts of it to create an easy flow from one room to the other.
3. Allen Residence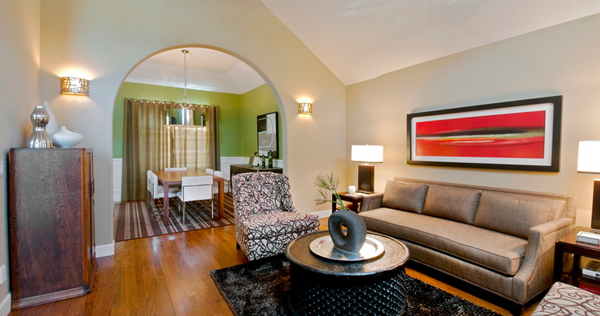 Living room and dining room are connected in color only. Art above the custom sofa has a warm green swash through the middle of the piece the same as the dining room wall color. Custom furniture, artwork and several antique pieces create a warm and inviting formal area.
4. Basin Ledge Residence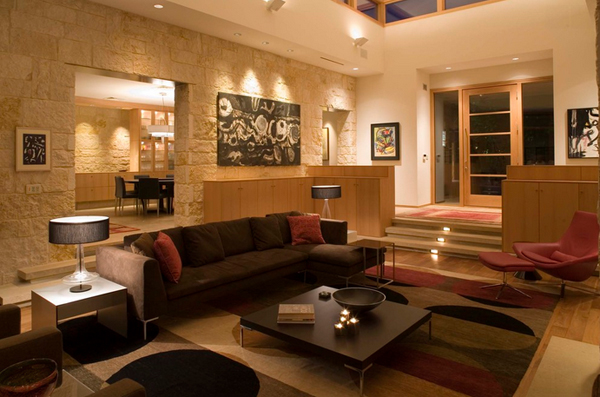 Step down into this warmly lit living room enclosed by low wood partitions and a creamy textured stone wall. Have a seat on the brown suede sofa and put your feet up. Now, isn't this cozy?
5. Book House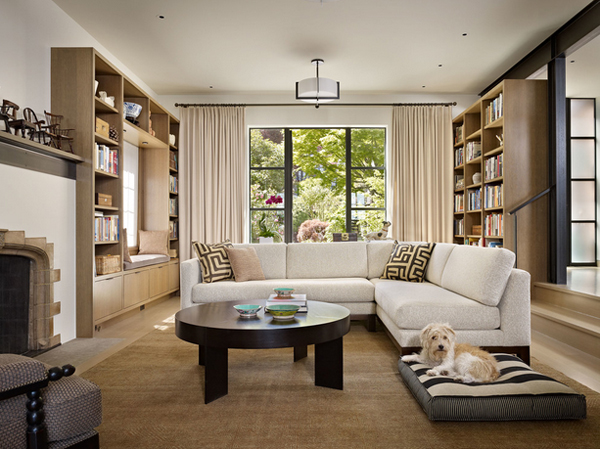 In the living room, DeForest added a steel mantel to the existing fireplace to tie it into the rest of the design. Steel windows extend the material from inside to out. He also removed a drop ceiling and its faux beams to open up and lighten the space.
6. House in Frognal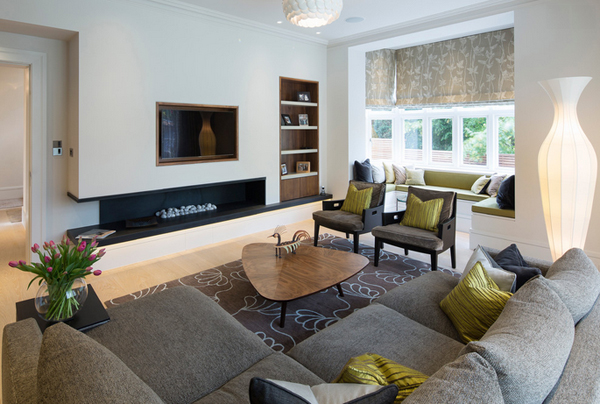 Formal living rooms are frequently saved for entertaining guests; however, some people have only one living room and will want to place a television in it. Since televisions now come in a wide variety of sizes, arranging furniture for them depends on which TV is chosen and how it's used.
7. Icon Riverside Development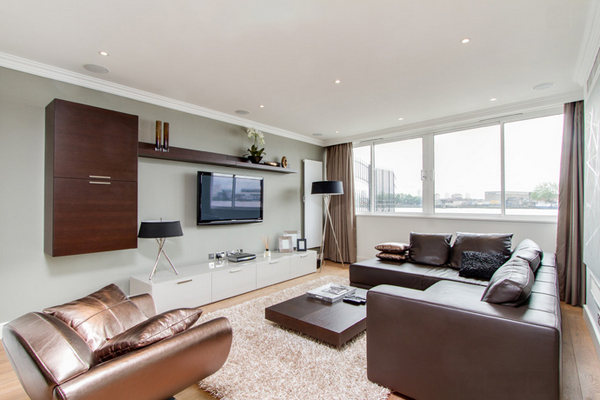 The TV on the wall is one great look for this living room and to make good use of the space below is also a good way to add more small trimmings and decor.
8. Inman Park Condo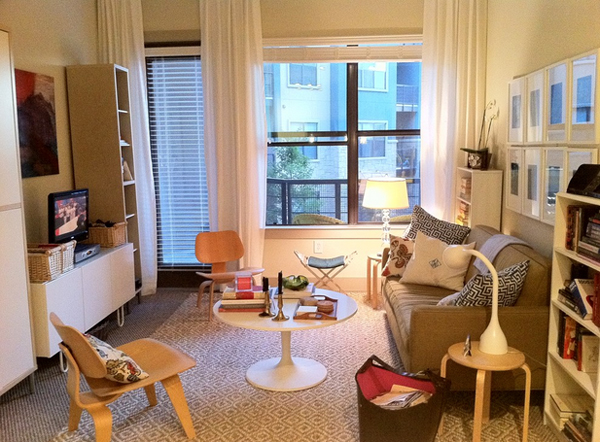 Simple, contemporary and literally says "Welcome Home".
9. Lion's Bay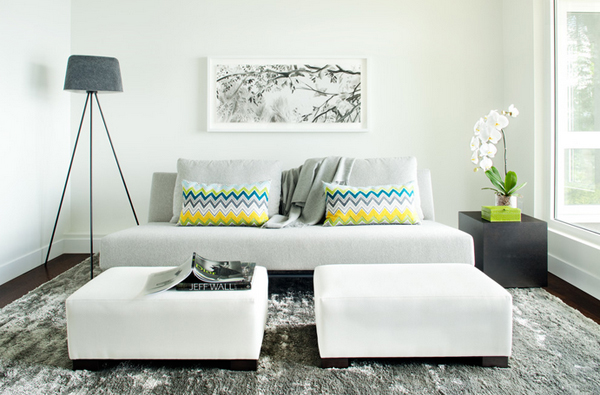 In a small living room, each piece of furniture should earn its keep. Think of using ottomans that work as a coffee table or extra seating, nesting side tables that can be moved around as needed or versatile little stools that can be seats or tables.
10. Minneapolis Urban Green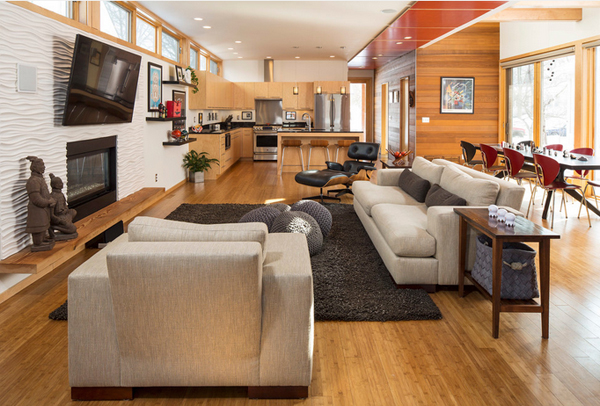 Modern farmhouse table removed a bit from kitchen but next to large floor to ceiling windows, dining area extends deeper into backyard.
11. Morningside, Edinburgh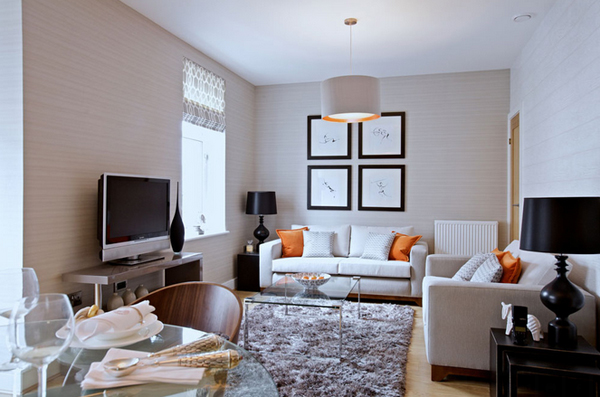 A few colorful, well-placed throw pillows could be all the color you need. This is an easy way to add color without a major investment of time or money. Scatter throw pillows on the floor, sofas or chairs, using colors that connect with the other textiles in the room.
12. Newport Ocean Front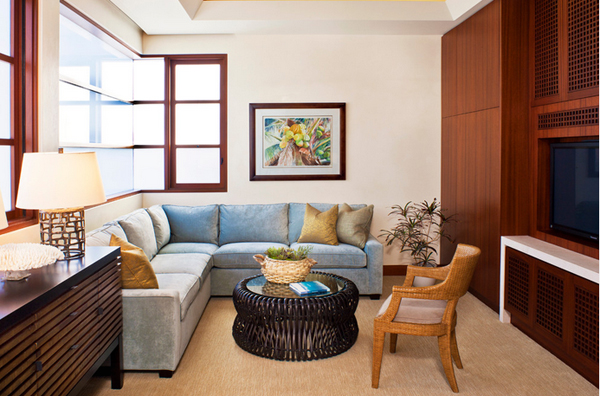 A small-scale chair has one wonderful advantage over the other chairs in a room: It's easy to move. It will readily go where you want it to go, when you want it to go, and it will stay there until told otherwise.
13. Columbus Residential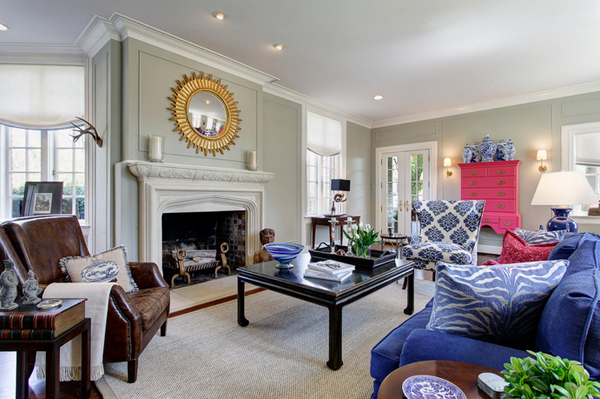 To get an idea of what you already have, make a list of everything in your living room: furniture, rugs, lights, curtains – even accessories. What pieces do you love? What pieces should be tossed?
14. Emerson House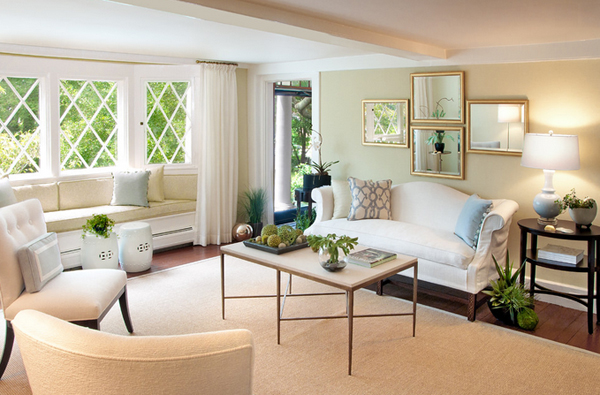 A light and airy perspective in a home that has low ceilings and limited natural light. Colors and mirrors were chosen to expand the walls and bring in the sun.
15. Hampstead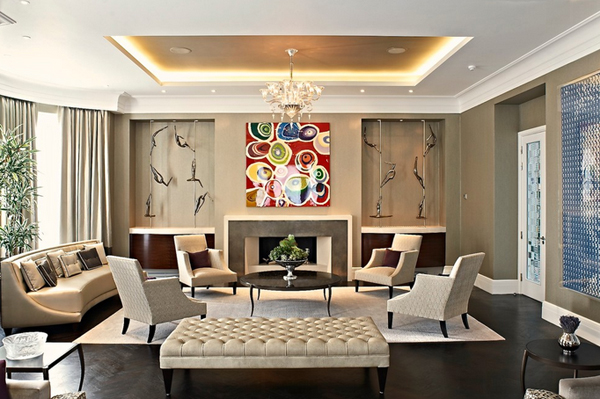 Elegant reception room in neutral tones and luxe fabrics to showcase client's art collection, with custom made stone and metal fireplace flanked by curved macassar cabinets.
16. Palatine | Healthy Home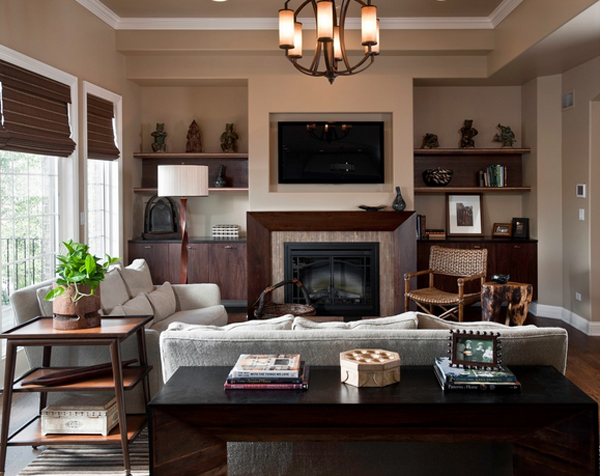 When possible, designers incorporated the work of local vendors into the design, reducing their carbon footprint and supporting the community. Information on any specific furniture piece or finish is available through Susan Fredman Design Group.
17. Pasadena Revival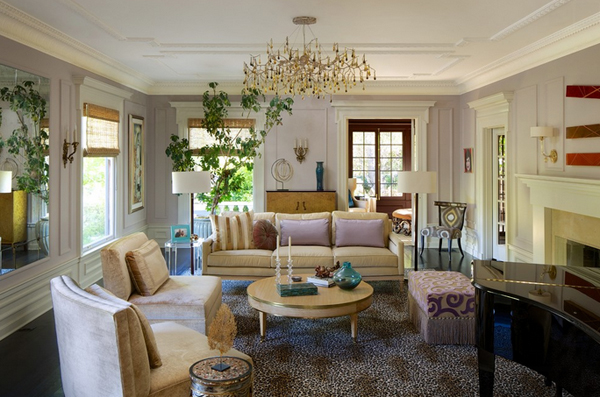 This racy pattern doesn't even appear exotic in this context; the all-over pattern gives it a traditional tone in this room. If you see a pattern you like in a broadloom, you can easily have it cut and bound to form a custom-size area rug.
18. The Art Apartment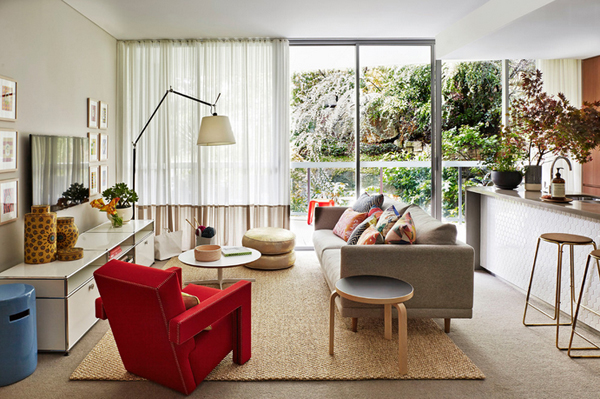 I adore this living room! The red chair, the colorful pillows, the lamp. simple and the artful feel of this space!
19. Vancouver Residence II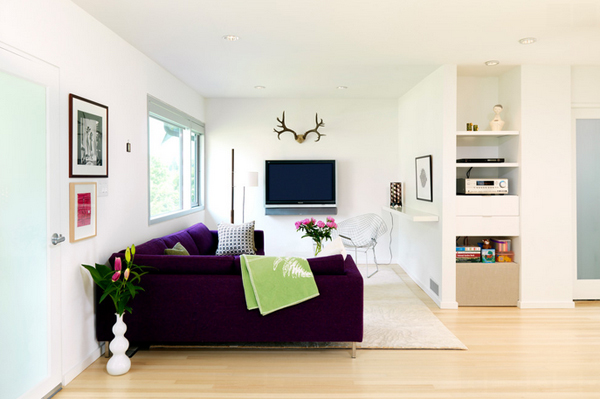 The cousin to the sofa is the sectional, as seen in this small-scale room. Sectionals usually take up more space, but when placed carefully, they can be very cozy.
20. Wain Road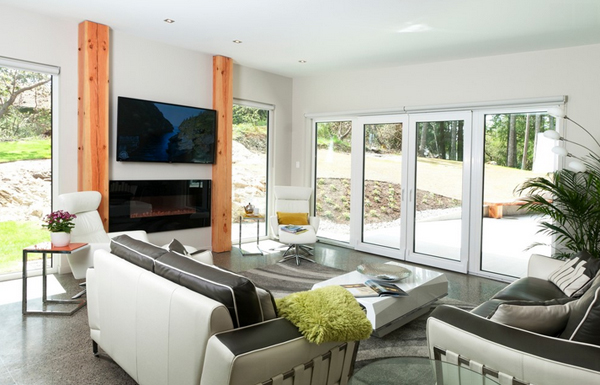 "My mother was a cleaner of nice homes in New Zealand, so I wanted a clean-looking home," he says. Like most of the other interior rooms, the living room has a close connection to the outdoors. Most of the furnishings in the home are from Scan Design.
Here is the list I was talking about above – the 21 Beautiful Symmetrical Living Rooms! Those spaces were interesting and intriguing actually – it reminds us of mirrors; so today, the list about the unsymmetrical living rooms are something we can visibly see in normal homes – especially those that did not really hire professional designers or decorators.