Breathtaking Landscape and Pool Area of A Residence in Florida, United States
Apart from the exterior and interior design of our homes, we should also be concerned about the garden and our home surroundings because it can make our house even more comfortable.
Having a well-designed landscape will make us feel like living in our very own paradise. Just imagine a beautiful pool, neat plants all around and a gorgeous hardscape and seating area. Well, I would certainly do everything to get all of that!
I came across many landscaping that are very appealing but not as stunning and breathtaking as what we will feature today. This is the outdoor area of a single family residence in Sarasota, Florida, United States. The combination of hardscapes, plants and lightings are very beautiful that you would definitely want to have a garden as staggering as this! I especially love how they used lotus here which you are about to see in some of the images of the house featured below.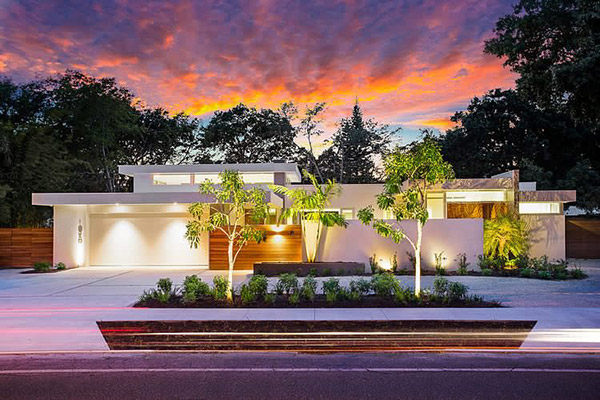 That sky sure is a perfect backdrop but even if that sky becomes gloomy, this house will never be out of curb appeal!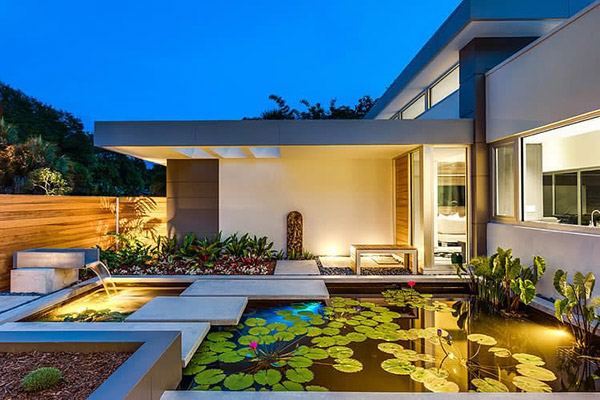 And when you get inside, there is even more appeal in it with water features and modern lines in the garden. The lighting is well done too as it give highlight to every single element in the garden.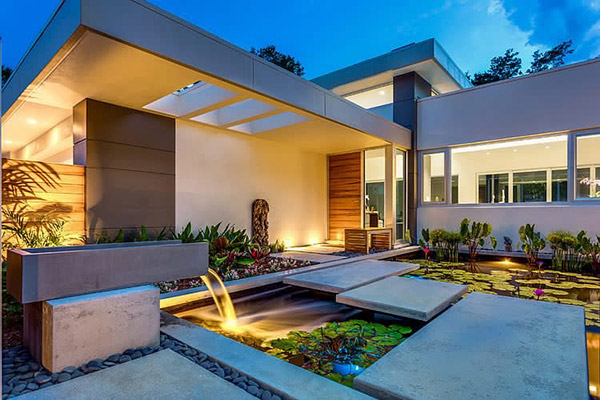 The lotus in this water garden are lovely elements that add beauty to it. It seem to copy the whimsical appeal of a forest but with a modern twist.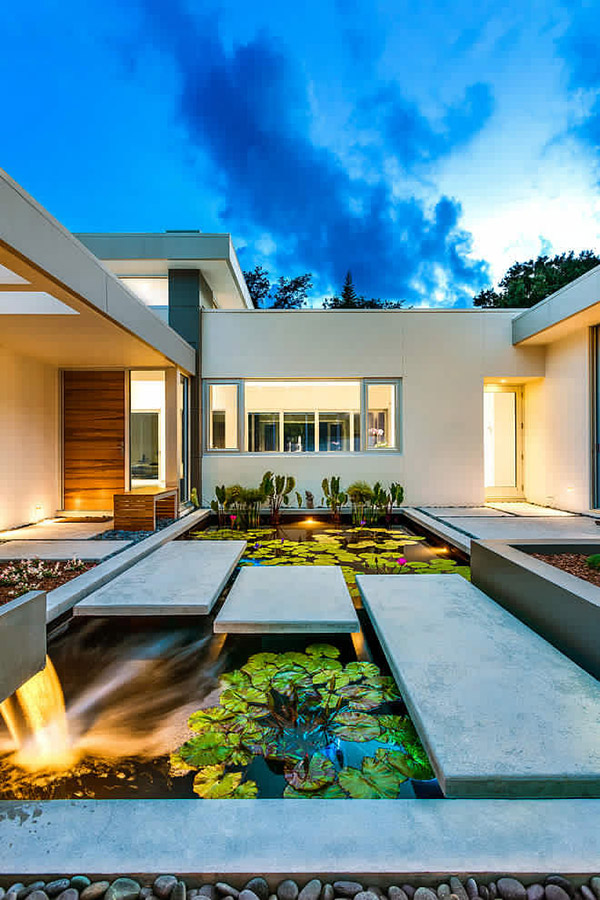 Raised concrete pavers are also like the lotus leaves that float on the water. Imagine frogs jumping top of the leaves while you skip from one paver to another!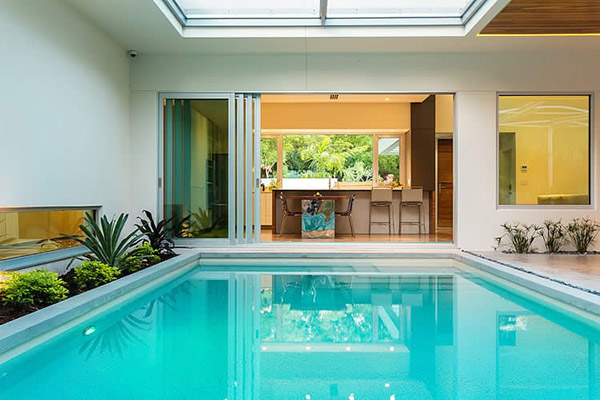 The pool area is another lovely feature of the house. You can also take a glimpse of the kitchen area from here.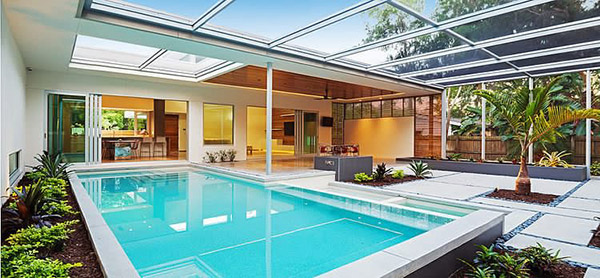 What do you say? What a lovely outdoor space! Everything is well distributed without crowding or dwarfing it. Notice also that the entire outdoor area is covered with a glass ceiling.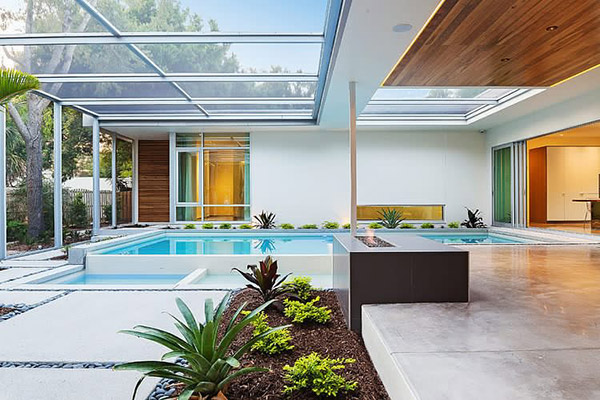 Plants line the pool area as well as raised planters and a modern fire pit.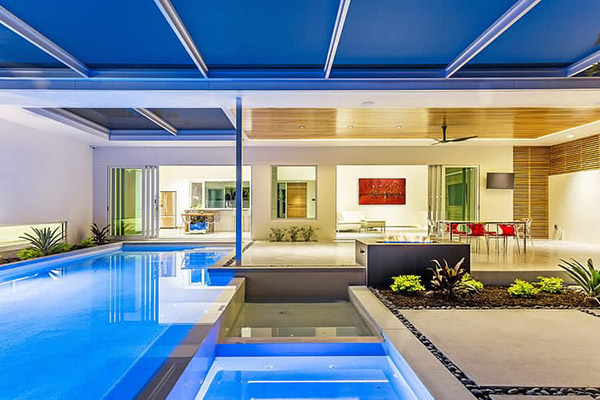 When the pool lights are on, the pool area turns into a whimsical outdoor space for entertainment and fun.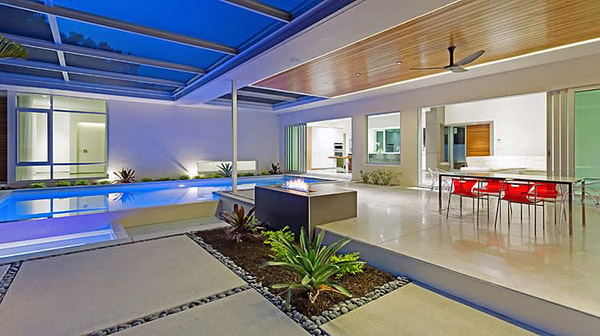 There is also an outdoor dining area with modern furniture that fits perfectly to the theme of the entire house. And that fire pit no doubt is a beautiful centerpiece between the pool and dining space.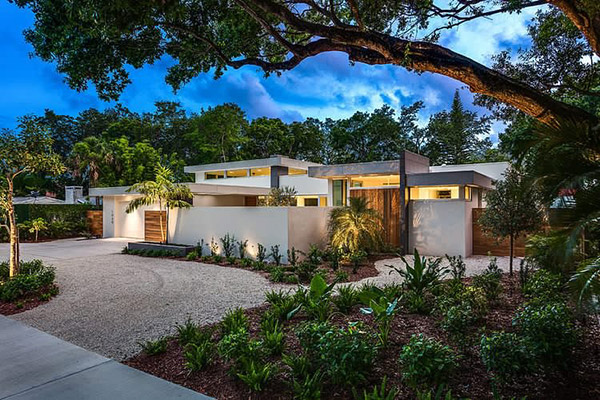 The treasure of this house isn't just the architectural and interior details but as well as its very beautiful landscaping all around it!
I know you were left speechless after seeing the landscaping of this house. It really his mind blowing and would give us a better idea about what we could use for our own homes when it comes to gardening and the pool area. You might have noticed that the pool of this Lotus on Orange by Leader Design Studio residence is just simple but what made it look gorgeous is the pool landscape. It is like decorating a space with lights and plants. What can you say about this?