15 Adorable Multi-colored Kitchen Designs
We promised color blocking for your kitchen ideas wherein we started off with picking out blue colored kitchen designs with a modern touch, which of course can come in the classic or traditional designs. But as wonderful as they all seem, we prefer going modern for the color blocking.
To start off this article, we will be showcasing multi-colored to colorful kitchen designs.
The next 15 photos below will give you ideas as to what colors to combine, what colors complement each other, and which furniture to match the colors of the walls, cabinets and drawers, or even the walls. Here are the photos we have been waiting for.
70's Inspired Kitchen
This 70's inspired kitchen is totally funky! The greens and the dashes of red and mustard yellow make this room charming.
A Very Brady Remodel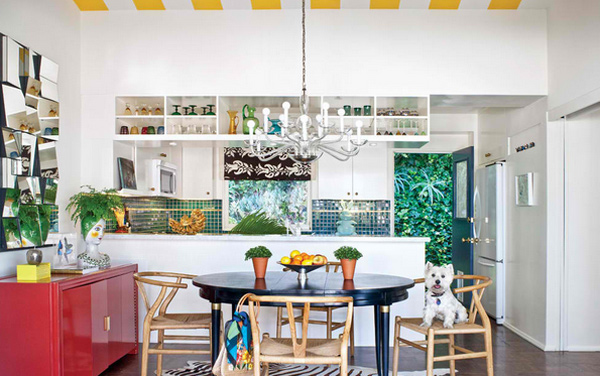 Doesn't this room remind you every possible place the owner could have visited? This kitchen design is located in her very home, the yellow-stripped ceiling is meant to look like an Italian awning.
Dandelion House Kitchen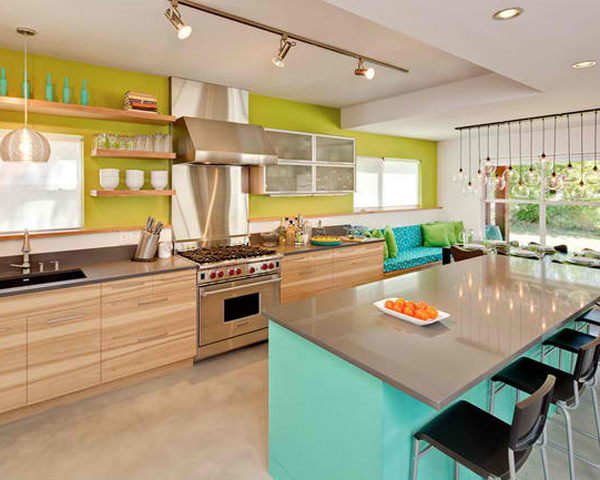 This kitchen looks amazing with these matching colors! The name of this project makes it really charming!
Fox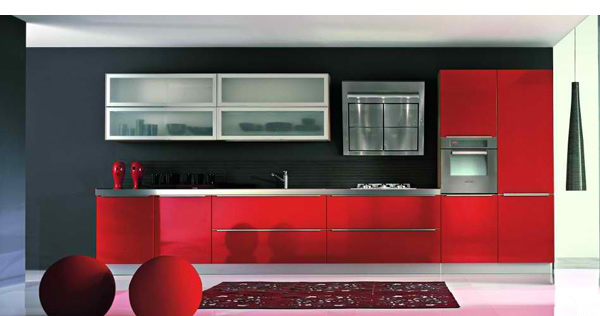 Love the red and black combo? Regal and really sophisticated!
Contemporary Curve Kitchen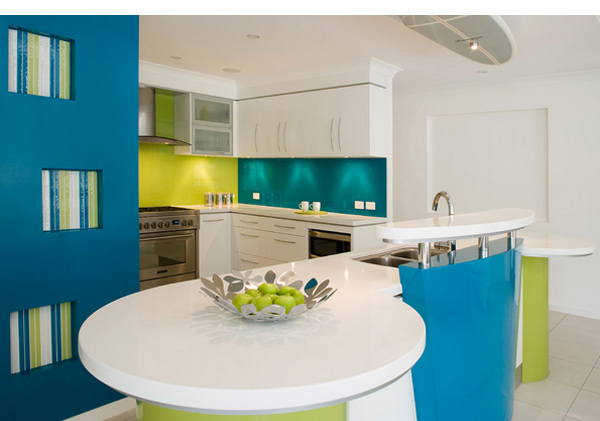 Fun and funky beach house! Modern kitchen that is brightened by the blues and the greens!
Kaori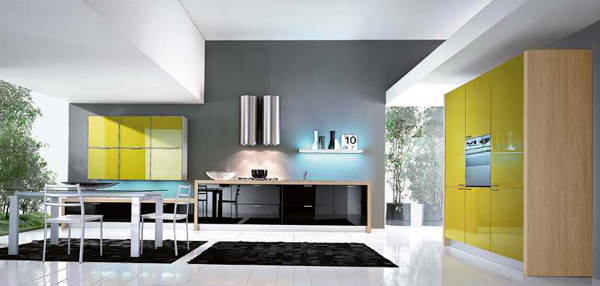 Mustard yellow and gray didn't quite look this well huh? Kaori is one kitchen to beat!
Eclectic Kitchen New York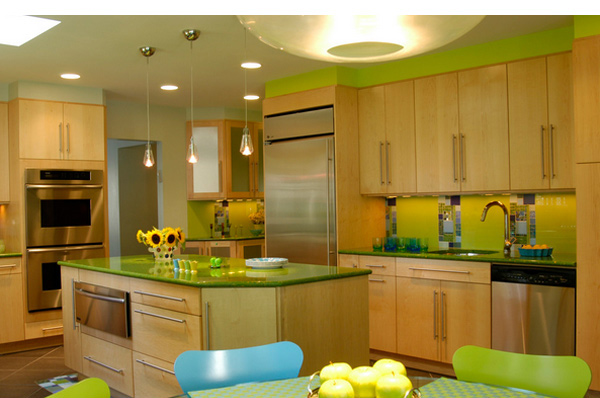 This room is a great mix of green and beige! Totally stunning!
Kitchen Bath Office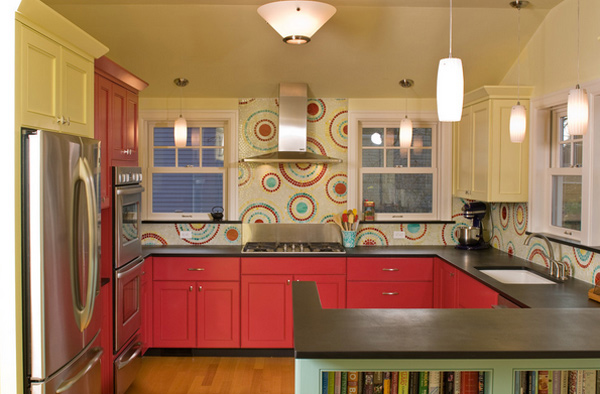 The backsplash in this kitchen is adorable with all the circle prints. The tri-color of this room is really cute and girlish.
Modern Kitchen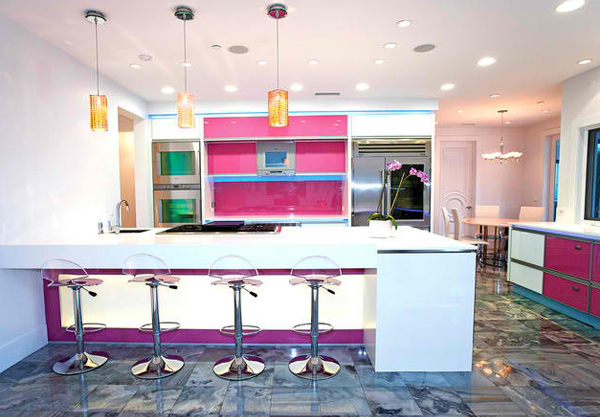 Don't we just love the color pink and blue together? This kitchen is so girly, even Barbie can live here!
Ola20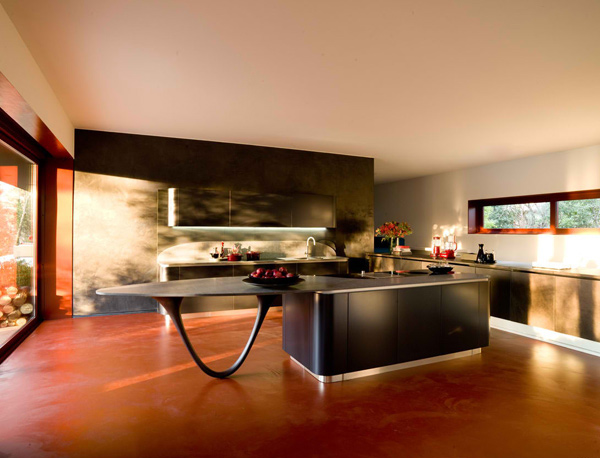 Futuristic modern lines in a Mica-based lacquer on the Ola20 redesign.
Olive Tree Kitchen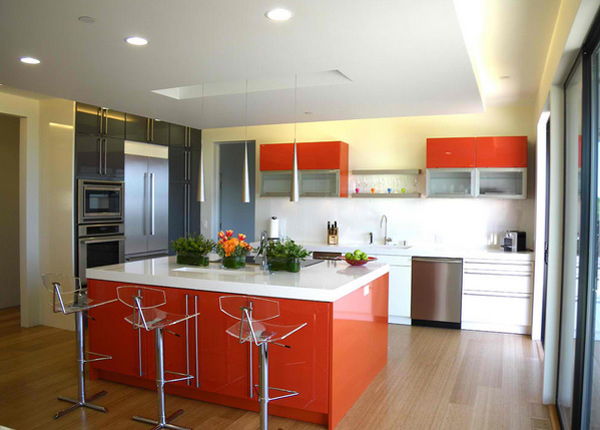 Orange and light yellow for this kitchen brightens this room! The bar stool is even so unique.
Showcase 2011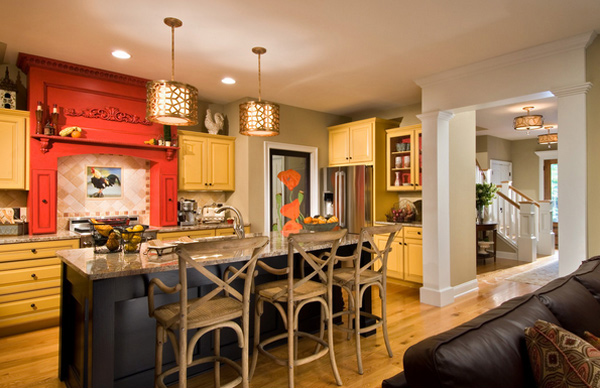 This kitchen may look rustic but the colors chosen was really stunning you'll think you are in another time.
Tetrix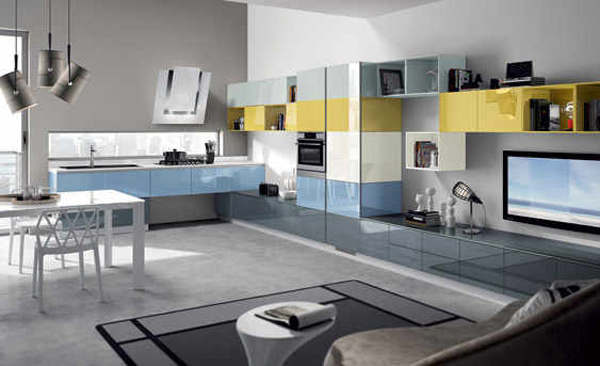 The blue and yellow cabinets may look subtle compared to the gray walls, but you have to admit, the kitchen looks lovely.
Venice Kitchen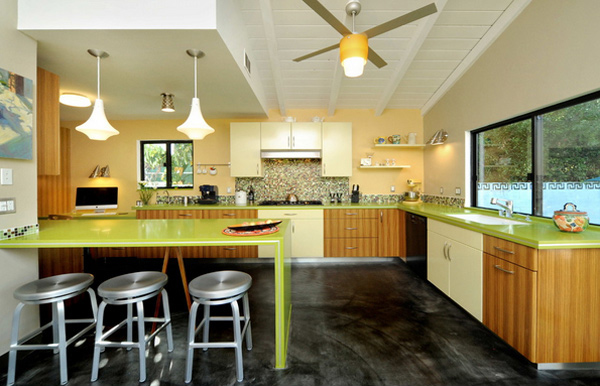 This Venice Kitchen is a design from LA Dwelling. This shade of green looks well and good with the color of wood.
Woodland Residence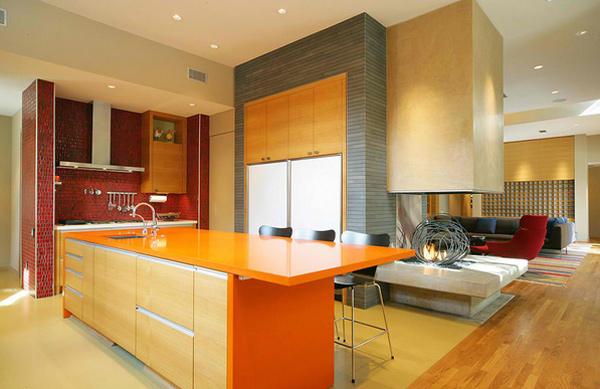 This is a project from DOBA Architects. We loved the red backsplash and the lovely orange island. How about you?
The kitchen ideas that you just have seen above are mere examples of how we can mix and match bold colors for our kitchen. You can check out 15 Amazingly Cool Blue Kitchen Ideas that make use of blue colors in its design. Basically, it is just the same as what we do for our living rooms where we combine colors to make the room bright and happy. Watch out for the next kitchen ideas we have in store for you!