20 Ingenious Workspaces for Teenage Boys
Teenagers both males and females are fond of experimenting stuff to place in their bedroom. With their desire to have everything inside their rooms, even the workspace is placed in the bedroom. That is how teens are really like. So, if you are having trouble thinking of how you would place a working area inside the bedroom, we will be giving you some design ideas. Most of them are space saving and are also well designed.
Since we have already shown you chic teenage workspaces for girls, we will be showing you workspaces for teenage boys. Look into how these workspaces are designed. These will surely give you ideas on how to work on your own workspace. Here they are:
Teenage Workspace Black White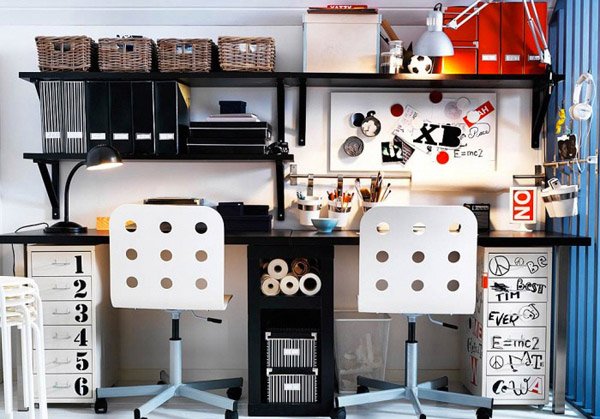 A teenage boy would certainly like to work in a space like this with black and white colors and just enough storage areas.
Young Room Desk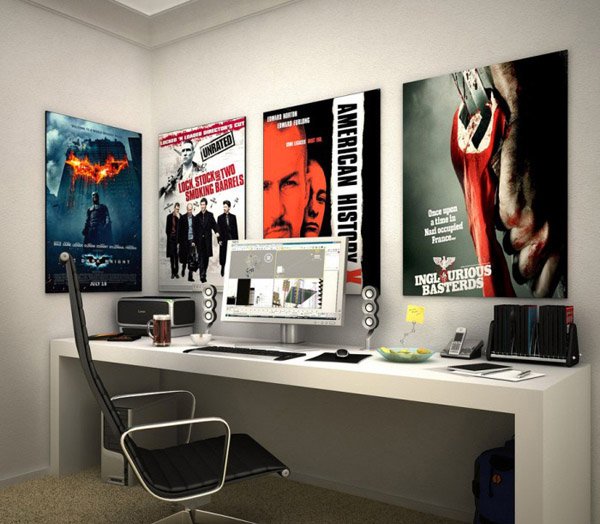 A simple long desk is used for this work area. The movie posters added a different twist to the area's look.
Customize-It Simple Trestle Desk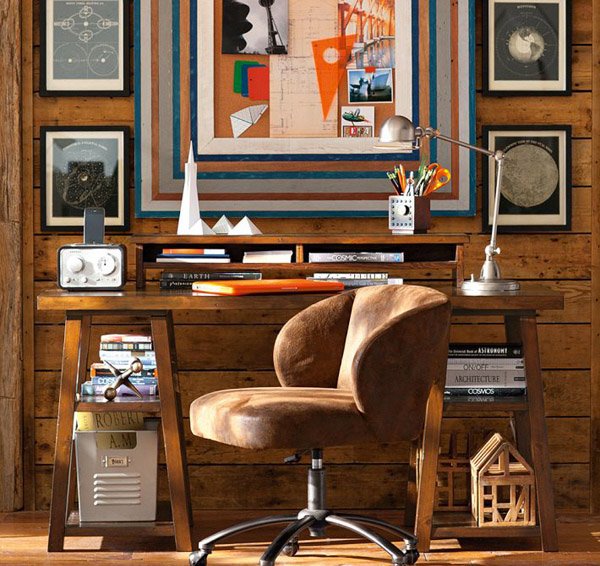 Customize the perfect place to work, dream, read and create in this distressed wooden desktop with metal trestle legs.
Comp 763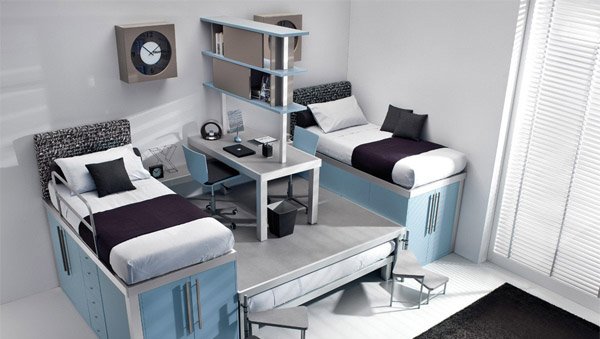 A shared bedroom for two boys having their own wardrobes under their beds and a workspace between them. Amazing isn't it?
Mauve Workspace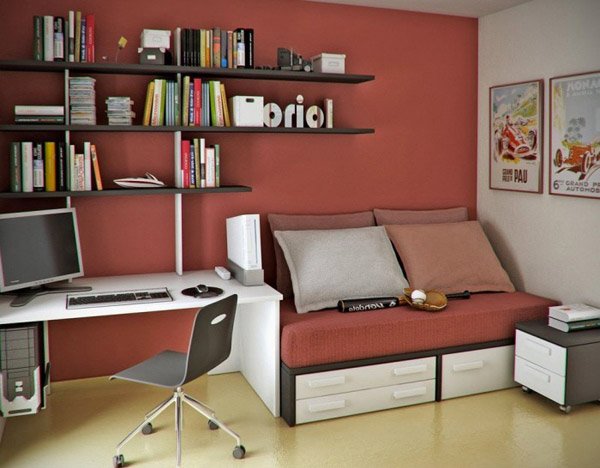 A workspace for a young man with a shelf just above the working table and a sitting area that not just provide comfort but a storage area as well.
Teen Room Evermotion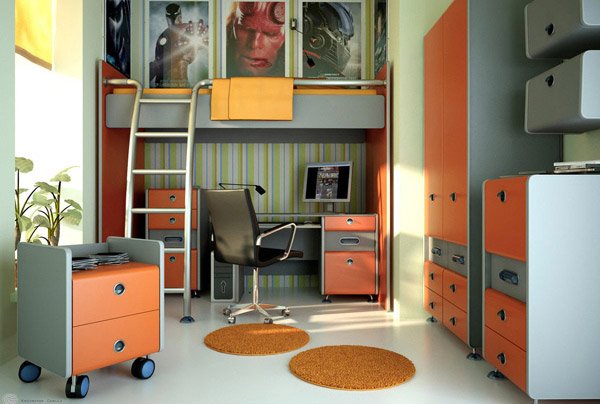 Space saving loft bed with working area below it. The posters used could easily make you tell that it is really owned by a teenage boy.
Teenage Boy Room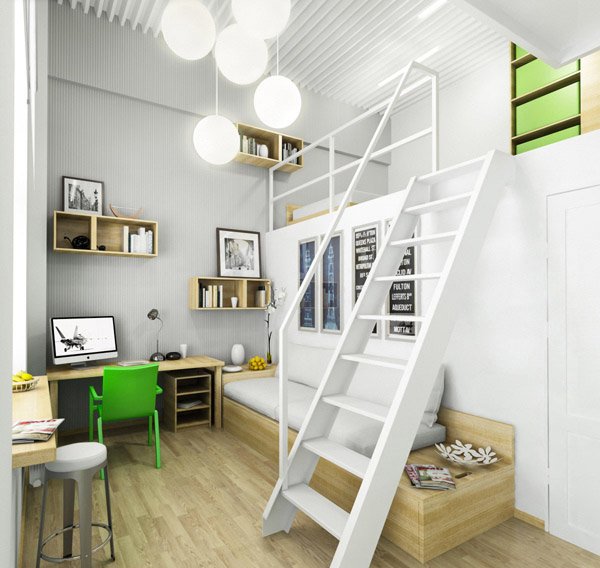 Working area separated from its sleeping area which is located in a mezzanine. It made use of wood in its furniture giving it a soft natural touch.
Comp 782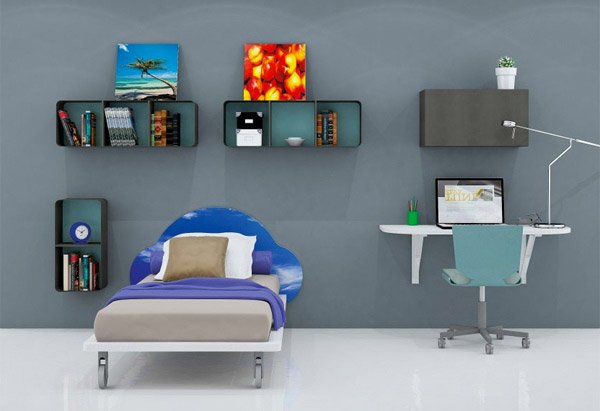 A small space can look big if you do it this way. Small floating desk beside a single bed.
Music Themed Room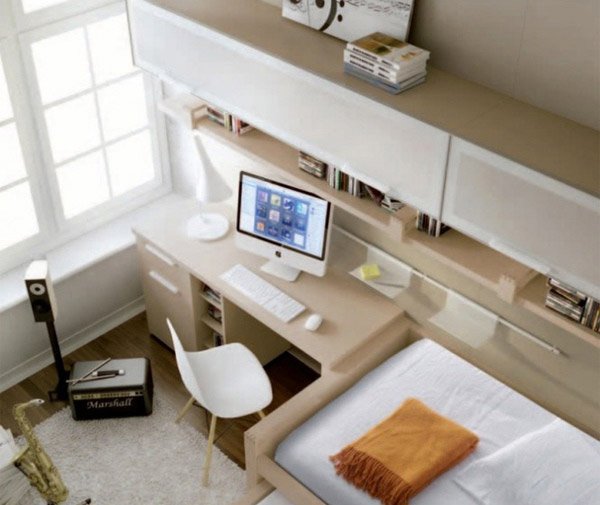 Beige and white combined look good for this music themed bedroom of a teenage boy. You can see the working area placed in a corner to make use of the available space.
Young Room Unit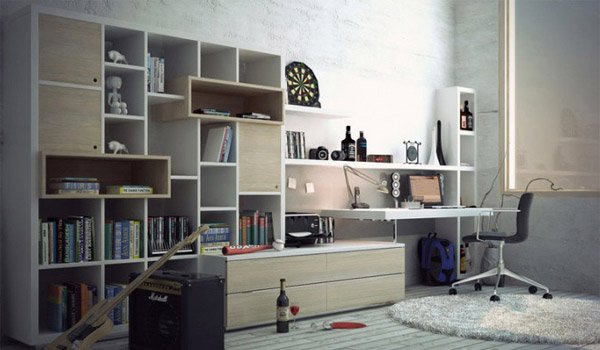 One look at this room and you will really think that the owner is an outgoing young man with stuffs related to music, sports, school and others. The working table is made simple with two stands at its back, leaving the front area free.
Comp 774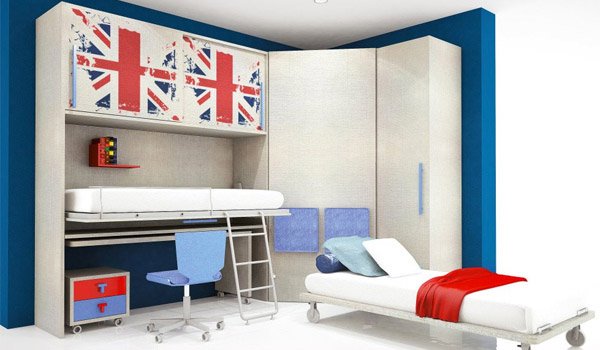 Bedrooms with flag themes are available in Tumidei. This is just one of the designs where you can see a working area below the bed.
Desk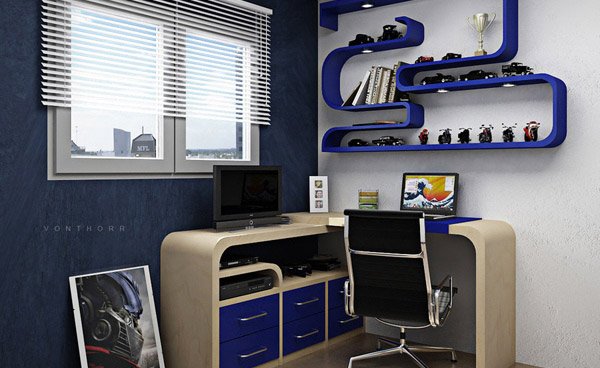 Blue could be the fave color of the owner of this work area. The tables, cabinets and shelves made use of lines and curves making it look modern and unique.
Green and Beige Workspace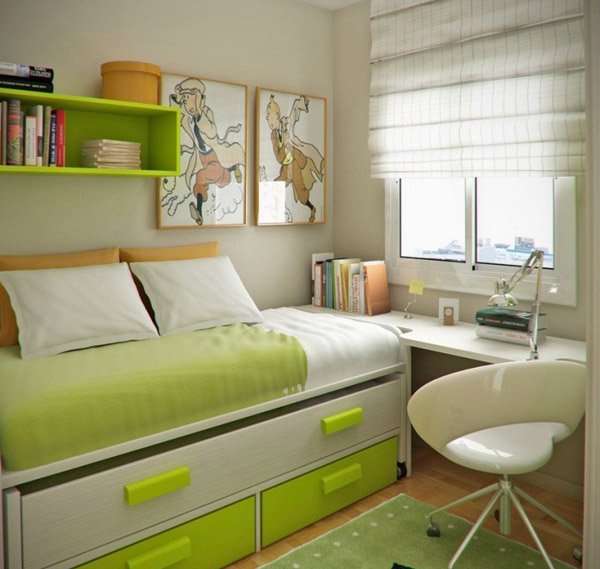 Maximized space by attaching the bed to the desk. Natural light can also enter from the window which can motivate the young man to work better.
Chatham Large Snack + Study Desk + Hutch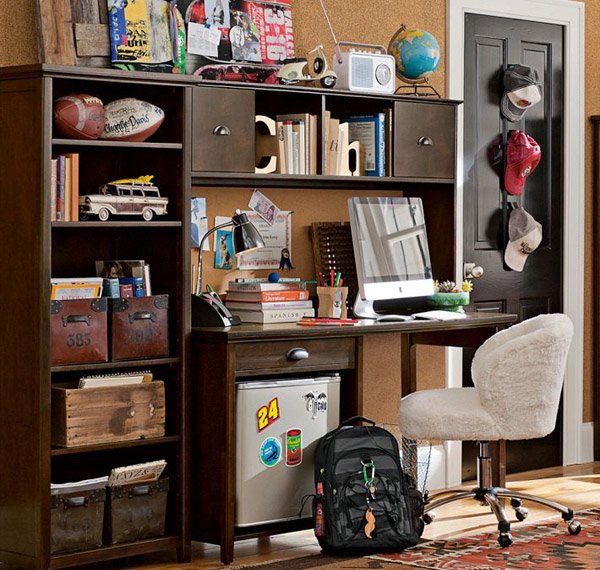 Add retro details to your teen work area with antique bronze drawer pulls and label holders for a roomy desk of smart style.
Comp 743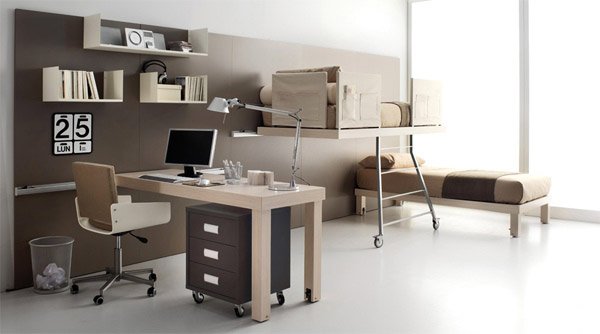 Simple workspace attached to the wall but can me moved and adjusted when one wants to. This just looked right for a shared bedroom of two teenagers.
Teenage Space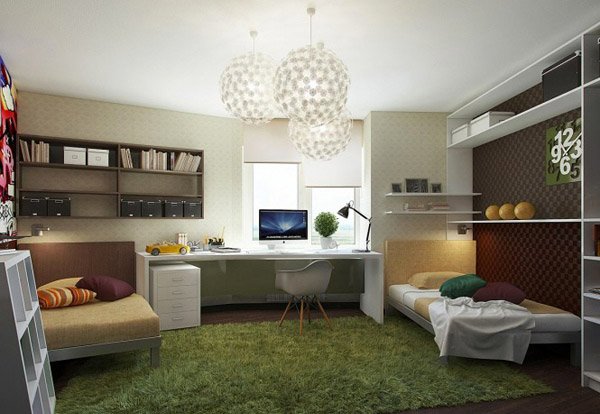 This bedroom looks relaxing isn't it? That is the effect of the green carpet and the white ceiling. The working table is quite long which is apt for two teens using it.
Teen Room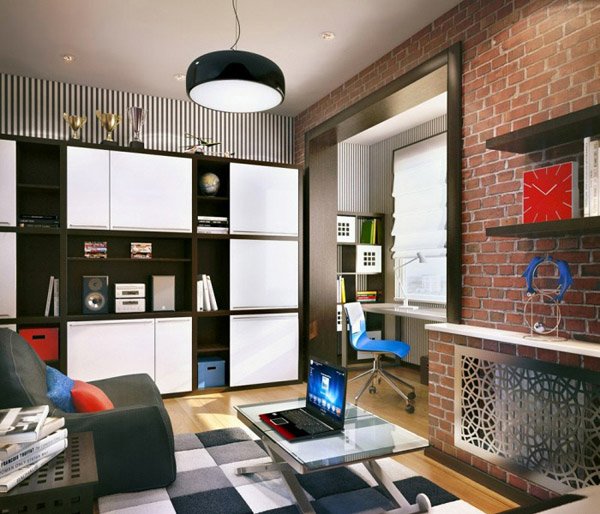 If you think this one is just a sitting area, you are wrong. Take a look at the workspace near the window. Space saving table inserted on the available space is an interesting place to work in with a good view outside.
World Travel Themed Workspace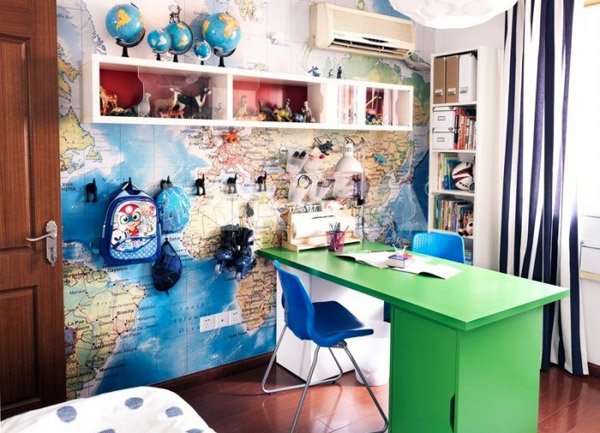 If your teenage boy loves geography and travel, this kind of workspace is just right for him.
Teen Workspace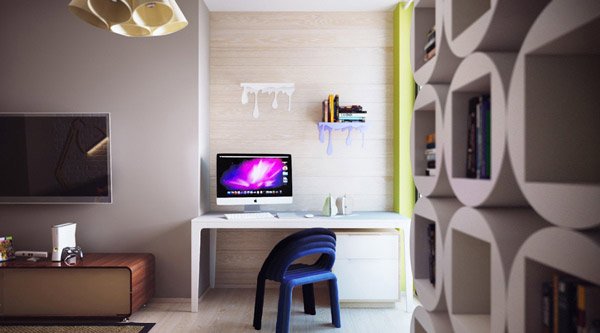 Minimal and modern at the same time. It only used a simple table for the workspace but look at the shelves! Uniquely designed shelves, chairs and cabinets gave a distinct statement to the room.
Scientist Themed Room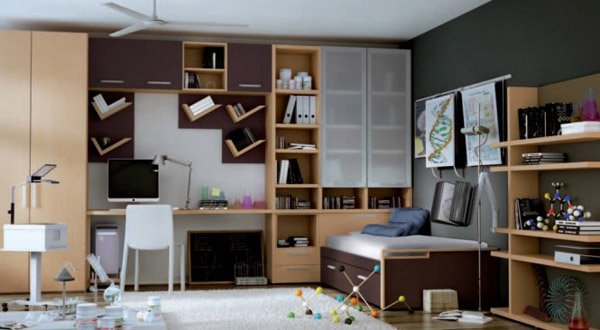 How pretty this headboard is! It was merely painted with this rose design and it turned out very attractive with matching floral beddings.
When it comes to style, boys are not as fancy as girls are but they can still come up with good looking workspaces ad bedrooms as what you can see above. You can also check our collection of teen bedrooms for boys. Or if you want to see how a teenage girl's workspace could look like, you can also take a glimpse at 15 Chic yet Functional Teen Girl's Workspaces. Expect to see more home design inspirations here in Home Design Lover.