Modern Penthouse in 321 Ocean Overlooking Miami Beach
A stunning modern penthouse fronting a beach in Miami.
We have featured penthouses before and all of them as different designs although they have one thing in common- they are on top of very high buildings that gives them a lovely view of the areas around them. Yes, this is what we would love about a penthouse. Plus, it is like you have all the freedom because hey, you are on top and you don't need to disturb those below you. Another one, you will be blessed to create your own outdoor area.
Today, we are going to feature a two-story penthouse overlooking Miami Beach designed by Enrique Norten. This apartment has a modern design that fits any family that wants to have a modern lifestyle while in the city. But the great bonus of the penthouse is the pool on top of it that has a spacious deck where many people can actually relax and just enjoy the view. Another good thing is that after enjoying the pool, one can also enjoy the ocean. The penthouse sits on 321 Ocean in Florida, USA that is comprised of 21 luxury residences. This residential building has 2 penthouses, 2 two-story beach villas, and 15 unique floor-thru units that provide both East and West balconies at every residence. It also has private elevators, and breathtaking views of the Atlantic Ocean and the City. But what we are going to see in the images below is the penthouse in 321 Ocean.
Location: Florida, USA
Designer: Enrique Norten
Style: Modern
Type of Space: Penthouse
Unique feature: A modern penthouse in Miami located in front the beach. It features a pool on the rooftop and minimalist modern interior.
Similar House: West 27th Street Penthouse of New York Features a Reclaimed Mosaic Wall Tile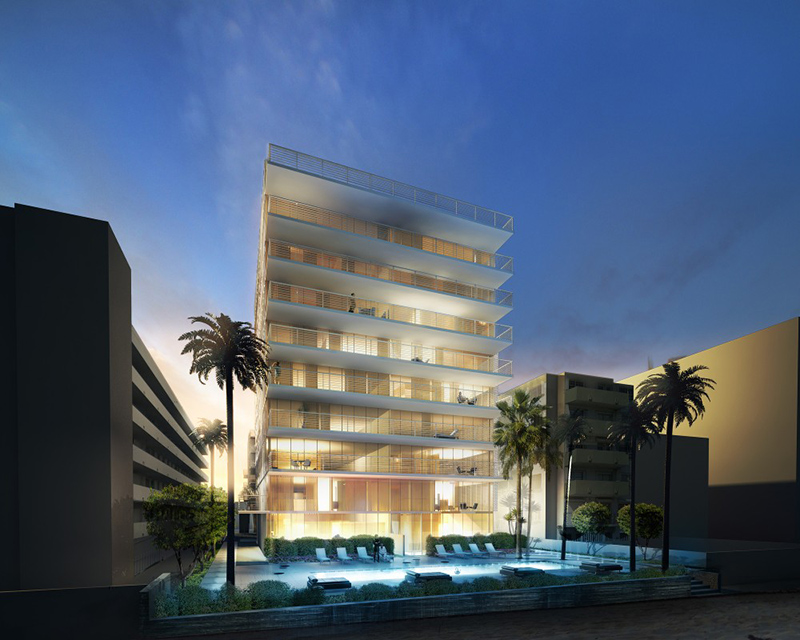 This is the 321 Ocean building that has a pool on its front and is comprised of 10-storeys with various residences. It is like anyone's dream residence with the kind of comfort they want to receive as it features balconies around it to take advantage of the views of the ocean. Its interior is full of luxury and sophistication which is something many of us would like to see in a home. Aside from that, the residence also has many other amenities that will make your life easier and more comfortable. Although we will only feature the penthouse here, it will give you ideas on how the rest of the residences in 321 Ocean look like.
This is the penthouse and we can see that it has a swimming pool that has unobstructed views of Miami Beach. Notice that it used red for its umbrellas and furniture which is an eye-catching color. The furniture actually makes the area more attractive. Even from afar, one can be drawn to the penthouse and the pool area especially because of the bold colors it used for the outdoor furniture.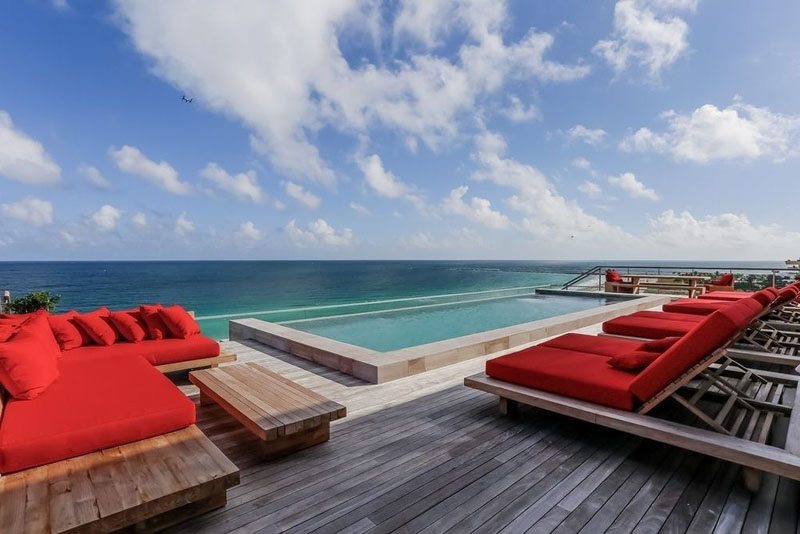 As you can see in this image, the pool has a wooden deck and there is plenty of space on the pool deck for sunbathing. And while doing that, one can enjoy the views of the sea while observing those who are taking a bath in it. I actually think it would be more enjoyable here because you have a private time and you can whatever you want with family and friends. There is also enough lounge chairs for everyone.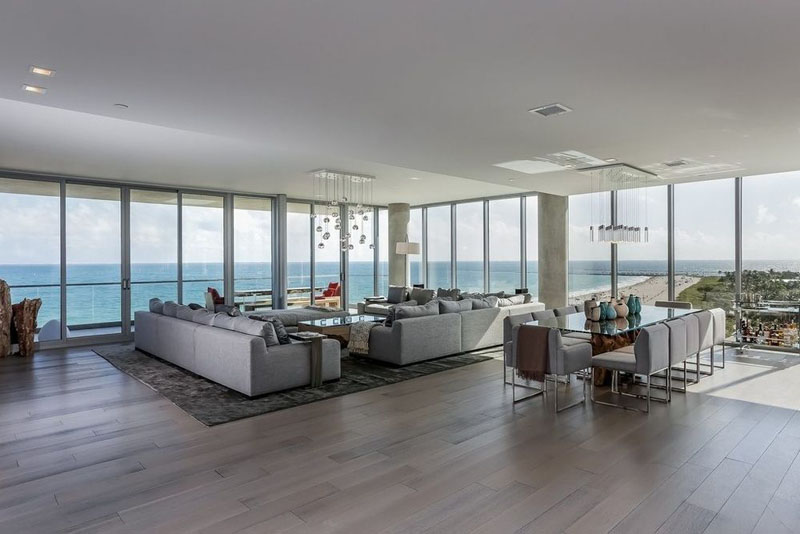 Inside the penthouse is the living room and dining room that share the open space. It is surrounded with glass floor-to-ceiling windows that provide views around the area. The decoration is minimal but the area is spacious. You can see that it has many glass elements in it to make the area appear even more spacious just like the lighting fixtures it used.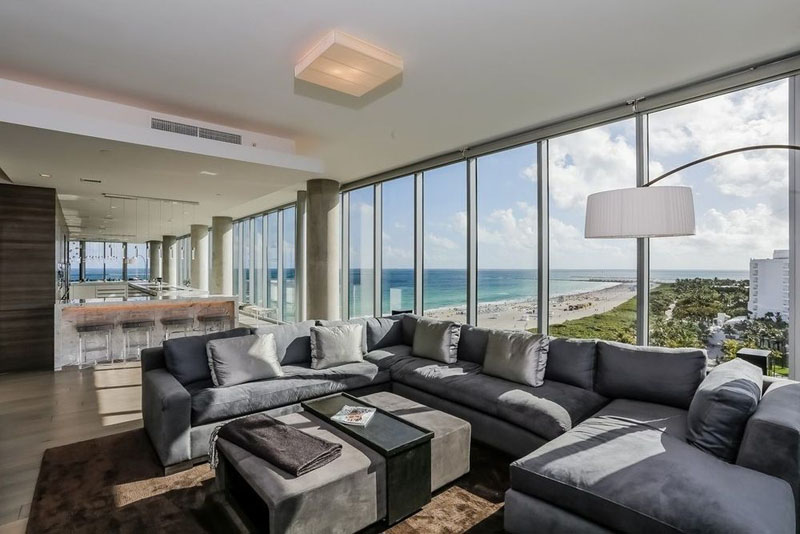 It also used comfy modern furniture like this sofa. Because of its tall windows, this area is the perfect spot for watching the world go by while taking a rest or maybe even eating lunch or preparing dinner in the kitchen and dining areas.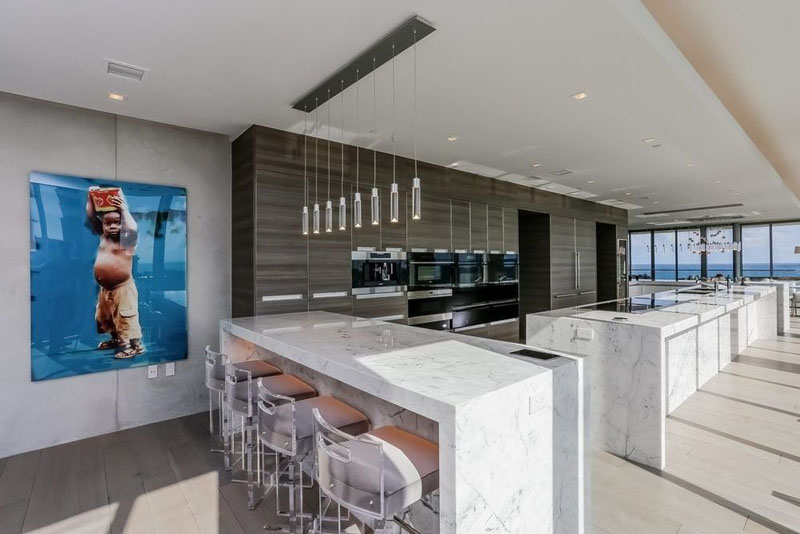 The large kitchen with a mix of wood and marble has plenty of space for food preparation. It has a lot of storage spaces as well with the floor-to-ceiling cabinets. What I like here is the design of the counter height stools with glass backrest.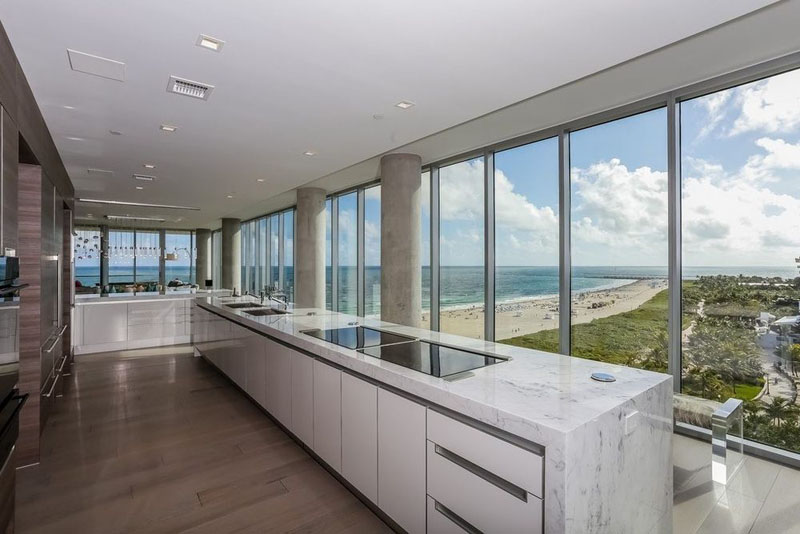 The kitchen has a long island that has everything one needs to prepare food. I also like how the island's marble finish looks like with the wooden flooring. Also, there is no shortage of views here since the glass windows are extended in this area.
Read Also: Futuristic Approach in the Bentley Bay's Essential Miami Beach Penthouse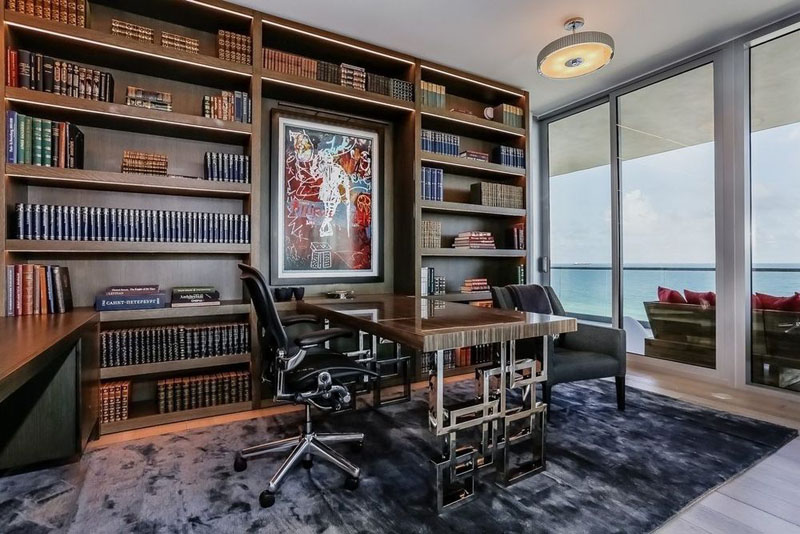 If you need to get some work done, there's also private office and working area with a tall shelf for books. The design of the space is very professional. And like other areas in the house, this one also has a great view of the ocean which may motivate you to work.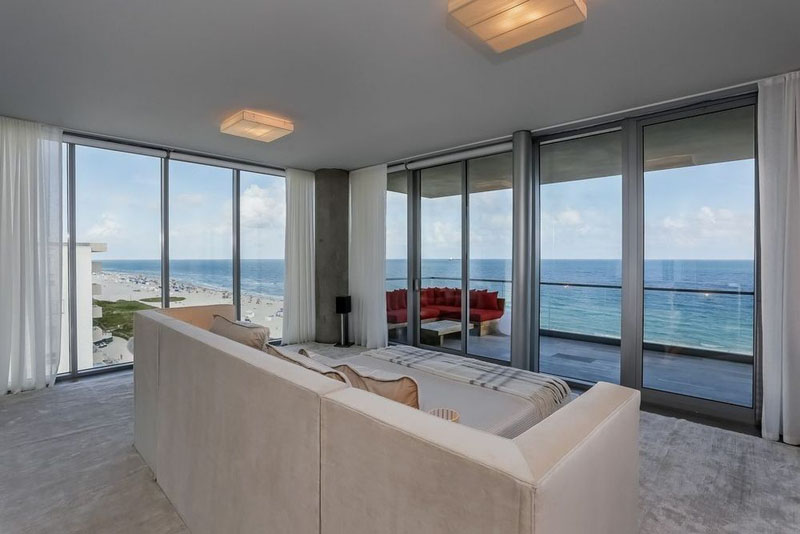 In one of the many bedrooms of the penthouse, the bed takes center stage. Notice that instead of using bold prints and colors, the bedroom opted to use a neutral tone for its covers and the bed itself. It also has access to a balcony for enjoying the ocean breeze. So, if you want to relax, you can also go outside on the comfy outdoor furniture.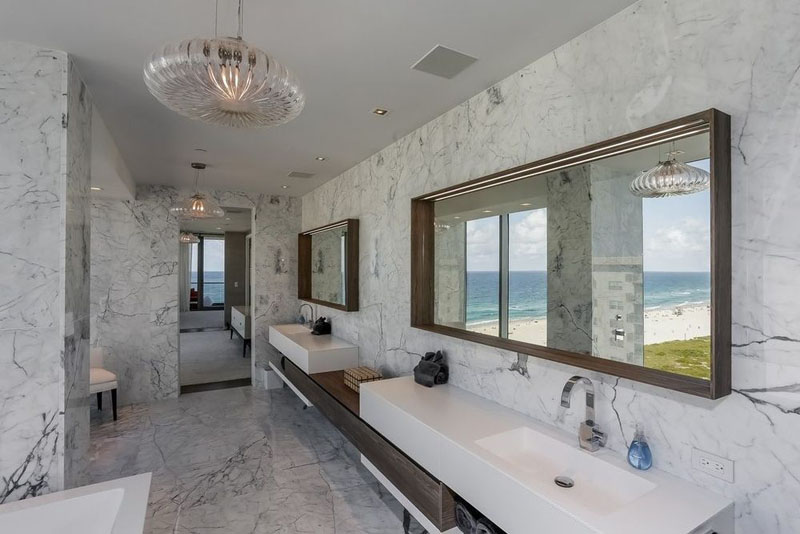 This is the bathroom that is full of luxury, with two completely separate vanities. This is indeed very spacious and it has a bath tub at the corner, which means one can just relax in the tub while watching the ocean.
Who would not want to live in a penthouse like this? Well, if you want a modern way of living, this is exactly what you need and what you want for a home. And it is a plus factor that it has its own pool on the roof deck and it faces the ocean. This penthouse was previously listed but the listing is no longer available which may mean that it is already sold. The 321 Ocean is designed by Enrique Norten of Ten Arquitectos and they have done an awesome job in the design because you can see that on how the structure looks like. I can tell that aside from the penthouse, other residences in it are totally luxurious and well-designed.