Astonishing Modern Architecture of Bayfield Residence in Perth
If I were to ask you how would you define a simple home, what would be your standards? Well, if I'll be the one to answer that question I would define it in three different ways: First, it must be a clutter-free house for a reason (I know everyone would agree) that it's just a good feeling living in a house where you got nothing to worry about (pertaining to visual distractions or barrier). Second, it does not give you much effort, time and money to maintain and clean (by purchasing furniture and accessories that are durable and comfortable). Third, it must contain spaces that are functional, spacious and would serve a purpose for you and for everybody. To then fully understand my concept of simple house, take a tour on this featured house for today.
Bayfield Residence is a modern suburban home sited in Perth, Australia which demonstrates a design of uniting traditional and modern details just like a slanting roof and an open outline to incorporate the outdoors along with the interior. The residence has two floor levels that feature 4 bedrooms and two bathrooms with an interior that shows a harmonious flow of chosen materials thus giving a warm, simple yet elegant design. The materials used were ranging from plaster and glass to warmer tones of woods and stones for walls, floors and furniture. The lower floor serves to be as the main living space that is used for social purposes. And the upper floor got a smaller space that serves as the sanctuary for the parents. Wherein, every space in this house got a spacious and functional design.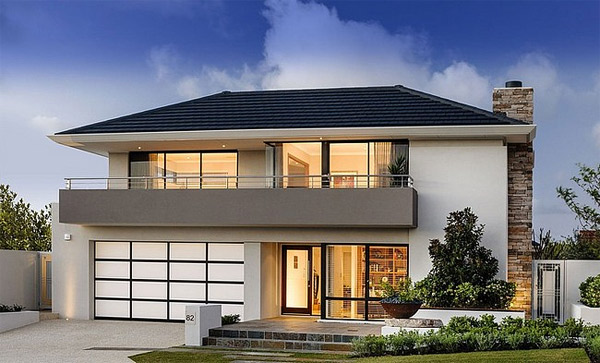 As you can see from the facade of this house it exemplifies a home that possesses beauty, balance and harmony. On the left side is a Japanese inspired door that hides the two-car garage and it is then separated by a concrete wall that leads to the entry porch of the house.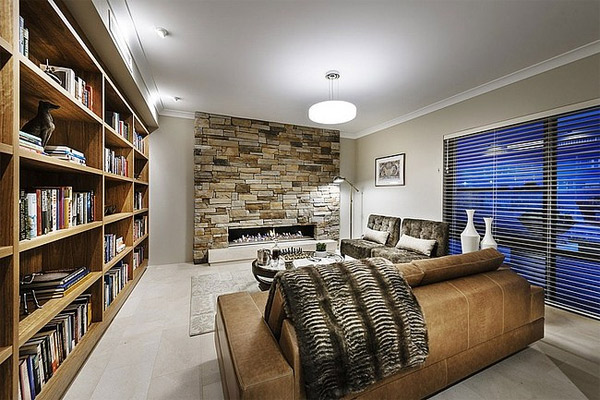 This is the first room to be seen as you enter the house. It serves as a sitting room, equipped with cozy sofa, a very wide wooden bookshelf and a fireplace that would keep the area warm.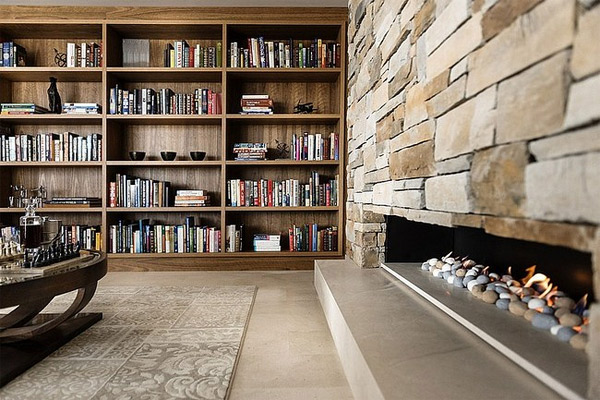 The stones that are stacked on the walls dwells the fireplace that adds an element and style for the sitting room. And of course it gives a warm atmosphere making you comfortable while you are scanning on those books.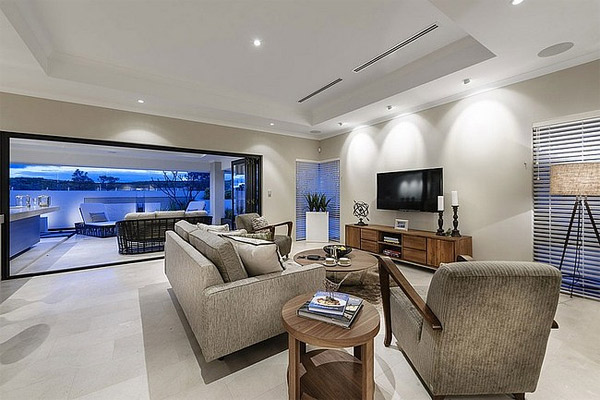 The family room is embellished with comfy chairs and stylish coffee table, completed with an entertainment set that makes this room very functional and entertaining. Entertainment is then extended at the alfresco exposed through the folding doors.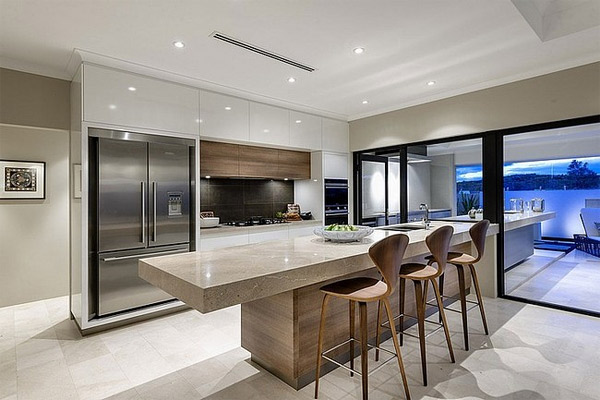 The kitchen looks very elegant and hygienic. The kitchen island tops a very wide rectangular marble that allows functional cooking hours. The length of the kitchen extends to the alfresco where it can be used during gatherings.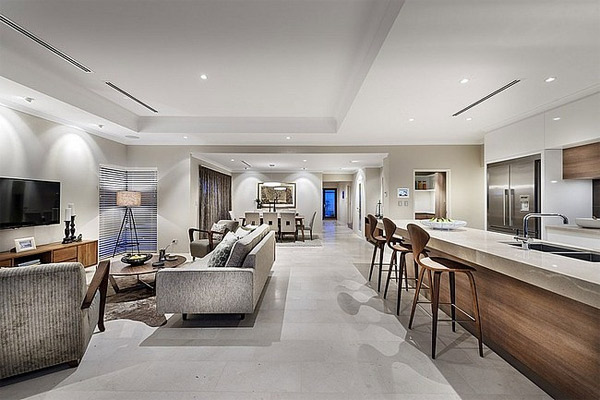 This home got a spacious space where different functional rooms can be placed at the same area. From this photo you can see the dining room, designed with chic dining table and chairs.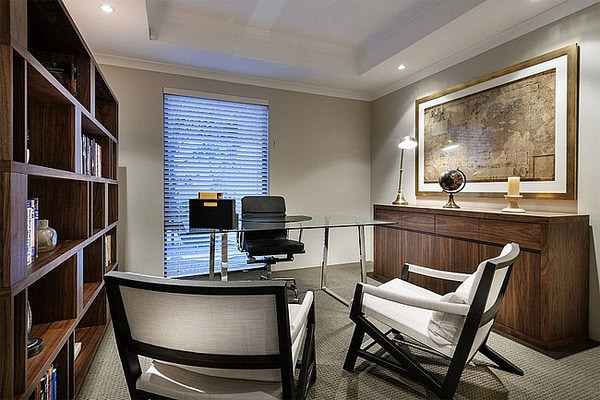 And course, the study room or the office room. It is designed accordingly, a glass table and a comfortable office chair.
This area is found at the second level of the house and this serve as the retreat room for the mother and father where it is connected by a wide opened door to the master bedroom and also it has a balcony on the side to widen the experience of views from afar.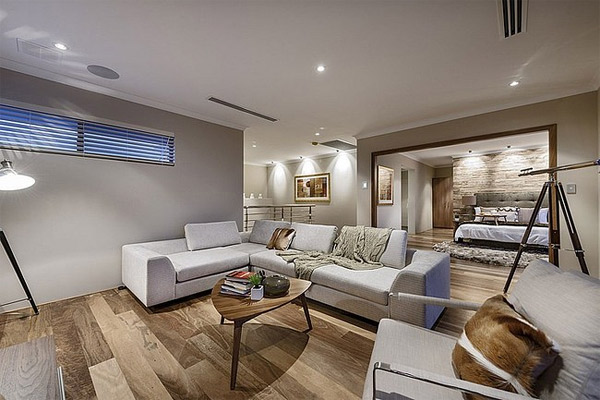 The retreat room is furnished of course with primary used furniture: sofa set, floor, lamp, and a wall-mounted television. This space offers the homeowners a comfortable relaxation.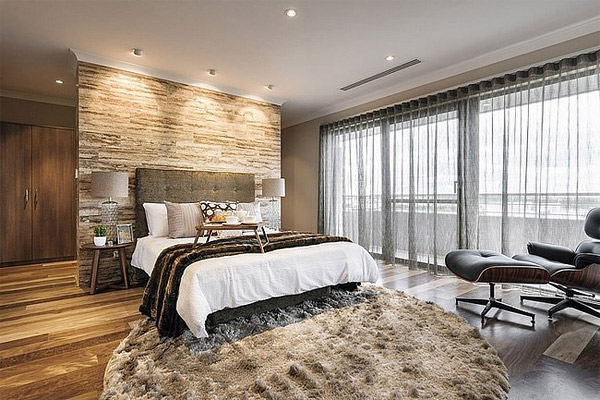 The master bedroom looks like a luxurious room in a five star hotel. The tufted foam headboard gives a grand look to the bed.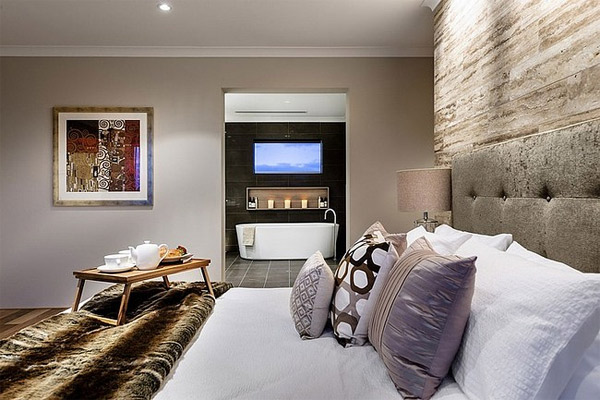 The room has a luxurious ensuite that is also very spacious and fully equipped with important bathroom accessories.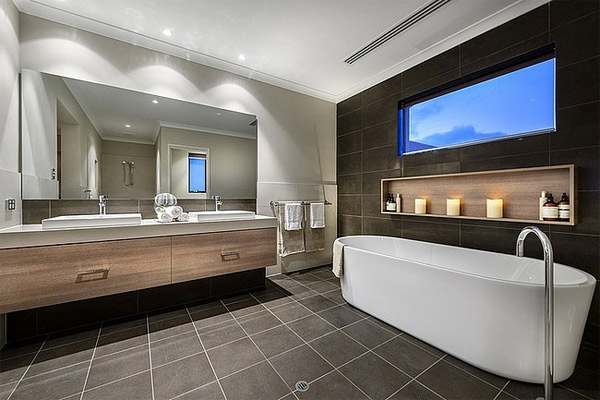 The master ensuite is furnished with suspend wall-mounted bathroom vanities that has a very wide sleek mirror and a free-standing tub that looks very sophisticated.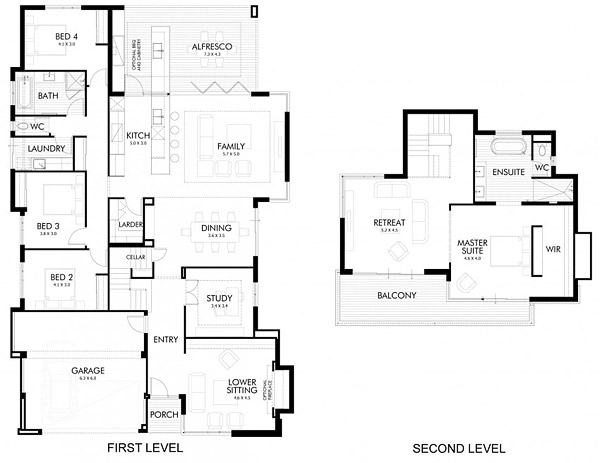 This is an overview of Bayfield residence floor boundaries. The first level houses the main living spaces while the second level is reserved as a sanctuary for parents.
If you have found Webb & Brown Neaves' design to be alluring you can try to check out more of their architectural concepts that will surely inspire you and give you more ideas. This house is priced $545,000, fair enough and worthy for any family that would dream to have a modern home that is functional and spacious.