Charming Scandinavian Interior NVMD in Moscow, Russia
There is something about Scandinavian spaces that I love. They are just bright and airy and just beautiful. I like the light design of spaces like this that are stylish and functional enough. Different homes of this kind of design were already featured here on Home Design Lover. And we have another one to add to that list today.
The Interior NVMD is a duplex with a loft intended for a family with two children located in Zelenograd, a city in Moscow, Russia. This 1,614 square feet (150 square meters) home features a minimalist feel with Scandinavian flare combined with eco-industrial elements. The lower level of the house offers a spacious open plan concept where you can find the living and dining rooms as well as a beautiful chef's kitchen with an island breakfast bar. There is also a guest bathroom and laundry space situated under the staircase on the same floor. On the upper level, you will find three bedrooms sharing one bathroom. Meanwhile, in the attic space, there is a seating area, office, bar, media library and closet to store seasonal clothing, as well as a shower.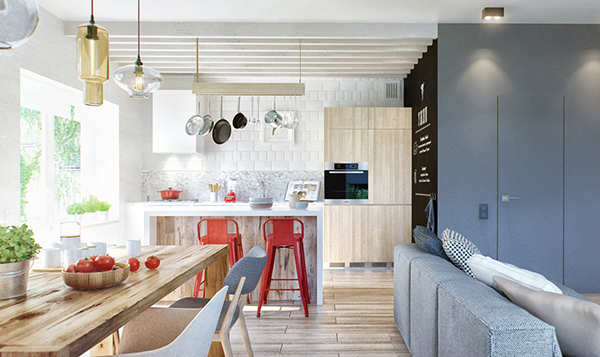 You can already get a hint that the interior is indeed awesome merely by looking at this image of the kitchen and dining areas.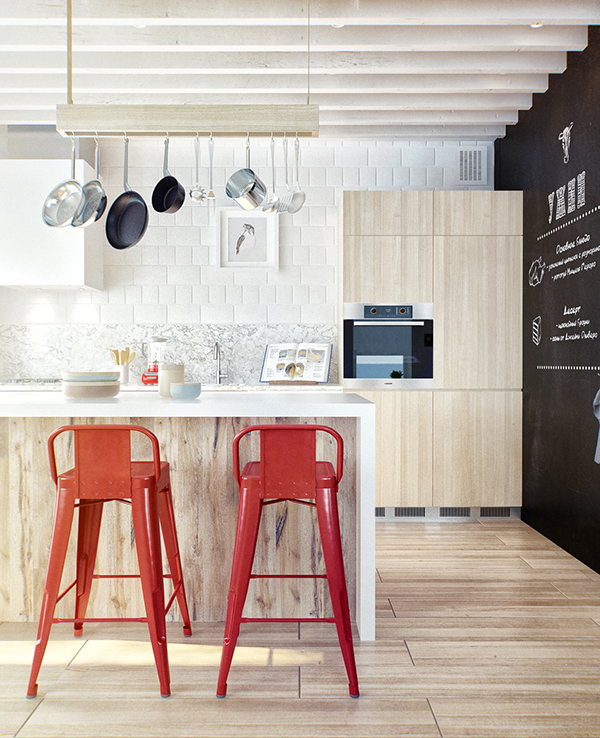 And yes, you are right. Even the way the kitchen walls were designed is extremely stunning!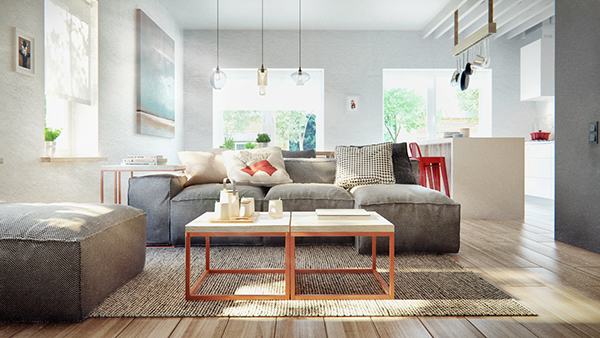 Right off the kitchen and dining is this living space with a minimalist look.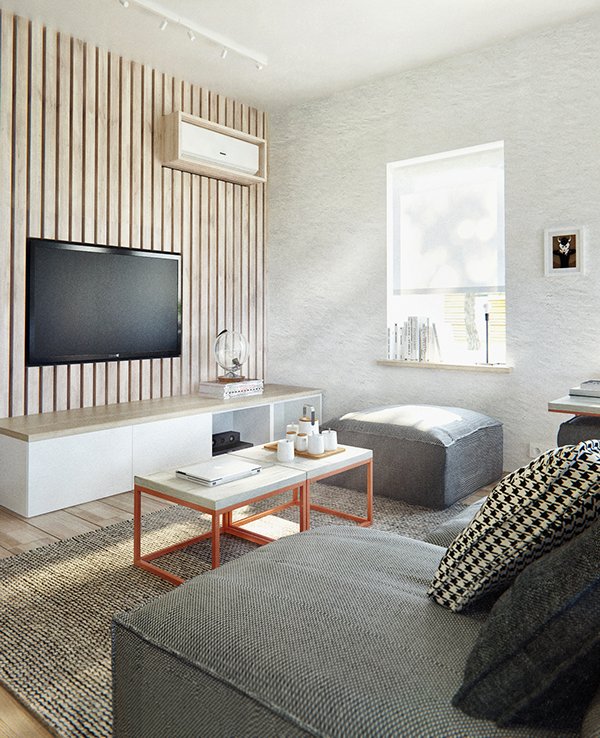 The television is mounted on wooden panels that looked perfectly stunning in the small space.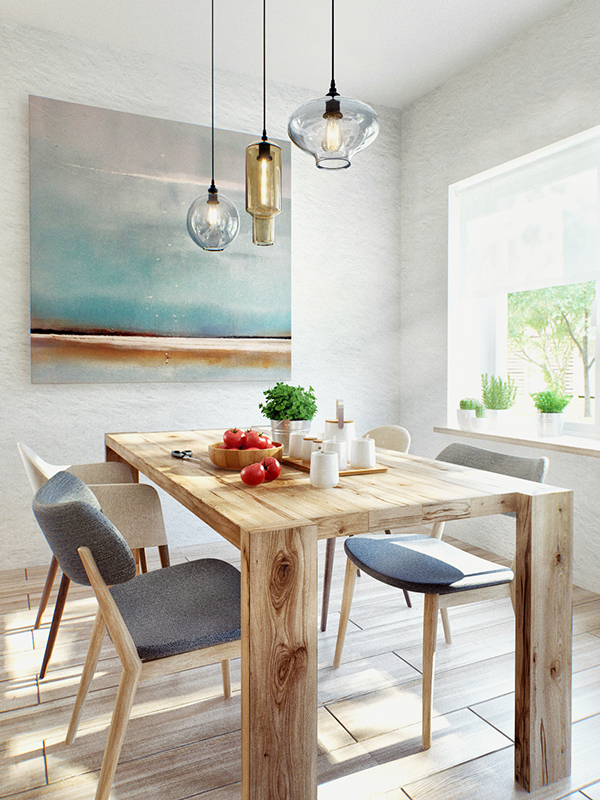 Meanwhile, a combination of different chair designs were used for this dining area. I love it!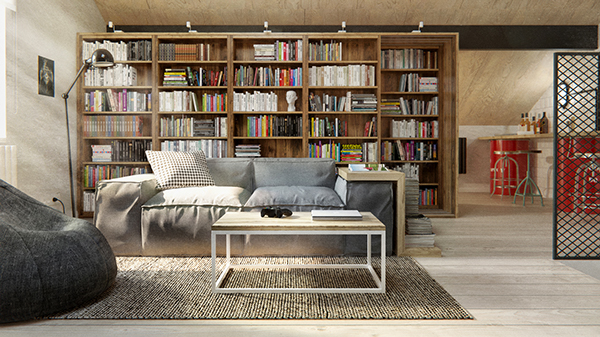 A shelf of books is the backdrop of this living area in the attic.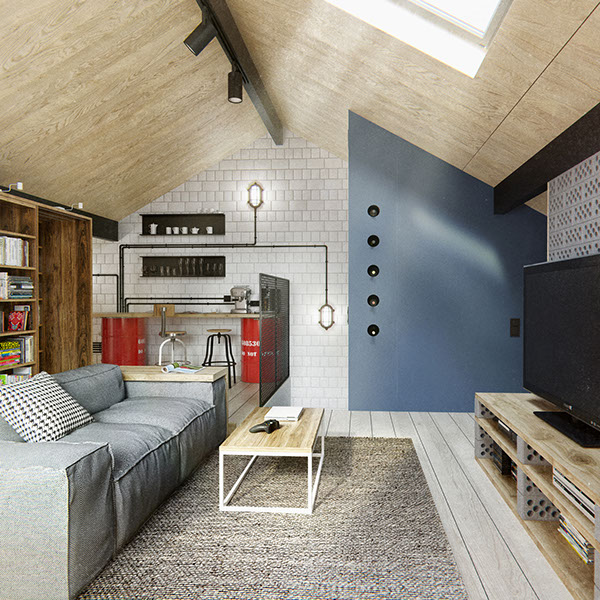 Aside from this seating area there is also a bar as well as a media library in here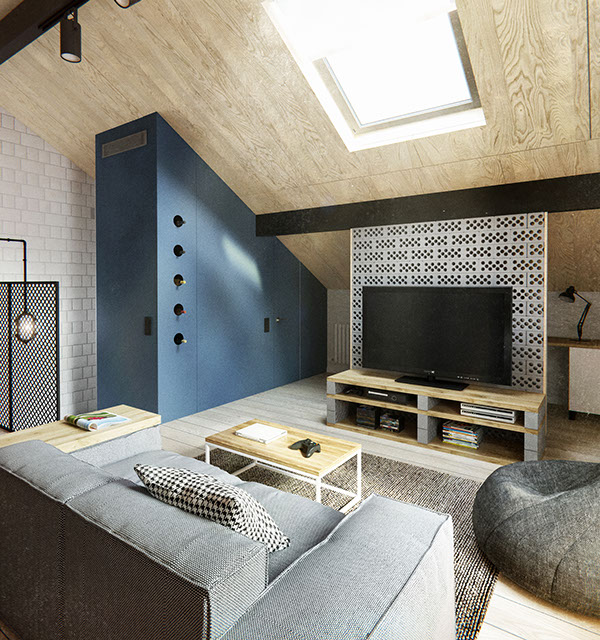 I actually think that the attic is a perfect place to relax and be entertained.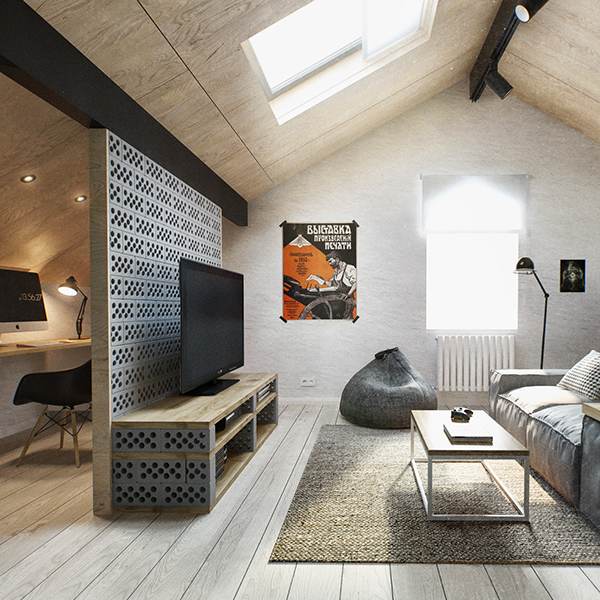 At the back of the television is a working area. Note the skylights here too.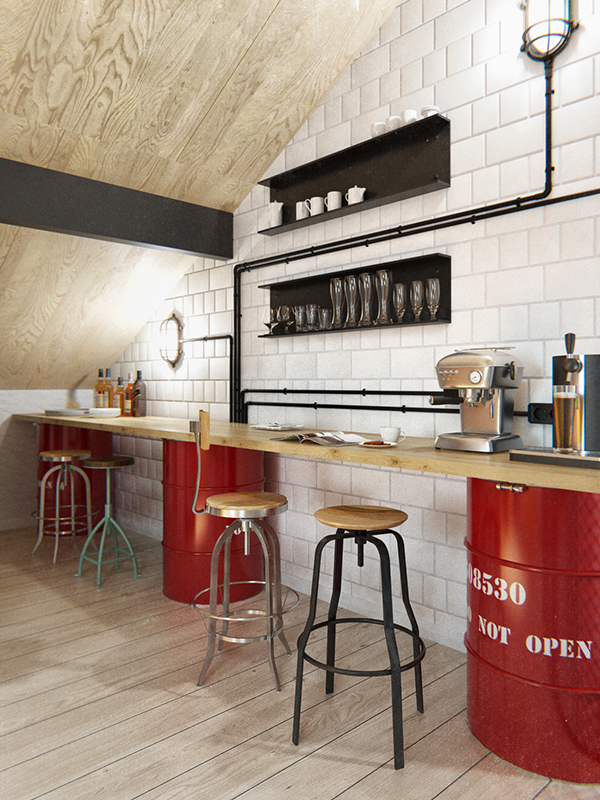 And this is a mini-bar with cute looking bar stools and red giant drums as the legs of the counter. Great idea, right?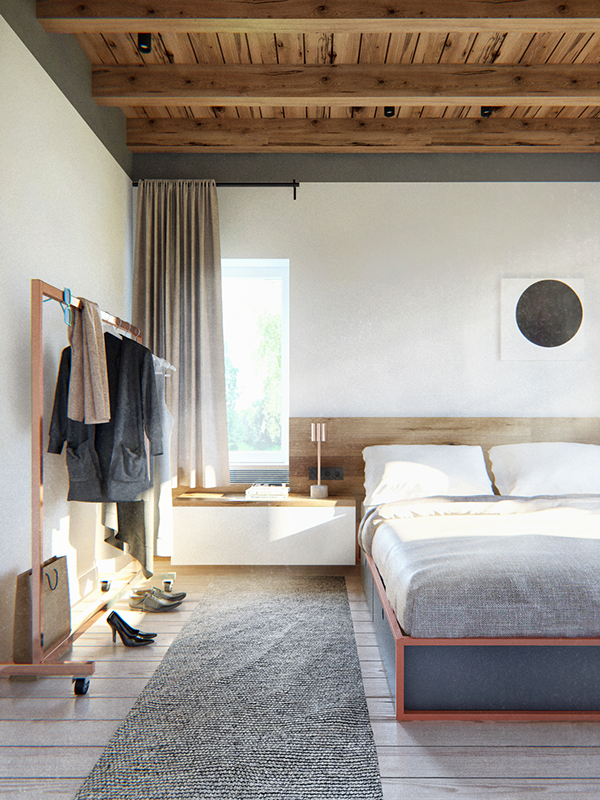 The bedroom has a minimalist design too but it looked so amazing with the use of wood showcasing different textures.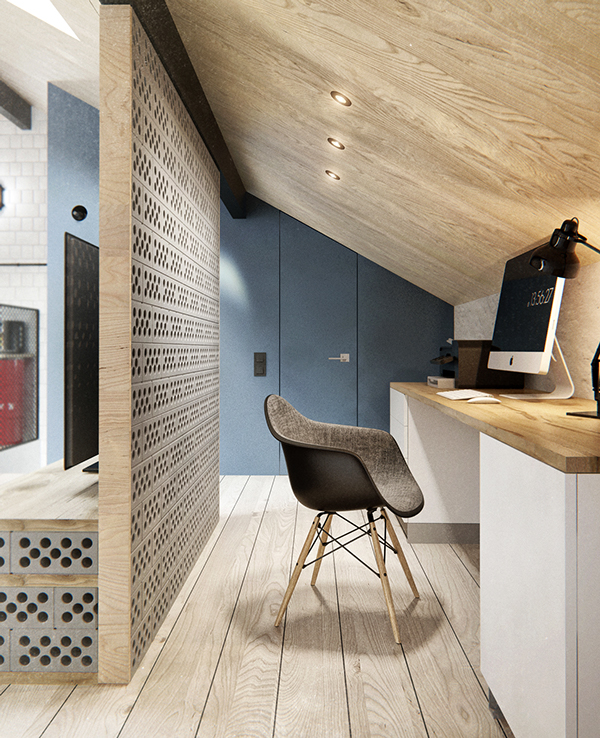 This is the working area that we were talking about located at the attic.
This is the kid's bedroom which looks so light, bright and fun!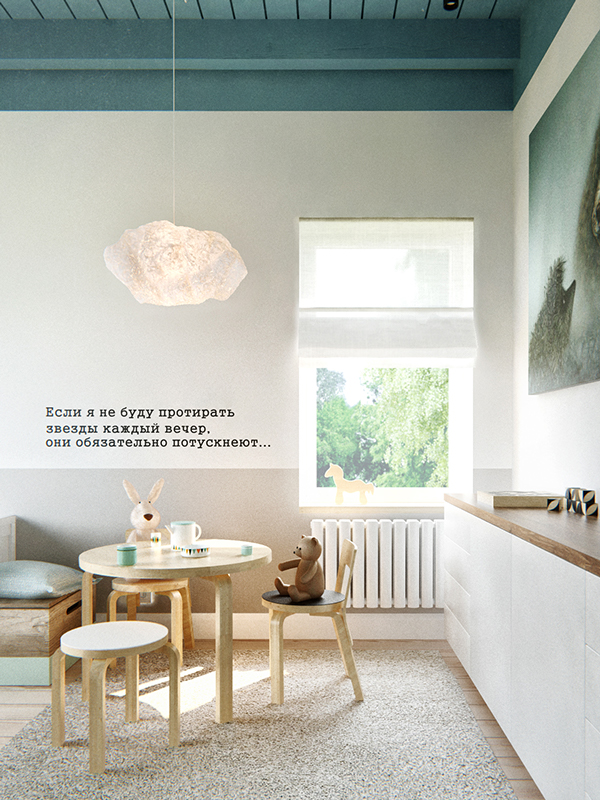 This is how you sport a Scandinavian interior for kids and it looks totally awesome!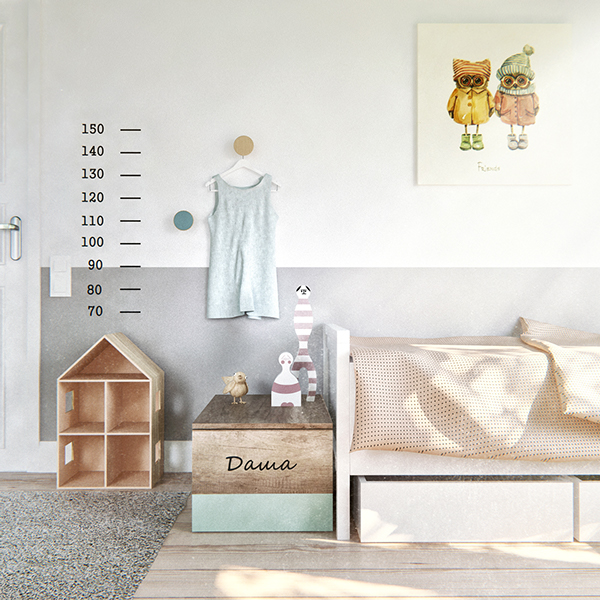 Many features of the bedroom will tickle the child in you just like the decors in here.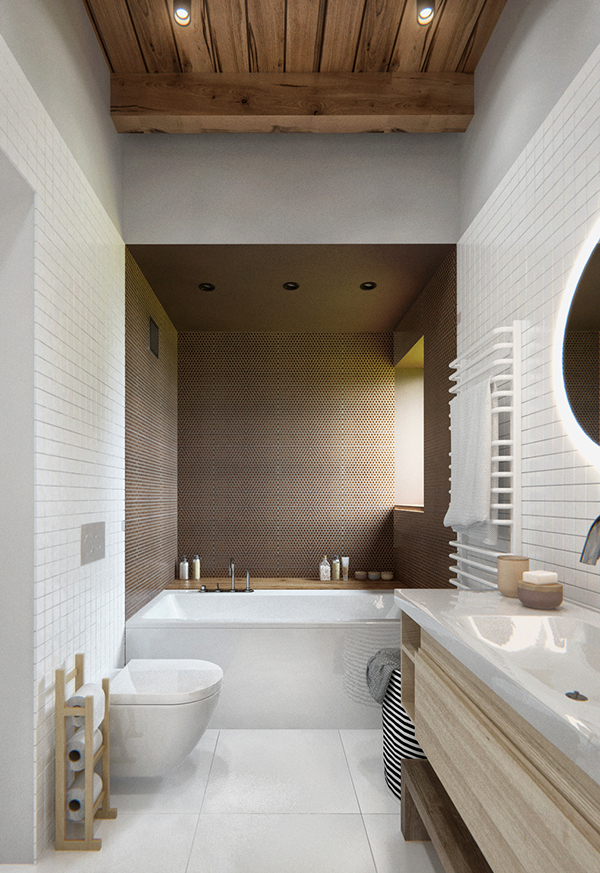 Isn't this a beautiful bathroom? I like the combination of colors as well as the design too. Look at the walls and that tissue holder!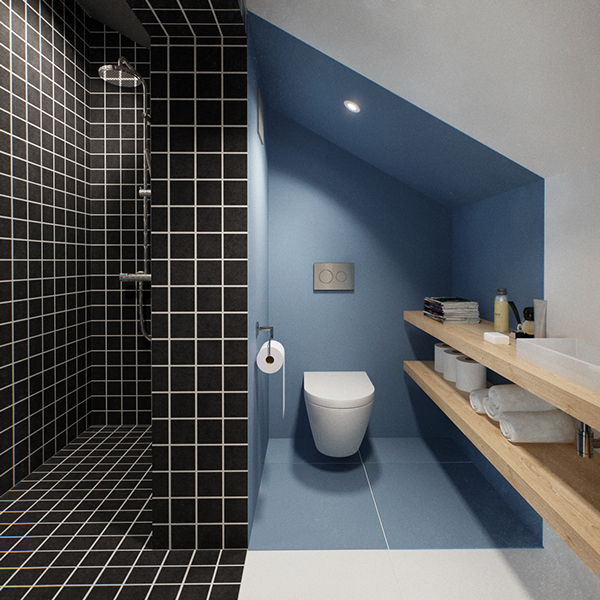 Another bathroom in the house which looks like it is in the attic with black and blue colors. Beautiful!
Beautiful, isn't it? Now you know why I love a Scandinavian interior! It is just cozy but totally elegant just like this design by INT2 Architecture. I also like the kitchen and dining areas as well as the bathrooms which are very stylish too. Indeed, with one's creativity, nothing is impossible. Everything can look beautiful no matter what is the size of the space.