20 Mezzanine Designs in Sloped Ceiling Homes
There are home designs that have high ceilings. This is done this way to add a more airy feel to the interior and to make it look even more spacious. But sometimes, it doesn't feel cozy especially if the design is just open and nothing else. While others put effort into adding beautiful ceiling designs and windows, others just don't consider this. One way to making use of the available space going up and to give the home a better look is to add a mezzanine.
Most of the time a mezzanine is being used as a loft bedroom but others also turn it into a study space and others. The design of the mezzanine would also depend on the style of the ceiling. There are homes with sloping ceiling which is either a cathedral ceiling or vaulted ceiling. We have gathered homes with sloped ceiling and mezzanines. This will give you ideas on what you can do to your own space with a design like this.
1. Laggan Church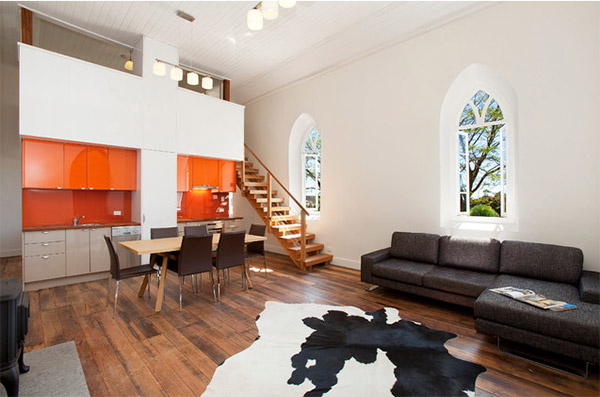 If I am not mistaken, this is a church turned into a home and it sure looks really lovely with a contemporary design. Notice the kitchen that is right under the mezzanine.
2. Deep Eddy Residence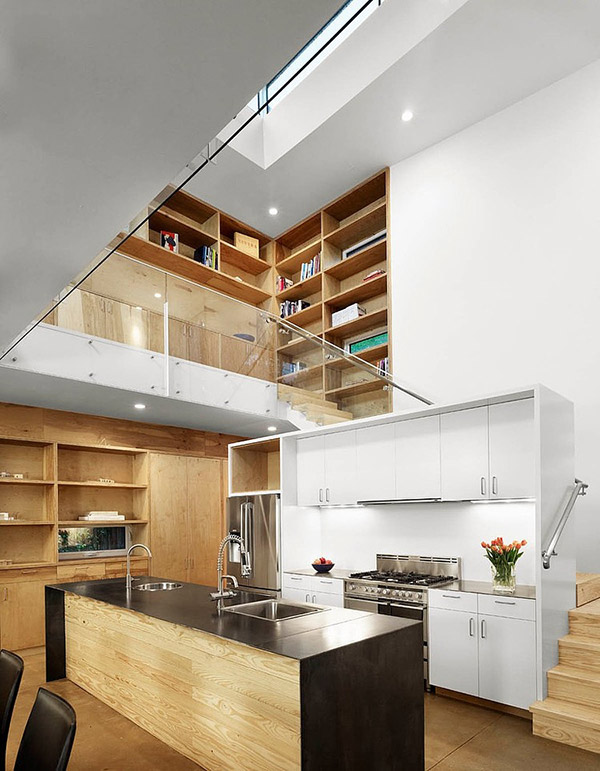 Glass railing never fails to add beauty to a space just like this one. It looks even better with stainless and wood.
3. Thatched Barn Conversion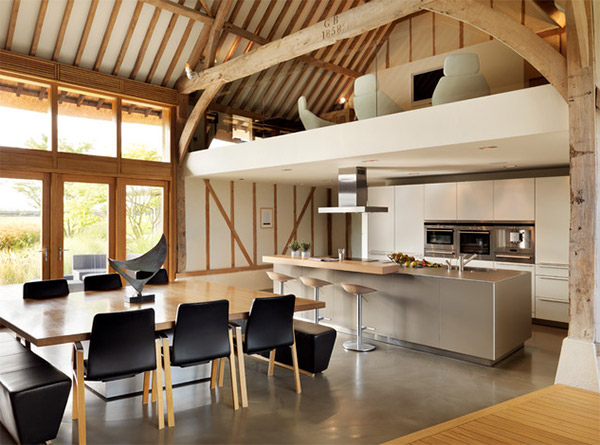 If the first entry was a church transformation, this one was once a barn. And yes, it has a mezzanine for an entertainment room.
4. Yorkshire
With white in and wood combined, this interior is a stunner. I like their kitchen!
5. Thistle Hill Farm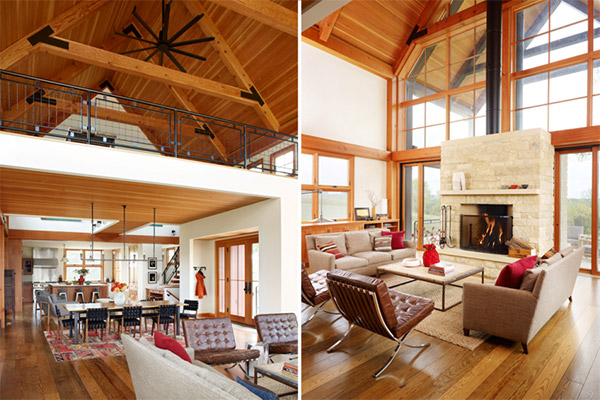 This new single family sustainable residence implements today's advanced technology within a historic farm setting. It allows natural light in and made use of the space with a mezzanine.
6. The Dairy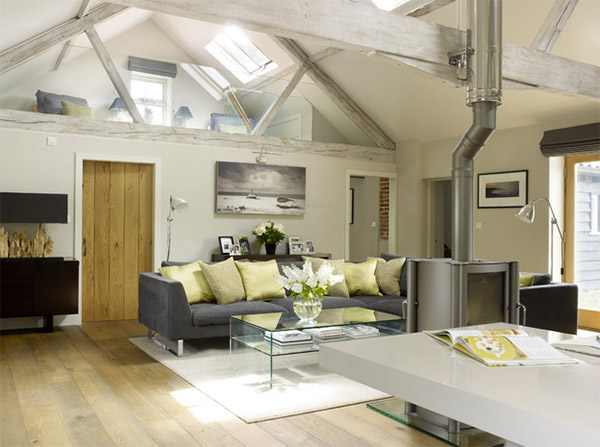 Exposed beams are common to homes with a mezzanine just like this one with yellow and grays.
7. The Quedjinup Interiors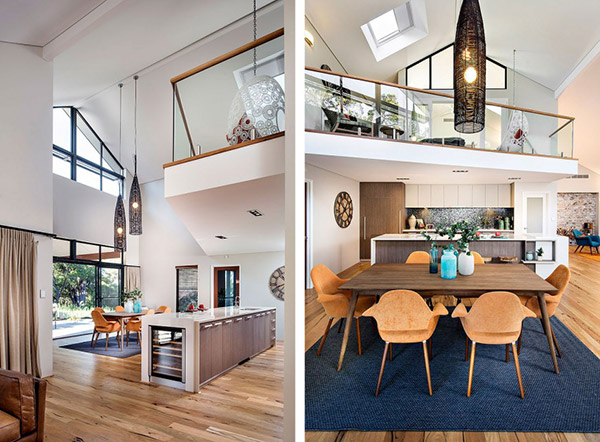 The mezzanine for this home has an irregular shape and it looks really nice too because of the furniture they used in it.
8. Neo Farmhouse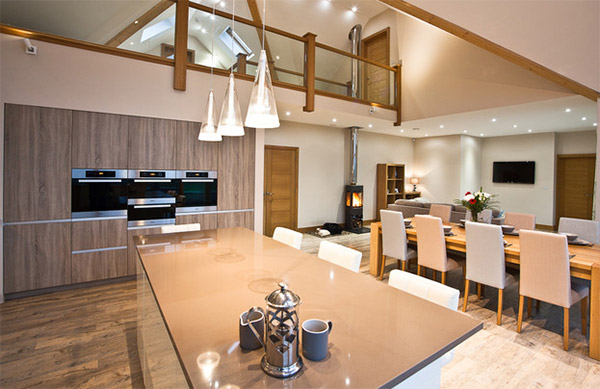 Because of the surrounding agrarian architecture in this house, it used wooden elements giving it a combination of rustic and eclectic appeal.
9. Historic Wicker Park 2 Flat Conversion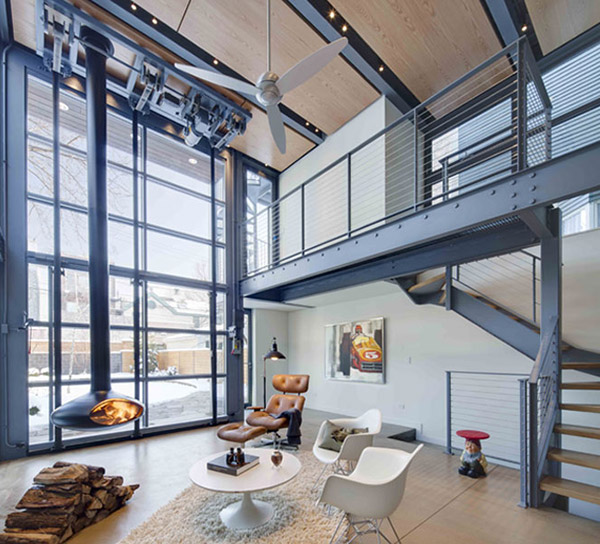 A house made of metal and steel has that lovely industrial look with a masculine appeal.
10. Harbor Springs Contemporary Living Room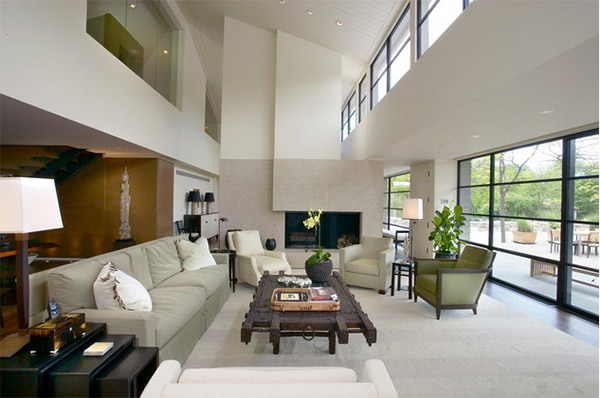 Take a look at this one where the mezzanine faces windows for more lighting.
11. Bay House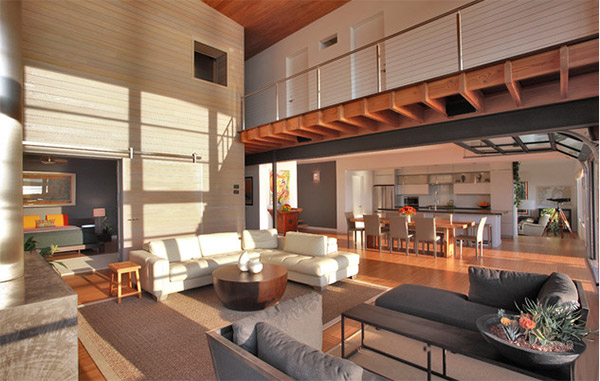 A spacious home which seems to have everything one wants. It has bedrooms on the mezzanine area.
12. Fox Hollow Residence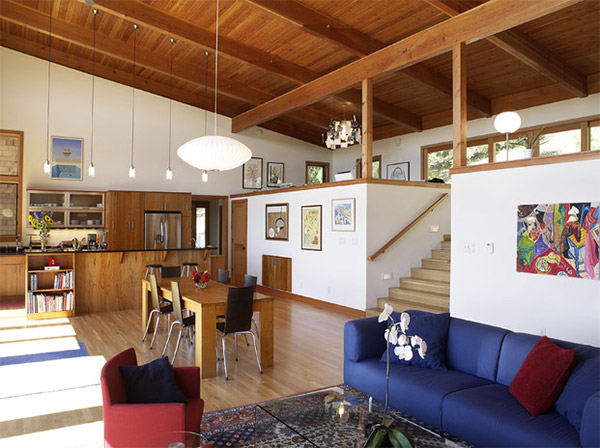 You can also use this idea by placing a stairs in between leading to the mezzanine.
13. Newport Beach Ocean Front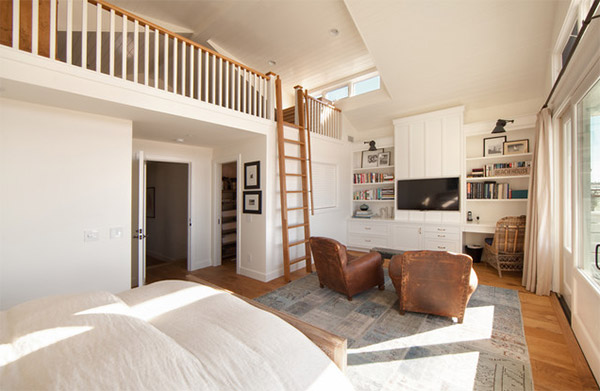 This one is located in the bedroom and added a mezzanine into it.
14. Town of Telluride Historic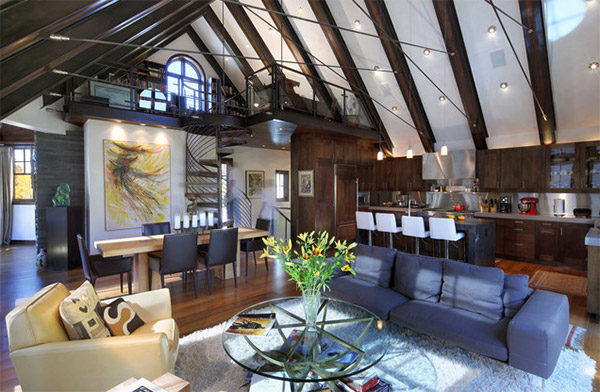 This one is bursting with luxury and sophistication with a spiral stairs for the mezzanine.
15. Winter Cabin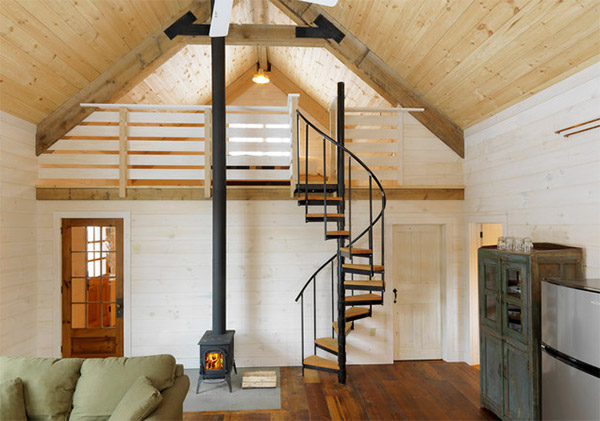 Another home that used spiral stairs but this is simpler than the previous one.
16. Rhode Island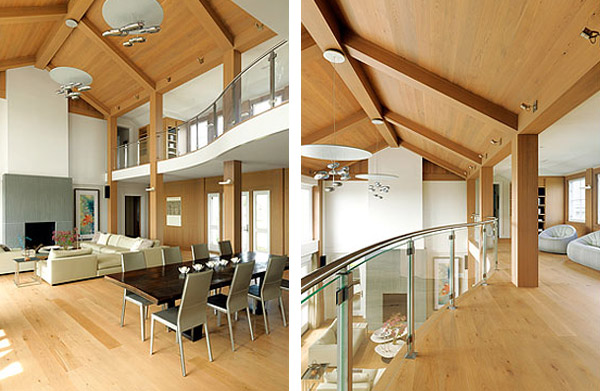 A pretty curvy mezzanine was used for this one and it has glass and stainless railings.
17. Avalon House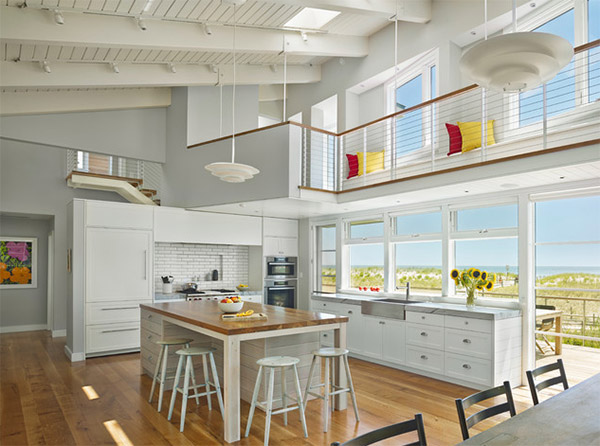 The mezzanine area sure is a lovely spot to relax and unwind with a good view of the beach.
18. Sonoma County Residence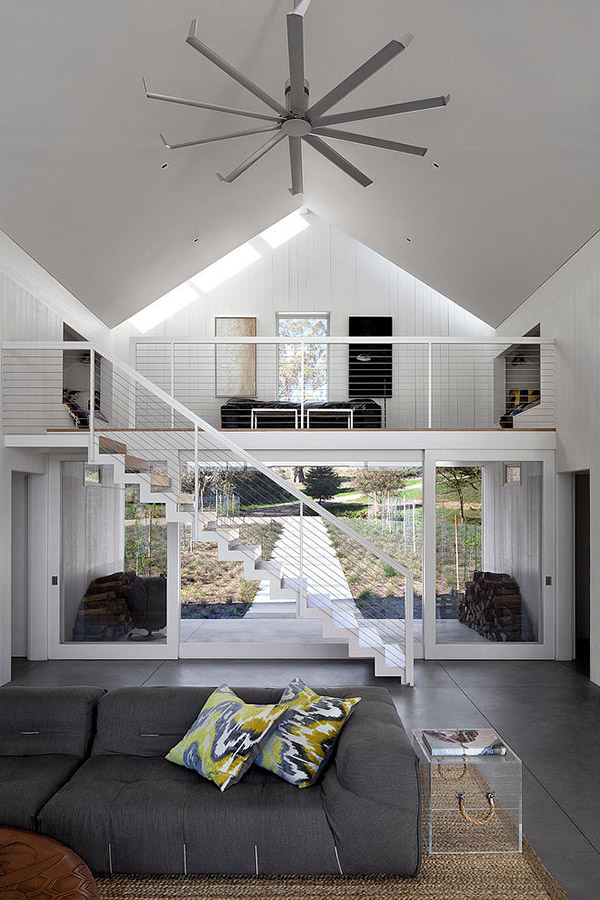 If I am not mistaken, bedrooms are found on both sides of the mezzanine. The staircase and the railings have a simple yet beautiful design.
19. Moorestown Residence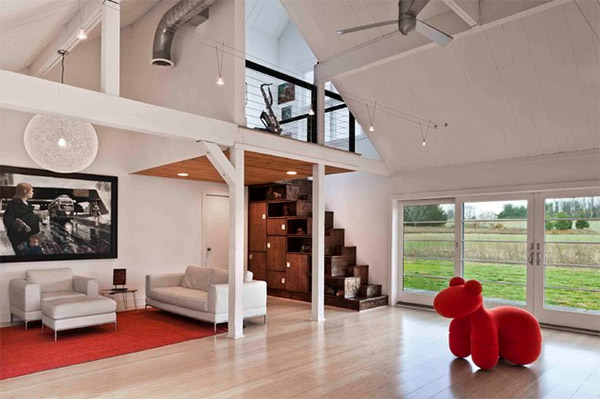 The staircase that leads to the mezzanine doubles as a storage. Very creative design indeed.
20. Fairfield House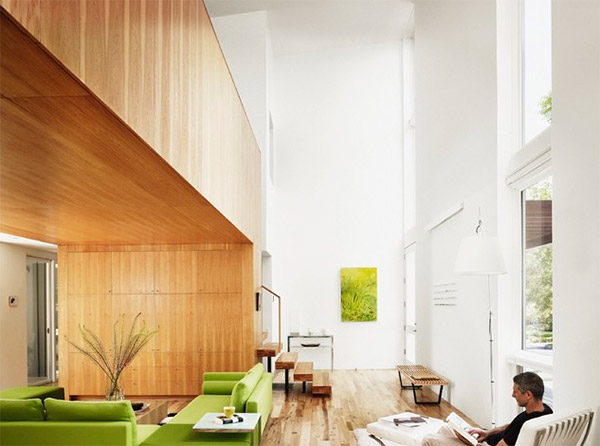 Having a design like this for the mezzanine is like adding a huge wooden sculpture into the home.
Do you have a home with high ceilings and is thinking of adding a mezzanine into it? I'm pretty sure you have thought of a design after seeing this list or maybe you have chosen one that will be perfect for your home. There are actually many uses of a mezzanine and that would depend on your needs.