20 Creative Indoor Cat Playground Ideas
Why don't you make your home cat-friendly? If you are having doubts about that, check the interiors below.
Don't even try to deny it.
Many of us love pets. It could be a dog or a cat. But today, let us talk about cats.
Have you seen your cats crawling around into small spaces? Or walking on top of shelves? Well, that is their nature. They love to crawl and just have fun!
Try putting yourself on the shoes of the cat.
Would it be comfortable to walk around a place which isn't really crafted for you? For sure, you can't play jump rope indoors for fear that you might break something. You can't even run around like crazy as well! So imagine how your feline friend would feel. Oh, that's sad.
But we have a solution for you.
There are actually catwalks and many other accessories that you can add to your home to make it cat-friendly!
You can't believe it?
Nothing is more convincing than the interiors that you are about to see below! Come to take a look at these Indoor Cat Playground Ideas and imagine how happy will your cats feel if you have these in your house!
1. House-Is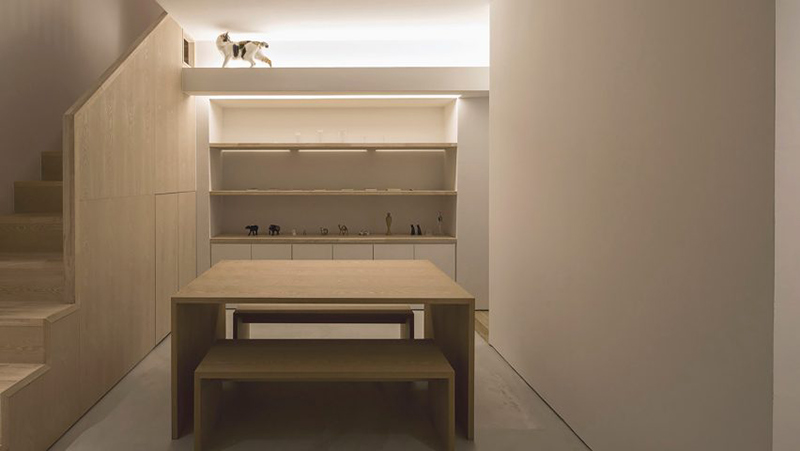 This house features a special elevated pathway for their pet cat since the owners aimed to make the space comfortable both for them and their cat.
2. Loft H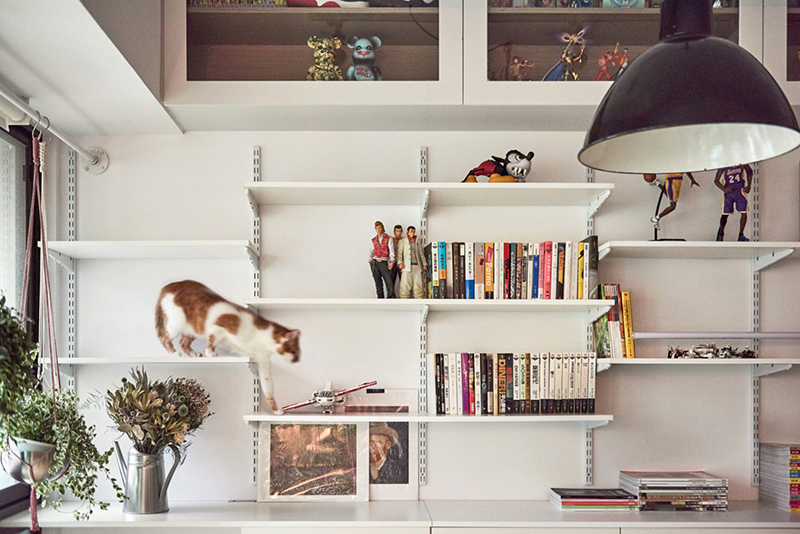 The owner of this loft wanted to have a space for his books and collectables. Aside from that, he also requested for an adjustable shelf system that also works as the playground for his cats. The shelves are staggered at different heights so the cats can have a great time.
3. 50m2 House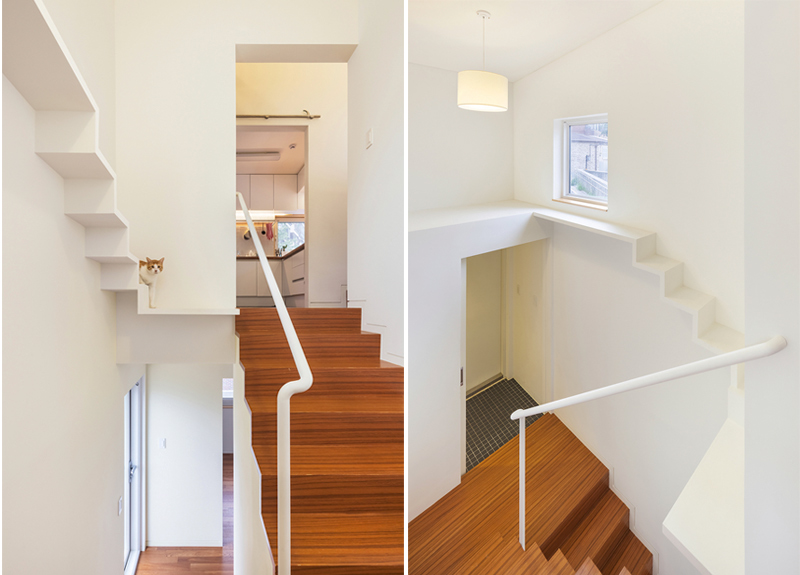 At first glance, you will think that you are just looking at a long elaborate shelf. But as a cat moves down from it, you will realize that it is actually made for them!
4. Recall House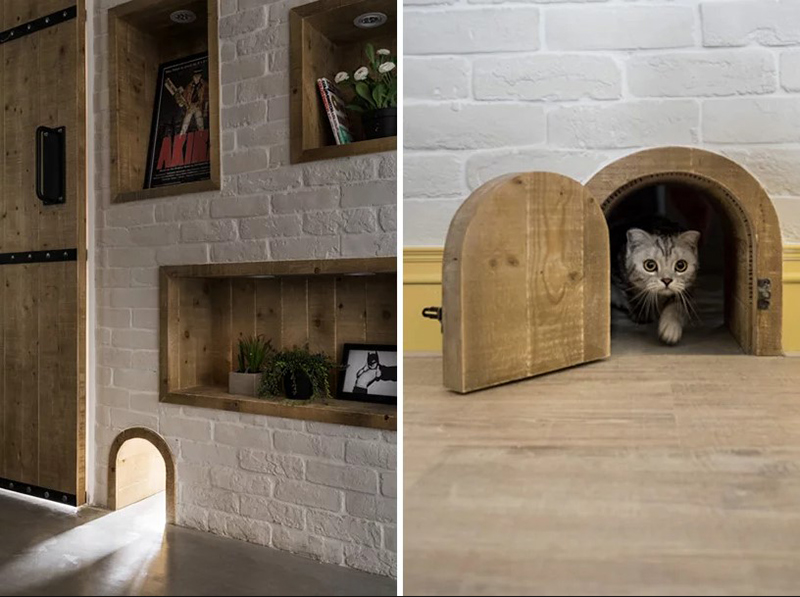 This is an interior renovation project with an industrial and rustic design. What you can see here is a special arched doorway for the cats.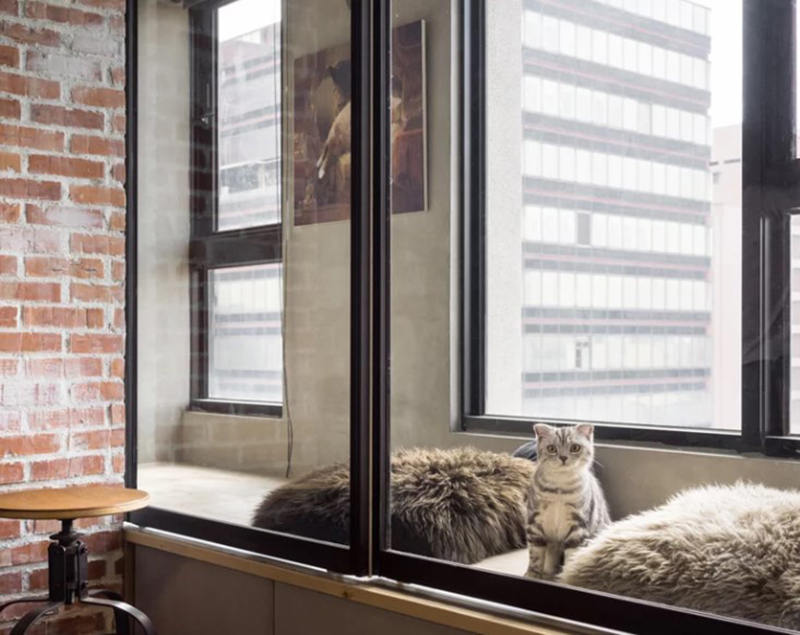 Aside from that, there is also a vintage-industrial loft with a custom nook along the windows where the cats can relax.
5. Annis Road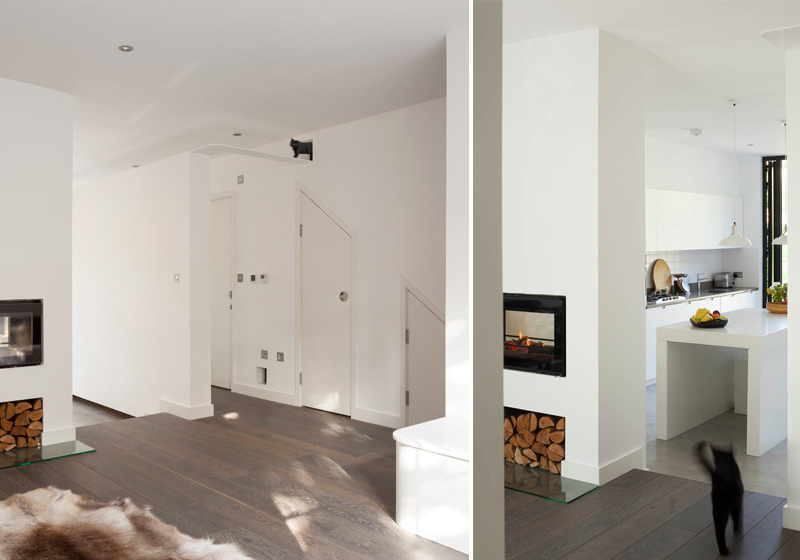 The interior of this house is mostly white. The wall flanking the kitchen stops short at the ceiling in order to provide a space on top for the cat's walkway. This walkway continues across the hall and through a hole in the wall that leads to a room where their litter box is located.
6. The Cat House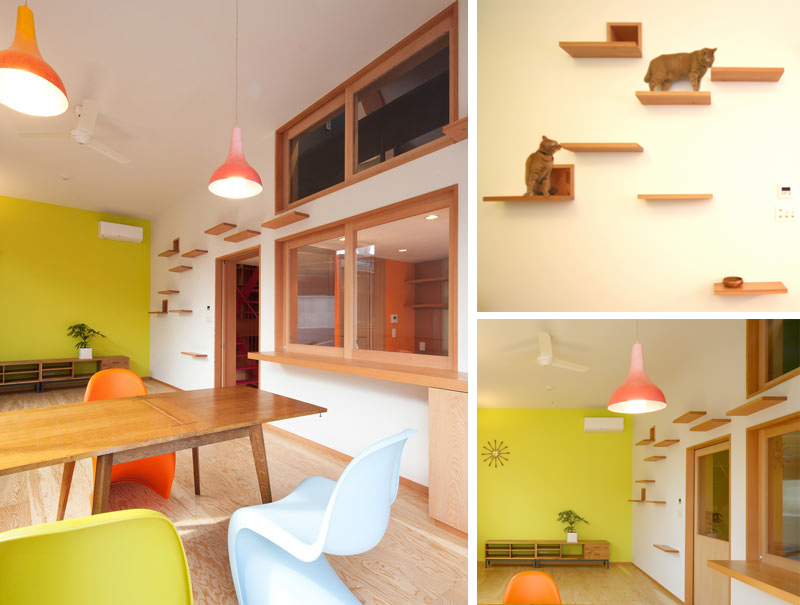 Stepping-stone shelves were installed on the walls to allow a cat to move between rooms through high-level openings, without the need to use the landing and stairs. This way, the family members are undisturbed from their activities since their cat has a path of its own.
7. Inside Out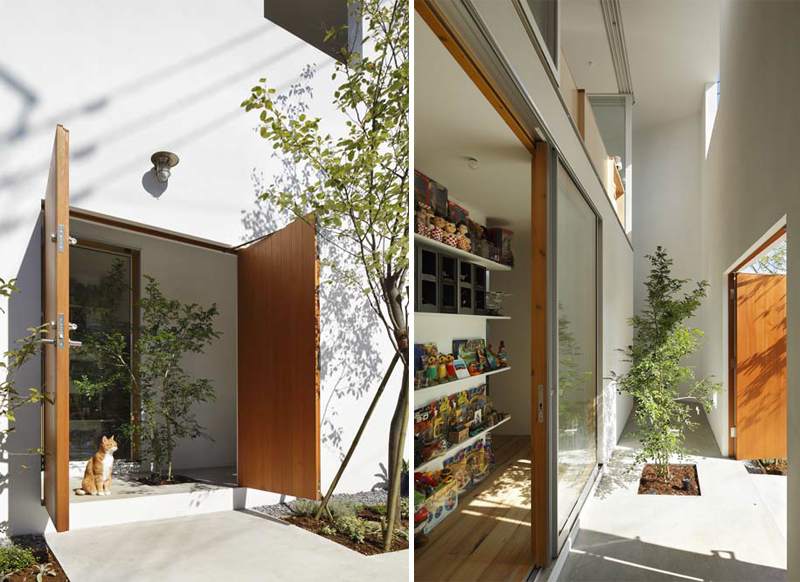 For this home, the owners wanted to bring the outdoors inside the house for the cats. In order to do that, a series of apertures in the outside was added which allows rain, wind, and light into the space between the two structures.
8. Small Home Smart Home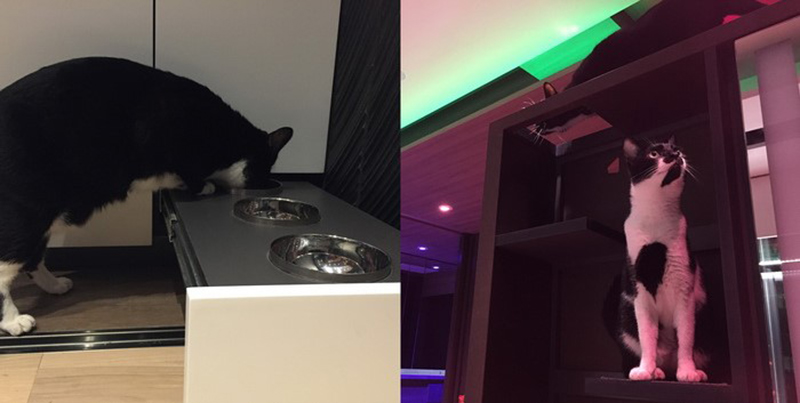 This home is very small. It was challenging for the designers to come up with a design for the space since the couple has many things in mind including a large kitchen and a bathtub. But that's not all! They also need to add some features for their three cats. With that, LAAB Architects added a catwalk around the ceiling, cat ladder, a litter box that is hidden beneath the bathroom sink, cat food trays hidden within the kitchen cabinets and even a hidden den for them!
Sounds impossible, right?
Well, this video will give you a good look at the small smart home and how cat-friendly features were integrated into it.
9. Brooklyn Triplex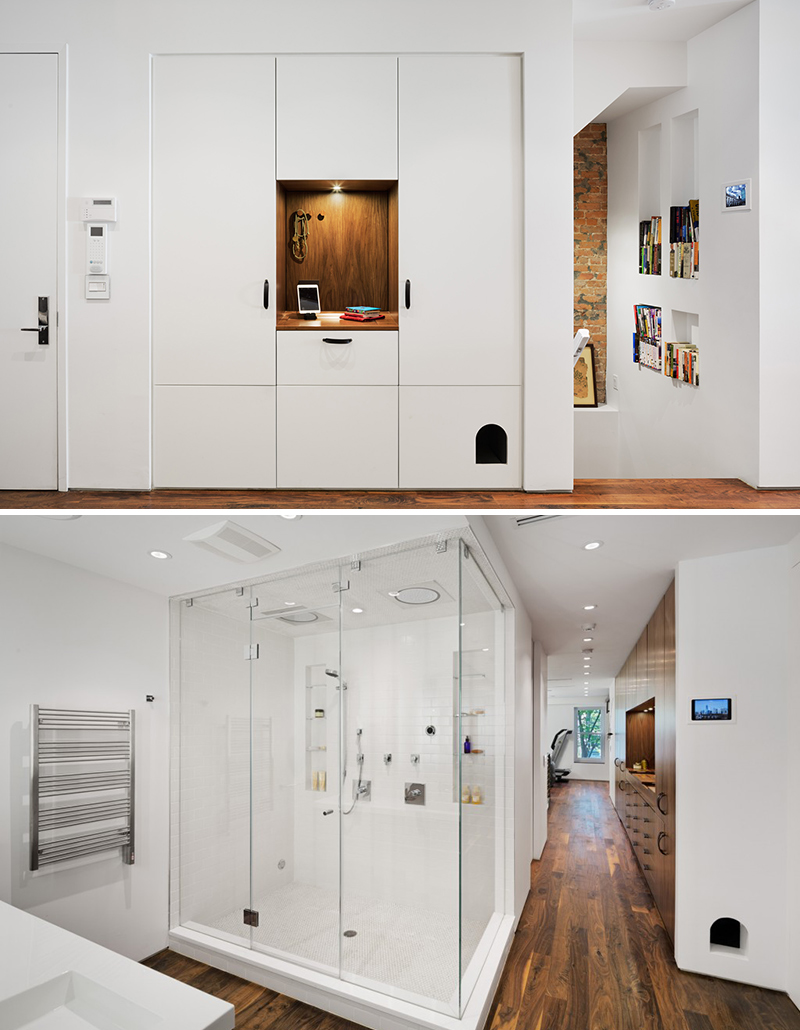 A subtle way to bring a cat-friendly feature into the house is by adding cat doors like what you can see in this interior. Notice that there are small doors on the white cabinets so the cats can play around!
10. Garden Oasis Cat Walk Fun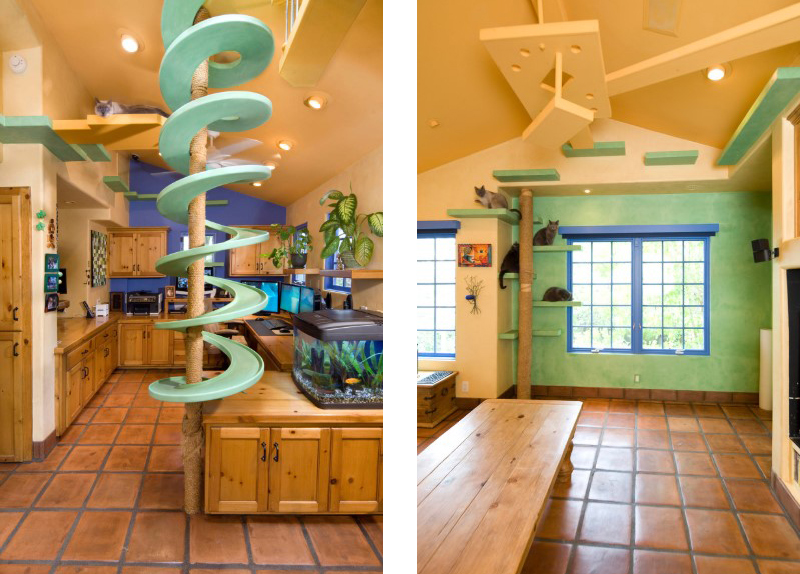 Every aspect of this home considered the cats! There are plants, playful colors, and everything that the cats will love. There are built in catwalks all over the house. Take a look at the video below so you can see what the entire house looks like. And see the cats in action!
11. Renovation of Modernist 70s House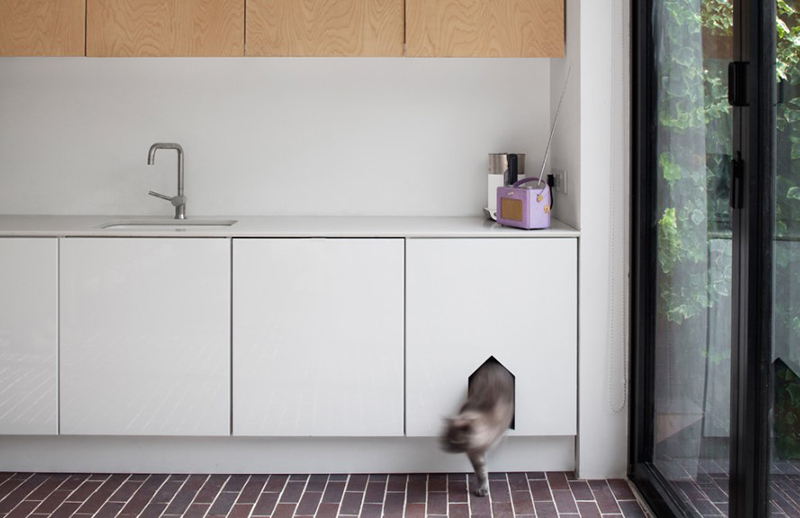 You can also add a small feature like this for your cat. Well, even if that is just a tiny cat door, it already gives much joy to your feline friend!
12. Lush Condominium Apartment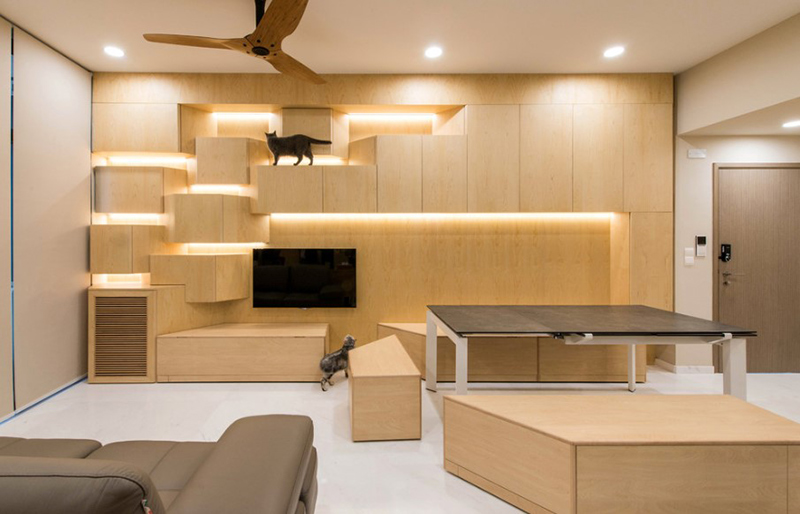 If the cats are not there, you will think that this is a mere wall system design. But it is not! It is actually designed that way for the cats to play around. I love this look as well as the added lights on it.
13. Siegel Project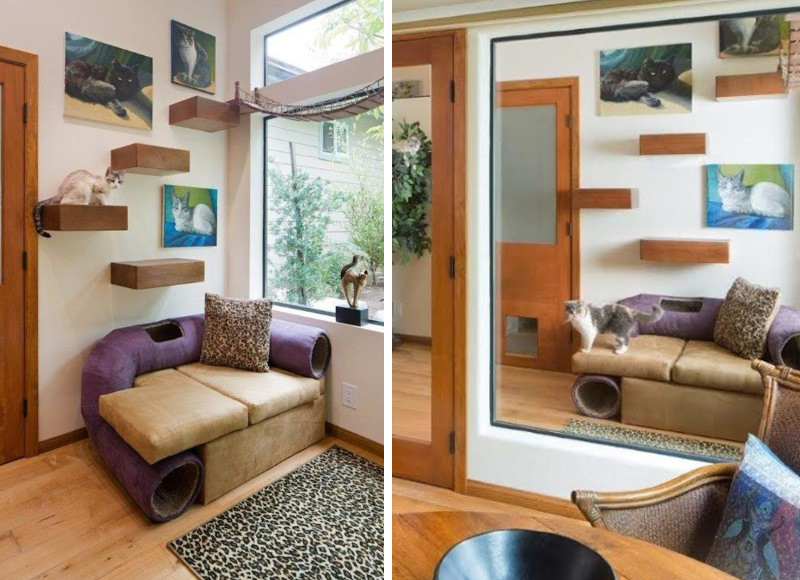 This part of the house is called the Catio (combination of cat and patio). Five lovely cats use this area wherein there is a custom tree with five cat beds and a chair for people. Notice that the sofa has a tunnel so that the cats can go inside if they want to. There is also a wooden bridge which allows the cat to get a good view of the garden.
14. Overhead Cat Playgrounds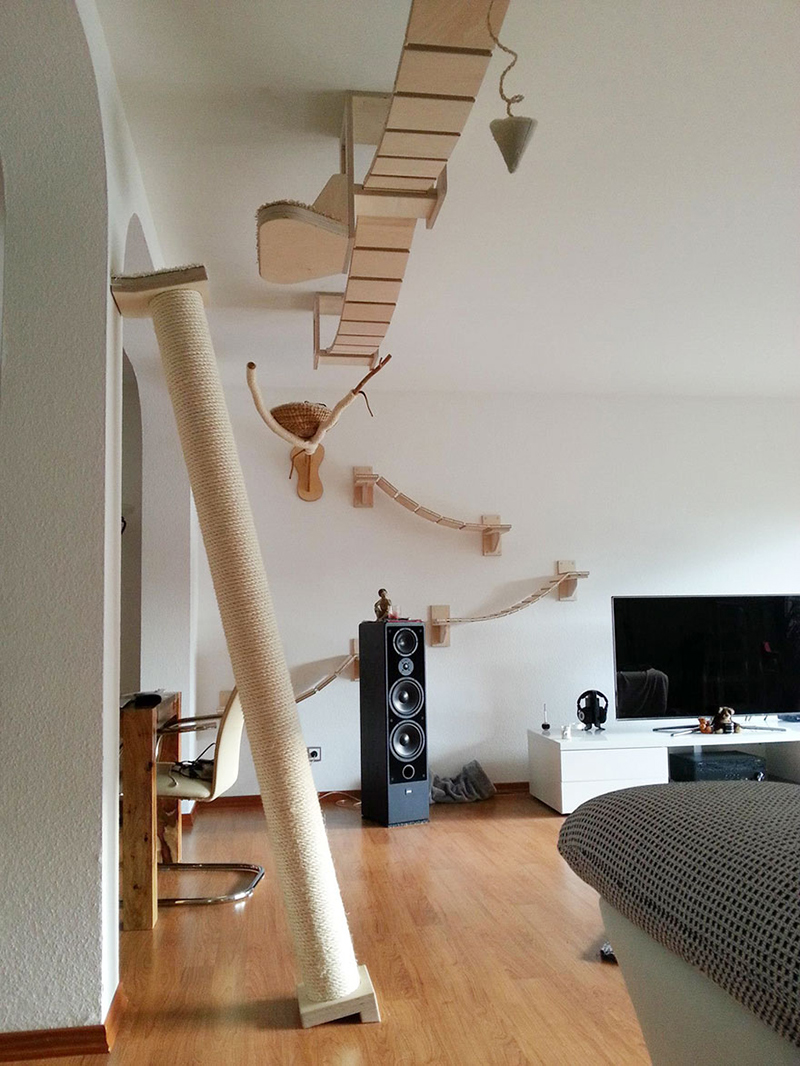 German design company Goldtatze (Goldpaw) specializes in creating overhead playgrounds and walkways for cats. Their hand-made products could create a playground for cats indoors. They even use real tree branches to give it a natural feel.
Do you want to see how their products work?
Take a look at the video below. See for yourself how happy that cats are!
15. Plus-Nyan House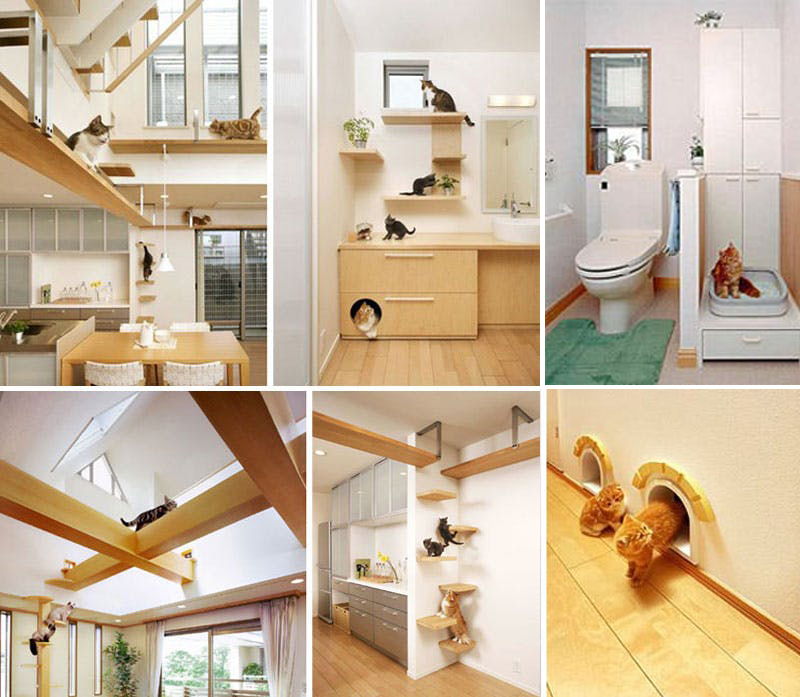 The perspective of this home is based on both the cats and the homeowners. It features open-air catwalks, climbing steps, nooks for cat hide-outs, cat doors in all doors, and an extra space in the bathroom for the cat's litter box. They also made sure that the cats will stay within the vicinity of the house with an enclosed deck area and special fences.
16. Windsor Terrace Row House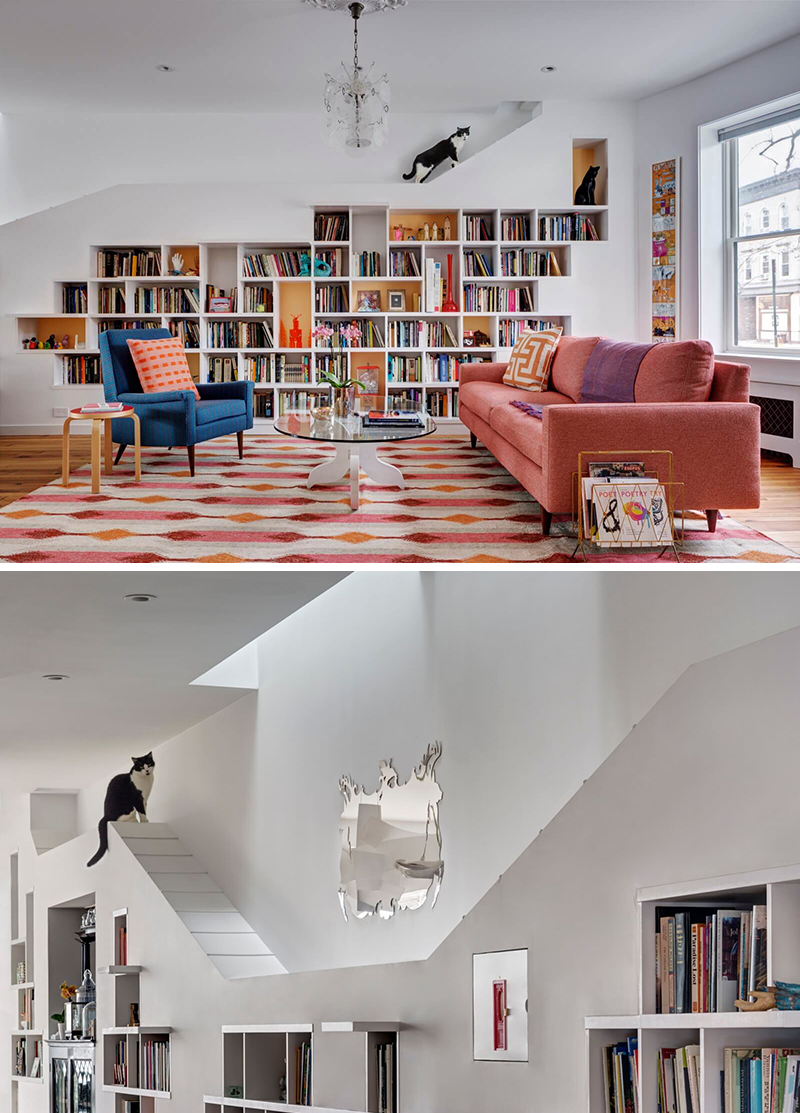 This three-storey row house is inspired by a pair of well-loved cats. The couple who owns the house wanted to accommodate their cats in the house. With that, the designer provided strips of molding on the sloped part of the ledge that will help the cats to gain a footing.
17. Taipei Home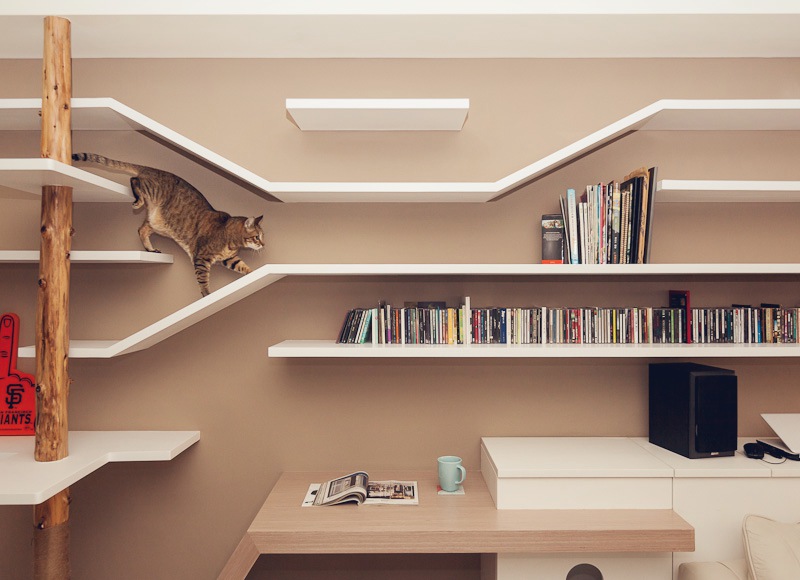 What you can see here is only a small portion of a modern apartment with soft neutral palette and dramatic black accents that flow throughout the space. The picture above shows a cat's fantasy playland that was built into the bookshelves. There is a scratching post, multilevel shelves, and platforms where their feline friends can run and climb on.
18. Dandan Noyer ~ Neko Tomo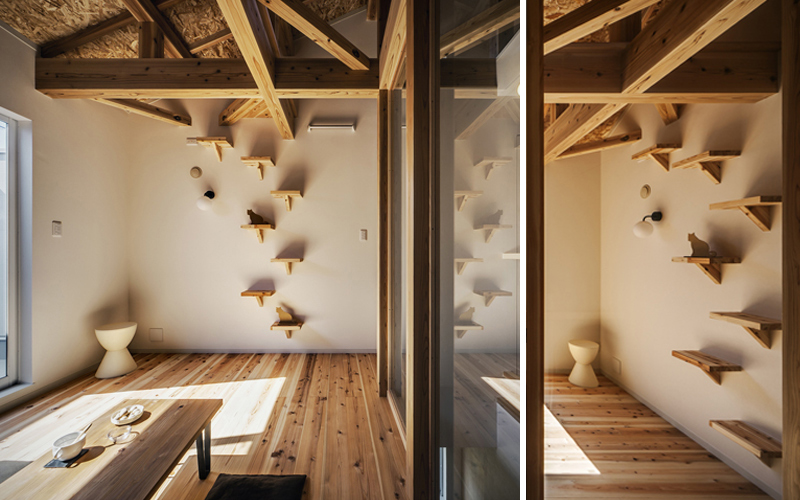 This home is for a family who wants to live comfortably with cats. What you can see here are wall shelves that are actually for the cats to access a catwalk on the beam.
19. Full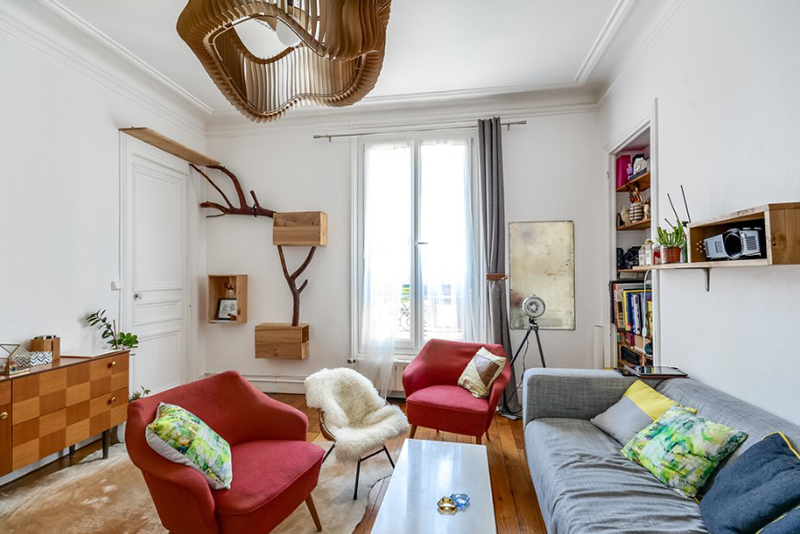 A couple in France loves their cats so much that they considered them in the design of their interior. The wall shelves are actually climbing blocks for their cats, too!
20. Chai Chee House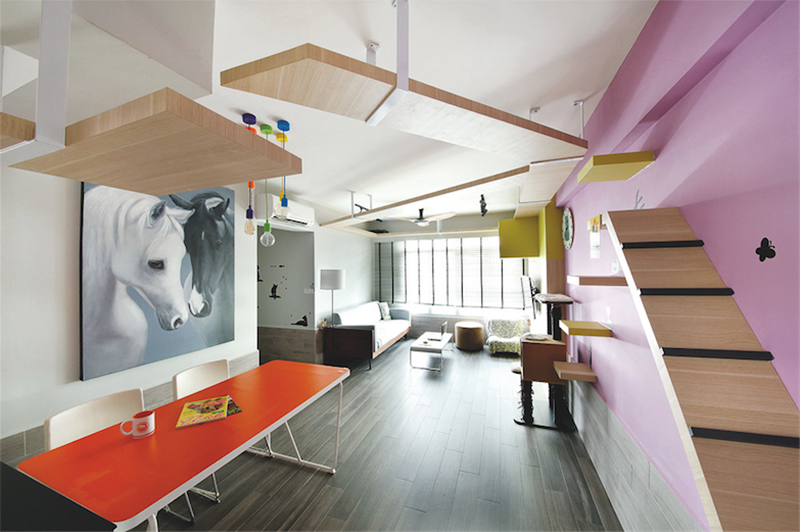 This household is ruled by cats! Throughout the home, everything is customized for the cats including the wall fixtures and furnishings. To make it look even more fun, they used a backdrop of vibrant colors and added some dramatic textures.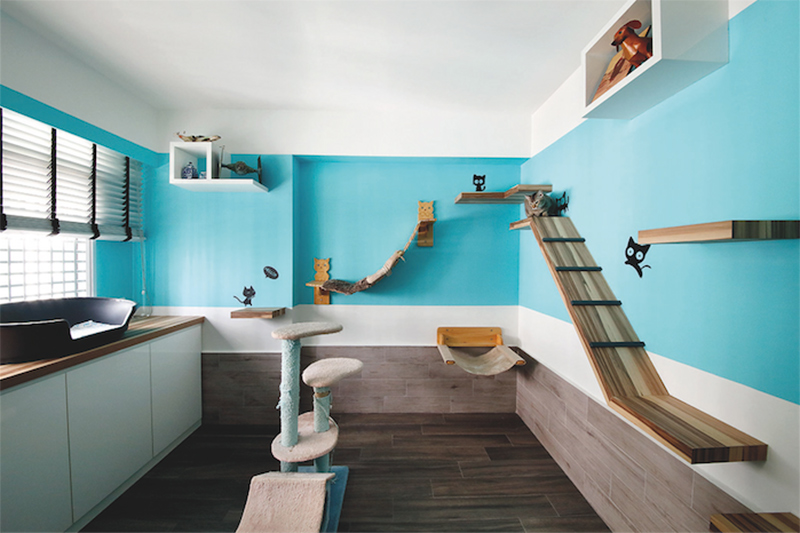 One bedroom is designated for feeding and cleaning the cats. Of course, it is outfitted with planks, perches, and accessories that make it a like a mini cat gym! Love those cat wall decals!
Isn't this amazing? Yes, the above interior is a concrete proof that we can actually integrate some pet-friendly features in our home if we want to. This ranges from a mere cat house to ceiling walkways for these furry friends. Of course, you can also add some features for your dog too! What can you say about the interiors above? Which one do you love the most? Which of the above cat-friendly feature would you possibly add to your home? Give us your answers in the comment section below!