50 Cool Game Room Ideas for Entertainment
Every family needs to have that shared hours of relaxing and bonding together. A game room is one place where the family could hang out together. Here are some cool game room ideas for all ages!
Not every home has a game room. After all, having one is a luxury. However, it is something families would like to have instead. An easily accessible place for recreation where the kids especially can hang out and their parents not having to worry about their children's whereabouts.
Game room designs have different appeals, catering to a specific target audience. There are game rooms that are exclusively for video gaming, others with pools, ping-pong tables, and even arcade games. Given a lot of space, some game rooms can be quite extravagant with more recreational activities available for the entire family.
The interior designing is also an area of focus so that it follows the various themes suited to the game room activities or to the audience. Game rooms that are catered to adults would certainly have a different design to game rooms that are catered to teenagers or kids.
Here, we will show you examples of game room ideas to inspire you to have your own at home.
Game Rooms for Adults
A lot of game room ideas are designed to be "man caves". Demanded by men to have a space of their own, their own game rooms complete with a bar full of drinks, TV to air their favorite sports, and a billiard pool or poker table (or even both) for him and his friends to bond over.
Here are some examples of game room ideas for adults!
Classic Transitional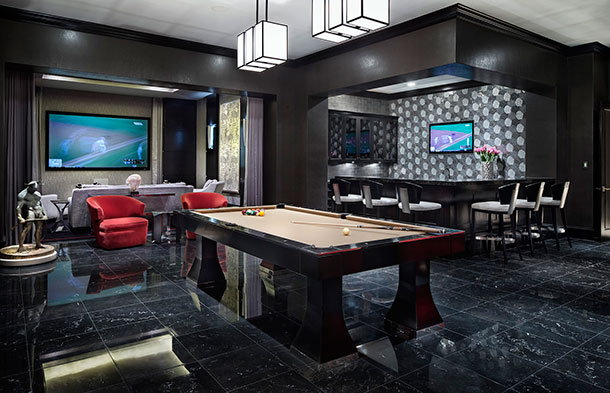 The grey walls and the dark tiled floor are complemented by the grey theme going on for this game room. The black and white accents and the low lights bring a dark and heavy atmosphere to the room. If it's not enough, the masculine statue on the side emphasizes the room's "masculinity".
While the pool is the center of the room, there is a corner to lounge and watch sports which can be separated from the rest of the room with curtains.
From Scratch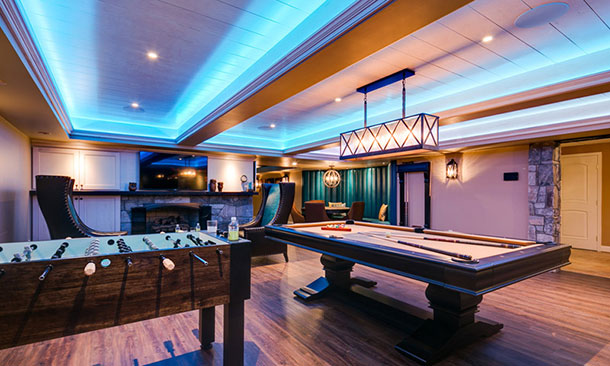 An unfinished basement is transformed into this elegant multipurpose room that includes this gaming area. The low, dim lights help bring out the neutral color scheme of the room.
A billiard pool and foosball are present for leisure. There's a little lounge area with TV where you can have drinks. A game table is also present for poker or other card games.
Safety Harbor Residence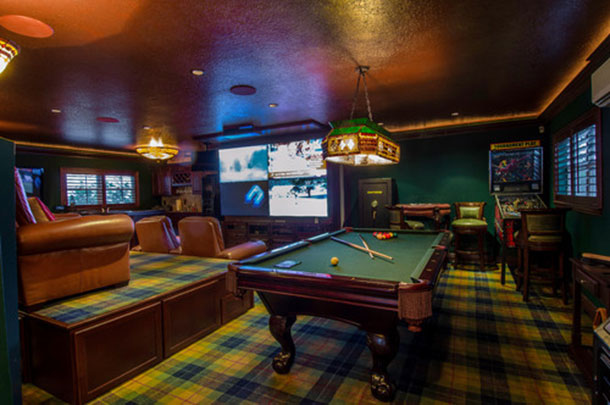 In this residence, their game room idea combines both media and game rooms. A mini theater divides the room, the large TV splitting up the room into areas. A pool and a vintage arcade game is on one side. A bar and a poker table on the other side.
The chandeliers giving off low lights and the furniture truly bring out a vintage look to the room. The color scheme also complements the room's theme.
Spectrum Game Room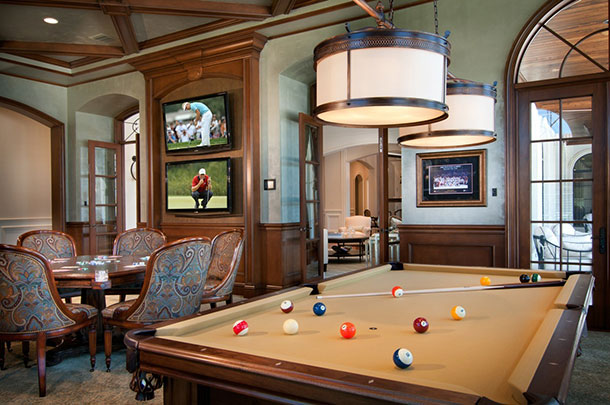 Instead of a basement or an attic game room which are usually closed off and with low ceilings, this one connects to the home's living space. The open doors and windows bringing in natural light to the room.
Much like many game room ideas, this one also has a pool. It is accompanied with a game table that is most often used for card games.
Rich Minimalist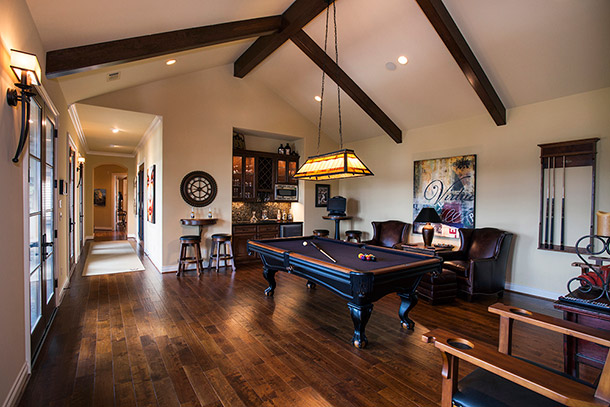 This one's quite the minimalist but it looks rich and elegant with the wood flooring, the white walls, and the art wall decor that suits the game room's ambience.
A mini bar is installed to one side of a recessed wall while the pool table takes center stage.
Casino Basement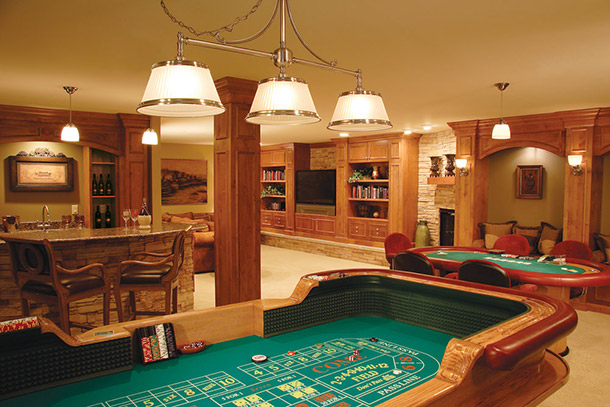 The poker and craps tables make this home basement look like a casino and absolutely fit to be game room for the adults. The bar to the side adds to the casino ambience. There is also a portion where the adults can lounge and watch TV.
Game Rooms for the Family
Game rooms for the family have a lot more options for leisure which everyone can enjoy. Instead of the darker and more closed off and secluded game room ideas for adults, family game rooms are more spacious and brighter. As it is a shared room for both adults and kids, it must be a child-friendly space as well.
Take a look at our picks of family-friendly game rooms!
Texas Chic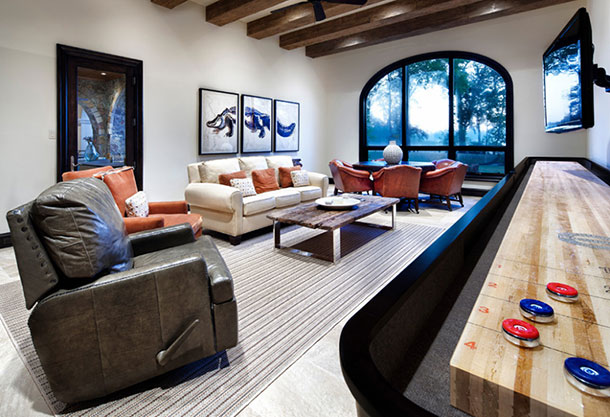 The first thing that catches your attention in this game room ideas are various seats available for seating while watching television. A shuffleboard is positioned just below the wall-mounted tele. On the side, by the giant window, is a game table.
The wooden beams with the modern seats make a great combination of a modern and chic game room.
Alabama Cabin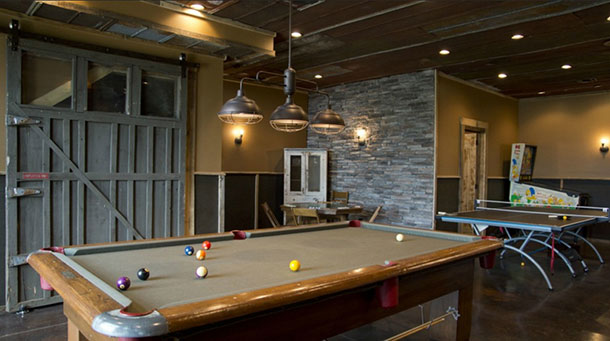 This rustic game room ideas perfectly fits in with the rustic cabin home. The heavy and rustic sliding door will meet you as you enter this room. Despite the modern inlet lighting, the designers managed to add the rustic chandelier above the pool.
Even the pool table fits in with the rustic theme of the home. A ping-pong table is also present just next to the vintage arcade game. And in the corner, there is a small game table.
Italian Elegance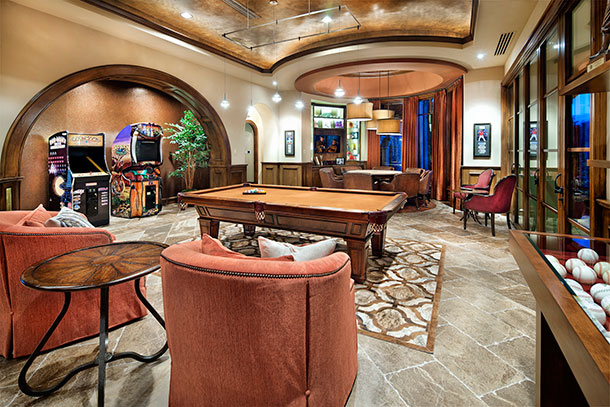 At the heart of this Italian-styled game room is a pool table. Vintage arcade games, like Pac-Man, are found on one side of the room. On another side, a television is within view of a game table. Displays of sports memorabilia, like the table with baseballs, add into the room's beauty.
The colors of the furniture match with room's color scheme, giving in to the European-inspired design.
Craftsman on the Hill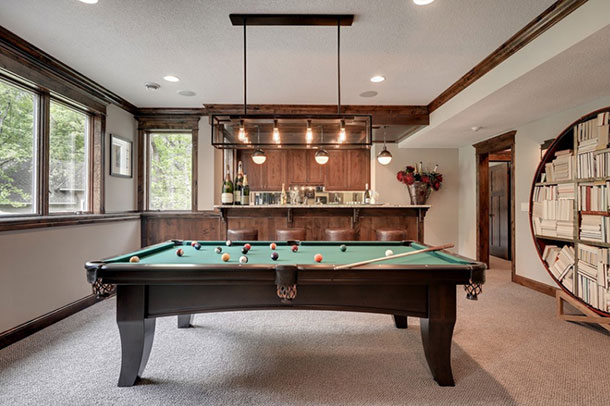 A minimalistic game room yet has a modern and vintage look to it. The chandelier and lighting system gives it the modern edge but the furniture and the framing bring vintage.
Without much other embellishments, this game room ideas has a small kitchen bar for the family. A pool table is in the center and a round book shelf is even available.
Leawood Basement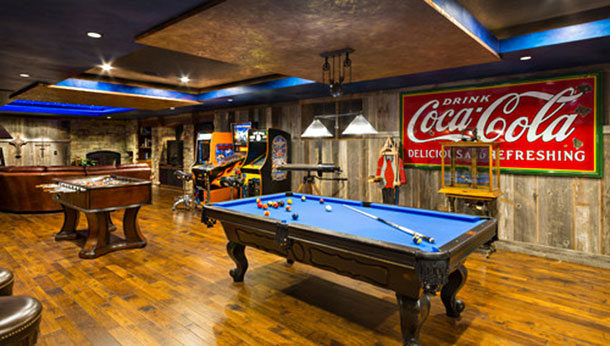 This basement was remodeled into what the contractors describe as a "rustic, earthy, eclectic, and fun" game room. And rightfully so! Besides pool and foosball, vintage arcade games are also available for leisure.
A lounge area to watch television is located to one side when the family are tired of playing. Just a little outside, a curved bar is also installed.
Cross Lake 4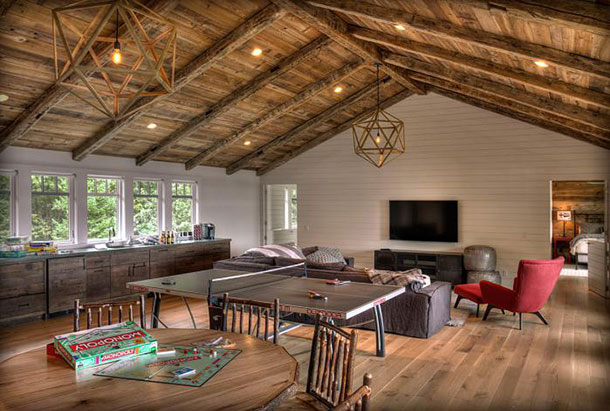 Another rustic game room, but instead of being on the ground level, it's on the top level of the house.
The high wooden ceilings are made beautiful with the geometric chandeliers. The furniture definitely complementing the rustic space. A television is present in which everyone can watch from whichever activity they are in, whether that would be playing ping-pong or board games on the game table.
Aptos Retreat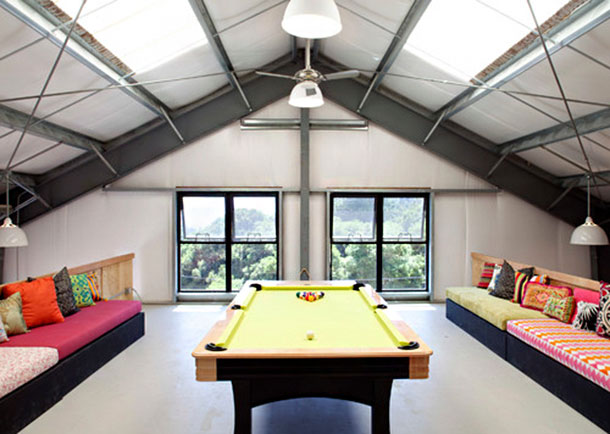 Located in the attic, this game room ideas has an industrial and modern look to it. With the way the ceiling is constructed with metal beams and the colorful cushioned seats, it looks a great combination of both style.
The windows and the skylight ceiling also brings in a lot of natural light to brighten up the room even more. All the while, an even brighter pool table sits in the middle of the room.
Esher Game Room

This modern game room has a lot of entertainment to choose from. The games take the most attention. A pool table sits in the middle and to the side are arcade games and a dartboard.
A retro jukebox is on the side near a mini bar that adds to a retro style on this corner of the game room. The wall-mounted television is also there for everyone's pleasure.
Mediterranean Tuscan 8502
This game room takes in the beautiful view of the sea with the large windows bringing in lots of natural light. There are available seats to just take in the view, a kitchen and dining table on the other side to refresh after a game.
Speaking of game, the pool table and shuffleboard table designs are customized wood beautifully carved out.
Mediterranean 7798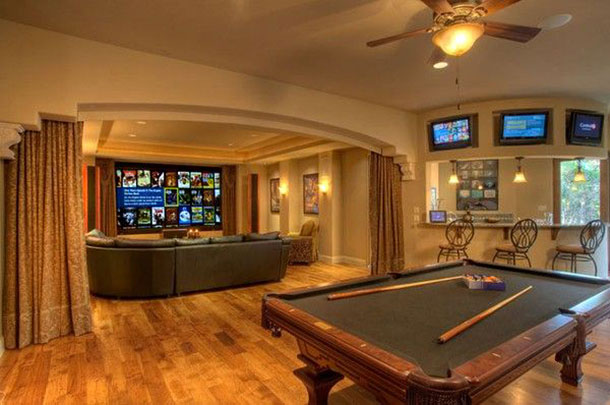 A singular pool table stands in the center of the room with a minibar on to the side. There are several small televisions for pleasure watching.
A TV room with lounging sofas connects to the room, with only curtains to separate them.
St. Helena Hillside Hideaway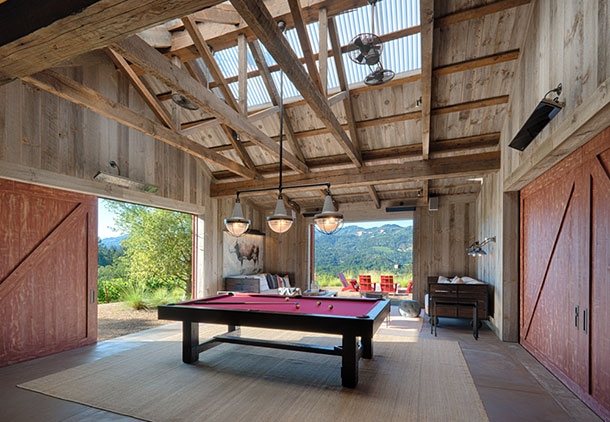 This residence has an entire rustic barn built for entertainment. While in the middle of it is a pool table, there is a lounging area where you can have drinks or play board or card games.
On the other side of the room is a mini bar and the bathroom.
Bennett Valley Retreat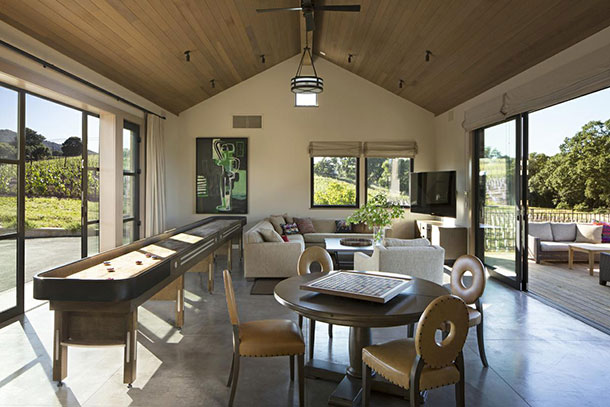 There's a lot of natural light coming into this game room with the sliding doors on either side. It adds to the cozy atmosphere the room has with the comfortable lounging area just next to a long shuffleboard.
A game table with a board game stands as another option of leisure. There's another lounging area outside for a breath of fresh air.
Sonoma Family Getaway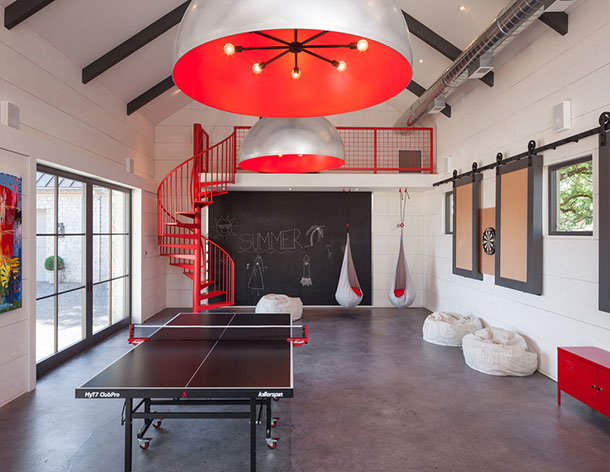 The black, white, and red color scheme brings a modern and clean style. A ping-pong table and dartboard are present. There is even a blackboard for the kids to draw on.
Instead of the usual couches and sofa chairs, this game room is littered with bean bags and swing pods.
Chateau Napoli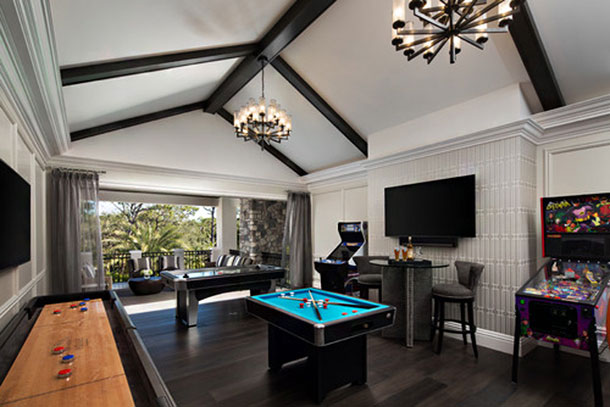 The high ceiling game room, lined with dark beams and white walls, is the look of a cozy, contemporary game room. A small pool table, air hockey table, and the shuffleboard table take up much of the space.
Two arcade games stand on either side of the wall-mounted television and a small table with high chairs. The room seamlessly connects to a balcony.
Hoosier Magnificence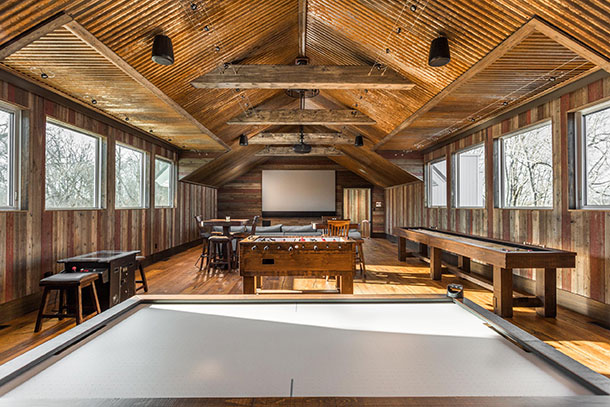 The wooden walls and floor, as well as all the furniture, complete a rustic look to this game room. The high ceiling and the banks of window make the room feel even more spacious. The room is able to hold football, shuffleboard, air hockey, and vintage arcade games.
Not only that, there is a lounging area where you can watch movies via a projector.
Basement Remodel Ashburn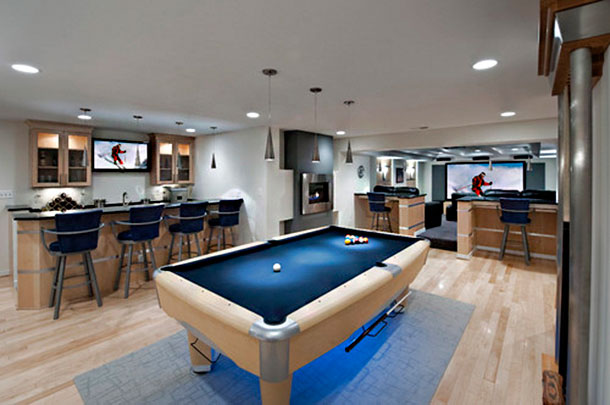 This sleek media and game room was remodeled from what used to be a storage basement.
The media room flows right into the game room with a large pool table in the middle. A bar is set in place on the side. A built-in wall gas fireplace emphasizes the modernity of the room.
Glen Head Home Interior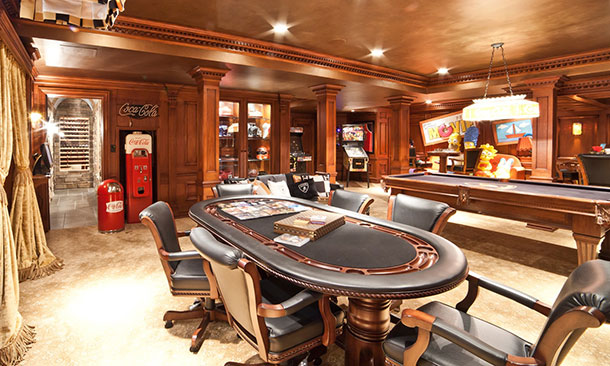 This game room is quite extensive and extravagant. Besides the usual pool table and game table (this one has two: one that could be used for poker and other card games, the other with a chessboard), arcade games and a mini bar are also available.
One part of the wall is made into a cabinet which stores a collection of toys and figurines. You can even take a peek of an open wine cellar that is connected to the room.
YC Summit Residence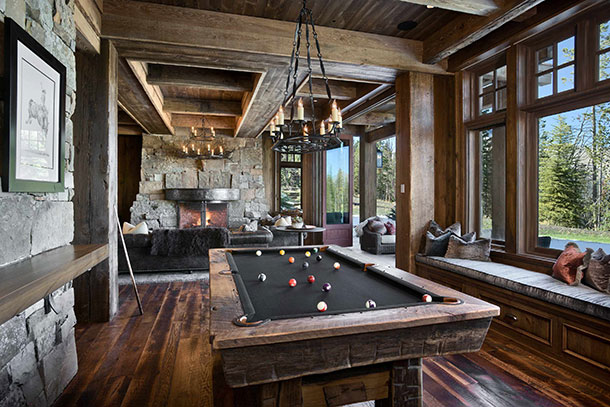 This residence boasts off its own bowling alley, albeit it being small. The walls of the bowling alley room closely resembling a tunnel going into a mine. Even the lamps resemble those old oil lamps.
The design starkly contrasts modernity of the bowling game, making it an interesting choice of design.
Three Peaks Colorado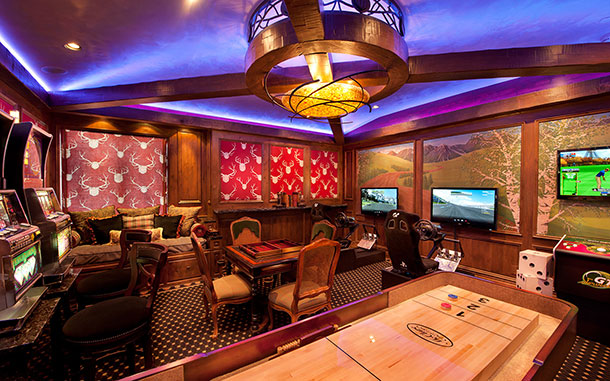 This game room has quite the number of arcade games lined up on almost every side of the room. The room is made to resemble a lot like an arcade.
Even so, there's a small table for board games and a shuffleboard table as well. The ceiling's lights even change from blue to green to red to yellow, adding to the fun atmosphere of the room.
Crazy Fox Lodge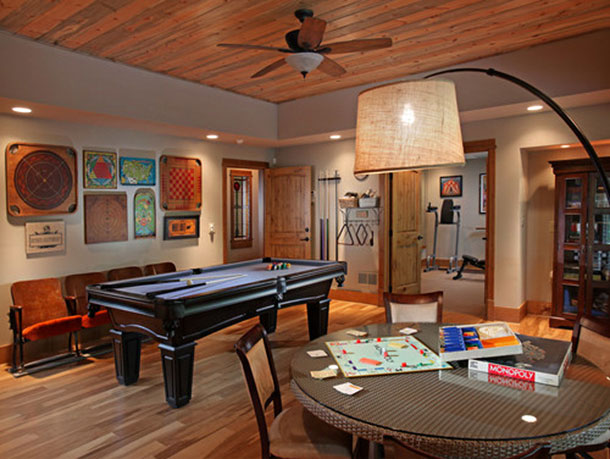 A pool table and a game table for board games is the main attraction to this room. A cabinet stands on the side to store more board games to play.
It has quite the minimalistic design but the polished wooden ceiling and floors as well as the wooden doors complete a rustic look.
The Unexpected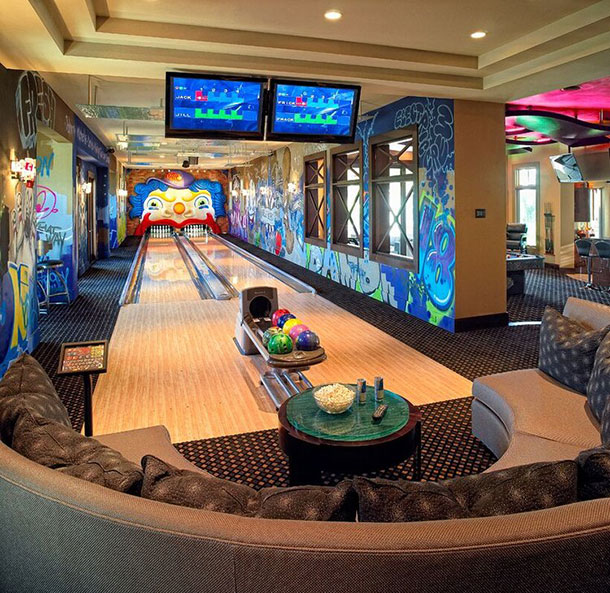 This residence has quite the space for a game room. Divided by a wall with windows, one side has a pool table and the other a fun and quirky bowling alley with the walls being covered in graffiti art.
The room is completed with a couch and small coffee table.
Basement Remodel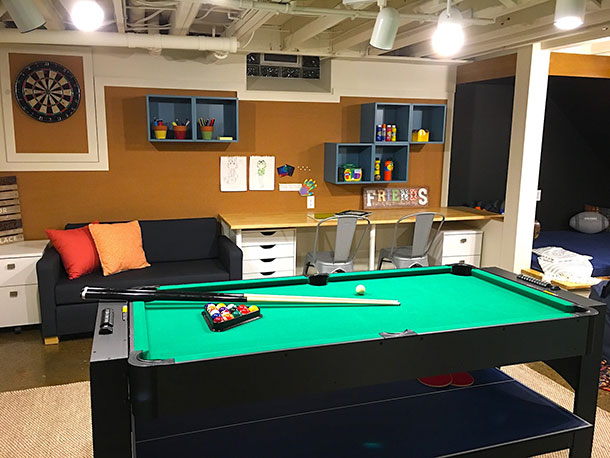 A modern and friendly game room came to be upon the remodeling of this basement. Unlike the other basement game rooms featured here, this one lacks the spaciousness of those. The pool table can be switched the with the ping-pong table underneath.
A dartboard is also in place right next to what appears a study or work desk, a small couch in between. The arrangement effectively turns the basement a recreational and study room.
Entertainment Paradise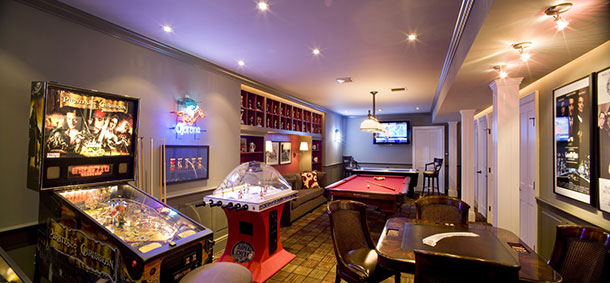 As you enter this room, the first thing that will meet you is the Pirates of the Caribbean arcade game. A game table and a dome hockey game just right next to it. A pool table is also present as an added form of entertainment.
Take notice of the customized shelving that surrounds the couch, displaying what looks to be a collection of figurines. Meanwhile, a part of the wall is dedicated to hanging framed movie posters, owning up to the "entertainment" theme of the room.
Lower Level Finish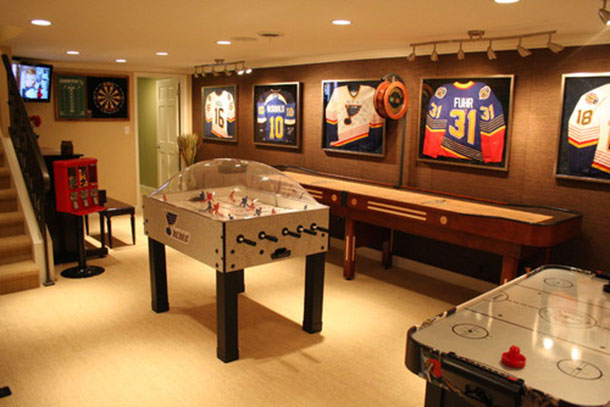 The residents of this home appear to be hockey fans. Not only do they boast of several framed hockey jerseys on the wall, they have air hockey and dome hockey tables present in the room.
But aside from these game tables, there is a piano sitting in the room so hopefully someone can play something while everyone else is busy on their respective games.
Sports Retreat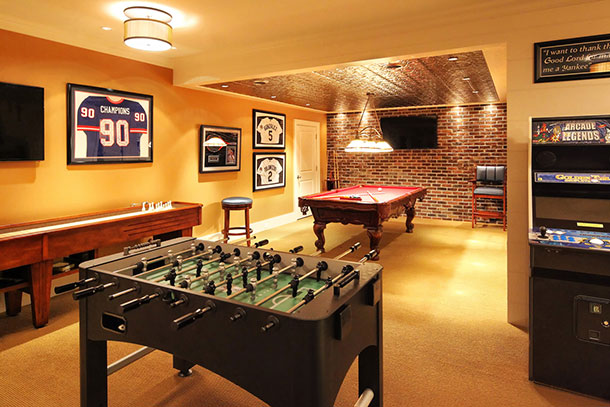 This game room's main theme is sports. On the walls are framed sports jerseys and tennis racket, emphasizing the love for sports by the residents. Several table games, like foosball and pool, are available in the room for the residents and guests to play. And if those games tire you out, an arcade game also sits around the corner.
Vanderbloemen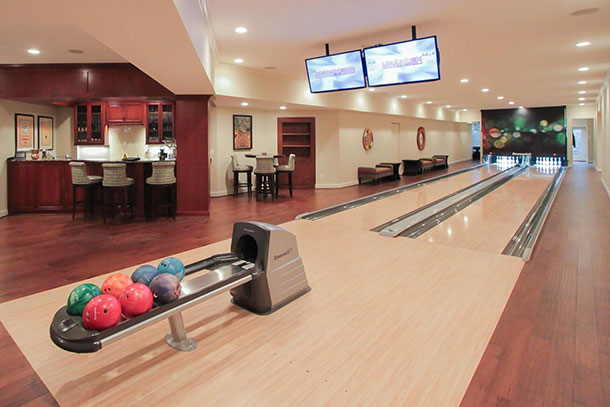 This beautiful house in Virginia has quite the extensive game room. The basement is complete with a bowling alley, game table, bar, and a TV room. The residents and the contractors definitely took advantage of the space. One would even think that this was a bowling center and not somebody's basement.
Deer Crest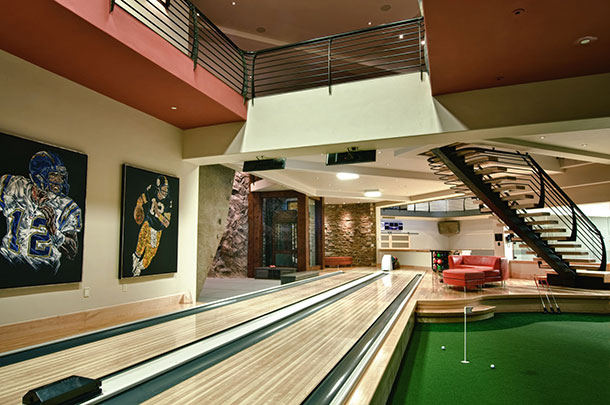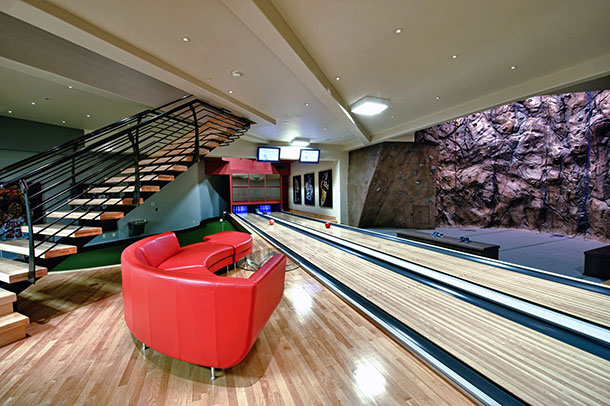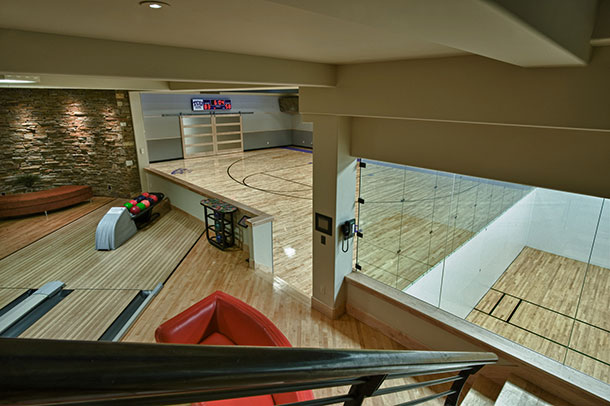 Moving on to more spacious basement game rooms. Not only does this residence have a bowling alley, but it also has a mini basketball court and another one beside it.
There are also seats laid around for lounging. And though not pictured, this residence's game room has its own climbing wall.
Color Game Room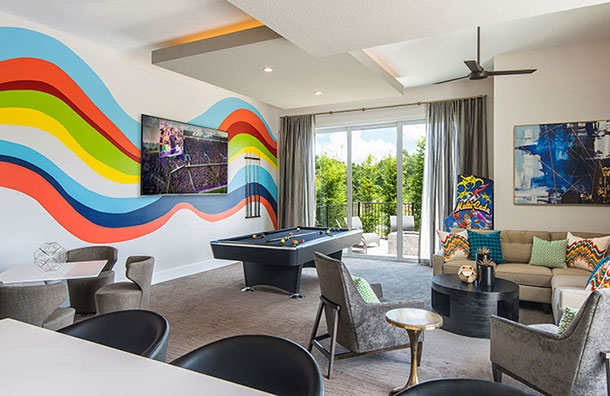 A pool table and an arcade game are the main attractions to this game room. A game table is on the side for some old-fashioned card and board games. The room connects to a balcony with its own seats to lounge.
It's quite minimalistic but instead of plain walls, this one's walls are painted in various colors offering a more vibrant game room.
Run of the Knolls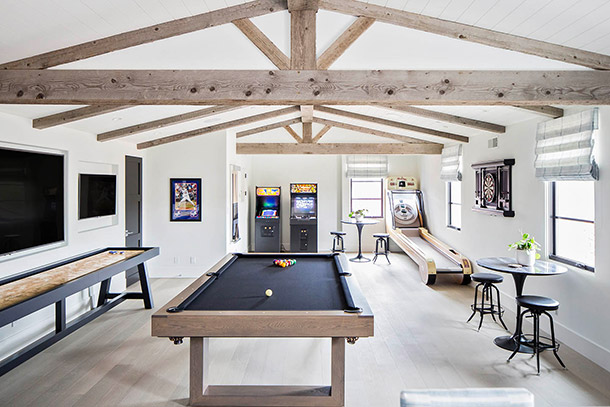 This game room is spacious but lacks seats for lounging. However, with the plethora of games provided, you may not need to lounge.
Vintage Vault Arcade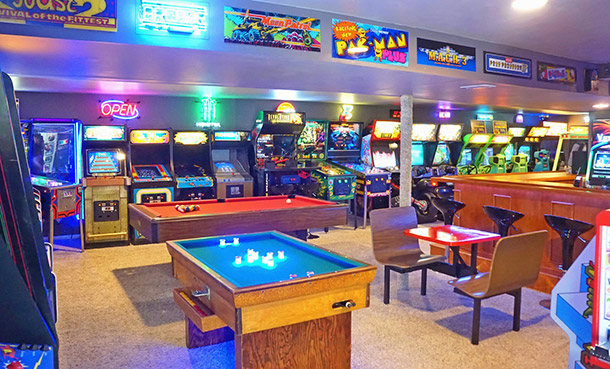 This basement room is an arcade heaven without having to leave home. The room is filled with various arcade games, some pool tables, and a center bar where you can replenish all your energy spent in playing.
Game Rooms for Teens & Kids
The youth today enjoy a lot of computers and video gaming. Some old-school board and card games are also not forgotten. Creating such spaces that provide either or both of those seems necessary for them. Especially for teenagers, it is important to give them their own space to have fun and be themselves.
Kids, too, need activities and a room to learn and have fun. Hence, having a game room in your home is more often a good option to have.
Continue down below for some game room ideas appropriate for your children!
Media Room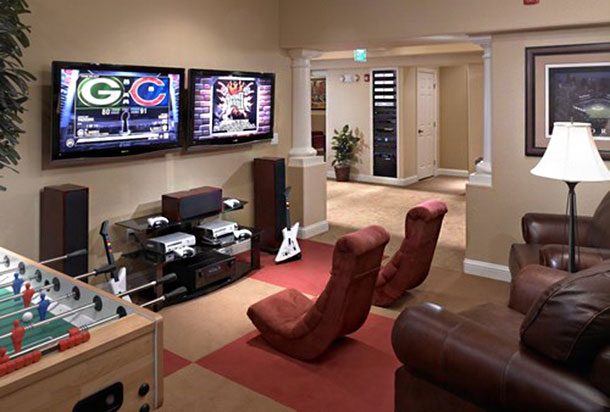 This game room would definitely be a favorite of the kids. It is equipped with great video gaming system as well as some cool gaming chairs in addition to the sofa chairs behind.
There are two televisions so people can play two different games at the same time. In addition, to the side, they were able to fit a foosball table.
Breathing Room
Another game room idea perfect for video game lovers. Couches are lined up right in front of the televisions ready for gaming.
There is a recessed part of the wall next to the door where people can place their food.
Park Cities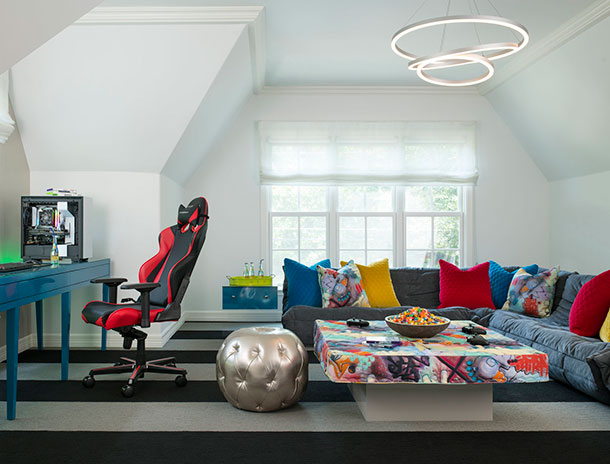 This game room is equipped for computer gaming as well as video gaming. While the walls and the ceiling is nothing but plain white, the colors of the furniture and pillows turn the room fun and vibrant.
It's definitely a place where teenagers can hang out.
Teen Lounge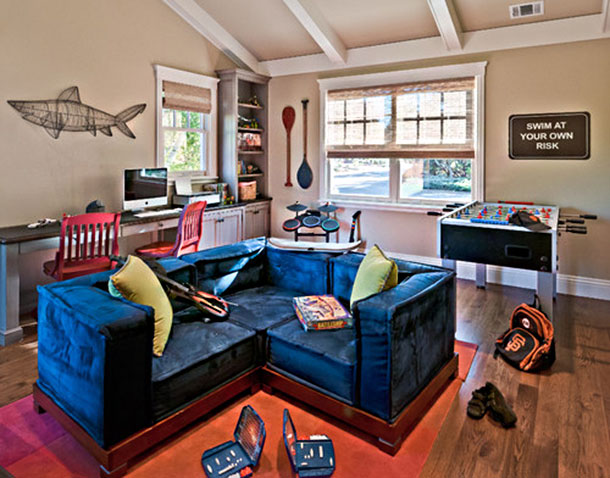 More than simply just a game room, this place appear to be used for lounging and studying. Apart from board games, this room is able to fit in a foosball table. Teenagers can hang around and just play music here too.
Battlefield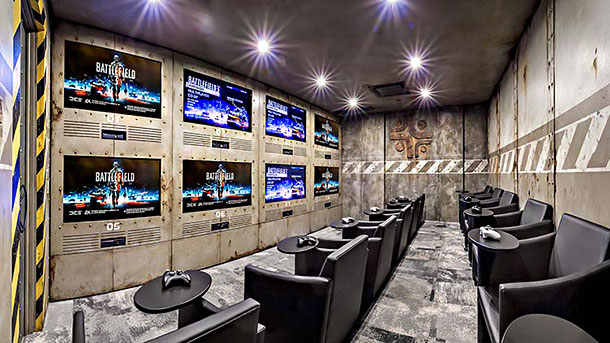 This one is definitely a haven for gamers. The monitors were all carefully installed in this game room that looks straight out of a professional gaming competition.
Each seat even has its own gaming console to join in the game.
Trout Lake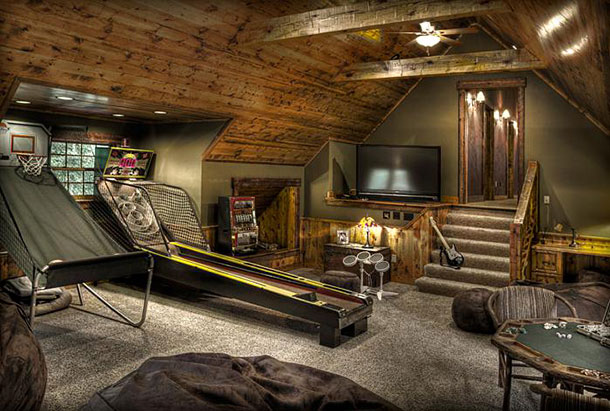 The dull and rustic style of the room is complemented by the color scheme of the arcade games. A television is in place for video games as well. All over the floor, dark bean bags are scattered. There are rustic chairs and table for card and board games too.
2016 Parade Home Highland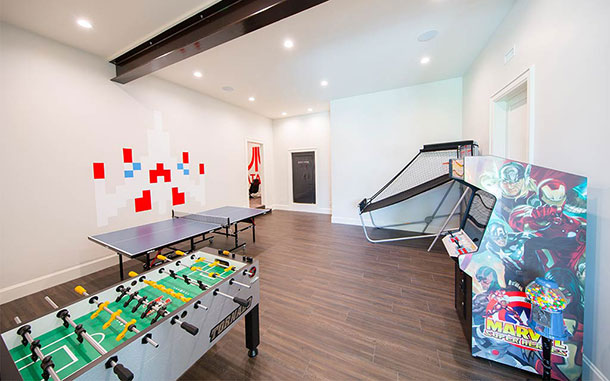 This game room is quite bare, with nothing but arcade games and game tables present in the room. This leaves the kids a lot of room to move around with the limited room space and the type of arcade and game tables present.
Game Room Basement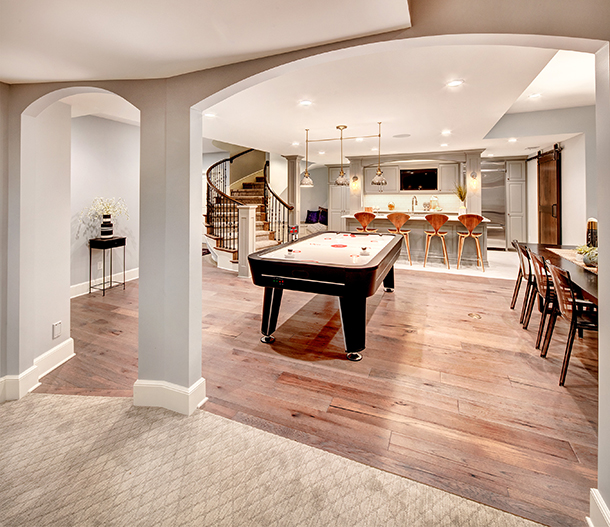 Being a basement remodeled into a game room, this room looks chic and elegant with the fine furnishing.
It is complete with a customized bar and a dining area to the side, while a game of air hockey takes center stage.
Flower Mound Project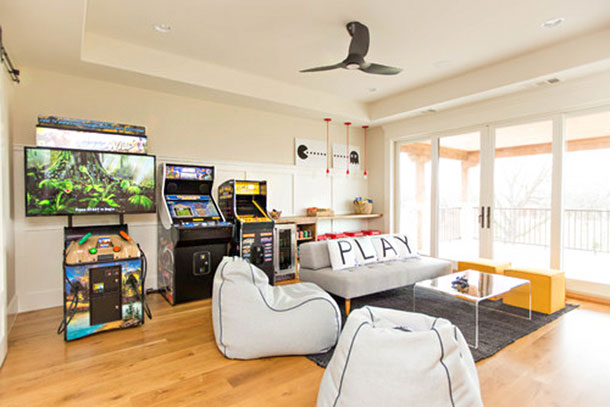 This game room has glass doors that lead to a balcony, allowing lots of natural light and making the room even more vibrant. Bean bags and sofa with pillows that spell out "play".
Some selected arcade games lined up behind and mini snack bar and fridge are present too.
Provo Estate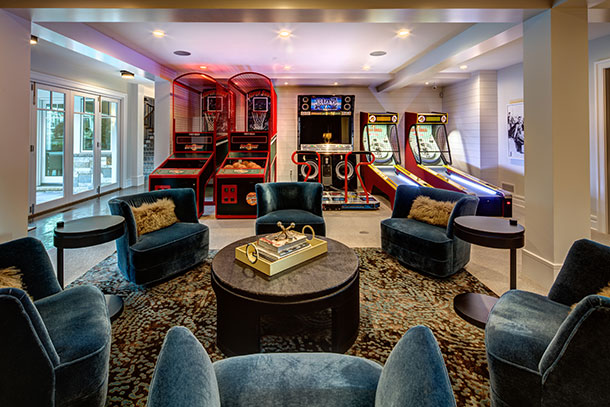 This game room can easily be enjoyed by the entire family. Arcade games like Dance, Dance Revolution are installed to one side of the room.
On the opposite side, a lounging area where people can eat and play board or card games are organized.
Futuristic Game Room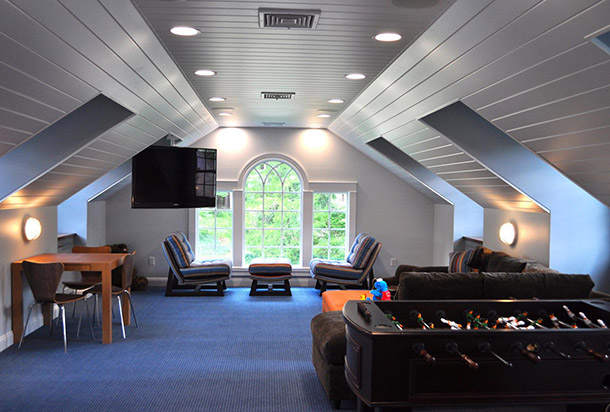 The shiny walls, the lights, and the blue shade that's going all over this room is giving this game room a futuristic look. There are several seats all over the room, a couch situated perfectly to face the television that is suspended in air. Of course, a foosball table is not forgotten.
Centreville Addition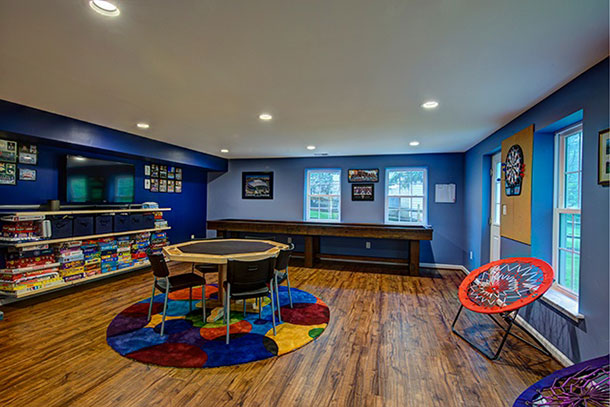 While this particular room does not have the usual game tables sitting around, an activity table sits in the middle of the room, used in engaging and learning games.
The blue walls, wooden floor, and that colorful carpet gives the room a more vibrant and engaging atmosphere.
Zorrilla Kids Room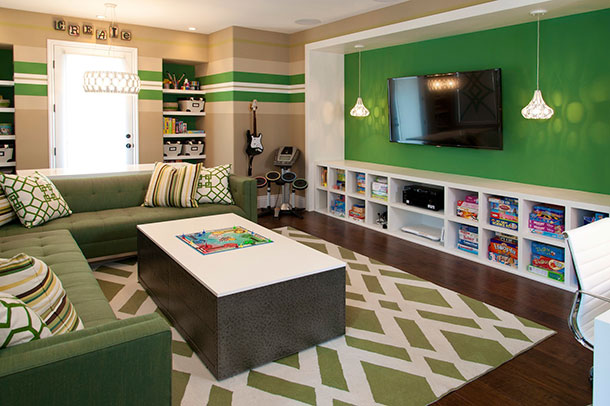 This room was made especially to be the kids' playroom. While it is equipped with a television and video gaming set, this room is set with lots of fun board games. All the games are organized neatly in shelves and the color scheme, with green being a dominant color, definitely brings a clean and engaging atmosphere for the kids.
Upper East Side Townhouse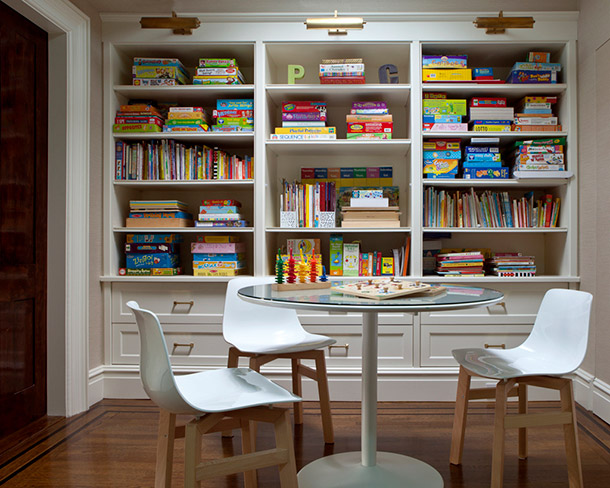 Game rooms don't always need to be extravagant. Sometimes it could be as simple yet elegant as this one. If you prefer old-fashioned board games as form of merriment, this game room idea might be just for you. It's very child-friendly too!
That's it for some great game room design ideas! Hopefully, this list has helped you come up with your own game room design.