20 Awesome Pool Table Lighting
Here are ideas on how to add lighting to your pool table to make it more exciting!
Game rooms are something not all houses have. This is basically something that some families prefer to encourage their kids or the family to really hang out together or have their kids' friends come over to play and stay indoors instead of going to malls or somewhere they can't monitor their kids. Some games rooms could mean having computer games or vintage machines that you can actually play on – while others have sports themed spaces where the family could play darts, pool or even pingpong.
So, for today, we have a list that has a cool way to entice people to come -over – even when this could mean so little to this game room type space, I am sure it is something that you would really notice. I am talking about lighting fixtures used above the pool tables. You should check out the amazing choices that these spaces have and you might want to consider what to add in your own spaces at home.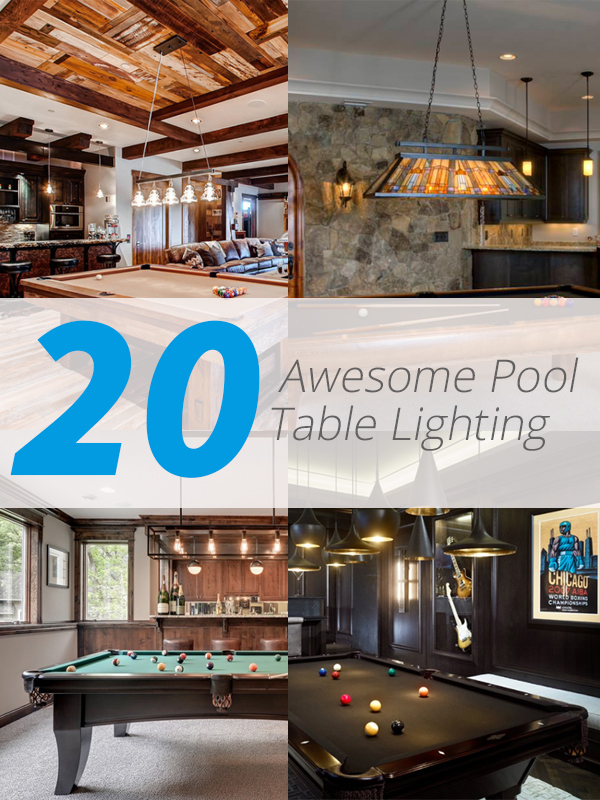 1. Alabama Cabin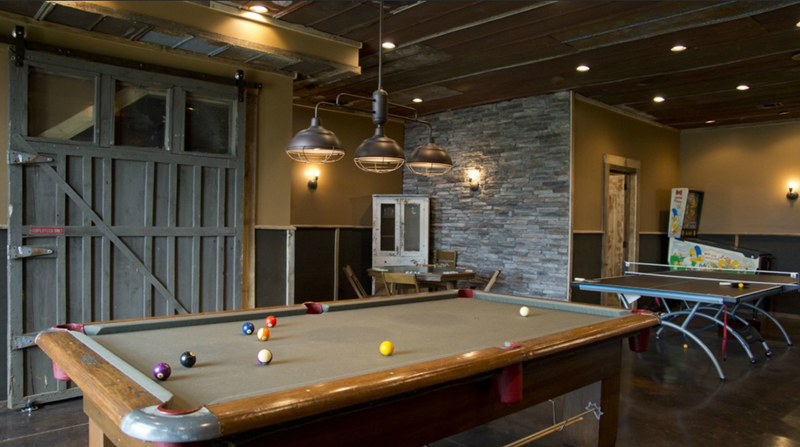 The rustic look and feel of this space could be very minimal but I love how instead of really focusing on the look of the space, they made this one really functional. If you notice, it's not just a pool table that is in here but also a pingpong table and if I am not mistaken, it's possible that the table on the corner could be a poker table of some sort, but then again, it could be just one ordinary dining set to sit on.
2. Astor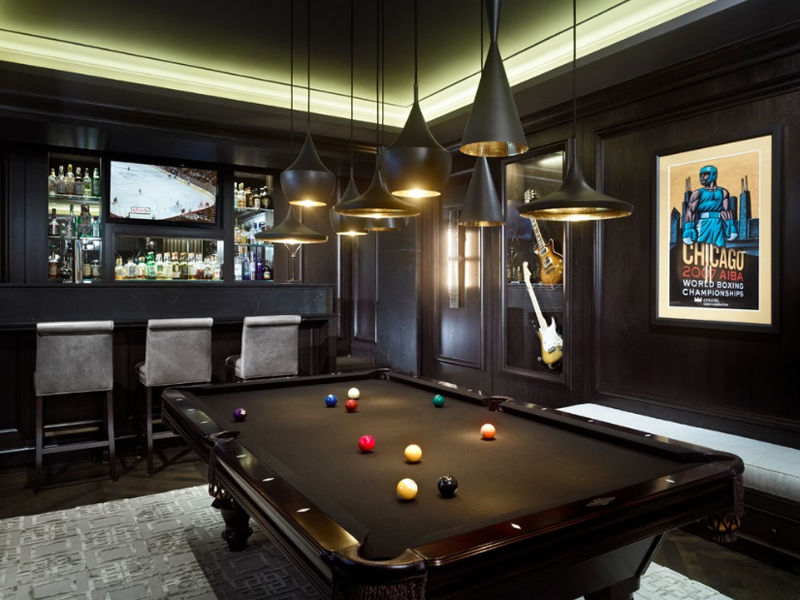 The pendant lighting in here looks really cool! I have shared a few snaps of this home in lists I have made here in Home Design Lover, but never this one and I'm glad I saw this one because it looks raving and cool!
3. Beaver Lake Retreat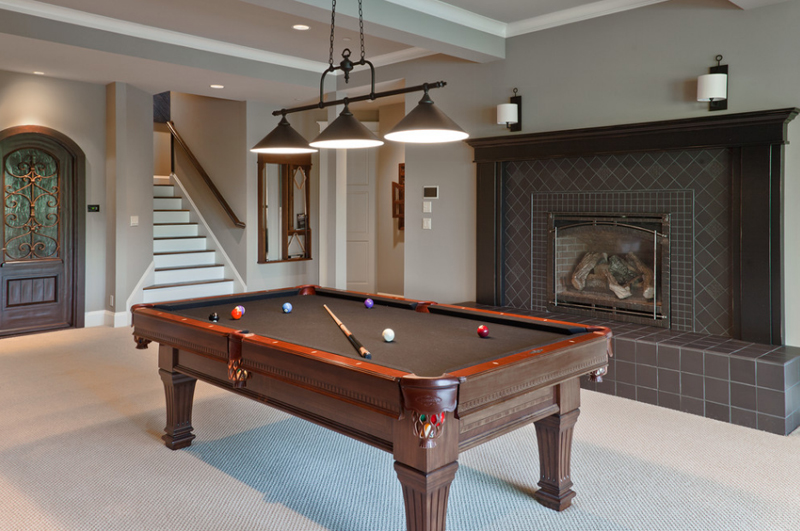 A simple vacant space wherein they added a pool table. We can't be sure, but this space could easily be a basement – for most game rooms or areas where homeowners add a pool table, it's usually the basement which is the first choice. The simple, industrial pendant lamp in this space looks vintage and its color actually match the look and material of the fireplace which looks really perfect!
4. Benzinger Terrace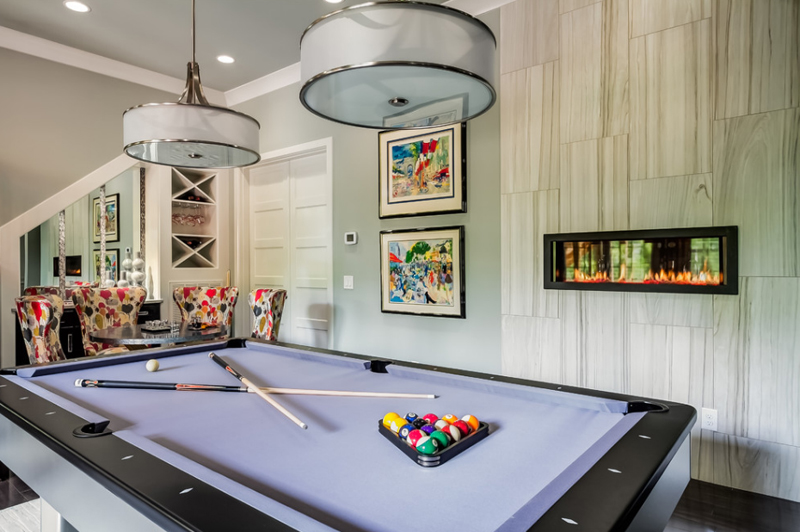 There are probably a couple of drum pendant lighting in this list and this one is no stranger to spaces where pool tables are placed. I find it a bit weird to use a pendant like this one but it somehow coincide with the look and color of the pool table so, I guess it works.
5. Bordley 2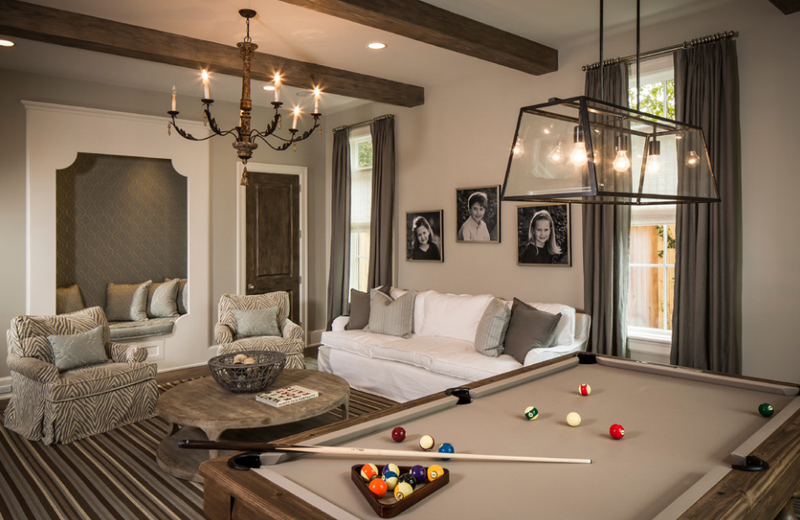 This is one adorable place! Whenever I think about a pool table in a space (especially in a house), I would usually imagine something really manly or something really colorful and fun – but then in this list, we see another approach wherein it feels like there has been a lot of thought placed into it and it looks really special and perfect!
6. Eclectic San Francisco Media Room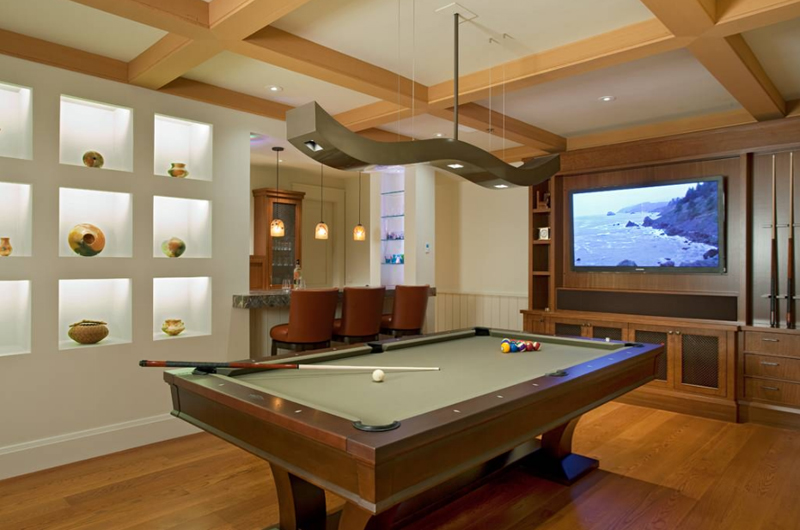 This might be the most contemporary lighting fixture there is in this list and I think it's quite a promising feat for this space – pretty contemporary, a bit manly and still very much comfy and homey.
7. Eclectic Gramo Space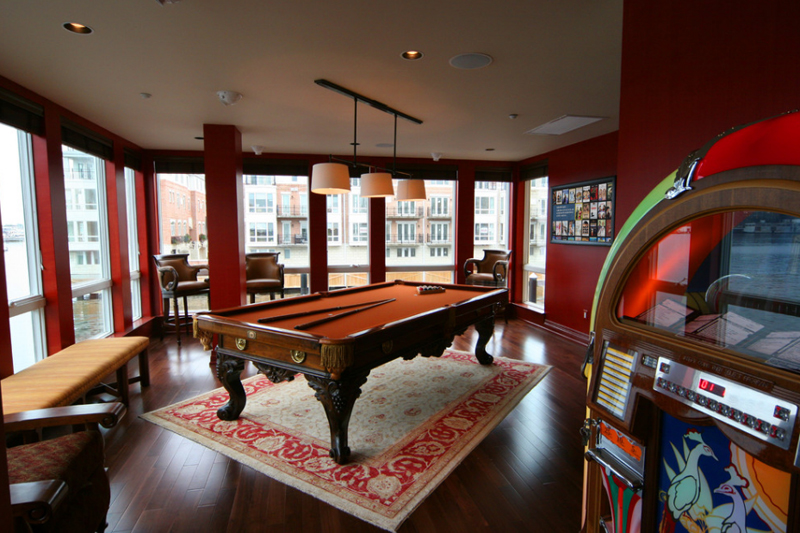 This is one cool looking space – there are a lot of windows which allows a lot of lighting in during the day and well, the cute white pendant lamp above the pool table is very useful during game nights! Having a jukebox on the side is quite fun too! It makes you think you're really in a diner while hanging out with friends, listening to oldies.
8. Favorite Colorado Interior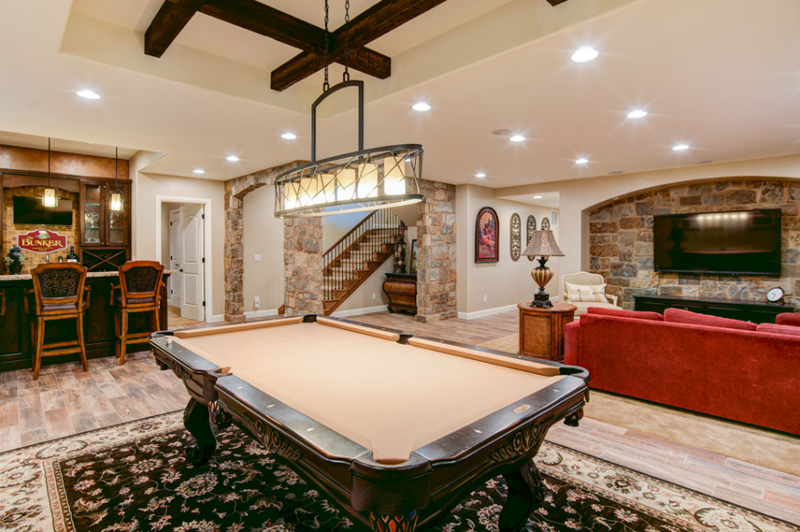 The recessed ceiling with the decorative wooden pillars on it looks ravishing. Adding metallic pendant lighting like the one we see in this photo just looks rad! Notice that the design of the pool table is a bit of a classic and looks perfect in its position in this room!
9. Greenwich Style Home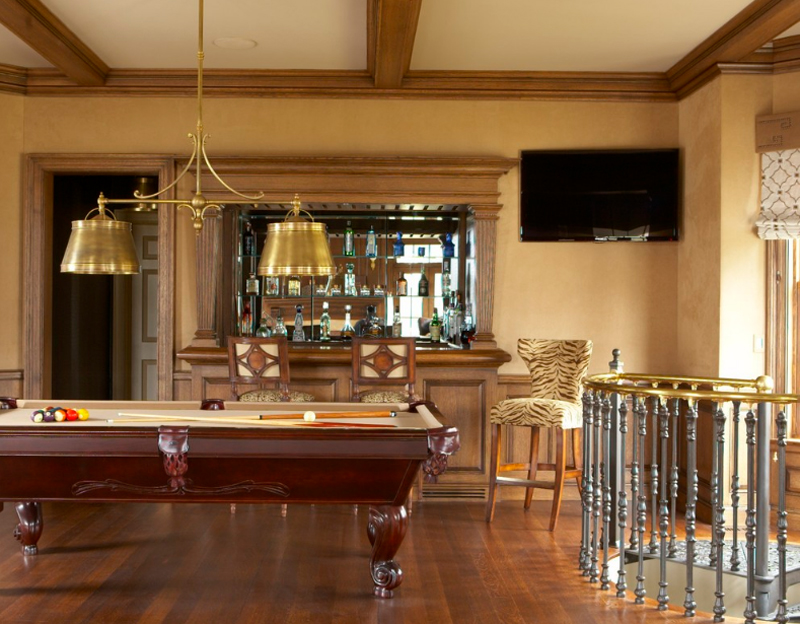 I love how elaborate the details of this pool table are. I feel like this one even looks prettier than our dining table at home! Well, because of the stunning pool table, I think that it is just right to use stunning fixtures too, like the one just above it! The pendant looks exquisite and very ravishing, it's a match made in heaven!
10. Home of the Year Award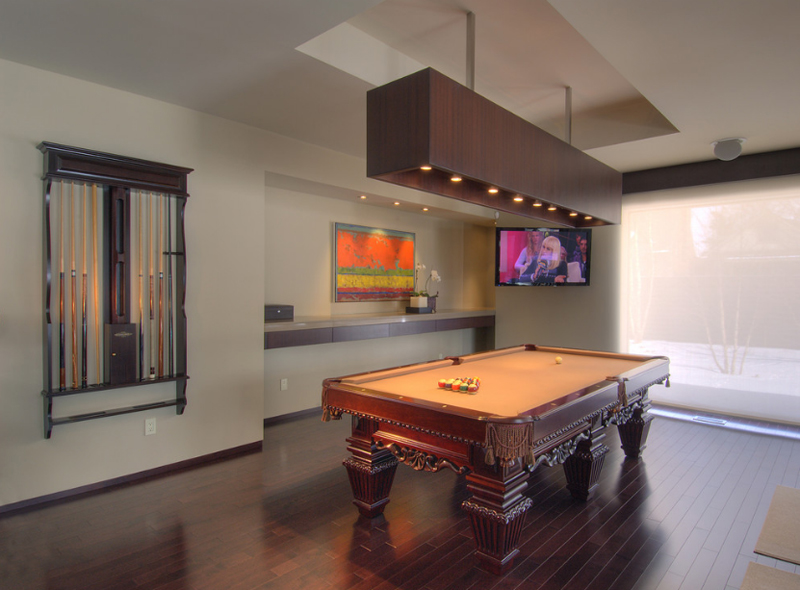 Talk about a unique piece of lighting fixture and pool table! Both of them are quite large in every aspect and as much as I find them weird, you can't deny how pretty they are together too. I think that this space could need more seating than it had – because obviously, there is none!
11. House on the Wood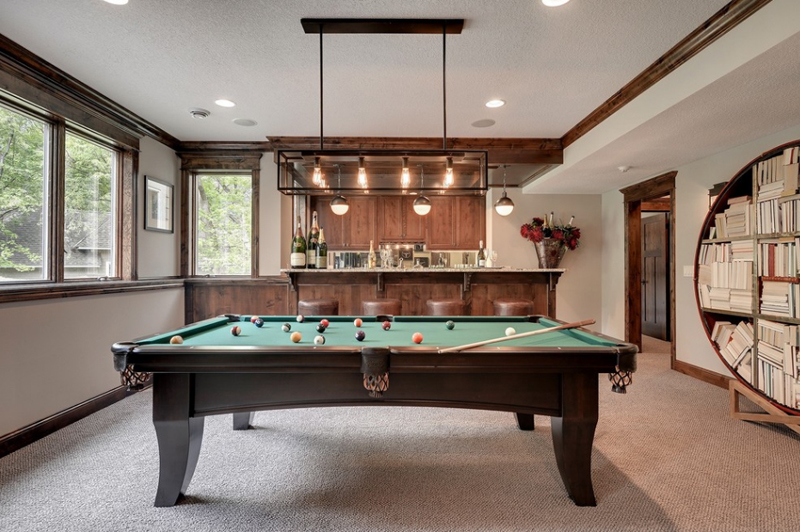 If you check out the design of the pool table (or the base, really), you'd know that it's a simple design than some of the ones in here – but still, it looks perfect for this space!
12. Knollwood-River Oaks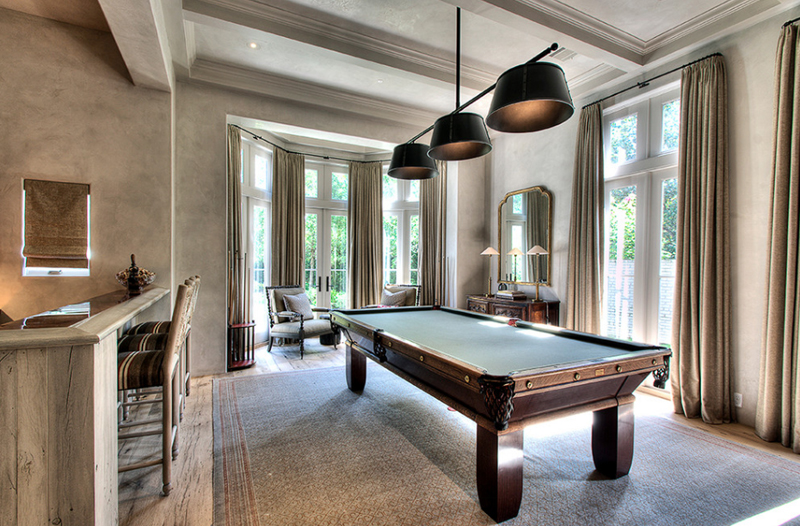 Well, this could easily be an easy choice for a favorite lighting fixture in this list! Look at how these drum pendants look and how matchy it actually looks with the pool table. I know that here a lot to like about this space – I said it's an easy choice really, but more than the furniture and decorations in here, it's the overall aura or vibe that this room puts out that is the best part of all.
13. Lakeside Chateau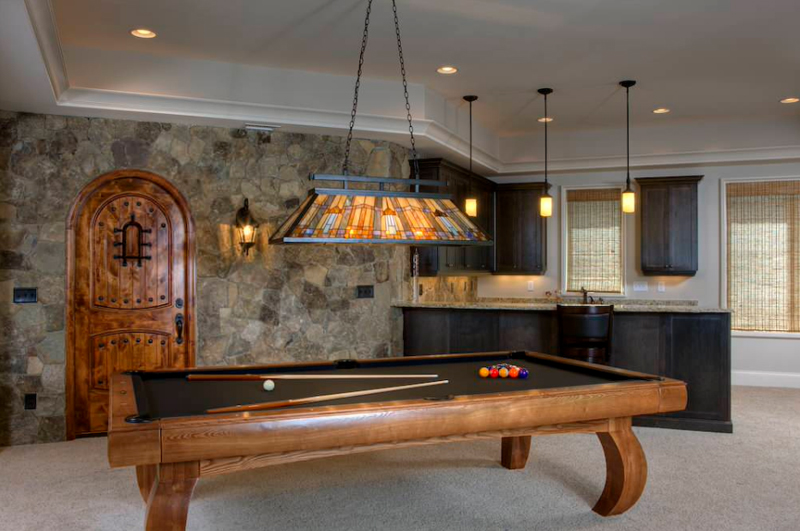 Who says you can't use Tiffany lamps for your pool table lighting? I have seen similar lamp shapes but not really in Tiffany or stained glass form. Most of the pool lighting used especially for commercial establishments prefer rectangular shaped fixtures above the pool table because it's somehow economical and neat.
14. Manhattan Beach Cape Cod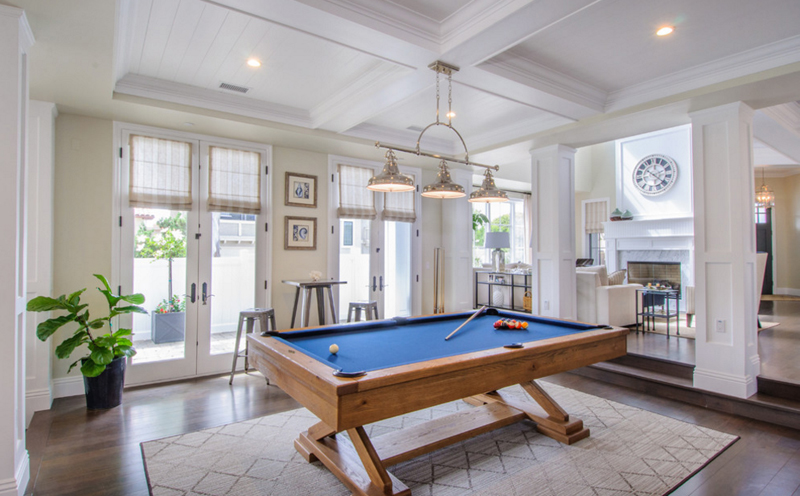 I love the color of the exposed wood of this pool – plus the color of the felt is in blue, so it looks really nice and refreshing. The lighting above this sure is industrial and neat! Look at how new it is and how shiny! Because of its color, it does not really pop out, but notice that the pool table is actually the center of attention in here and it looks quite a statement piece!
15. Modern Desert Vogue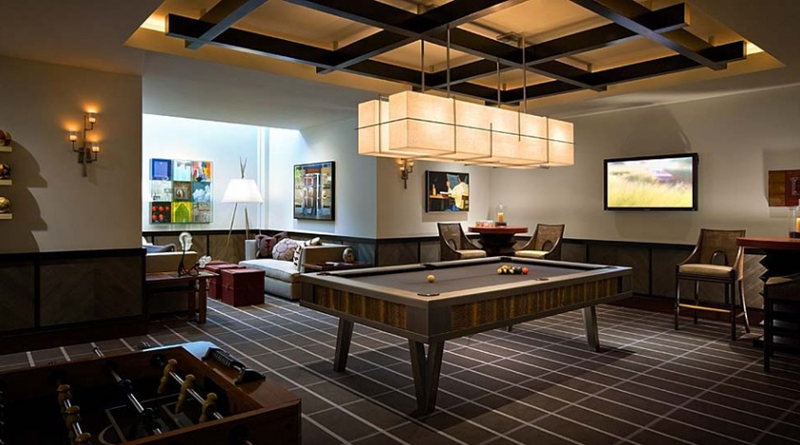 You and I would agree that this space is quite stunning for a game room, really; but then again, the client could afford it, then, why not!
16. 19 Peak Eight Circle
Well this is one gorgeous space! I love all the wood and the stone slabs used on the wall! I haven't seen the entire space but it's quite possible that this is an accent wall – but we can never really tell unless we see the entire space; but all in all, I would say, this game area is pretty special – and expensive too!
17. San Francisco Residence
Are you a fan of drum-inspired pendants? Well, if you are, I want to know what you think about this one in here. I think for a fact that this one is quite unique and matches with the theme which sure showcase a lot of squares and lines and it having this white exterior makes it really stand out.
18. Stone Canyon Rd.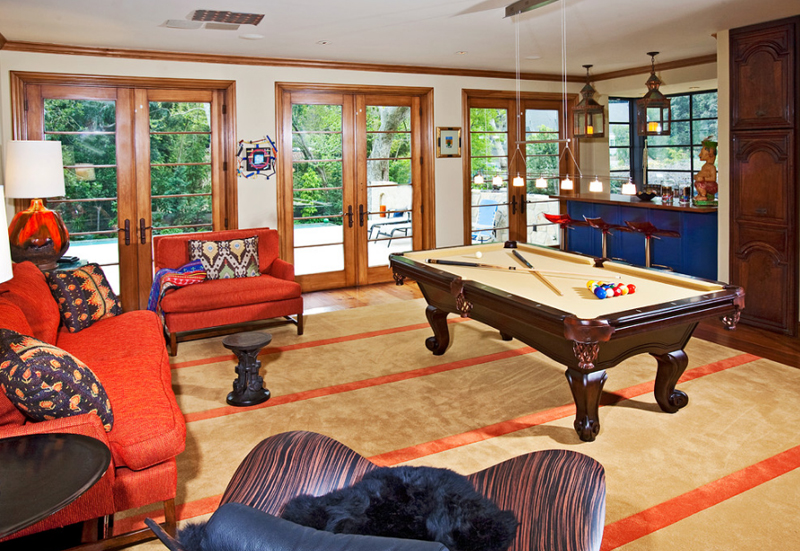 This is one hip game room! Well, at some point, I am not really confident that this an actual game room but just a regular living space where a pool was added to – but the choice of pool table is somehow related to that of the furniture and everything around it which makes it interesting and fun!
19. The Columbia Residence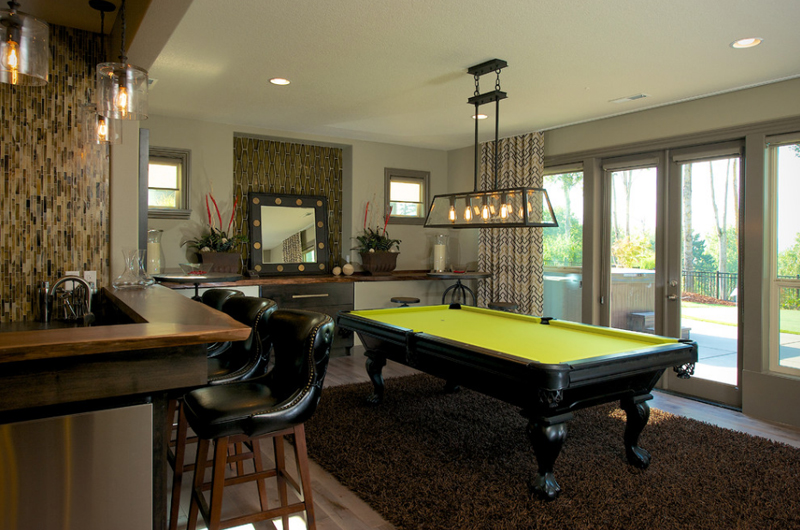 The choice of furniture is quite something and there's this vibe and aura that this space is actually portraying which I like.
20. Urban Homestead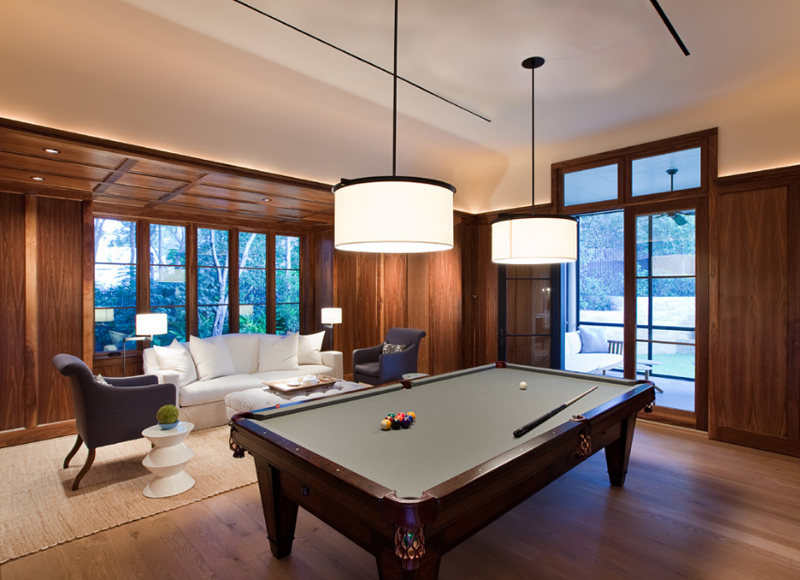 The drum pendant lighting could actually be the last choice for the fixture that you place above a pool table, but looking at the situation going on in here, I think that it's an awesome choice after all. Another thing I noticed in this space is the cozy seating area by the window which sure is nice but sure hope that they do not spill much on it!
Truth be told, I wouldn't really have thought about picking an awesome lighting for a pool table but then again, when I saw all the pictures in here, it all made sense – it's still a table (like a dining table) that needs a lighting fixture above it – mostly for functional purposes but at the same time to actually create a better game area and better lighting in general. If you appreciated this list, you should also check out the 20 Industrial Lighting Over Kitchen Table which sure is one heck of a list too!