Creative Scandinavian Interior of a Duplex Loft Apartment in Kungsholmen
I know you have seen how apartments were treated. Some had that contemporary look while others had sleek modern appeal. Still others prefer to tone it down with not so luxurious items. There are many ways to design and decorate an apartment. Just make sure that it will fit your design preference, budget and lifestyle. I especially like Scandinavian spaces because of the cozy appeal it creates and I feel like you are just free of what you want to do with it. Today, we are going to show you a duplex loft apartment that has a Scandinavian interior.
The 1,033 square feet (96 square meters) loft preserved centruy details and is located in Kungsholmen, an island in Lake Mälaren in Sweden. It floor plan was well thought of with a balconyfacing the sunny west as well as two beautiful fireplaces. There are many beautiful elements in the loft that included the high baseboards, high ceilings, beamed ceilings, stucco and even pine planks. In the two level apartment is a kitchen, dining and living room and two bathrooms. The interior has a Scandinavian design that you will surely love. Come take a look!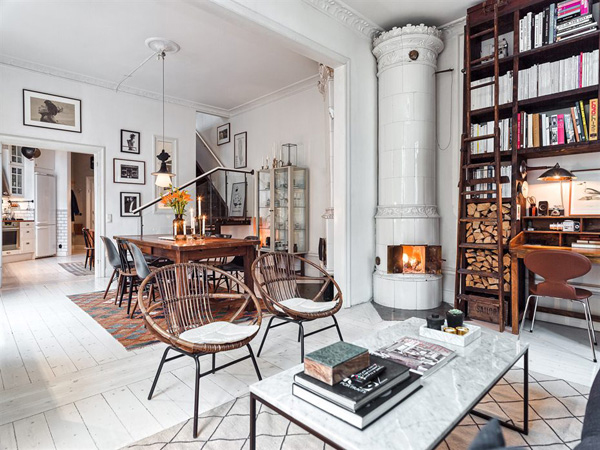 Beautiful fireplace. I so love that fireplace! The interior of the house has white all over from ceiling to wall to flooring.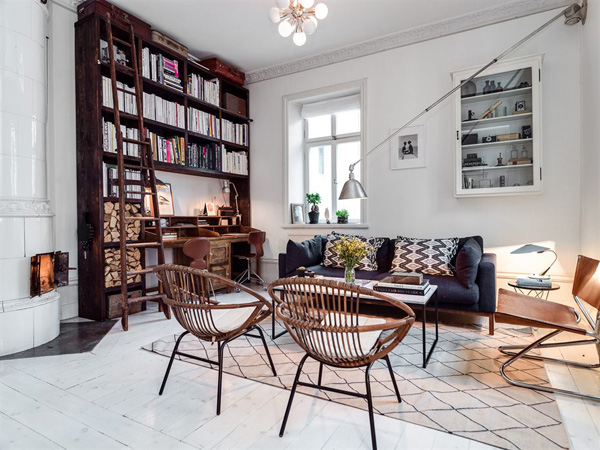 There are a variety of patterns seen in the living space with an eclectic mix of furniture.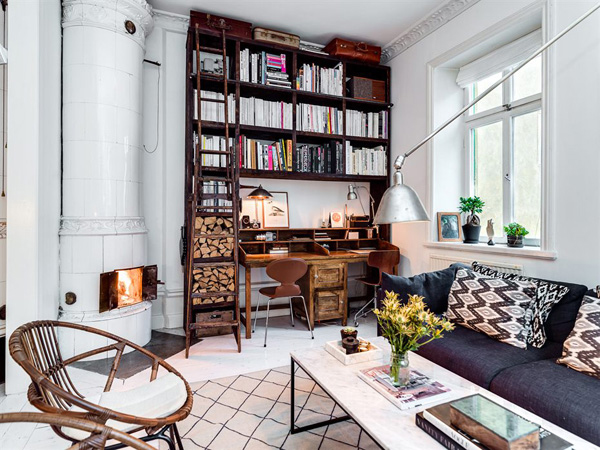 It has a tall wooden bookshelf with a ladder that allows them to get the trunks at the top as well as other books too. Under the bookshelf is a working area good for two.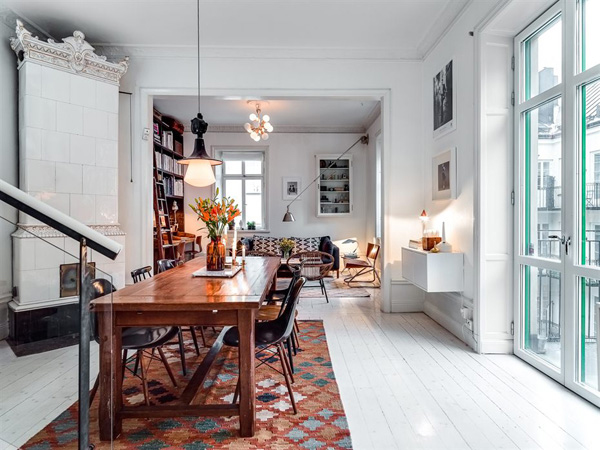 From the living room, one can get to the dining area through a white hallway.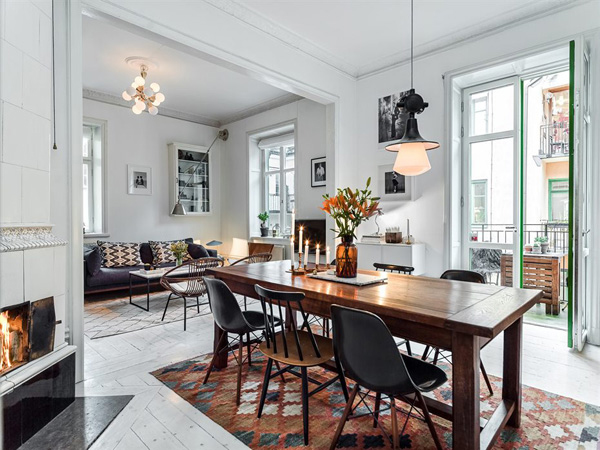 The dining room used mismatched chairs with the same color scheme. It has a wooden dining table that is being highlighted by the area rug.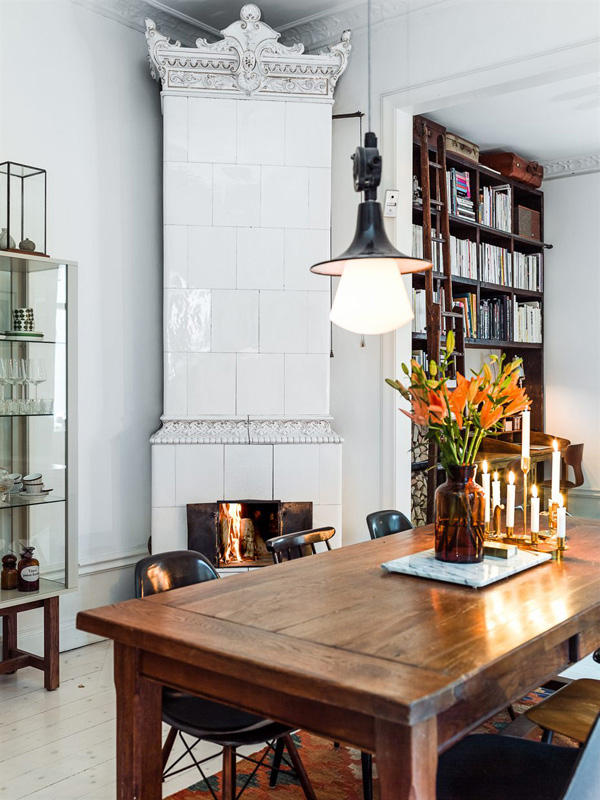 And hey, that fireplace again! I'm digging this fireplace really with all the details in it and the white color too.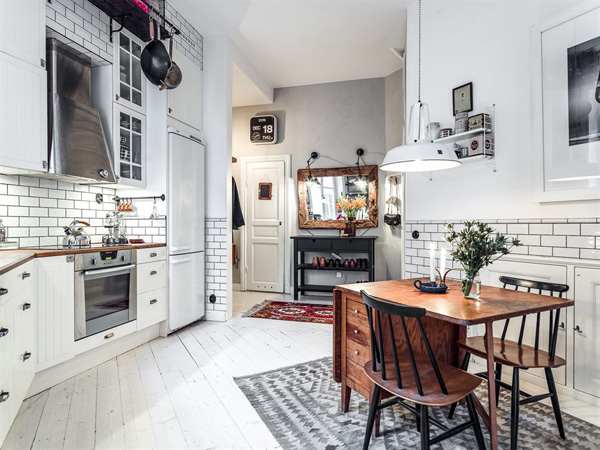 What a cute island that is! The white kitchen looked classic with the subway tiles on the wall.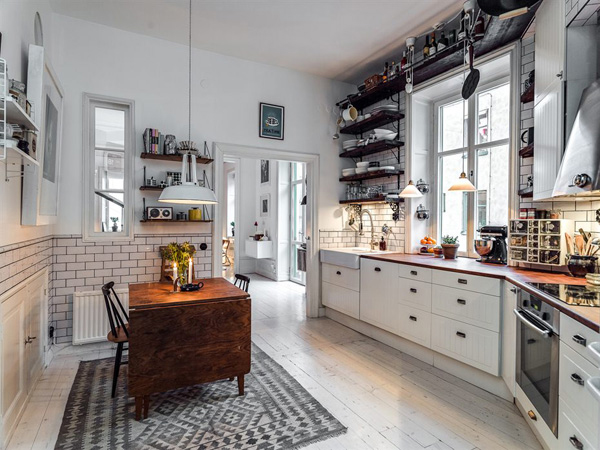 Open shelving are used on the wall where kitchen items are being displayed. Even the hardware standout because of its white color.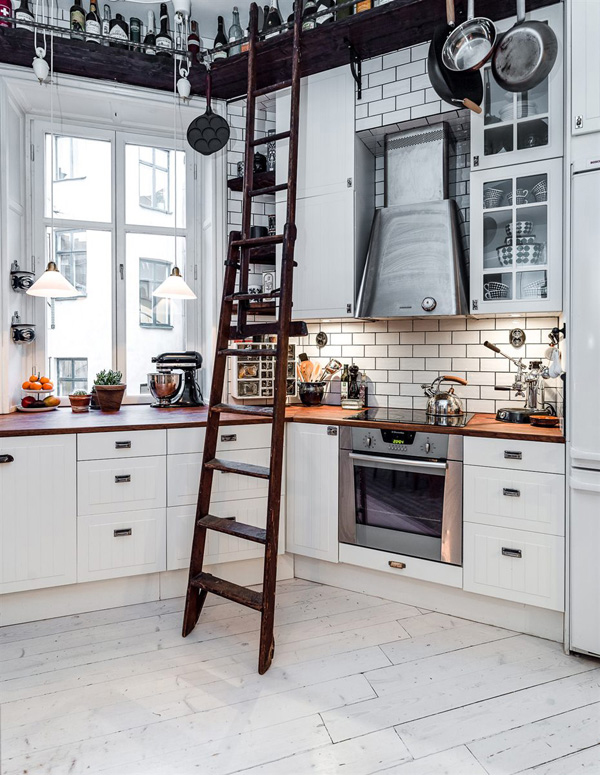 On the top most of the kitchen is where they store wines. How to get it? Well, through another ladder! So classic and interesting!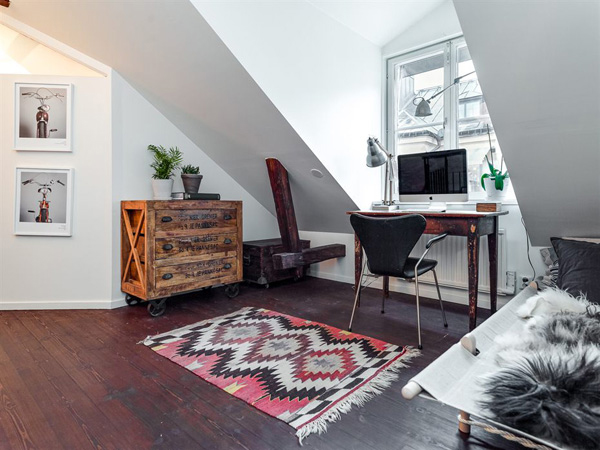 A small workspace is added to the bedroom which is located just near the window. That vintage looking pallet with wheels is lovely!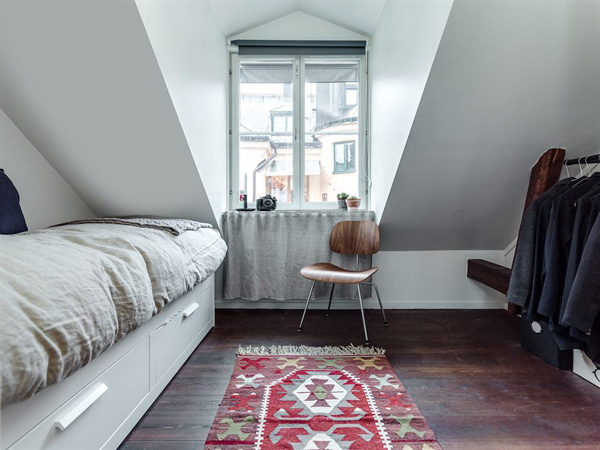 The bed is small but has drawers under it while on the other side of the vaulted ceiling is where you can find some clothes on a hanger.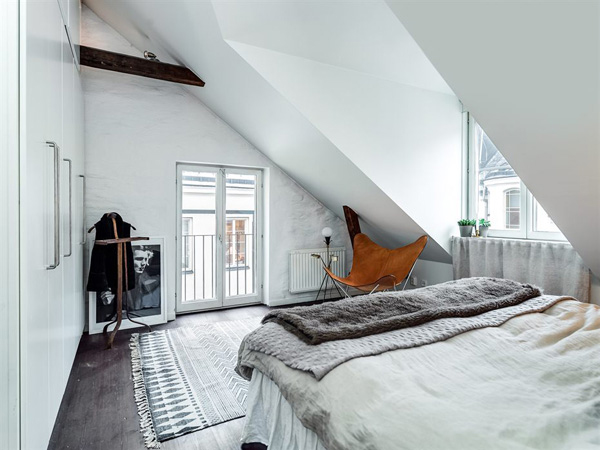 Another bedroom which is more spacious but also has a vaulted ceiling. It extended that white color from the rest of the house.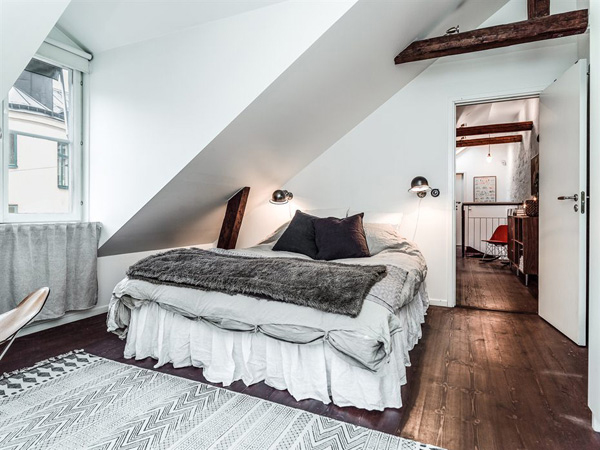 Who wouldn't love the feeling of sleeping together in a bedroom as cozy and warm as this?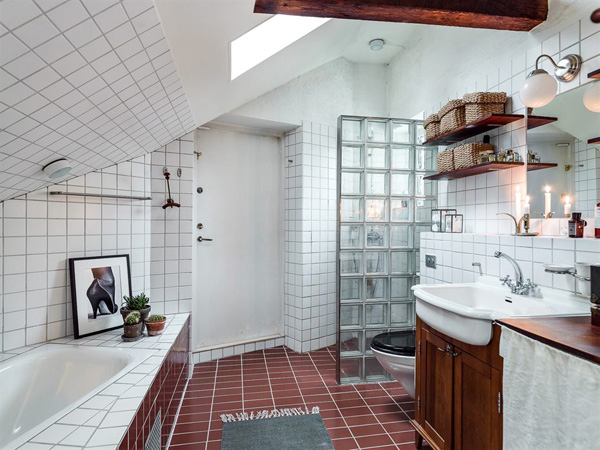 Now let us go to the bathroom with classic tiles too and glass blocks as a partition for the shower.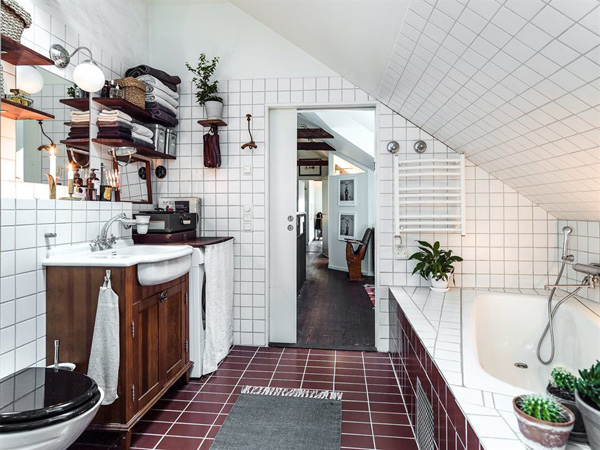 Scandinavian details are also seen even in the bathroom. Open shelving is also used to store items for bathing and cleaning up.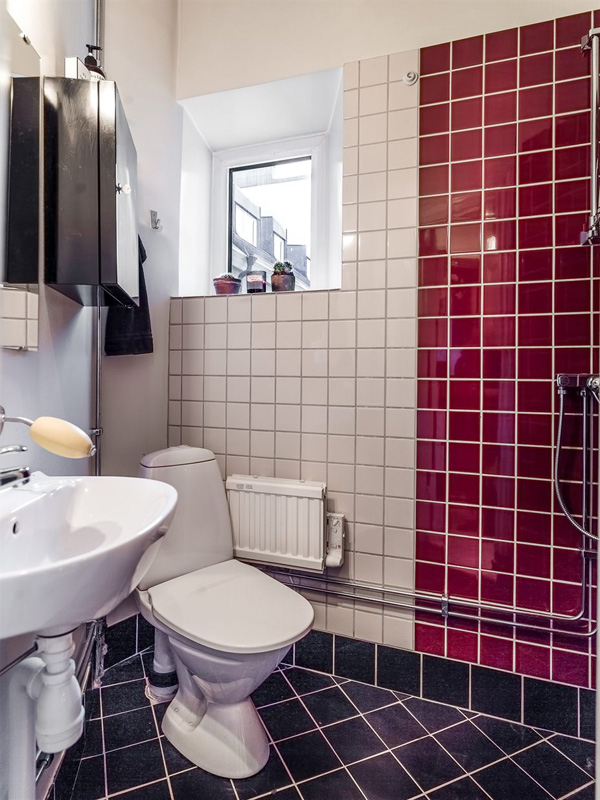 The colors are used for the bathroom tiles. I guess this is another bathroom area already but has a similar look as the other one.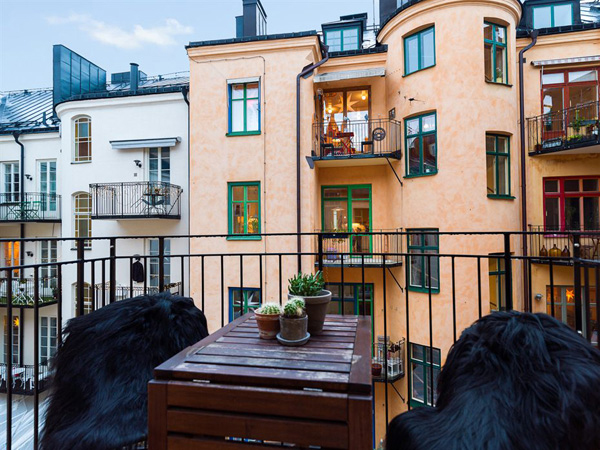 It has a balcony that overlooks to the city with a view of other homes as well.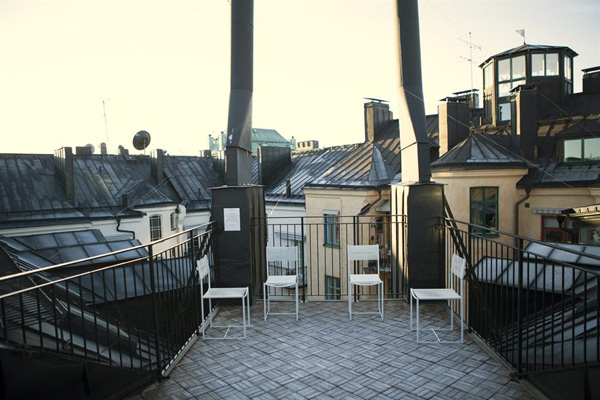 Guess this one is on the other side of the duplex apartment but it has a balcony too.
I like this space! It isn't too intimidating like other apartments. You can just be yourself when you are here without the fear of breaking something or what. Lol. What I like is the comfy and easy atmosphere because of the way it was decorated. And it is very creative too with a lot or repurposing and recycling! This interior is very impressive. Aside from the fireplace and furniture, I like the details of the decorations as well as the artistic touches you can see in every corner of the room without overdoing it!