Campus Hong Kong: A Cozy Way to Live for Young Renters
A cozy and well-design student apartment with a low rent- that is what most young people are looking for!
Back in college, I had many friends and classmates who were renting a space near the school. It could either be a bed space or an apartment. But what I noticed on those spaces is that they are small or are crowded with different rooms. It doesn't have a perfect area for studying and reading too. When I saw it, I always thought that there should be a better way to create a beautiful dwelling for the students. I knew, there was indeed a better way! And I saw that in this apartment that we are going to feature today.
Campus Hong Kong, located in Hong Kong's Tsuen Wan district, is a defined as a "revolutionary apartment for students" that primarily aims to provide solution to renting problems in China which is very populated. Because of the large population, living expenses for young people is such a heavy burden. Many nice apartments are on the rise by the rates are very high and there are cheaper options but they aren't that cozy. Because of this problem, designers came up with a better design of an apartment which is affordable by renovating an existing hotel, comprised of 48 student apartments. Campus Hong Kong provides convenient transportation and a great view of the bay. The space has a student common room with a cozy environment where they can spend their daily social activities and gaming. It also has a gym, cafe, and even swimming pool. Every room is approximately 27sq.m. wherein the existing partition wall between two rooms was removed and was replaced with a central high table to create a common space for study and social for 4 students. Take a look at this beautiful student apartment space below.
Location: Hong Kong
Designer: LYCS Architecture
Style: Modern
Type of Space: Apartment
Unique feature: An existing hotel was renovated into an apartment which has a cozy and youthful feel. What makes this a perfect place for students is that it isn't costly and has a very beautiful design.
Similar House: Colorful and Multi-functional Features of the Interiors in Trama Apartment in Brazil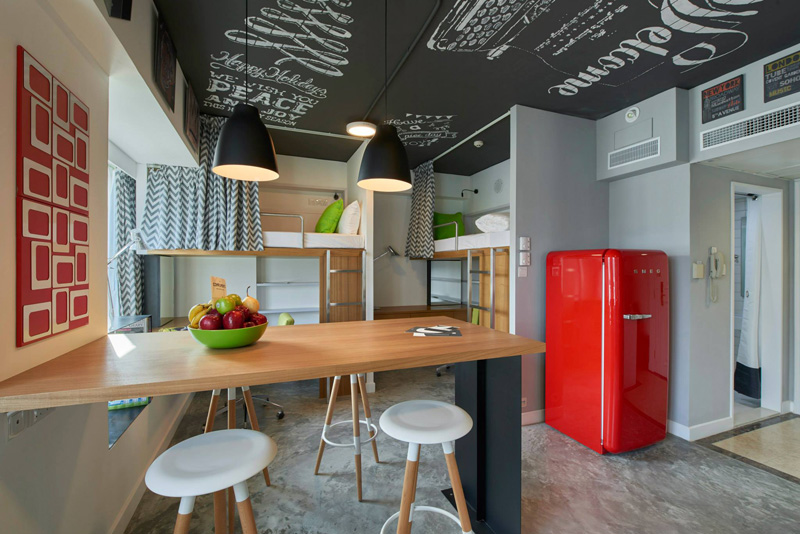 Although the space is limited, every single inch is fully used. The bed is half raised and the study desk is placed under the bed, this way, the space is maximized. Each bed features a steel access ladder and a blackout curtain to provide privacy to them. Every bed also has electrical wall sockets and a reading light.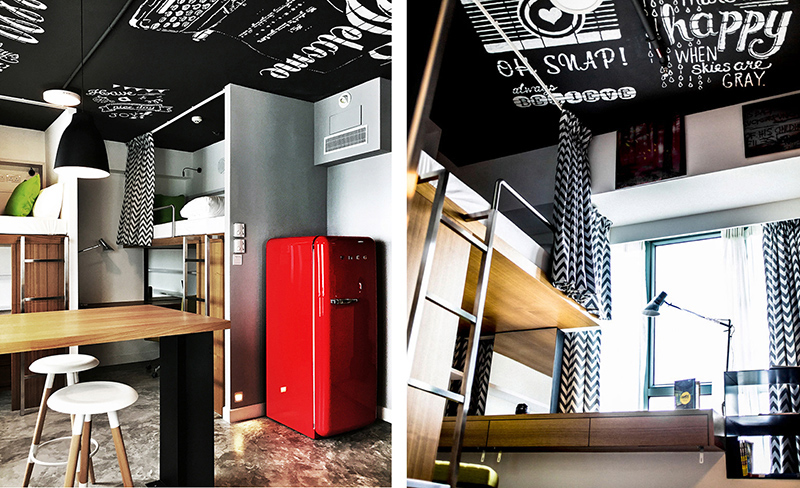 You can see here that the space is indeed well designed. I like the look of the ceiling above all! This is a good idea for a youth's bedroom or maybe even for a restaurant. You can clearly see here the metal stairs that is used to access the upper level of the bed.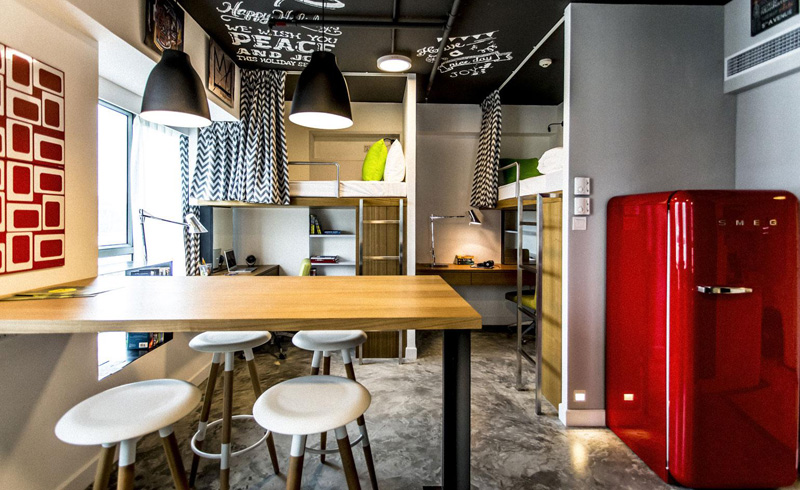 It also has an island that is attached on the wall as well as red retro-looking refrigerator. This is indeed a design that will perfectly suit students very much!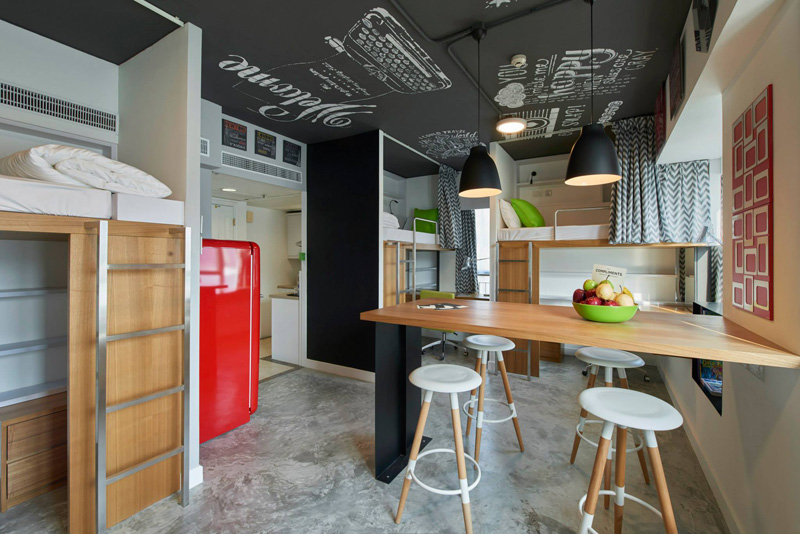 Students can enjoy the comfort of having a spacious room with a sleek design. It has provided a space on the ceiling for renters to draw, which is a cool idea!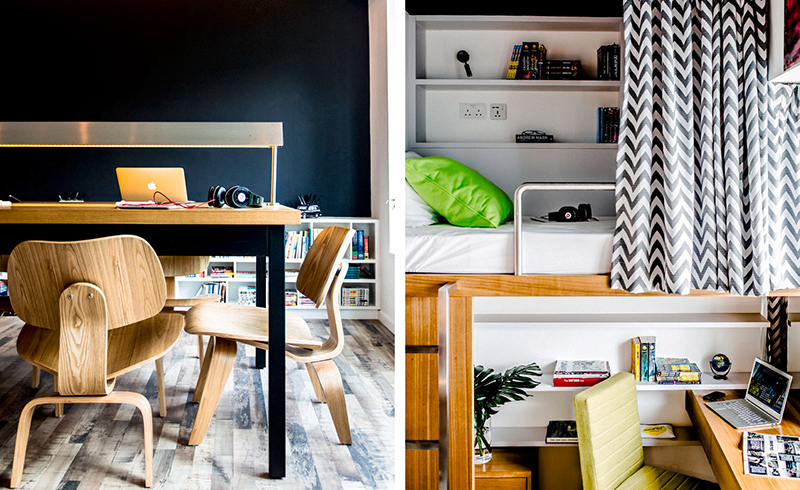 Wooden chairs are used for the study area while the other image shows us that on the bed, one has his own shelf and outlets- isn't this very nice? You can keep your books and other study materials right on your bed and you can have privacy with the curtains too.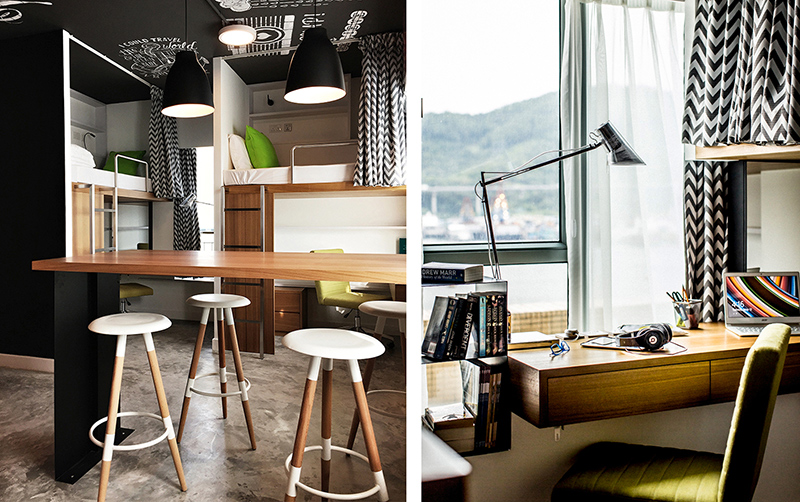 On the bed, when the curtains are shut, one will own personal spaces. It also has a clothes rail, built-in shelves and lockable drawers, separate luggage space, along with a built-in desk sporting a multi-socket USB hub. For sure, students will be very happy to accomplish work even while on bed. The other image shows a study area with a floating shelf.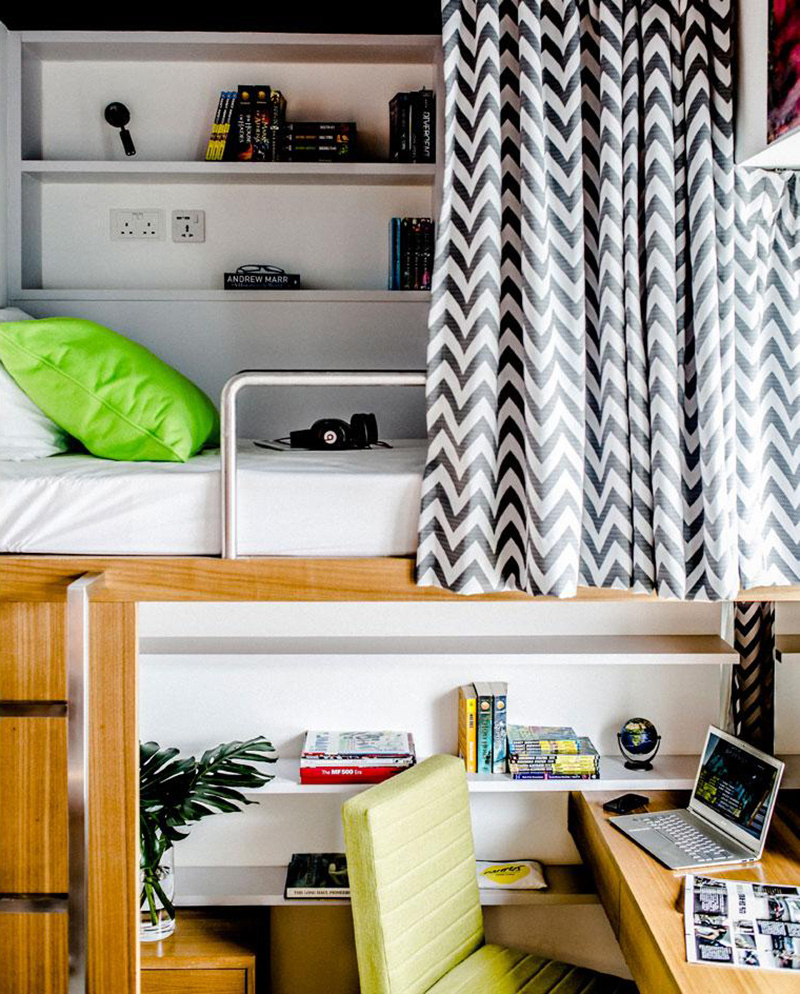 Under the bed is the student's own space with a desk and a chair, as well as built-in shelves. With this, one can call a certain space his own because each one of them has their own bed and study area. For sure, they will be able to study well in here.
Read Also: Minimalist Patterns and Textures in the M68 Apartment in Sosnowiec, Poland
The study areas extend near the island, adding more space for the students to use during study time. It faces a window which provides a view of the surrounding area. You can see here that there are various artistic elements on the walls for decor.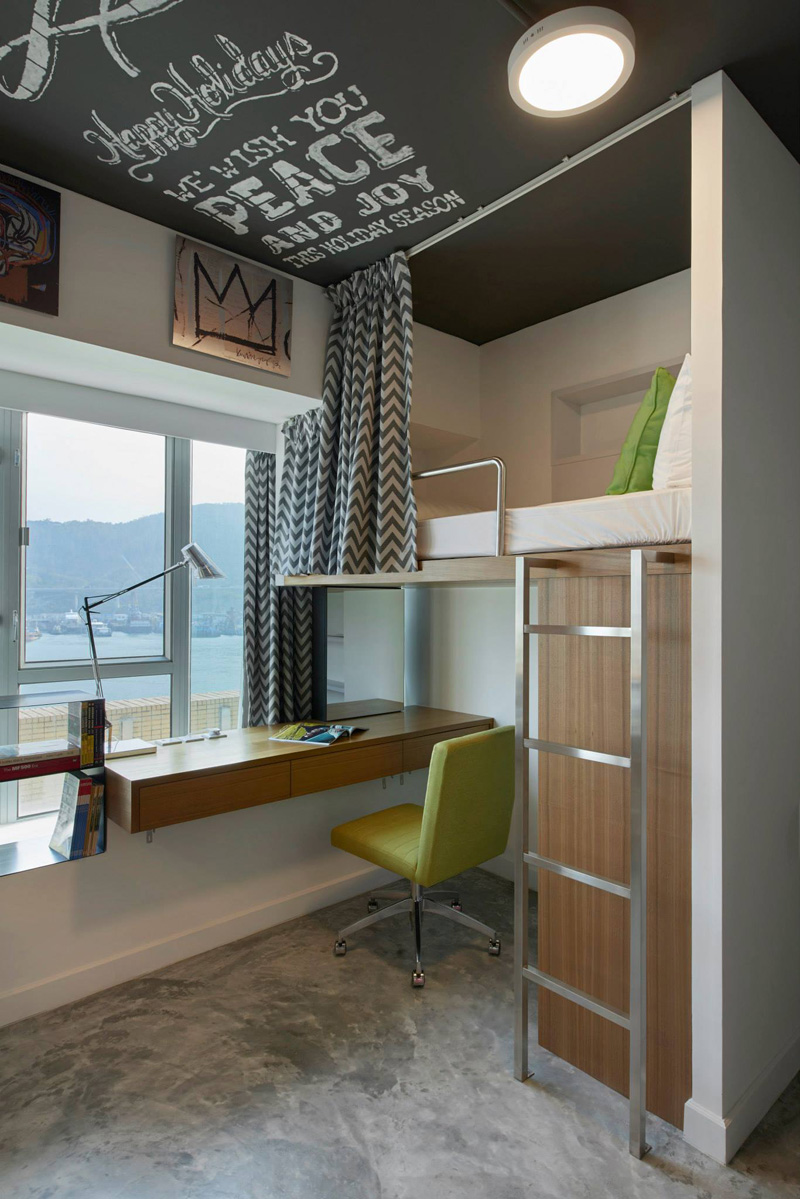 A closer look at the study area under the bed. It would really be nice to study with a good view of the outdoor area. When they want to keep away from the sun, they can just close the blackout curtains. I like the idea of using a floating desk for the space.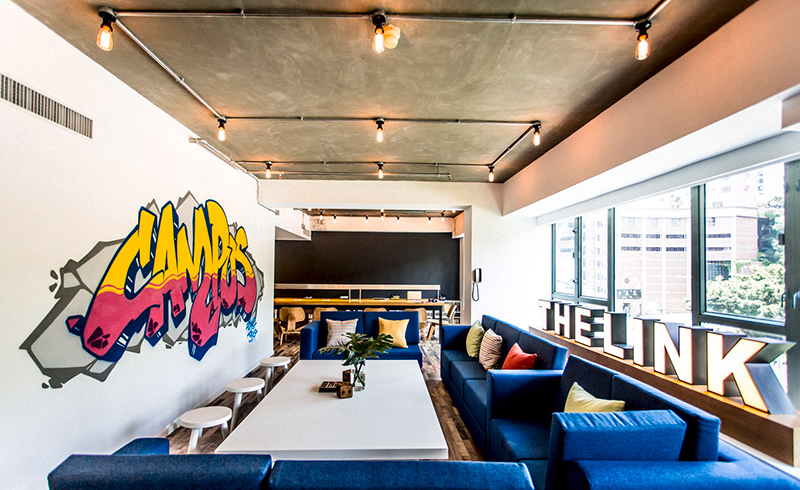 Through the windows, one will have a great view of the sea nearby. Every apartment has a public bathroom, kitchen and other necessarily daily facilities. Seen here is the public area with a beautiful wall graffiti on the wall.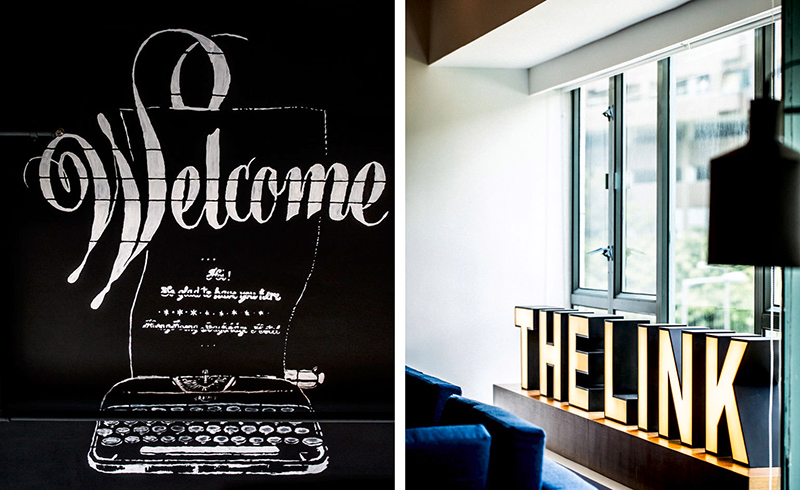 Seen here is one of the ceiling designs which mimic a chalkboard. If you look closely at other details of the ceiling, it looks really nice and very creative. It will surely make the young people feel creative and motivated too.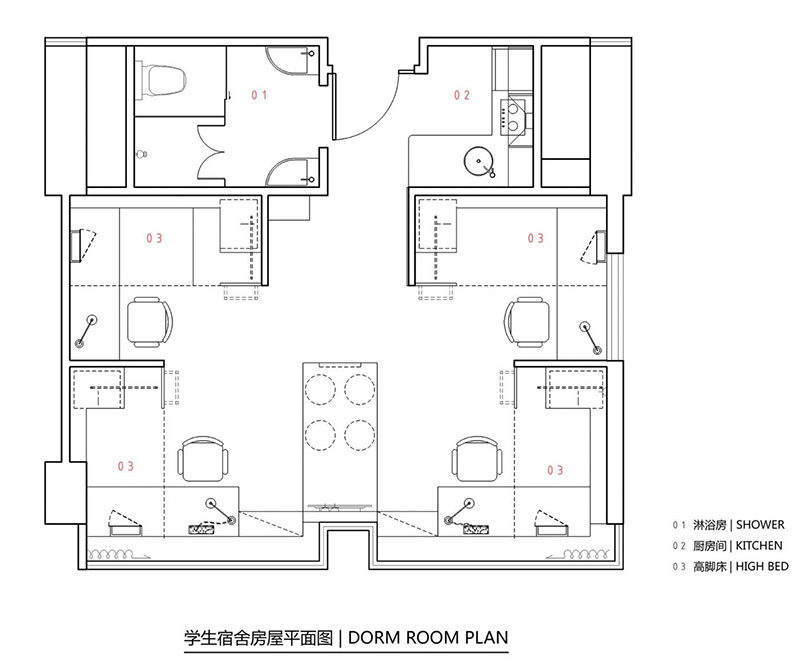 And this is the floor plan of the apartment. It used the space very well, right? I like how the layout is done making sure that not a single inch is being wasted.
With the cost of material and labor in Hong Kong, the project has a low budget. The design of this apartment is a good answer to the promising market of renters in the area especially young people and students. The space is comfortable and functional without the high cost, allowing them to live a good life while in it and making them feel comfortable on a space they can call "home." This apartment design is done by ycs-arc.com – LYCS Architecture, which isn't just very functional but perfectly showcase a youthful feel in its look. I like how the area is designed and planned. But most of all, I love the ceiling! How about you, what do you like most in this home?