20 Designs Ideas for 3D Apartment or One-Storey Three Bedroom Floor Plans
Want ideas for a three bedroom layout? Here are 3D floor plans for you.
Sometimes, it is really challenging to arrange an interior no matter how big or how small is the available space. You do not want to make the mistake of choosing a certain layout that actually doesn't work because it would be hard to do it again especially if you are installing dry walls. Good if you only have an open layout and you let the furniture define the spaces but it would be a different story if you are adding permanent structures or features. So, today, we are going to give you a list of 3D apartment or one-storey three bedroom floor plans to give you ideas on how you could do the layout of your spaces.
Using 3D floor plans could be helpful for you whether you're moving into a new house, building a new one, or are just looking for an inspiration on how to arrange the place that you live in. By using 3D floor plans, you will be given ideas on how you can combine various items together in a space. You can also take inspiration on how you will decorate it through beautiful modern home plans. It is actually tough to find these 3D floor plans but don't worry because we got you covered. We have collated 20 of these floor plans for spaces that have three bedrooms. Let us scroll down and take a look at the layouts and choose one that works well for you.
1. 3 Bedroom Plan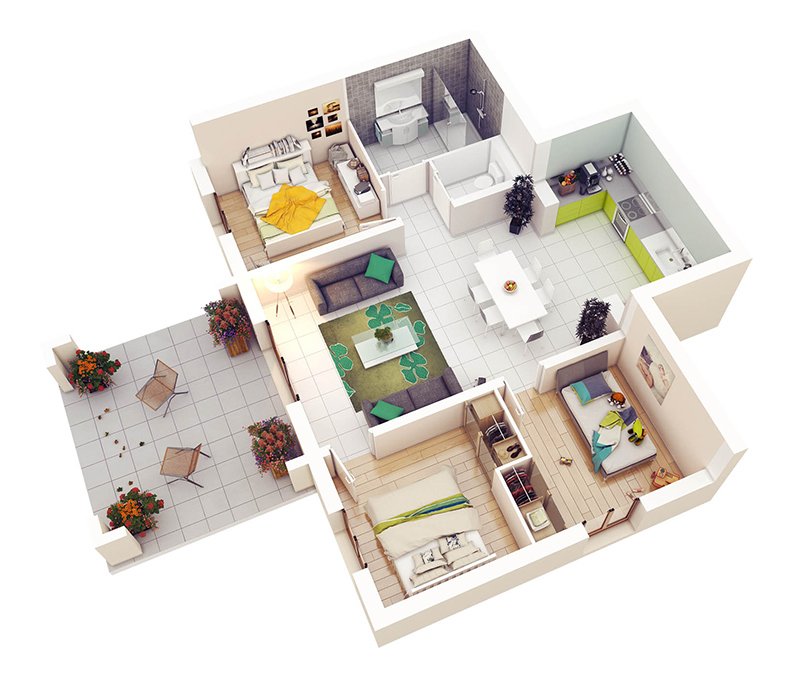 This one features a wide open outdoor area and also a cozy dining room. This three bedroom apartment is ideal for entertaining.
2. Creative 3D Renderings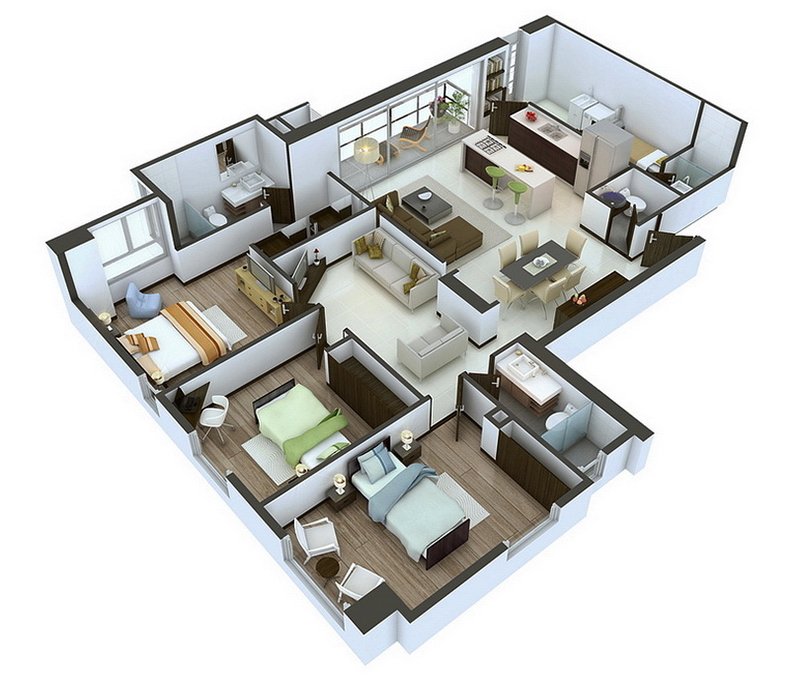 This layout makes space for a living area including a TV room so the homeowners can have a nice quiet time when necessary. I love the colors used here as well as the wooden flooring in the bedrooms.
3. Wimbledon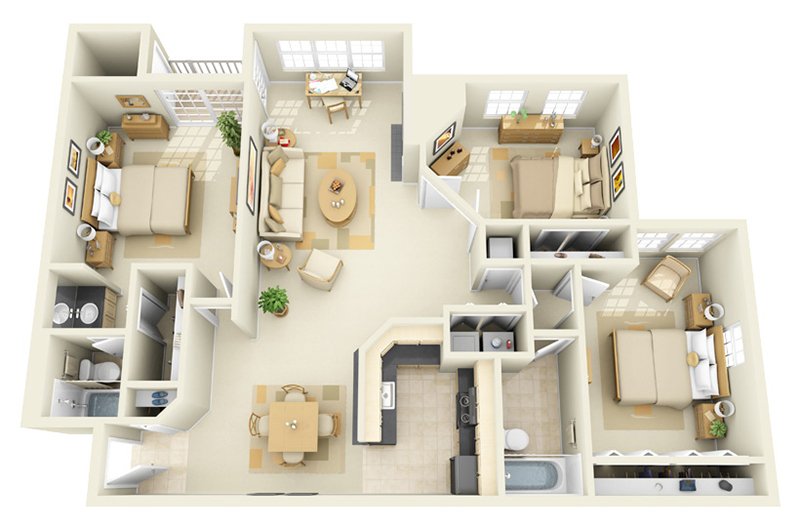 If you want something that is simple with neutral colors in it, this could be perfect for you. Notice that there are many built-in cabinets and closets in this apartment.
4. Three Bedroom: 3 Bedroom/2 Bath- 1320 sq. ft.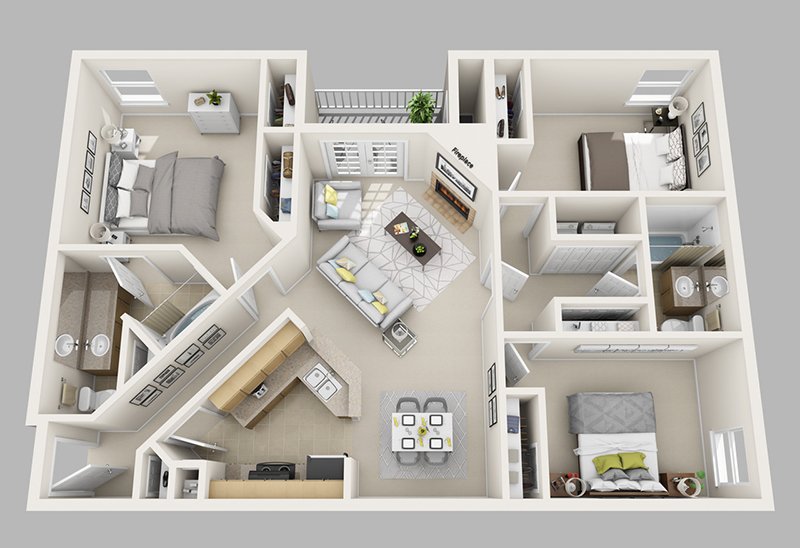 This floor plan will make you fall in love with its comfortable and spacious three bedroom apartment home which provides the distinct and unique look you deserve. It features faux wood flooring, 2-inch plantation blinds, and the upscale brushed nickel hardware and lighting package. There is also a fully-equipped kitchen with granite countertops, sleek silver appliance package, stylish tile backsplash, and under mount sinks with gooseneck faucets.
5. 3 Bedroom House Floor Plan 3D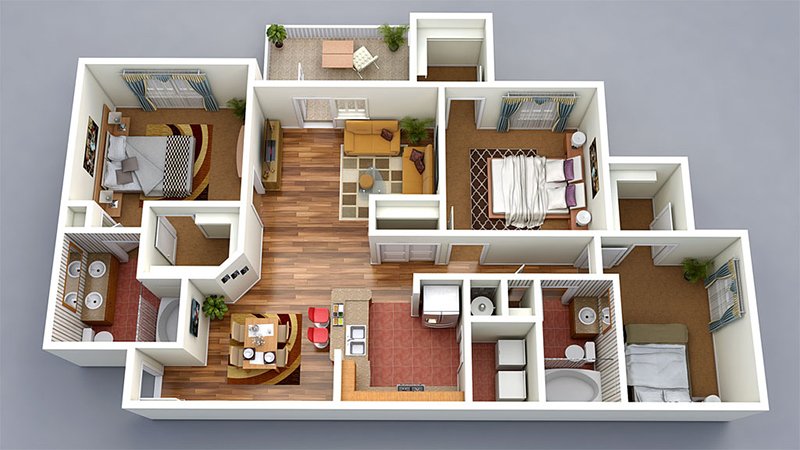 This incredible floor plan will make life convenient giving you more time to relax and enjoy comfortable living. It has a spacious living and dining area. In the masters bedroom, there is an ensuite bathroom too and a walk-in closet.
6. Single Floor 3 Bedroom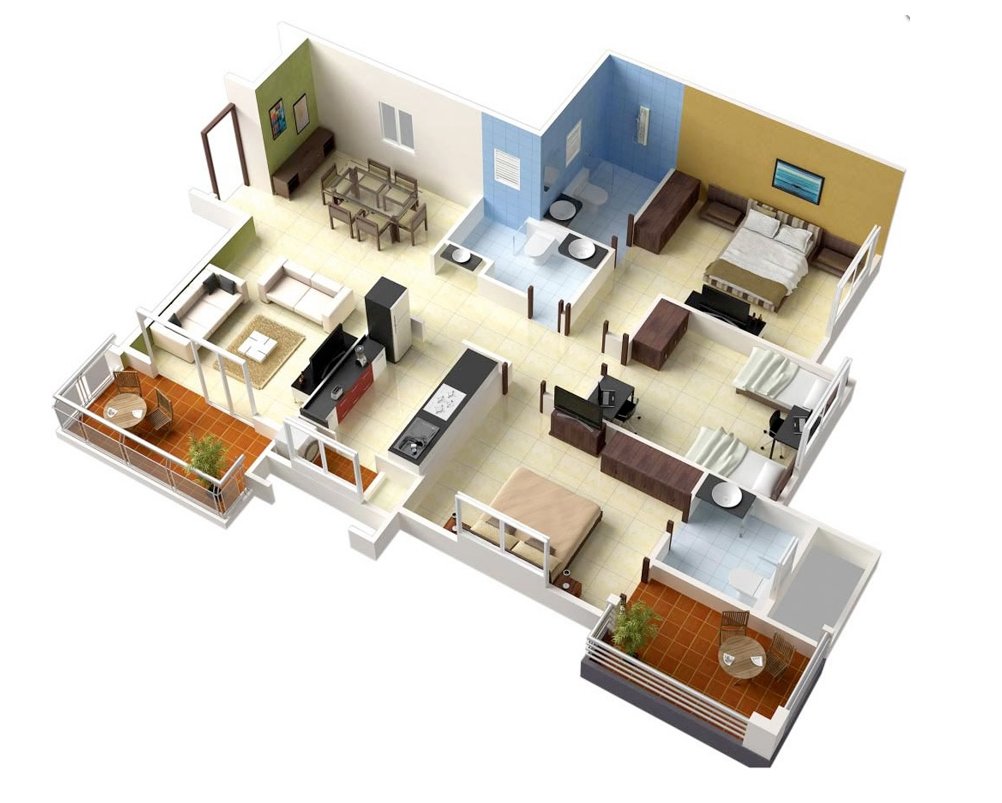 Just a simple design of a home interior which has two porches that can be accessed through the bedrooms.
7. Bedroom Interior Visualization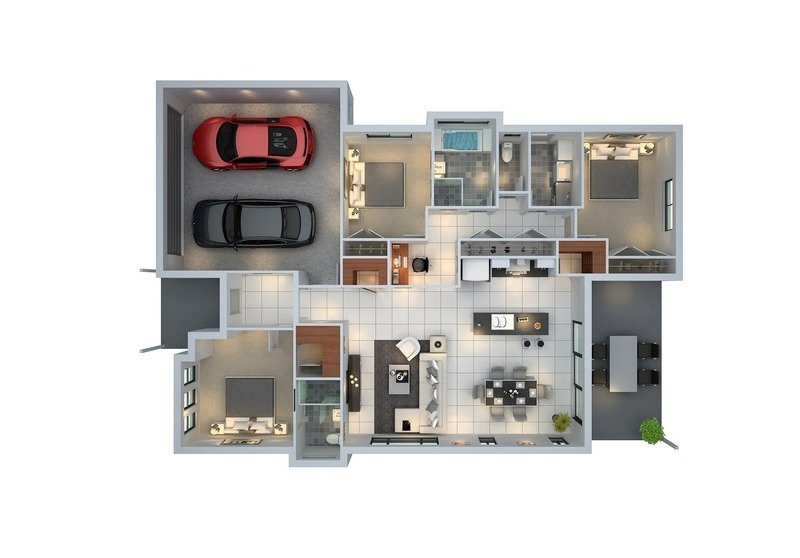 So, if you have two cars and you live in a one-storey home or apartment, then this layout is good for you. It might not be too spacious but it does have everything one needs to live.
8. 3D Floor Planz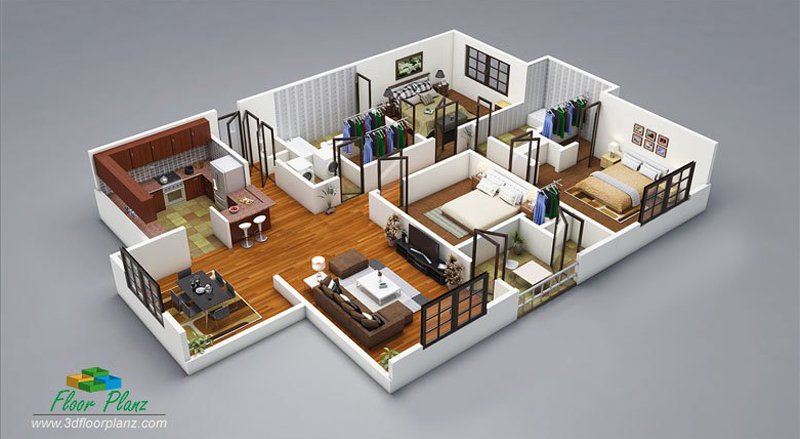 What I noticed here are the folding glass doors that are used to connect the different areas of the house. In its public area, it used an open floor plan with wooden flooring.
9. Three Bedroom, Three Bathroom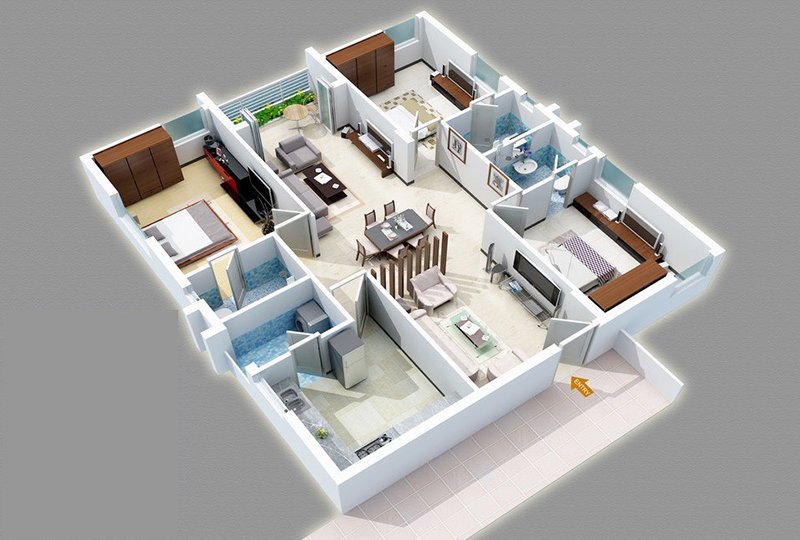 Aside from three bedrooms, this one also has three bathrooms as well. It also features a laundry area that can be accessed from the kitchen. And it also has a porch too.
10. Morning Sun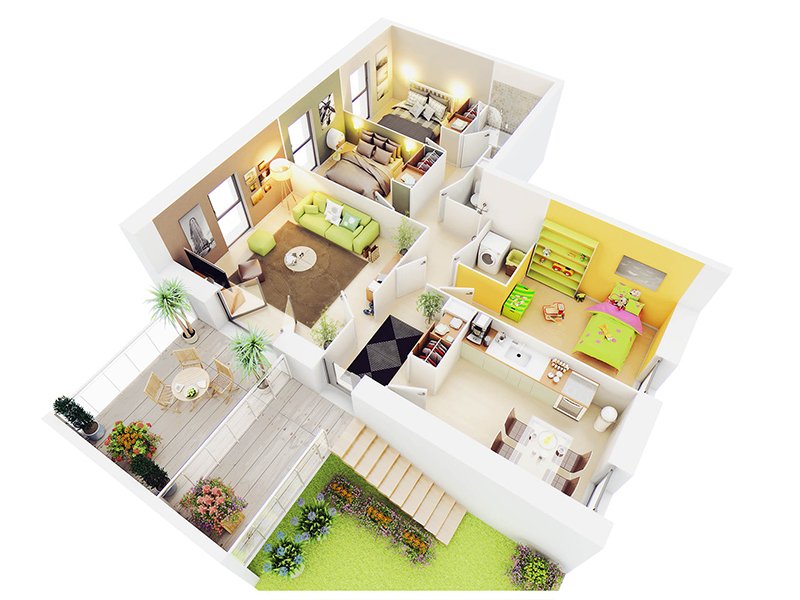 Isn't this stunning? I love all the colors of this floor plan. You can see that the house is elevated with a spacious balcony. I wonder why there is a partition in the outdoor space which I think is not necessary.
11. Teal Wall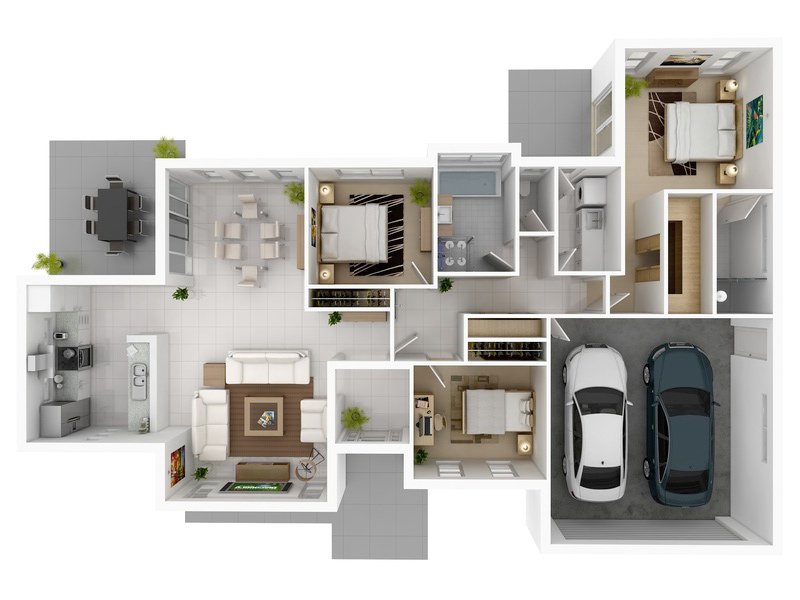 Now this is a spacious one-storey home. Aside from the garage for two cars, it also has an outdoor dining area, a laundry area and built-in wardrobes for each room. I just don't like that hallway that looks boxed in.
12. Dramatic Gray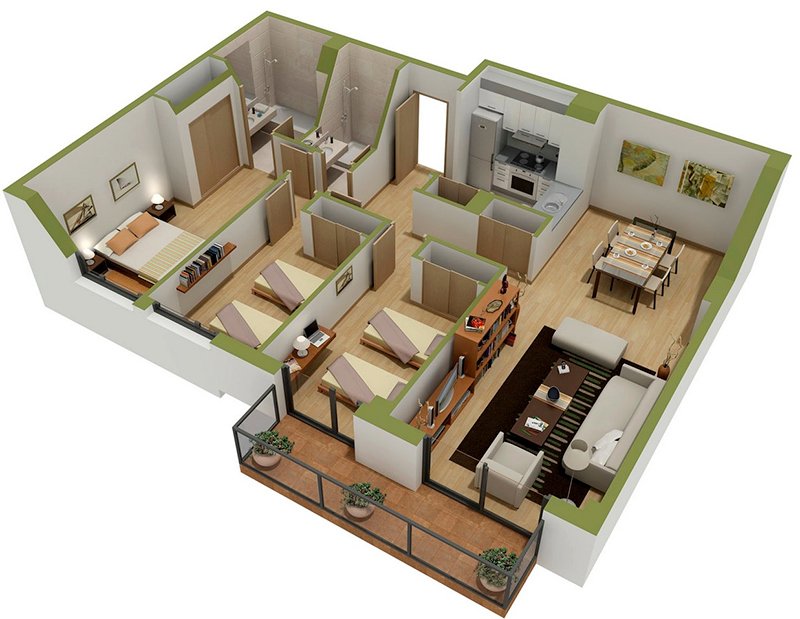 This one has two bathrooms with five beds. It appears that there would be a long line at shower time because there are about six people living here with only two bathrooms.
13. CH 3 Bedroom 2nd Floor Plan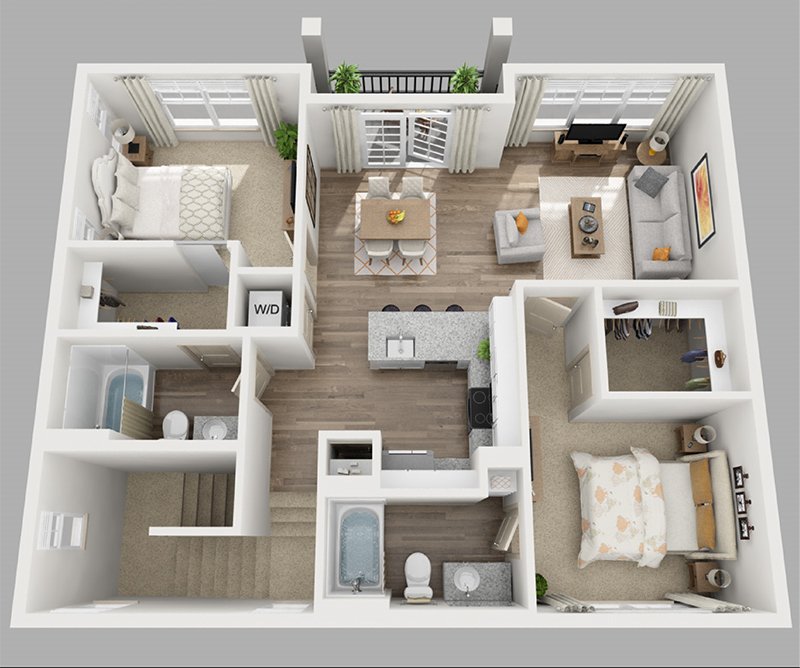 A simple square shaped floor plan wherein it has a small porch that can be accessed through French doors. Because of the stairs that you can see here, you can tell that this apartment is located on an upper floor.
14. Bedroom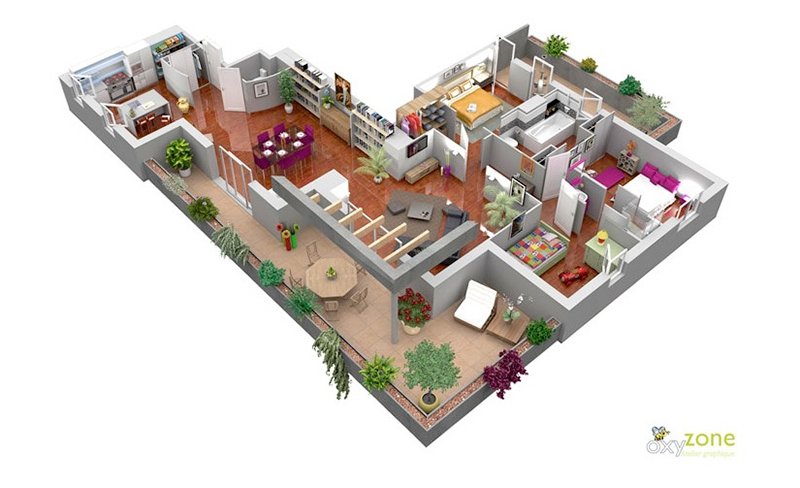 You can see so many colors in this layout and so many plants as well that it almost looked tropical to me. Love that it has an outdoor space where one can enjoy the views and enjoy dining time as well.
15. 3 Bedroom with Parking Area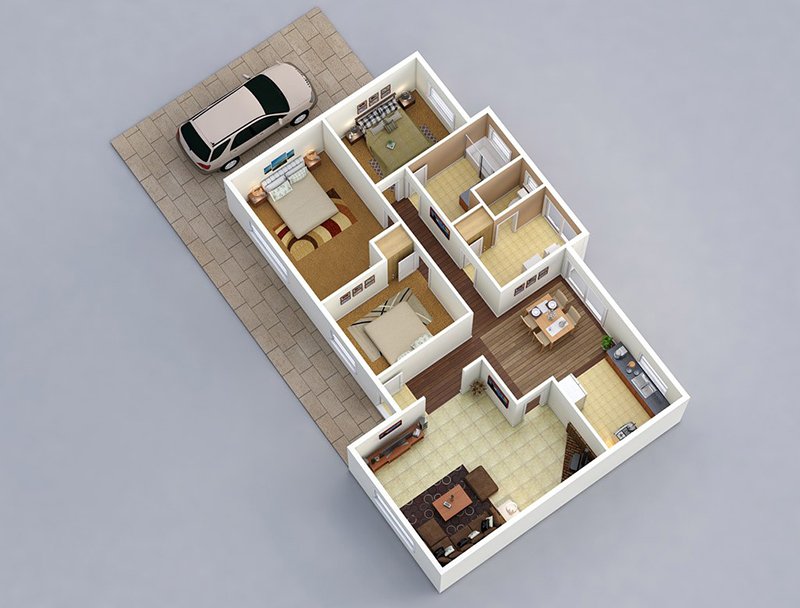 It is interesting to note that this floor plan doesn't just have a parking area but also a pathway that is covered with pavers. You can see that there is a partition between the dining area and living area.
16. Riverhill Carlton 3D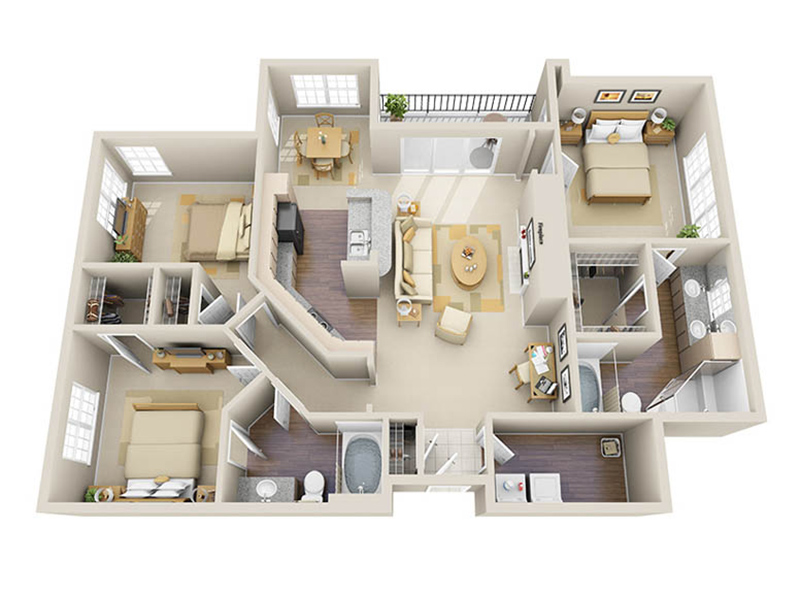 The layout used a unique shape but it is nice to know that this one has walk-in closets and wardrobe spaces for every bedroom. It also has a sunny porch as well.
17. Safi Apartments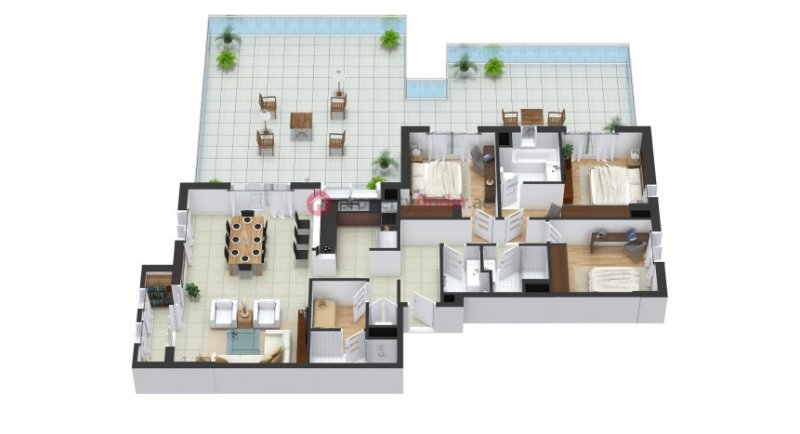 If you are the kind who loves to stay outdoors, then this is for you since it has a large outdoor area. Guess this would be better if there is a swimming pool.
18. Oxyzone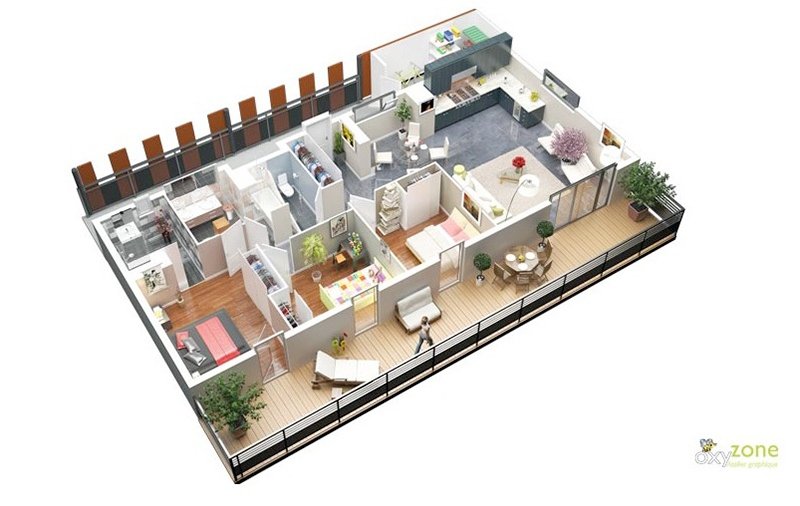 This one also have a spacious outdoor area but I like the layout of this one better. It may not be too spacious but it has everything one needs to live comfortably. The porch can be accessed from the different areas of the house.
19. Bedroom Daily-light View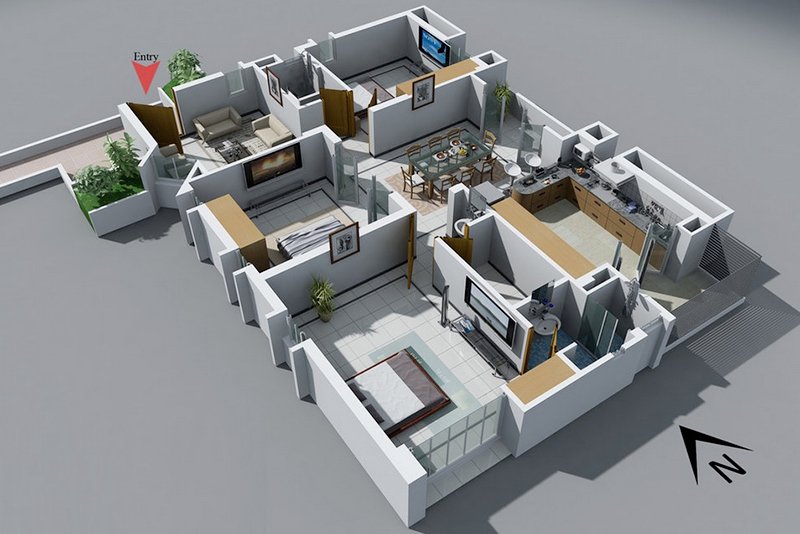 This design has so many partitions on it. I can tell that if you remove some walls, it will look more beautiful but it does look nice this way too.
20. 3D Floor Planz 2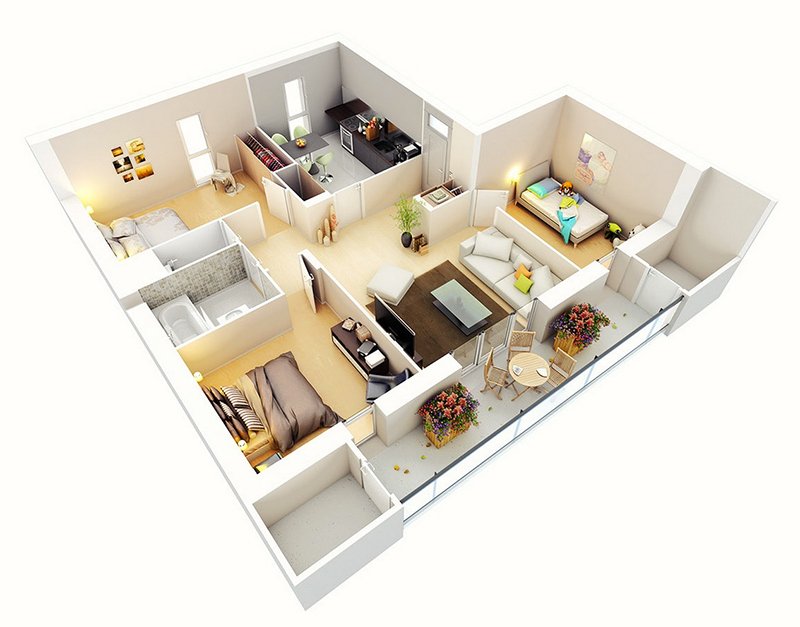 Such a nice layout, right? It is not congested and the flow of traffic is really nice. But I prefer that the kitchen is just in an open floor plan.
I know what you think because I think the same way too. These 3D three bedroom floor plans look really great. As for presentation purposes, these are really awesome. So, if you are looking for ideas on how to layout an apartment with three bedrooms, what you can see in this list will help you. Just choose how you want your home's traffic flow works and of course, it also depends on the shape, form and size of your apartment or one-storey home. Were you able to pick from the floor plans above?
Bonus Video