A Tiny 86 Square Foot Room in Paris Was Turned into an Apartment
Who would expect that a room this small can actually be transformed into an apartment?
We are always amazed of how tiny spaces can actually be turned into very functional areas with the use of transforming furniture and by smart planning on the area's layout. We have seen how single furniture can actually be used in multiple ways and we have also seen how rooms can be transformed into another room merely be changing the arrangement, sliding walls or transforming furniture. But today, we are going to show you a very impressive room design which will no doubt leave you aback since it is very tiny but it has everything one needs to live, enough to call it "home."
A room is only 86 square foot in floor area. But KITOKO Studio managed to turn it into an apartment that has everything from a bedroom to a bathroom. Yes, this room actually made me realize that no matter how small a space is, as long as good design is added, it will no doubt turn into a useful and functional home. This tiny room was once a maid's room with nothing but a sink. If you look at it, it is just like any room we would see in a home that is left unattended since it lacks decor and even furniture. But you will be surprised that this room was made into an apartment with a bedroom, bathroom, dining area, kitchen and even a wardrobe closet! How did all that fit in the space? Find out below.
Location: Paris
Designer: KITOKO Studio
Style: Modern
Type of Space: Apartment
Unique feature: An 86 square foot home transformed into an apartment complete with a bathroom, dining area, bedroom and others.
Similar House: Tiny Transforming Apartment in Hong Kong

You can see in this image the before and after result of the room. Prior to its renovation, the room was just very empty and it has nothing but a single sink and a window. Its floor looks ugly and old too and its walls apparently needs repainting.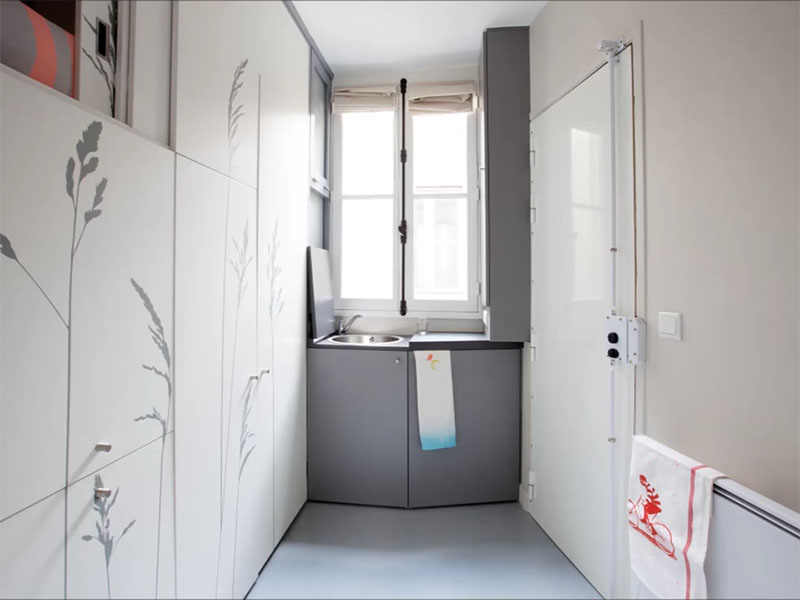 But it didn't only get repainting for the walls and a new flooring. An entire apartment was fit into the small space including a bed, table, storage, stairs, kitchen and even a bathroom. See those cabinet doors? All the secrets are behind it.
Everything in the apartment is hidden behind doors just like this door that slides out with a bookshelf that can provide extra storage.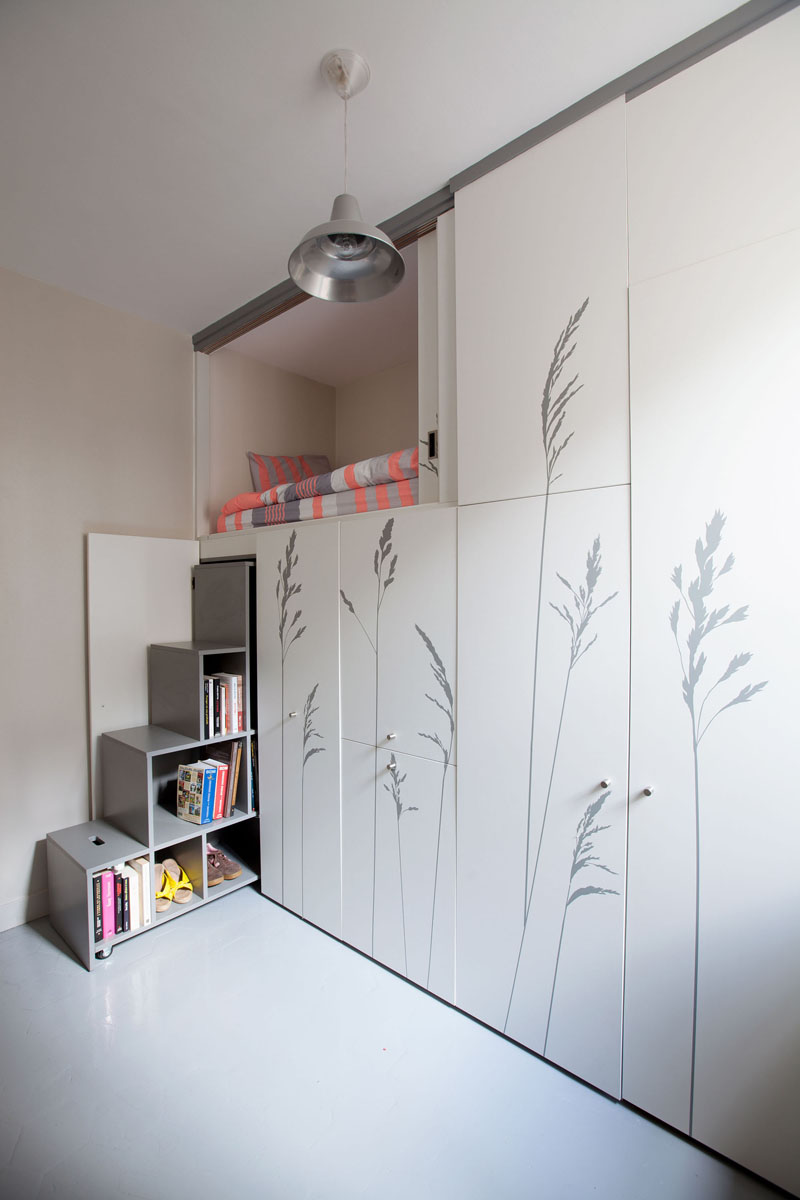 Aside from having shelves in the house, it can also become the stairs that will allow access to the lofted bed. And another usage of the steps is for extra seating.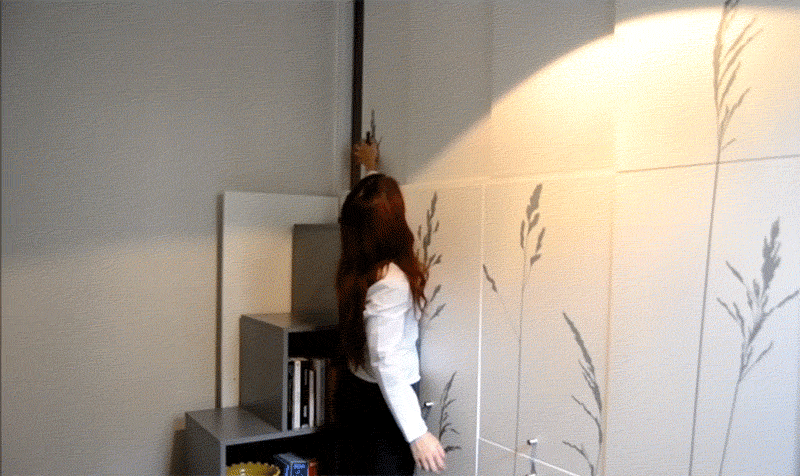 Now where is the bed? Hidden above all the storage is the bed. This can be accessed by the shelf/stairs. You can either leave the sliding door open while sleeping or you can close it for privacy. I hope this is a really sturdy bed!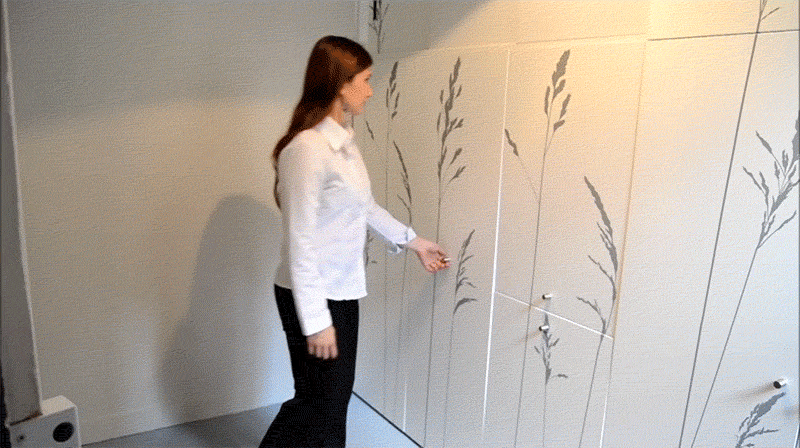 There is also a closet in the room that slides out to allow you to hang up clothes. This way, all your clothes are organized just under your bedroom. Very nice, right?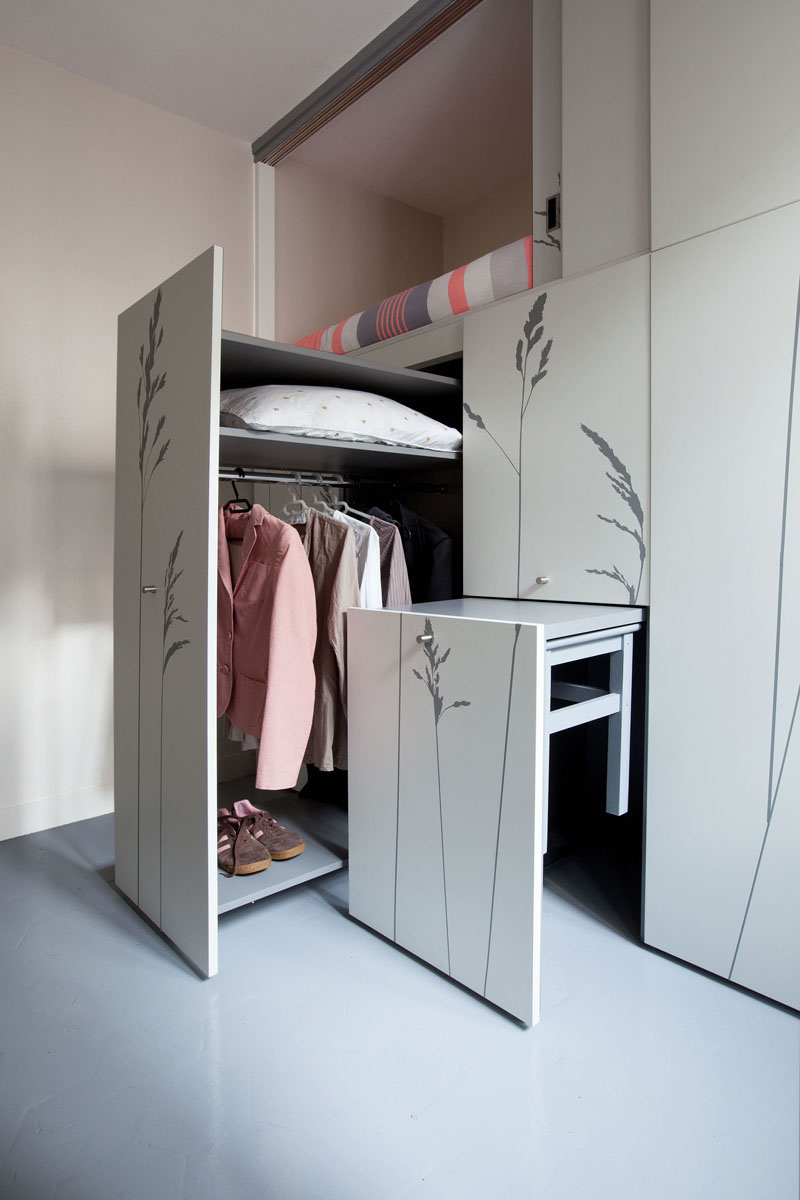 Aside from the closet, it also has a table on a door just beside it. Now this door reveals the dining table.
Read Also: Transforming Life Edited Tiny Apartment of Graham Hill in New York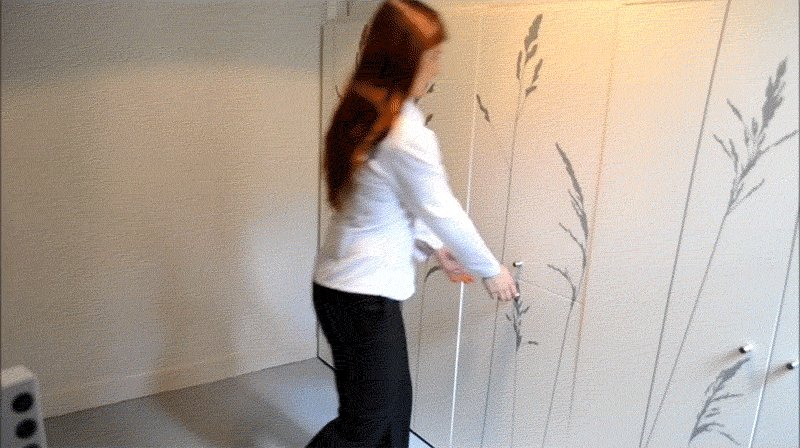 Seen here is the table and stool set that also slide out. It has stools stored under the table top that can then easily be removed for sitting on. Since the stools just slide up under the table, it can be stored neatly when kept in the cabinet.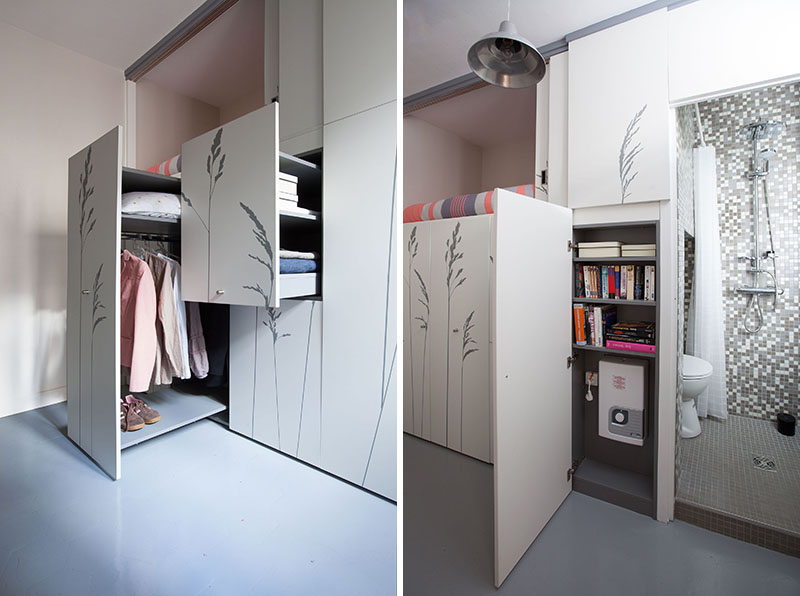 We all know that storage is important for a home. Hence, this apartment also features two more sections that reveal storage with a smaller pull out shelf, and a bookshelf that sits above the hot water boiler.
The small apartment also has a kitchenette with a small fridge, storage space, a microwave, a removable cooktop, and sink. Yes, you can just transform the top of the sink to give it a different usage.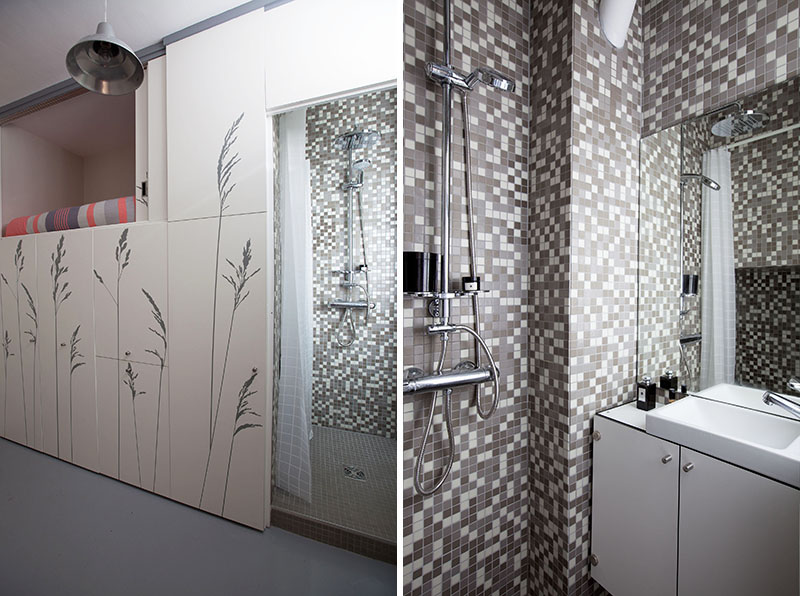 And this is what surprised me of all. This tiny apartment also has its own bathroom. I know you expected that it will just share a bathroom with the rest of the rooms in here but it didn't. It has its own bathroom through a door on the left, next to the sink. It is fully equipped with a toilet, shower, vanity and sink.
If you want to see more of the small apartment, watch this video so you will know how amazing this space is. The apartment is inside a beautiful Haussmann building in Paris at the 7th floor. Apart from climbing 7 floors, one has to pass a long corridor before getting into the space but it is obviously all worth it after you see he wonders of the apartment.
Who would expect that a tiny room can actually be transformed into an apartment? This is indeed a job well done for KITOKO Studio. Obviously, when an apartment is this small, smart decisions in terms of layout has to be made in order to get everything fitted into the space. And this is exactly what they designers did. This apartment gives us an idea that we can actually turn a small space into something like this. This would be very ideal for students and those who have work in the city but prefers a small space to live. What can you say? If you are impressed of this tiny apartment, share it with your friends!