20 Charming Blue Living Room Couch
Love blue? You can add a blue couch in your living room like the interiors below.
A living room in a house is like a sanctuary where you can chill while watching television or maybe while reading a book after a long, tiring day. It is also the place where families and friends can hang out together especially during the holidays or even just to find some peace of mind on a regular Tuesday night. A clean and wide space provide the serenity that a person might just be looking for in a living room while a cluttered area distracts the calmness one needs in a living room.
In addition, the color that might help provide the serene, calm feeling you want while relaxing in your living room is the color blue. You can add this color to your living room by painting it on your walls or accenting your space with blue couches and throw pillows. You can add blue decors as well to emphasize the blue theme. If you are a blue color lover, here is a collection of blue-colored couches that give a cool feel to these equally relaxing living room spaces. These provide the comfort and style just the way you want it especially when you are hanging or chilling out.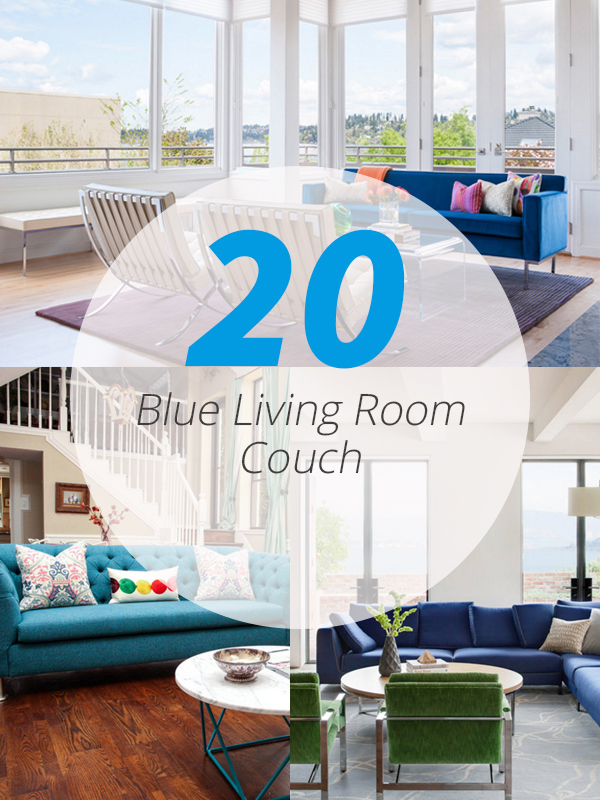 1. Berkshires Meets Brooklyn in Maplewood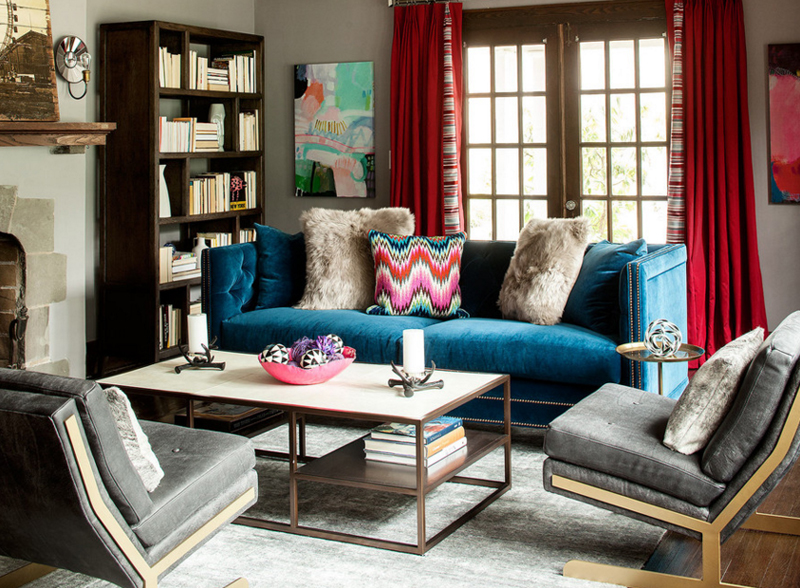 The Berkshires is a rural highland region famous for its mountainous view and rural tourism. This living room manifests the quaint elegance of Brooklyn with a Berkshires feel–that natural and outdoor vibe. The blue couch comes out in a vibrant hue in contrast to the grays and the browns of the space.
2. Chelsea Fashion Designer's Loft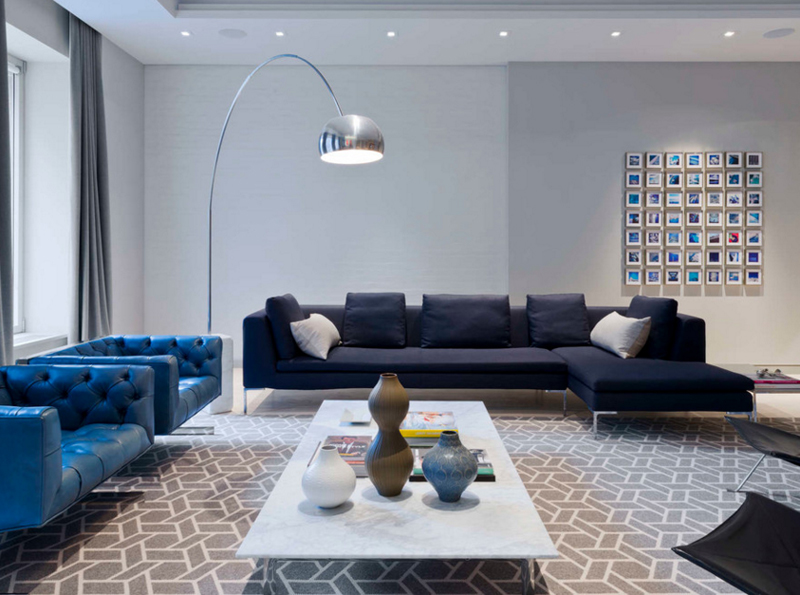 The navy blue sectional couch elongates the loft's living room. While the lighting fixture adds brightness and widens the space further. The geometric design of the carpet also adds texture to this living room that used more plain materials as seen on the walls, the furniture and the drapes too!
3. Darien Transitional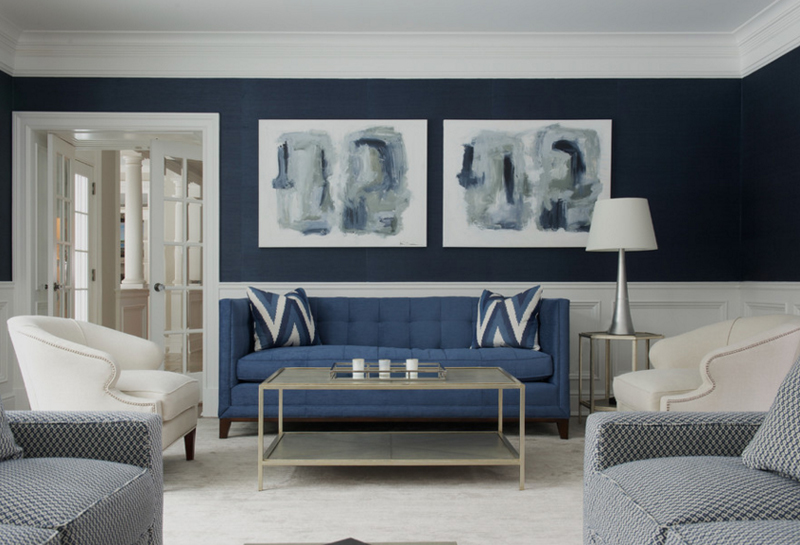 When I first saw this picture, I thought to myself that this living room is in fact one fascinating space with the contrast on the blue walls, the blue couch and the white and printed arm chairs on the sides. Also, I thought that the similar paintings on the wall look interesting too.
4. The Heights
This is one living room that somehow reminds me of candies because of the cute pillows added to the couches in this living room. I personally love the color of the floor and the nice waist-level window sills.
5. London Loft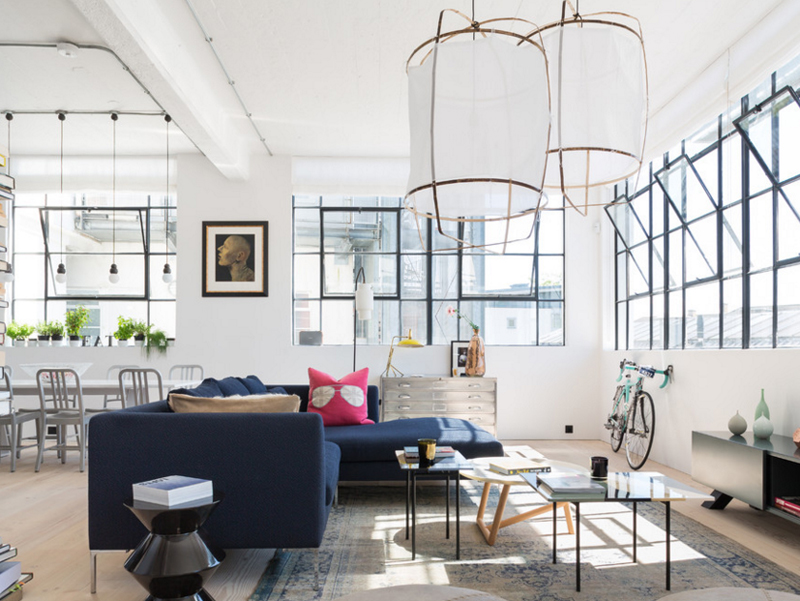 This is one beautiful white loft with all the tiny trinkets that completes the look of this space. From the unique lighting fixtures to the silver cabinet and dining room chairs – this is one fun and funky space in total. The blue sectional couch serves as the center piece of furniture because it in fact is in the middle of the room and it surely adds color to this lovely loft.
6. Madrona Residence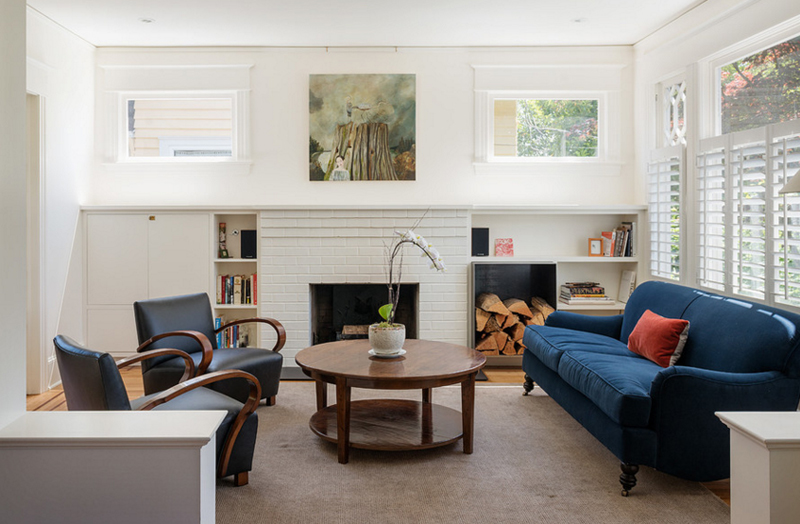 The beautiful yet simple living room of this Madrona household is surely one lovely space to hang out in because of comfort was made sure to be readily available to the people living in it or coming in to visit. The blue couch in this room is pretty too, it complements well with the dark arm chairs across it.
7. Mercer House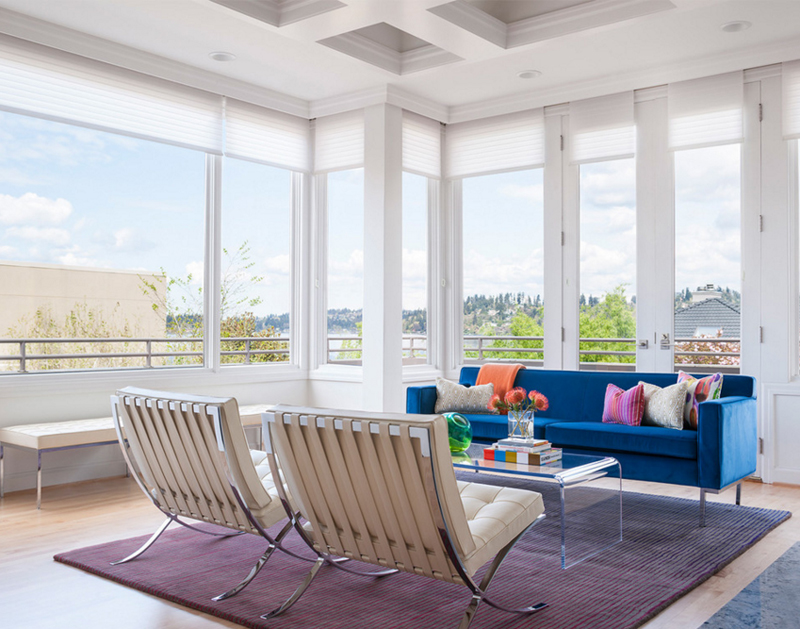 Notice how white or neutral paint is used in most homes? This is because of how much you can do with the space if it seems like a blank canvass, right? This Mercer house for example is one neat living room with an awesome designed interior with a great view to match.
8. Private Residence, Hollywood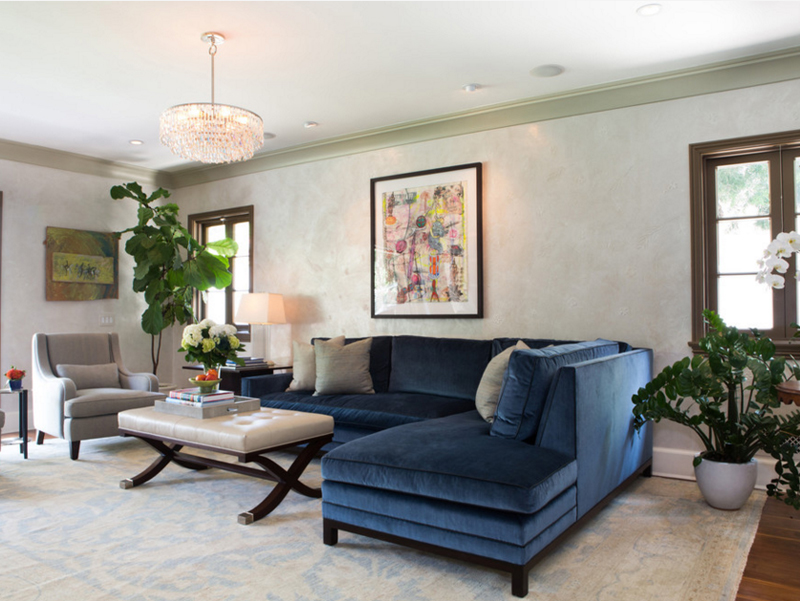 A lovely blue sectional couch in velvet completes the look of this Hollywood home. This living room might be smaller than your usual Hollywood home inspiration but if it is this comfortable and pretty-looking, I think people would prefer it, right?
9. Telegraph Hill Home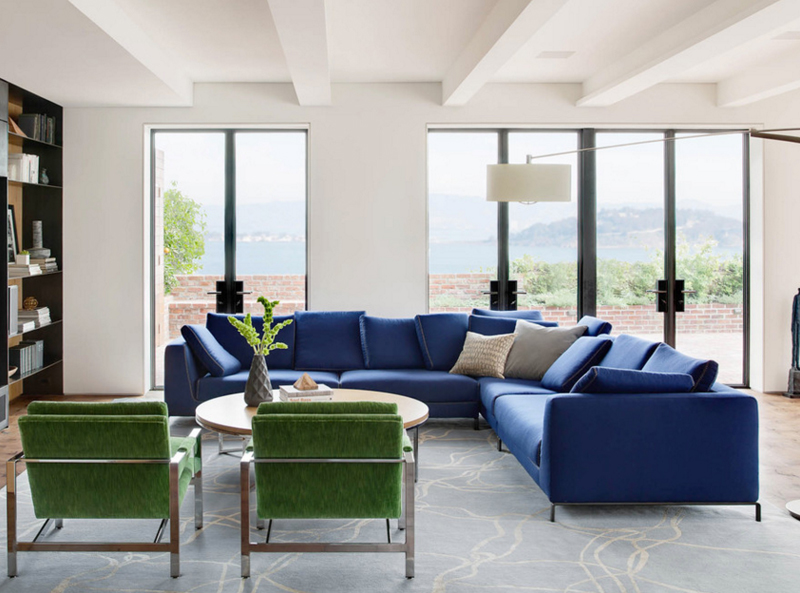 Niche Interiors did a lovely job with Telegraph Hill home. The blank canvass that we were talking about is here again – the white living room is completed with a lovely blue sectional couch, green velvet armchairs and large windows that opens the space to a lovely garden and fresh natural air.
10. Urban Living in St. Louis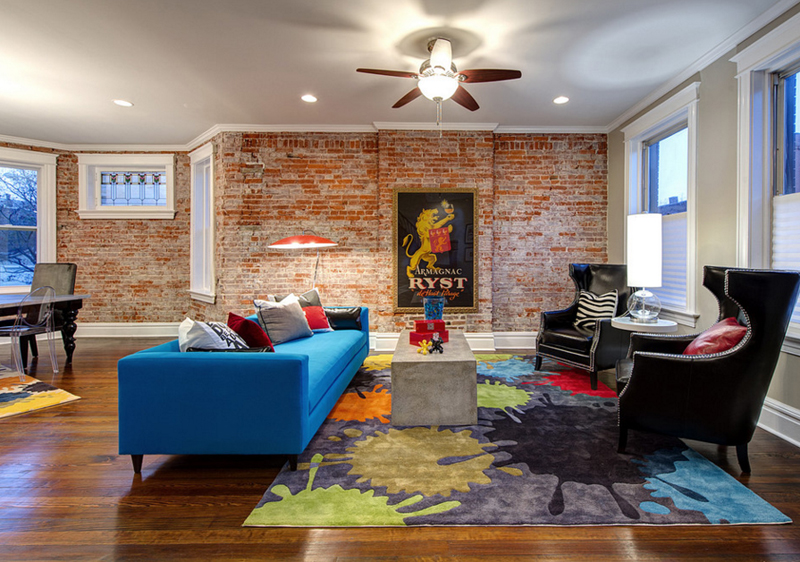 If this is not what urban living is, I do not know what is! This lovely loft in St. Louis is indeed one beautiful and colorful space. The brick walls always completes the perfect loft; but the pieces of furniture present in this living room is definitely my favorite!
11. Belcaro Beauty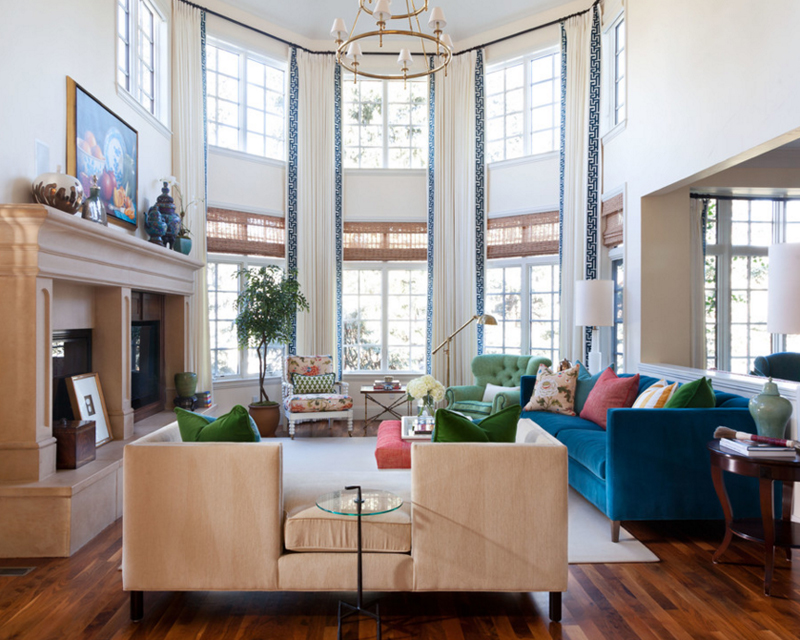 High ceilings with skylights and fabulous, long drapes – this Belcaro beauty is in fact one home to beat in this list. The colorful couches, chairs and pillow in here add a bit more fun to this rather stiff looking house because of the pillars and aura it gives off; but nonetheless, this is one beautiful house.
12. Berkeley Hills Residence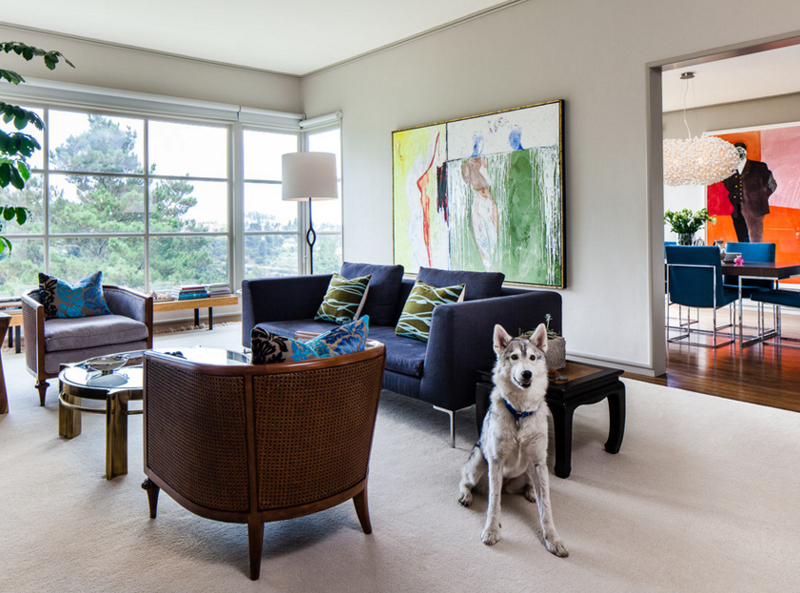 I'm not sure if this is one real dog or not, but it looks like it is guarding this wonderful-looking house from intruders like us that admires it. Haha! Notice that they are indeed into blue-colored couches and chairs because we can evidently see the dining room chairs on right part of this photo.
13. Hollywood Hills Home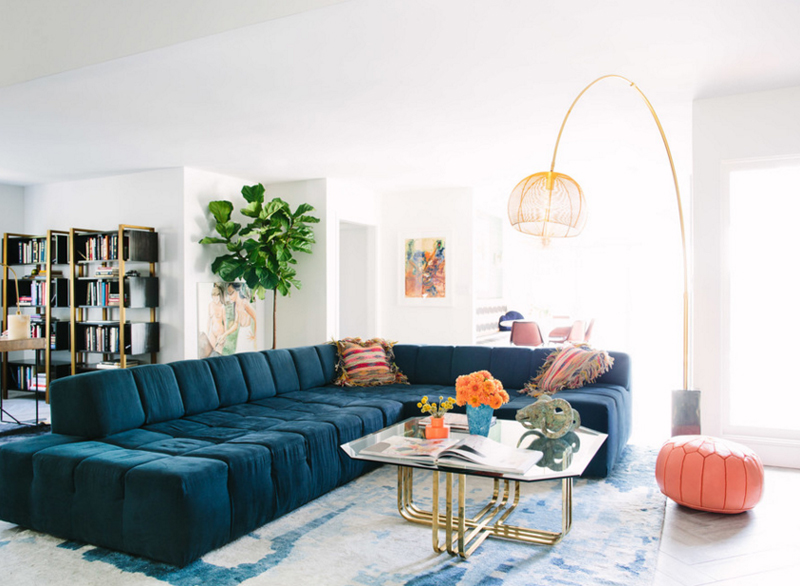 Another Hollywood home that showcase one lovely blue couch that deserves all praise! This sectional looks ravishing in blue – its deep color blesses this living room that is dominated with light or pastel colored furniture and decors.
14. Magical Mill Valley Estate in The Redwoods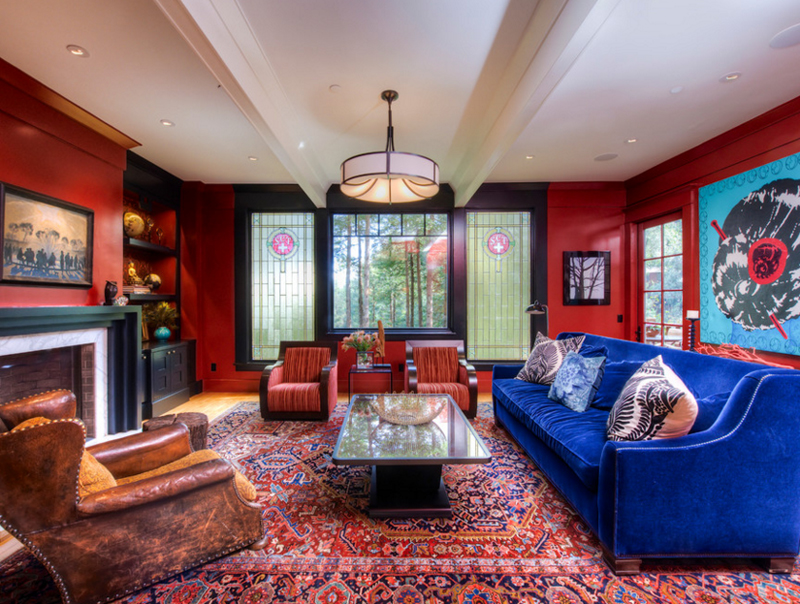 This is one living room. Period. Notice how much colors are playing in it – I mean, it definitely used color blocking but maybe because of how deep the red color is (in everything), the blue couch is standing out without much hassle. I'm not sure if a blue couch was the perfect piece of furniture in here.
15. McConnell Drive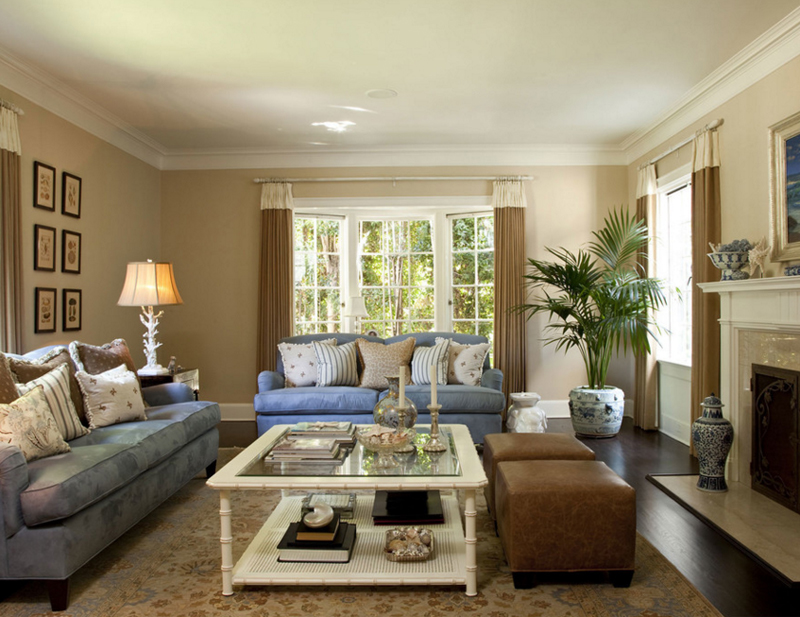 Light blue couches are visible in this home designed by Cynthia Marks. It looks pretty neat and ideal because of the neutrals playing in the inside – all the browns, beiges and white in here looks great in blending well with the blue couches.
16. Palo Alto Living Room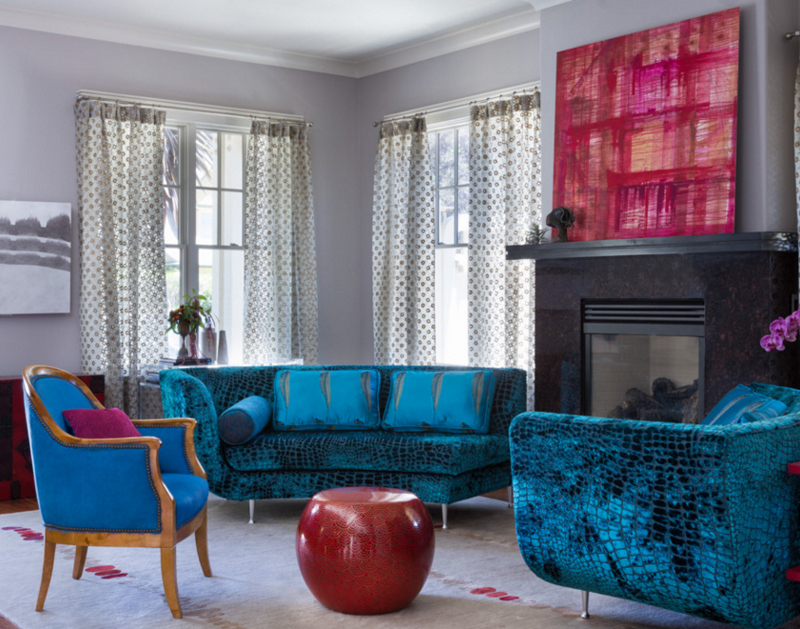 Seeing this alligator-skinned couches made me say, wow! It's not every day that you see couches like these ones. I can't say for sure if I loved them or not, but I think they are wonderful pieces of furniture worth the look and interest from people like me.
17. Peel Village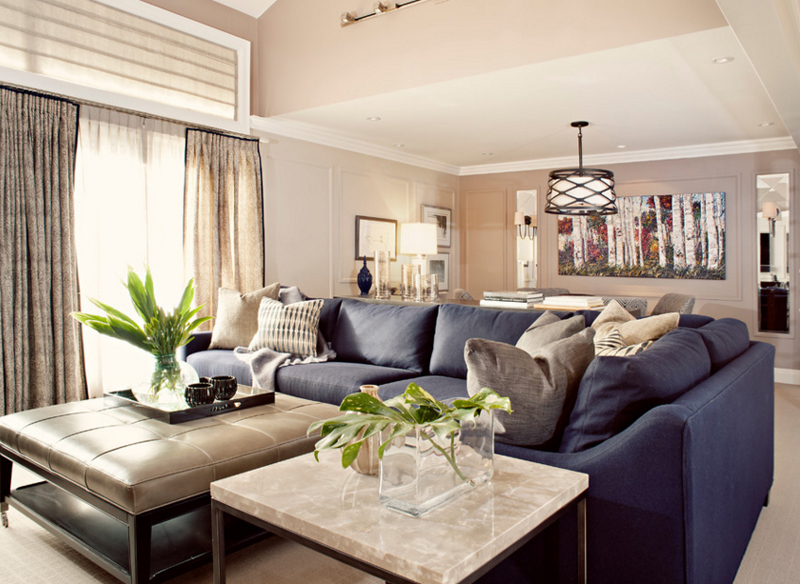 The bulky blue couch seen in this living room is one neat feature in this home; of course it looks great along with the oversized ottoman too – it might seem like they actually complement each other and work well for each other. The beige walls and ceiling and floors make the couch a stand out piece for this living space.
18. San Francisco Contemporary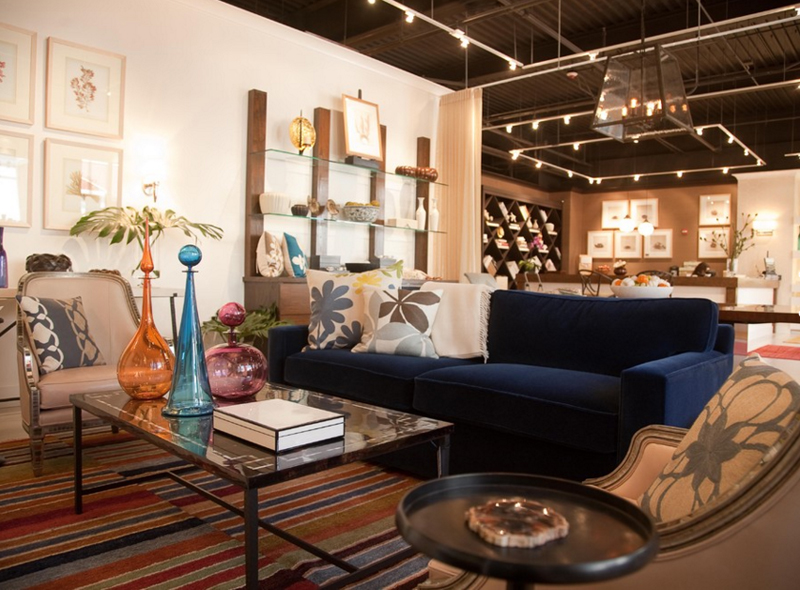 See how interesting this space is for me? I mean, it looks really beautiful and full of color! From the stunning royal blue couch to the industrial lighting and contemporary decorations, this is one example of how an eclectic space is – full of stories of wonder and beauty.
19. Sydenham Road, Cheltenham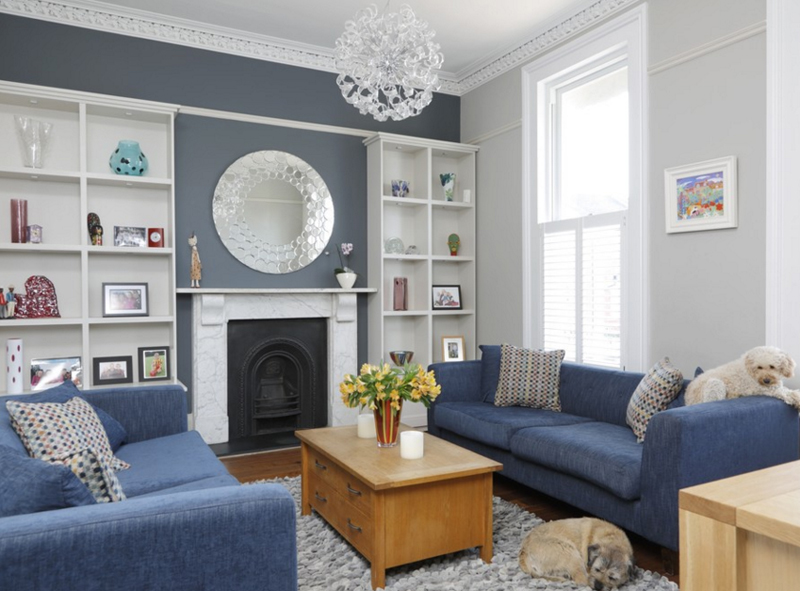 Now, this is one fascinating living room! The color of the accent wall somehow match the blue couches in here. The space is small but it sure looks more than enough to cater to the members of this household to the people wanting to come and marvel in its charisma and beauty.
20. The Blue Penthouse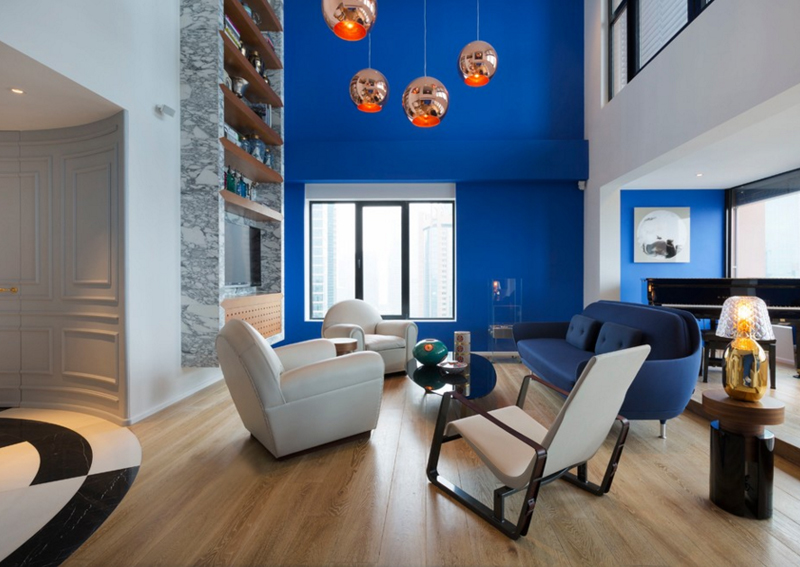 I do not know why I added this living room in the last part of this list – I mean look at how stunning this space is! Not to mention that it has wonderful pieces of furniture and decorations and even lighting fixtures, but it is just blue and fancy. I guess this is a good photo to end this list.
Time and time again, I have mentioned that blue is my favorite color and I know that this color will not just go away. All year round, this color will make a come-back and surprise us. If you think that this color is just fascinating as I do, do leave a comment or follow us in other social networking sites. If you also have the time, check out the 20 Impressive Blue Sofa in the Living Room and tell us what you think of them too! More to come in this wonderful year ahead of us!
Bonus Video: Blue Living Room Renovation