22 Fence Design Ideas for Your Home
A fence isn't just for privacy and security but also for your home's aesthetics too.
You could notice that some homes or most homes have fences around it. This doesn't just define your territory but it also creates a sense of privacy in your home. Aside from that, it could also secure your area from burglars and others. But not all homes use a fence. But then again, if you want to be more secured and ensured of privacy, it is a good idea to have one installed. The purpose of a fence is one reason why many homeowners want one but then again, it doesn't mean that you will merely stick with function because a fence is part of your curb appeal. If you have lovely fence, then it can make your house look more beautiful.
There are so many different ways to design and make a fence. Some has tall fences that almost cover their homes. Others have short ones that merely define the area. Still others add cameras to the fence and other security devices to make them feel more secured in their own homes. What we are going to show you today are fences of different designs. Aside from the varying look, they are also made of different materials too. Take a look at the list we have below.
1. Cor-Ten Cattails Sculptural Fence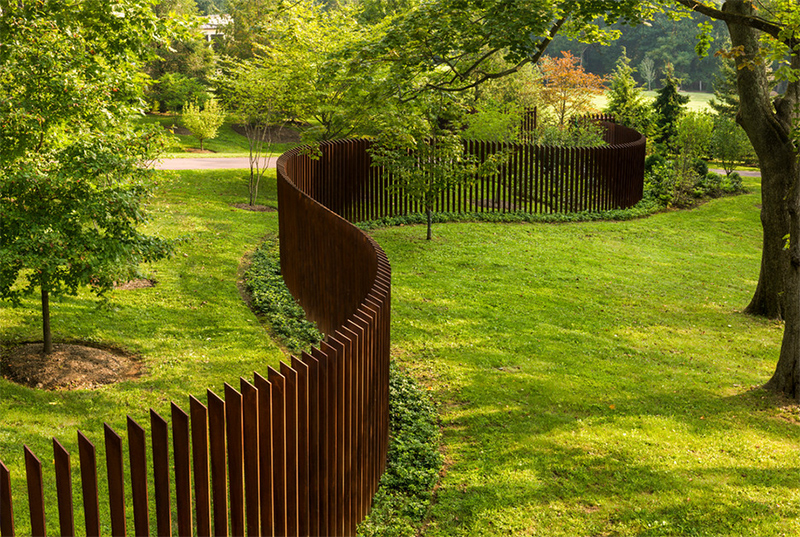 A sculptural way to make a fence is to be this creative- instead of a straight line, make it curvy or wavy. But you can only use this if your home is spacious.
2. 5609 Residence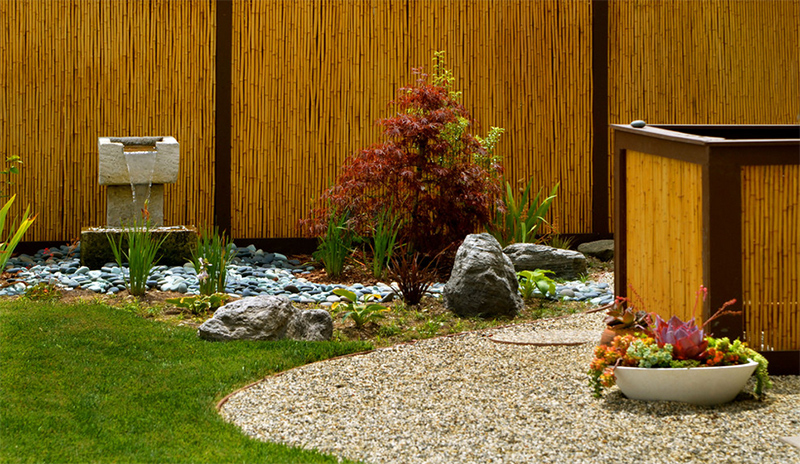 If you have a good source of bamboo, then you can make use of it for a fence just like this one. It is framed with wood before the bamboo was inserted. There are indeed many ways you can use bamboo for the home.
3. Courtyard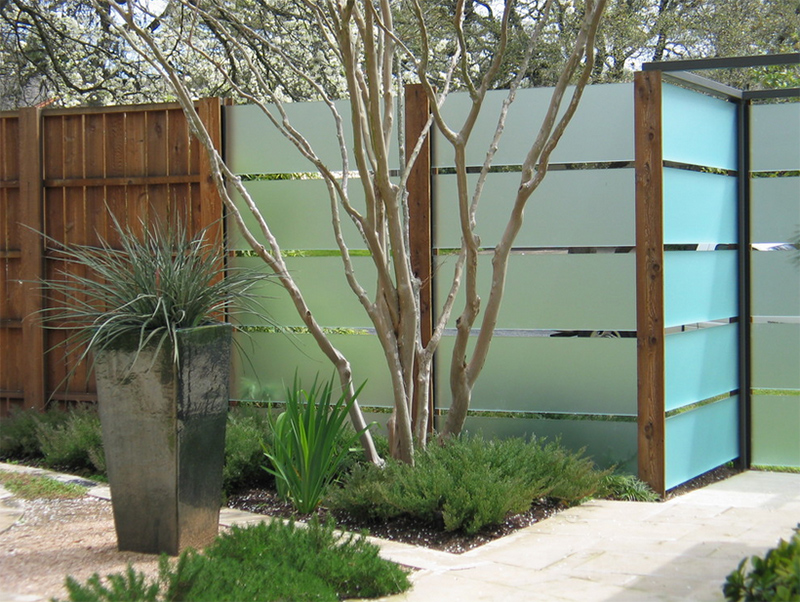 This fence used tempered and frosted glass which is approximately 3/4″ thick. This one looks very fragile indeed and I don't recommend this on areas with storms or strong winds because there is a great chance of breakage. There are only a few buildings that use glass as a fence because of its fragility.
4. College Crescent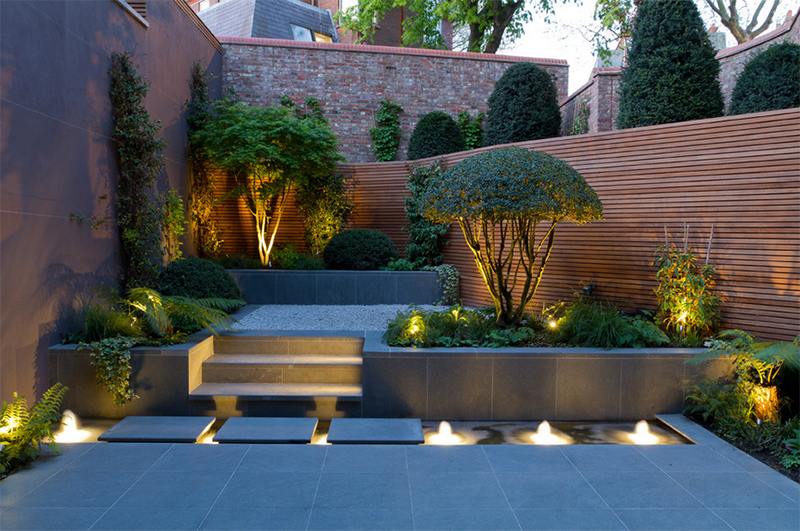 This is a beautiful garden area. I so love the way it is landscaped. I could spend time sitting on its steps and read books. Such a relaxing spot indeed. This is a good idea even for a small home. And yes it used wood for the fence.
5. Pacific Heights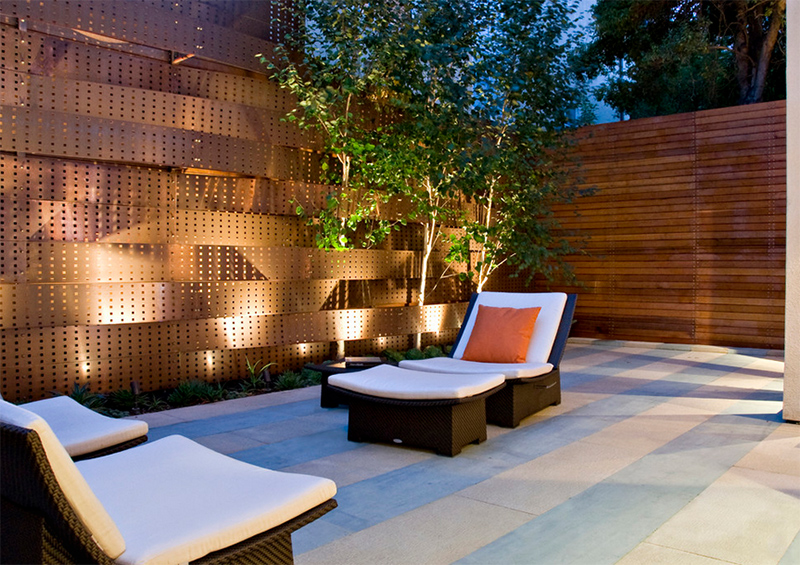 Now this sure is a beautiful and creative fence indeed. It used steel with some holes and was like woven together to create an interesting accent fence. Wood is then used on other parts of the fence.
6. Hollywood Junipers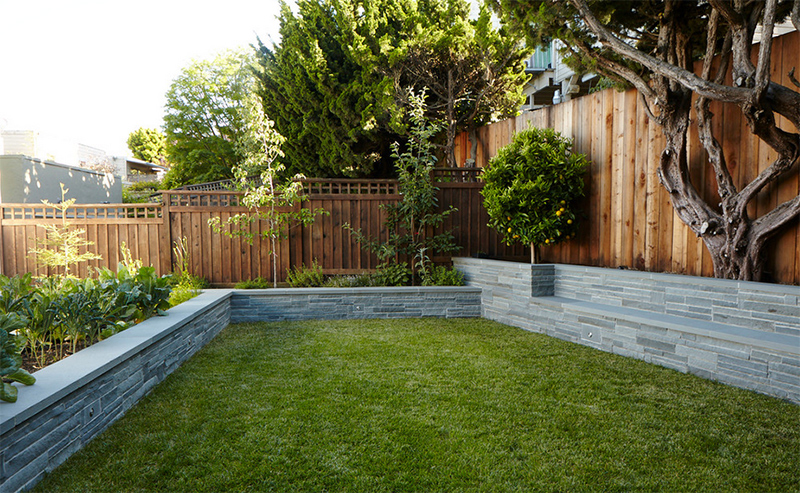 What is interesting for this fence is the part where trees are grown which makes it appear like part of the fence. On other sides, it has a different design. Using blue stones around it is also a lovely idea.
7. Bowen Residence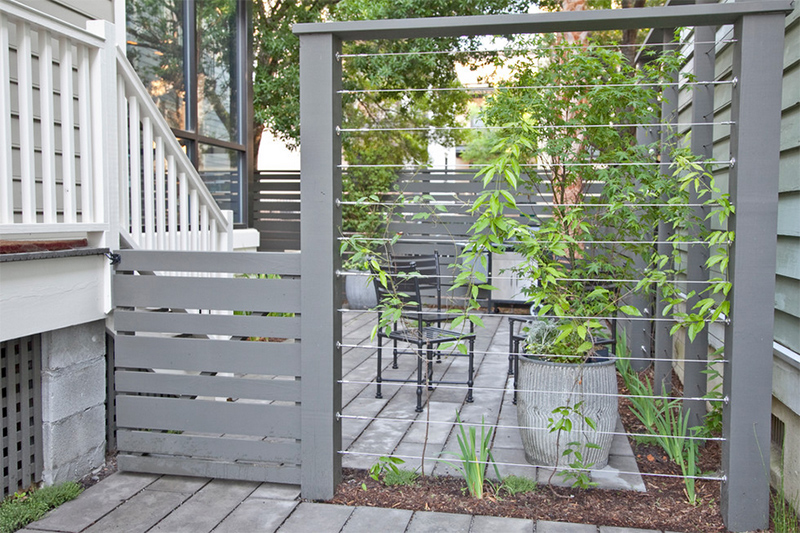 A gray wooden fence has some wires used on the other side which is fixed. But when you look at it, the other parts of the fence are actually made from wood.
8. Private Residence North Vancouver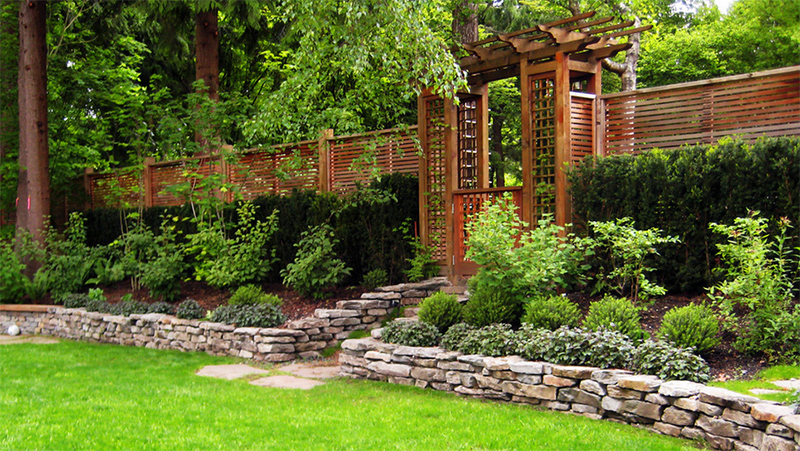 An Asian themed fencing which can also be associated with beaches or holiday homes! Merely looking at the fence will make you think of how you can be very relaxed while in the area. The fence is made from wood and was creatively put together. There is indeed something about Asian look that makes it very serene and relaxing.
9. Southwestern project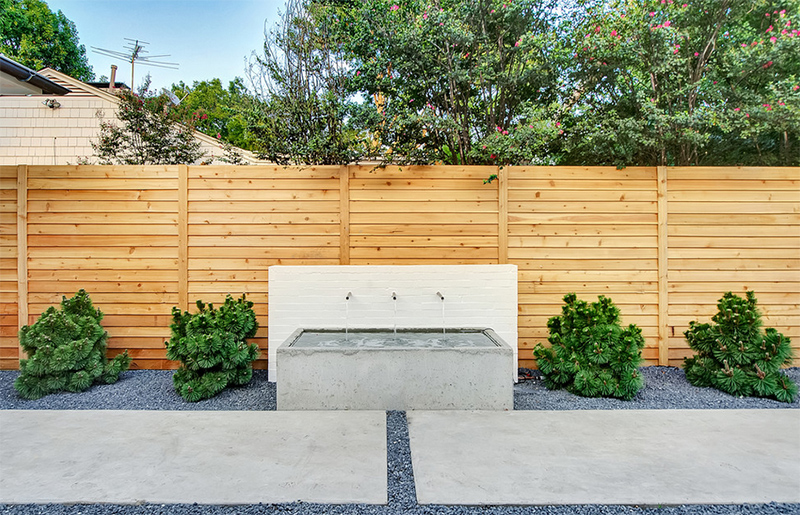 A neat looking fence using well-arranged wood. Could be a good idea for too as it looks pretty nice as a backdrop for the tub where water is stored. I can tell that this outdoor space has many plants around it.
10. Phinney Energy Remodel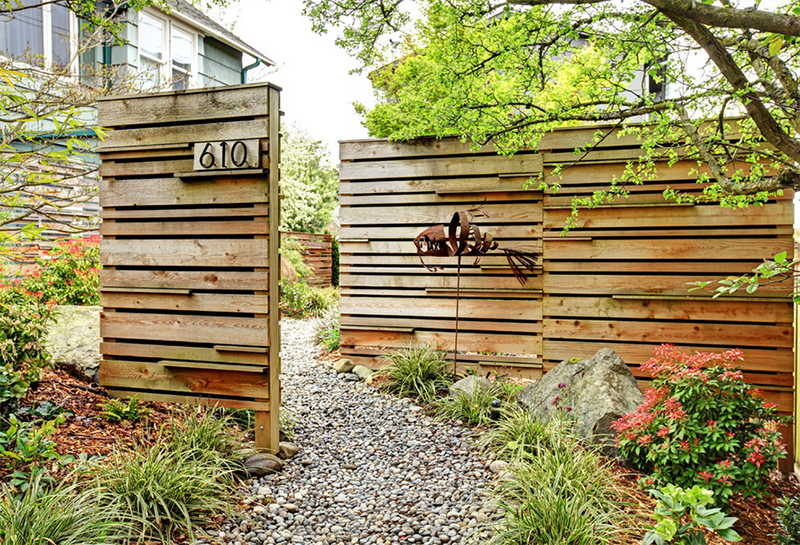 This fencing used wood but what made it look different is how the wood is combined together with various sizes. This gives a modern and warm feel to the home even from the outdoors.
11. Landscapes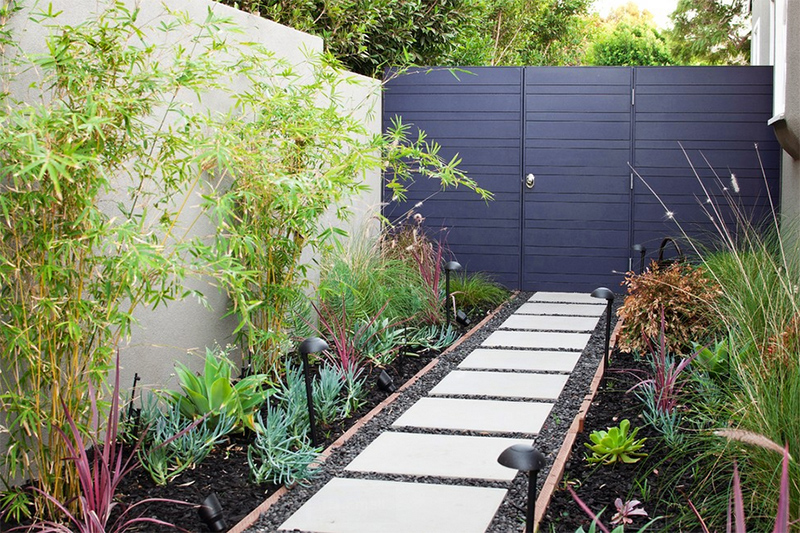 I like the look of the steps leading to the gate and the gate is beautiful too which has a design that is the same as the fence. With the looks of it, it used steel for the gate. This look can also be achieved using wood as well. Then let the painting do the job.
12. Outdoor Living: Gardens & Patios
Wood is used as a fence for this house but what makes it unique is how it combined with blocks. Also, there are plants above the fence which helps to create a beautiful and relaxing outdoor area. This is indeed a nice idea for a fence!
13. Saratoga Creek House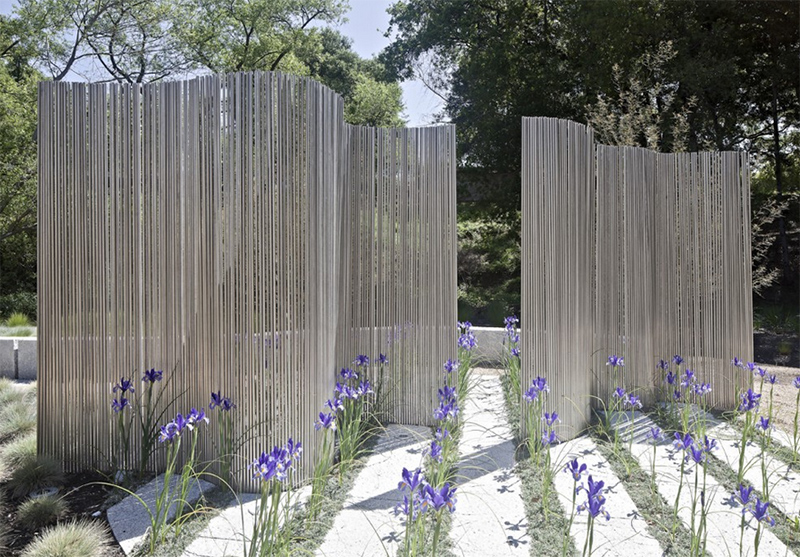 A fence like this just looks stunning and visually pleasing because of its curves and how each member of the fence were meticulously put together to come up with this beautiful yet minimal design.
14. Contemporary/Modern Designs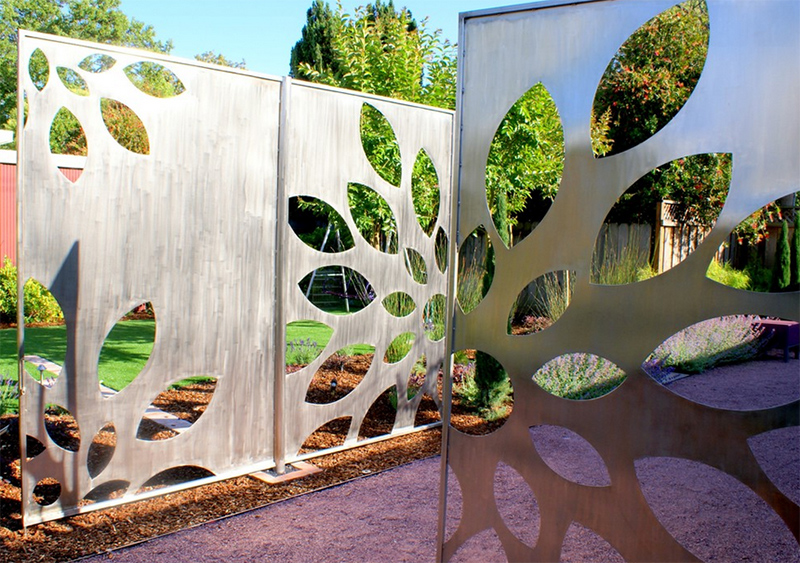 This one looks really unique! It is made from steel with floral cut outs in it. This is indeed a beautiful statement in the house because of its sculptural appeal. Large garden sculptures could be a good addition to the space.
15. Noe Valley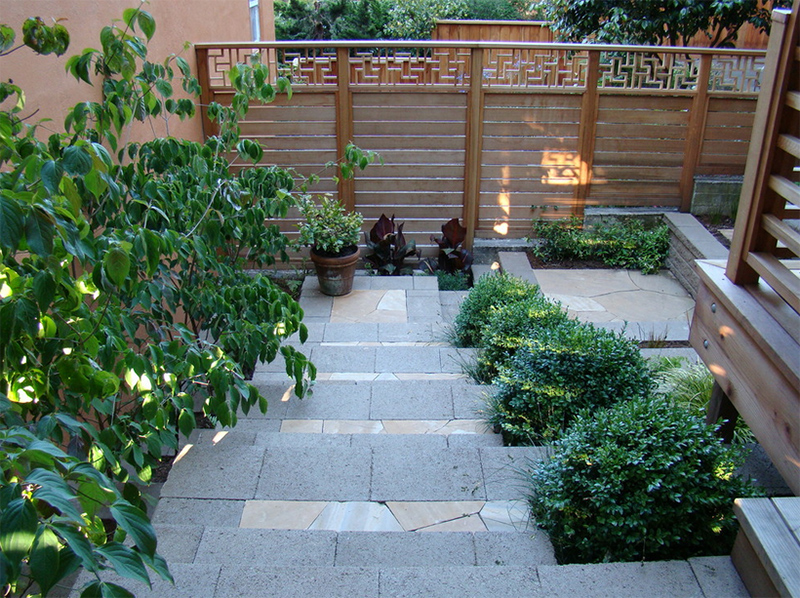 You can get some Asian vibe from this fence design. It used wood for it and has a beautiful warm appeal that matches well with the concrete steps.
16. Garnet Residence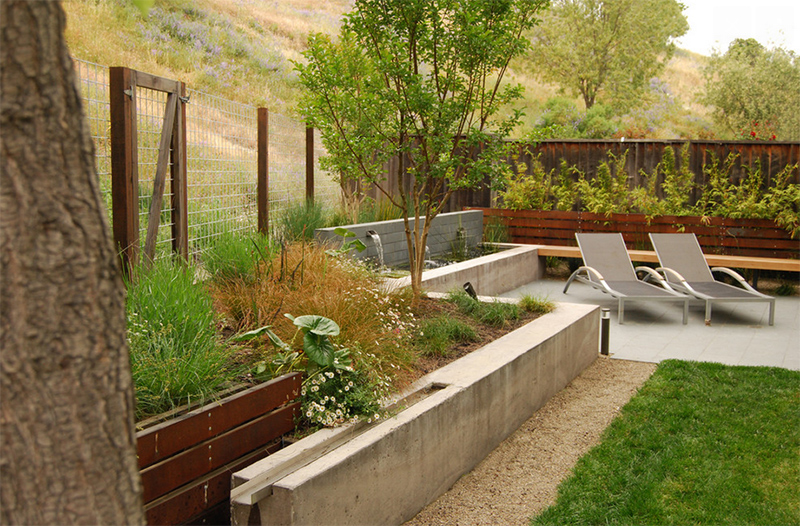 The fencing of this house has a mix of design and materials. The integral colored concrete wall of the fence begins at the main water feature and weaves to the south west corner of the yard. Water again emerges out of a 4" stainless steel channel as we can see here reinforcing the notion that this garden backs up against a natural spring.
17. Bordertown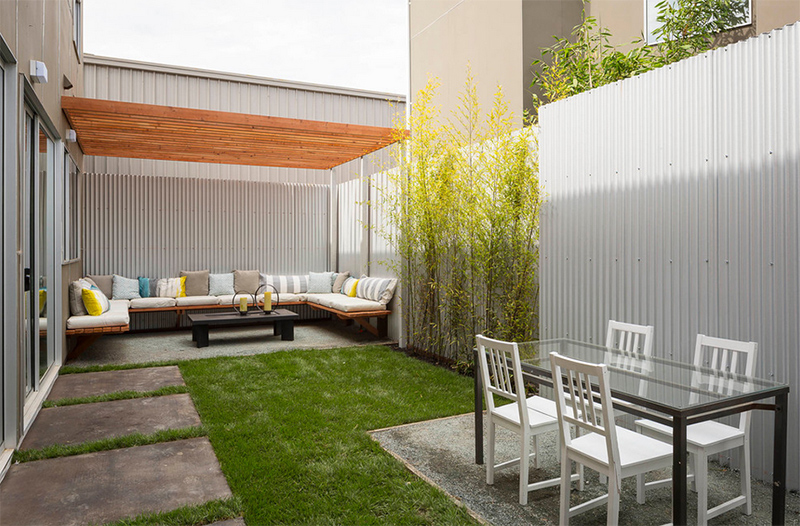 This home used corrugate galvanized steel material as a fence. Yes, it can look nice too especially when an outdoor area like the one we see here is being featured. I honestly love that space with cushions. Looks so comfy!
18. Shell Beach Residence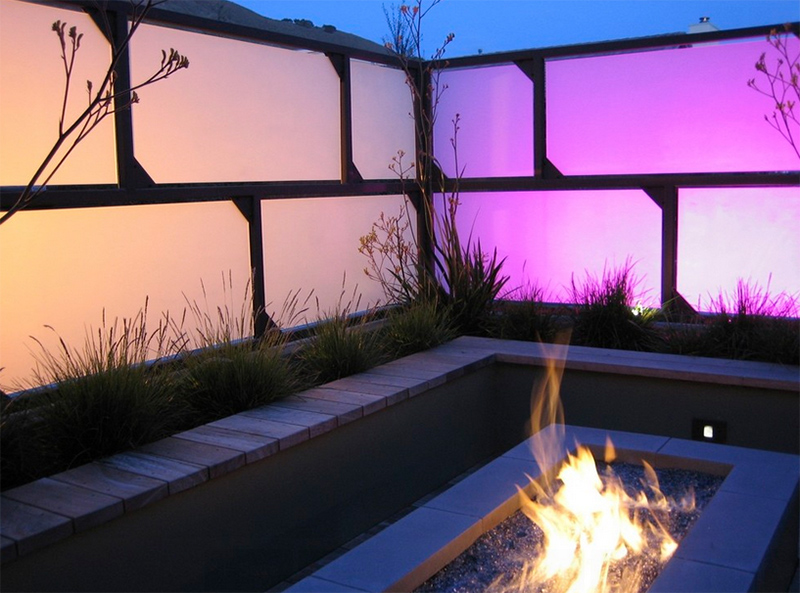 This fence used sandblasted glass panels that are secured in a steel frame light up with LED lights for a colorful look. I love this! Well, who won't? It can actually make outdoor stay even more enjoyable.
19. Dershowitz Backyard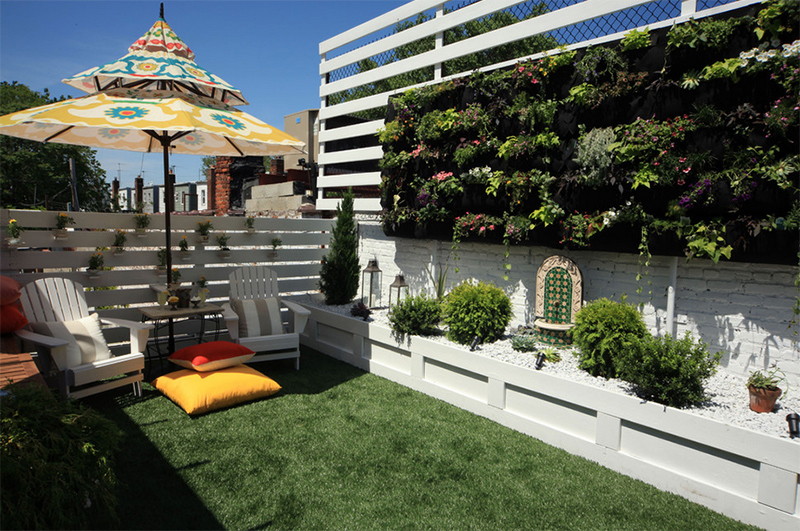 Aside from using wood for the fence, you can also add built-in planters in them as well as a living wall attached to the wooden part. It has white paint for a more clean and attractive look.
20. Tarrytown Residence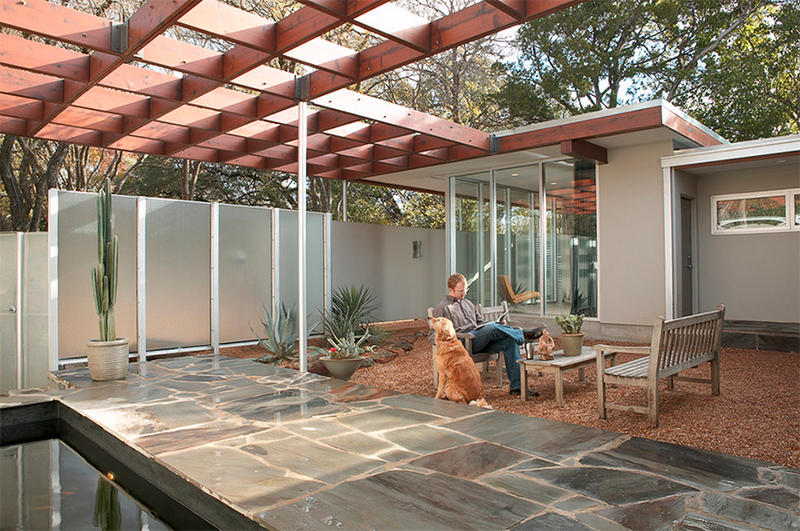 Translucent glass panels are used for this fence which is actually for an updated 1950s residence. We can't see that this is a mere renovation and not a new construction because of how it turned out. The soft appearance of the glass surfaces from the fence works well with the modern character of the house. The glass admit some light through them.
21. Randy Thueme Design Inc.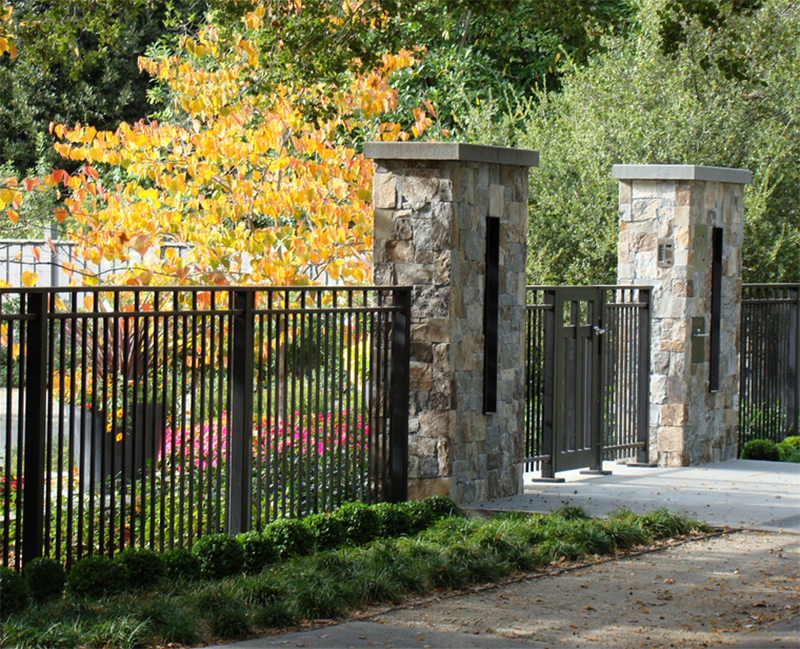 A contemporary design for a fence with a column covered in stones and steel gates. This is the usual design that we see these days because it is the trend to have a modern or contemporary house design. The mix of materials makes it look beautiful
22. Atherton Japanese Garden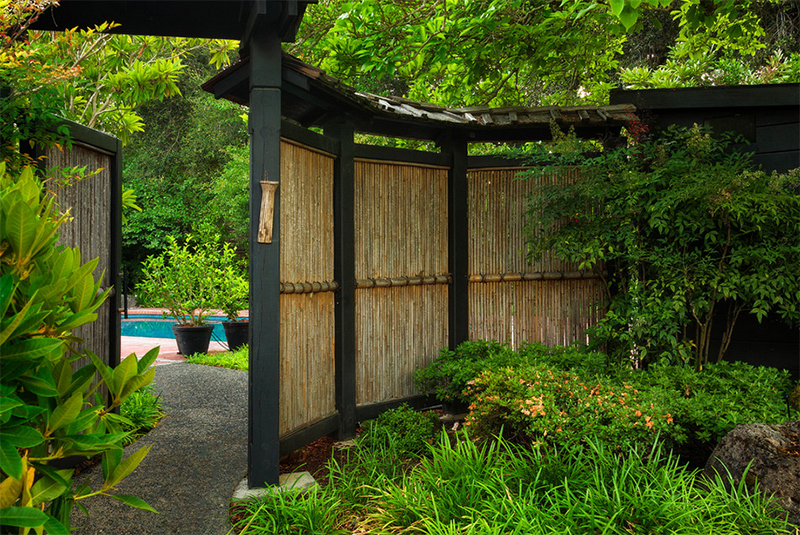 Want a Japanese or Asian feel for your fence? Why not try to make one like this using a combination of bamboo and concrete? It sure looks very nice, agree? I also like the idea of adding a roof which is one way to protect the bamboo too.
There are indeed different ways to design a fence. It would also be made from different materials too. It depends on what you need and what look you want for the home. It may also depend on the availability of materials too. When it comes to fencing, you don't have to stress yourself out with the design because it can actually be simple as long as it serves its purpose but if you want to make it look beautiful and unique, go ahead. Use the above photos as inspiration for your fence design. Can you tell me which of the fences featured do you like best?