Tips in Designing a Contemporary Dining Room
Contemporary design uses clean lines and curves. In this type of design, clutter is being avoided. The use of open spaces is also applied. Designing your dining room with this contemporary touch will surely bring your home to the higher level in terms of aesthetic. In contemporary design, the use of natural and mand-made materials is being combined creating a sleek, trendy but natural touch.
One characteristic of a contemporary design is the use of minimal furniture and accessories which make it really easy for you to clean and maintain your dining area. So, if you would like to give your dining room that contemporary look, here are some tips to help you. These will guarantee you that you will achieve the kind of design you really wanted.
1. Contemporary Color Palette.
Most of the time, neutral colors are used for a contemporary design. You can use this for your dining room, too. But it would be better to use a basic color palette so that your look will remain cool even if new trends will come. Paint your walls with bright white, soft gray or medium taupe. You may also use bold chocolate brown or black for your dining room for a bold appearance. For your accessories, choose colors that will be a good accent like green, red or bright orange. Red and orange are said to be appetizing colors.
2. Contemporary Wall Colors.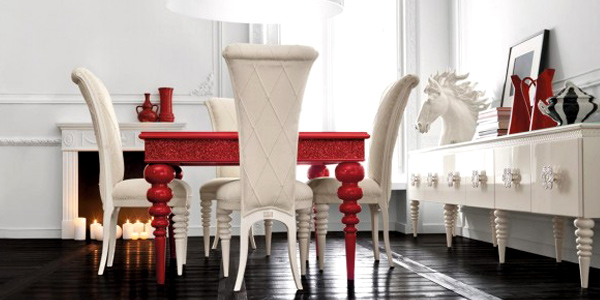 Wall colors are very important for it gives the mood of your house. Choose a color that are generally neutral or earth tones. For contemporary wall colors, dark and bright colors are rarely used for it doesn't give natural lighting. You can use bright white, soft gray or medium taupe for your walls. Just accent it with bright colored accessories.
3. Materials.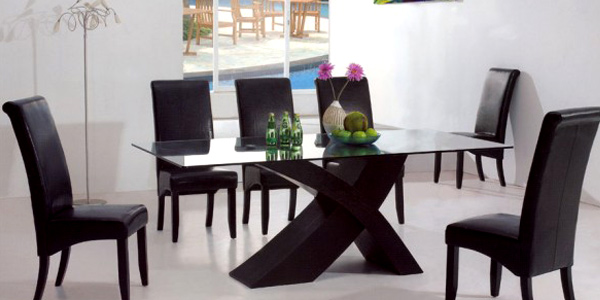 For a contemporary design, you will use a combination of natural and manmade materials. Your dining room will look great if you use durable laminated flooring of bamboo or wood. Choose furniture that is made of wood. You can have accessories that will seem to bring in nature to your dining room. Place some plants for a more refreshing look.
4. Contemporary Dining Furniture.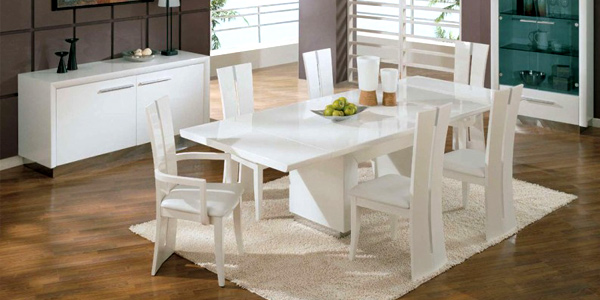 For dining room furniture, use those with strong lines, straight edges and right angles. Curves can also be used but these curves are soft. You can use wooden or metal dining chairs that have straight backs. But you can also use upholstered chairs with solid colors. Avoid using prints for it is not really used for a contemporary design. For your dining table, choose the kind that has sleek lines. A wooden table that has clean lines will be good. Or you may opt for a glass topped table with silver legs.
5. Contemporary Accessories.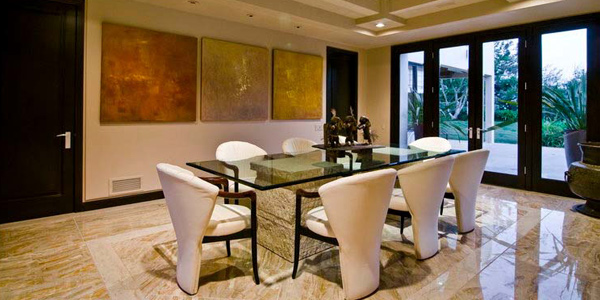 Attain a sleek look by using minimum accessories. Use accessories with a natural touch like tall curly willows in a pottery vase. You can add some lighting that will give your dining room a dramatic touch. Choose accessories that don't have much details and prints. Use those that look simple. For your fabric, choose those that have solid colors. If you will use patterns, use bold and geometric patterns.
6. Focal Points.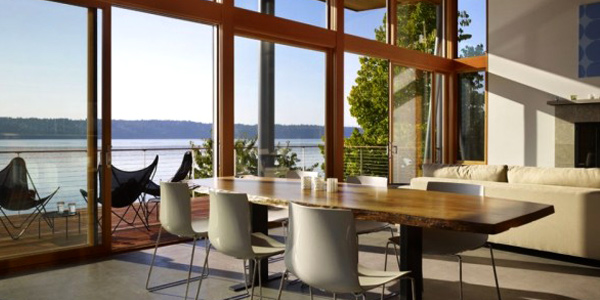 You have an option on choosing focal points for your dining room. Your back yard can be a good focal point and you can do this by leaving your window bare without coverings. This way, you can easily see the backyard and you can also allow entry of natural light and air. Another option is by creating a great interior design and architecture. You can place window coverings by using grass shades or natural bamboo. But you can combine silk with that, too.
7. Contemporary Accent Wall.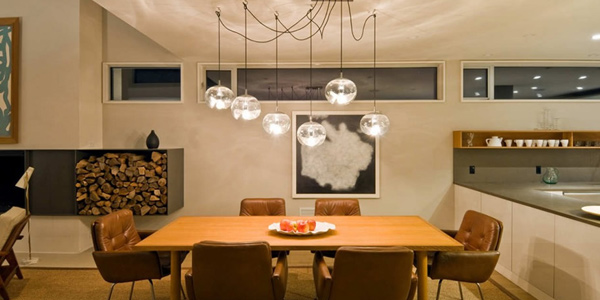 You may want to place an accent wall. Choose the one that shows a contemporary design by using geometric patterns. You can also choose a picture that is framed with sleek and clean lines.
8. Contemporary Plants.
Adding potted plants in your dining room is also a smart way in combining nature and man-made stuff. You can place them on a shelf or on the floor. Choose plants that have bright green leaves to give more life to your room. Use contemporary pots that have geometric patterns and neutral colors. You can either opt for short or tall plants. But be sure to choose the right placement for these plants.
9. Contemporary Rugs.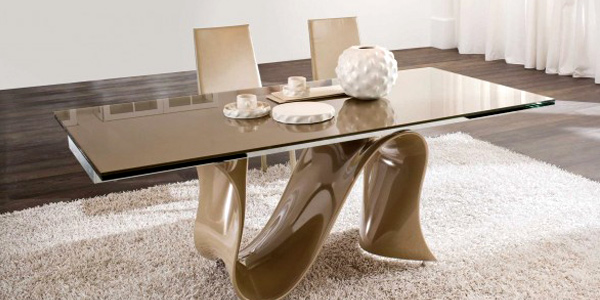 For a more inviting look, use a rug for your contemporary dining room that has subtle earth tones or geometric designs. But you can also use brighter earth tones if you want to have a touch of vibrancy in your room. For a more contemporary look, you can use bamboo and hemp rugs. You may also place a Persian rug under a glass-topped dining table for a more interesting look.
10. Centerpeice.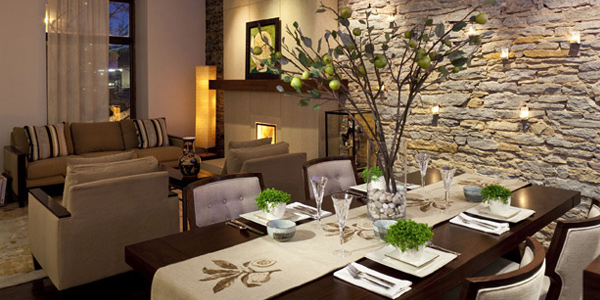 Choose a centrepiece that will enhance the beauty of your dining room. You can have a simple vase with fresh flowers or plants minimally used and arranged. You do not have to make it look too bulky. The simpler the centrepiece, the better. You can place white flowers with green leaves. Candles can also do the work well. You can choose earth tones for your centrepiece to get that contemporary look.
Attaining a contemporary look for your dining room requires your creativity. After all, it is still you who will decide as to what furniture and colors to use. But it doesn't necessarily mean that you will need to buy new furniture. It once again relies on how you will use your initiative to attain a contemporary dining room.