20 Boys Bedroom Ideas For Toddlers
Your little boy is now acting independently and would love to do things on his own. To him every day is a new day full of adventures and fun learning. As supportive parents, we are there to guide, inspire and nurture our little toddler's mind and body. To create a world of whimsy and full of his imaginings why not give him a room for himself? A room where he can comfortably play and rest easily.
When designing your little boy's room, it is important to consider what he is most fond about. Kids these age can already identify the things they like, may it be a cartoon character, jungle animals or sports. They can even tell you what color is appealing to them. Toddlers can be so active and easily gets excited when asked about what they want, you might get an overwhelming response and that is good. Take the time to pick out the ones you think he loves the most so you can incorporate it to the idea you originally have. If you are still wondering what kind of design to use, here are 20 Boys Bedroom Ideas For Toddlers to make your designing easy.
1. Hang Those Colors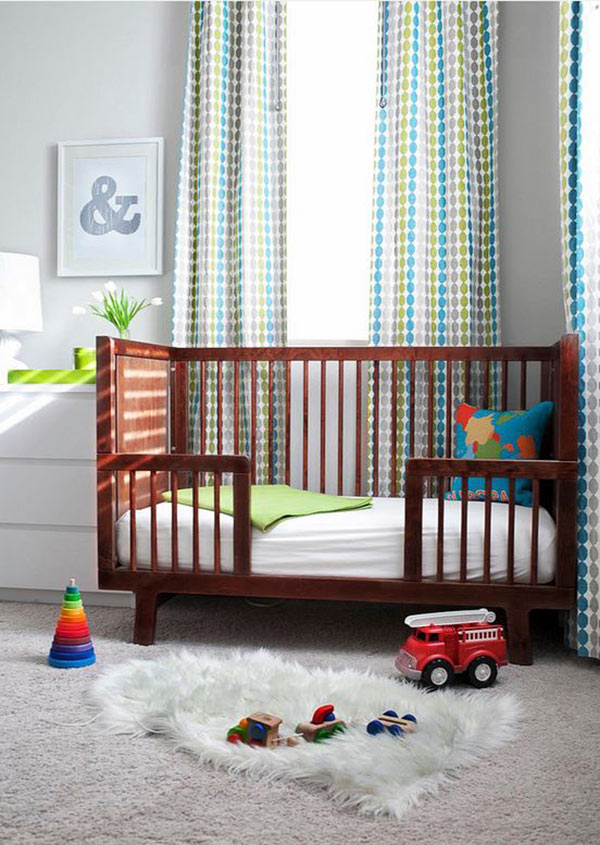 An easy way to lend color and fun vibe in a white room is by hanging bold-colored curtains. You can play around with different patterns and vivid colors and easily change it when your toddler grows older.
2. Playful Lanterns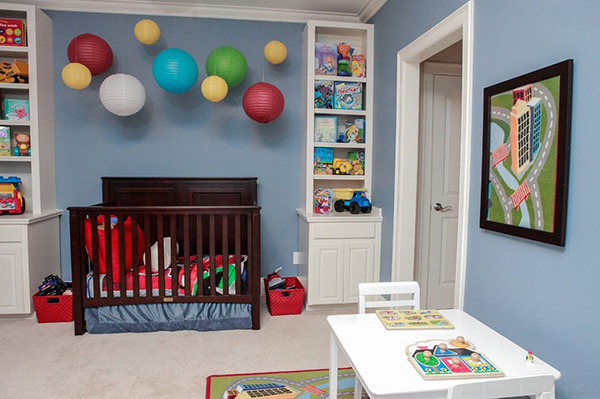 Hanging lanterns in bold colors are fun and stylish way of illuminating your tot's room. It can easily add interest and life to any room.
3. A Touch Of Vintage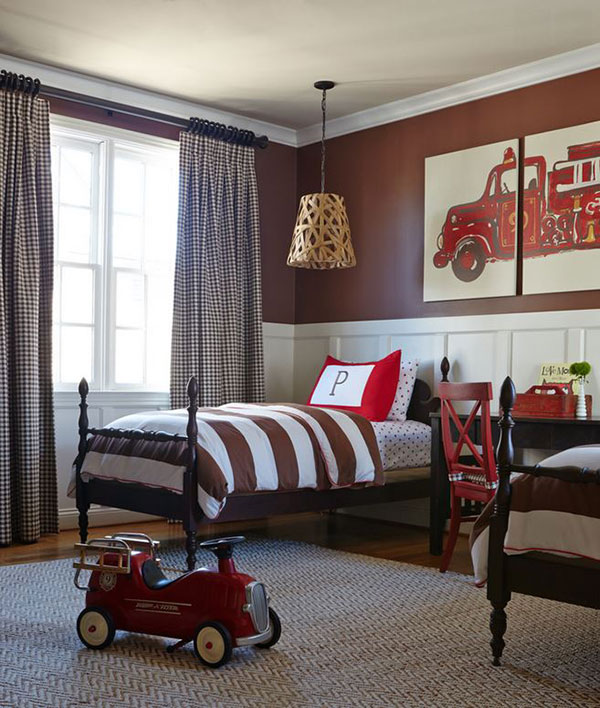 Brown, white and red color scheme and the traditional bedroom furniture give off a vintage flair, while the fire truck print on the wall set a childish tone in this bedroom design.
4. Four-Poster For Him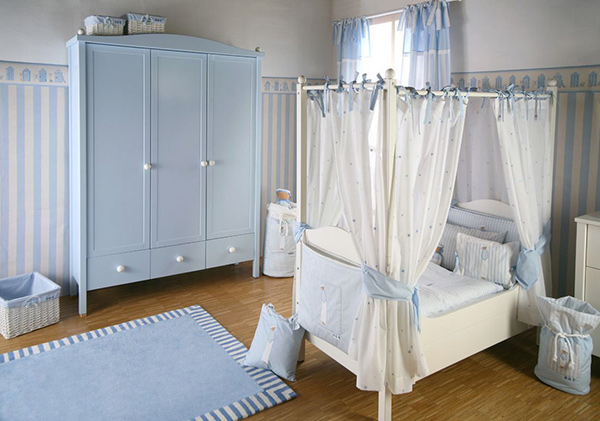 Make sure to give your little one plenty of rooms to store his toys and other antics. Have fun in choosing a storage room for your tot! You can use different colors with bold patterns storage baskets or a fancy dresser with lots of drawers and make sure to put it on a place where he can easily reach it for ease keeping. It will teach him how to keep his room clean while sorting his things in an orderly manner.
6. Ball Time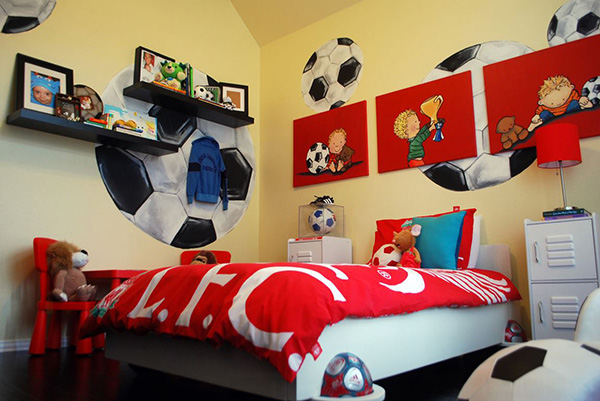 For your young soccer lover, fun is endless when it comes to decorating. Balls, trophy, and bright and bold colors make an exciting bedroom. Intense red wall arts, pop beautifully against a buttery yellow wall. Keeping bedroom furniture in solid color is a practical way of designing, you can easily update it by choosing different kind of beddings as your boy's taste changes.
7. Hanging Chair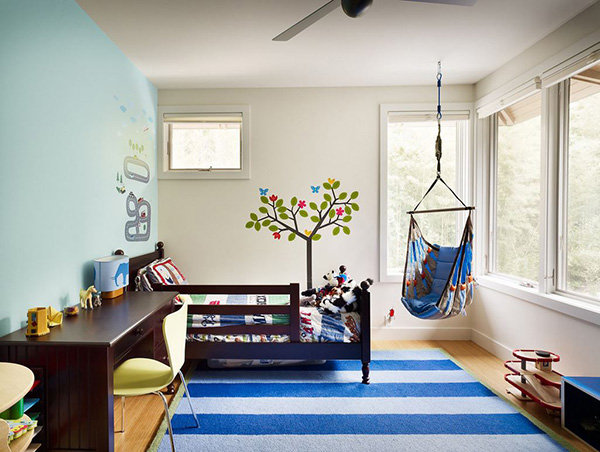 Create an exciting touch to your toddler's classic blue room by using a bold blue striped rug as an accent and hanging a hammock for an instant playtime vibe.
8. Going Industrial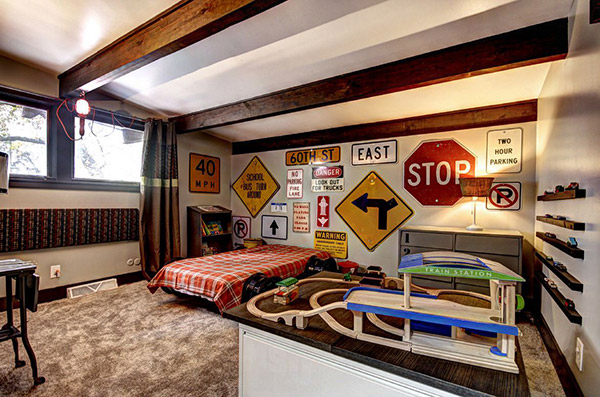 Wood beams, industrial-styled lightings and lots of warm, rich wood colors on the furnishings give this boy's room a stylish industrial flair that is sure to grow with him as he grows older. Accentuate the room with his favorite toys or books by showcasing it on floating shelves.
9. Animal Print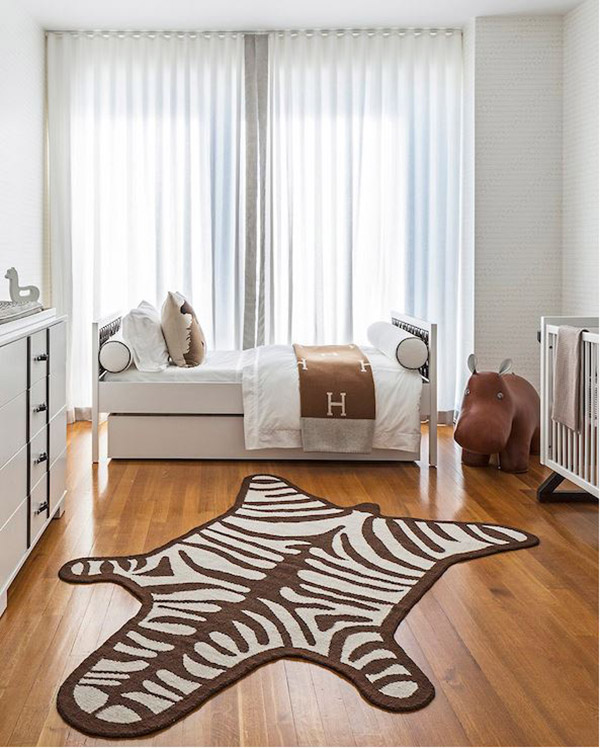 Bring fun and excitement in an almost all white bedroom by adding bold animal-inspired area rug! It creates an interest and makes a playful accent in a room full of neutrals.
10. Black and White Wallpaper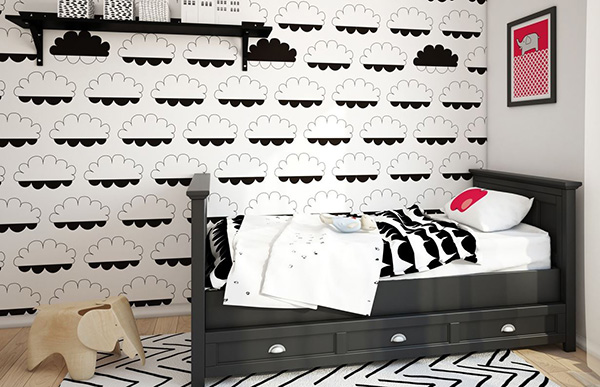 If you are thinking of using wallpaper for your toddler's room do not limit yourself to vibrant colors only. You can use black and white and still get a whimsical and fun vibe. Choose bold and playful patterns in black and white like the one above to get a perky yet stylish modern feel in your little boy's room.
11. Lost In Space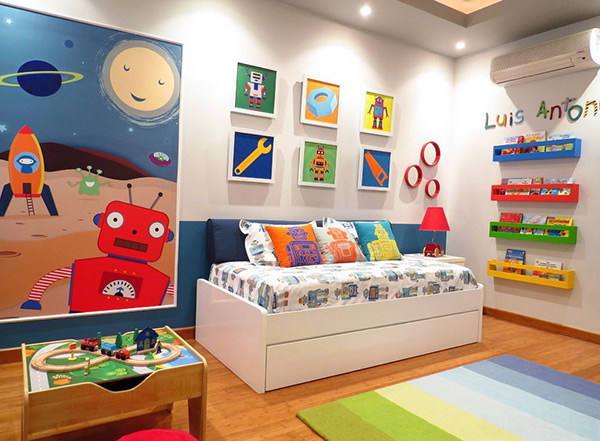 Spaceships, robots, planets and mechanical tools make their mark on wall arts, pillows and beddings. Consider using the colors on the wall arts for the shelving and other furnishings for a fun, cohesive look.
12. More Space, More Fun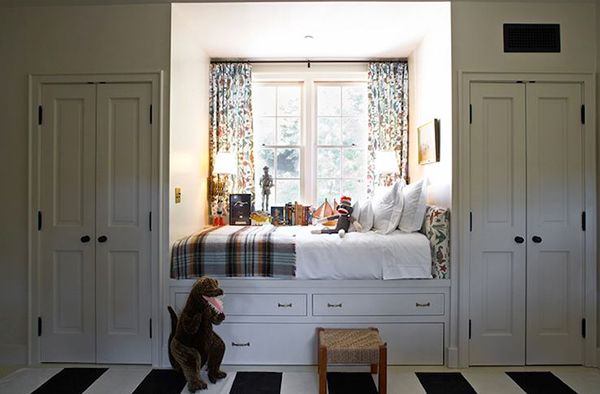 Built-in window seat bed is a great way to get an ample playing space for your little riot. Fill the drawers underneath with his toys for his easy reach and easy keeping.
13. Pirate Adventure
Let your little sea rover go on a sailing adventure with a pirate theme room. Start with beige walls for a clean canvass, bring in woody tones for a rustic look and add ropes for a clever accent, but you have to be careful where to place these ropes to avoid accidents. Do not forget the Jolly Roger that marks a true pirate.
14. Let's Go Fishing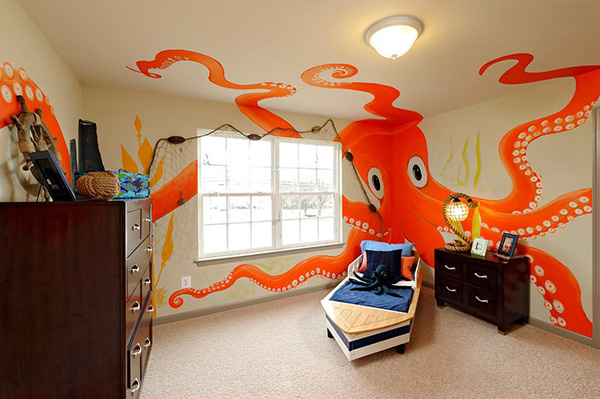 Another sea theme that your son will definitely love! For a more colorful sea theme, go for a nautical theme. Instead of using the classic red and blue color scheme, go for intense colors like this bright orange and yellow-greenish mural. A fancy boat bed and sea-worthy accents like the rope table lamp, fish net window treatment and more will be a big hit for your little sailor.
15. Dreamy White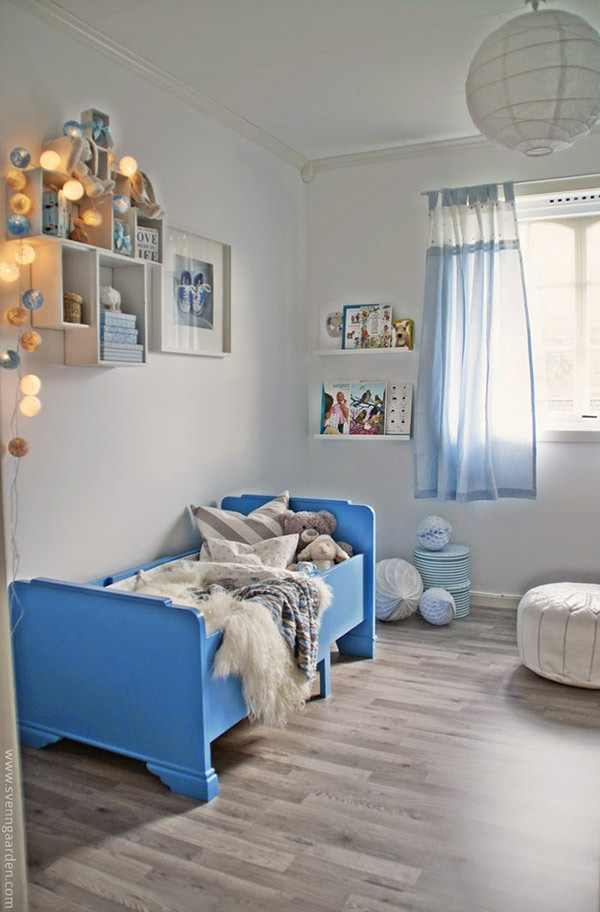 Make it a heaven-like retreat for your little boy where slumbering is a bliss and fun is encourage by using muted color on white. Muted blue, gray and white color scheme is a soothing and inviting combination for a restful room.
16. Geometric Blast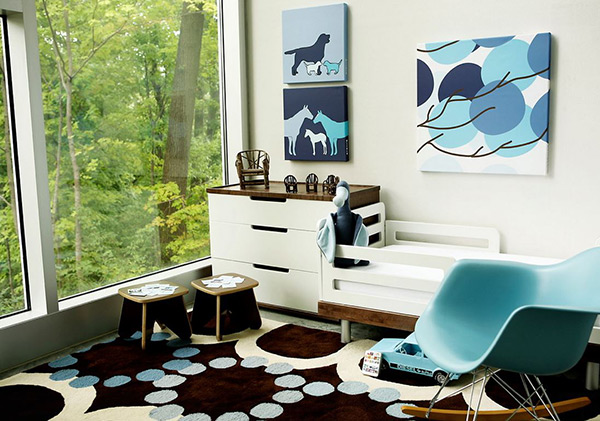 Incorporate bold, geometric patterns to your little boy's room in high color contrast. Use it on wall arts, pillows and area rugs or carpet as beautiful accent. Geometric patterns and high color contrast give a stylish, modern touch to a room as it is appealing to your little ones.
17. Transitional Touch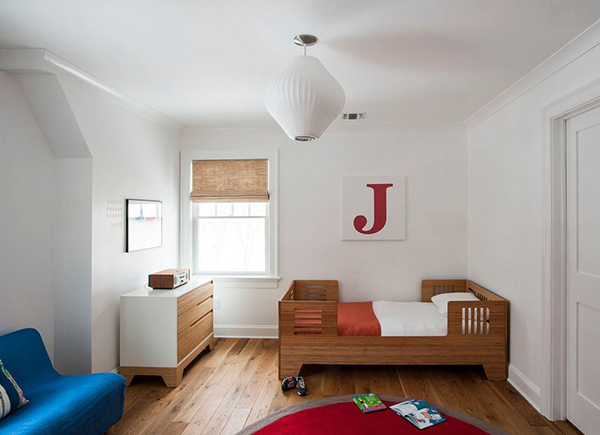 For a design that will grow with your child, you will never go wrong with neutrals. Clean white walls and ceiling when paired with warm, wood tone floor and furnishings creates a classic elegance that will last for a long time.
18. Baby No More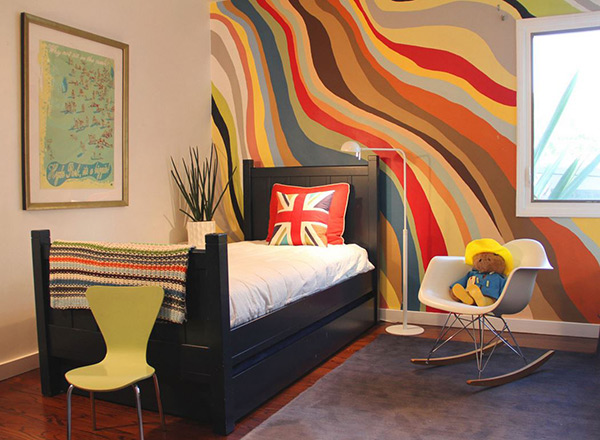 This modern room is fun and playful without being babyish. The colorful pattern on the featured wall makes this room lively, while the black bed frame, white bedding, neutral wall, gray rug and wood floor give off a mature flair.
19. Indoor Safari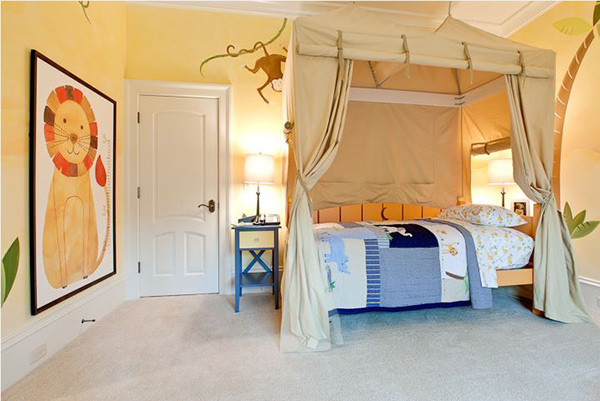 Let your little hunter go on an adventure anytime of the day in his own room. Choose a safari theme that will excite his imagination. Light yellow walls, fun animal murals and wall arts, tent for a bed, and cute safari bedspread add color, fun and atmosphere to the room.
20. Speedy Tot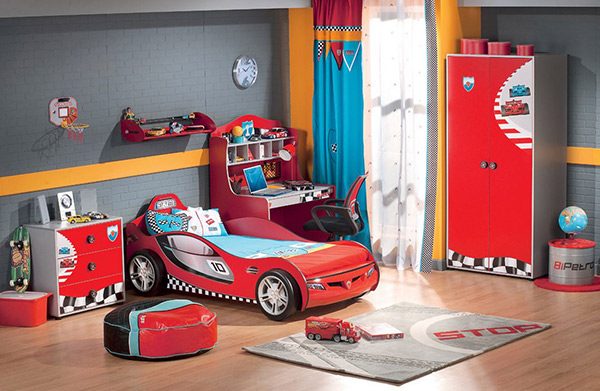 A speed red sports car for a bed is fitting for your little racer. The race car theme is ideal for a child who adores car racing and competition. Lots of red accents, cool decals and themed furniture and accessories are a great way to bring the speed to his bedroom.
Creating your little boy's room is no easy task. It requires patience and attention to details. From your son's favorite sports to his favorite animal or cartoon character, his interests matters. It can provide you an instant inspiration for a theme that is suited for him. Make it fun! Make it playful and encourage his imagination even in his own bedroom. Enjoy creating a bedroom full of your little boy's personality with these 20 Boys Bedroom Ideas For Toddlers.