Villa Freundorf: A Stunning White Modern Home in Austria
With the many designs of modern houses these days, some homeowners will surely be more inspired to get their own modern home. Different ideas will emerge from what they can see from finished homes and even from visualizations. We will never run out of inspiration especially that there are so many talented and brilliant architects and engineers around the globe. Today, we will feature another modern house which can be one good inspiration for the design of your new home.
This is the Villa Freundorf for a family near Vienna, Austria designed by Project A01 Architects. The house, like other modern homes uses sleek lines for its exterior and has that strong masculine look. But it does look clean too especially that it has a white finish for both its interior and exterior. Want to see this house? Scroll down and get a glimpse of it below: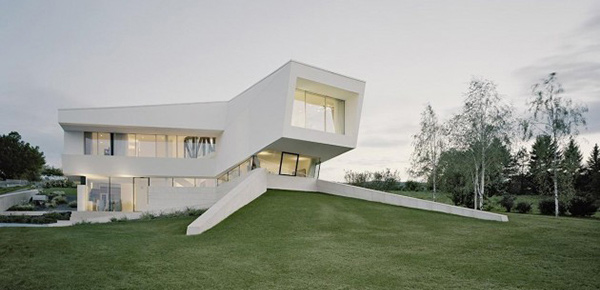 Isn't this a unique sight? The house boasts its modern design comprising different lines and angles.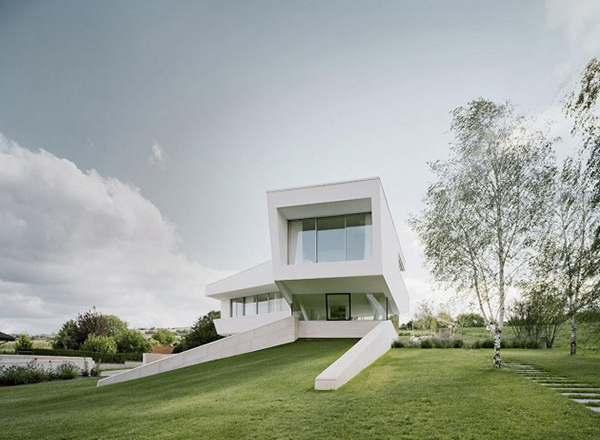 This is one part of the facade that makes the house look unique as this area extends and protrudes out.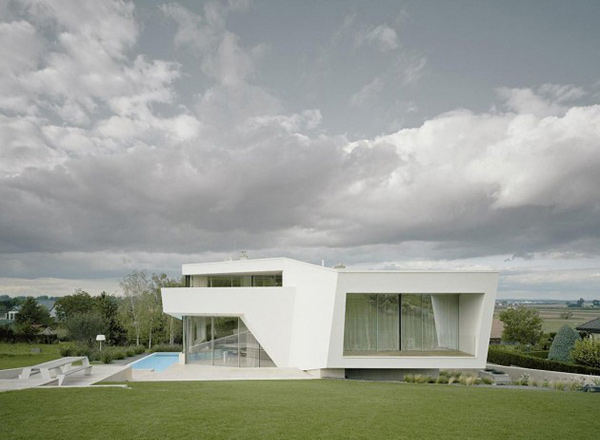 On this side, the house looks different! You can see its unique usage of lines in here making you feel like you are staring at another home!
A modern pool that is unadorned but it certainly sits there with pride and grandeur!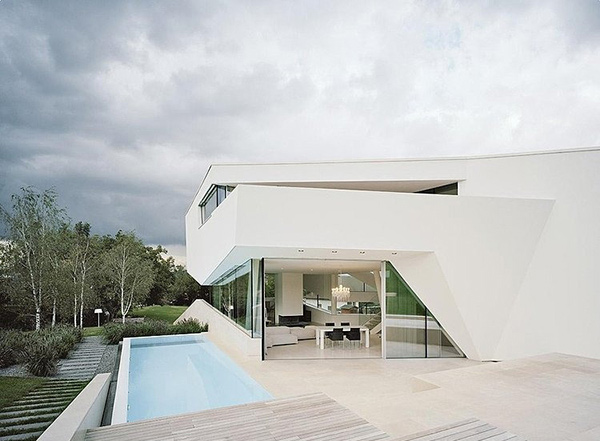 We love that inclined area of the wall especially how it did with the glass.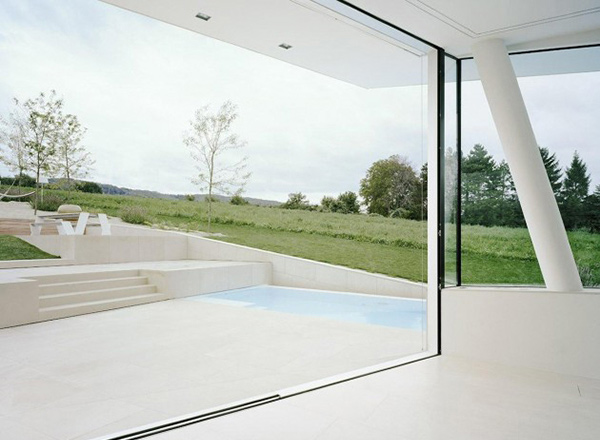 Seen here is the white outdoor space that matches well with the green lawn that has a simple landscaping.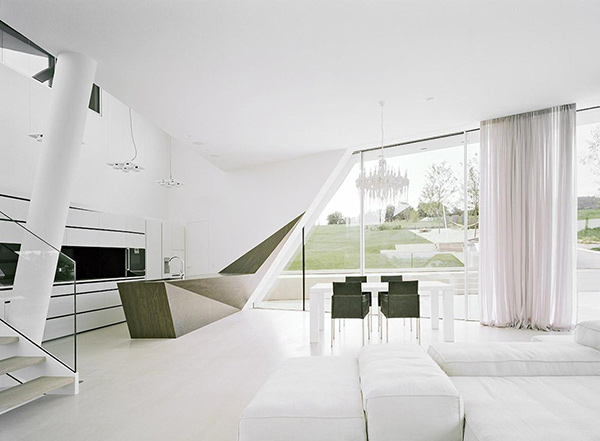 Contrasting colors are reflected in the interior so it won't look boring but totally cozy instead.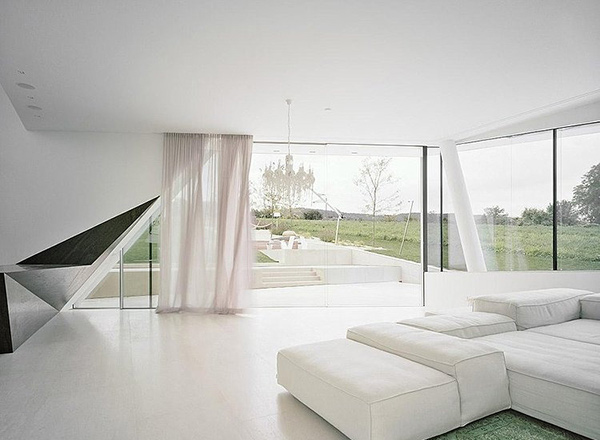 The crisp sheer curtain in light purple gives off divine beauty to this space in white as it protect the area from direct light from the sun.
White furniture in the living room would look like camouflaged if not for the distressed green area rug that defines it.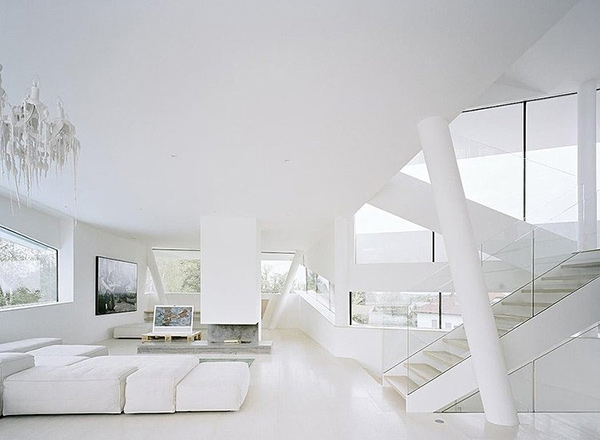 This house sure is a wonder of engineering as it played with the design of its columns and stairs.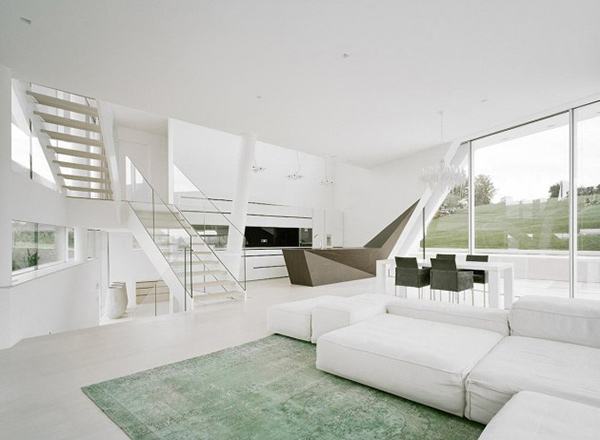 Seeing this interior would seemingly urge us to make a standing ovation because of the beauty that we can see here. It is smart to add some elements with muted colors in it.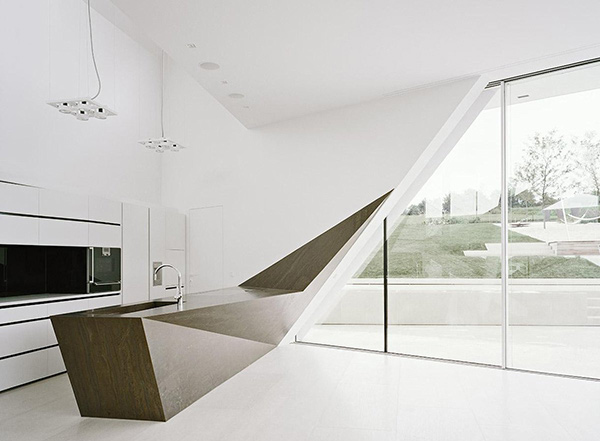 This is a unique kitchen island! It looks so modern and very stylish in that design.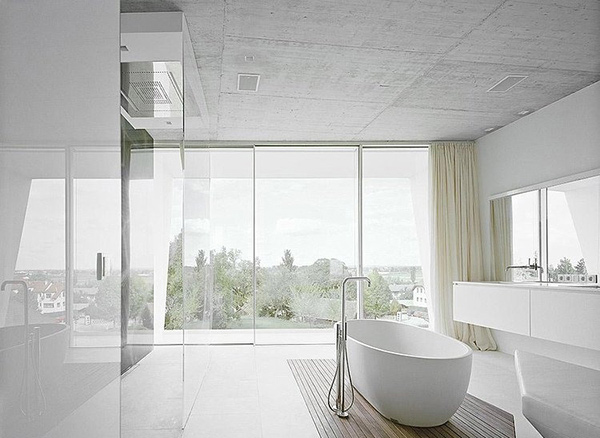 The bathroom has glass around it but adding a wooden flooring under the bath tub brings in some soft natural touch to it.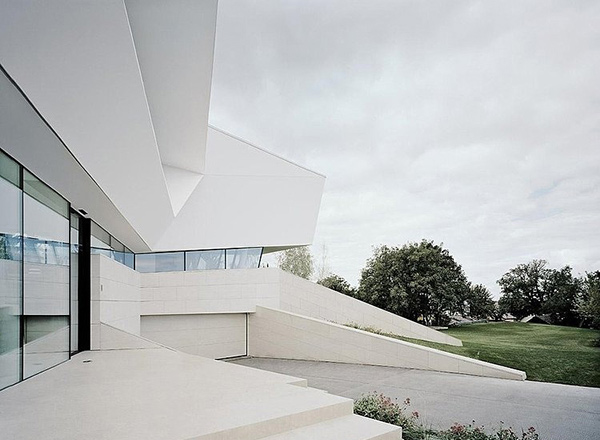 This is the side view of the protruding area of the house that has those little triangles on the sides that seems to support it.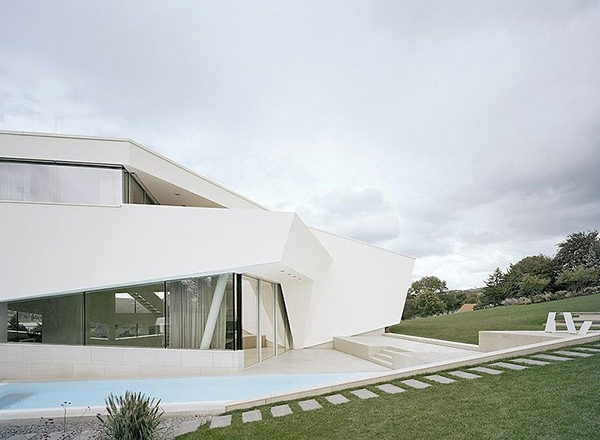 Concrete pathways look perfect on top of the green lawn as it leads to this lovely pool!
Project A01 Architects deserves an A for this house design! It is amazing how different the house looks at every elevation making you feel like you are looking at another home! Aside from that, the interior is so relaxing and serene due to its good arrangement and open plan layout. We are sure that you have added another home to your list of inspirations!