Union Bay Residence: A Seattle Family Home Perfecting with Two Volumes
When it comes to modern home design, there are so many options that one can have. All of this depends on what the owners need and want for a home.
What do you think are the things that owners consider before building or buying a home?
Of course, the location is one important thing. Aside from that, the different areas of the home are also being considered as to the number of bedrooms, bathrooms, and others.
But that's not all.
Homeowners also want to make sure that there is privacy in some areas while there should also be some parts of the house for the public.
This is what DeForest Architects did to our featured home. It is a waterfront Seattle residence that is both a practical family home and an elegant oasis of space and light.
Do you know what makes it unique?
It has two volumes or wings. One wing is all about retreat—a cozy den, luxurious master bath, and tranquil master bedroom. The other wing embraces togetherness in the form of a spacious kitchen, family room, and breakfast bay overlooking the water. Between these two volumes is a series of lofty open spaces for indoor and outdoor entertaining.
Sounds great, right?
For sure you'll love the home once you see the images below.
Location: Seattle, Washington
Designer: DeForest Architects
Style: Contemporary
Number of Levels: Two-storey
Unique feature: The house is comprised of two volumes wherein one is for private areas while the other is for public spaces.
Similar House: Incredible Innovation Made in a Home in Peterborough, Ontario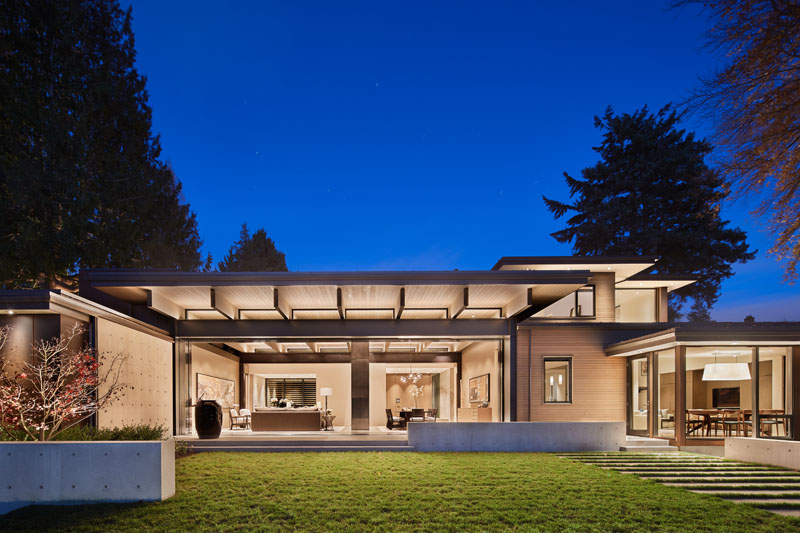 DeForest Architects together with interior design firm NB Design Group, have recently completed a new and modern house that sits on the site of the owner's childhood home and looks out to Union Bay in Seattle, Washington.
Its upper-level pavilion contains sleeping areas while the lower level houses the kitchen, dining, living spaces, and garage.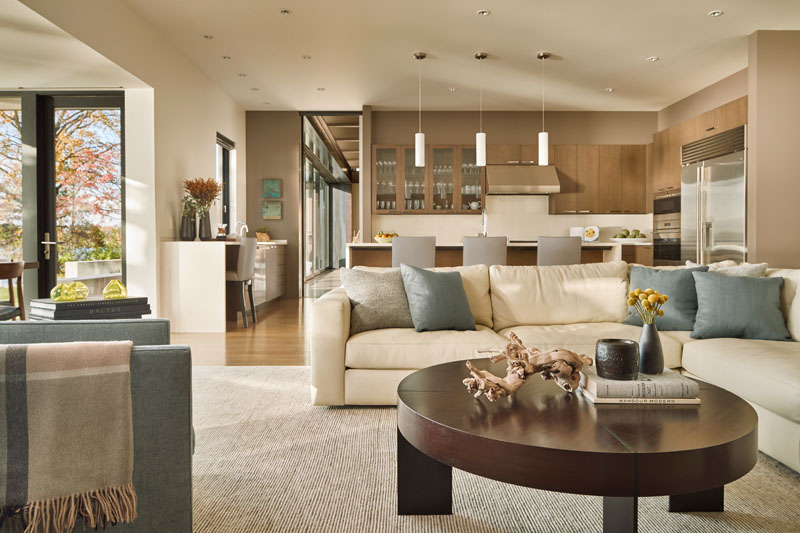 On the other side of the main living and dining room is the kitchen. Light wood cabinetry has been paired with white counters and stainless steel appliances for a contemporary look. Next to the kitchen is a relaxed sitting area with a comfortable couch and armchair.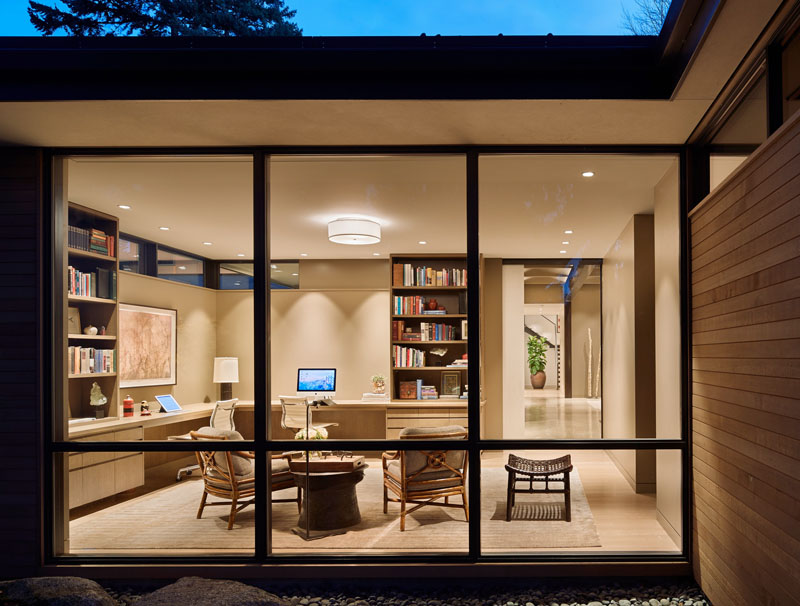 Off to the side of the living room is a spacious home office, with room for two people and a small sitting area. Floor-to-ceiling windows provide natural light and views of the water.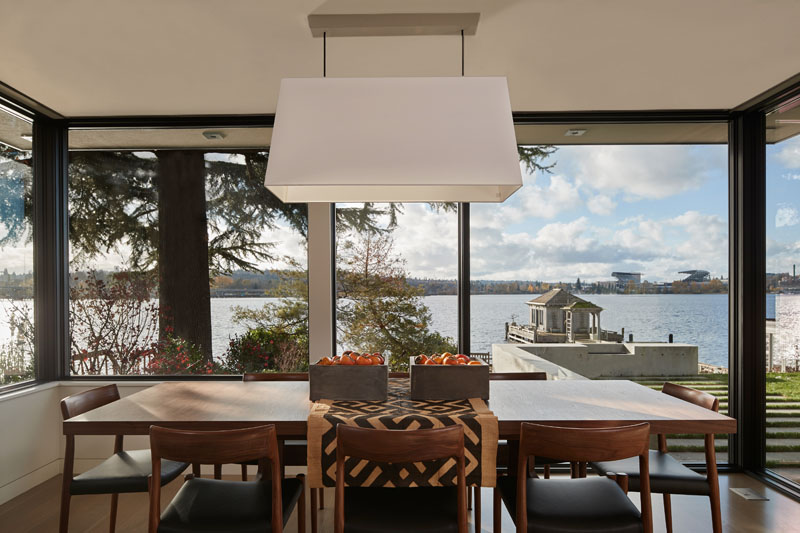 Beside the kitchen and sitting area is a secondary dining area with water views.
Read Also: L-Shaped Plan of OZ House in California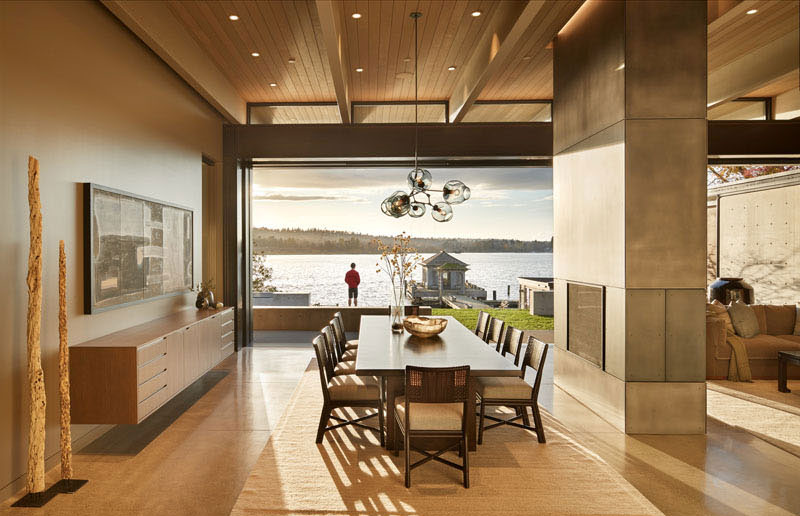 Inside, the great room of the house has a large dining area, a double-sided fireplace, and a comfortable living room.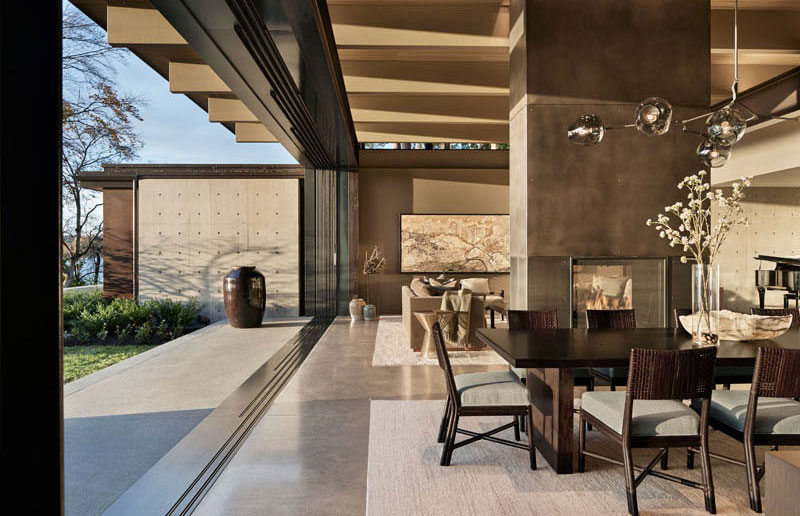 This large room opens up to an expansive terrace and an existing teahouse, which was preserved as a respectful nod to the past.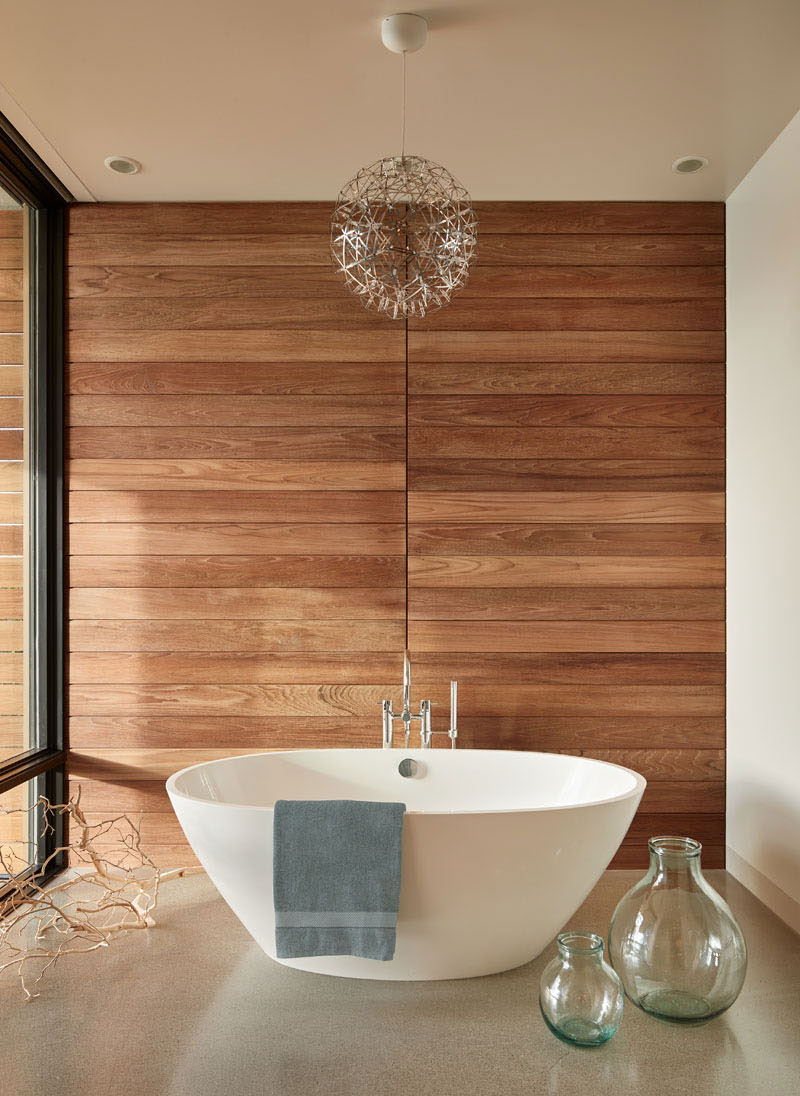 In the master bathroom, there's another wood accent wall behind the freestanding bathtub, and floor-to-ceiling windows provide views of the garden outside.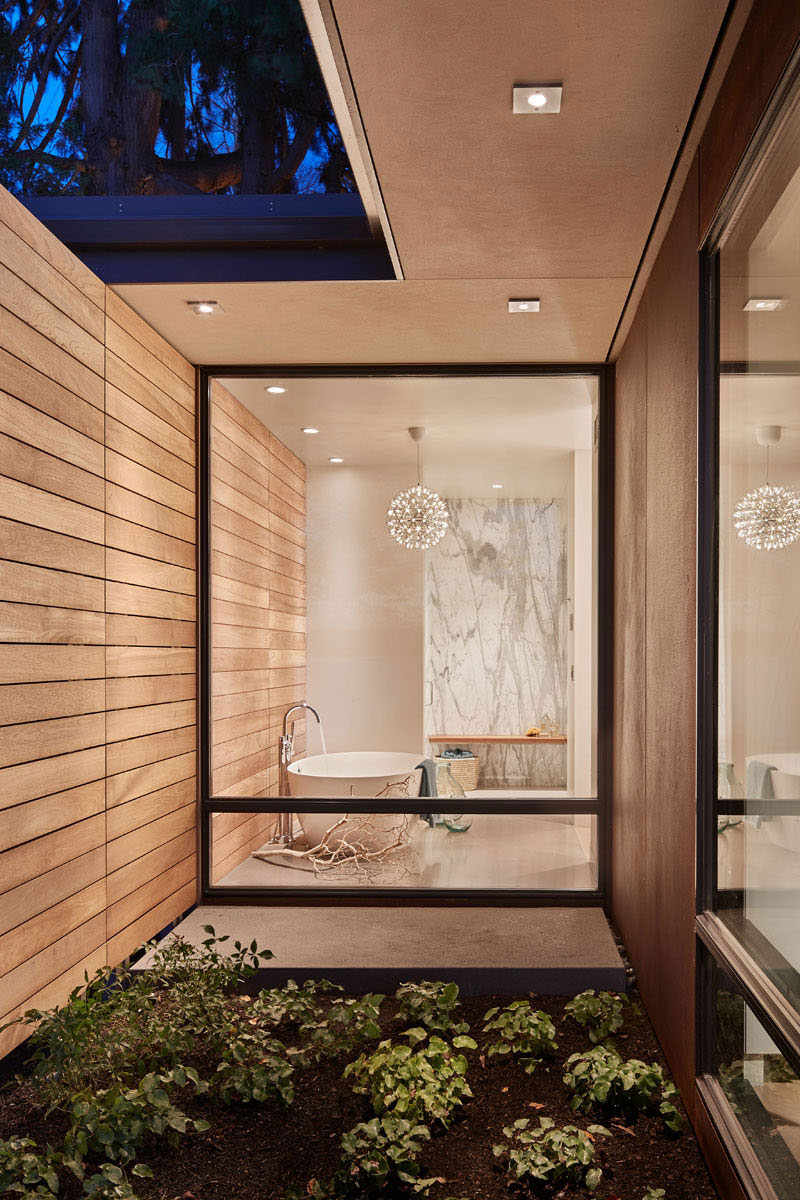 Next to the kitchen is a set of stairs that lead to the second half of the home. When one gets to the other half, it has two doors wherein one opens to the bathroom while the other one is for the bedroom.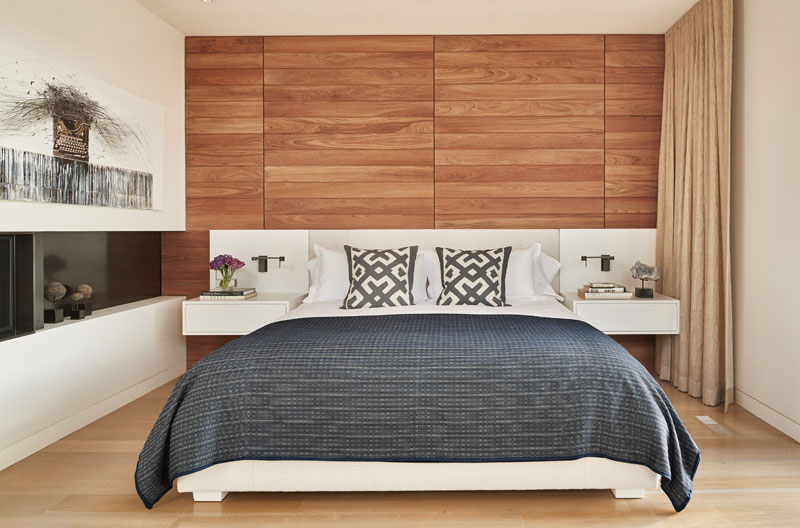 In the master bedroom, there's a fireplace and a wood accent wall to create a sense of warmth and tranquility for the room.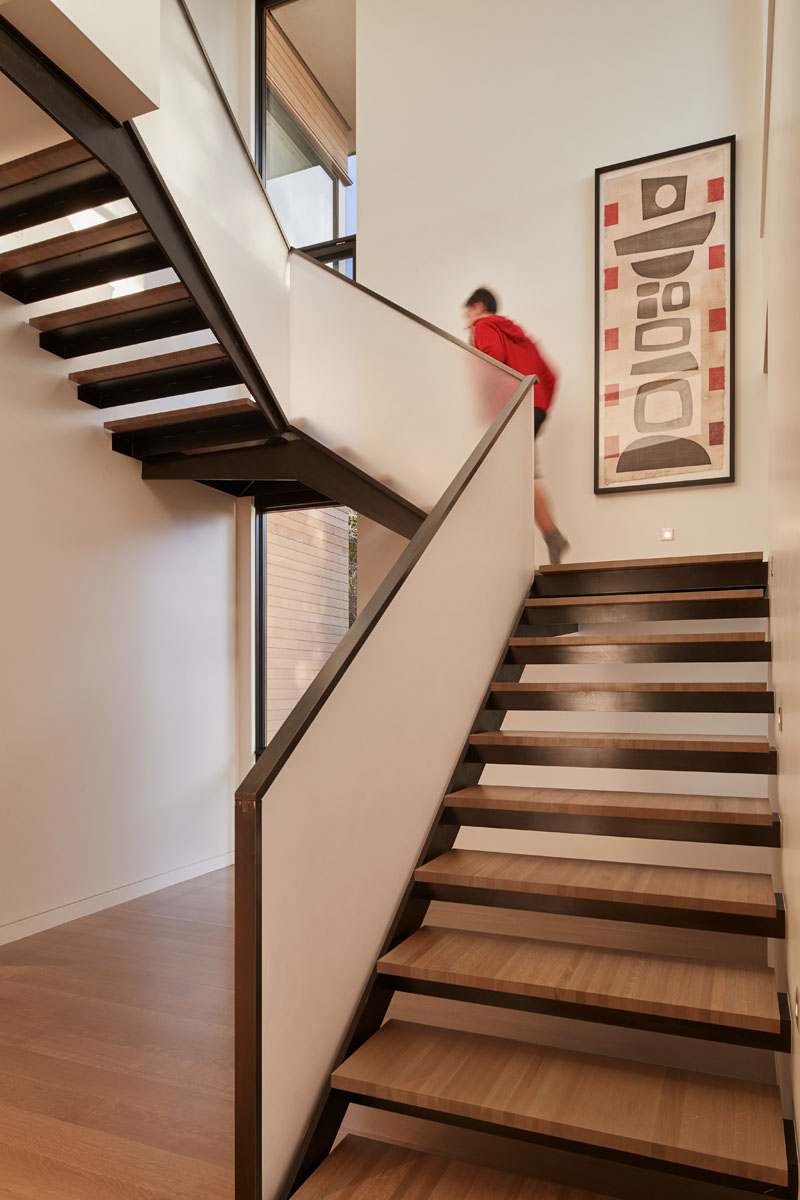 Here's a look at the stairs that lead up to the second floor of the home, that features wood treads and frosted handrails.
What can you say about this home fromDeForest Architects? It sure is very nice, right? Everyone would love the idea of having two separate wings that are connected to each other. As you can see in the images above, the areas can be easily accessed because of its good layout. Aside from that, the house also has a seamless indoor and outdoor connection which makes it very ideal for a family to live in. The wonderful views of the Union Bay are a big plus to the home. For sure you will agree with me that having a home with nature around it makes everything near perfect! So, would you live in a house like this?