The Mill House: A Secluded Vacation Paradise
Your day to day work is surely tiring for apart from the pressures from your work place, you will still be exposed to the hustles and bustles of the city life. You really won't be able to escape from that especially if you also live in a condominium or a townhouse within the heart of the city. But each of us would really like to go out of town and leave the stresses of everyday life once in a while. Most people would want to have a vacation home or a cabin or just anything where they can spend their weekends with nothing but the chirping of the birds and the whispers of the wind. It would really be so refreshing, relaxing and fulfilling to have even just a few days of silence and privacy.
With that, architects, interior designers and civil engineers worked hand in hand to come up with various house designs that can give their clients not just comfort but lifetime happiness. A place they can call their own with the touch of nature and the pride of irresistible living is what everyone really dreams of. Houses with the combination of a natural environment, compelling designs and appropriate functions are built for people who enjoy gratifying escapes.
The Mill House is one the creative products from Wingardh Arkitektkontor located in Vastra Karup, Sweden. This vacation home is coined from the Swedish style of sauna and bathing. With nature integrated to the design, you can see features of a pool and sauna which are both adjacent to a creek. You will also be pleased to walk along a path with great wood works. The home itself is made from light wood, thus, bringing nature home. Aside from being a sauna with attendant areas, it is also a dwelling that is why you can also find a bedroom, a living area with a fireplace and a bathroom.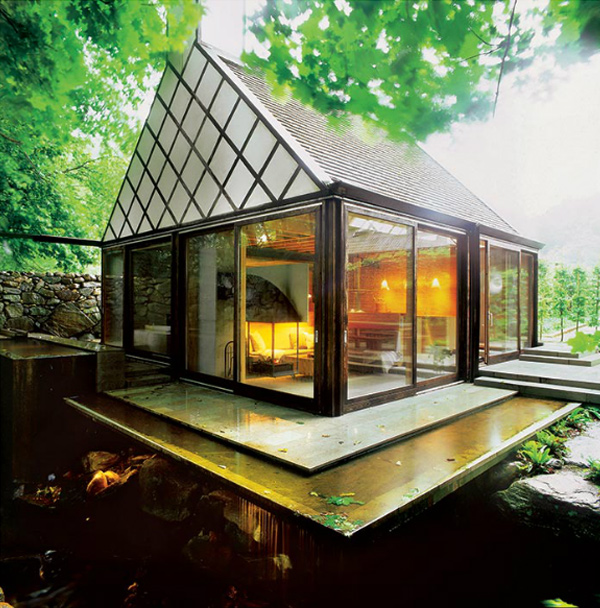 A high pitched small house made of wood and glass stands proud as one of the coolest vacation homes.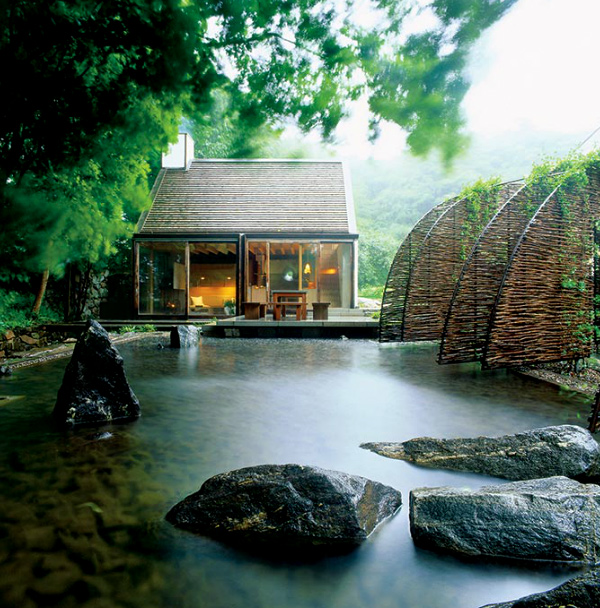 Nature is indeed one with this vacation home as it is built just near a creek within the property.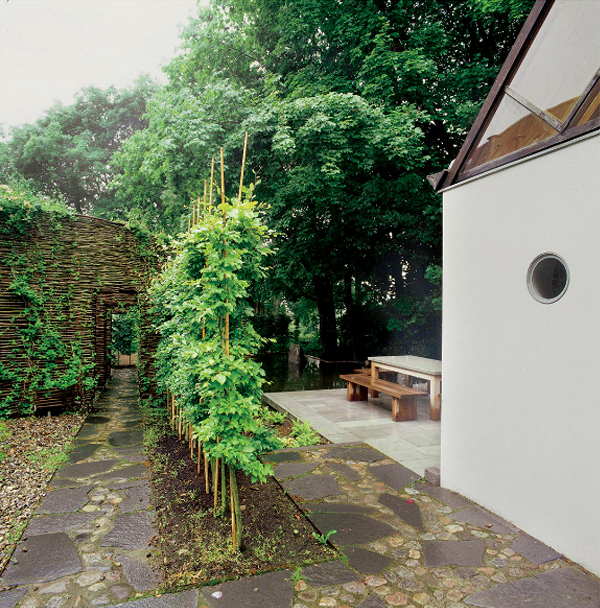 A close look at the path with covered wood works. Nature will certainly be felt even in this pathway with crawling vines and pretty stones.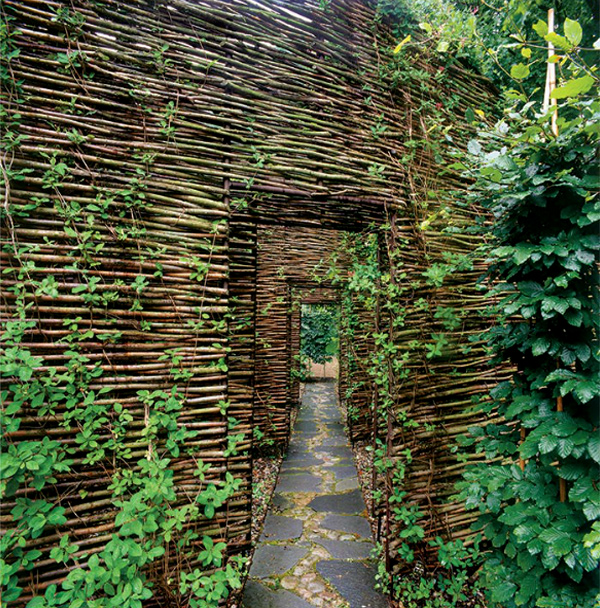 A trail of decorative pavers and excellent carpentry leads the way to the Mill House.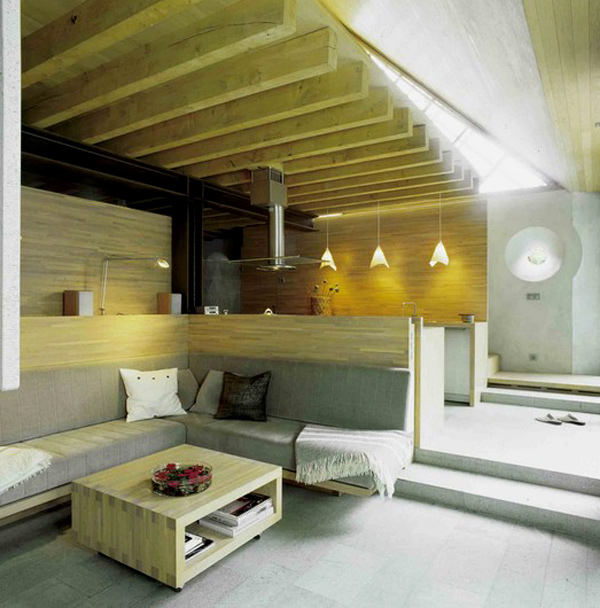 A cosy living area with soft and warm tones from all parts of the house.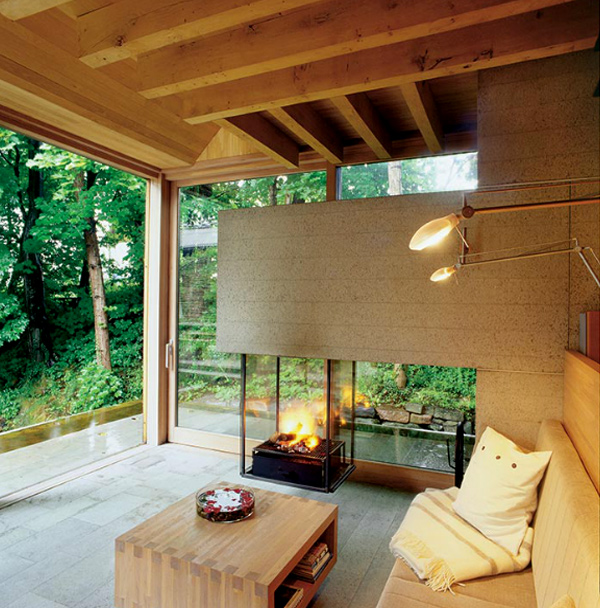 Wood furnishings augmented with the overhead lamp located above the sofa whose color matches the tone of the entire home.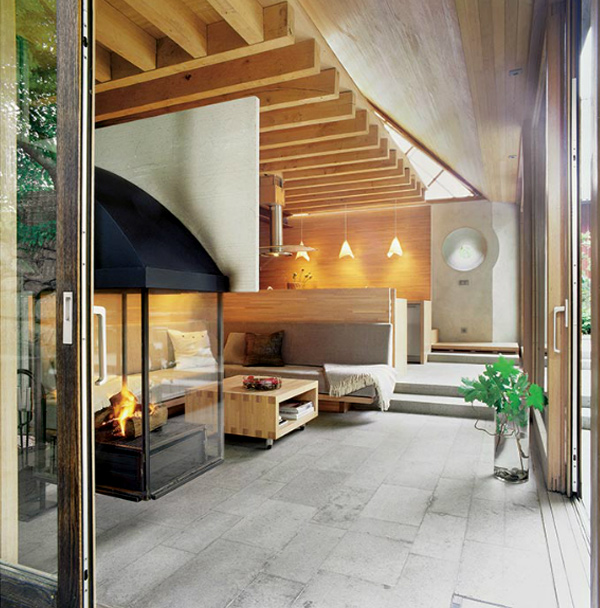 A perfect modern fireplace at the living area adds a more dramatic touch and mood to the house.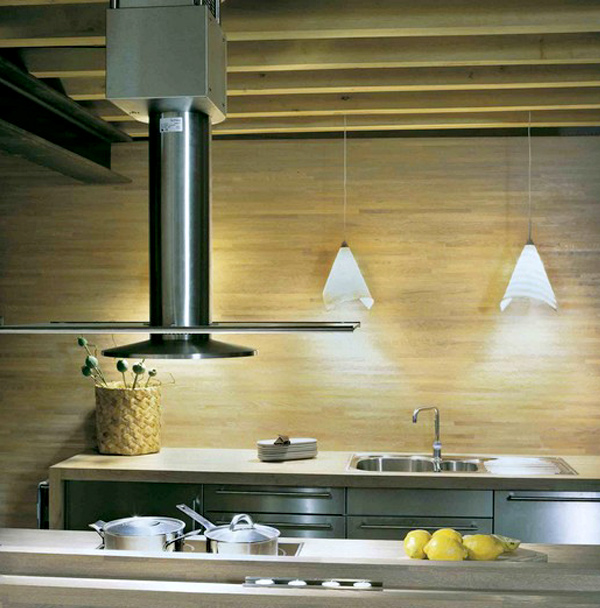 A splashback with wooden top is used in the kitchen to complement the aura of nature inside it.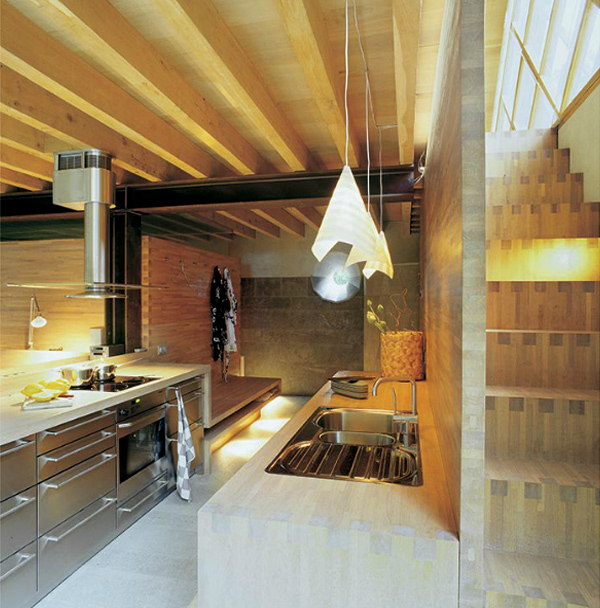 A gorgeous wooden ceiling made prettier with the use of uniquely designed overhead lights makes the kitchen look more conducive to cooking.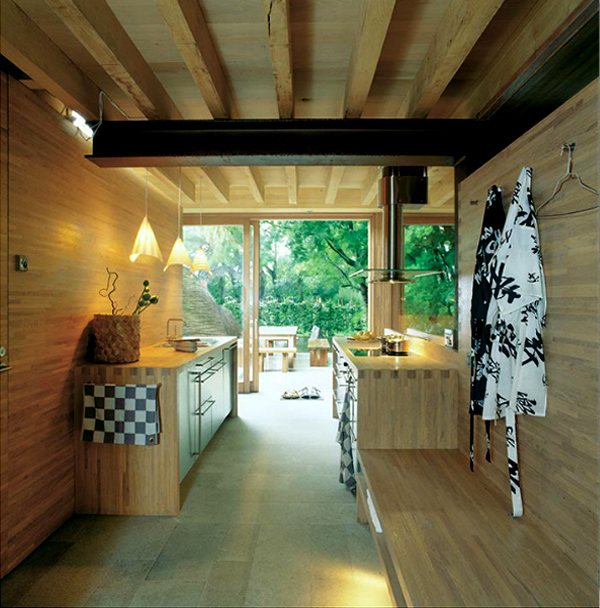 An area intended for preparation for the sauna where one can have a good view of the pool and the creek.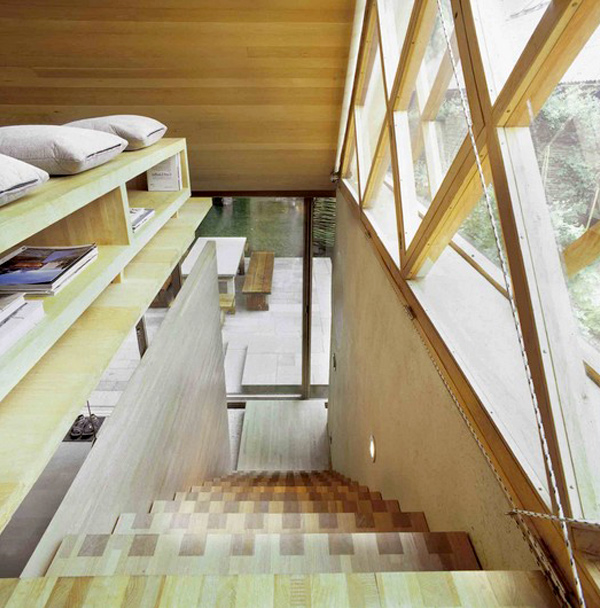 This beautiful stairs is made from wood giving it the feel and aura of nature.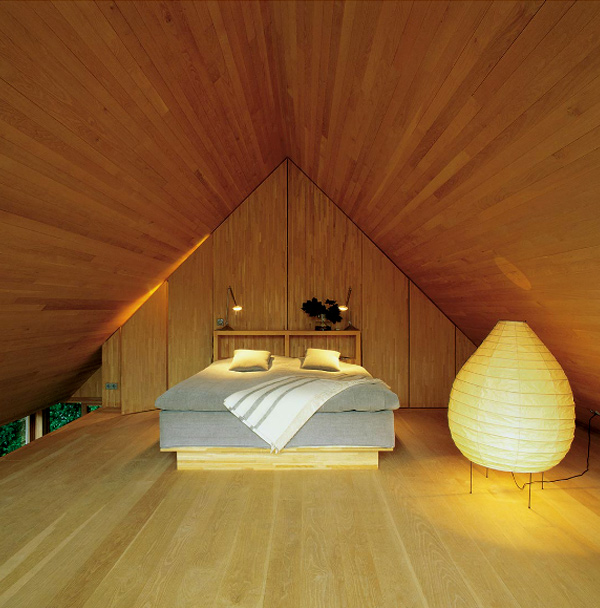 A very private bedroom with light from the pear shaped standing lamp giving it a more relaxing feel.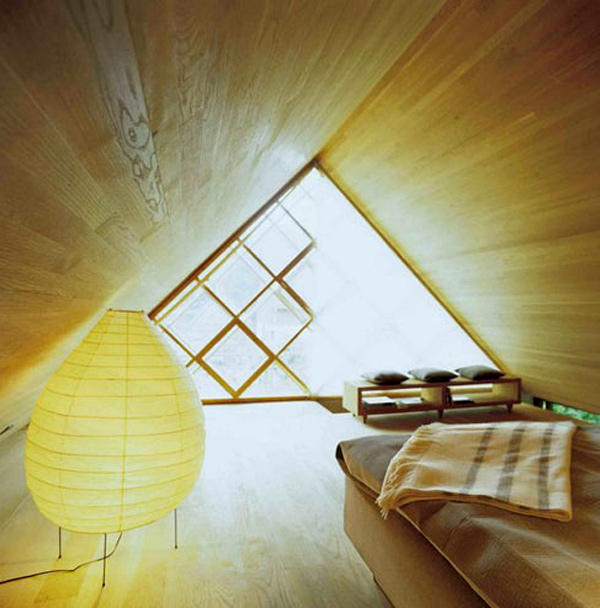 The bedroom located just under the pitch of the roof has decorative sky lights that allows natural light to come in.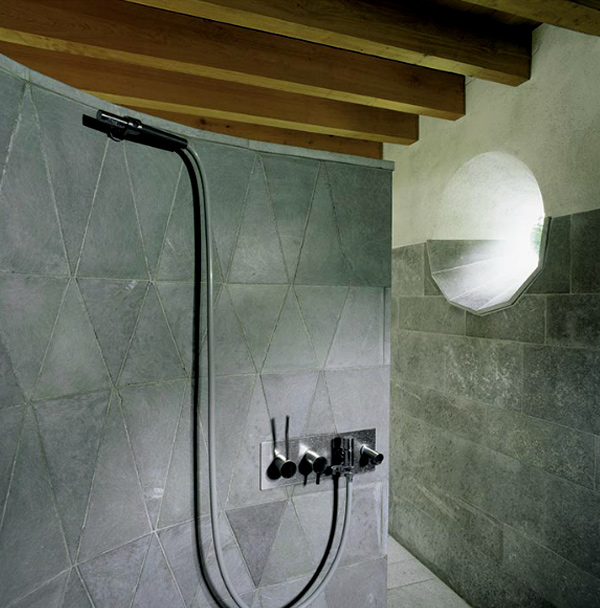 The use of gray colored granite and the pattern of placement makes it truly appropriate for the home's concept.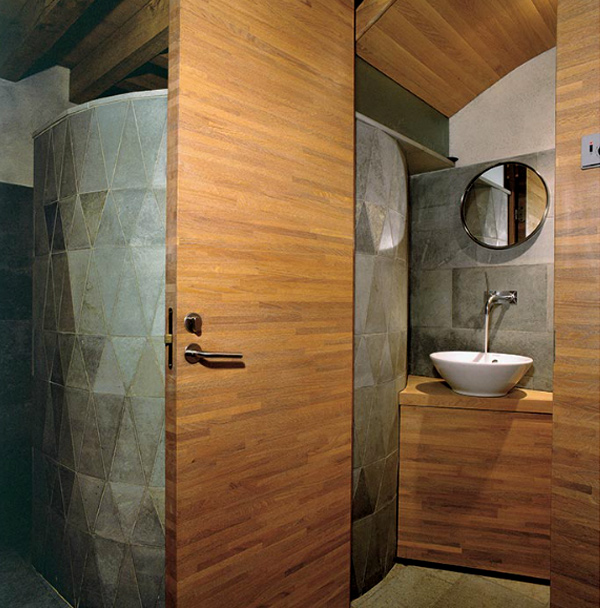 A tall wooden door paves the way to the bathroom wherein one will be welcomed with a clean ceramic sink and a round mirror giving it a look pf freshness.
Isn't that breathtaking? Everyone would like to live in that home! This place is certainly perfect for a weekend getaway. It even suits to the Swedish ritual of sauna wherein they have to do baking together and dipping in a cold stream as part of the ritual. Aside from that, it also drives one closer to nature where nature's sheer beauty can certainly be appreciated. The photos of James Silverman allowed us to tour the house even if we are miles away from it.
No doubt, the Mill House is a product of intelligence and creativity. The manner of its construction is even very impressive especially in its use of wood and glass. For a small house, this truly seems spacious. It did not waste any space and even used the pitch area as a bedroom. Truly, original and genius. A job well done for Gert Wingardh of the Wingardh Architects !