ReActor: A Rotating Habitable Structure
Would you live in a home that stands on a single column and rotates?
Dwellings come in different designs and styles. And the design of the space will also look distinct depending on what the client wants. We have featured so many beautiful homes here on Home Design Lover and we have noticed that each one of them has a unique feature that sometimes is even similar to each other. But we can see that even if there are some similarities, each one is still a totally different home not just because of its different homeowner but because of its layout would depend on the size and shape of the lot. But today, we are going to feature a house that is very unique. It sure is nothing like any home you will see anywhere.
The structure that you will see today is designed and built by architect-artist duo Alex Schweder and Ward Shelley. It is called the 'ReActor' which is a habitable sculpture where they lived for a five-day performance. The structure measures 44-foot by 8-foot and it rotates 360-degrees. I know it sounds weird that a home could rotate. I could imagine having headaches while in here. The habitable structure sits on top of a 15-foot concrete column at the center. This home is on display at the OMI International Arts Center in Ghent, New York. Well, it does look really different especially if you see it move. Let us check at the house below.
Location: Ghent, New York
Designer: Alex Schweder and Ward Shelley
Style: Modern
Type of Space: Courtyard
Unique feature: A small contemporary modern home which allocated space for a small courtyard with impressive landscaping.
Similar House: Singapore's Primrose Avenue Residence Features a Rotating Front Screen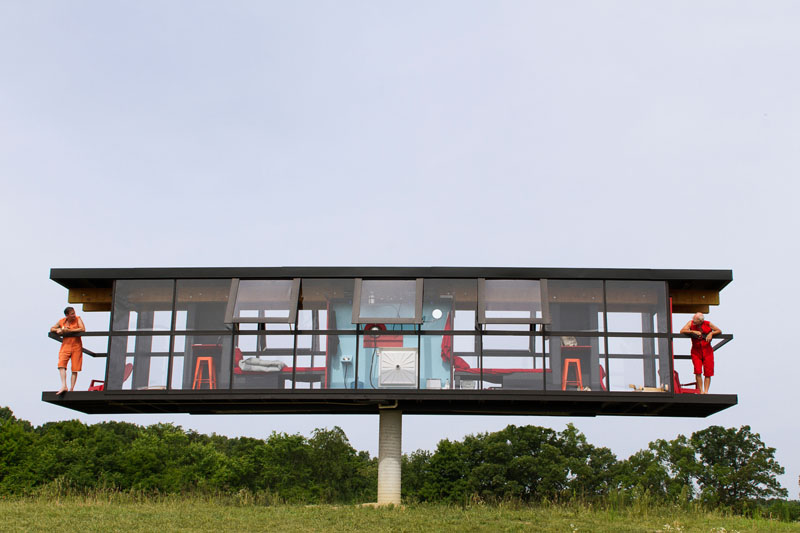 When you look at the house, it does look like an ordinary home at first glance but if you notice the columns, you will realize that it is not an ordinary home. With its glass floor to ceiling windows, you can get a glimpse of what is in the interior featuring a bed and a cube which assume holds the bathroom.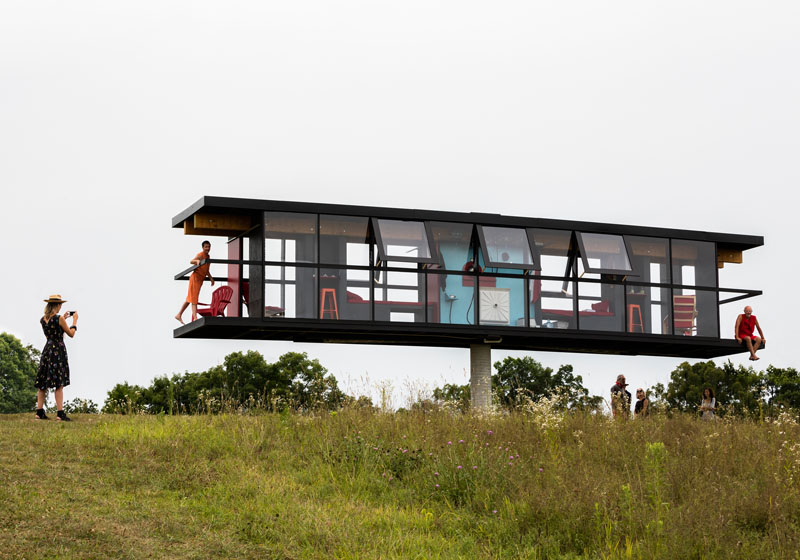 One thing that I noticed in this house is that everything inside it is symmetrical which could be done in order to achieve balance. But I am not sure if this is something that you would like to stay in for a lifetime. This is actually made for an exhibit. Nevertheless, it is still a unique home.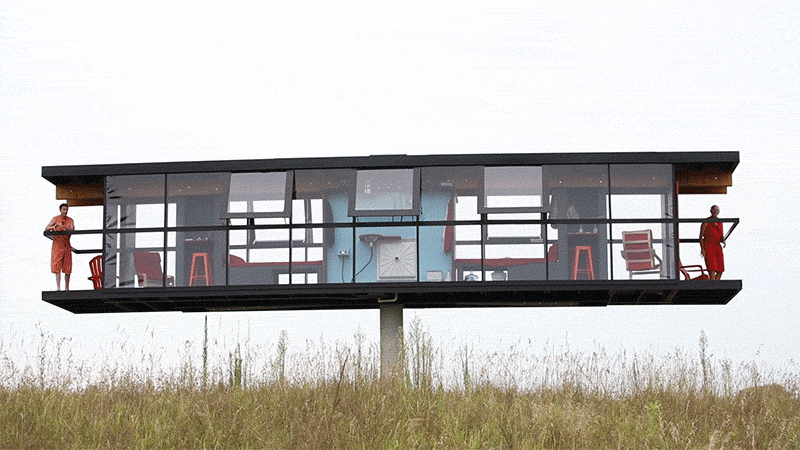 The structure moves and rotates in response to its inhabitants' movements, exterior forces, and interior conditions just like what you can see in this image. As the man moved to the other side, the structure tilts. I wonder how it feels like to be moving inside this structure!
Read Also: Observation House Provides 360 Views of its Breathtaking Surrounding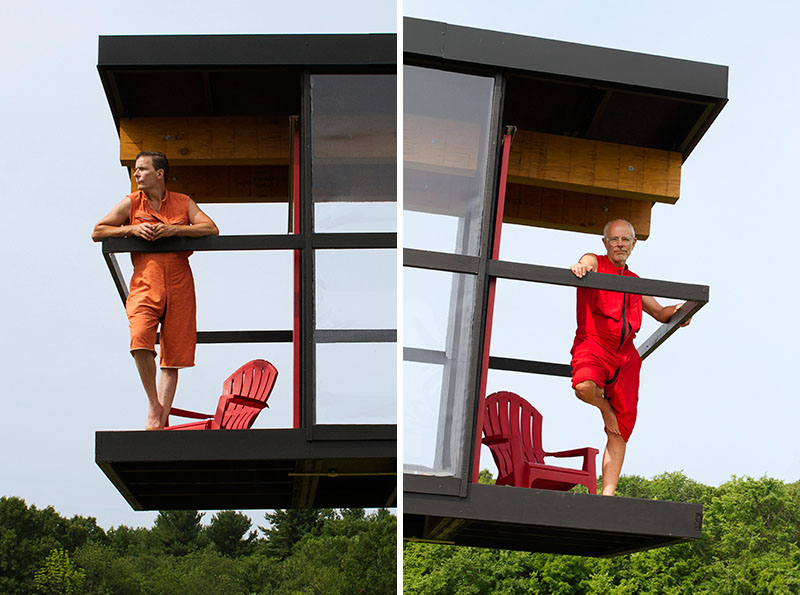 As what we have seen above, the structure not only rotates and spins but it also tilts. Sounds like a ride in the carnival, right? Seen here is the duo who designed the structure. They lived in it for five days.
Apparently, it is indeed a unique structure but of course, this is not something for a dwelling but it is more of a display. But then again, it shows that nothing is indeed impossible when it comes to design.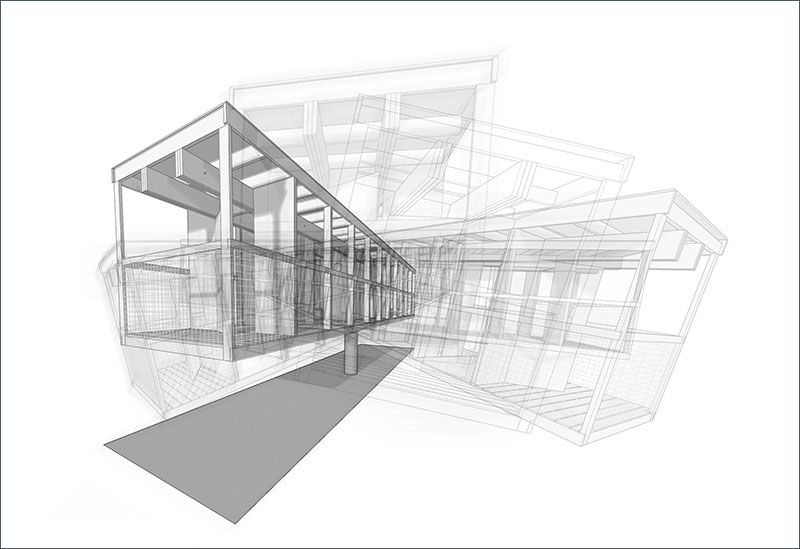 This is the sketch of the structure showing how it will move. I could say that the design of this ReActor took some time for the designers to create because aside from the aesthetics, it has to be balanced. The safety of those inhabiting it is also considered as well. The way we see it, this is indeed a successful project.
What we have seen above is called "performance architecture" from Alex Schweder and Ward Shelley. This is based on the notion that relationships between occupied spaces and occupying subjects are permeable. This manifests that a subject first perceives his or her environment and then it can be changed by that perception. A person can alter their environment in order to correspond to their fantasy. With that, structures like the ReActor are being created. Of course, you would surely agree with me that the structure above is very impressive. But I am not sure if it is really something that you would want for a home.