Pointe on Andesite: A Captivating Rustic Home in Montana
I know you got used seeing homes with sleek modern designs. But those that are made from wood with some cottage appeal or even an Asia design wouldn't be new to us. How about, rustic ones? Well, you must have rest your eyes on homes with this design but haven't appreciated how stunning these homes really are. Today, you are going to see just that.
There is a lovely home located in Big Sky, Montana with a captivating rustic design called Pointe on Andesite. It is a rustic style luxury log cabin with elegance and comfort intended for family and friends who can come to relax and just feel at home. The interiors of the house feature durable fabrics and furnishings. Lots of windows allow one to get views of the mountains as well as the entry of natural light to the home. In the living room, there is an indoor rustic balcony that is bordering around the double story stone fireplace. The home is comprised of a living room, kitchen, dining room, cozy bedrooms, bathrooms, a basement and wine cellar.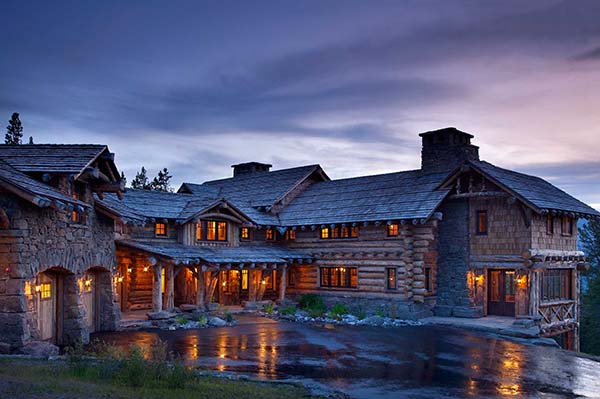 First glance at this home will make you feel the romantic vibe it has from the materials it used as well as the lighting.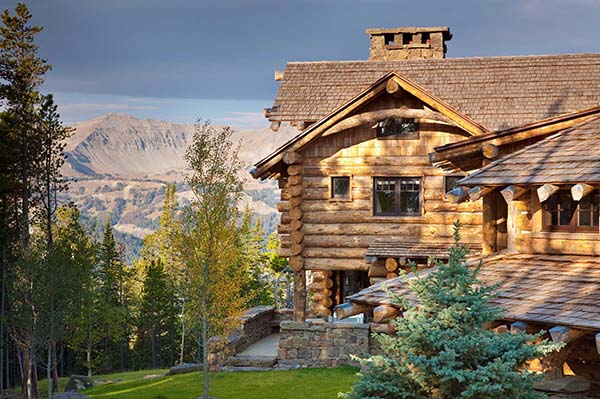 It used logs for the design which will even bring you to the past but will make you fall in love with it because of its location.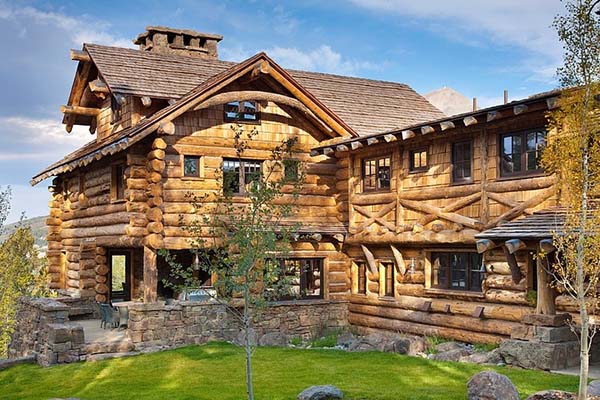 The exterior is actually a stunning design that is inviting and intriguing at the same time.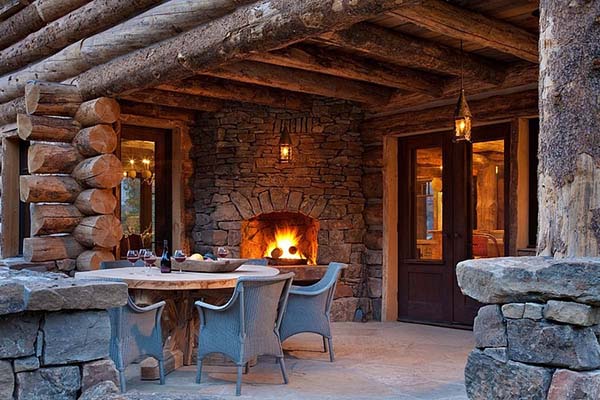 In the balcony, you can see a brick fireplace where a dining area is located.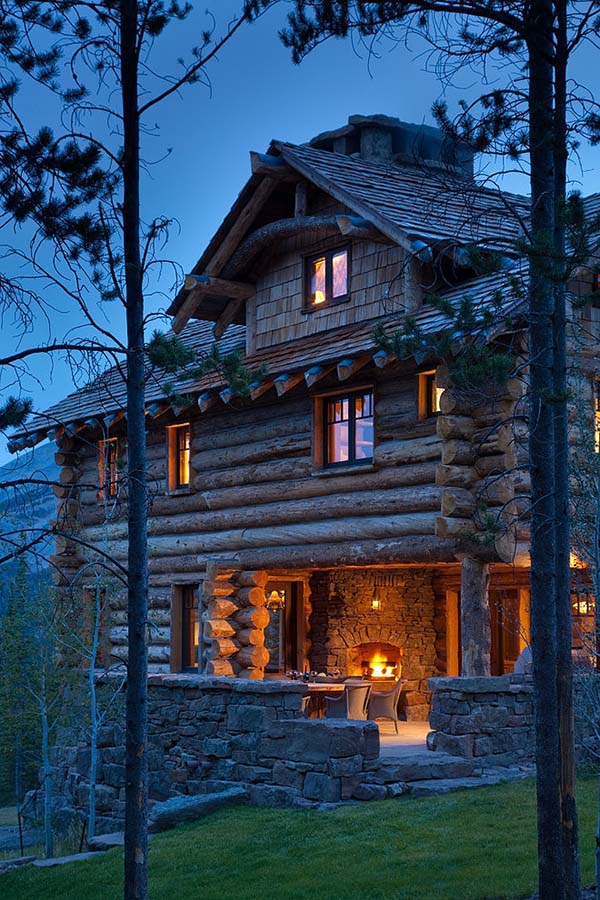 Imagine resting and relaxing in a place like this with the fire crackling near you!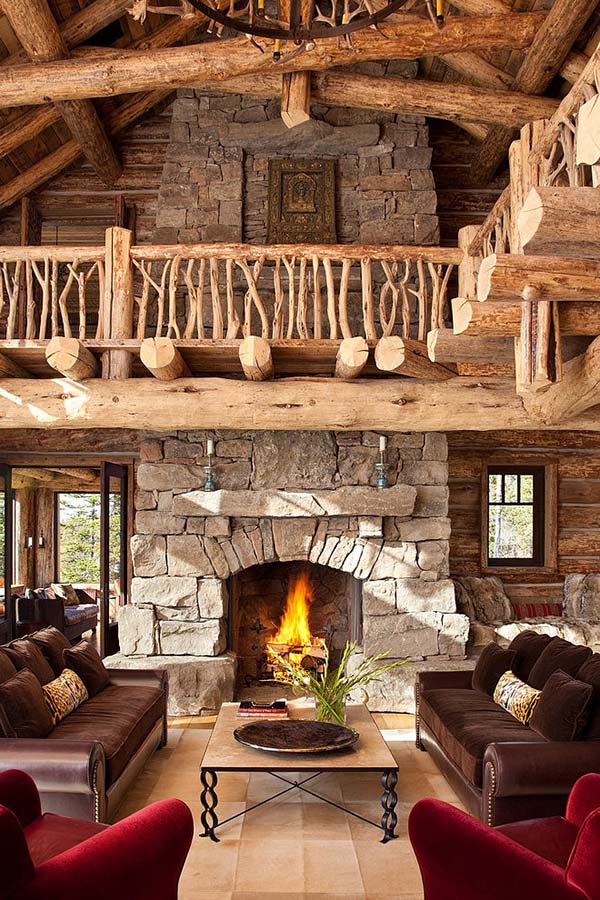 This is the interior featuring another fireplace where you can see an indoor rustic balcony above it.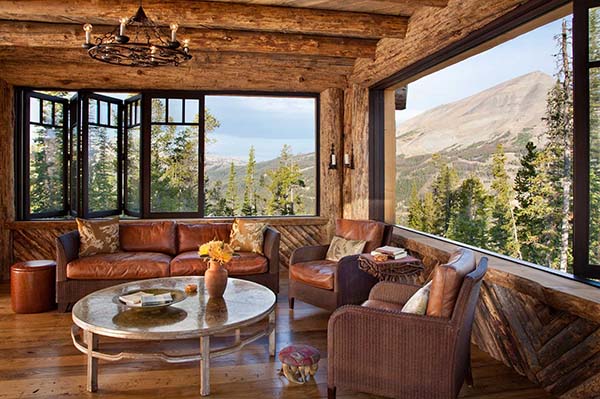 What a view! The mountains are clearly seen from outside the window in this rustic living room.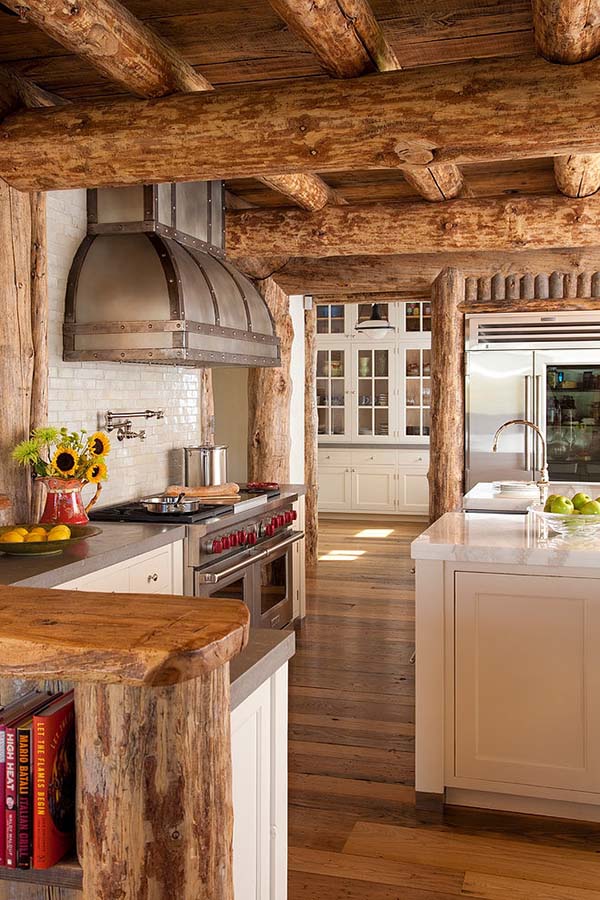 The kitchen may have that rustic design but it has modern appliances and equipment.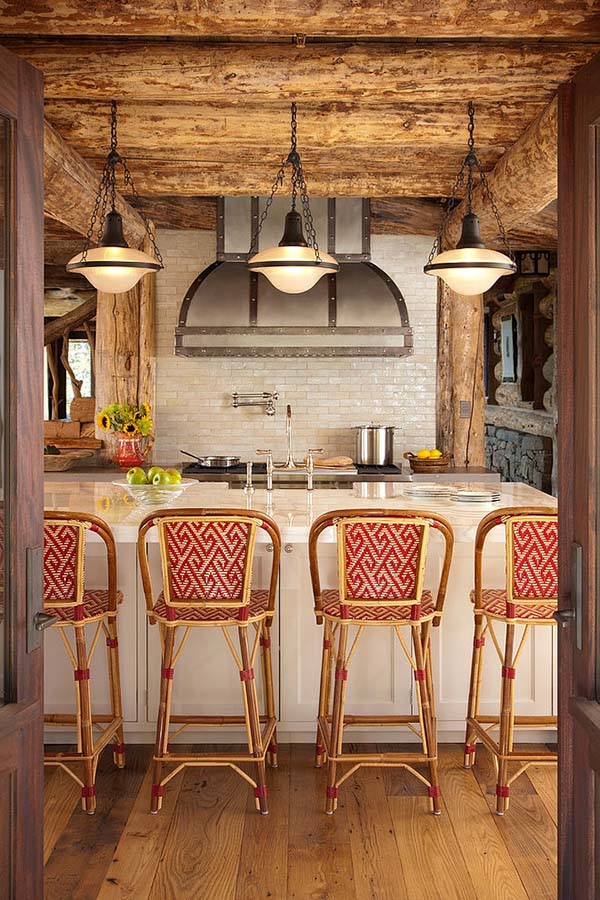 Those high counter rattan chairs in the kitchen look so beautiful!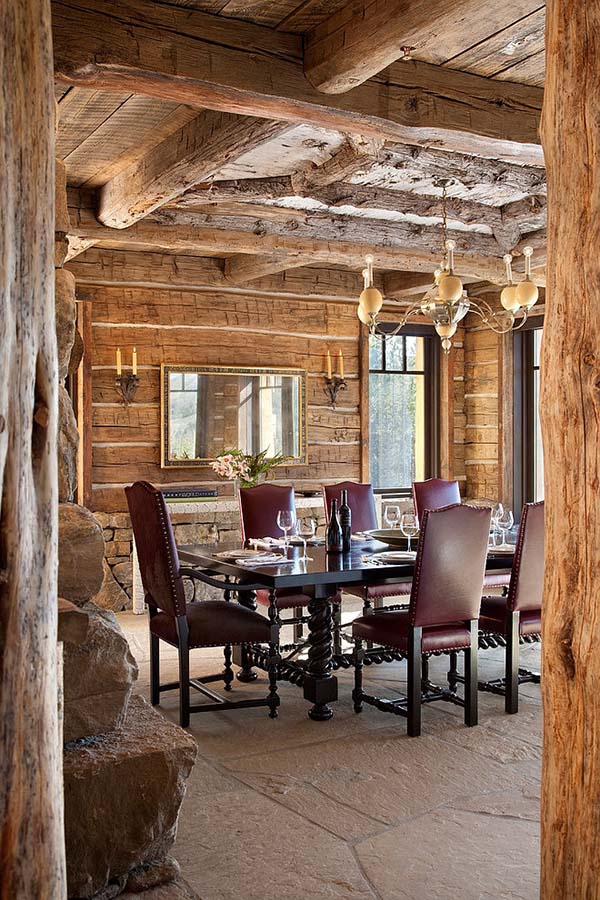 Who would expect that the dining area would be as elegant as this one?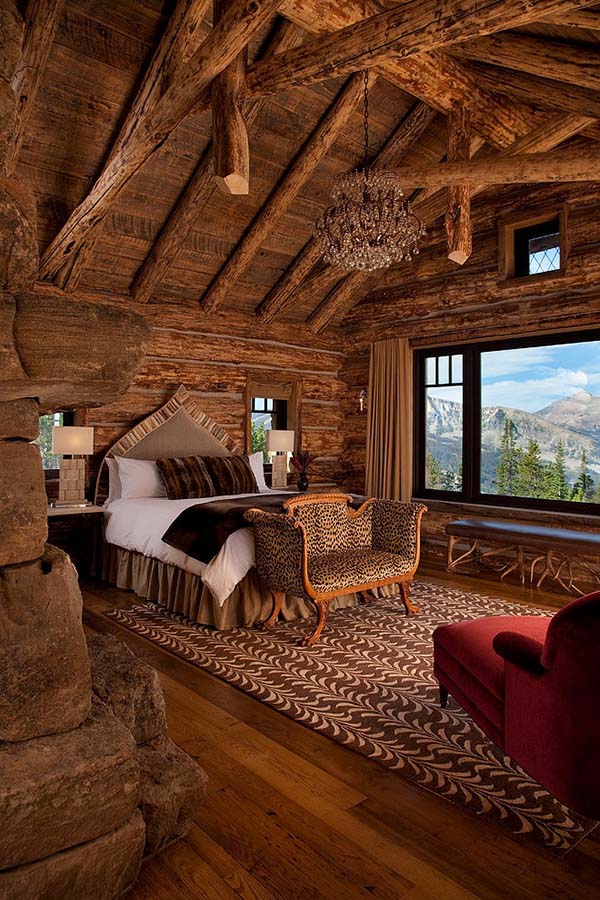 The bedroom has a beautiful romantic vibe. I honestly love the combination of prints in here.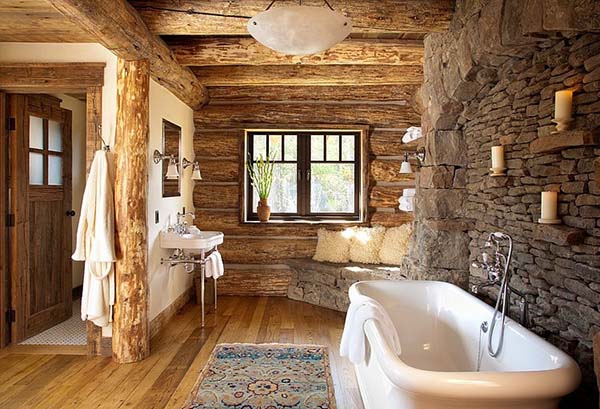 The bathroom still has that rustic feel but it used stones for the walls adding drama as a backdrop to the bath tub.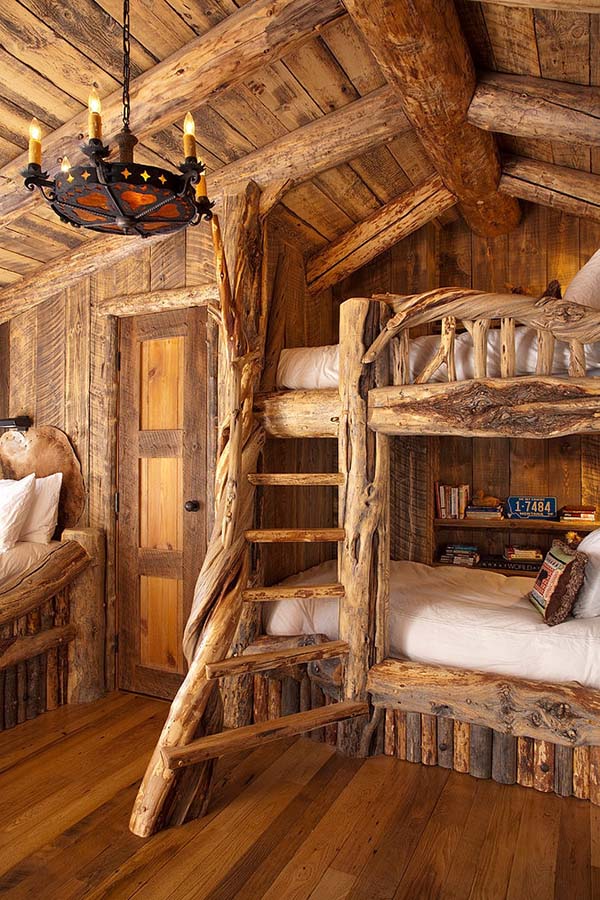 Don't you just love the look of this double decked bed? It was like sculptured from wood!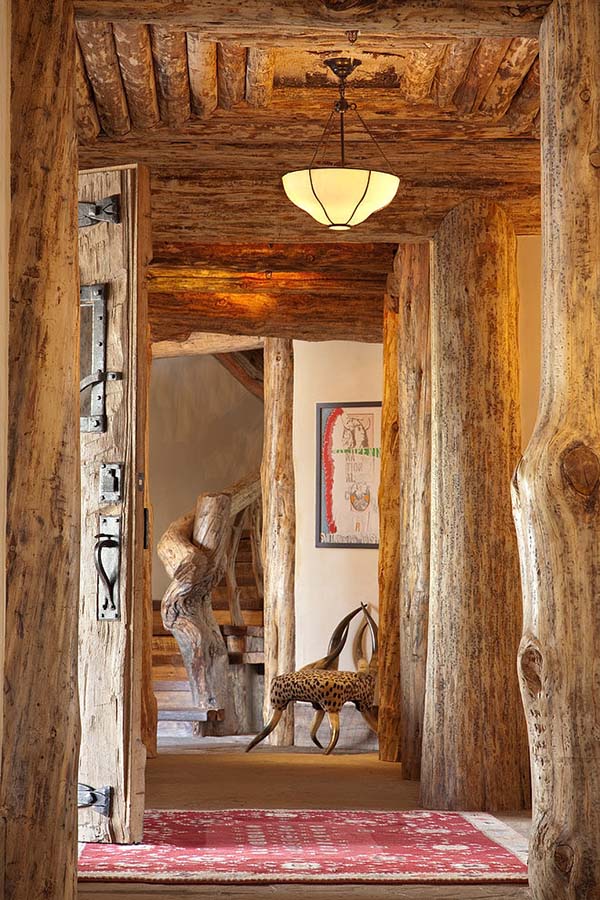 You can get that rustic feel all over the house and I find it really pleasing and heart-warming. Even that chair looks amazing too!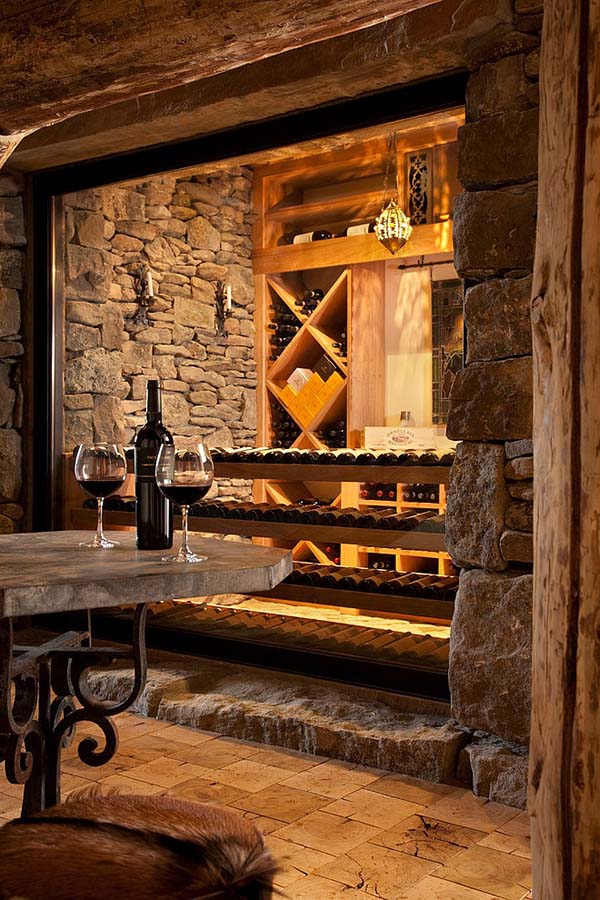 And yes, you can get a drink from whatever wine you want from this wine cellar.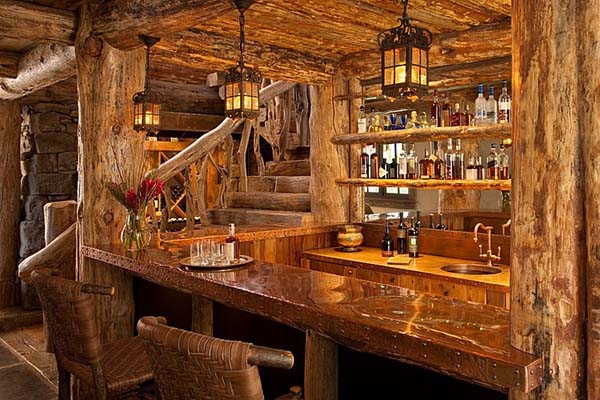 Of course, it won't be complete without a bar!
The interior of the house has a beautiful design that looks elegant but would also be practical enough for muddy boots. From the kitchen, one can find an outdoor covered patio with a fireplace that is perfect for intimate gatherings with family and friends. The location of the home is high up on forested mountain site with sweeping views of the surrounding rugged landscape. This traditional style log cabin is designed by Pearson Design Group. This three level beauty is spacious and has everything one would want for a home or a vacation retreat!