A Home with Multiple Living Areas in Cherry Hills Village Colorado
Would you believe that this house has many living rooms and dining areas?
Most of us would love to live in a home which is spacious and comes with outdoor spaces where we can relax and spend time with the family. This is the dream house of many people although it isn't really ideal for everyone. But today we are going to show you a house with a modern contemporary design. Apart from its beautiful design, it has many living spaces, dining areas, and kitchens. It may sound too much but this would work well for a family who loves to invite their family and friends for dinners and even nighttime barbecues.
The house has a floor area of 10,070 square feet and it is dubbed as the ultimate modern estate. The modern contemporary home is perfectly sited on 2.5 private and pastoral acres in Cherry Hills Village, Colorado. This spectacular residence has an open floor plan with a seamless, organic flow, four bedrooms, seven bathrooms and multiple living spaces. Aside from that, it also has a media room, an eat-in kitchen, a breakfast bar, a designer kitchen, a fitness center and others. By utilizing floor to ceiling sliding glass walls, a smooth and flawless transition from inside to outside is achieved. This breathtaking home showcases the very finest materials and focuses on space, proportion, light, and the extraordinary architectural design elements. Let us take a brief tour of the house below.
Location: Cherry Hills Village, Colorado
Style: Modern
Number of Levels: Two-storey
Unique feature: This modern contemporary residence has many dining and living areas. It also features different outdoor spaces including a cabana.
Similar House: Fazenda Boa Vista: Families Enjoy Outdoor Living in this Contemporary Home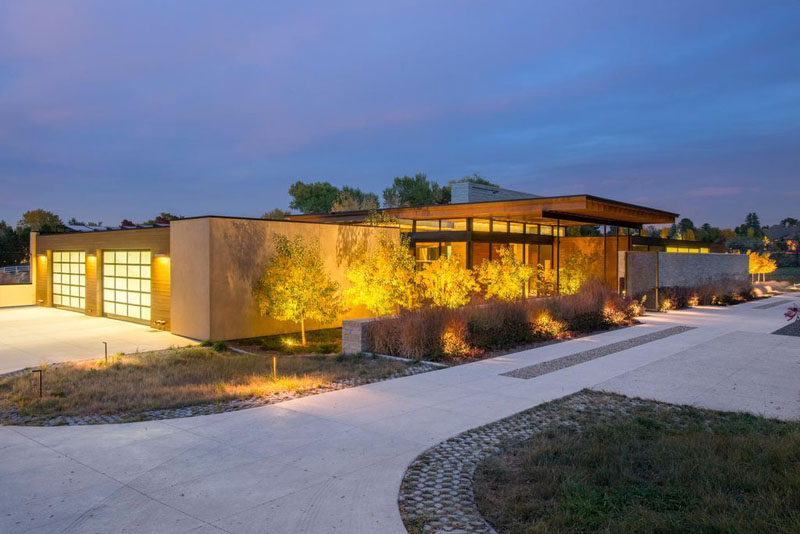 This is just one side of the house and you will surely fall in love with it merely by looking at this. Aside from the sleek modern touches in it, you will like its dramatic lighting and its landscaping.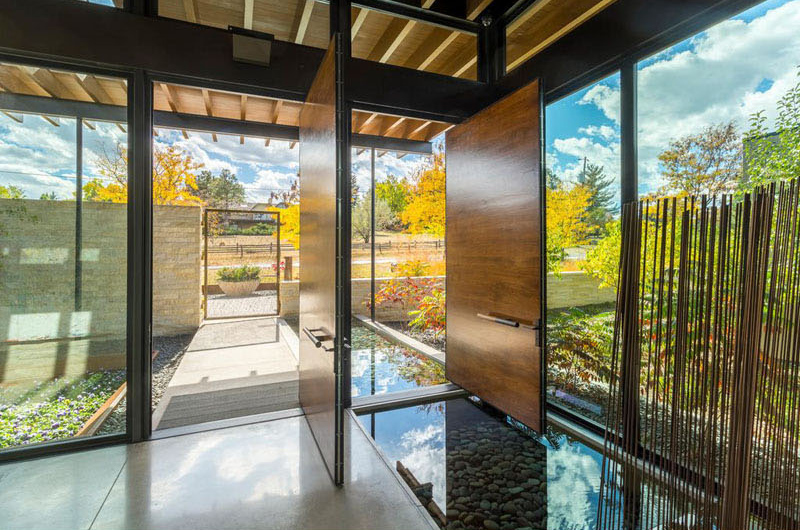 When one enters the house, there's a small water feature and a garden that welcomes everyone before entering through the large pivoting wood door. Isn't this a nice way to welcome guests? And this is also a nice way to make the homeowners feel relaxed from the time they enter their house.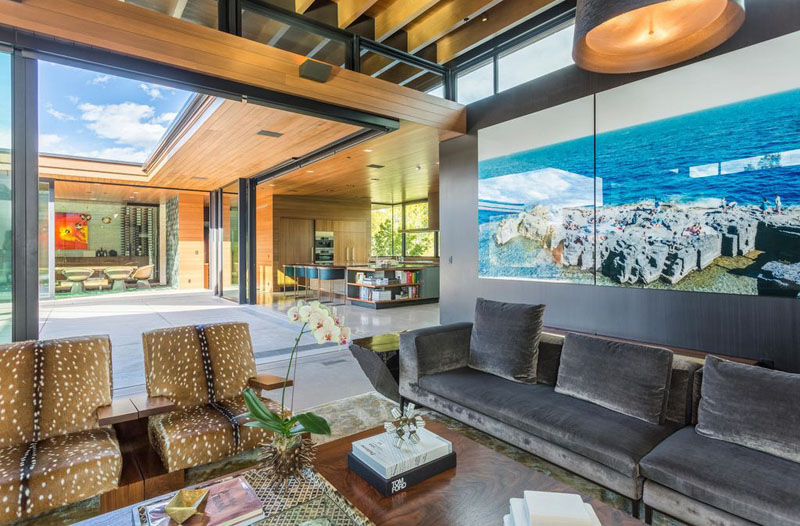 Just off the entrance of the house is a living room which is hidden behind a stone wall with an embedded fireplace. The living area is also defined by a large rug and opens up to a patio space that provides access to the kitchen and dining room.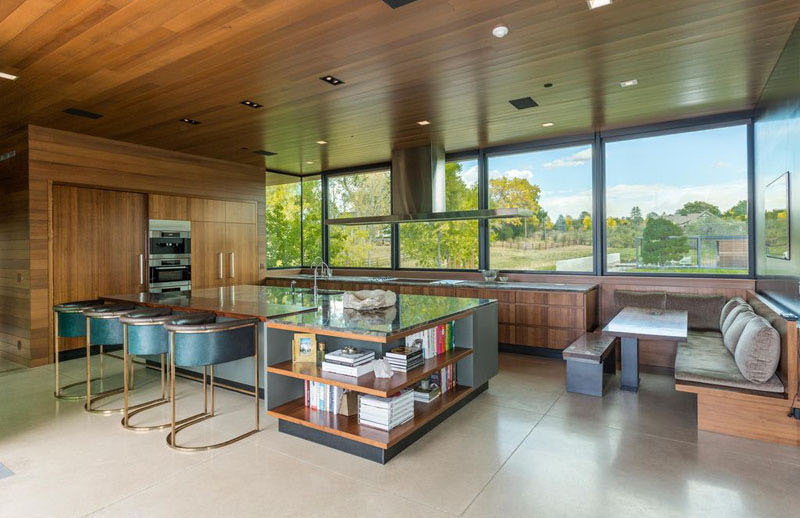 Located off the patio is a kitchen with wooden cabinetry. It also has an island with open shelving and a built-in dining nook that fill the space. From the kitchen's window, one can see the second backyard with a large yard.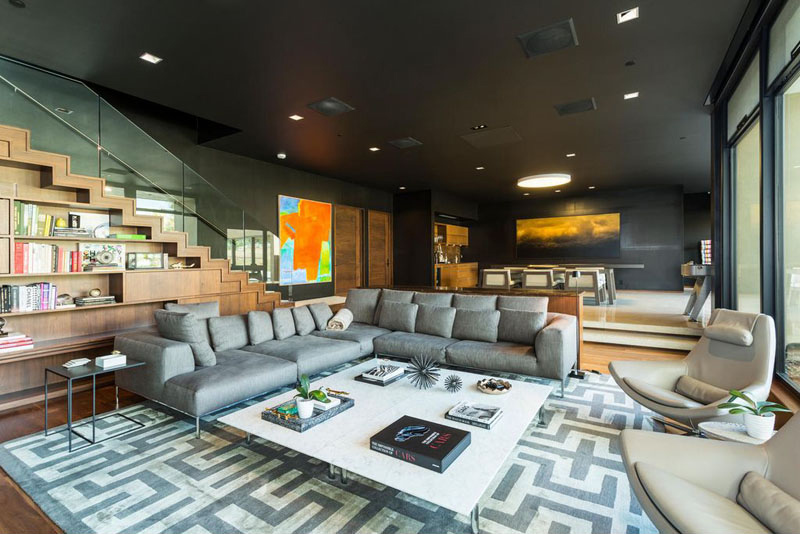 This is another living room in the lower level of the house which has a large rug that defines the space. It has shelving that is built into the space beneath the stairs. There is also a bar with stool seating behind the sofa.
Read Also: Comfortable Indoor and Outdoor Living in the Bay View House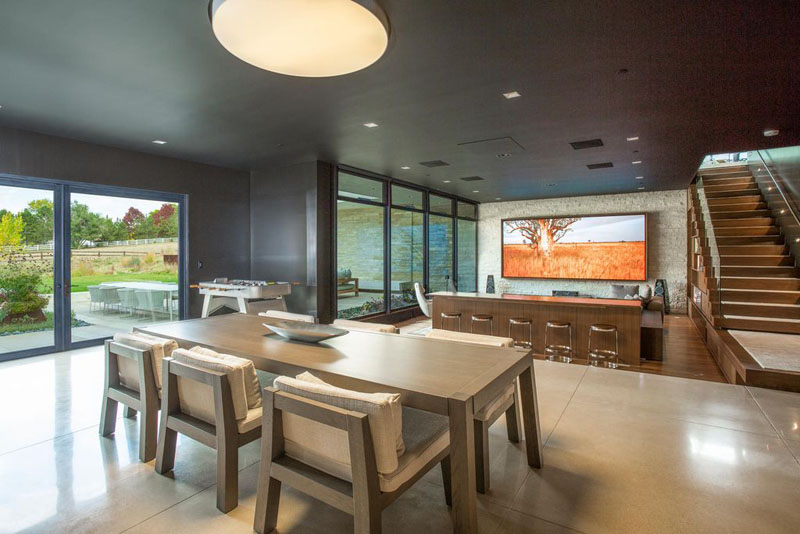 In the lower level of the home is another dining table which is part of an open floor plan. The area has a more casual and relaxed feel.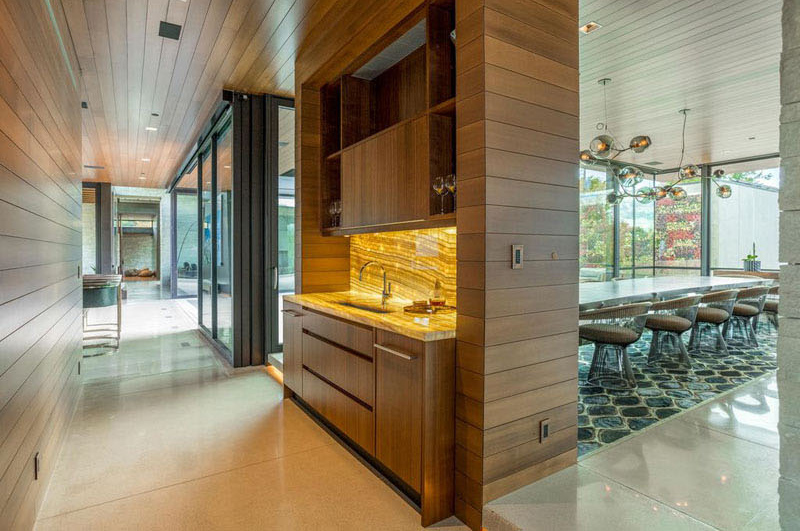 Next to the kitchen and the patio is the dining room which has a colorful blue patterned rug that runs the length of the room and continues up the wall. The glass-enclosed wine cellar can be seen in the area while there is a wet bar behind the wall.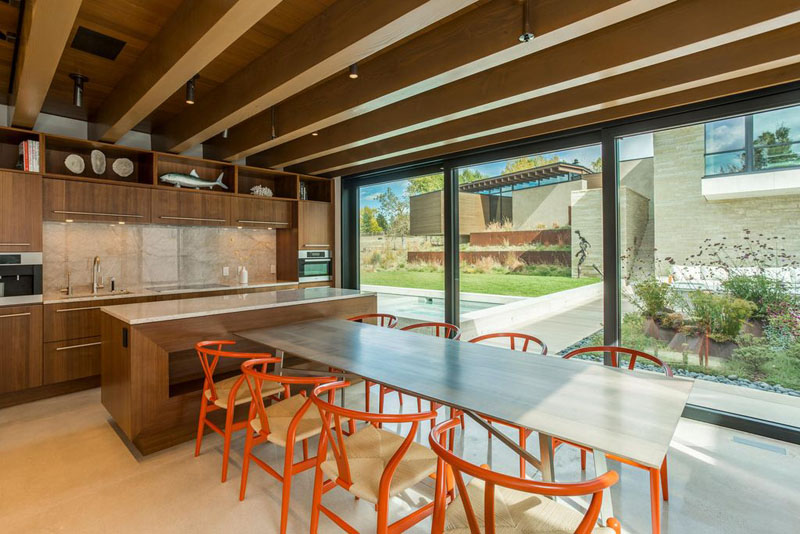 On this level of the home is a second kitchen with light countertops. It also has enough space for a dining table and eight orange chairs.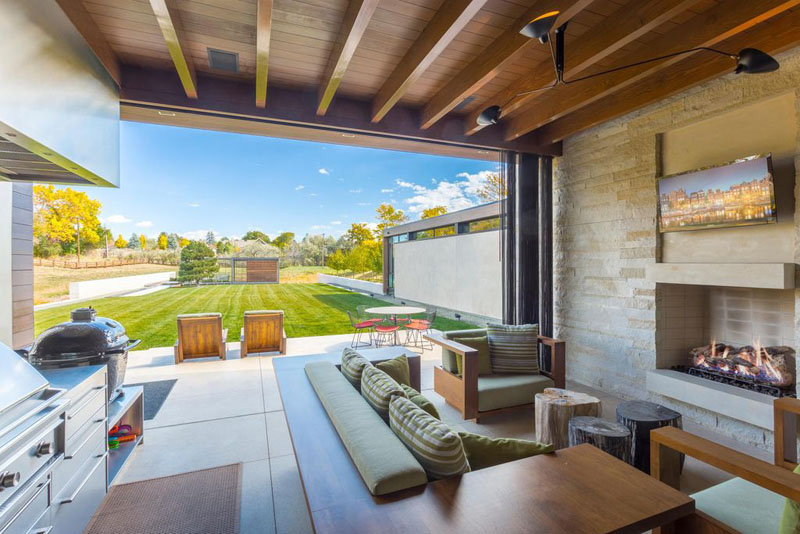 The house also has a small indoor/outdoor living room with a fireplace, a dining area, and a barbecue that is located just off the upstairs kitchen.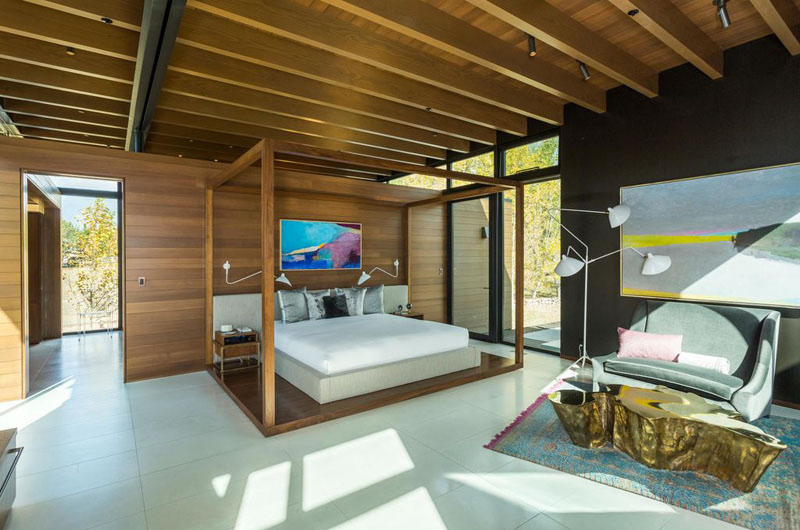 This is the master bedroom where you can find a wooden accent wall behind the bed. It also has a small lounge area with a fireplace and built-in shelving along one wall that houses a television. Don't you just love that gold coffee table?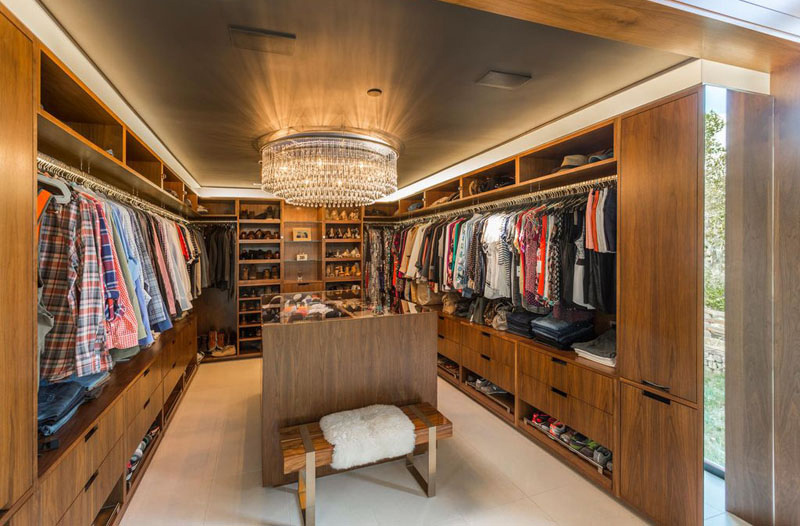 Off the master bedroom is the master bathroom as well as a large walk-in closet. You can see that everything that the owner needs from clothing to accessories is all here. It has a central island for accessory storage.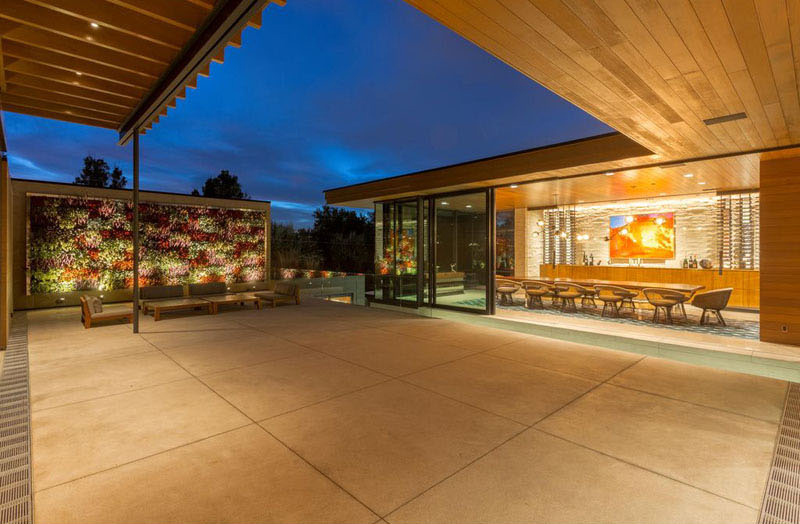 The patio features a colorful green wall and sitting area. From here, one can get a view to more outdoor living areas and also a pool below.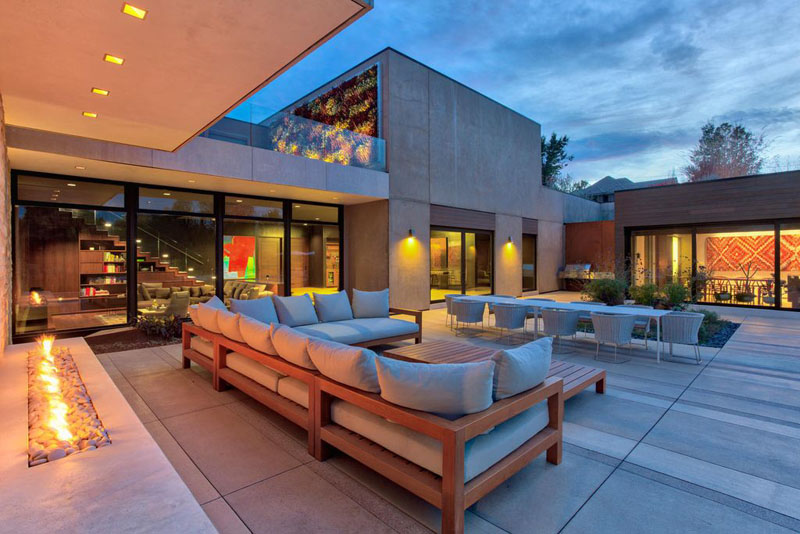 Outside the house is an outdoor lounge with fireplace and a dining area. This lovely area can be seen from the patio upstairs.
Aside from this, there is a surprise awaiting between the two-yard areas. There's a path with a water feature that runs alongside it and at its end is a modern cabana with another outdoor living room. For sure, it would be nice to read a book here or just relax.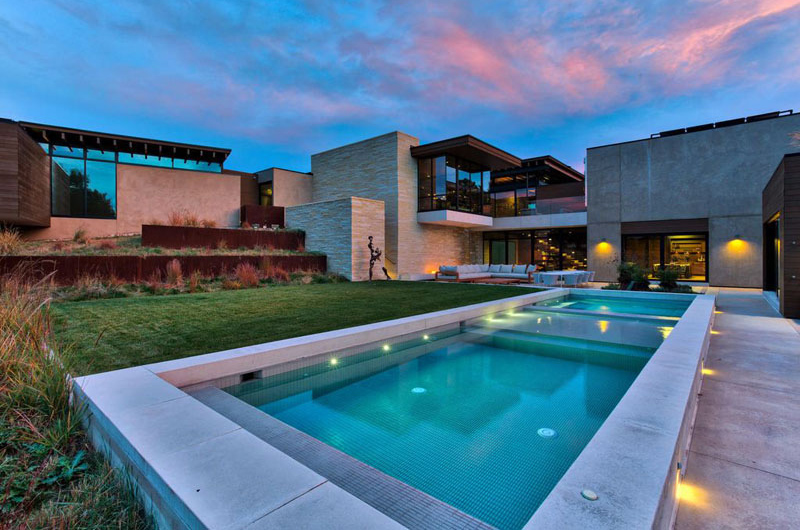 Next to the living and dining area is the swimming pool and sun lounges which are very relaxing. It sure is a nice spot to unwind from a day's work. There is also a yard that is surrounded by terraced landscaping.
This awesome home is listed in Zillow for $9,500,000. Quite expensive, right? Well, the price is just right because of how beautiful and spacious this home is. Apart from the beautiful architecture and interior design, the house also has good views around it which are a plus factor. It has covered terraces, a guest house, water feature and many green areas. And if you have cars, this is the perfect place for you since it has a four car garage. With this house, you couldn't ask for more!