22 Contemporary Living Room Designs with Fish Tanks
Wiki said, an aquarium is a vivarium consisting of at least one transparent side in which water-dwelling plants or animals are kept. Fish keepers use aquaria to keep fish, invertebrates, amphibians, marine mammals, turtles, and aquatic plants. The term combines the Latin root aqua, meaning water, with the suffix -arium, meaning "a place for relating to".
An aquarist owns fish or maintains an aquarium, typically constructed of glass or high-strength acrylic plastic. Cuboid aquaria are also known as fish tanks or simply tanks, while bowl-shaped aquaria are also known as fish bowls. Size can range from a small glass bowl to immense public aquaria. Specialized equipment maintains appropriate water quality and other characteristics suitable for the aquarium's residents. Let's see the pictures below.
1. Aquarium Architecture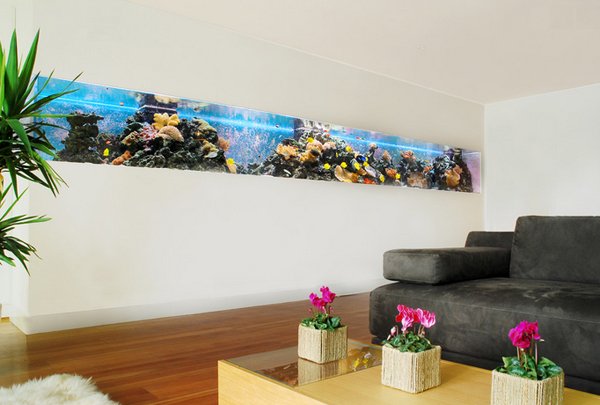 This is an amazing panoramic aquarium! I want one of those!
2. Austin Contemporary Living Room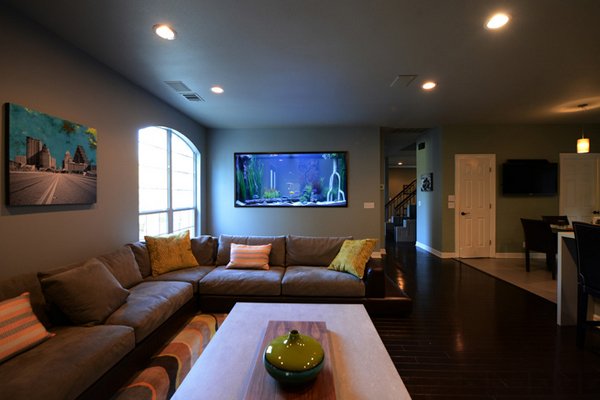 Look at this beautiful space. Viewable from two sides – picture frame in living room, custom cabinetry in formal room side.
3. Casa Joe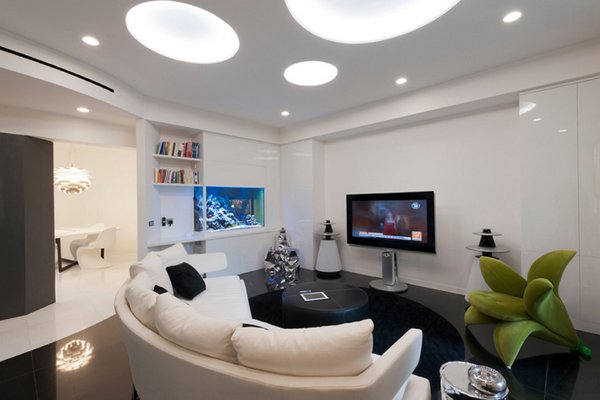 Here is one stunning space with one small aquarium that accentuates the living room.
4. Contemporary and Transitional Design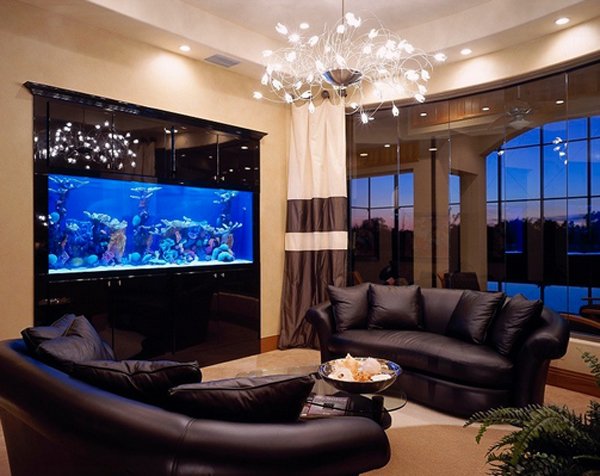 In one side you see the living room, on the other side, you see a dining room. Check out their website so that you can see the pictures of this home.
5. Contemporary Family Room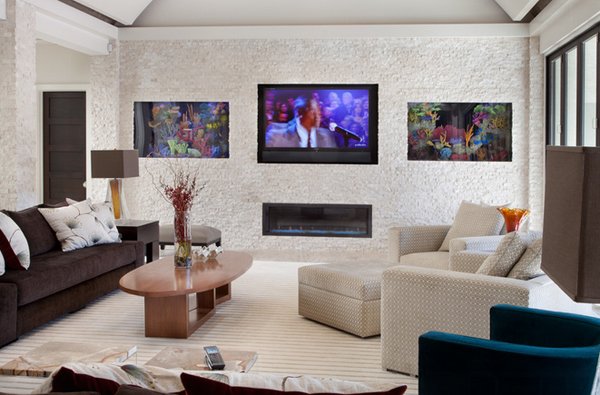 Double fish tank with a TV as the center point : put cabinets flush with wall below for AV/Storage.
6. European Contemporary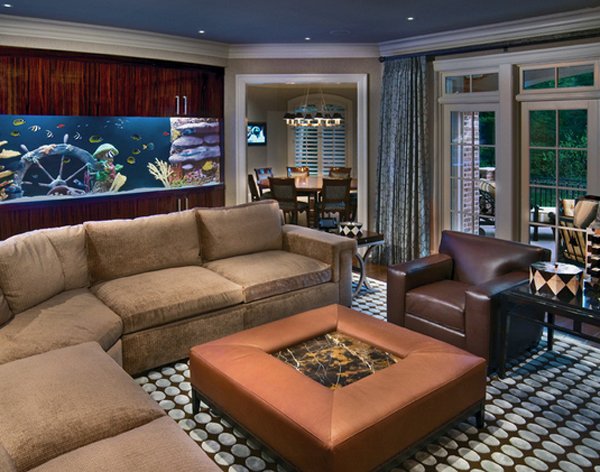 Look at the large fish tank that has a frame that serves as cabinets and that it actually match the color of the sofa in this San Francisco living room.
7. Frankfurt Penthouse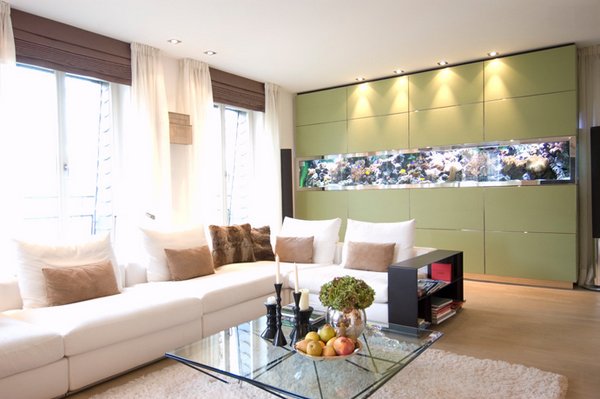 Here is one stunning example of a lovely long aquarium that makes this simple living room be more glam and sophisticated.
8. Lakeview Chicago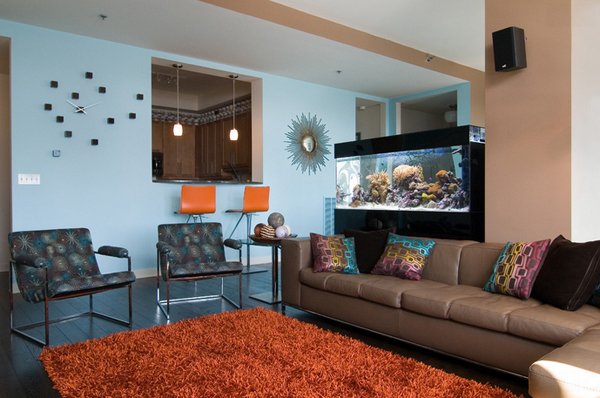 The color scheme of this Chicago living room is really beautiful and somehow vintagely charming.
9. Larry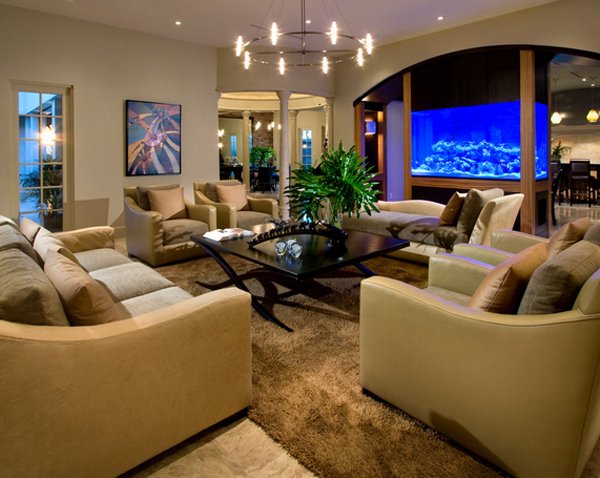 Division of living room and dining room with fish tank in center is never a bad thing.
10. Los Angeles Family Room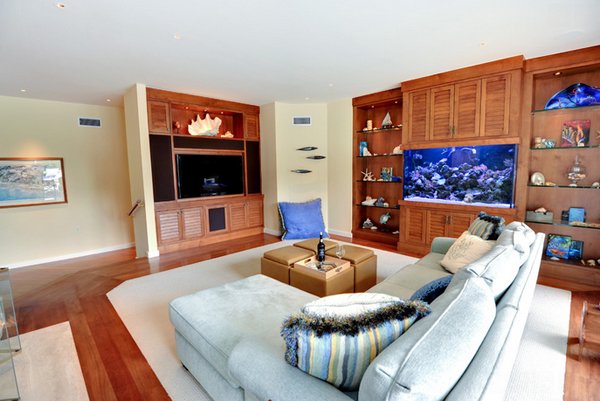 Design Synthesis said, "our clients' request for a salt water aquarium was the starting point for this beach themed family room with its beautiful custom cabinetry."
11. Miami Contemporary Family Room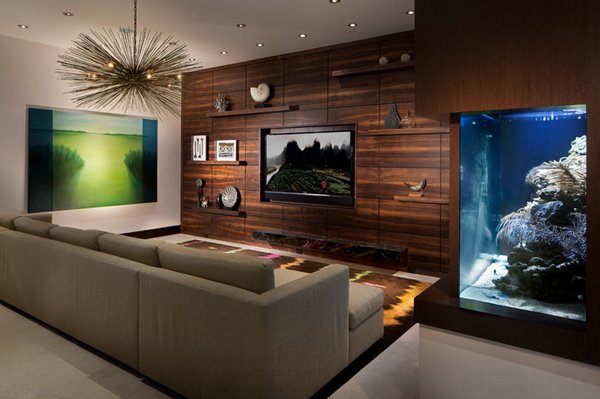 Beautiful wood wall with all the wall decors added although I do not really like the TV inset in there. Look at the large aquarium they have here!
12. Naples Design Project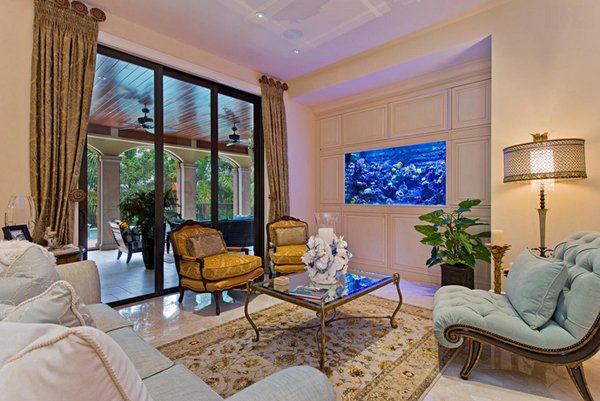 Elegant formal living area graced by custom chairs by Marge Carson, Raymond Waites and Century upholstery combine with custom window treatments all color coordinated to highlight the 1000 gallon salt water fish tank that is the center piece of this South Florida home.
13. Naramata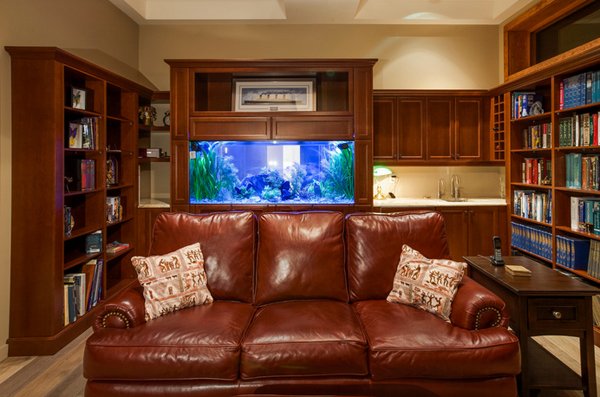 A small family room with wood as the main material used for the most part of this space – look at the large aquarium we have just beside a small lavatory to the right.
14. New York Family Room
This relaxing sitting room for a busy family of five feeds off of the serene view of the tropical, night lit fish tank.
15. Orange County Living Room
Here, art and aquarium complement each other on opposing walls.
16. Orchard Trail, Michigan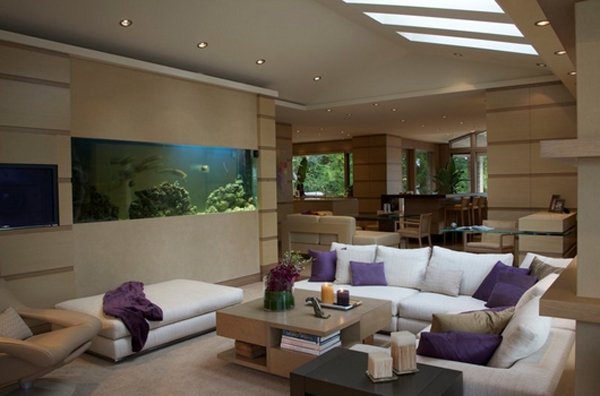 The color scheme of this Detroit living room is just fancy and glamorously simple – but it looks so beautiful; not to mention the lovely aquarium!
17. Orlando Modern Gallery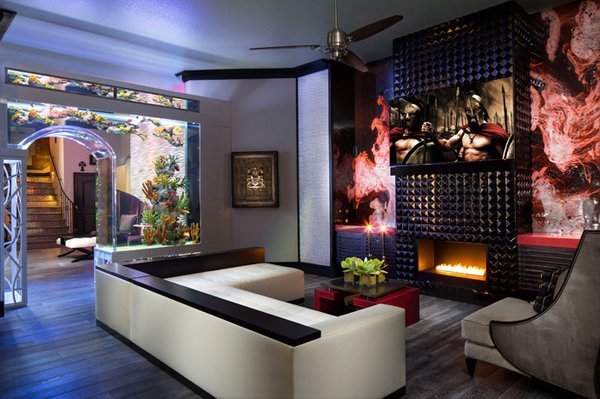 Holy Aquarium! I want one like this in the entrance of my living room!
18. Philadelphia Pennsylvania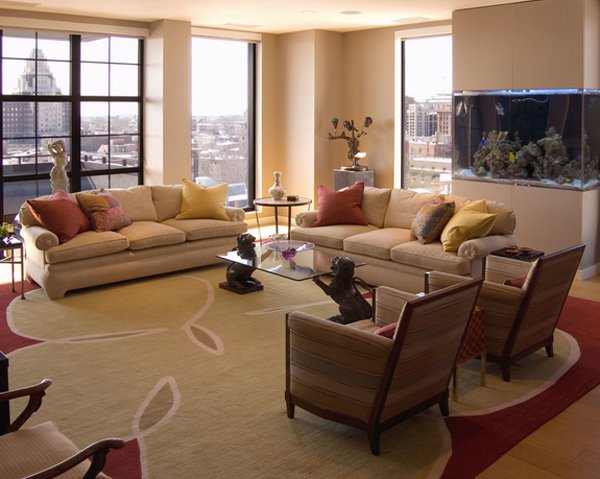 I love the chairs and sofas of this living room – even the area carpet. Adding an aquarium in the space is one great move both for the client and the designer.
19. Thornhill Residence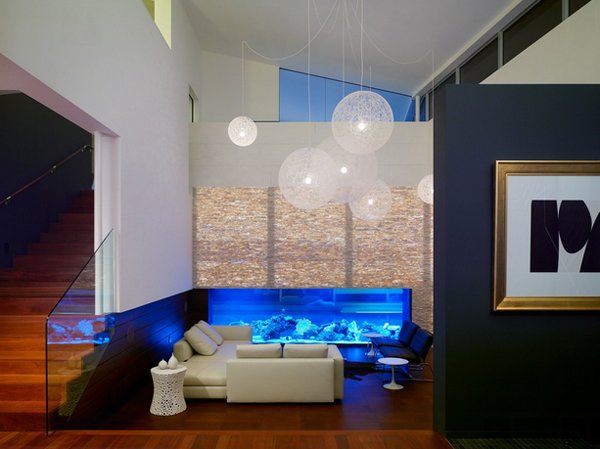 See the clustered globe lighting; cascading cords? Aren't they stunning right? But well, the awesome aquarium looks fancy too!
20. Tustin Ranch Estates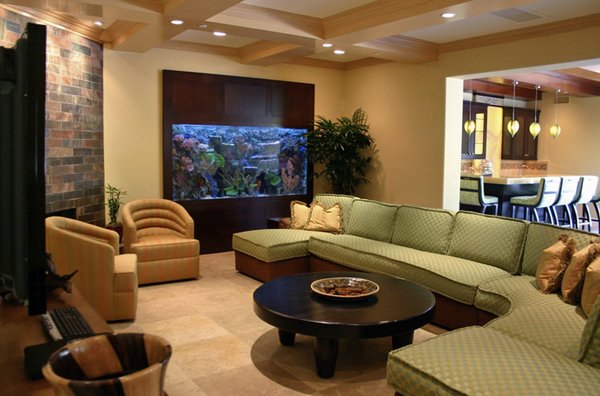 Chairs on each side of fireplace is cute for me but the large aquarium is the center of attention in this living room.
21. Vancouver Washington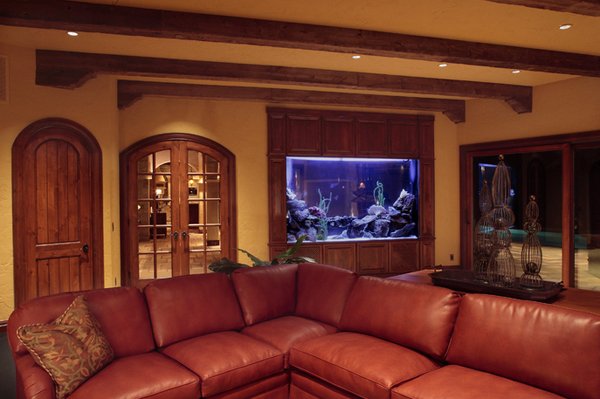 Wood encased aquarium viewed from both sides is always a fun thing to do for your home!
22. Wrightsville Beach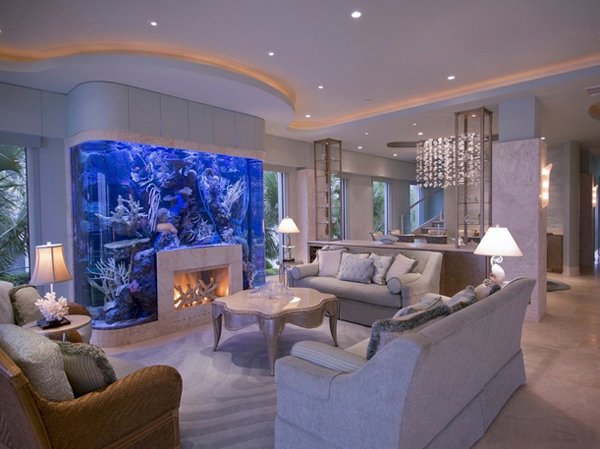 This may be the most stunning aquarium we have in this list? Don't you agree? Feng Shui interior designing is slightly associated to this list today because some Chinese people are into aquariums or fish tanks because of the luck it gives to their people; but whether you are into that or just simply into fishes, adding aquariums in your home is a good thing!