Koleliba: A Tiny Vacation Home on Wheels
Spend your vacation in a tiny home! After seeing this, you'd be inspired to make one.
I know this isn't your first time to see a tiny house. There are already many tiny home designs that we you have seen before. Of course, this is apart from tiny apartment spaces that have a creative manner of using furniture. A tiny house is a separate home that has a small space but is complete with everything that one needs for a house. There is a kitchen, living and dining space, bedroom, and a bathroom. Some would even have a working space too. A home like this is perfect for those who has a minimal budget or a minimal area to build a house on.
Designer Hristina Hristova wanted to stay away from the crowds and hotels that are full of people. That is why she created a tiny vacation house on wheels called "Koleliba" and built it on a calmer place that is closer to nature. They designed a retreat on wheels with a minimal budget and a small design in order to pass the restrictions of sizes of a vehicle that could freely go on the roads which are 9 square meters. Yes, only 9 meters in order to make a functional vacation house. Apparently, the limited space was a challenge but with good design, everything was fitted instead without the unpleasant claustrophobic feeling. The height of the house at the ridge is at 2.4m with substantial glazing to make it feel spacious. It also featured full height windows that allowed an amazing sea view which became a dominant part of the interior. White oiled cladding and plywood were used for the house. The use of oil allowed the timber to breathe. Other than that, the enchanting smell of freshly cut wood is still fresh in the house. Since they wanted to spend more time outdoors, a big bench that spans across the main facade was added. It is also perfect for visiting friends too.
Designer: Hristina Hristova
Style: Contemporary
Type of Space: Tiny Mobile House
Unique feature: This could be the smallest vacation home you'll ever see. It is a mobile tiny house complete with a living area, kitchen, bathroom and even an outdoor dining space. This is something anyone would love to own!
Similar House: The Tiny Tack House- A Couple's Perfect Mobile Home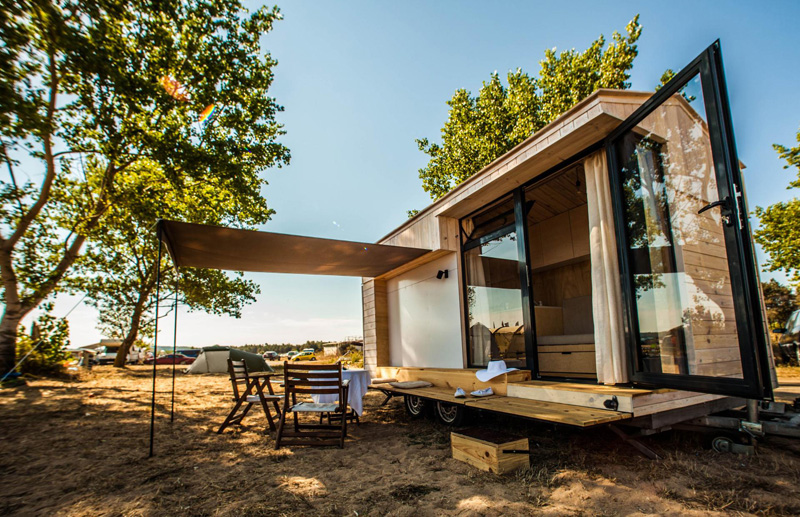 First look at this one will make you doubt that it is a home, but it is! It is indeed really small but once you are inside, you would realize how big it actually is in terms of features and design.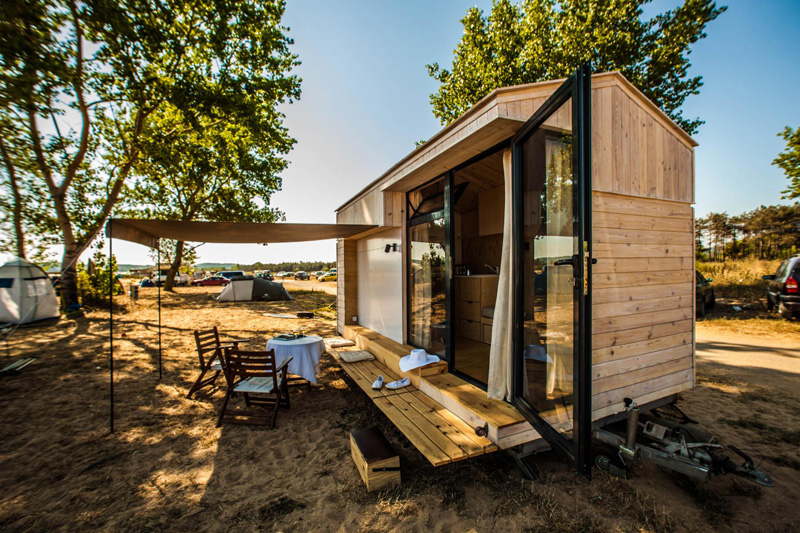 The tiny house has a bench connected to it from the interior where friends can sit and have a good time together while watching the outdoor scene.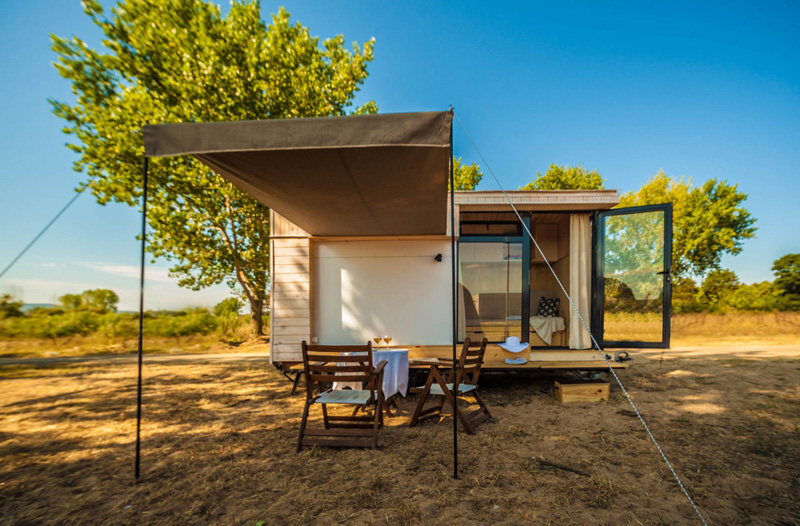 An outdoor dining area can be added from the house. It would surely be enjoyable to dine here. You can see that a glass door is used to enter the house.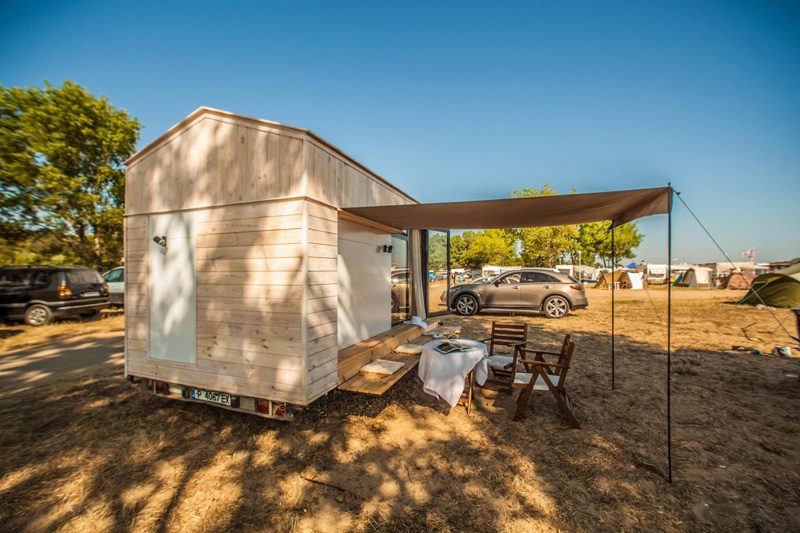 Wood is the primary material of the mobile home. Notice that it has a plate on it because it is actually used like a vehicle and its size follows the area's regulations.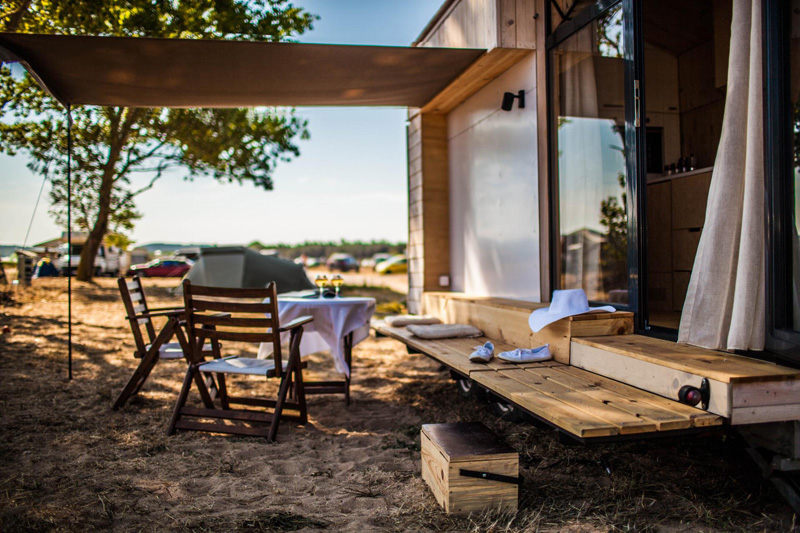 Another look at the bench of the tiny home wherein a step is added that doubles as a storage for drinks and others.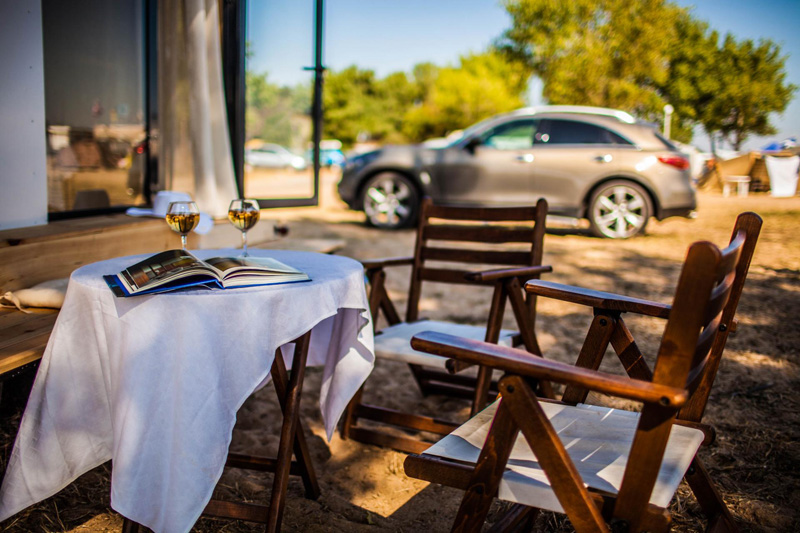 Like the house, its furniture is also made from wood too. Notice the simple design of the chairs that is matched with the small foldable round table.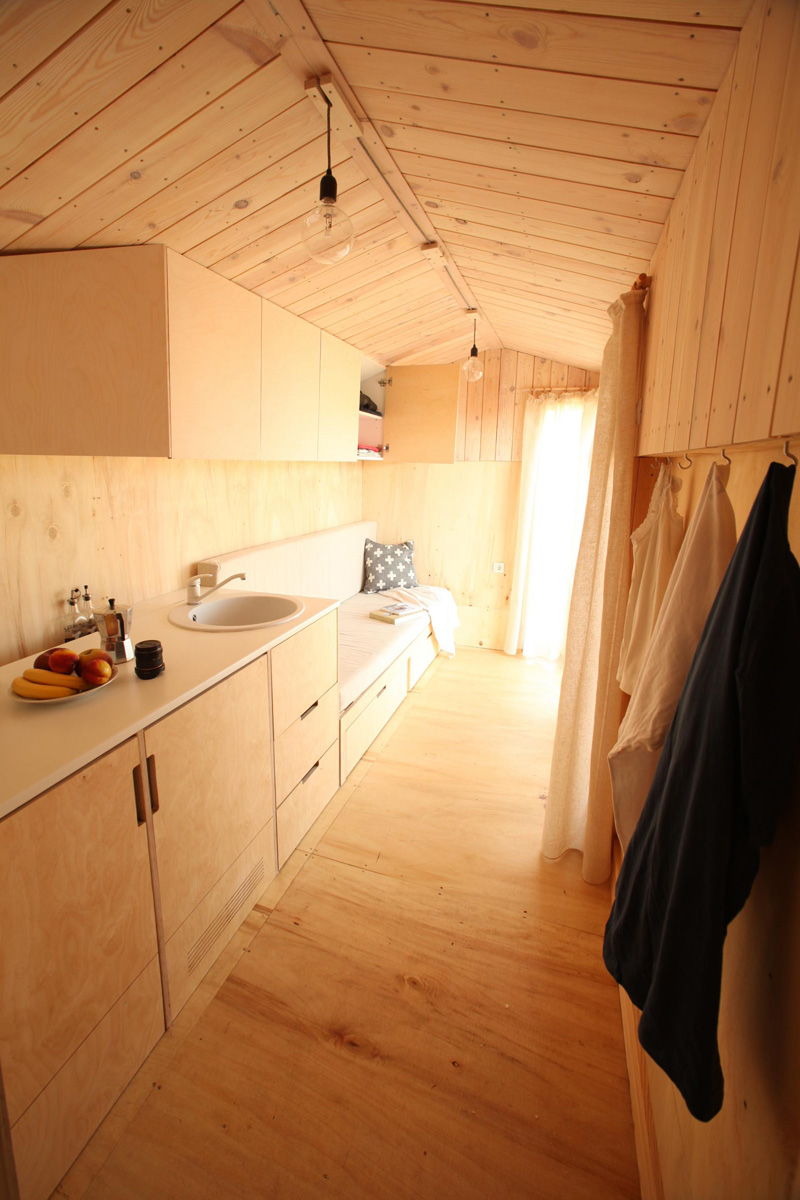 Once inside the home, you can see that it used wood as well. Intentionally, they retained the wooden finish which looks very natural.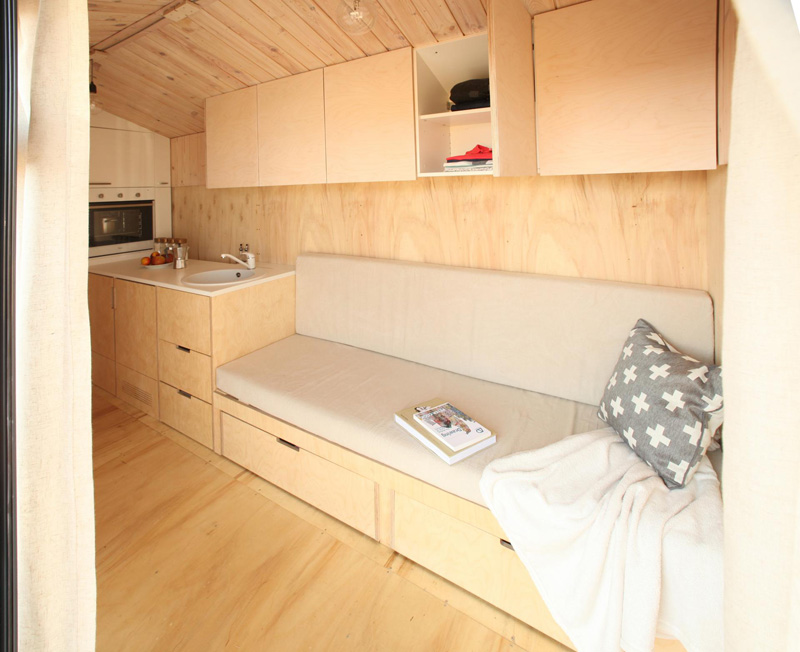 Storage cabinets are seen here from the kitchen, below the sofa as well as on the walls. This is a good way to save space.
Read Also: Transforming Life Edited Tiny Apartment of Graham Hill in New York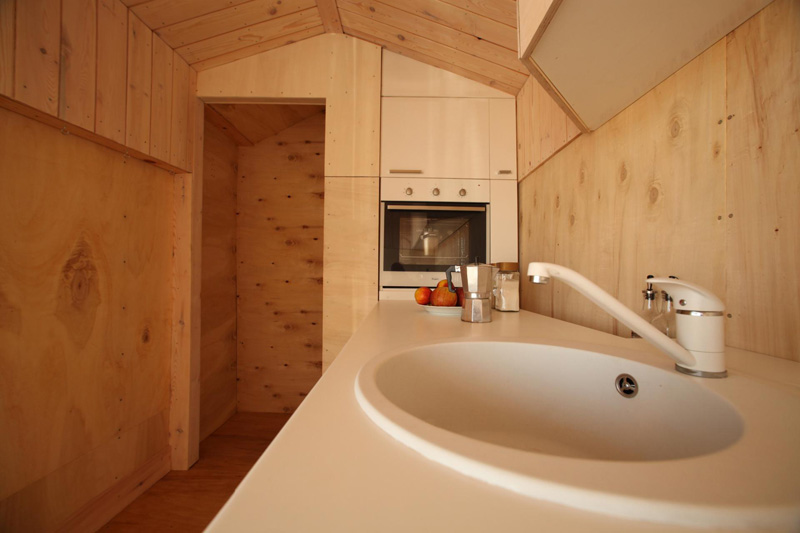 The kitchen has modern appliances that can be used for preparing and cooking food. At the back of the oven is the bathroom. Of course, expect it to be small too.
The house has a vaulted design for the ceiling to provide more air and space to the interior of this small house.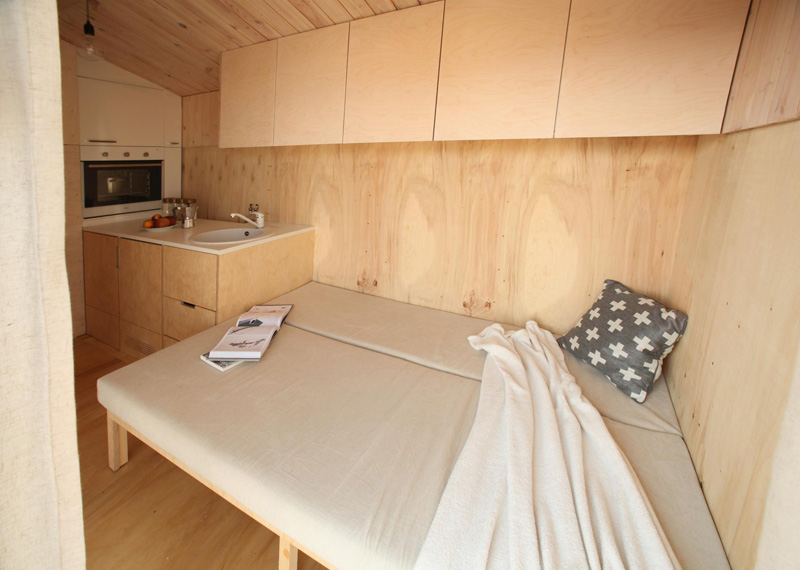 The sofa we have seen in previous photos can be turned into a bed during the night. This transforming furniture is perfect for small homes like this one.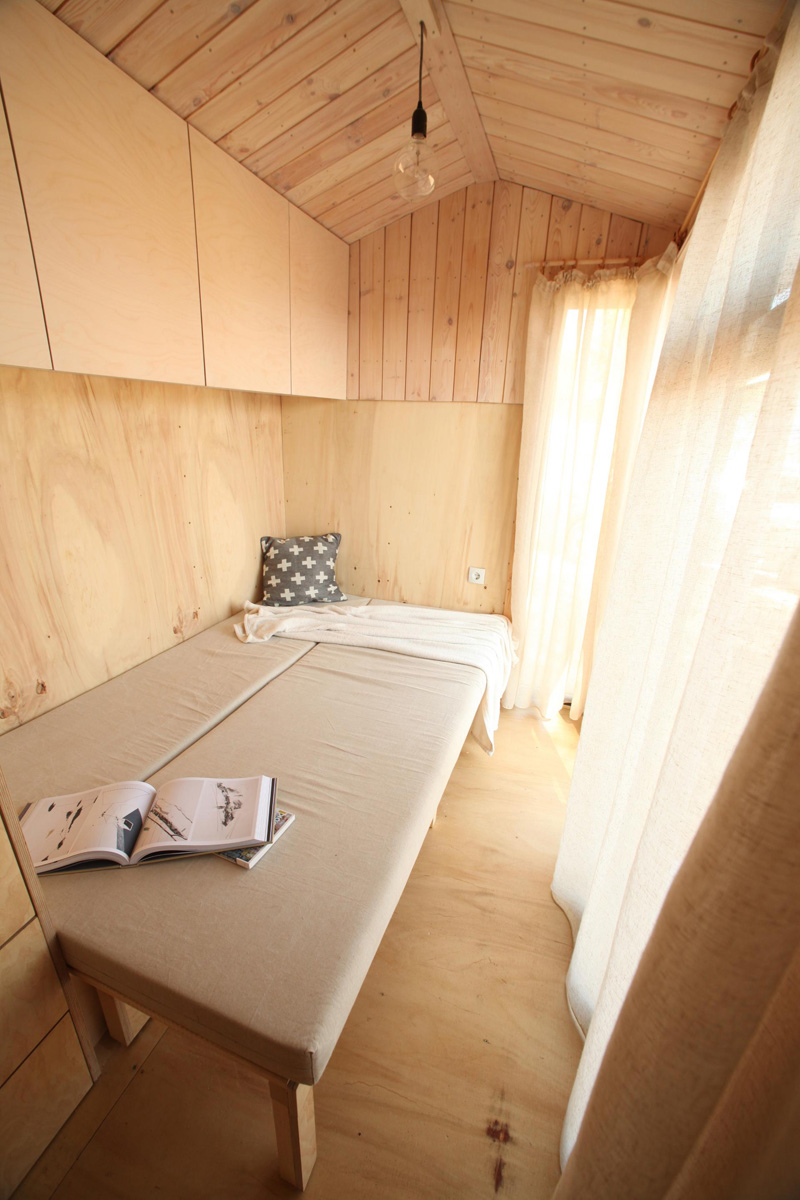 Like other homes, window treatments are also used here although it only has one window and the rest are doors. This way, natural light can get into the space.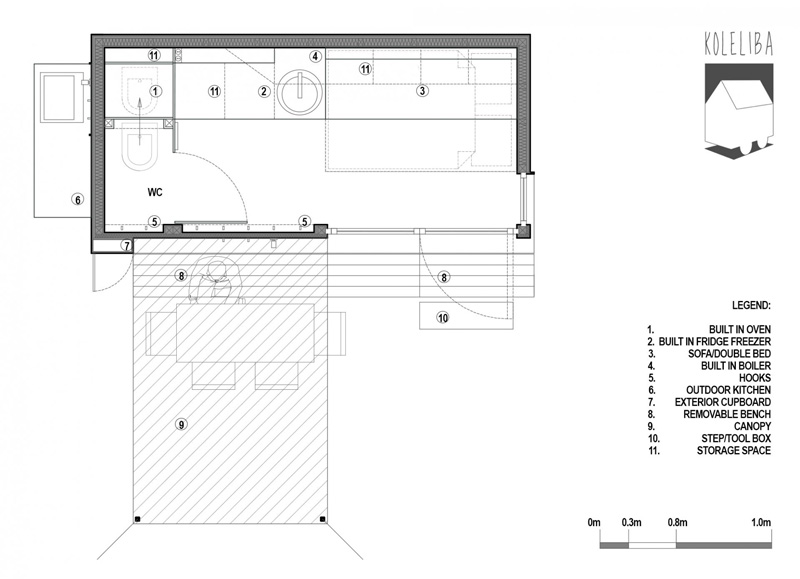 Want to make one of your own? Check out this floor plan with details of what you can see inside the house. Impressive, right?
Koleliba, which is how this tiny vacation house is called, is the owner's "response to the invading consumerism that encourages us to always want our homes bigger, better and unnecessary luxurious." It is a step back for a simpler life without any excesses. Once can even have a lot of free time as well as happy moments while spending it with friends. Koleliba is a made up word meaning a hut with wheels, which sure is a perfect name for this mobile vacation home. I can say that this is one of the most amazing tiny homes I have ever seen. Such an impressive work from Hristina Hristova! After seeing this home, I am even inspired to make one for myself. What is good about these homes is that, they are no expensive and very space-saving indeed! This is only perfect for those who can survive in tiny spaces.
Bonus Video