An Edwardian Home in Toronto Features a New Addition
Look at what they did to an old Edwardian home!
There are different ways to update the look of a house. For some, they would totally change the look of the exterior and interior spaces while others decide to add an extension to their house to add to its floor area. It actually depends on one's needs as well as the availability of space too. We have seen different home renovations and transformations already through the before and after photo showcase that we give you. Today, we have a brief look at a home which has an added space into it which comprise a living area and a dining area.
The house that we will feature today is former rental housing for university students. It is an Edwardian residence which is built sometime between 1905 and 1910, in Toronto, Canada. Because it was poorly maintained and left uninhabited for the last a few years, it doesn't look good anymore and is no longer that presentable to live in. Since it was acquired by new owners, they decided to restore and transform the house. The new owners of this Edwardian home asked Mehdi Marzyari Architects to work on the house. One major thing that the owners want is to add on an extension to the rear of the home which we will see in the images below.
Location: Toronto, Canada
Designer: Mehdi Marzyari Architects
Style: Contemporary
Number of Levels: Two-storey
Unique feature: An old Edwardian residence gets a transformation and restoration, as well as an addition to its rear area.
Similar House: Skyhouse: A Unique Home with Rock Climbing Columns and Metallic Slides

Seen here is the before and after photos of the house. Notice the difference? It looks totally different indeed! Just look at the exterior! Large windows spread over the two floors of the home which were included in the design in order to allow natural light to fill the interior spaces.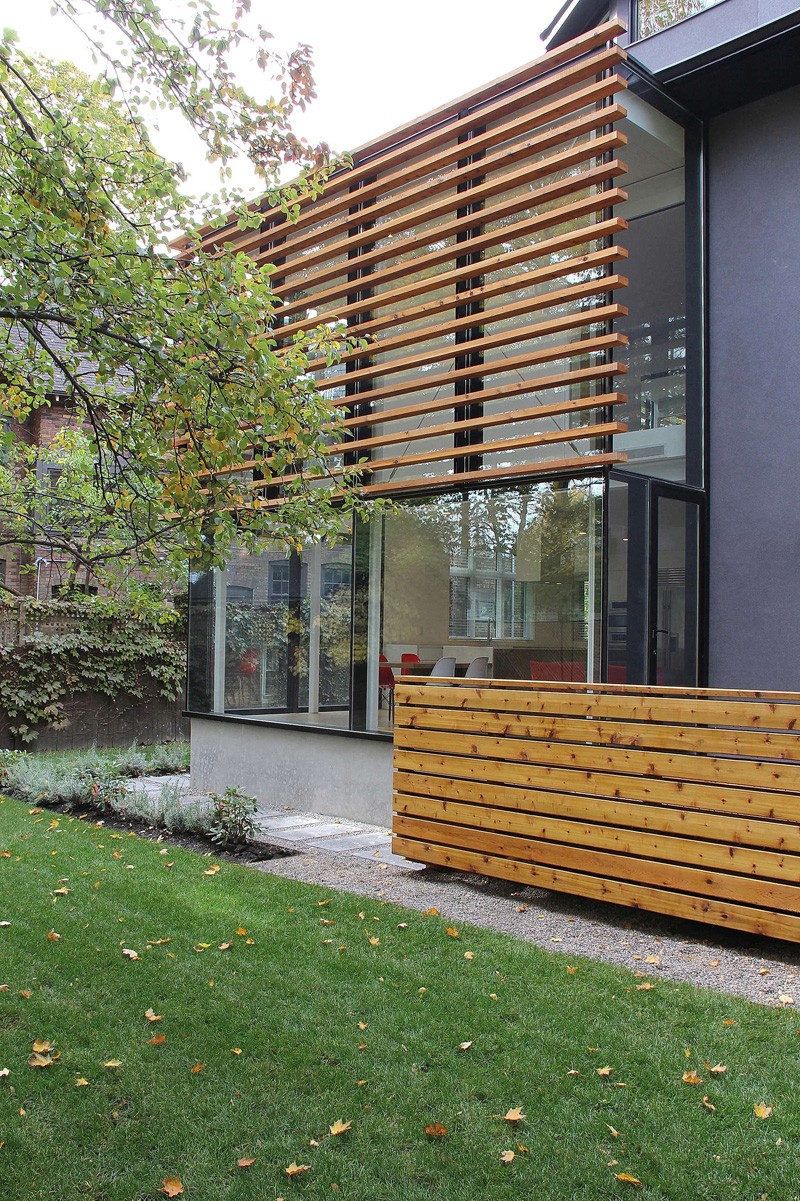 The designers succeeded to give the home a new look and by adding this home extension that looks really gorgeous. If you will look into the other areas of the house, you can notice its difference with this part that was made from scratch.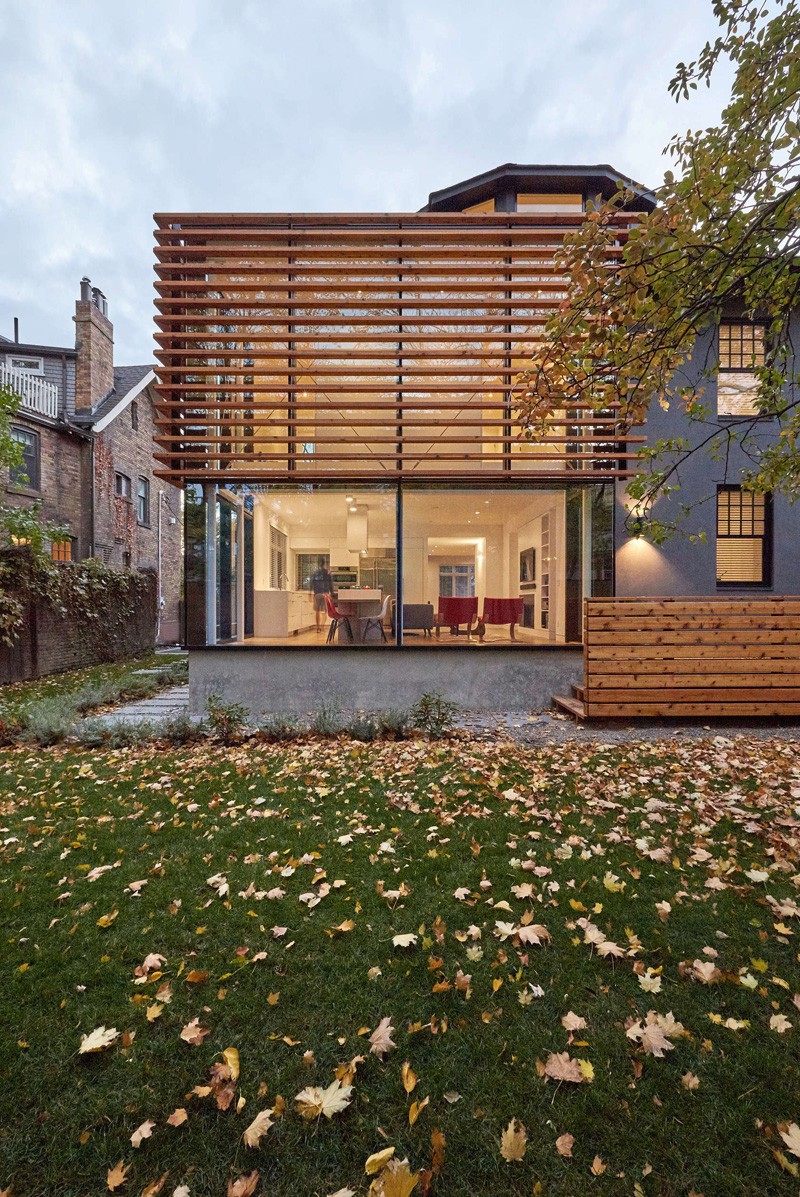 Love the combination of glass, wood and concrete in here. Notice that in the upper level, wood is used to add privacy to the area which actually also brings some aesthetics to the exterior giving it that contemporary look that the owners want.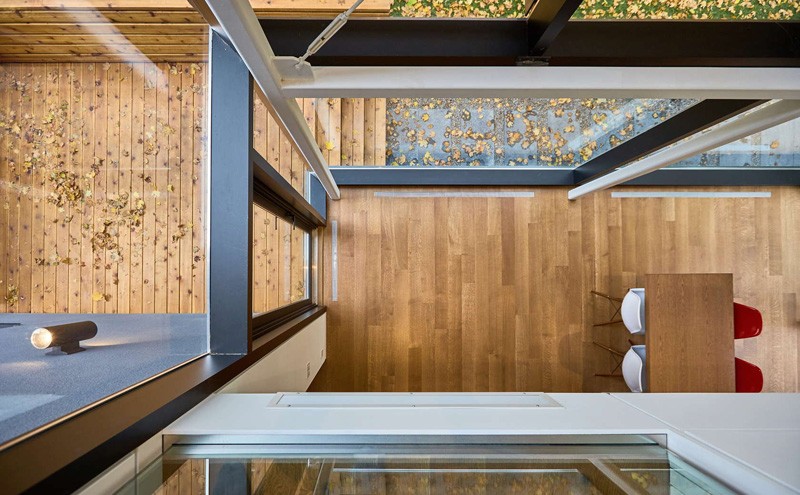 This is the house when viewed from above. You can see that it used wooden flooring and it has many glass elements in it. Do you know what else I love in here? The dried leaves that are seen around the area!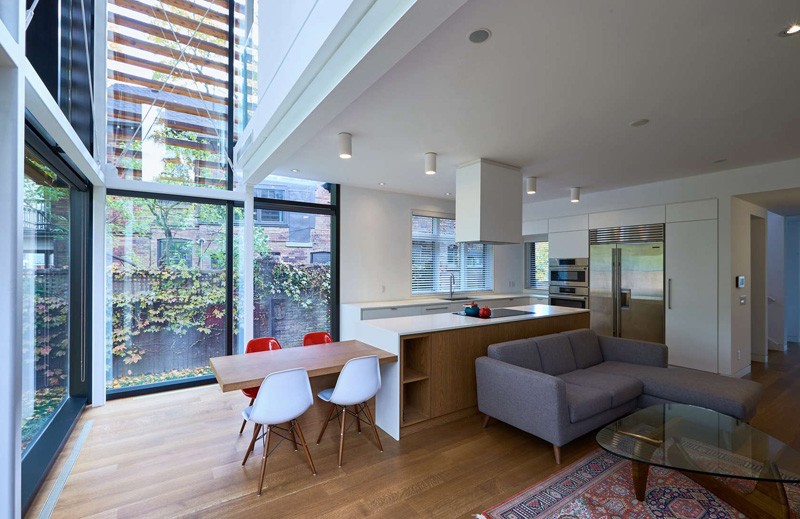 Inside the house, one can see a white kitchen with stainless steel appliances that merge into a small dining and living area. I like it that they used red and white chairs for this. It looks really nice this way. Even if the space is small, it was able to incorporate everything the owners need for the house.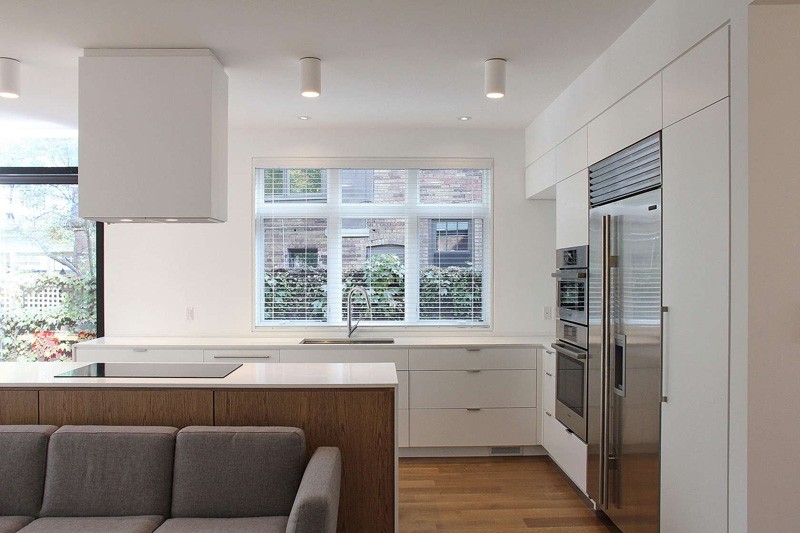 From the kitchen, one can get a good view of the outer space. It also has lovely yet simple lightings in it as well as plenty of storage areas from drawers to cabinets. A sofa is placed just beside the island to save space.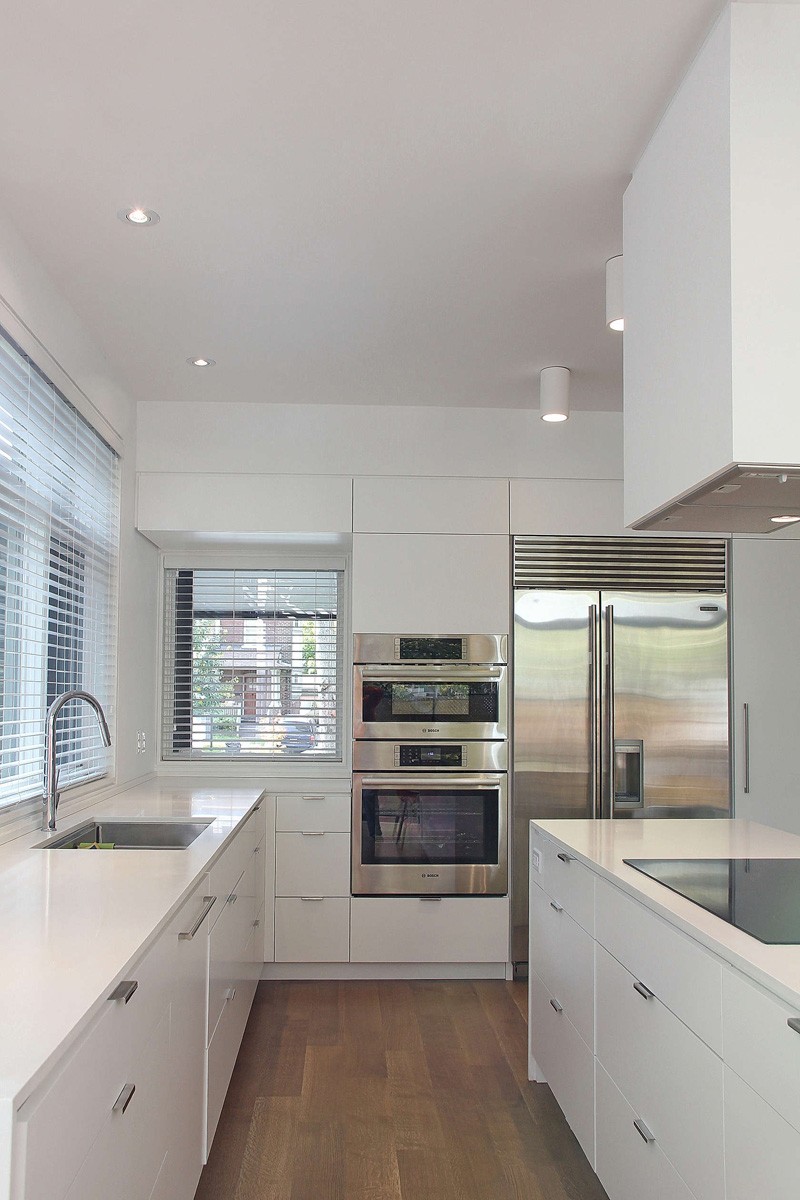 The house has a small kitchen area in white with everything one needs to prepare for food. Blinds are added to the window to control the amount of natural light that gets into the area. Although small, this is a very functional kitchen.
Read Also: Apartment Kiev: A Serene Abode in the City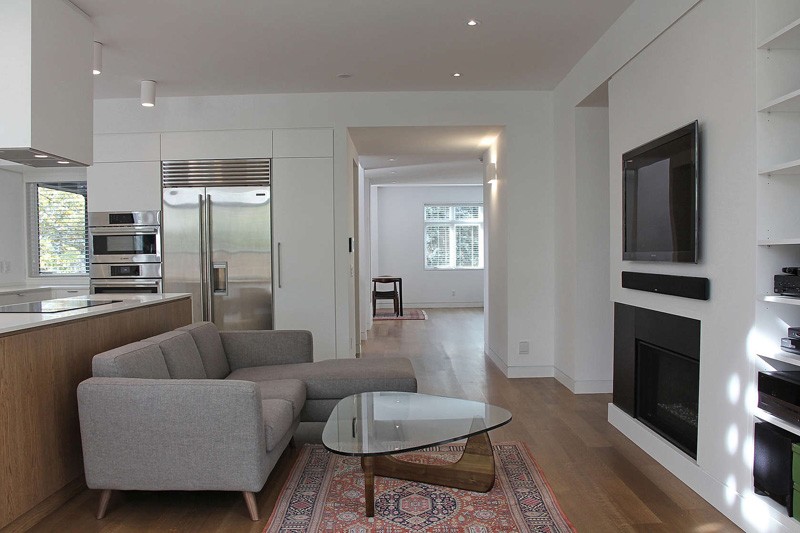 You can see here the kitchen area with stainless steel appliances paired with white walls. The space is also home to a fireplace and some built-in shelving for additional storage. Notice that it used a Persian rug to define the area as well as a triangular shaped glass coffee table.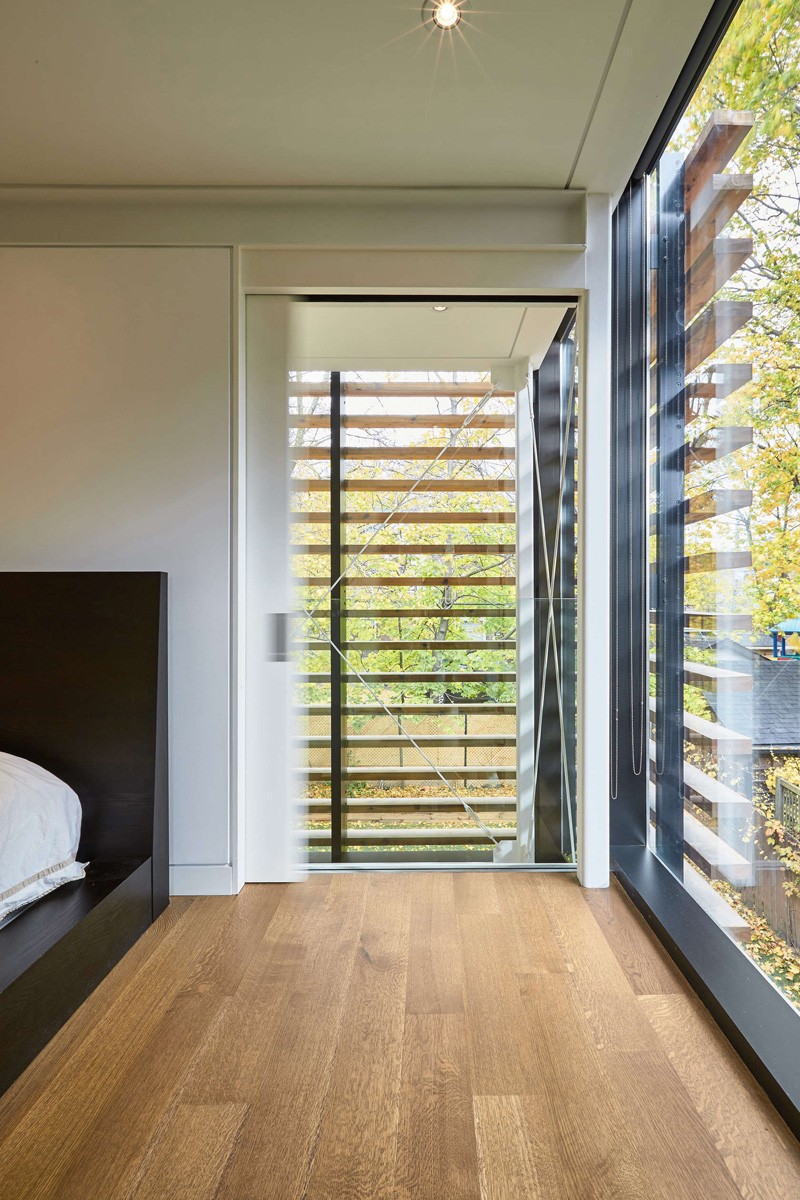 Upstairs one can see how the wood privacy screen wraps around the corner of the extension. It actually looks really nice especially when seen outdoors.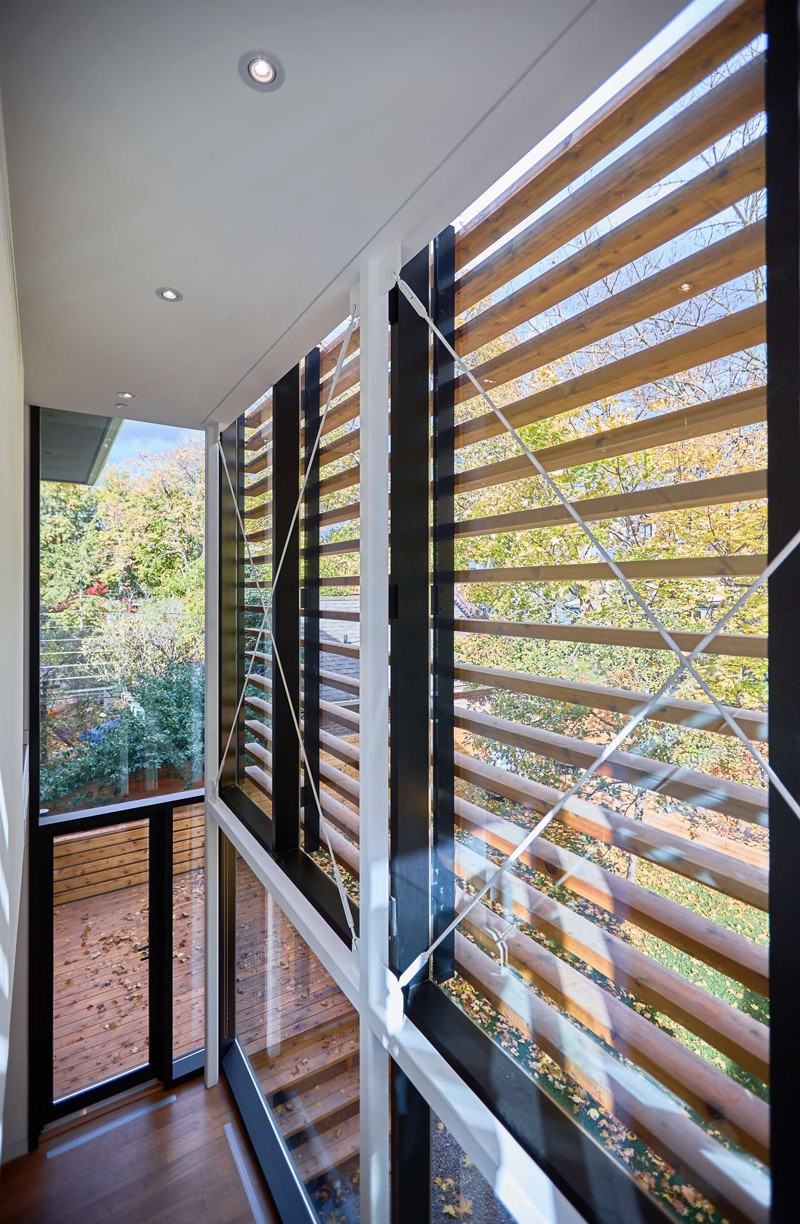 A screen that is made from knotty grade western cedar, moderates the natural light and it also adds privacy for the upper level, without compromising outside views.
So, did you like what Mehdi Marzyari Architects did to this home? I hope you did because we loved it! We can't even see that it was actually an old house since it looks all new and beautiful. And obviously, it turned into a stunning and cozy space to live in especially because it has an open layout, floor to ceiling windows that allow natural light to the space and the lovely mix of natural materials from the architecture of the home to the furniture. I love the simple yet beautiful look of this home. Such a transformation indeed!