Bush House: A Contemporary Home with Corrugated Steel Walls
This single storey home used corrugated steel for the walls and has many glass windows.
We got used of seeing concrete, wood and glass materials for the home but of course, there are other builders who experiment with the materials that they use but it would turn it really well. They don't just use it for mere aesthetics but also for a good purpose. There might be certain features of that material that made them decide to use it. Today, we are going to see a house that used corrugated galvanized iron not just for the roof but even for the exterior of the house.
The Bush House is a light-filled home that is clad in corrugated steel in the Australian bush land, in the Town of Margaret River. The home is designed by Archterra Architects who combined corrugated still with wood and even glass. The contemporary home turned out really nice even in the interior. It even has a subtle industrial feel inside the house as well as some beautiful decors and lightings. Aside from that, the house has a lovely surrounding with trees and bushes all around it. I can say that it is indeed a beautifully designed home and it is very relaxing and cozy especially that you get a good view of nature wherever you are in the house!
Location: Australia
Designer: Archterra Architects
Style: Contemporary
Number of Levels: One-storey
Unique feature: A contemporary home that used corrugated steel on its roof and also in the walls of the exterior giving it a subtle industrial appeal.
Similar House: Five Little Houses Comprise a Single Home in Denmark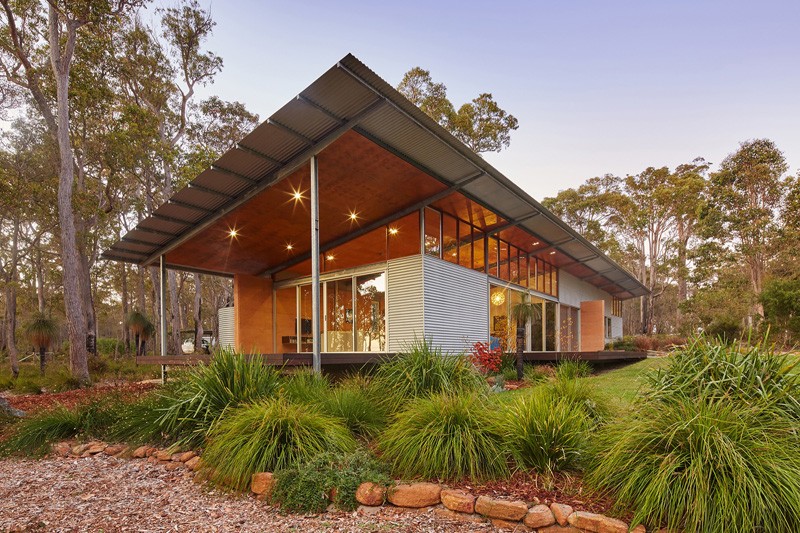 The house is shaped like a rectangle with a shed roof made from corrugated sheets. It is surrounded with bushes and stones that also added to the beauty of the area and brought a refreshing aura to the home.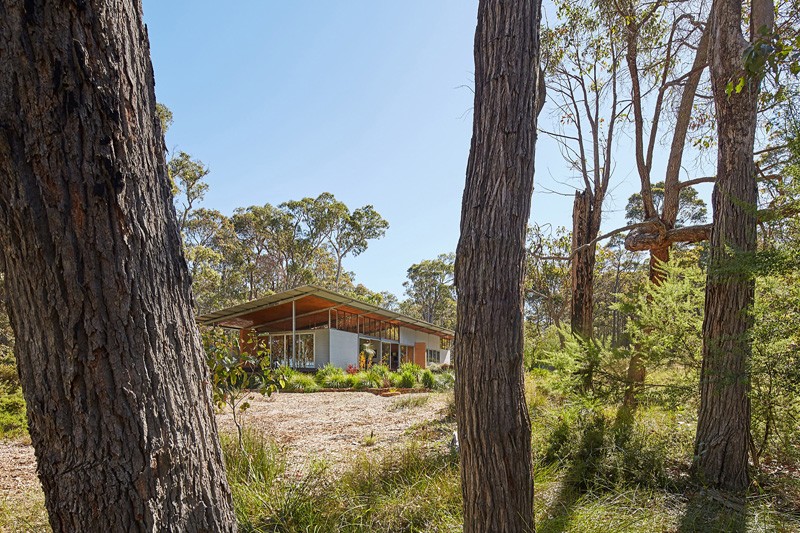 Trees of various types and height are found near the house. Although these trees are not very big, they can still bring shade to the area and it also makes one feel relaxed merely by the sight of it. And you will also feel like you are breathing fresh air when there are trees around you.
One side of the house is shown here as it is lighted during night time. If this house is located far from other homes, then this would be a lovely sight even from afar because of its light.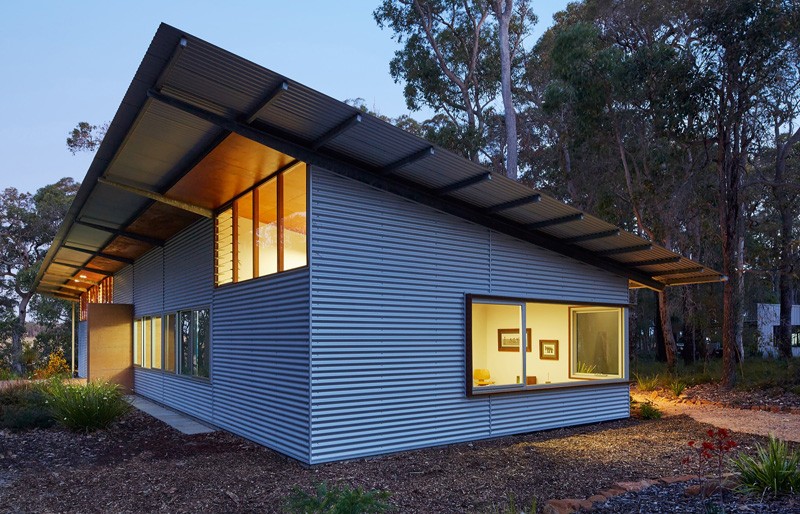 The layout of the house used a simple rectangular plan with a sloped roof. In the exterior, it added corrugated sheets and some glass windows of different sizes. It looks like an industrial space, right? But it does look good here.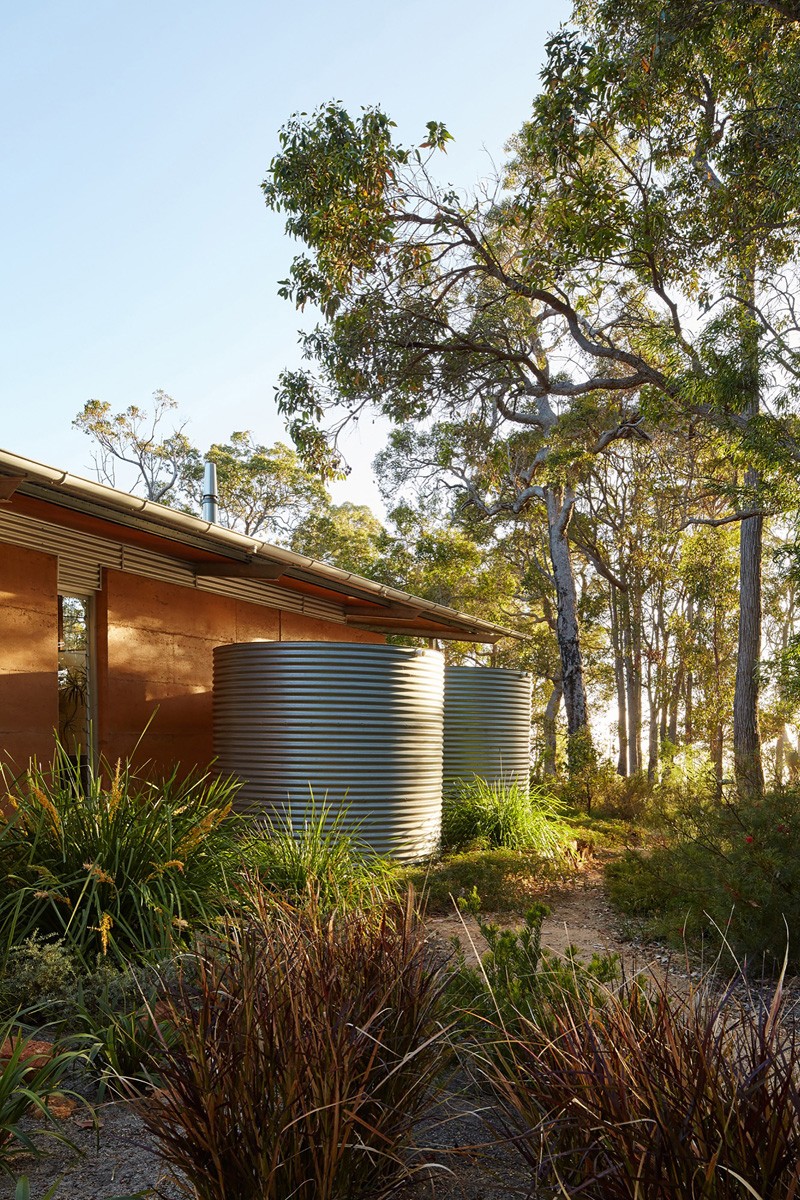 What you can see here are a couple of rain water collection tanks that sit just outside the house. It is also wrapped with corrugated steel too that match the exterior of the house. With this feature, it tells us that the house is sustainable and environment friendly.
The roof overhangs of the home could provide shade during hot Australian days. You can also see here the facade of the house that has many windows and glass sliding doors. It also features a wooden deck that can double as a bench when you are outdoors.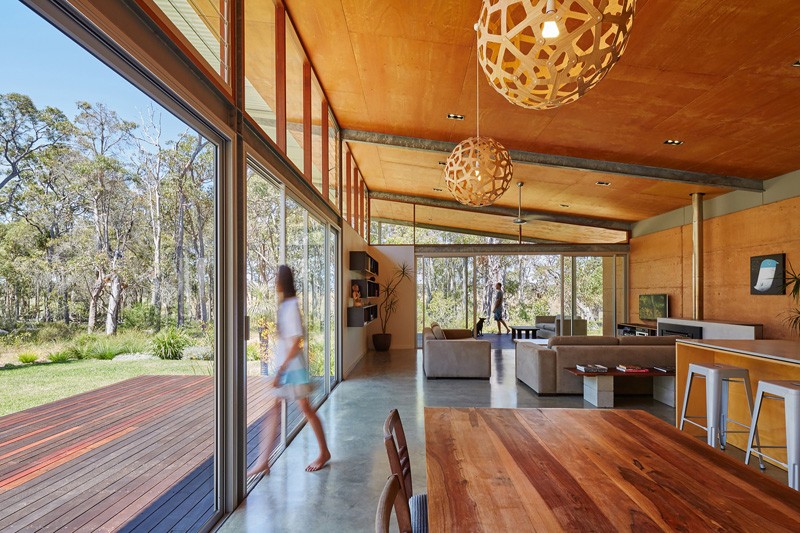 Many of the Australian homes are open to the outdoors just like this home. The interior has many wooden features inside with concrete flooring. You can also see that it used earth colors inside it. In the photo, you can get a glimpse of the dining area, living area and the kitchen area.
Read Also: Contemporary Sub-tropical Northern Rivers Beach House in Australia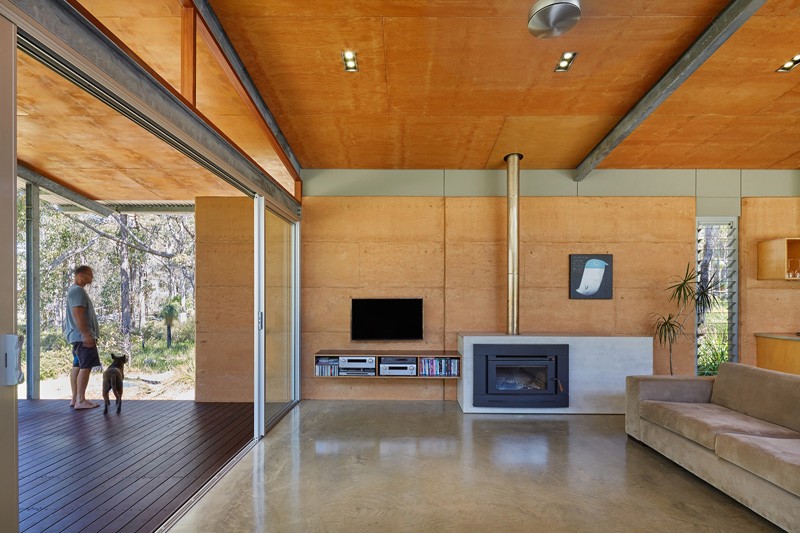 There are a lot of windows in the house allowing natural light to flood the interior spaces. The living area has a fireplace which is there to heat the interior when it gets cold. It also has a gray sofa that matches with the flooring and compliments with the wooden features of the home.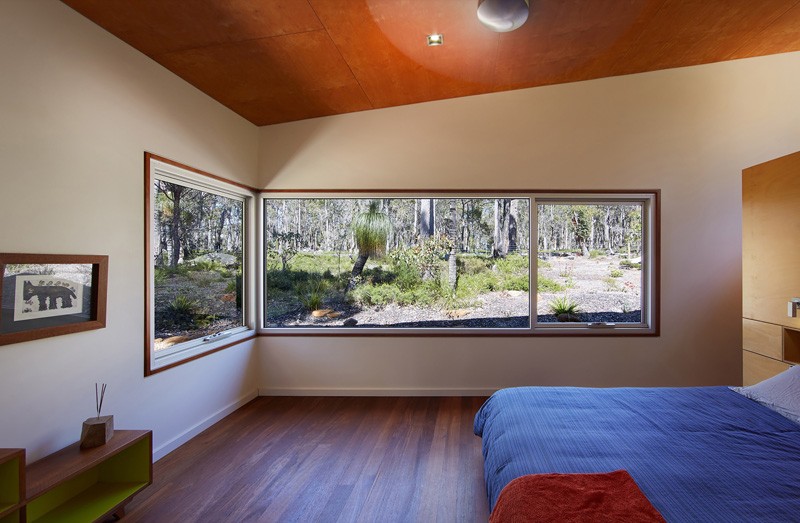 The windows in the bedroom could perfectly frame the bush land. There are many windows like this around the house to take advantage of the beautiful panoramic views. The bedroom has wooden flooring and ceiling and it has minimalist style since it isn't crowded with furniture.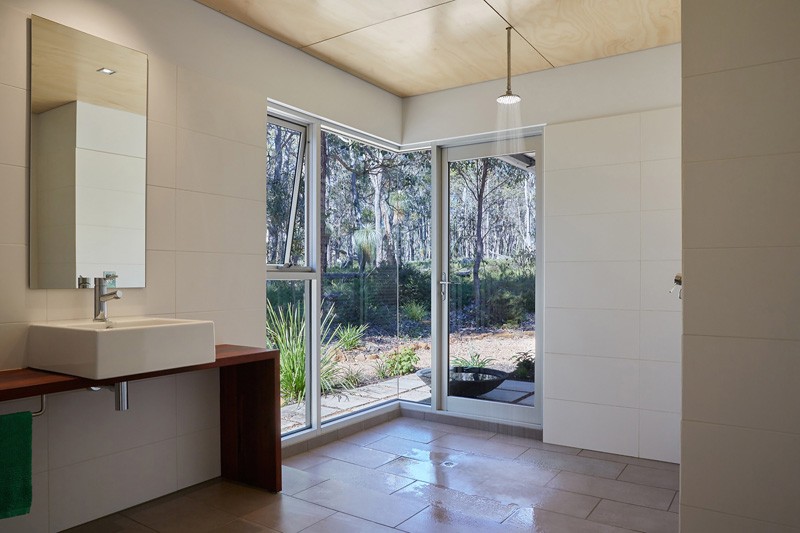 This is the shower in the bathroom. Instead of being enclosed in glass or in walls, it is left open. I wonder if there are blinds or shades for the glass doors and windows so one can have privacy while in here. It also features a vanity with a wooden stand.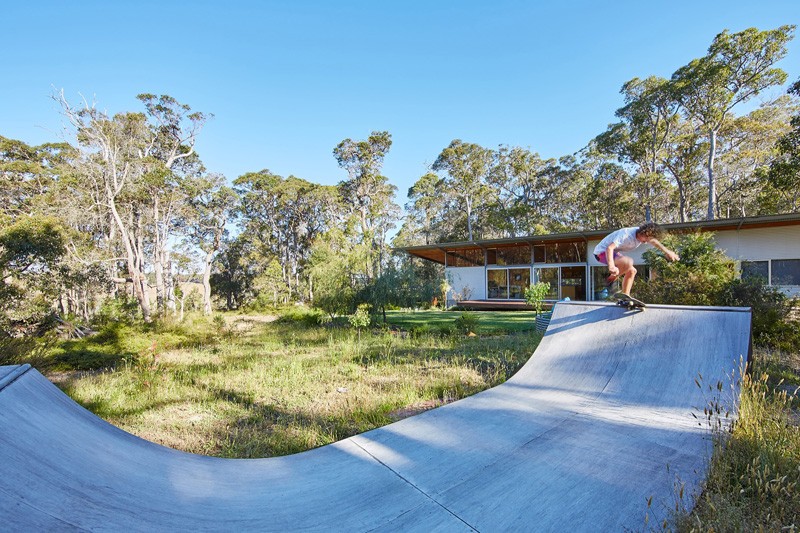 If the kids want to play with their skateboard without anyone bothering them, then this would be a perfect place for that. Outside the house, there is a skateboard ramp for a bit of fun. It would be nice to spend time outdoors especially when the sun is not so hot!
I know that you find this home really interesting especially its surroundings which added value to the home. Aside from that, the design of the house is of course notable. Merely looking at the photos made me conclude that you'd definitely have a great time relaxing here or even spending some vacation with family and friends. You can even let the kids run around the grass which would be an amazing experience for them. This lovely home is designed by Archterra Architects who opted to use corrugated steel on the walls of the exterior. There must be some good reason why they decided to use a sturdier walling to protect the house. So, what are your thoughts about this house? Feel free to leave a comment below.