15 Extremely Hot Red Kitchen Cabinets
Whenever red is called to mind, we recall roses or maybe fastfood chains. This color pretty much is the color for hunger and beauty. But while this color is warm and positive and associated with our most physical needs, it actually exudes a strong and powerful masculine energy. Red is energizing, it excites our emotions and it motivates us to take action. Pretty much empowering!
This color signifies leadership qualities and promotes ambition and determination. Today, we will be showing you 15 Extremely Hot Red Kitchen Cabinets which will stimulate not only your minds but also your appetite. Take note of the designs and the degree of the color red that was used in each kitchen. You will also learn that in some of the kitchen designs below, cultures like the ones in Asia was considered in the design process. Check them out!
Bold Red Kitchen
City
Couture Red
Modern Custom-Made Red Cabinet
Flirt
Modern Red and White Kitchen
Red and Cream Aga
Red Lacquered Kitchen Cabinets
Red Kitchen Cabinets with Black Countertop
Room with a View Miami High Rise
San Francisco Kitchen
Stewart St. Kitchen
Stunning Red Kitchen
Tess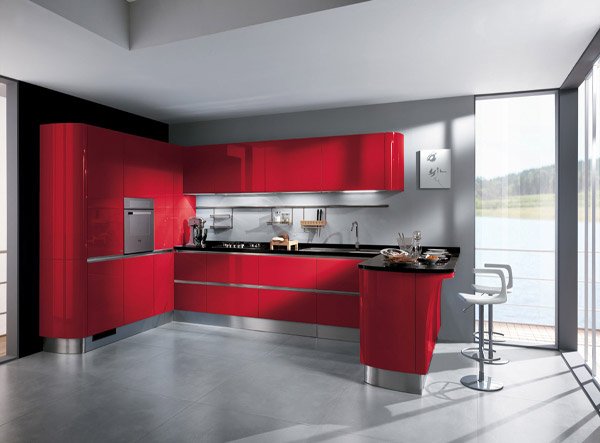 Tribe
The 15 Extremely Hot Red Kitchen Cabinets excited our emotions and inspired us to take action. These designs are definitely attention-getters – it demands the people to take notice and you can remember that there are a couple of variations for the color red like maroon, burgundy, crimson and scarlet. Hoped you liked the list that we have shown above. Also, please take time to check out A Collection of 18 White Kitchen Cabinet Designs for more inspiration.