22 Beautiful Red Sofas in the Living Room
Time and time again, we have seen a couple of lists in Home Design Lover about living room sofas, chairs, art furniture and so much more, but for today, what we have collected are pictures of living rooms with red sofas in them – whether they are intended as accent sofas or if they are the regular sofa that the home has.
Below, we will be showcasing a list of wonderful array of living room designs that will surely entice you to check out your closest furniture shops in the neighborhood to buy that one red sofa you have been eyeing for quite a while. Check out the living room spaces below and tell us what you think.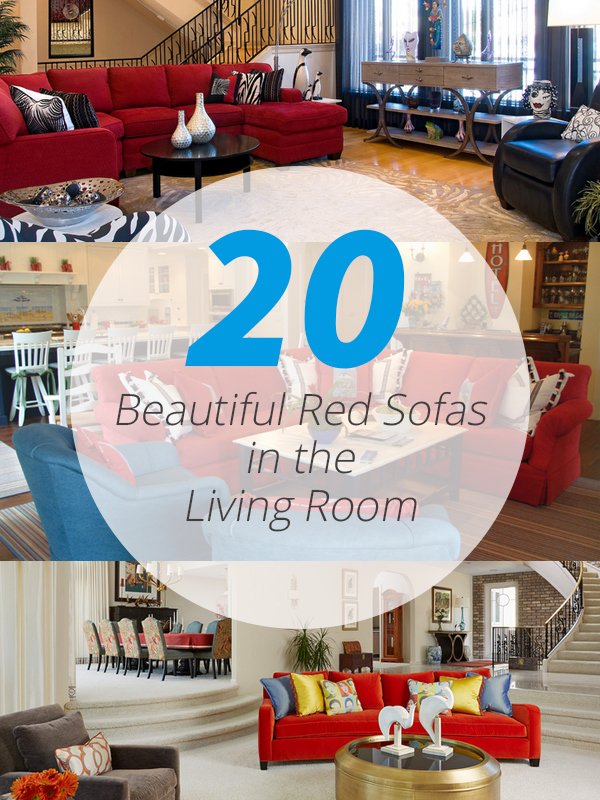 1. Bayou St. John, New Orleans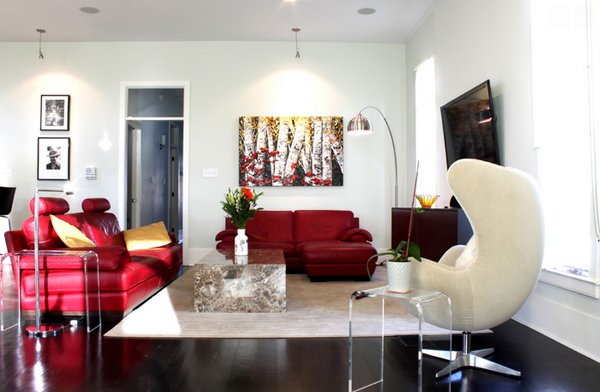 Red's versatility is easy to see as the color travels comfortably through a wide range of styles, from this contemporary living room with Lucite and leather.
2. Berkeley New Modern Construction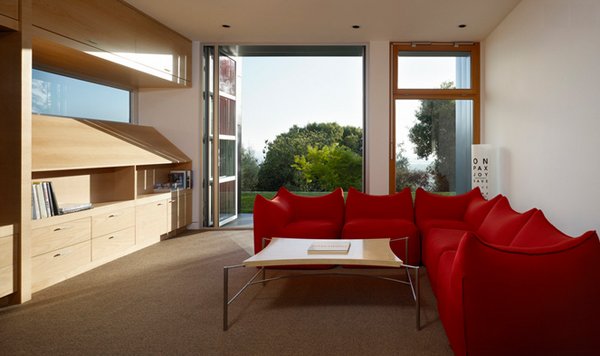 The family room on the bottom floor is one of Debbas' favorites'. It's sunken into the site, and the backyard extends directly out from its door to the exterior. The yard – surrounded by olive trees, honeysuckle and oaks – provides a sense of intimacy with a few peeks at the beautiful view.
3. Brooklyn Townhouse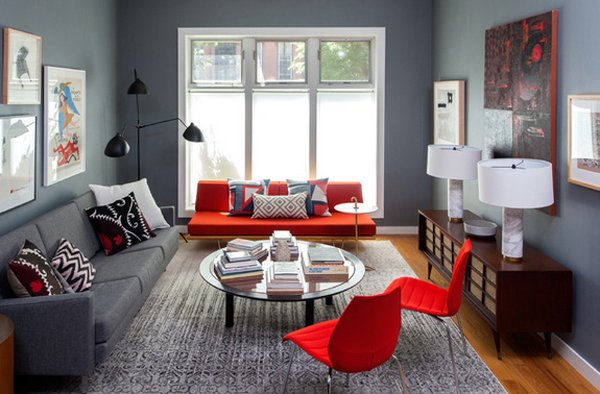 Another example of a light blue to compliment a dark grey feature wall; also notice how the red sofa and chairs made this space brighter!
4. Court Meadow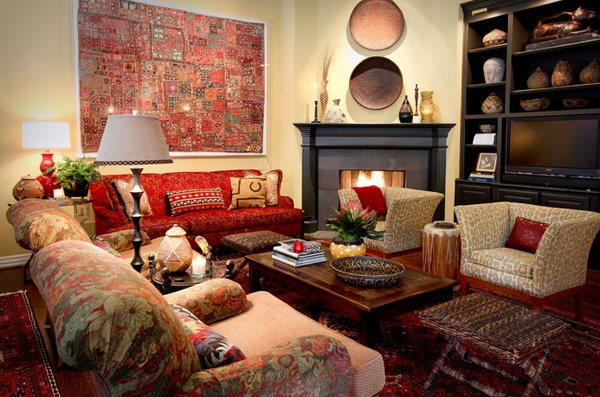 Everything that transpires inside this Dallas living room is just beautiful.
5. Eclectic Asian Fusion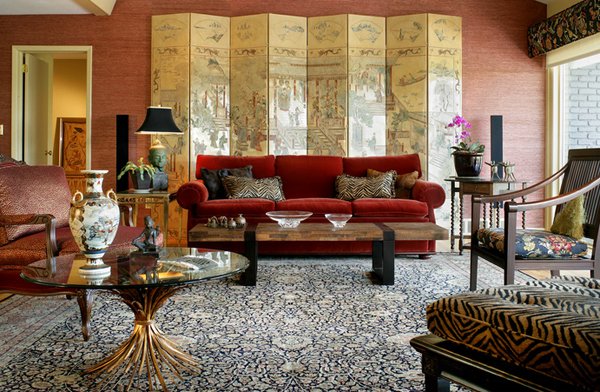 The wall divider is really pretty against the wall. Adding a red sofa makes a whole difference.
6. Greenfield Hill Residence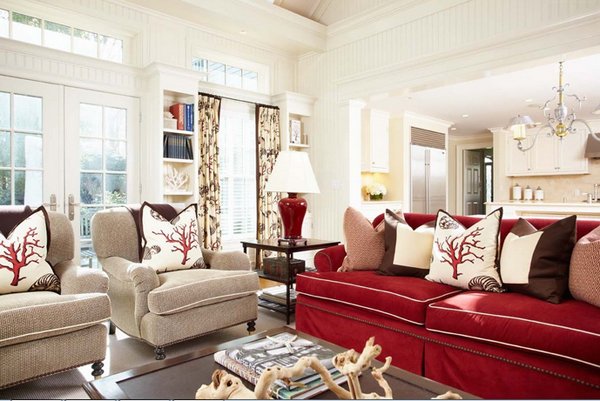 French doors with transom windows flood this comfortable room with light. There are plenty of places to sink in and stay for a while here.
7. House in Redding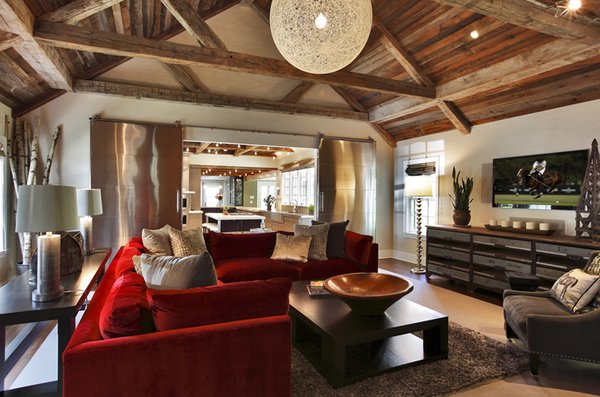 Couch in a U-shape with TV on the side and fireplace on end to allow both as a focal point in the entire room.
8. Local Room Makeovers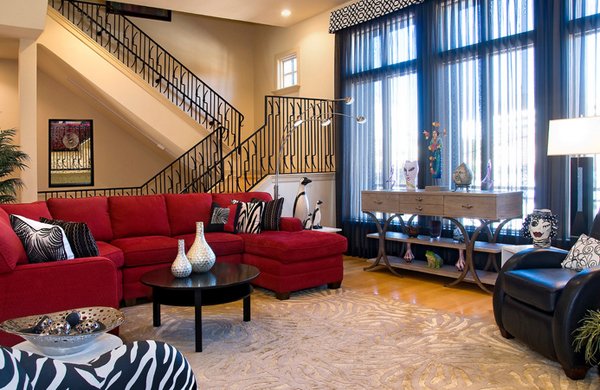 The kilim beige walls sure makes this living room really light and clean – the decorations and furniture makes it classy!
9. Melbourne Shoot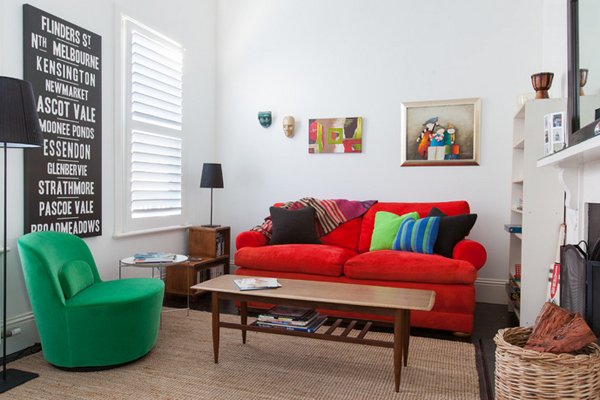 When you need a couple of extra seats or you just don't have room for a sofa, consider a love seat. Love seats are usually around 5 feet (152 cm) long. The depth varies depending on the style, but plan on 38 to 40 in. (97 to 102 cm) at least. You can pair one with a sofa in the same design or set it alone, as has been done in this room.
10. Minneapolis Eclectic Living Room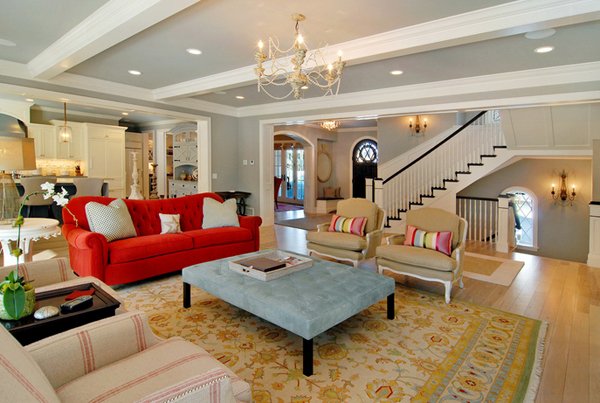 The color palette of this living room is really stunning!
11. Modern Green Seattle Remodel
The designers wanted to keep this room simple and open. We carried the red colors here as well. The vintage film rails make a wonderful prop for this room.
12. Nantucket in So Cal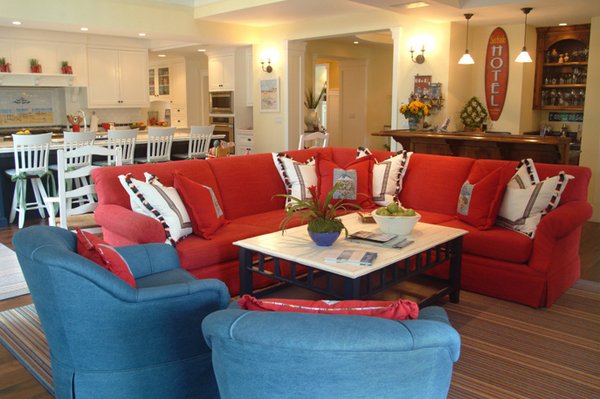 Color combo. Period. Simple and fun.
13. North Oaks Vintage Hollywood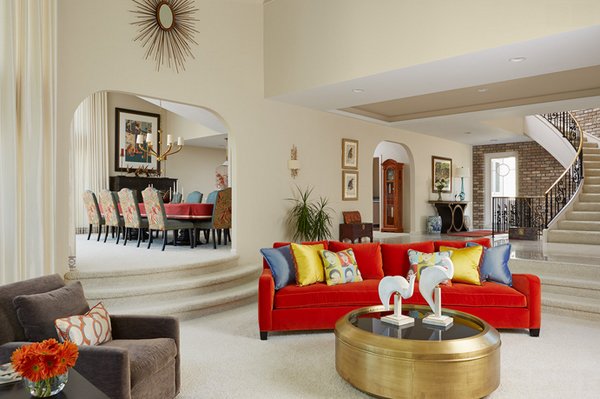 Don't you just think the colors of the pillows on the red sofa is enticing? I love the coffee table too!
14. Pope Street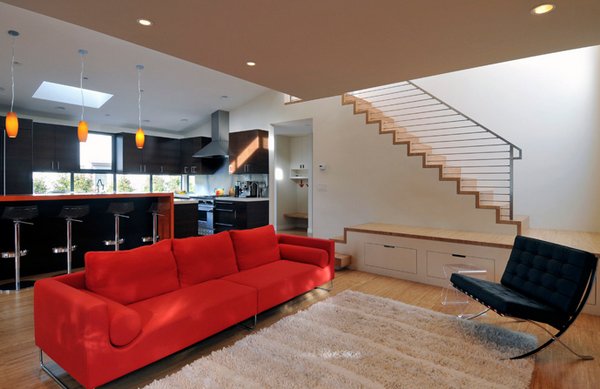 Minimalist and clean, this living room is cozy and settling!
15. River House Living Room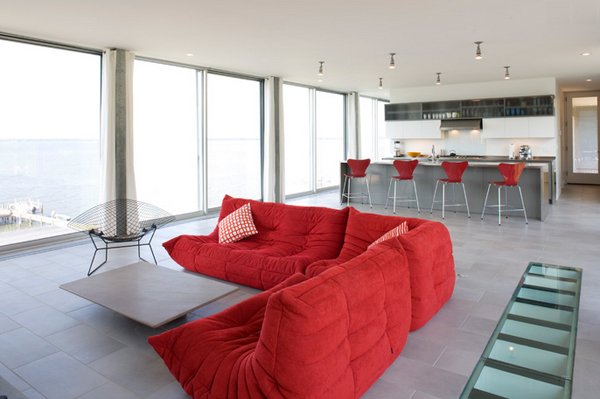 This Baltimore living room is so comfortable and modern.
16. Santa Monica Canyon Retreat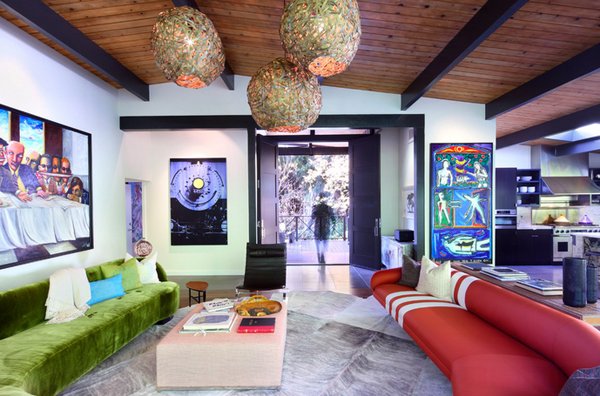 The red-striped sofa sure looks like a ball don't you agree? Contemporary and fun!
17. Seattle Staged Charming Cottage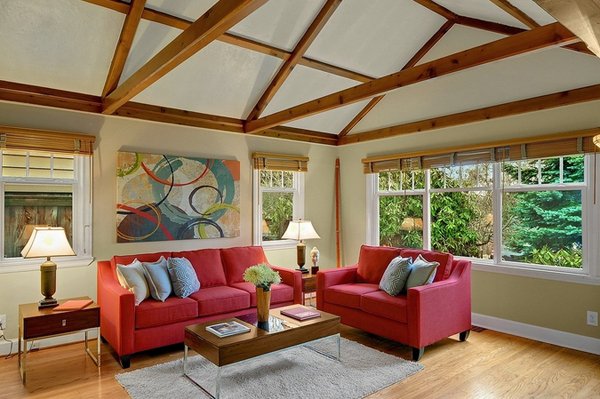 Two red sofas to complement and accent a neutral colored living room.
18. Street of Dreams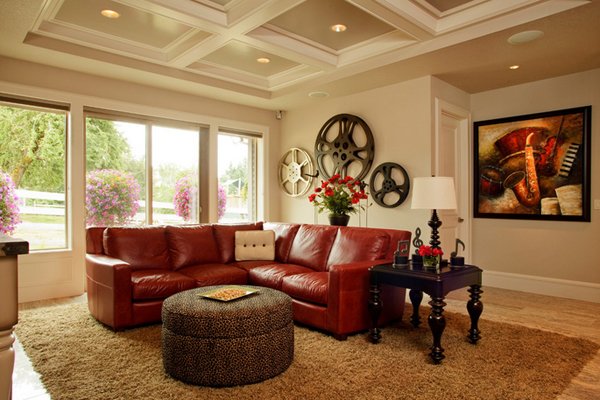 Nice touch in adding the movie reels on the background.
19. Traditional Living Room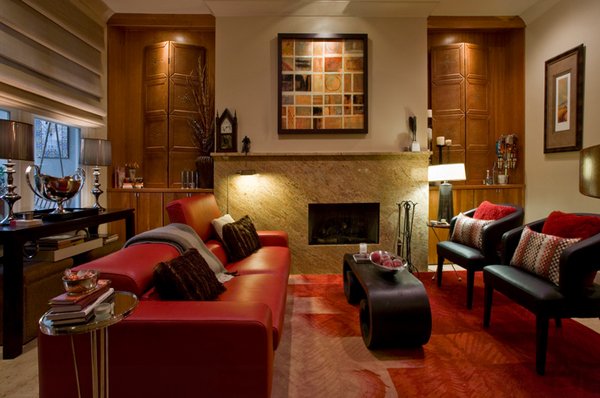 Fireplaces don't have to be symmetrical. I love the simplicity of the simple stone ledge and offset firebox and how the stone slab runs the full length of the wall.
20. Uptown High Rise Apartment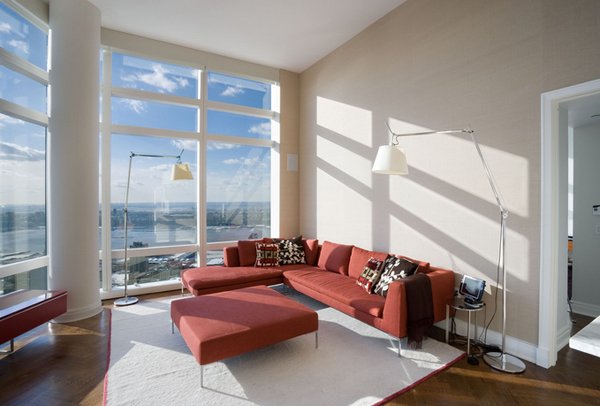 Another way to complement a beige-colored living room – adding a living room set in a single color.
21. West Side Craftsman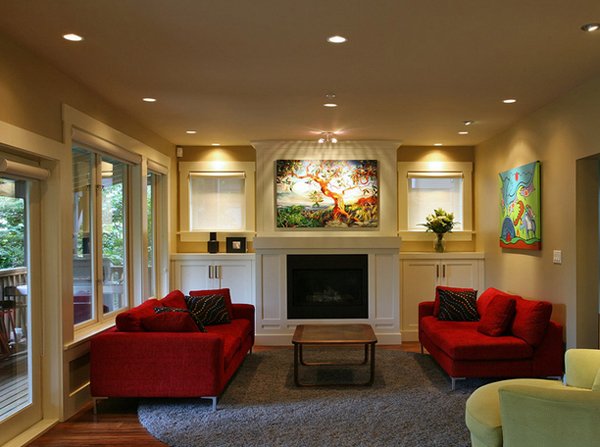 Lovely painting by the fireplace, right? The red sofas made the space more stunning than it already is!
22. Woods 7 Residence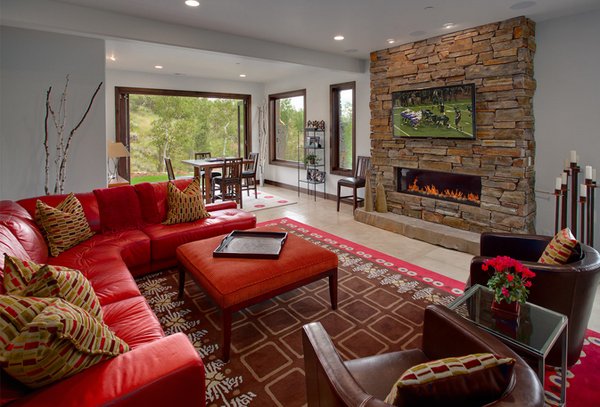 I believe this sectional is leatherette that complements with the brown chairs on the side; pretty walls and fireplace too!
There you have it guys, a wonderful list of living rooms with red sofas in a stunning parade of glamour and fun! Tell us what you think guys!