15 Living Rooms with Printed Wallpapers
Before anything else, we would like to say Happy New Year to you guys! Today marks the beginning the year 2013 and we are sure everyone is pretty much excited to start the year right! Well, it all depends on each one as to how to do it – with their families and maybe even parties. But, whatever you choose in starting it, just put in mind that here in Home Design Lover, we will be keeping you posted all year round with the latest and best pictures that can give you inspiration for your home decorations.
Today, we will be starting off with living room designs wherein instead of using a plain wall color, the designers and home owners decided of using wallpapers. The designs range from small patterns to large ones, from neutral colors, to bold ones. One way to check these photos is to take a look at the pictures that we collated for you guys!
1095 Royal York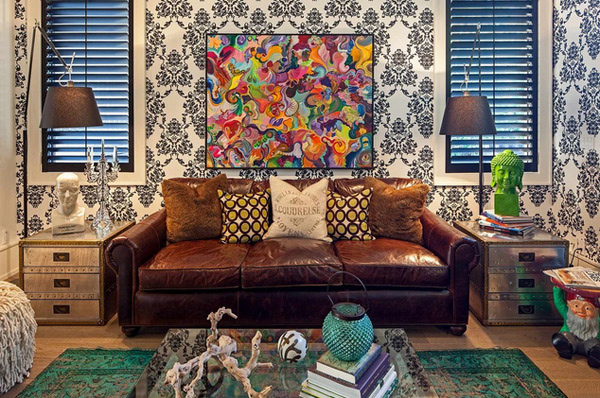 Look at the pattern on this shabby chic living room. It totally contrasts the colors used in the painting hung on the wall.
Cat's House Living Room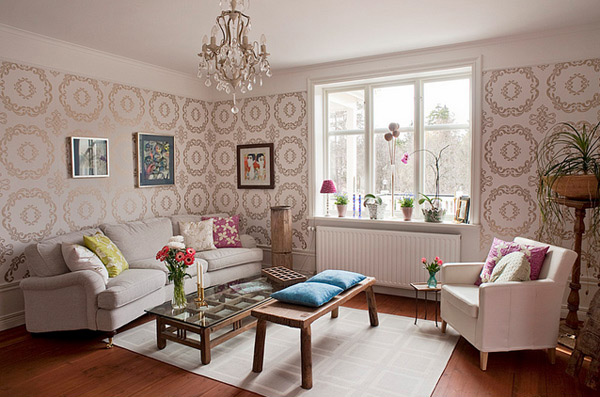 The circular patterns on this living room looks real cute, the color of the wallpaper even matched the color of the sofa. It isn't too bold or whatnot. The walls and the furniture contrast the flooring which is a good thing – it gives drama to the room.
Contemporary Living Room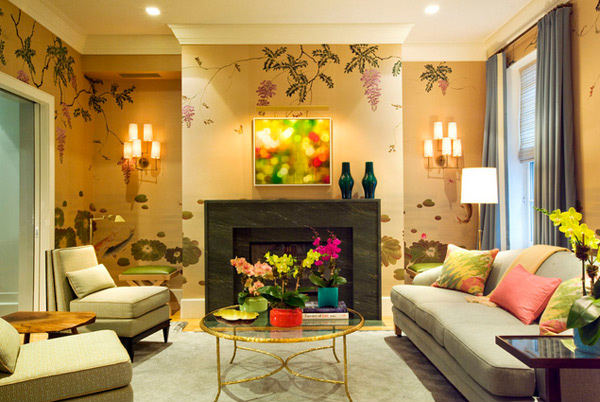 Don't you just love the drama made by the warm lights on this living room which totally matches the wall color and the sofas too.
Cotswolds Manor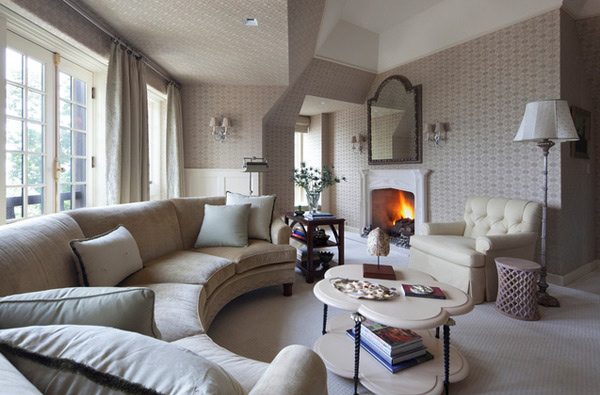 When we saw the name of this place, we thought it was really interesting. This living room is sure huge and simple, but really classy. The wallpaper patterns are quite small but sure are elegant.
Eclectic Living Room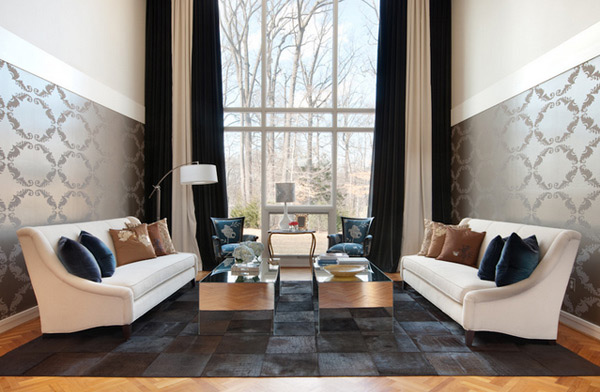 Look at how this wallpaper was used midway of the wall. It is a usual practice, but most people that we know prefer putting the wallpaper on the entire face of the wall.
Family Room with Custom Wallpaper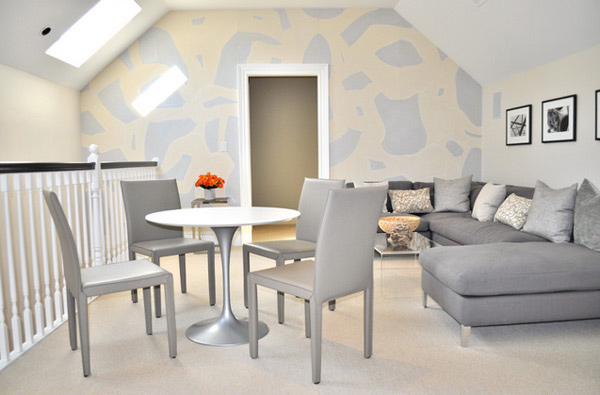 From the name itself, this room had its wallpapers custom-made for it may be more costly than buying the ones available in the market, but it surely will be unique and worth it.
Hospital Home Lottery 2012 Den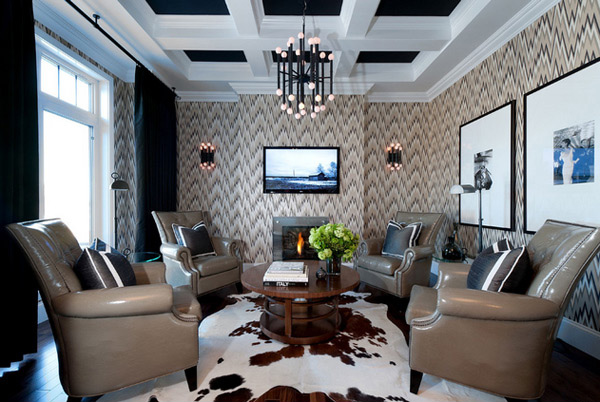 This room is one classy piece of beauty! It may seem masculine because of the color palette used, but it sure is expensive looking and really elaborate!
Jain House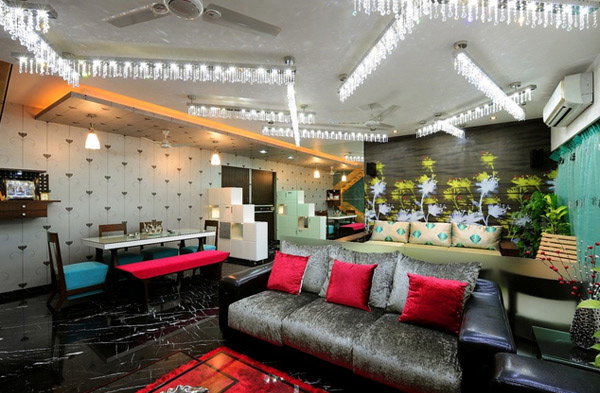 This is one interesting room to be in. Unique lighting pattern and design. Colorful palette with simple wallpaper. Kinda weird at first thought, but it sure is pretty.
Ledbury Park Residence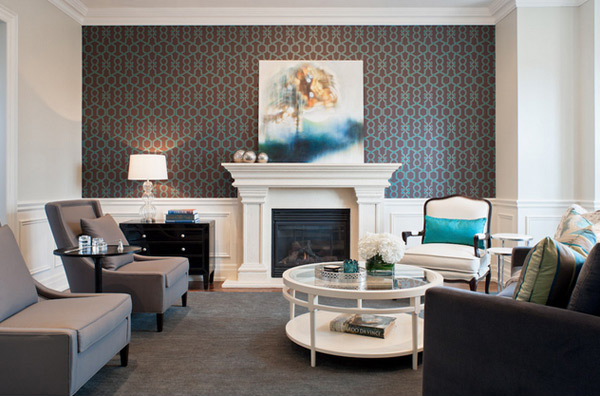 In this room, the wallpaper was treated as an accent wall. We usually see accents wall being the only side of the room with a different paint color, for this one, it was using a wallpaper on one side that made it really interesting.
Living Spaces, Ground Floor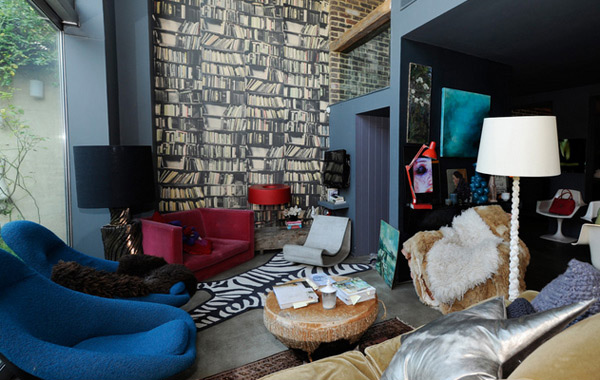 It sure looks like the owner of the house has an entire wall of books! Interesting concept when you think about it since most of the wallpaper designs that we have in the market are patterns.
Media Room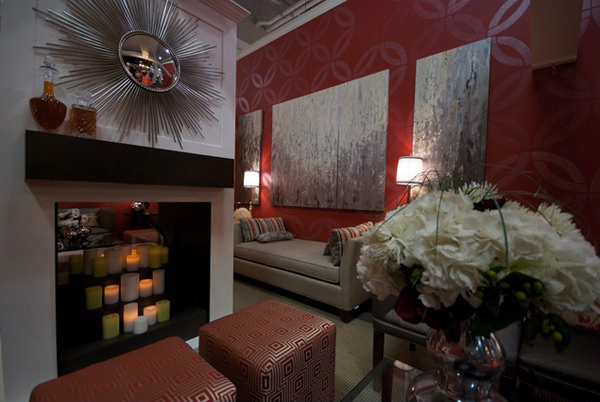 Red wallpaper paired with red accent chairs and a neutral colored sofa – cute stuff! This room sure makes it easy for you to imagine what the insides of the heart is.
Media Room in Los Angeles
Elaborate ceiling pattern, matched with simple wallpaper with colorful items all around the room – what can be more cooler than that?
Mill Valley Classic Cottage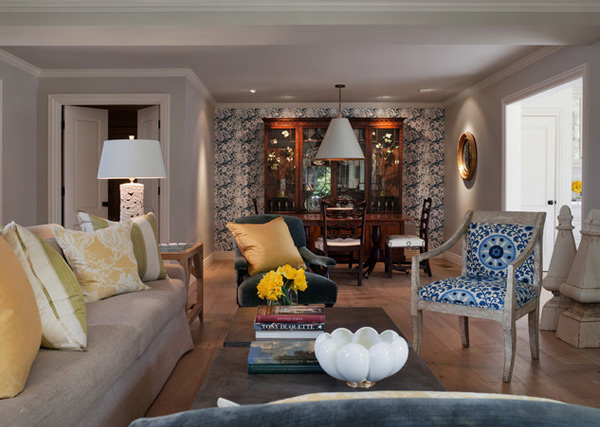 Another example of using wallpaper for an accent wall. Good move we should say, and a good pattern as well. It kinda matches the accent chair in the living room.
Modern Glam Living Room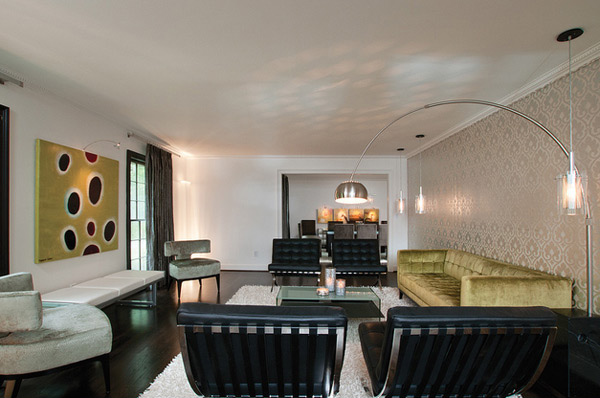 An example of a chic living room with unique pieces of furniture, pretty lighting fixtures and a dainty wallpaper color and design!
Seattle, WA : Lisa Hebner Living Room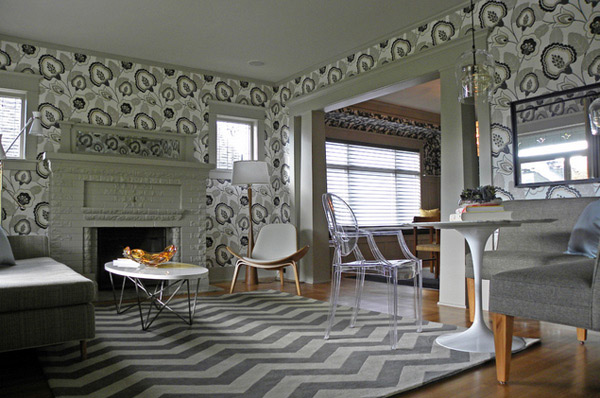 Talking about wallpapers and living rooms with prints – look at how compliant this room is! Prints on the walls, prints on the carpet! What more can you ask for?
Those were our pretty rooms with printed wallpapers! Depending in where you actually live – because some places that we know does not really practice using wallpapers even when it available in the market. Most families we know around prefer using plain paint for their walls. Whatever you prefer, what is most important is that you love how things look like inside your home.