20 Stunning Earth Toned Living Room Designs
In designing homes, both the home owners and the designers want to achieve a design that will be loved by everyone – especially the ones who would be living in that home. Sometimes, out if its beauty and earth touch, people are compelled to use the colors that we call "safe" but really natural – that's the earth toned colors! These colors range from very light beige to dark browns.
Today, we will be showing a list of 20 living rooms that used the colors from the range we just mentioned above. From the lightest earth tone, to the darkest. This list primarily focuses on how the earth tones complement other colors in the color wheel. We will be able to see what we can also do with our living rooms we have similar designs or furniture in the photos that we will be showing you today!
Inviting Spaces Traditional Living Room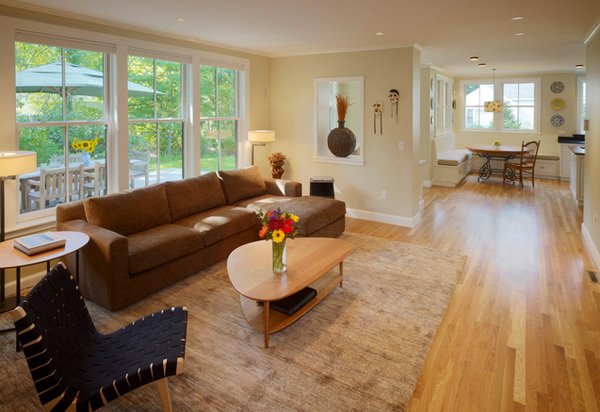 This room may seem to have a few seating area, but from the color of the floor to the color of the area carpet and the sofa, earth colors sure made this room homey!
Lake Travis Bachelor Chic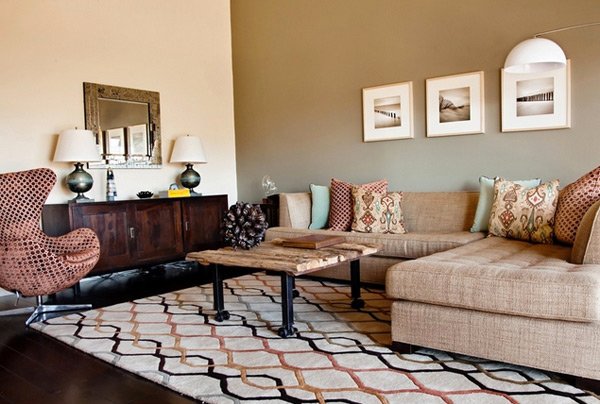 Different shades of browns were used in this space – on the furniture, area carpet and the center table, even the side console is made of hardwood!
Living Room 1a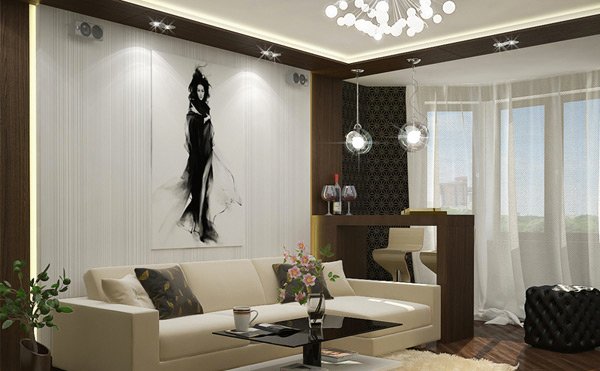 With the classic beige sofa and area carpet, this room is one epitome of beauty and grandeur thanks to the great artwork on the wall and the lovely color palette used for the walls and the floor.
Normandy House
When we came across with this photo, we thought it really looked cute – like in an exhibit. Very minimal furniture involved, almost no wall decors – but this room sure is a wonderful place to stay.
River Home Living Room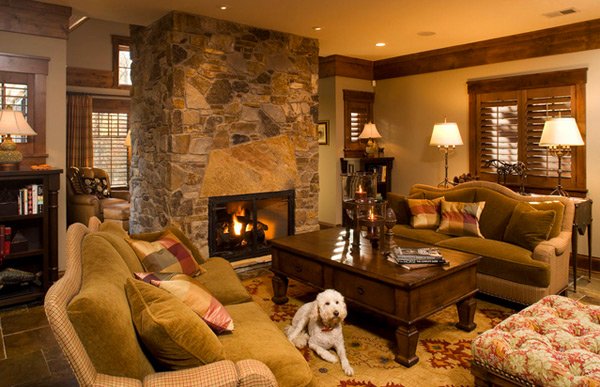 With the brick designed fireplace, this room will surely be comfortable. The furniture is a combination of light browns and some mossy green cushions. The printed area carpet is a darling wherein the dog sure loves to stay.
Whil at Chill Design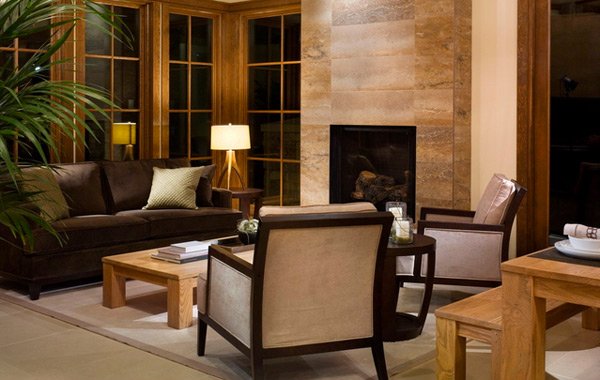 This is a contemporary living room which showcase great furniture in a beautifully designed space!
Contemporary Family Room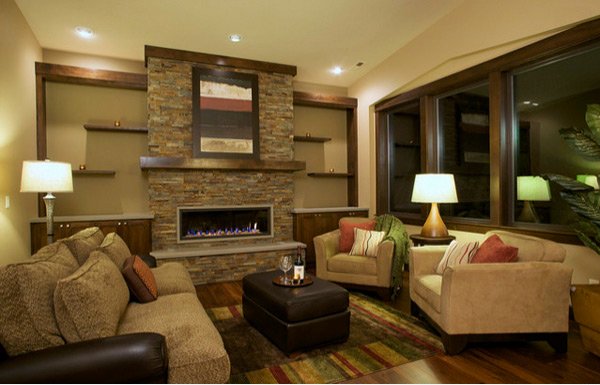 With great and comfy living room furniture, this family room is somewhere anyone would love to stay. Brown furniture with a few colored pillows match the striped area carpet and stunning fireplace.
Fabulously Functional Living Room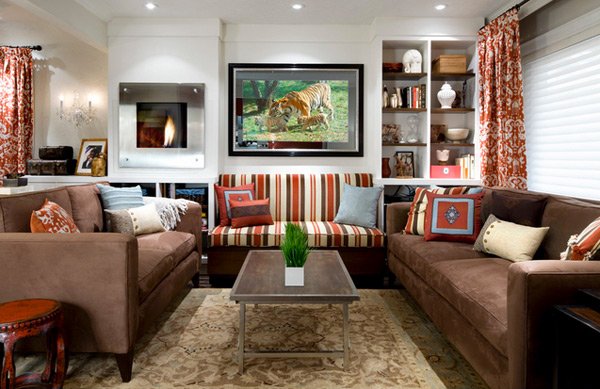 Look at the cute striped chair in the center of the living room! The two brown sofas look great with the accent sofa in between them! Using colored pillows does the trick in complementing the browns in the sofa!
Four Seasons Residence Living Room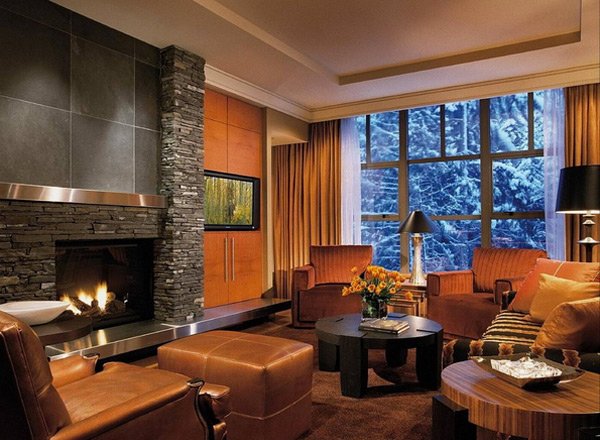 This room looks a little masculine for the majority! But hey, this room sure is lighten up by the black fireplace, center table and lamps!
Hill Country Contemporary Living Room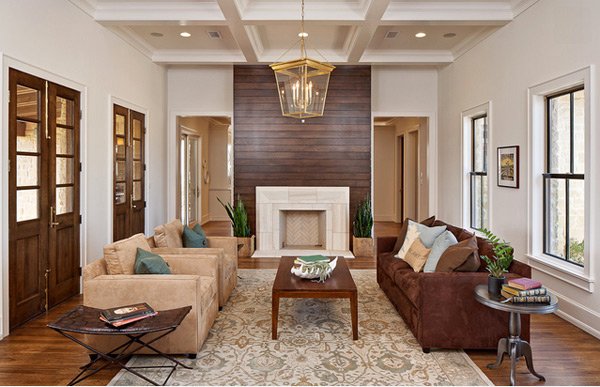 Using different shades of earth toned furniture and accents gives drama to this contemporary living room.
Lake Oswego Golf Course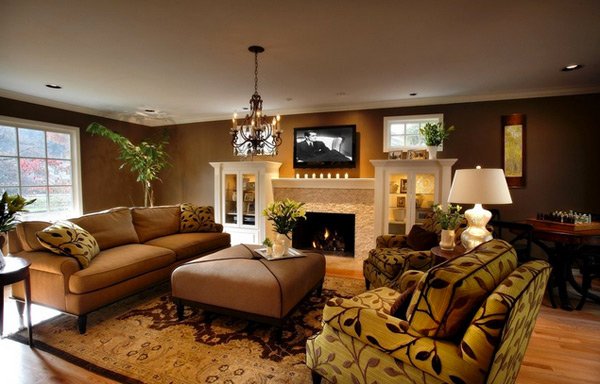 Printed seating area also complements a plain earth toned sofa with matching printed pillows. The white fireplace and cabinets sure look stunning with the lovely walls!
Reinhardt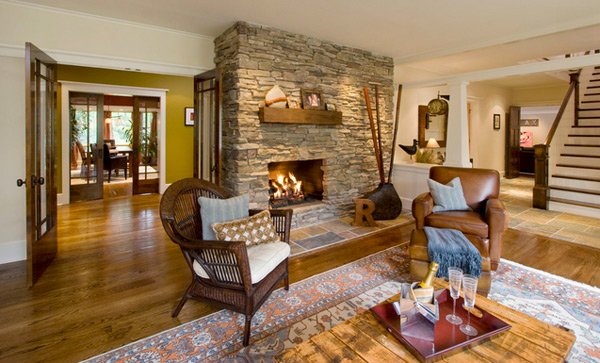 Don't you just love the traditional feel to this living room? Unique chairs and furniture, fabulous fireplace with charming accent decors!
Syosset Traditional Living Room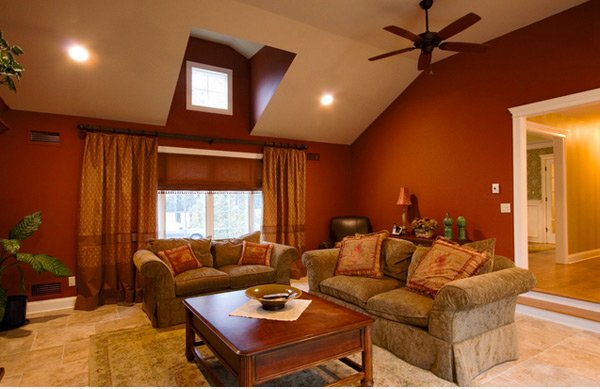 Reddish walls match brown seating and center table! This room not only is classy but also designed well.
George Street Living Room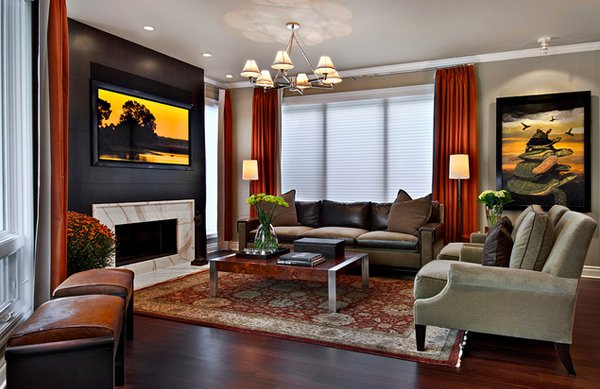 The use of earth toned materials in the house like furniture, area carpets or even walls, makes a room viable to any color and design which makes it more pretty and sophisticated!
Hollywood Residence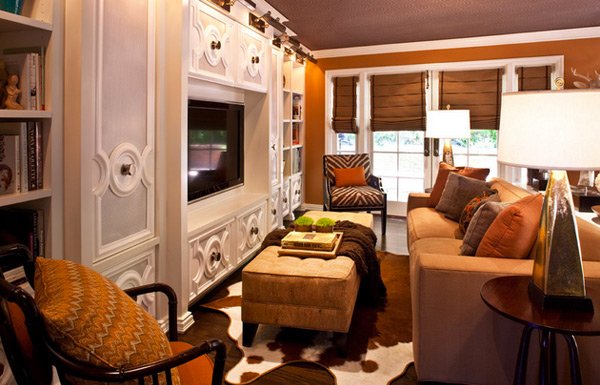 At first we were surprised at how close the sofa is to the television, but looking closely at this photo – it is actually stunning.
Simple Living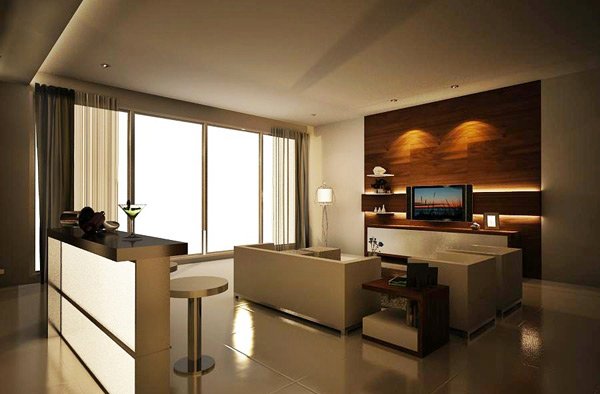 This modern living room is overrated for simple living – it is totally lovely with the modern furniture, great window treatment and great flooring!
Brown Living Room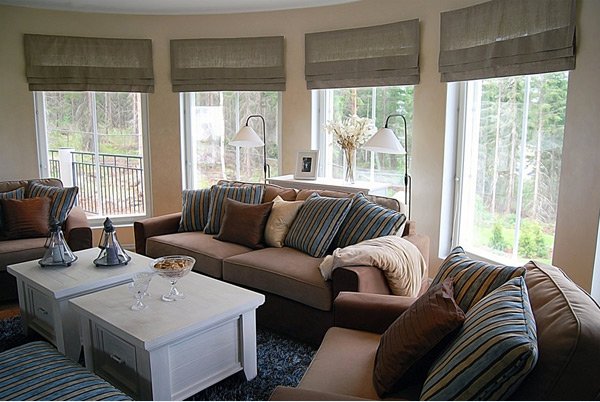 These huge comfy chairs remind me of our article previously posted about Baroque inspired living rooms – except for the intricate designs on the arms and legs, these chairs would actually pass!
Lovely Living Room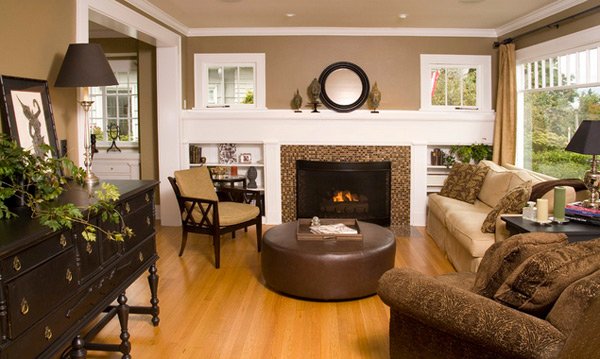 This space can be made more spacious if only the seating would be not as huge – but evidently, the space was maximized and the use of great decor was practiced.
Haidari Living Room
This is definitely one wonderfully and modernly done living space that anyone would love! Great furniture, area carpet, wall and window treatment!
Traditional Living Room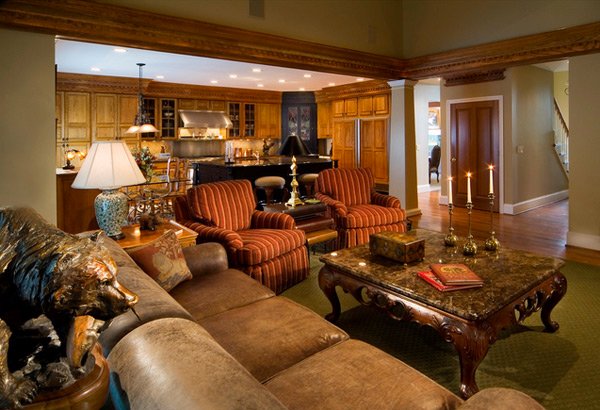 Pretty traditional just by looking at it. A huge brown sofa is complemented with red striped seats on the side. Did we mention the great vintage center table? Isn't it so pretty?
That was definitely a list we are happy to showcase! These 20 Stunning Earth Toned Living Rooms left us here in Home Design Lover wanting for me! We hope you do too! February is not yet over but we sure want to maximize the next few days for you guys! More to come here in Home Design Lover!