15 Bohemian Inspired Living Rooms
It's another great week to look forward to with Home Design Lover! We are surely busy preparing our lists for you guys! To start the week off, we prepared a list about Bohemian-inspired living rooms! We really wanted to make this article something that you guys will learn from! So, here are some thought about this Boho-style : the Czech Republic is the former Kingdom of Bohemia.
The Bohemian style is somehow associated to a socially unconventional person, especially one who is involved in the arts – and that is the main thought we have in our heads whenever we see decors like the ones hippies are connected to – colorful outfits and decorations, beautiful printed fabric and sometimes, it is even chic – smart and stylish. Take a look at the list that we have prepared for you and be able to differentiate one from the other!
Bohemian Ranch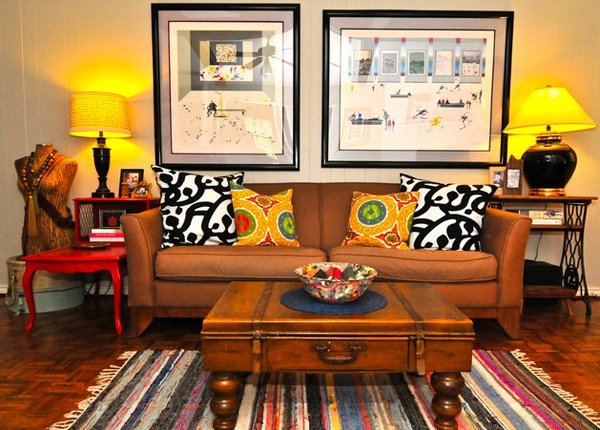 First up, this boho-chic inspired living room in a ranch. Using a brown colored sofa matching the flooring, then adding cutesy pillow usually does the trick. Don't forget the antique center table, once a travelling bag.
Contemporary Living Room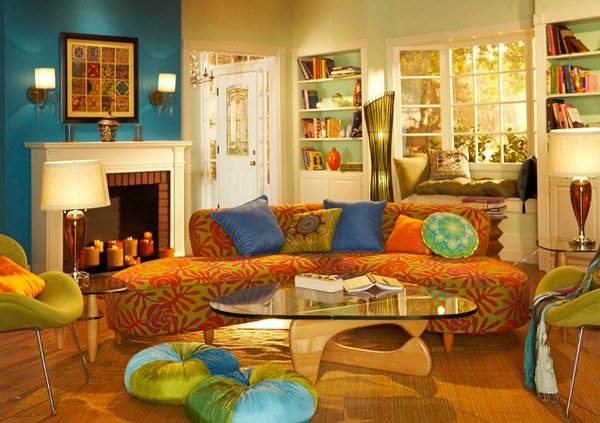 Bohemian can never go wrong, especially for homes who value artsy stuff. This room may be contemporary, but with the right materials like the furniture and decor, this room can definitely be called Boho-chic!
Craft House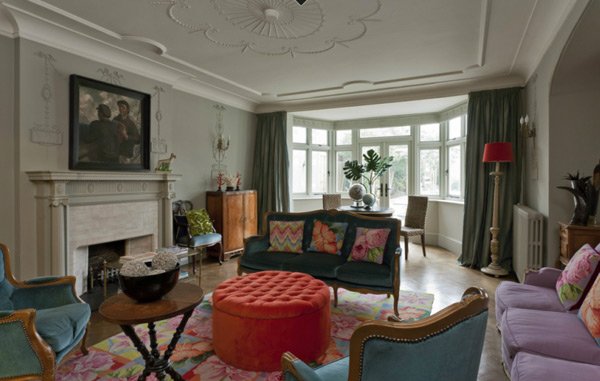 From the name of the house itself, this home knows much about crafts which is the most basic thing to know and love in Bohemian style.
Bohemian Tea Room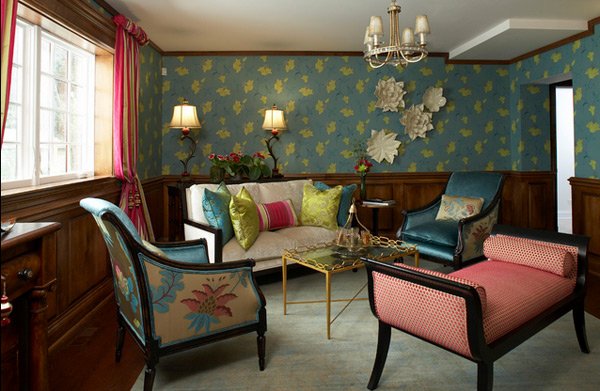 This tea room is sure pretty in those colorful fabrics used in the seats, the walls, even the curtains! Mixing things up like this seems a task, but thanks to smart designers, they all look together!
Belsize Gardens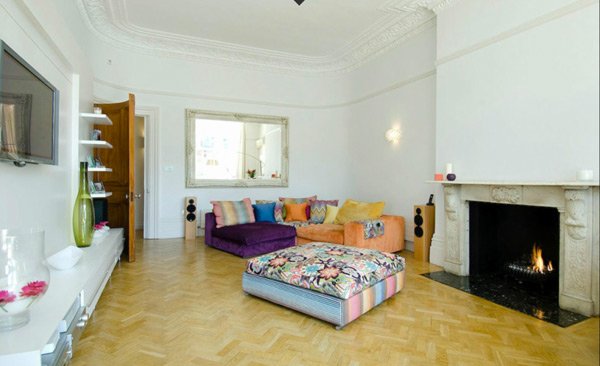 Even with huge sofas, this room still seem so small because of the wide space. But, thanks to the colorful seating area, this room is still as interesting as how it was first planned to be!
Hacienda Chic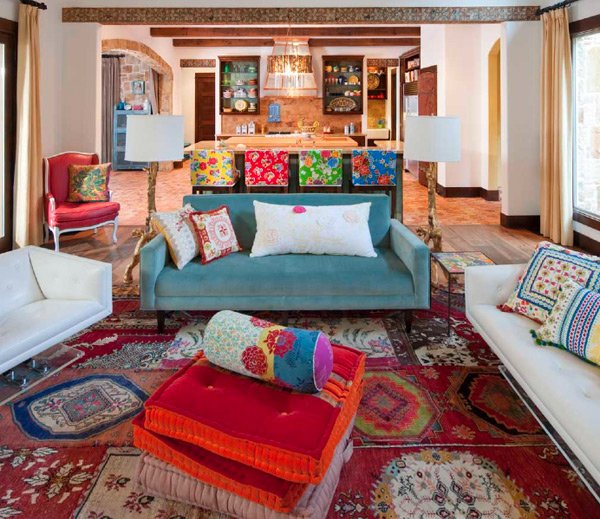 This room sure is pretty chic. Unique pieces of furniture paired with colorful and printed pillows. The rug even seems Mediterranean or something Moroccan!
Eclectic Living Room in Los Angeles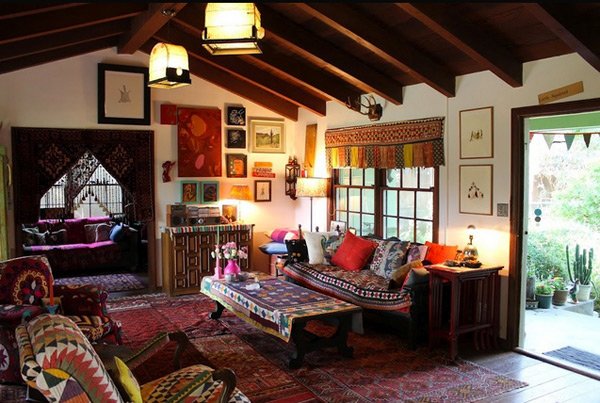 This space can really be mistaken for a room where a Bohemian girl lives. Really colorful, filled with tons of stuff and the aura actually says it all.
Living Room Pillows Retro Color
This living room is in fact where the designers live! As they say, their home is a working progress – just like most homes that we know, we always redecorate, we fix things, and we repaint. Pretty much, like this home, our inner decorators is something we work on continuously.
Mount Pleasant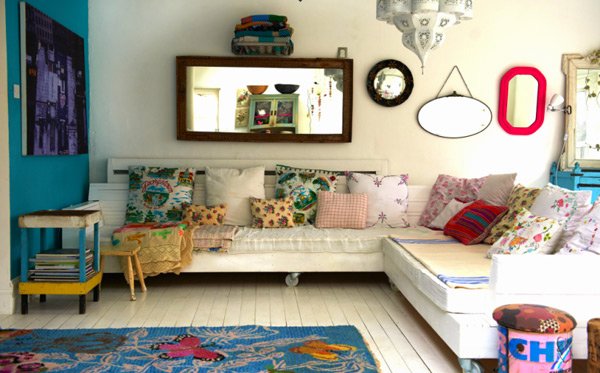 A white sofa matches any archetype, that's for sure! Matching the seating with a great variety of printed pillows and cool decors on the walls, observe what you get!
Bohemian Eclectic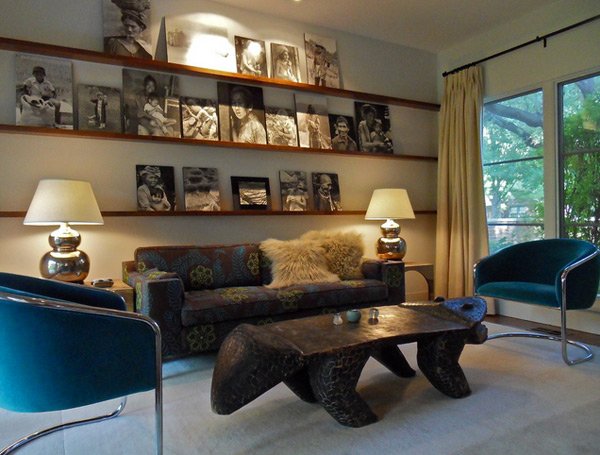 This room may not be as colorful as the rest of the rooms that we showed you, but looking at the materials of the center table and sofa, but really Boho!
Deerhurst Road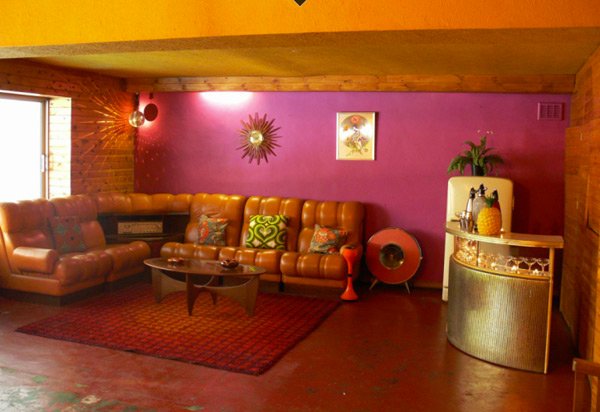 Unique color for the accent wall, matched with vintage sofa and colorful pillows. Look at the worn flooring with a red area carpet. A wide space for the family!
South Downs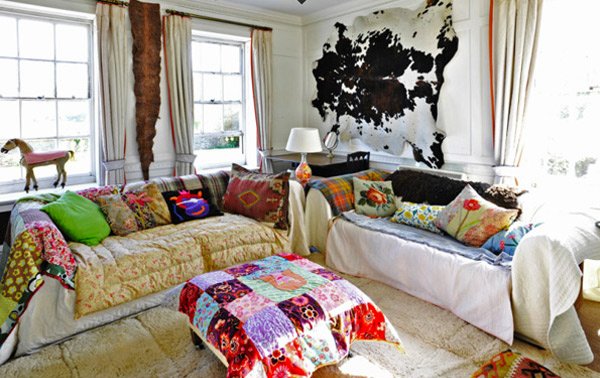 Another classic set of colorful and printed pillows with quilts around too! Interesting wall accent – we believe it is actually synthetic animal skin, pretty interesting indeed.
Living Room
Pretty eclectic living room right? It is unique, fresh, interesting and really eye-catching! Thanks to the patterned fabric on the chairs that actually match the lamp!
Bohemian Living Room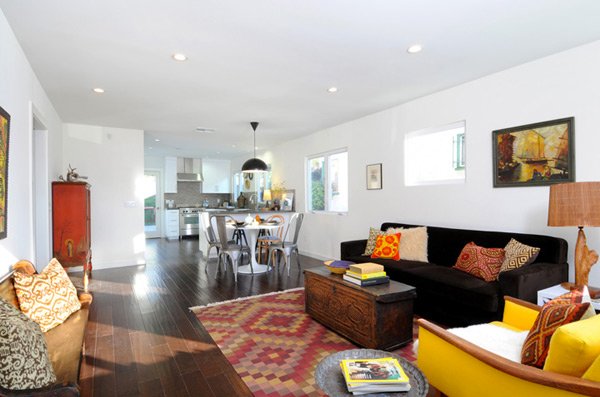 Don't you just love the cute patterned area carpet? The use of unique pieces of sofa, made this room Boho-interesting!
West Hollywood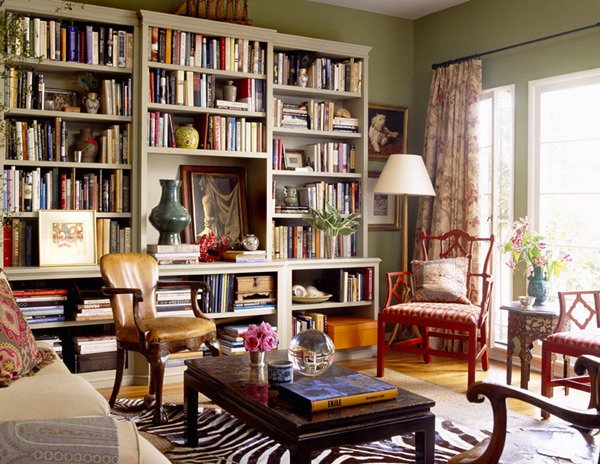 The library aura in this room is really homey and comfortable. The seating area with the use of unique designs is a very chic move, but the use of the printed hippie-like pillow cases is really something.
That was sure a ride! From colorful walls, pillow cases, sofa fabrics, carpets and wall decors – we can definitely see the artsy side of those living rooms! At this point, we are sure, you will now be able to determine whether the room was decorated chic or Bohemian! But, watch out! For more insights and information, we will be showing you more list on chic decors! Only here on Home Design Lover! You can try a Shabby Chic Living Room or a Vintage Living Room.