20 Splendid Silver Accents in the Kitchen
Silver is something we usually see in the kitchen, well – maybe not silver per se but somehow similar because of how silver and stainless steel look almost the same. Today, we have a list of kitchen spaces that will showcase the use of silver in a whole new level – as a decoration or fixture in the kitchen.
We will be showcasing 20 Splendid Silver Accents in the Kitchen what will surely somehow be subtle at times but will be as shiny as a silver should be. The kitchen spaces below is either decorated with silver decorations of have awesome silver backsplash or ceiling designs. Do check them out and be fascinated!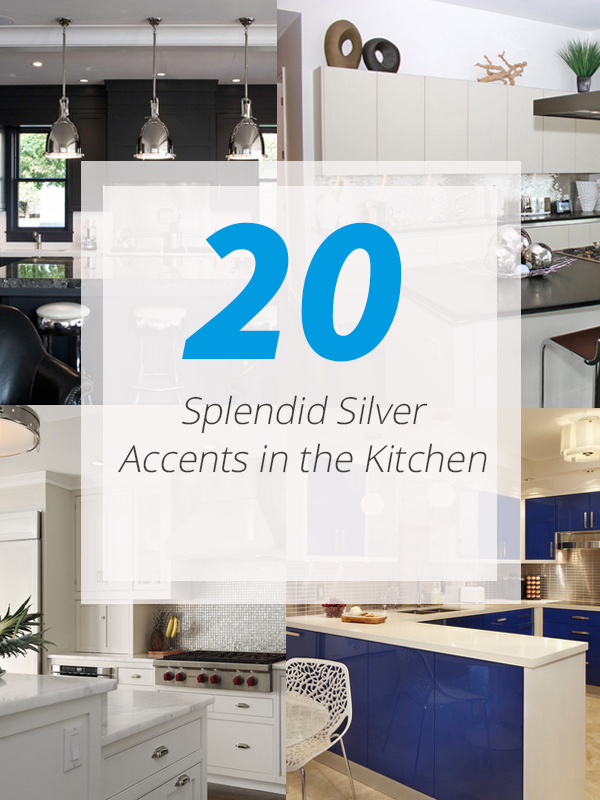 1. Elli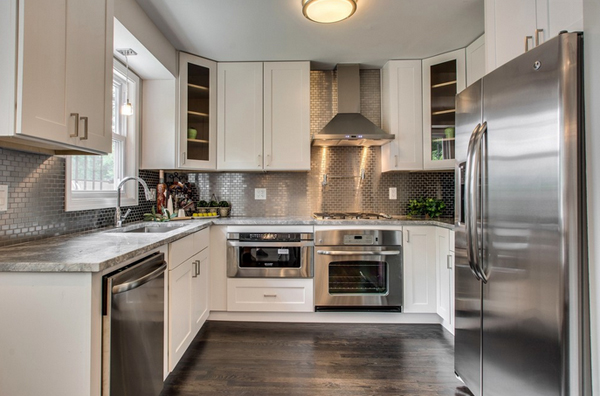 I did mention above that you will be seeing kitchen designs with silver-ish backsplashes – here is one example! Pretty awesome right?
2. Modern-Native Mix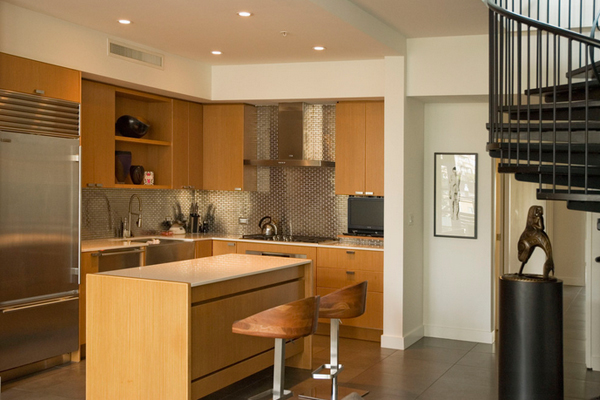 Another kitchen with silver backsplash; sure works because of all the wooden cabinets and island.
3. Breakfast For Four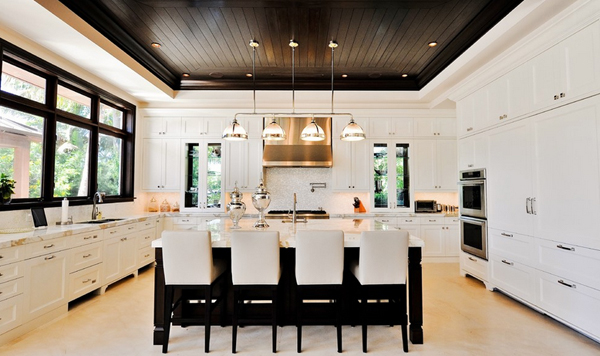 Silver industrial pendant lights that accentuated the dark wooden ceiling.
4. Carcary Residence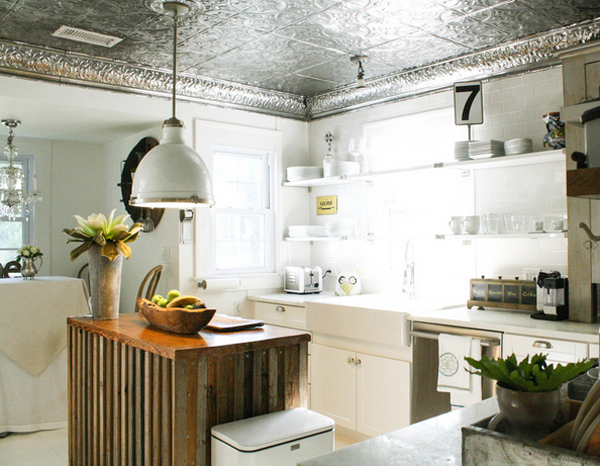 Who says you can only use silver plating as a backsplash? Sure works as a great ceiling fixture too!
5. Detroit Kitchen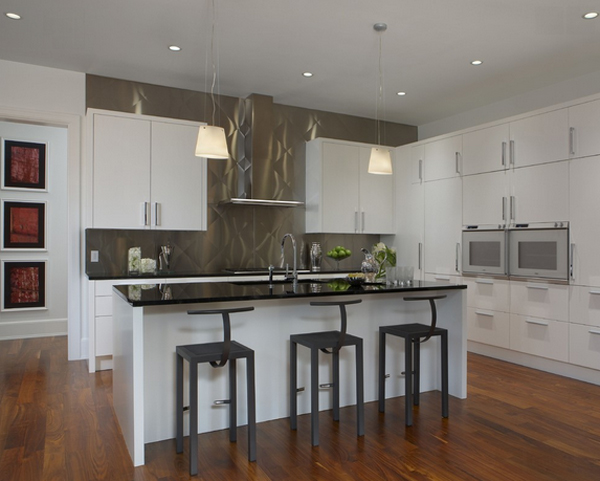 Silver backsplash against stainless appliance – works well.
6. Ferrell Residence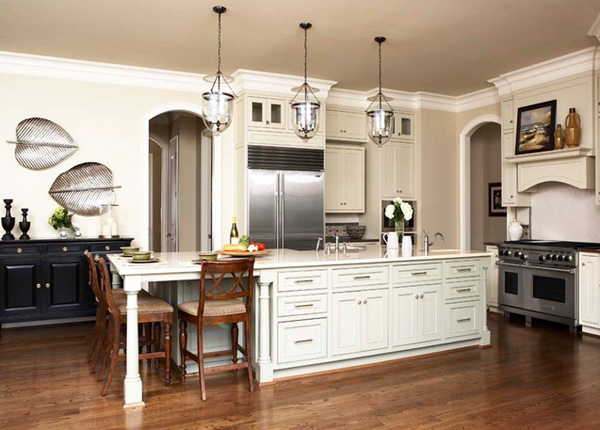 Look at the silver leaf decor on the left side of the wall! Pretty unique huh!
7. Fort Morgan Beach Home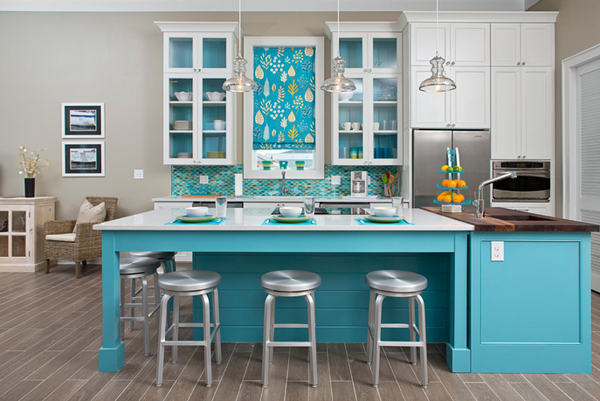 Silver/stainless colored island stools against a blue island; how about that? Pretty vintage to me!
8. Gagnon Residence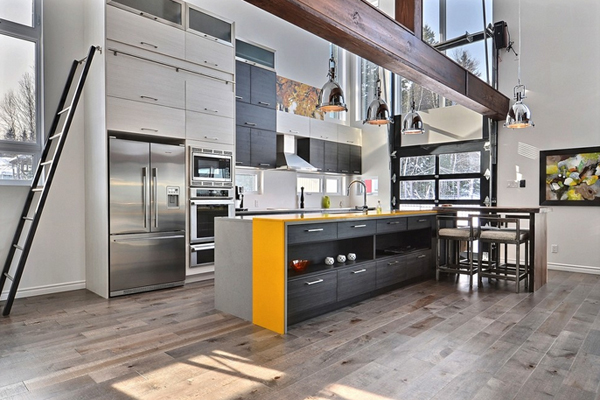 Stainless appliances and silver industrial pendant light fixtures! What can you say about this kitchen space, guys?
9. Jen Migonis' Kitchen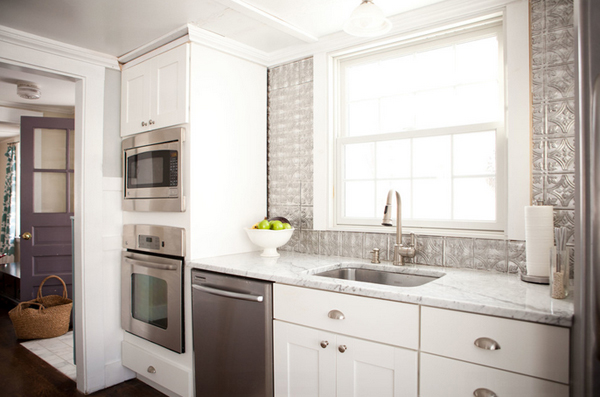 White kitchen cabinets and drawers and silver backsplash that cover the wall from the countertop to the ceiling.
10. London Contemporary Studio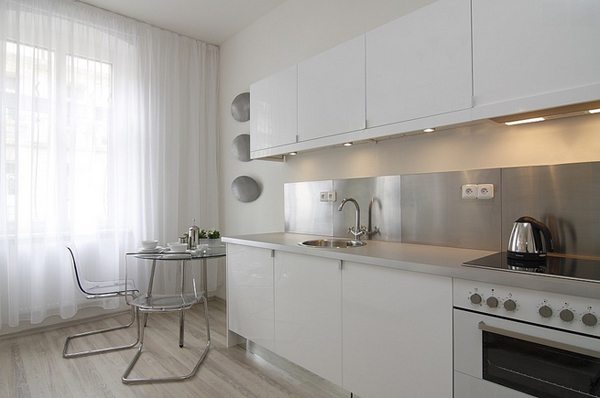 Aside from the backsplash, the choice of kitchen table set and decor sure is interestingly simple but pretty.
11. Modern Kitchen in the United States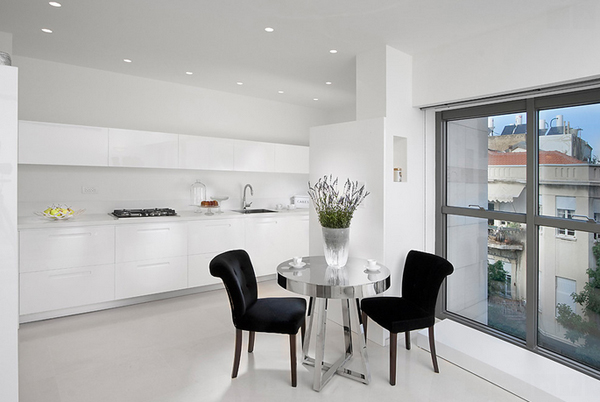 Totally love the table in this all-white kitchen! Adding the black chairs sure made the space prettier and classier.
12. New York White Kitchen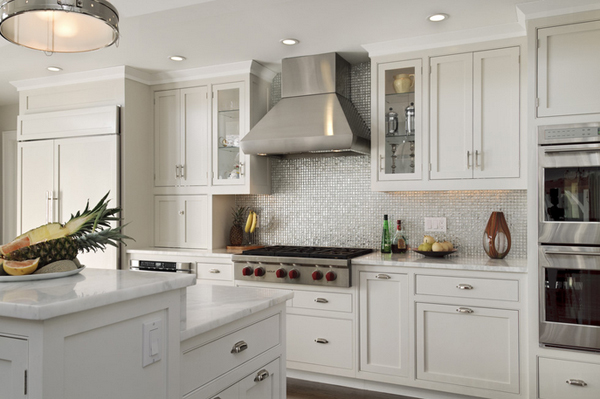 Details on the backsplash is super! I totally love it to bits!
13. Pat & Patti Walker Kitchen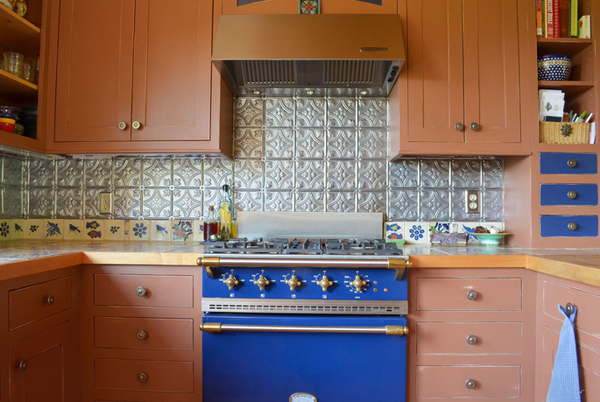 This backsplash is indeed a popular choice among all the silver backsplash designs available in the market today.
14. Penn Valley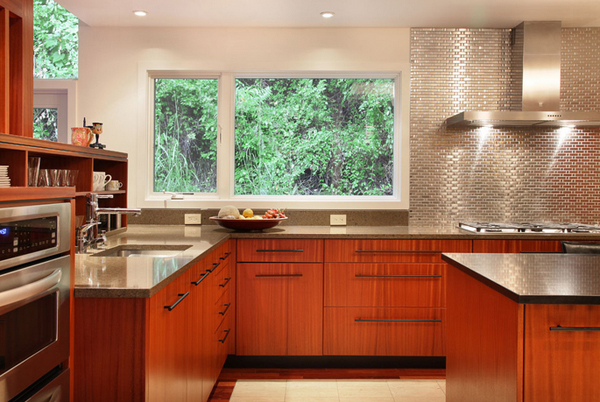 Stainless countertops and appliances sure match the backsplash.
15. Ranch Home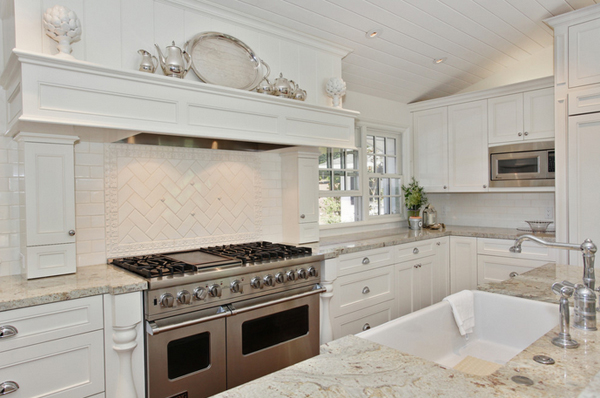 Silver china is displayed atop the range. Simple accents that makes this kitchen extra beautiful.
16. Rocky Ledge Kitchen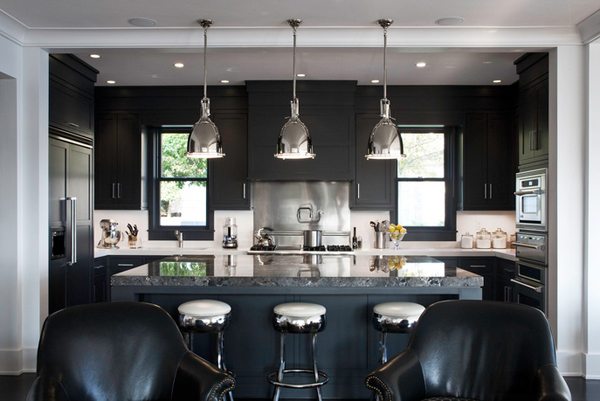 We have seen a lot of silver industrial pendant lights but this one is rather interesting because of the shape – I like it.
17. Spring Meadows Kitchen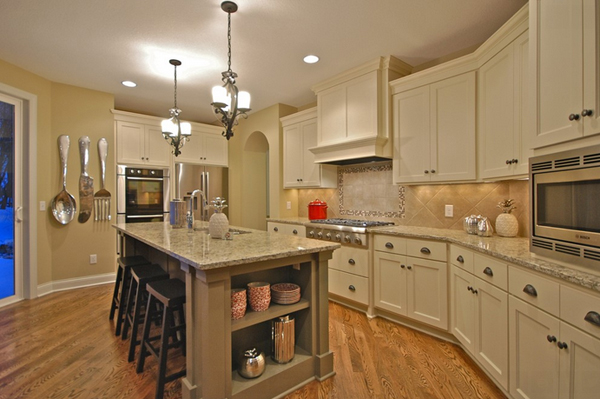 How do you like displaying your large utensils on the wall?
18. United States Contemporary Kitchen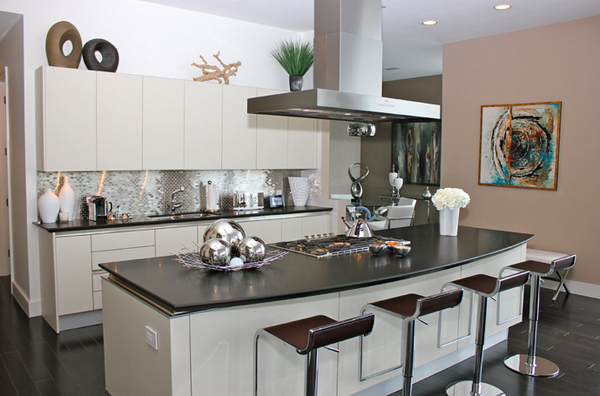 I like how people are still displaying cute trinkets on their kitchen when I can actually be the busiest area in the house!
19. West Perry Street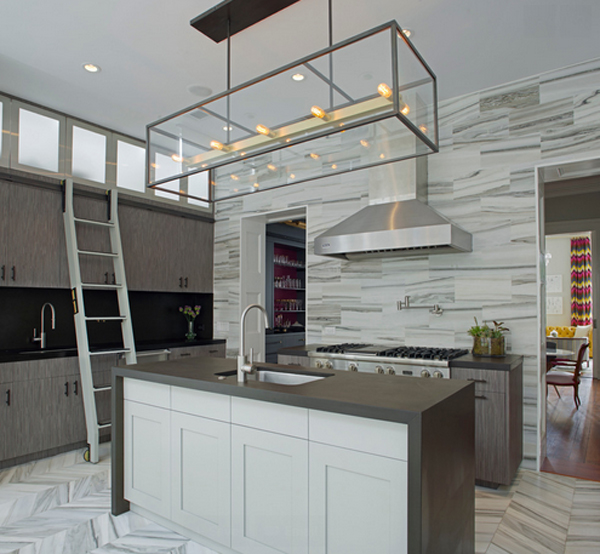 This is one simple kitchen space that showcase a lot of beautiful things for people who will see them!
20. Williams Island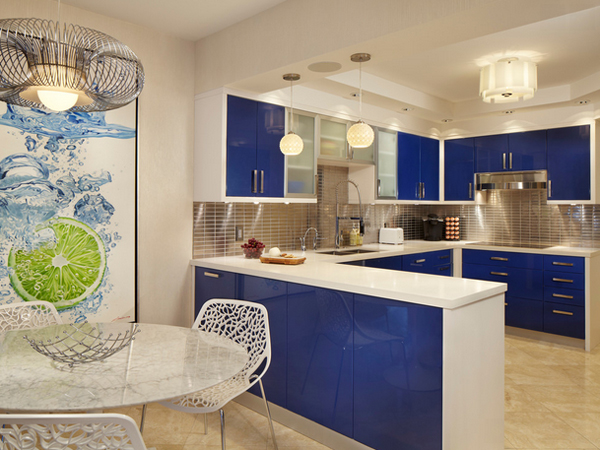 Another kitchen with a blue and silver color combination that works.
I'm pretty sure that this list of 20 Splendid Silver Accents in the Kitchen caught your interest too! The kitchen spaces were small and pretty and they were splattered with silver trinkets here and there – just enough to catch your attention.