15 Marvelous Mid-century Kitchen Designs
Mid-century homes are spaces that exude a certain look and feel that reminds us of the architectural and general designs available to us during the mid-20th century.
We usually see collectibles and furniture, then out of nowhere, we automatically feel the warmth of the room. It's like a mix between contemporary and modern design.
With the 15 Marvelous Mid-century Kitchen Designs, you will be able to see more of the exposed beams, tulip chairs and a bit of the Arts and Crafts and organic designs which was dominant in Frank Lloyd Wright's designs.
Today, we will see much of those influences in the pictures we have collected and you can go ahead and tell us what you think about them!
Admiral Converse House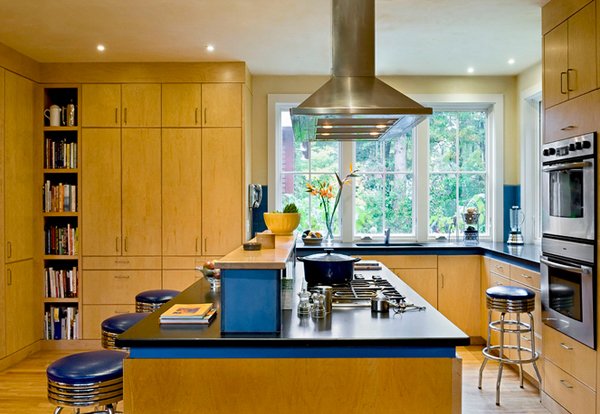 We love this Burlington kitchen with an island and a cooktop, which serves as a separator between eating and cooking. People who see this photo compliment this space for the shelves created for the cookbooks!
Eichler Renovation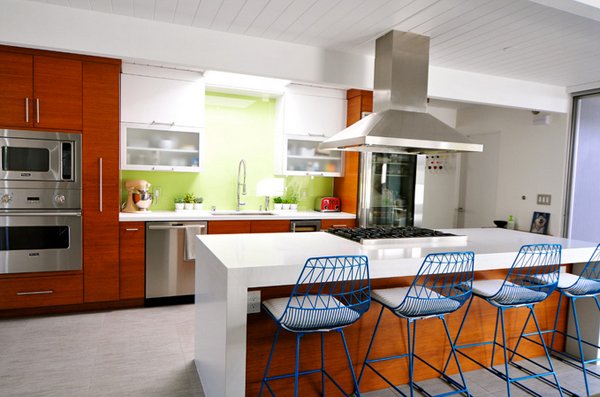 Lin changed everything but the range and range hood. "Probably the only two things we kept in the house," she says. She added bamboo cabinets, a green glass backsplash and Caesarstone counters.
Laurelhurst House
The client chose a vibrant glass mosaic backsplash, with elements of the sun and sky reflected in the pieces. Chell says that it was important for her clients to bring elements of color and light into their home. Simple pendant lights hang over the kitchen island so that the backsplash would take center stage.
Los Angeles Refurbished Kitchen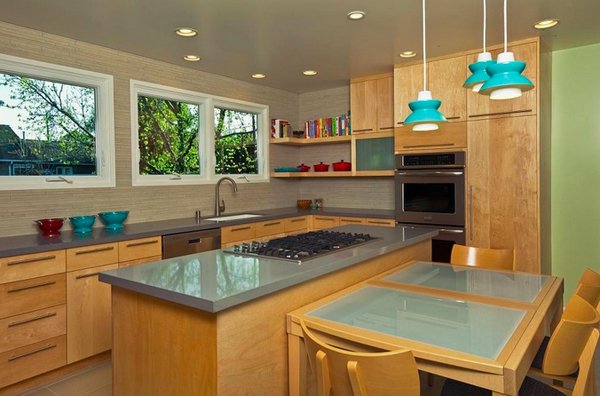 The cabinets were custom made locally by a cabinet-maker in Maple select with clear finish and the lights are by Rejuvenation. It functions well for a family of four who cook together.
Madison Park Residence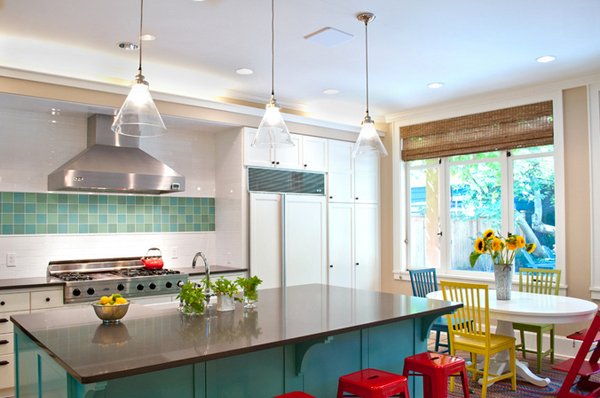 The original kitchen featured an island that divided the space and was out of scale for the space, the tile and countertops that were dated. The goal was to create an inviting kitchen for gatherings, and integrate the clients color palette without doing a complete kitchen remodel – and SJvD Design did just that.
Mid-Century Modern Addition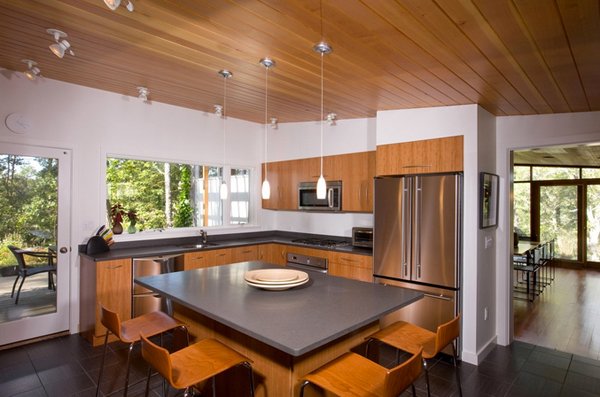 This ceiling is made of decking boards, but you can select any type of boards you like.
Mid-Century Modern Home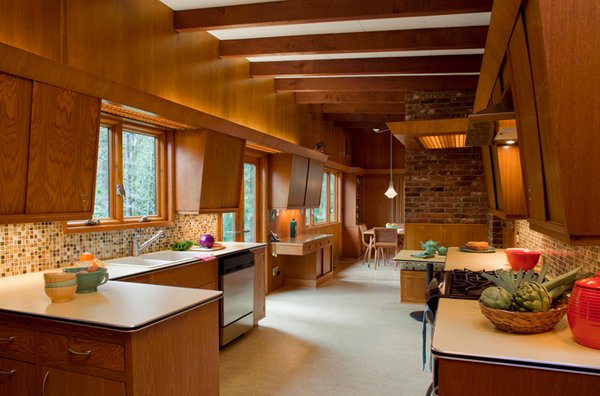 Notice the angled cabinets above the counters which look ravishing. The colors of the cabinets, the walls look great along with the exposed beams.
Portland Mid-Century Modern Kitchen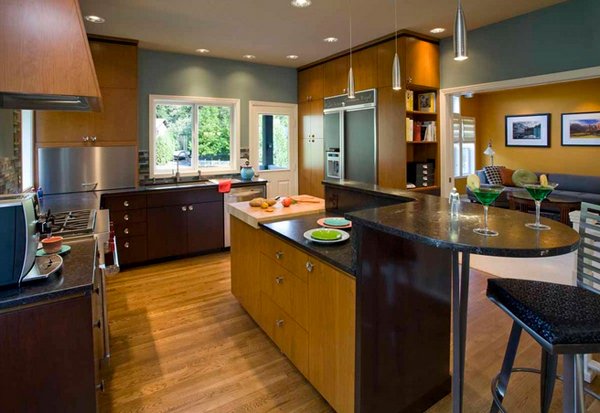 Mid-Century modern kitchen with custom blend glass tile backsplash. Cabinets are Cherry and Lyptus with 3 stains.
Renovated Kitchen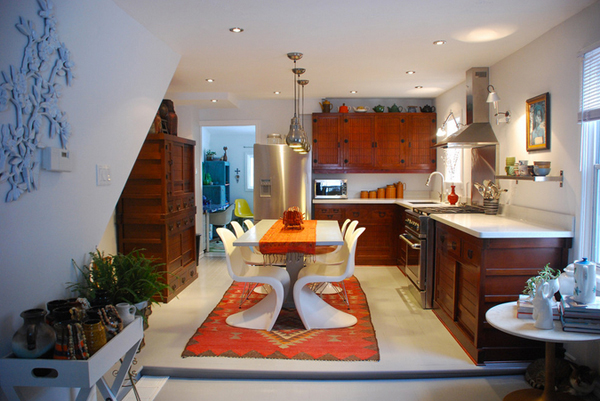 The kitchen may be a more utilitarian space, but that doesn't mean it can't be treated with the same design approaches as a living room or bedroom. Combining a modern table and chairs with a Southwestern rug and rustic cabinetry creates a vibe that is both eclectic and sophisticated.
Tel Aviv Modern Kitchen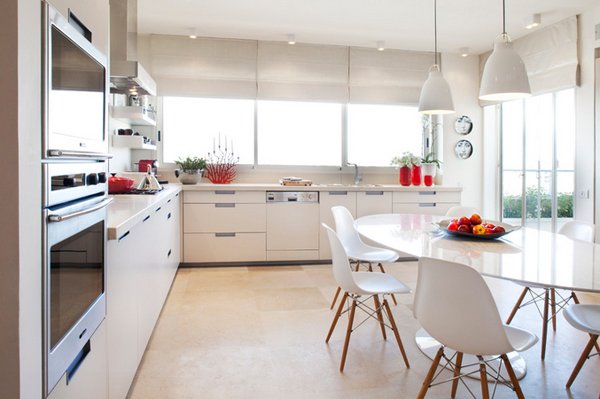 Using Eiffel legs here would have looked very light and commanded much less attention. The wood legs are a good way to add another textural element into the mix. Wondering about the light fixtures? They are called Caravaggio P4 Pendants.
Vancouver Retro Revival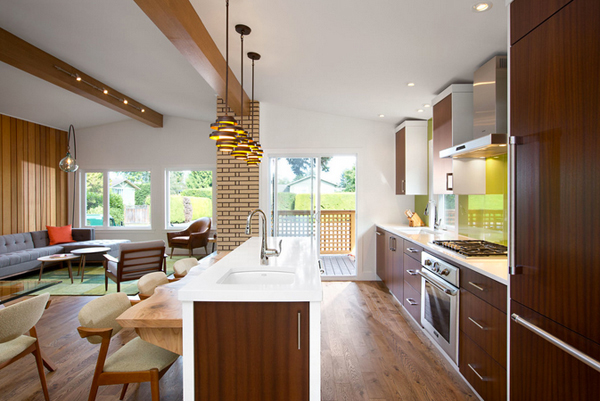 We like the walnut cabinets – the wood floor has a great color palette and we also like the little bit of brick on the window walls.
Westlake Residence
These blue stools pick up on the blue backsplash above the stove. This kitchen feels both contemporary and classic, and this shade of blue fits right in.
Williamsburg Renovation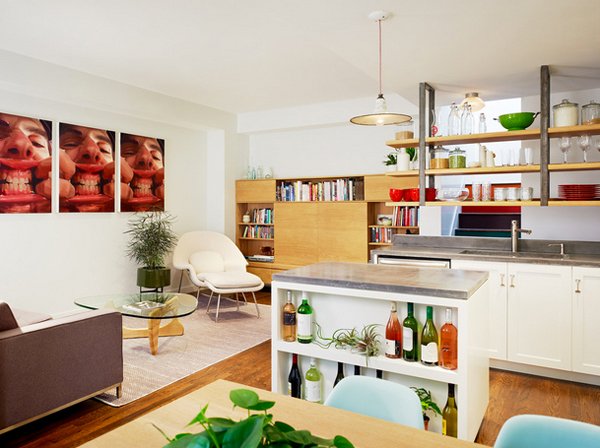 Open plan kitchen and living room featuring poured concrete countertops, custom cabinetry, storage benches, and steel and oak ceiling mounted shelving.
Lucas Valley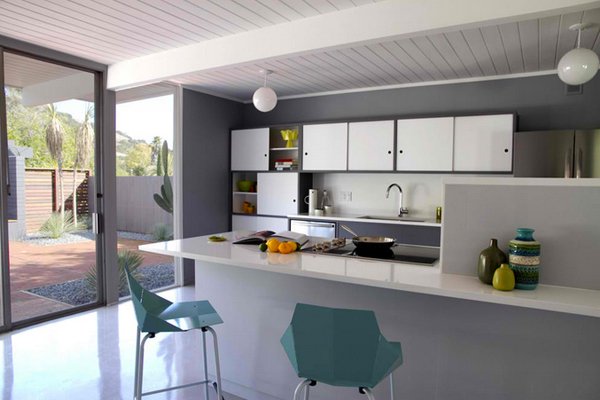 Note the shots of turquoise in this very subdued gray and white mid-century kitchen which makes this room look ravishing.
Pletcher Kitchen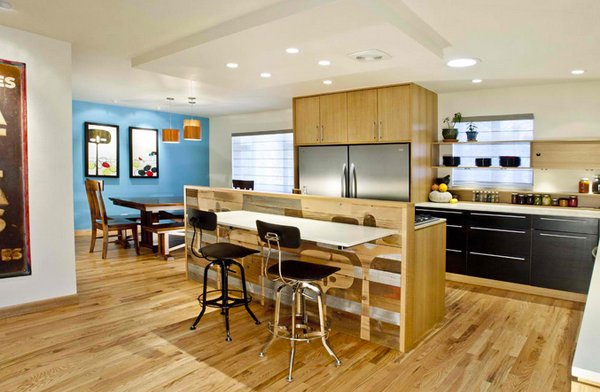 Combining an existing laundry room and kitchen in a 1950's ranch in the Highland's into a Chef's Kitchen with Eat-In Island.
So, there you have it! The 15 Marvelous Mid-century Kitchen Designs which showcase the transformations of Architecture, Interiors and design in urban development. It may be a small part of the entire picture since we only showed you kitchen designs, but if you go ahead and check out more photos under the mid-century category, you'll see what we mean. The contemporary wooden kitchen cabinets is another list we have which promote wooden designs – check it out!