Damian House Features an Adventurous Loft Bedroom
A modern home has a lofted bedroom with an impressive design.
No matter how small or how a large is a space, it is important that everything is well planned especially when it comes to layout to make sure that things will go to their proper places and the home will not look crowded. We have seen many homes that are just small but were able to accommodate everything because of a good layout. In truth, there are so many ways to do that and if you want ideas, there are a lot that we can find in existing homes. But of course, it depends on your kind of space too. Today, what we are going to show you is a home that has a lovely loft bedroom which is a clever way to save space.
The house is called the Damian House that is located in Athanasiu Street, Bucharest, Romania. The home is designed by architecture firm In situ featuring a lofted bedroom that would best suit an adventurous sleeper because of its design. Aside from the bedroom, the entire space looks beautiful too as it incorporated natural materials into it. I also like the color palette of the space since it has a natural feel which makes the home cozy and comfortable. Going back to the lofted bedroom, adding this kind of space is a good way to make use of limited floor area and to maximize a tall ceiling. There are many ways to design a loft bedroom and what you will see in the Damian House is just one way to do it. Let us take a look at the interior of the home below.
Location: Bucharest, Romania
Designer: In situ
Style: Modern
Number of Levels: Two-storey
Unique feature: The beautiful home has a modern interior featuring a lofted bedroom which has an adventurous design. Its interior makes use of natural materials that added appeal to it.
Similar House: Dutch Church Loft Residence in Netherlands: From a Church to a Home!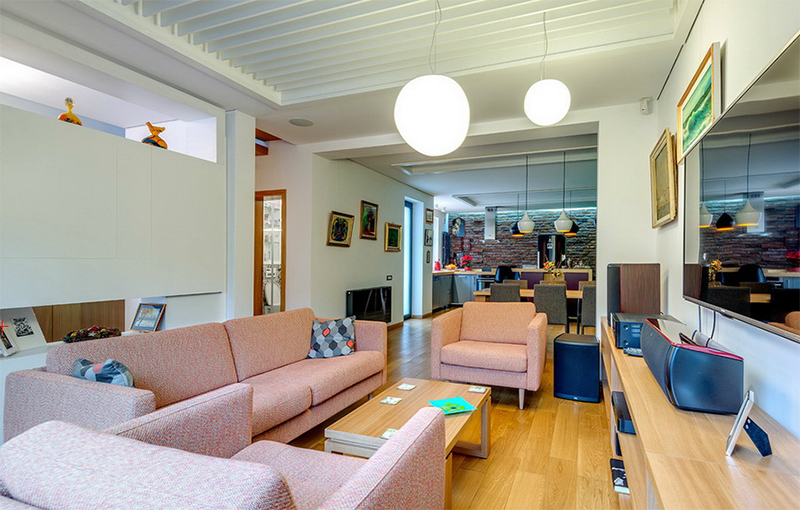 You may not get to see much of the other areas of the house in this feature but the interior can be seen from this image. You can see the living area, kitchen, dining area and even a small portion of the foyer. The lower level of the house, as seen here, has white walls and ceilings and a kitchen with some pops of colors. It is nice to have a home with an open layout like this because it looks bright and the areas are easy to access.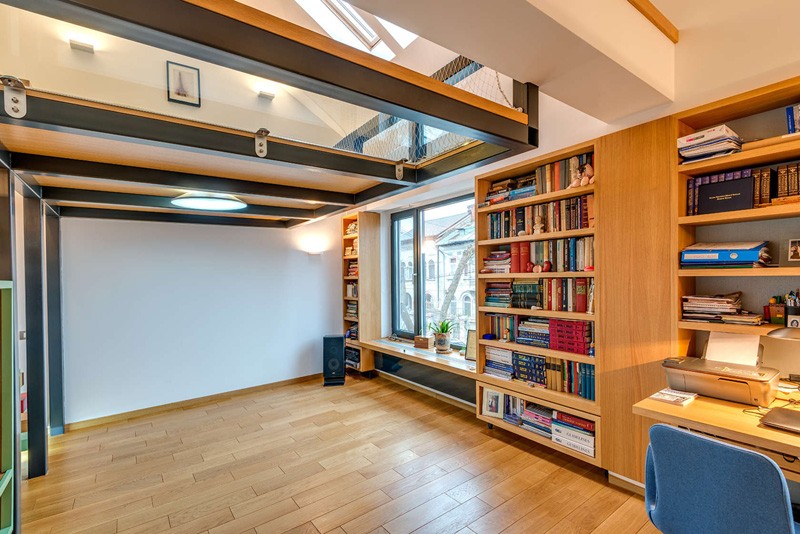 On the upper level of the house, you will see a space with wooden flooring and white walls. It has a large window and skylights, flooding the space with natural light. As you can see, it does look really bright.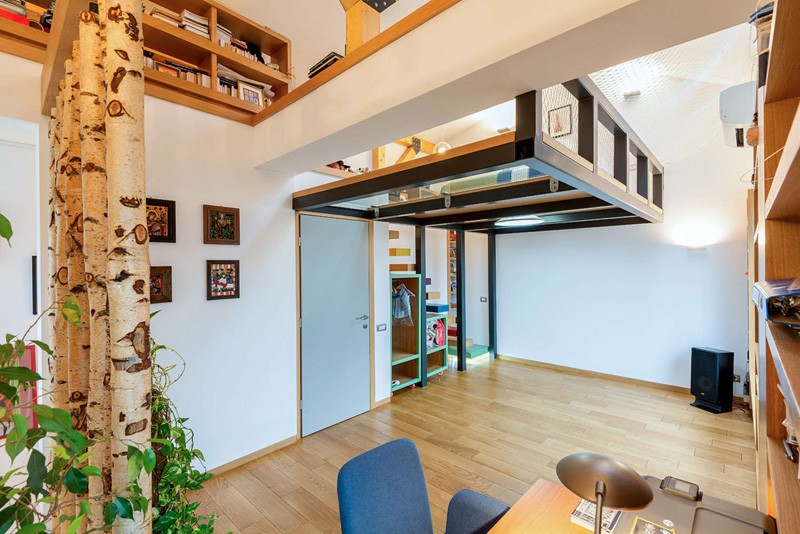 In this image, we can already see the lofted bedroom and its glass flooring. Aside from that, we are given a closer photo of the trunk railings which is one feature that I like in this house because of its use of natural wood.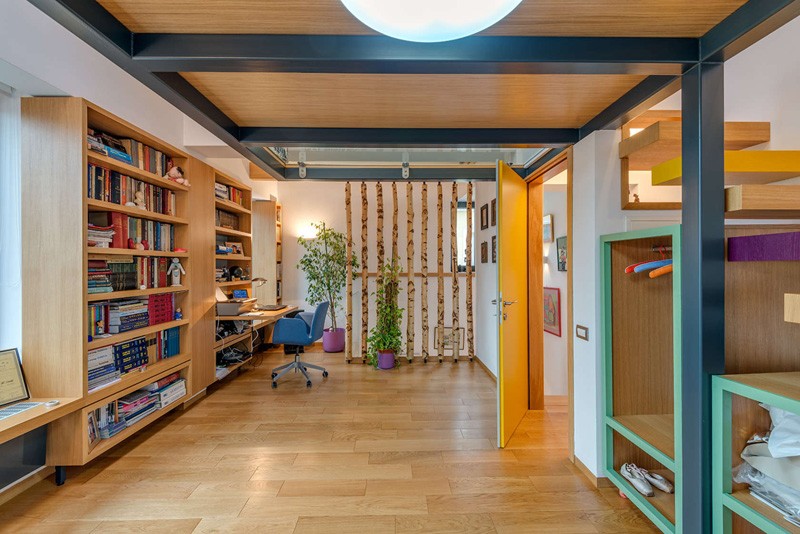 The study space has a wall of windows that allow natural light to fill it. The upper level has a bookshelf and small desk area for working. You can also see here the branch/trunk railing wherein some plants are added in the interior to which makes it even fresher and more relaxing.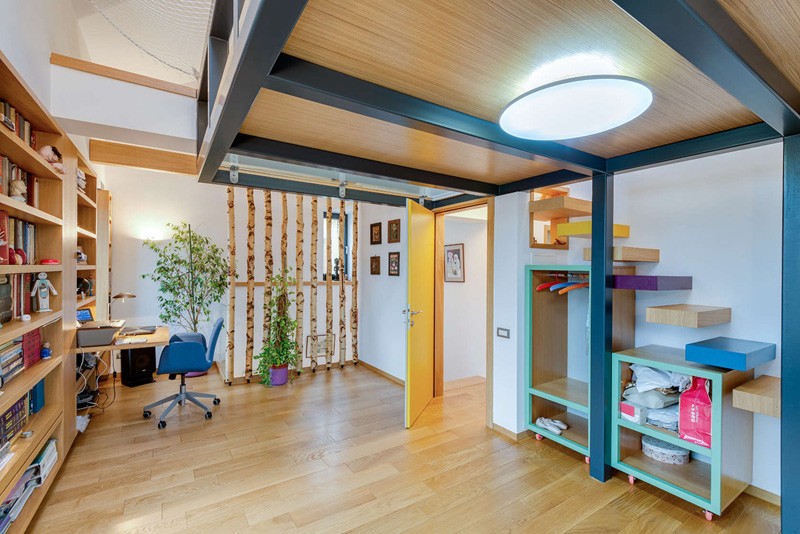 The stairs on the right of the space leads up to the bedroom. Isn't it cute that the steps are painted in different lovely colors? Just below the staircase are shelves and storage areas painted in blue which adds to the cuteness of the area!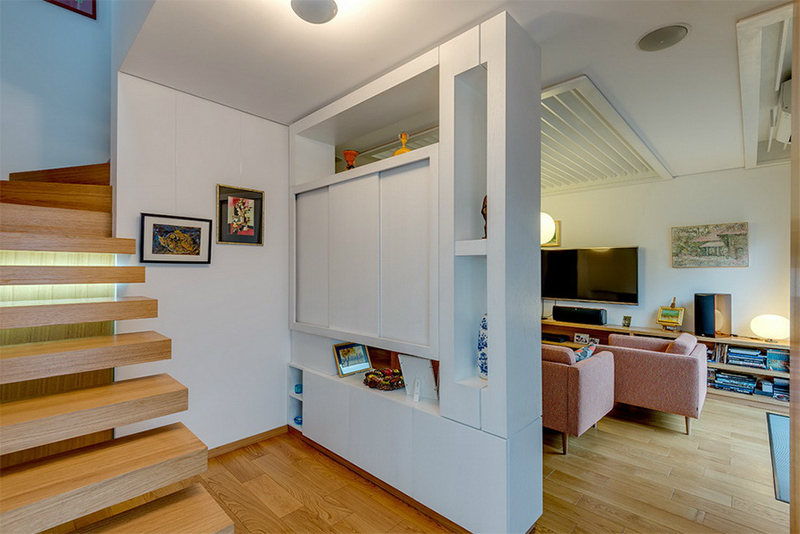 This photo shows us the lower level where the living area, kitchen and dining area are located. Seen here is a divider for the living area where the wooden staircase that leads to the upper level is located. Wood and white really looks nice together!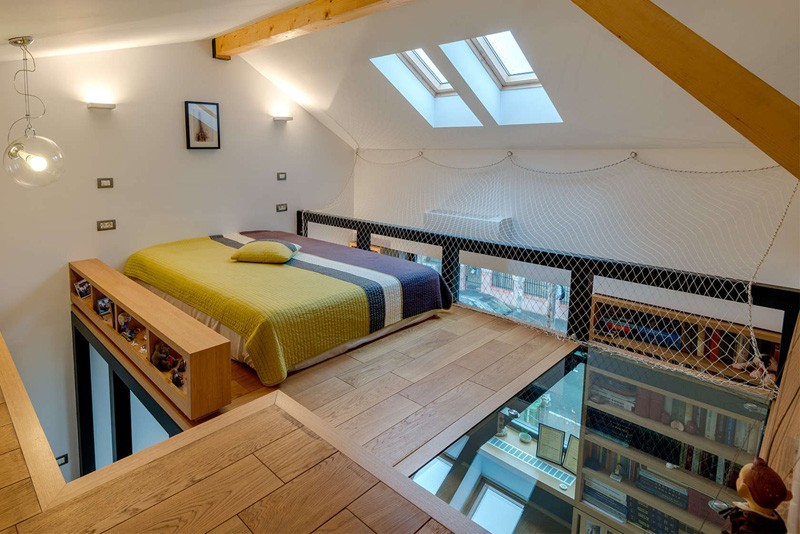 Now this is the lofted bedroom that we had been talking about. Isn't it nice? Well, apart from the color and design of the bed cover, the design of the area is indeed impressive. The pendant lighting, the wall decor, the skylight and the display cubes are lovely decors in the space.
Read Also: Modern Industrial Loft Apartment in Ukraine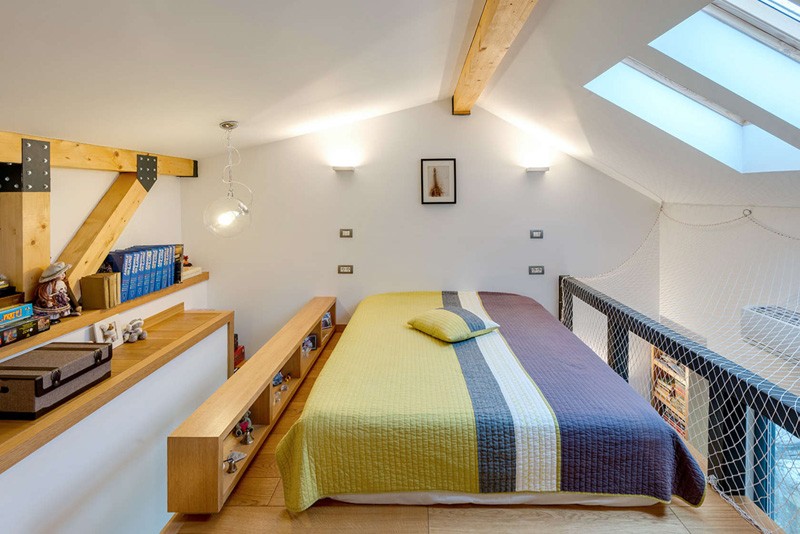 The small bedroom has an additional storage on the other side of the space. It looks scary to walk on that area to get some stuff, right? But it is a good idea to add storage spaces there instead of just leaving the area unused. It actually made the space appear more interesting because despite the small floor area, it accommodated all those stuffs in it.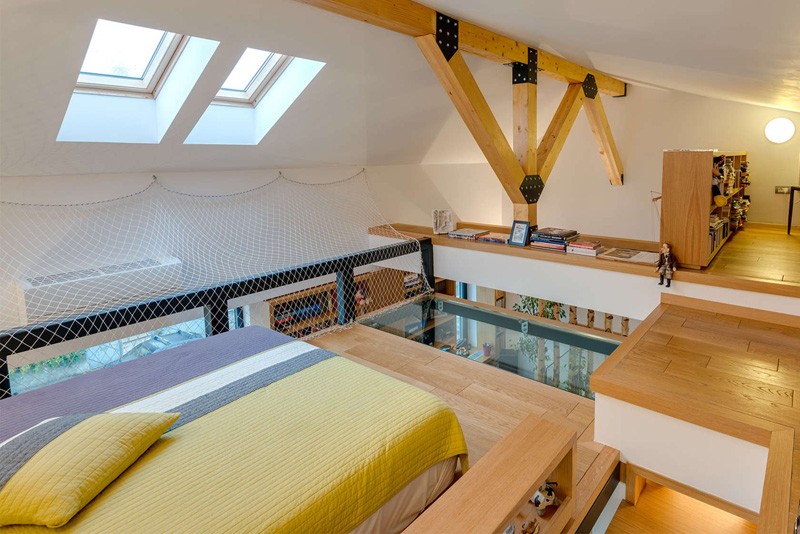 A net has been installed in the loft bedroom for extra safety which also became an added decor to the area. There is also a glass floor section which allows one to see the space below. I like it that there are different levels in the bedroom.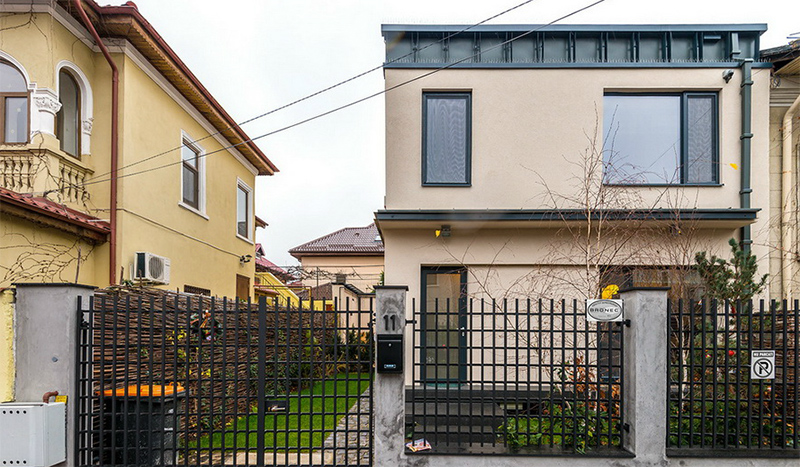 This is the exterior of the house which may not appear too modern but in the interior, it looks really stunning. This home has a beautiful and simple garden too which you can see in this image. It has a stone walkway and a green lawn just beside it. The gated property may not be too spacious but it sure is perfect for a small family or a couple.
Well, I'd say that this isn't an ordinary lofted bedroom because of its design. it even has a glass floor area which allows one to take a look at what is happening below it. I also like the materials being used in the space. The Damian House is designed by In situ who have also done other amazing home designs aside from this. Looking at the exterior, we wouldn't expect that we can find a lovely interior. It sure comes as a surprise especially that the exterior doesn't look too modern as the interior. And you can also observe that the interior spaces shown were mostly that from the second level aside from the living area. But we were already given an idea of how the interior looks like and it does look really great!