20 Different Hallway Designs for Inspiration
Hallways are a great medium to integrate one's style and idea. You can style it anyway you want and it allows you to decorate as much as you want because it is often in long stretches and has both walls on either side. It is the part of the house that is mostly walked on, so it is important that the style and design of the hallway should be interesting, eye-catching but is still maintain a calm ambiance. Most of the time, hallways have interesting paintings, sculpture or even the good old family photographs. Whatever you do to style and decorate your hallway, just make sure that the whole look is balanced out.
Today we are featuring 20 Different Hallway Designs for Inspiration that ranges from modern, traditional, contemporary and Mediterranean. A hallway connects one side of the house to the next, so it is a very important part of any home. So, feel free to check these out and see for yourself the beautiful and inspiring hallway designs that we have collected.
Fay Residence
This modern inspired hallway has large windows and skylight for illuminating the paintings and the white walls during daytime. The glass railing next to the hallway is for added support, safety but stylish as well.
Russian Hill
This hallway is not just simple, but stunning as well. The lighting highlights the artwork on the wall, the statues and the overhead lighting created a mood while lighting the pathway which is a marble floor that transitioned to wood, very modern indeed.
Tiburon Residence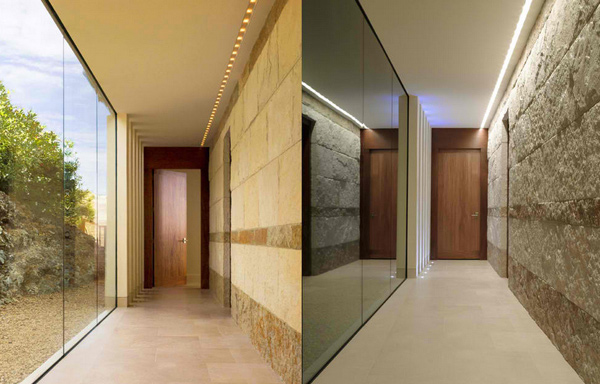 A custom made hallway that has large glass walls that reflects the view on the opposite side. The neutral colors and custom LED lights when reflected creates a simple but elegant appeal to this modern inspired hallway.
Interior Shots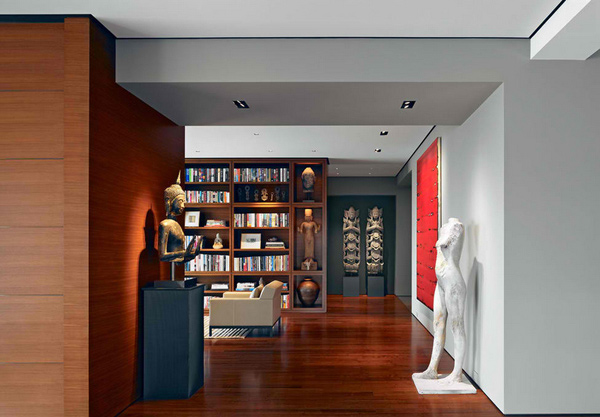 Another modern designed hallway that have clean wood lines wall and flooring on one side, and light grey wall on the opposite side that balanced the look. The recessed lights accent the sculptures and the artworks. Isn't it gorgeous?
Beard-Chu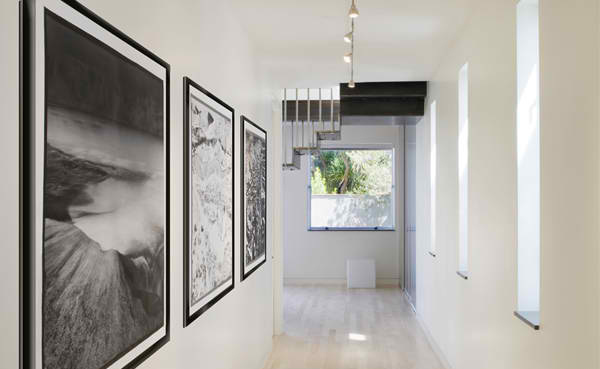 Black and white is the theme and inspiration for this modern hallway. Opposite the wall are long narrow windows that helps illuminate the hallway, simple yet elegant.
Impluvium House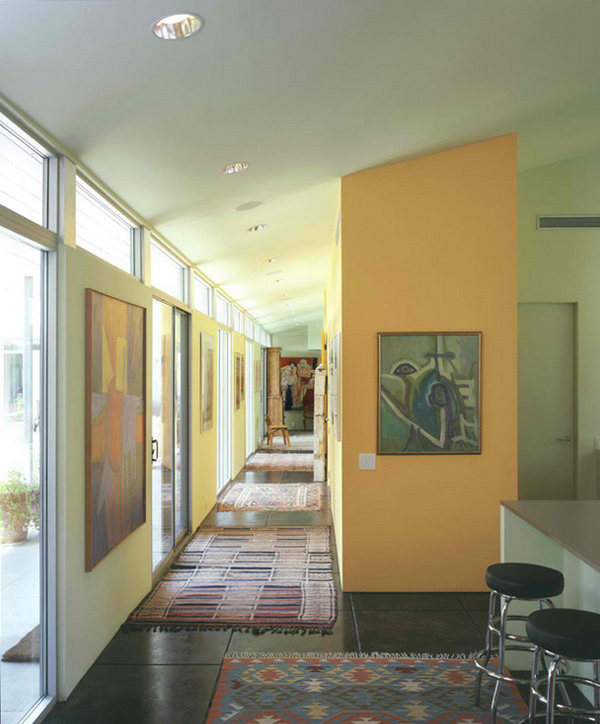 A hallway with lots of windows, large sliding glass doors, wall art, and the bright bold color that is painted on the wall adds a twist of elegance to the modern hallway design. The clerestory windows add illumination and reduce the need for artificial lighting.
Porch House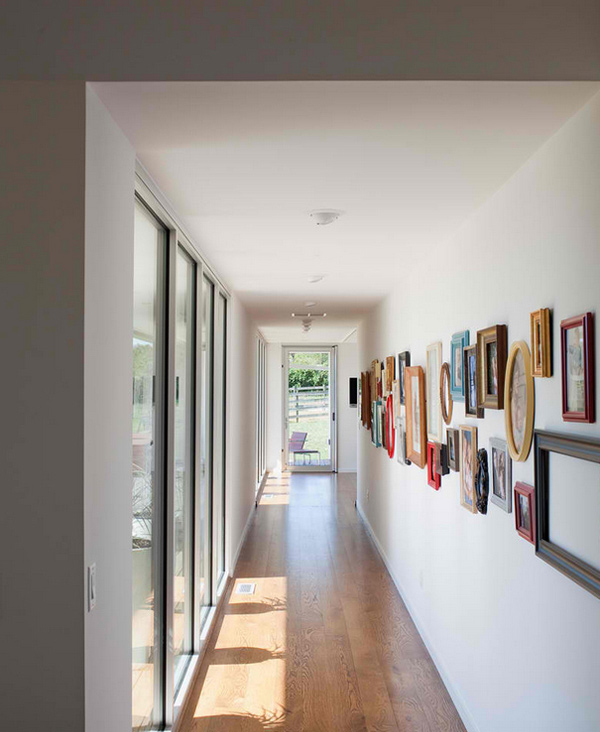 For this simple, modern hallway, the idea that there are family photos with different shapes and frame colors gives a kind of twist and keeps it interesting to anyone who would pass through the hall. The large glass windows on the opposite side add illumination as well.
Central Coast House and Library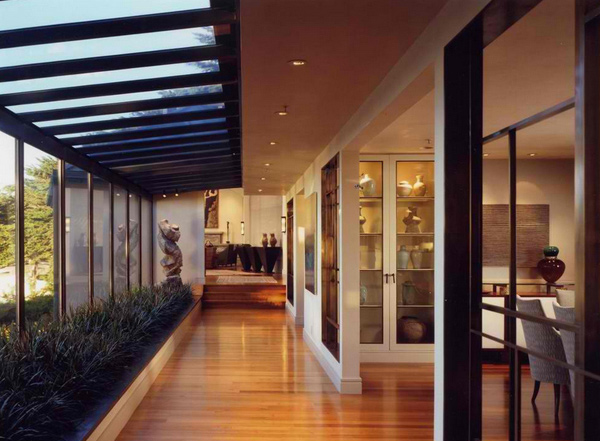 Indoor plants in a long planter situated within the hallway, protected from the outside by large glass windows and ceiling makes this hallway unique but beautiful.
Wilson Mountain Residence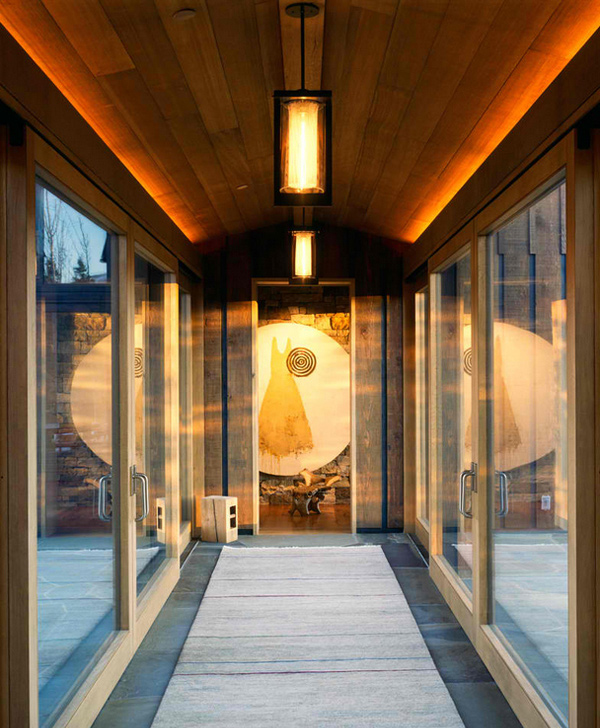 Another stunning modern hallway design that connects two sides of the house. The barrel ceiling and pendant lights gives a rustic edge to the design, while the large sliding glass doors and runner rug on the floor gives it a simple appearance, thus balancing the whole look of the hallway.
NeMo (New Modern)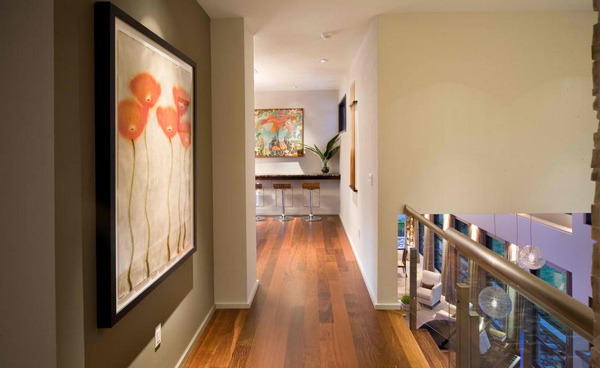 A simple, modern hallway that has a large floating wall art that occupied one side of the wall, while opposite the wall is a glass railing with aluminum balustrades for added support and safety.
Representative Project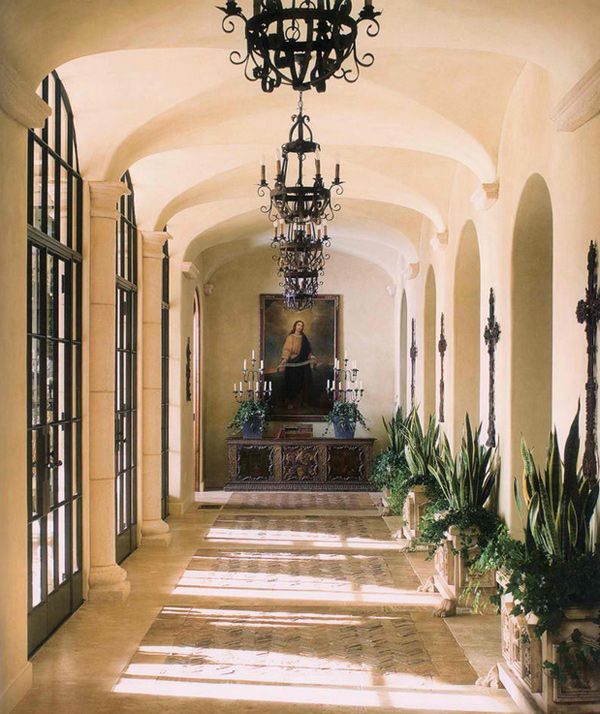 This Mediterranean inspired hallway is simply stunning where walking through would be full of wonder and amazement at the beauty and simplicity of the architecture design.
Berkeley Courtyard House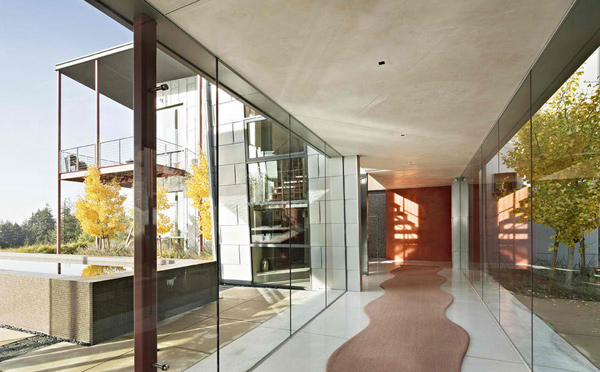 The glass walls on this modern hallway design are simple with a touch of elegance.
Chateau Fermier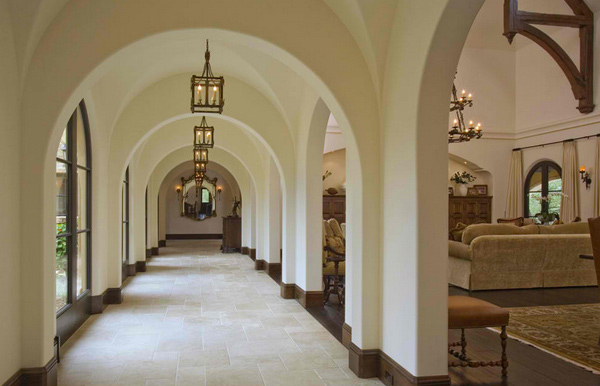 This beautiful Mediterranean-inspired hallway is nothing but beautiful. The arched ceiling, the floor transition with wood base board gives an elegant impression to the entire design.
Alice in Wonderland Playroom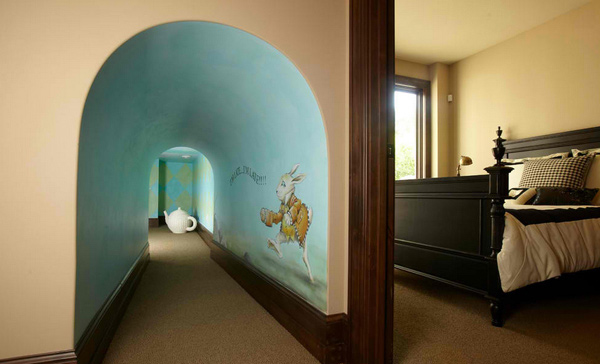 This hallway is designed to be proportionally sized for children, since it leads into a child's playroom. This would be an interesting addition into a home, especially when painted with Alice in Wonderland murals on the walls that kids would sure to enjoy looking at.
Mediterranean Hall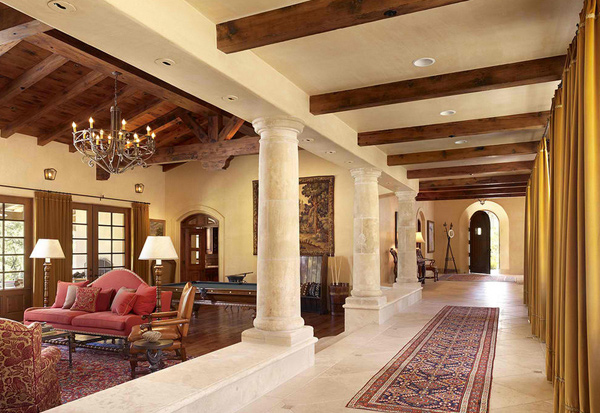 Another stunning Mediterranean inspired hallway that is elegant. The large marble pillars along the corridor give it a bit of a rustic twist, but still exquisite and beautiful.
Entry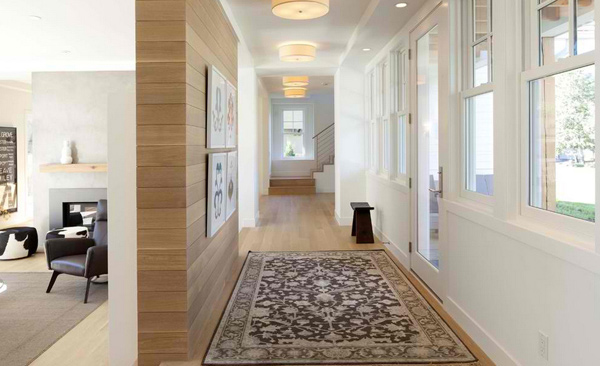 This contemporary-inspired hallway has one side of the wall with the same color as the floor, made with Rift and Quartered White Oak, with artworks on the wall. On the opposite side, the wall is white with windows that lets in light and balances the look of the whole design.
Studio Vyhodec Design
An interesting modern hallway design with a touch of retro and interesting color combination that just simply blends together. Amazing, isn't it?
Bentley Premier Builder's European Inspired Model Villa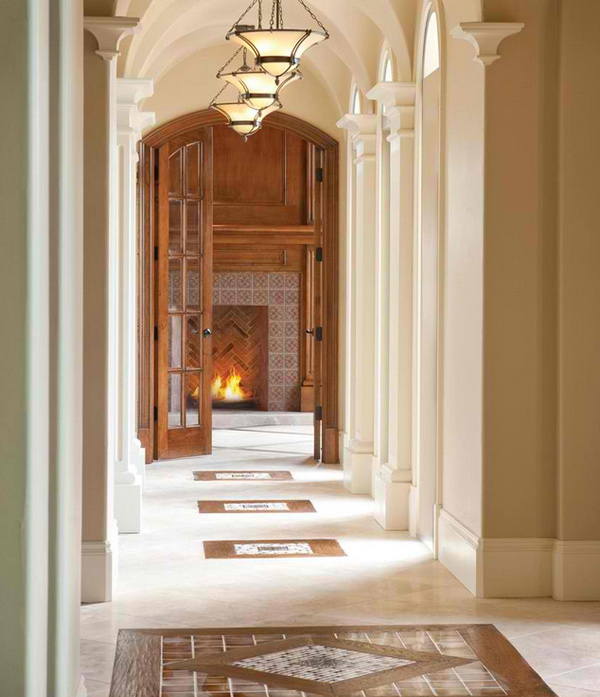 A traditional-inspired hallway with arched ceilings, arched doorway and arched French door but is balanced out by the columns and the luxurious chandeliers hanging from the ceiling.
Birch Bluff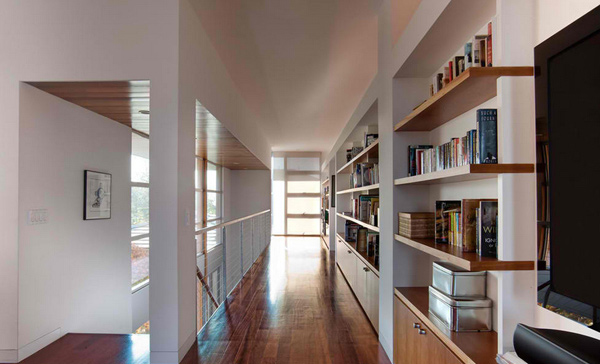 This modern inspired hallway is lined with open bookshelves and wood cabinets on one side, while a stair rail is on the other side. The space is fully utilized since those shelves can store small items, yet the whole look of the hallway is beautiful and simple.
Olive Hill Residence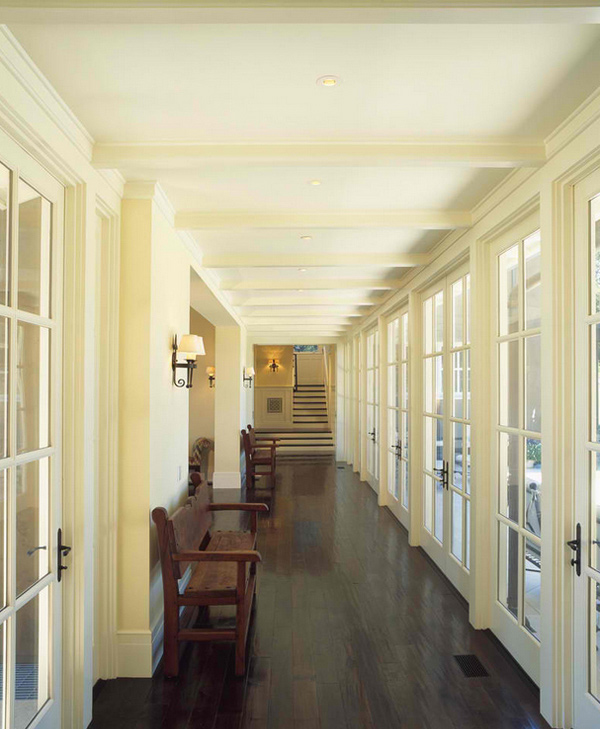 This simple and peaceful hallway design would encourage anyone to walk aimlessly through it since it looks calming and relaxing. Those added wooden bench gives a bit of a rustic edge to this traditional design.
As you have observed, there are different ways to style your hallway. It is only up to your taste and imagination how you want your hallway to look like. You can choose from a variety of simple and elegant designs, to elaborately designed halls with a lot of details. Also, feel free to see our other inspiring articles like some living room with subtle display of picture frames.